Lisbon is beautiful. You can be amazed by it on every step. But let's not cheat ourselves. It's a big city and smog and noise can be tiring. Luckily, there are many options for short trips outside of Lisbon. One day is enough to rest and charge your batteries.
I really like living in the city. I appreciate the fact that I can go for a coffee, for a drink, for dinner, and to the cinema. There are plenty of options for spending my free time. On the other hand, I come from a small town and sometimes I'm really tired with the crowds, the noise, and public transportation. So, whenever I miss being surrounded by nature and peace and quiet I rent a car and in an hour or two, I'm outside the city.
Except for Lisbon, there are many beautiful places to relax. There are beaches, forests, fields, and abandoned monasteries. The air is cleaner there and the views can take your breath away. If you dream about peace and quiet and want to see something interesting, go for a trip outside of Lisbon.
16 incredible trips outside of Lisbon
Lisbon is surrounded by water and forests. Just outside of it you'll find small towns, which are just perfect for visiting. By going outside of the capital city, you will get some rest and you will get to know the more authentic Portugal.
Cascais and other beaches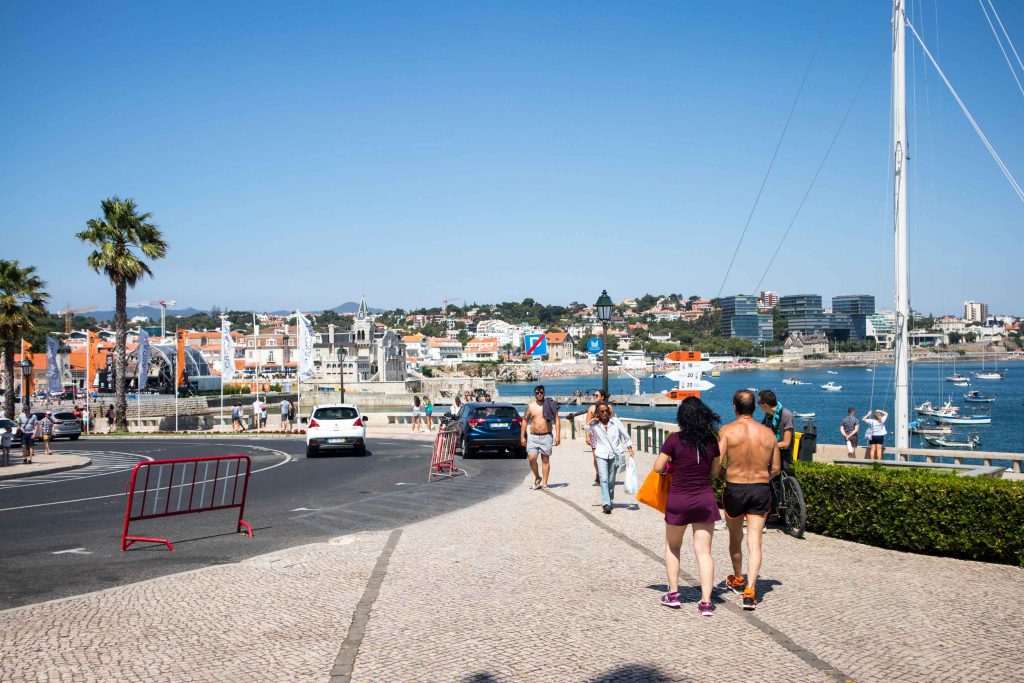 Cascais is only 30 minutes by train outside of Lisbon – the small town used to be extremely popular among the rich and famous. Nowadays it sill has that particular character and you can really feel like you're in a cosmopolitan resort.
On the way to Cascais, you'll find Oeiras. Stop here and visit the Marquiz de Pombal's Palace. Inside it's not that amazing, but the surrounding gardens are worth a visit.
Another place that I really recommend is Estoril. The beaches here are small, but the cliffs and rocks sticking out of the blue water give it an incredible character. If you like gambling, then head to the local casino, which is the biggest in Europe.
At the end, stop in Carcavelos, where the young Portuguese like to hang out. This beach is very crowded during the summer, but if you like to see how the locals spend their free time, then coming here will give you a good indication of that.
How to get there?
From Cais do Sodre catch a train to Cascais. It takes 30-40 minutes to get to the end of the line. In the summer you can buy a ticket, which allows you to hop on and off the train whenever you like. It costs around 4 Euro. I also recommend getting off at one of the stations and then walk along the coast.
Map
Guincho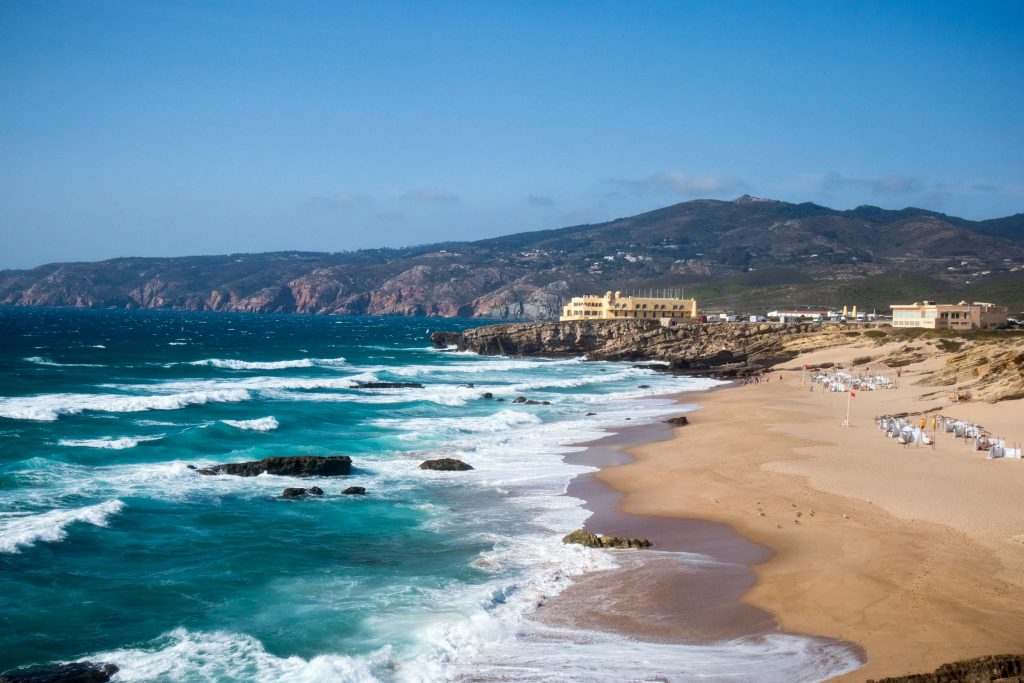 Guincho is a lovely little beach located 10km from Cascais. It's perfect for surfing, but also for walks, sunbathing and relaxing. The only thing that can disturb you are strong winds, which are common during the Spring and Autumn.
How to get there?
You can go to Cascais and then walk (if you like hiking). The area is very picturesque and you will find plenty of view points on the way.
You can also rent a bicycle and cycle from Cascais to Guincho.
If you have a car, then it's not a problem – getting there is very easy and quick.
Map
Sintra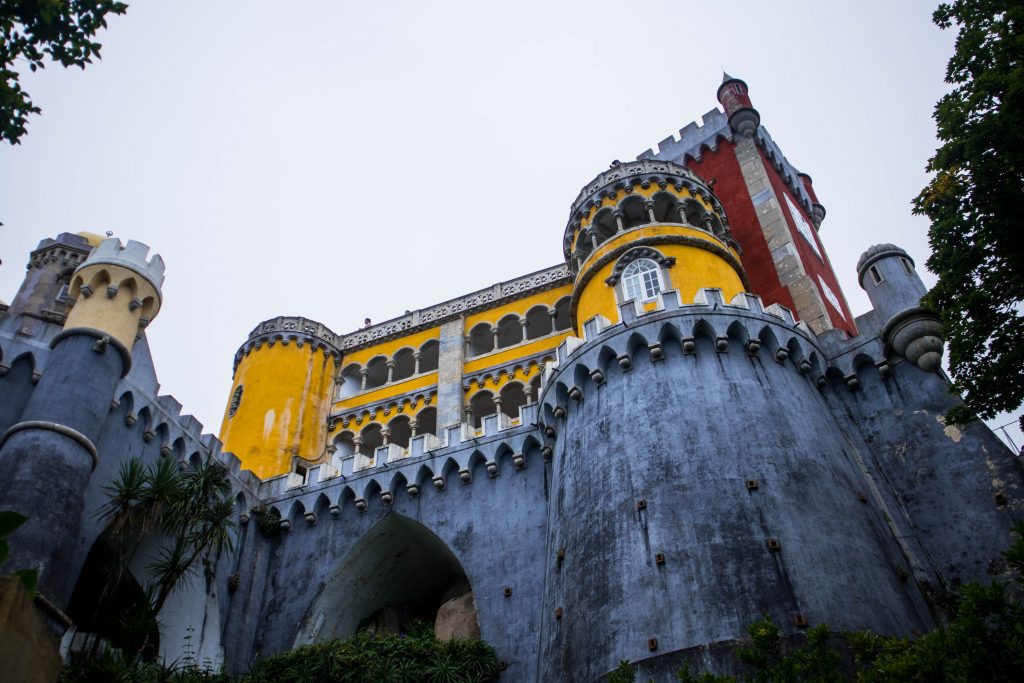 Sintra – a small town near Lisbon – is very famous among visitors. Especially the yellow Penha Palace is flooded with tourists. I really like the town itself, with its cobbled, narrow streets and atmospheric cafes and restaurants. My favourite place is Quinta de Regaleira, which is like a mysterious secret garden, where you can spend a whole day.
How to get there?
You can take a train from Lisbon. Bigger stations, like Rossio, operate frequent trains to Sintra. It takes around 20 minutes from Lisbon.
If you fancy a further trip and also seeing other places around the town, then I recommend renting a car in Lisbon.
Map
Peninha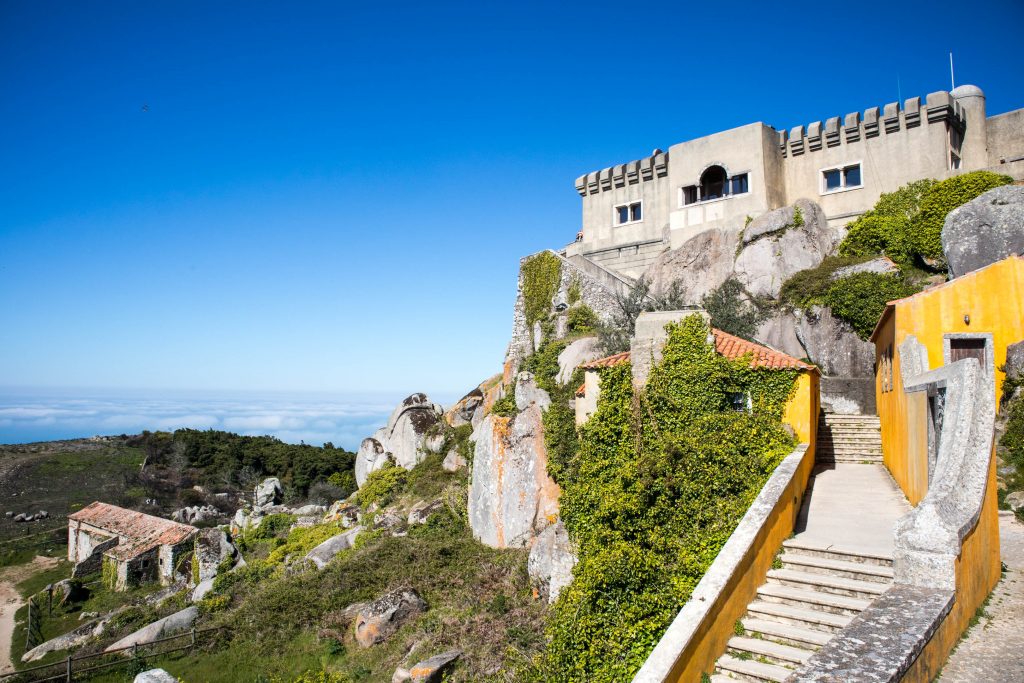 Peninha is one of the most beautiful places I have visited outside of Lisbon. It is an abandoned monastery standing on a hill in the Sintra Forest. It's located so high that you can see the Cabo da Roca nearby and the Guincho beach.
How to get there?
From Guincho beach, you need to go further and then turn right and then right again. Follow the signs to Peninha. If you are on foot, it might be a very long walk. Best way to visit it is in a car.
Map
Adraga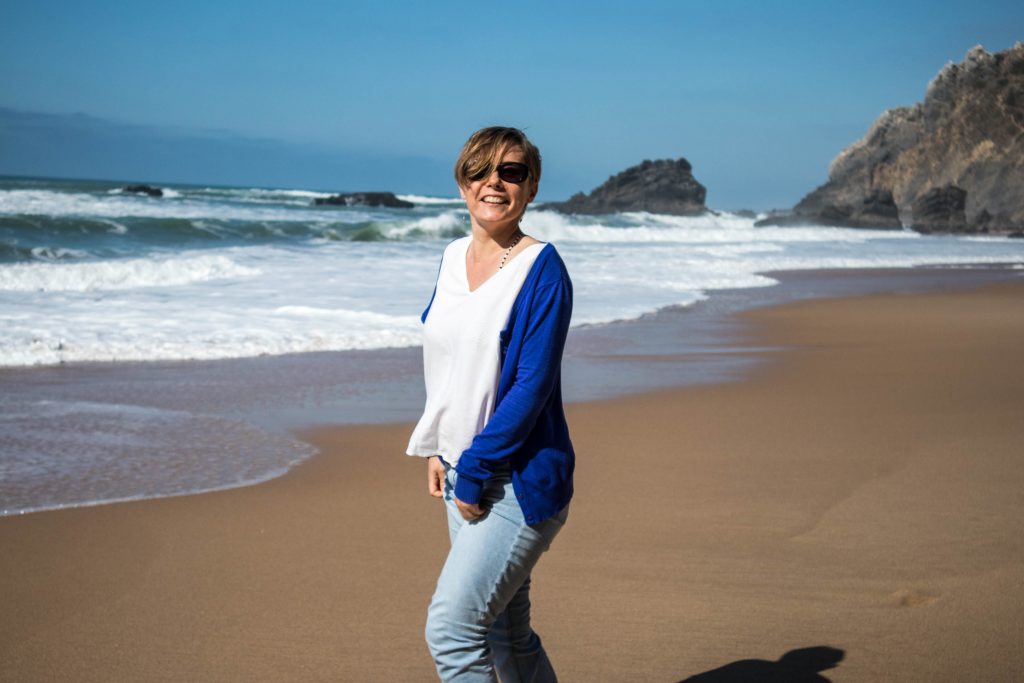 One of the best ideas for a trip outside of Lisbon. Adraga is a beautiful little beach near Sintra. Not many people come here and most of the time it's quite empty. There are caves and hidden nooks to explore around the big rocks you will see on the shore. The restaurant here serves the best seafood in the area.
How to get there?
Apparently, there is a bus from Sintra, but a quicker and easier way is to have your own car and drive there.
Map
Azeitão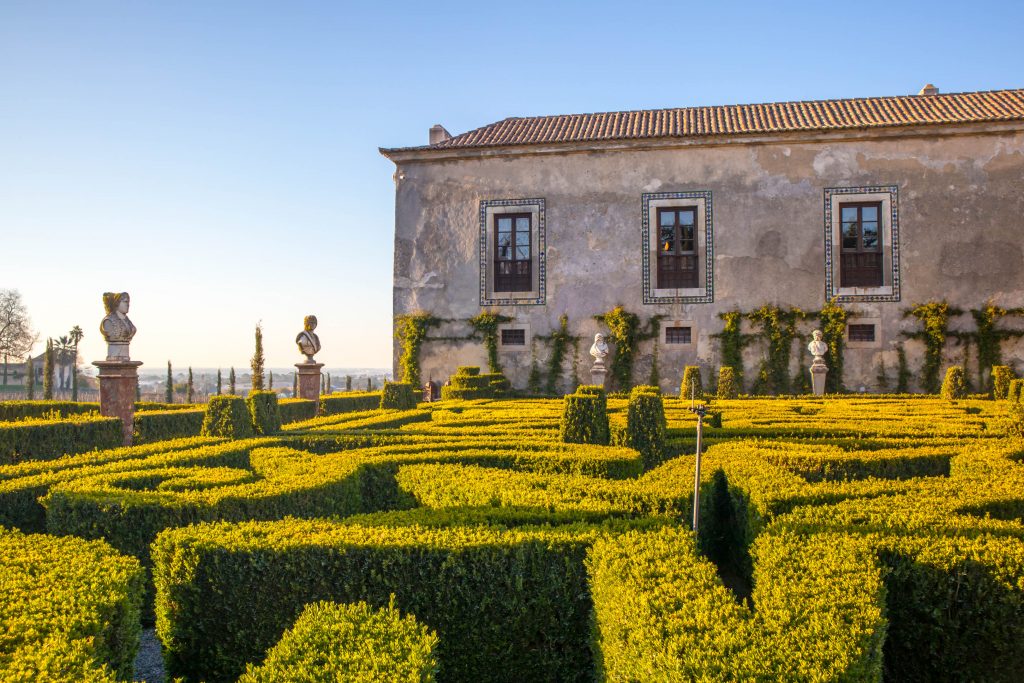 Are you a wine lover? Brilliant! Portuguese wine is not only affordable, but also really tasty. There are plenty of wine tastings in Lisbon, but you can also try it out at the source. In Azeitão you will find 2 major wineries: Bacalhoa and José Maria da Fonseca. Both can be visited and at the end of the tour you'll get a few wines to try.
How to get there?
A car is the best way.
Map
Cacilhas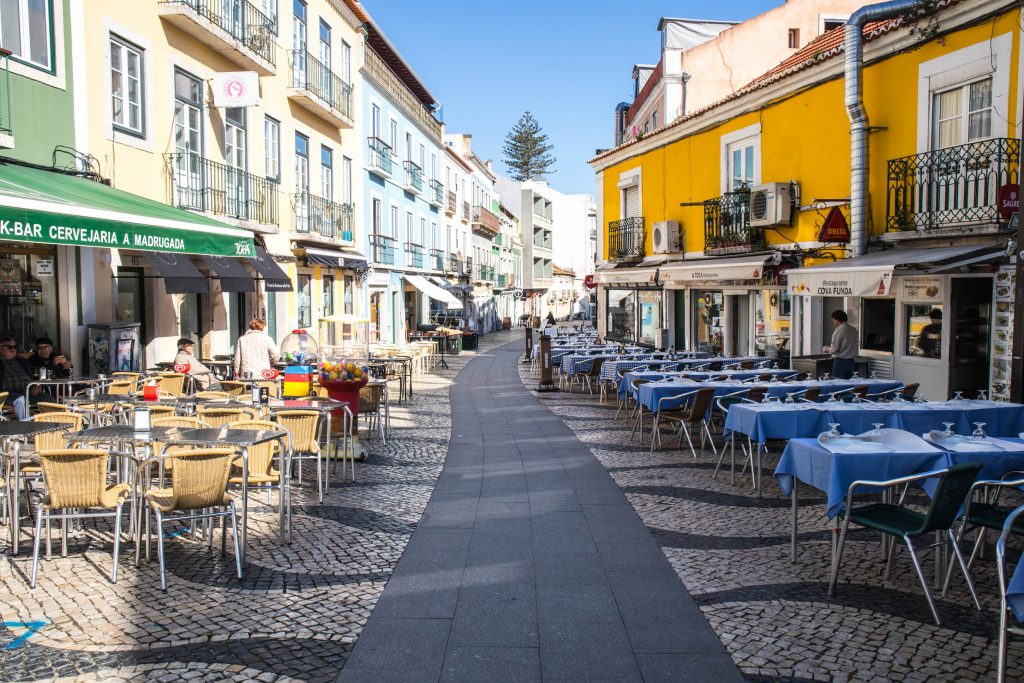 That's my favourite trip outside of Lisbon because Cacilhas is not only lovely, but it's also very easy to get there. I really recommend this place to those that like seafood and fresh fish.
How to get there?
Take a ferry from Cais do Sodre. The trip takes 10 minutes and you will pay only 0.75 Euro.
Map
Christo Rei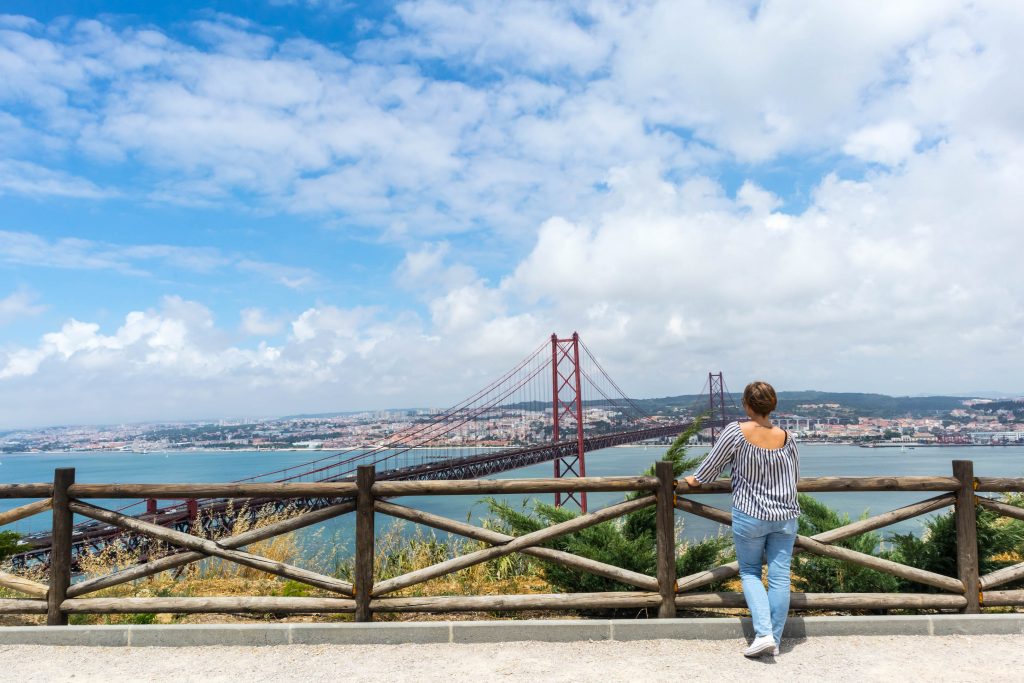 When you come to Lisbon, you will see a huge statue of Jesus. It's visible from every view point. Yes, it is almost exactly like the statue in Brazil. You can climb the statue to the very top and admire the views of the city.
How to get there?
From Cacilhas you can walk to Christo Rei. You can also take a bus number 101, which departs every 30 minutes. The ticket can be purchased from the driver.
Map
Costa da Caparica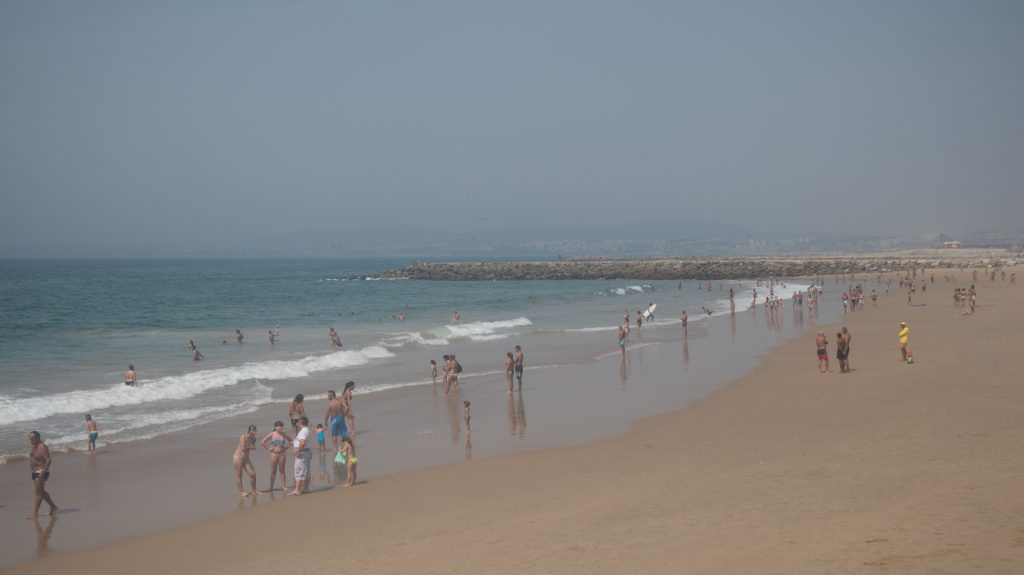 On the other side of the river there is also a long coast of beaches, where you can relax and sunbathe all day long. Costa da Caparica is a very popular location due to a huge choice of bars and restaurants.
How to get there?
You can take a ferry to Cacilhas from Cais do Sodre. From there jump on either bus number 124 or 135. It's quite a long journey. Going there by car is easier and shorter and the whole trip shouldn't take you more than 40 minutes.
Map
Setubal and Troia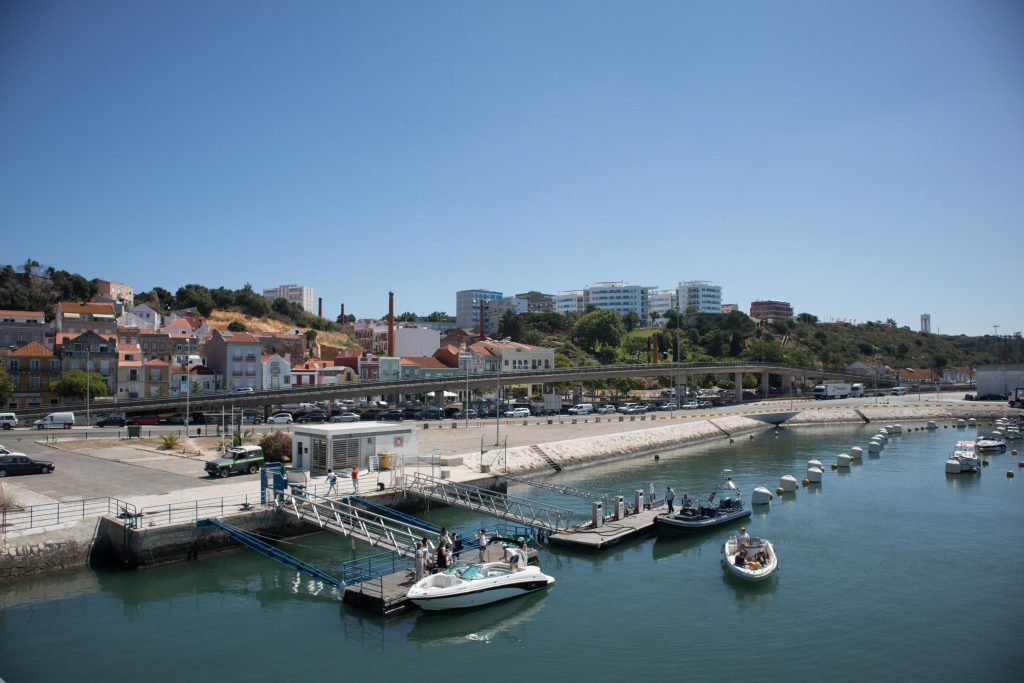 Setubal is a small town around 40 minutes by train from Lisbon. There is nothing much going on here, but the little streets are so lovely. They have been created for photos!
From here you can take a ferry to Troia. There are more beaches there and also ruins of a Roman factory of fish sauce. It's a fascinating place full of ancient history.
How to get there?
If you don't have a car, you can get to Setubal by a train from Sete Rios station. After you leave the train in the town, you will need to walk quite a bit to the harbour. And from there it's around 5km one way to the ruins. On a hot day I recommend renting a taxi from Setubal.
Map of Setubal
Map of Troia
Cabo Espichel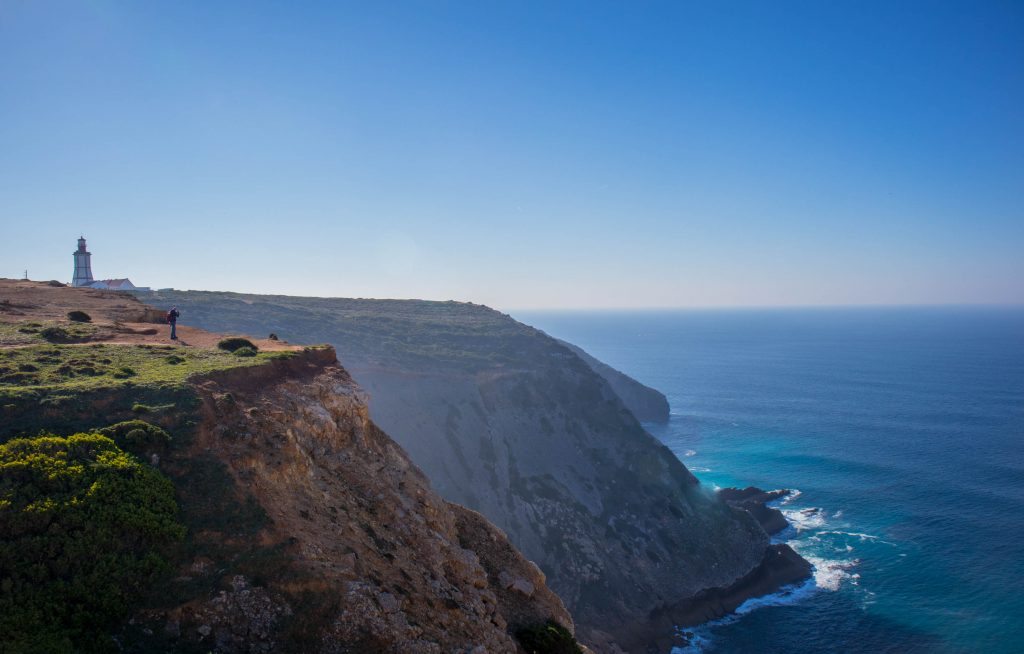 If you're looking for fresh air and great views, then you will find them here. Cabo de Espichel has high cliffs and rocks that are really picturesque against the blue skies.
How to get there?
Only by car. The trip takes 30 minutes.
Map
Nazaré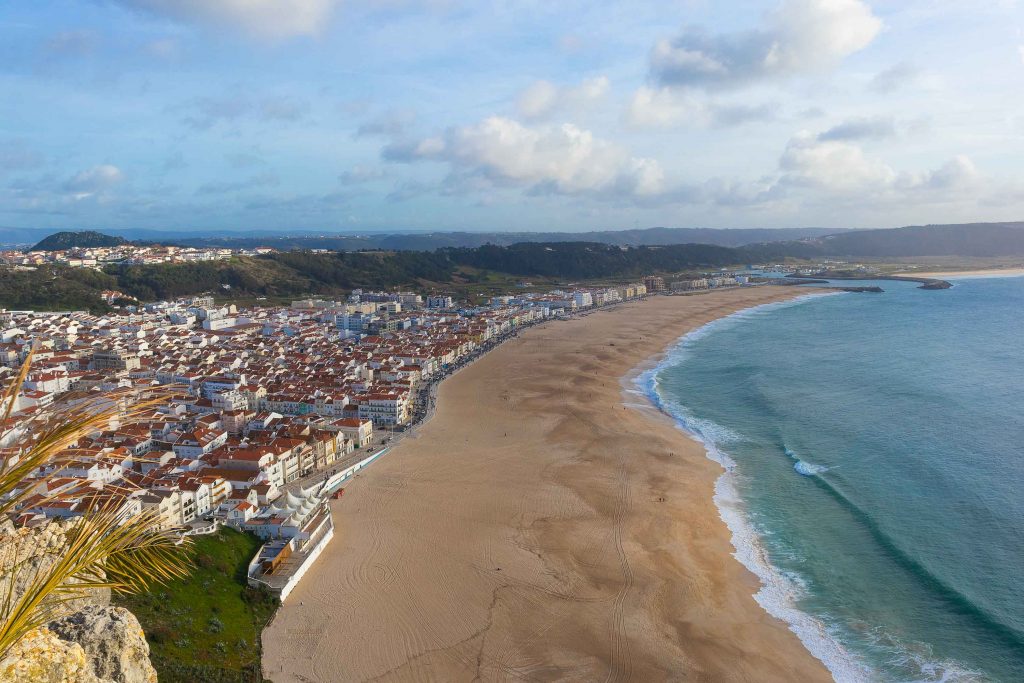 I went there for only one day, but I would have loved to spend more time in Nazaré. The town is famous for high waves that reach 30 metres and the surfing competition that takes place here every winter. On the streets of Nazaré you will find old ladies dressed in 7 skirts, who are also a local attraction of the place.
How to get there?
The best way of getting there is a car, but you can also catch a bus from Sete Rios for only 12 Euros.
Map
Ericeira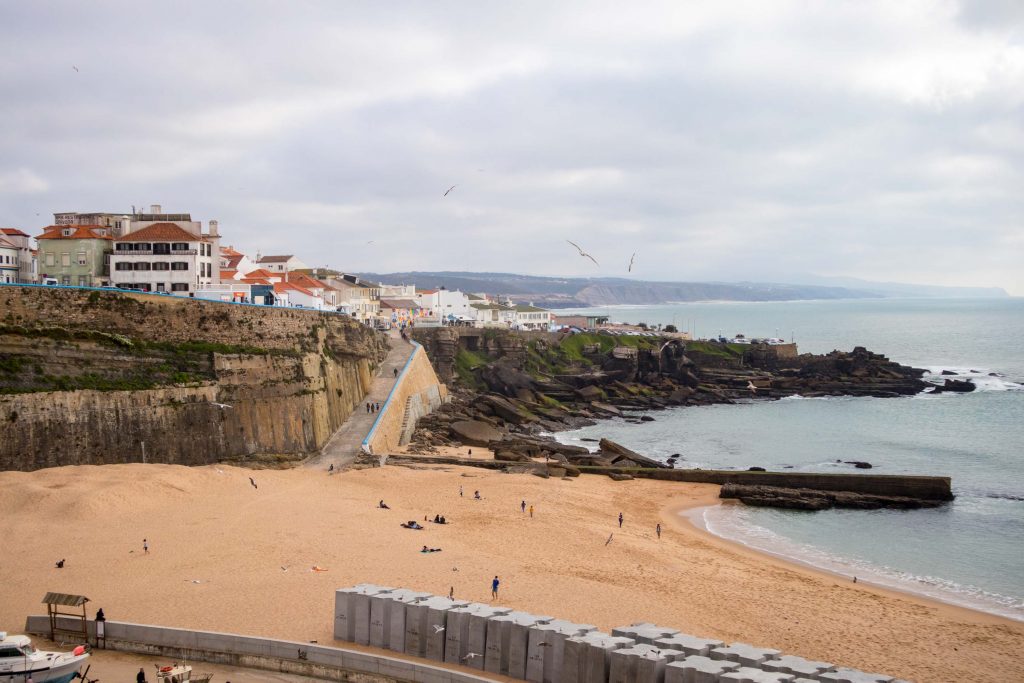 A lovely little town, perfect for a trip outside of Lisbon. Small, curvy, cobbled streets attract visitors and are perfect for taking beautiful photos. Ericeira is a paradise for surfers as well and you can admire some of the daredevils in the water at every time of the year.
How to get there?
A car is your best option.
Map
Obidos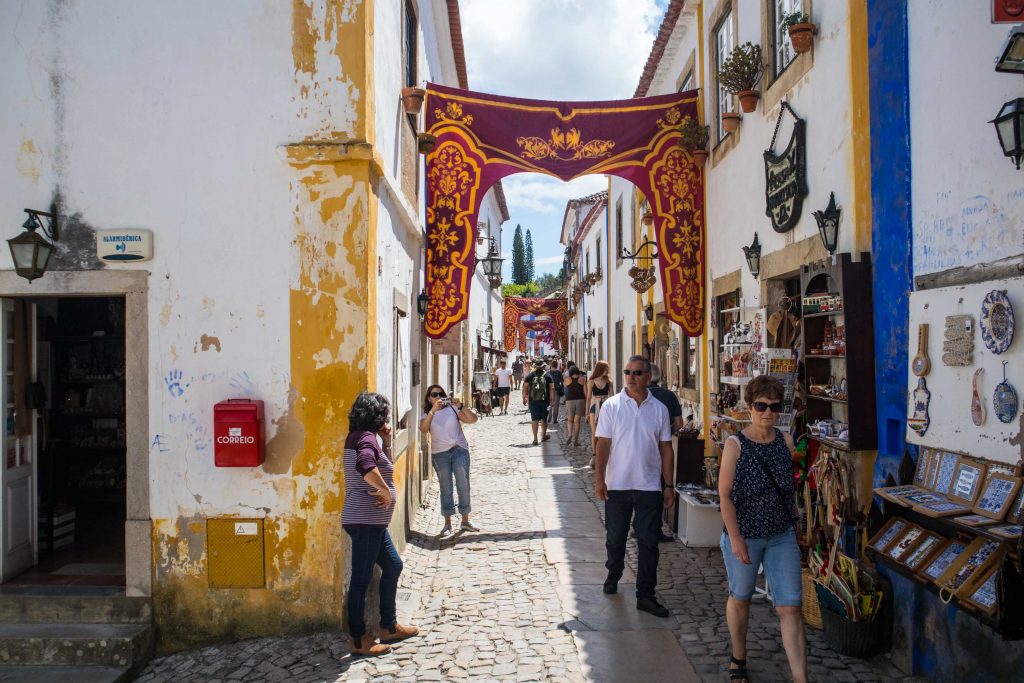 I only spent a day in Obidos, but I am already planning a longer break there. I love this town and think it was made for a nice trip outside of Lisbon. In the summer you can go there for a medieval festival during which the locals dress up and you can try some great food.
How to get there?
There are buses going from Lisbon, but if you want to go there for a day, it's best to drive. Getting there should take you about an hour.
Map
Buddha Garden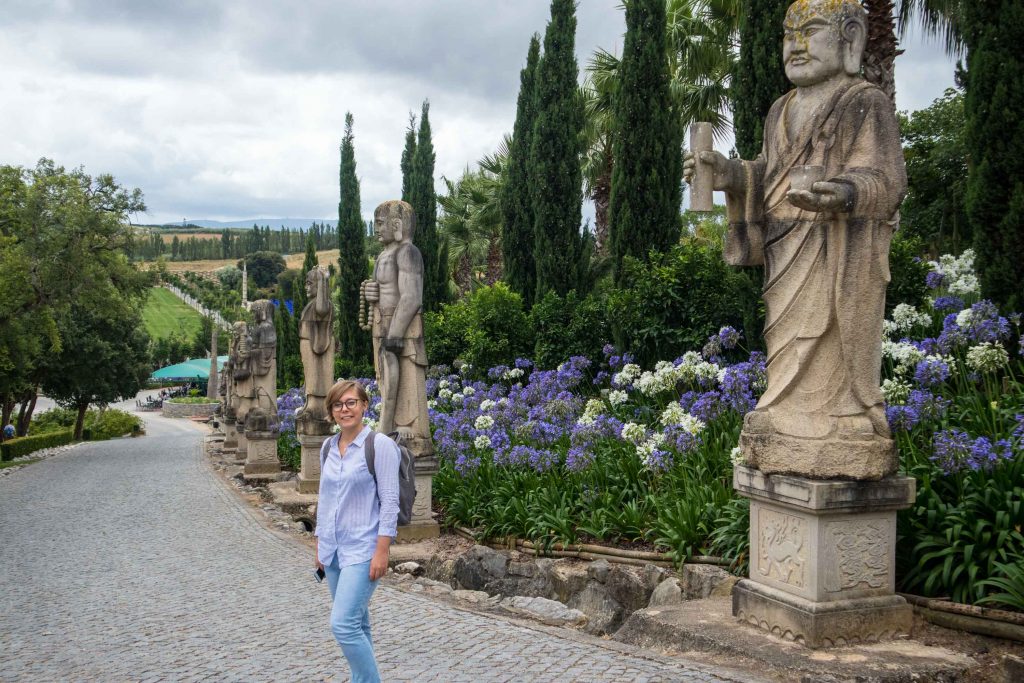 It's not a very Portuguese thing to see, but it's an interesting exhibition of different statues of Buddha. If you're in the area and it's a good weather, you can visit it and spend the day wondering around the park.
How to get there?
Only by car.
Map
Peniche and Berlengas Islands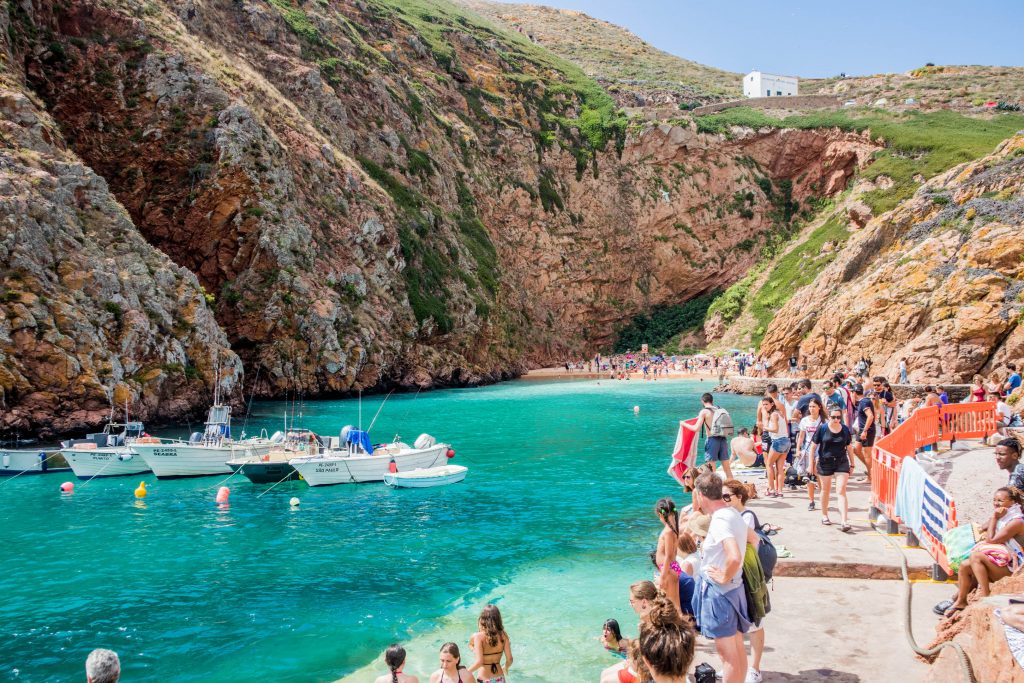 Peniche is a small fishing town situated about 2 hours from Lisbon. I went there for a weekend and loved it. If you're only going for a day trip outside of Lisbon, then don't spend too much town in the centre. Instead, go by a boat to Berlengas – a set of picturesque islands, where you can visit caves and spend some time on a beach.
How to get there?
A car is your best option.
Map
How to prepare for a trip outside of Lisbon?
As you might have noticed organising a trip outside of Lisbon might not be that easy if you don't have your own car. Luckily, you can rent it out. It's not very expensive and if you book a vehicle in advance, you might be able to pay very little. I once managed to find a deal for 4 Euros per day!
I recommend using Rentalcars, which offers a wide variety of rental companies to choose from. I also use Interrent. They have good prices and deals throughout the year.
If you don't have a driving license, or you just don't want to drive in Portugal, then book a trip with Withlocals, a tourist company which connects travelers and independent guides
The last option is public transport. Here you might encounter some problems. Trains and buses operate between the biggest cities in Portugal, but not outside of them. Sometimes there are local buses, but if you want to see something interesting and see local places, then you really do need to rent a car.
Where to stay in Lisbon?
Accommodation for a backpacker
Hostel do Castelo Lisboa – one of the most affordable options in Lisbon. Only 10 minutes from Rossio and Martim Moniz.
Hostel Avenida – dorms for 10 people with wi-fi. There is a nice terrace, which is a great place for meeting other people.
Hostel Benformonso – close to the center with helpful staff. It's one of the best options in Lisbon for backpackers.
Accommodation for 50 Euros per night
No Limit Bairro Alto – this hotel provides really nice and spacious rooms. There is also a swimming pool – perfect for hot summer days.
Brickoven Palace Hotel – 15 mins from Alfama. Beautifully decorated rooms. It's hard to believe that it costs only 60 Euros per night.
Back to Lisbon Hostel – 700 metres from Bairro Alto. It's a great starting point for your trips.
Luxury accommodation
Lux Lisboa Park – this hotel consists of not only a swimming pool, but also comfortable rooms, which will make you want to stay here forever.
The Independente Hotel and Suite – amazing, huge rooms in a very elegant style. Great for families as well as for people who are in Lisbon for business.
Bliss Lisbon Apartments – if you like some privacy, you can choose this amazing apartment in the centre of the city.
Do you have any questions? Would you like to share your experiences or your point of view? Don't be shy! Leave a comment!