Chiang Mai is my favorite city. I love going back there to discover more exciting places and riding my scooter. Since I started working online, I have been visiting Chiang Mai from time to time for a bit longer to finish off some projects and enjoy the cool atmosphere of the city. Recently I have spent a week there and I had a chance to stay at 51 Hometel, a beautiful new apartment building, which was created especially with digital nomads in mind.
After I found out that I won the Tourism Authority of Thailand blogging competition and that I was going to spend more than 3 weeks in the Land of Smiles, I started planning my trip. I decided to go to Khanom and Kanchanaburi and from there travel to Chiang Mai to see my friends and spend some time working on my project. I was planning to stay in a hostel and use coffee shops and co-working spaces to work. But then I was approached by Nomad Rental, a company that helps digital nomads with finding and booking apartments. Their site offers a wide range of places all around the world, so remote workers can book something before they head to a particular destination.
Nomad Rental offered me to stay at one of the apartments they feature on their website. I was thrilled, especially because I knew that after traveling around Thailand and staying in cheap rooms, I would be ready for some more privacy and a little bit of luxury.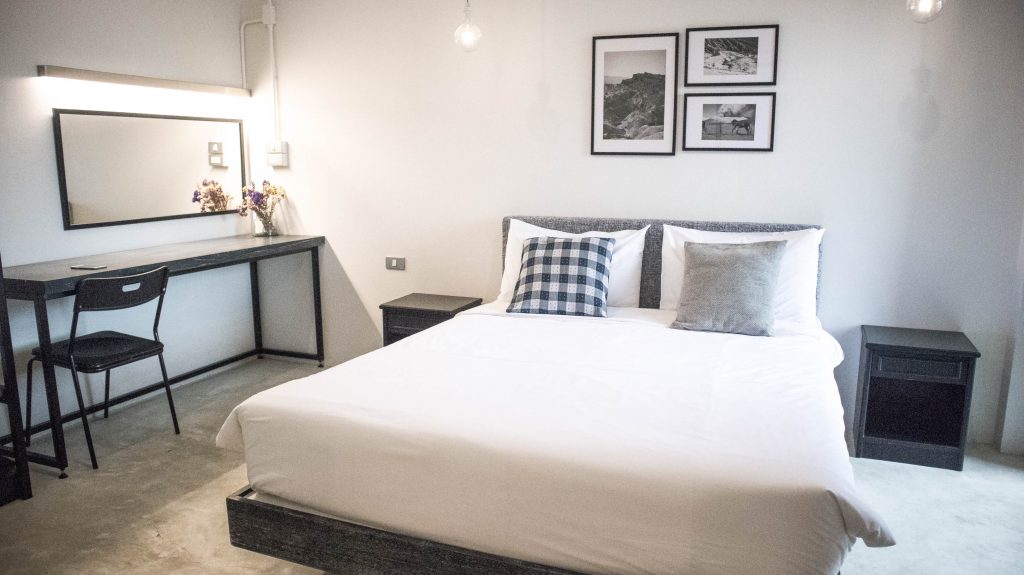 Booking an apartment through Nomad Rental
I have lived in the north of Thailand and know how to rent an apartment in Chiang Mai. I have my tricks and methods for finding something suitable. Usually, it takes me about 3 days to see available places and make a decision. This time I didn't have a chance to do it, so I completely relied on Nomad Rental.
Finding an apartment in Chiang Mai is easy. You can show up, drive around and you will always find something, no matter your budget. However, that can be stressful. I know that it is for me when I have students waiting for their lessons, or something urgent to write and I need good, reliable internet plus a quiet corner to focus. Three days of trying to find an apartment seem like a waste then. My advantage here is that I know the city well and I have an idea where to look for flats. I remember when I was new Chiang Mai and had to find a place to stay. I ran like a headless chicken from one condo to another trying to figure out where I should stay. That's why I completely understand the stress and struggle people who come to Chiang Mai for the first time go through. I usually advise them to take it easy, arrive in the city and then look for a place, but the undeniable fact is that it's so much better to rent something online.
There are some resources out there that can help you out with renting an apartment. Be that as it may, I do think that most of them are overpriced. For instance, Airbnb might work very well in Europe and you can snatch a decent deal when going to Budapest or Krakow, whereas in Thailand the apartments featured on the site are twice, or three times more expensive than if you went and negotiated the price with the owner. Additionally, most of the apartments available in Chiang Mai are not shown online.
Nomad Rental didn't catch my attention only because they offer nice apartments in a good, fair price, but I was very interested to see a new concept – flats for digital nomads. The site doesn't just list any place that is up for rent, but they specifically source condos out that are suitable for those working remotely. So, on Nomad Rental you will only see comfortable, spacious flats. Each of them is described in detail with location, amenities and, what's very important, with the internet speed!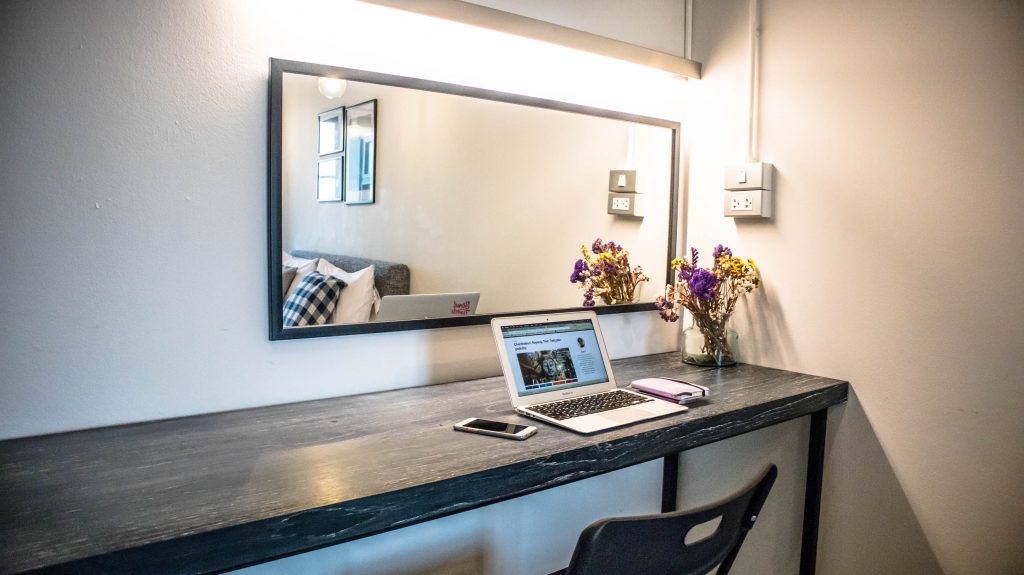 I chose to stay in 51 Hometel because it was newly built, in an area I was not very familiar with and it offered some extras that I found very appealing.
If you are a digital nomad, who is traveling the world and constantly looking for accommodation, I recommend checking out Nomad Rental. It will really make your life easier!
Staying at 51 Hometel
I arrived in Chiang Mai after a long trip around the east of Thailand and visiting Khanom and Kanchanaburi. I was really looking forward to some quiet time and working on my own things.
On the first impression, 51 Hometel didn't look any different from the other condos in Chiang Mai. It was a tall building with some balconies and a big parking lot outside. Only when I walked inside I found out that it was much different from the other places I had stayed in before.
51 Hometel is an apartment building that offers digital nomads what they need most – a quiet place to work. On the ground floor, you will find a small common area with a long table, where residents usually like to work. I would use this area in the evenings, after a whole day of being out and about in the city. It was great for working, but it was also a good place for socializing as I met almost all of the residents who either passed by or, like me,  were keen on doing some work at night. I had never had an opportunity like that before. Normally I had only passed people in the lifts and on the stairs and hardly ever had I chatted with them.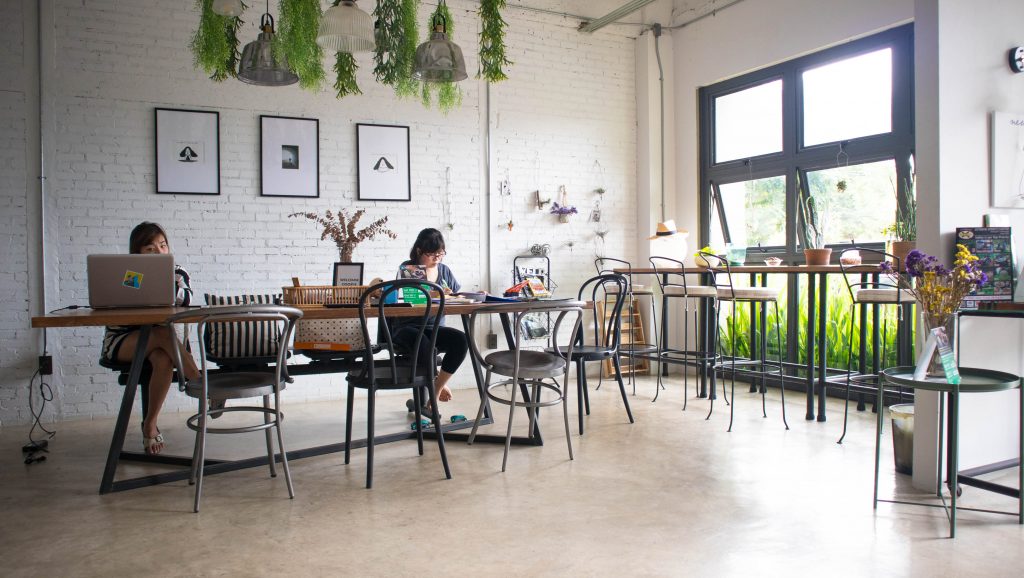 I think that the staff and the other renters were a huge plus of staying in 51 Hometel. The receptionists were super friendly and always willing to chat. I was pleasantly surprised finding one of my former students behind the front desk. What a small world!
Just next door to 51 Hometel there is a small cafe – Mai Bakery in Garden – which serves food and drinks. If you are bored with your room and with the reception area in the condo, you can always take your laptop and move to this lovely place. At the back, there is a cozy room with a large table and some couches. You can also enjoy working in the front of the cafe, where you will be closer to the lovely and green lush garden that grows all around the building.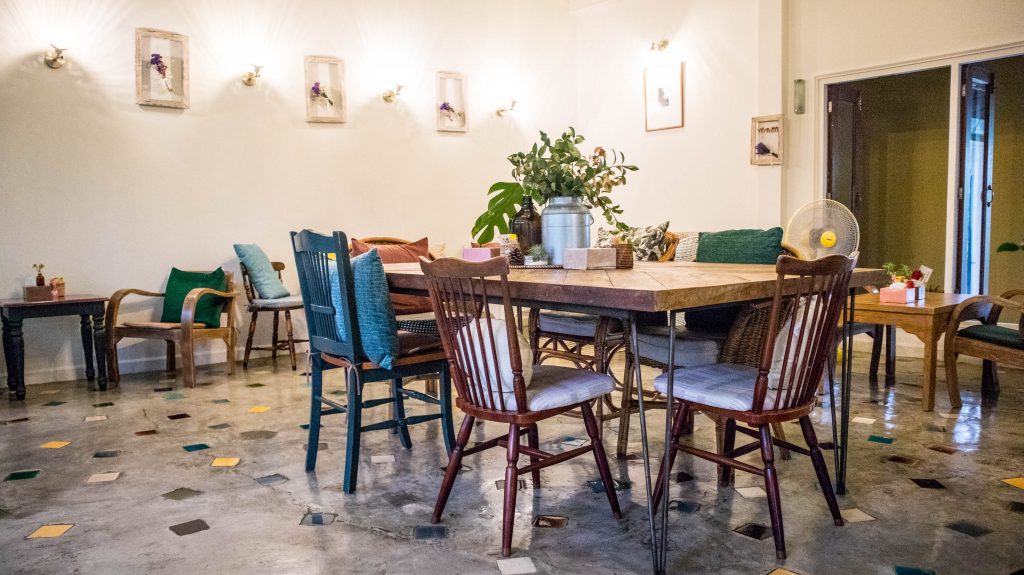 51 Hometel offers two types of rooms: studios and one bedroom apartments. They are all beautiful with minimalistic design in white-grey colors with a black finish. I would say that this place is for those, who value style. Everything there is of higher quality, starting with the bed and sheets (I really had good sleep there), finishing with shampoo and shower gel. I loved the lamps and lighting bulbs hanging over the bed, which gave the room a nice look. After staying in places where I only had one socket, having a few of them in the bedroom and another few in the kitchen was a huge plus.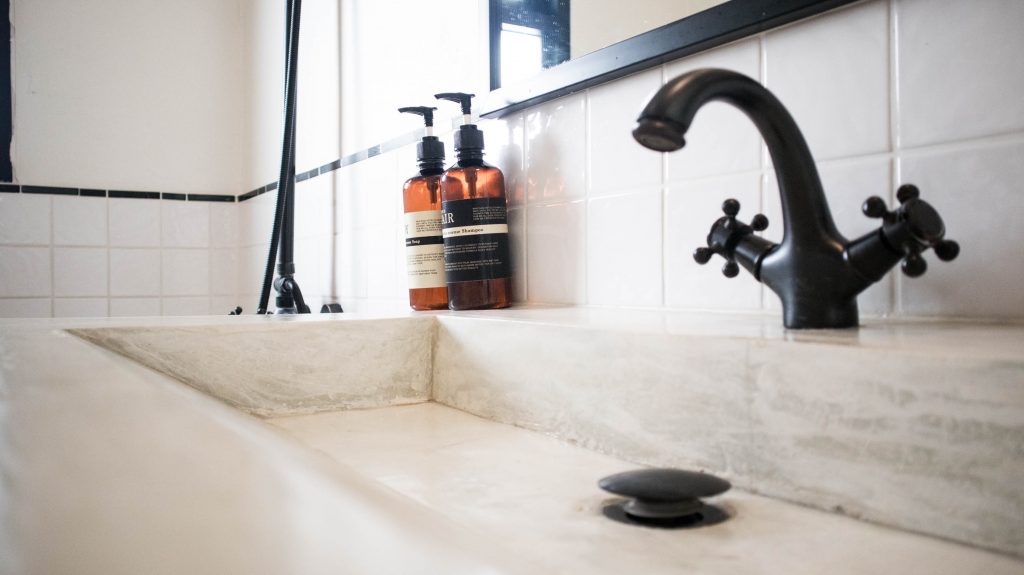 Another great feature of 51 Hometel was breakfast. I don't think there's a condo in Chiang Mai where the first meal of the day is included in the rent. Every day I would go to Mai Bakery for a nice bowl of fruit, cereals, and coffee. It was wonderful to start the day by sitting in a garden and eating nutritious food.
There were also some small things that made the difference, like the laundry which was done for me in the building and then brought back in a linen sack, or free unlimited drinking water, or the discount I got for Grab taxi. I wouldn't be myself if I didn't mention the fresh cookies baked in Mai Bakery and left on the table at the reception. It made my night working hours a little nicer (it also contributed to me gaining a few kilograms, but what the heck, the cookies were delicious!).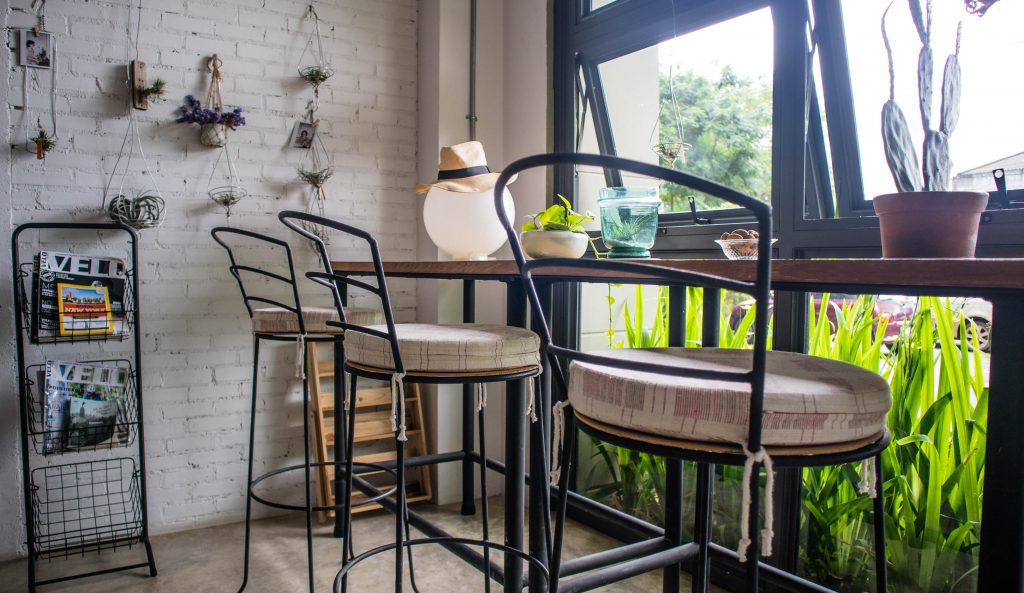 The only disadvantage of 51 Hometel was the location. The building is situated a bit further from the center and around 5 minutes drive from Nimmen – the hub of digital nomads. You definitely can't walk there as the only convenient way to get there is through Superhighway – a very busy road. However, there are a few solutions to this problem. One: just like me, you can rent a motorbike and have your own transportation; two: use the discount for Grab Taxi. It only costs around 70 Baht to get to the city center. Three: take one of the free bicycles that are just outside the building and do some serious exercising. The only downside to this is the weather. The temperature for cycling is only perfect during the winter months. From what I could tell, quite a few people living in the building had their own scooter and the rest used Grab. It's worth mentioning that the building might be a bit further, but it is located in a lovely neighborhood, where you can get cheap local food.
Staying in 51 Hometel was a lovely experience and one of the highlights of my stay in Thailand. If you're a digital nomad or a person who wants to stay in Chiang Mai for longer, I highly recommend this place. It will satisfy the pickiest travelers. Give this place a try and if you're looking for something different, or in a different location, have a look at Nomad Rental, where you can find more options.