Alfama – I fell in love with it from the first sight. I started my sightseeing tour from this place, which made a huge impression on me. There is no other such beautiful and amazing area in the capital of Portugal. I had never seen buildings so charming and streets so atmospheric. I could walk around Alfama all day long.
I have my own favourite places there, but I think with time I will find others, which will steal my heart. This area shouldn't be only visited in a typical, tourist way, with a guide and a map. You should get lost here and forget about following a path. If you fancy a normal sightseeing, then you will find my suggestions below.
Check out my ultimate guide to the holidays in Lisbon
The National Pantheon (Igreja de Santa Engrácia)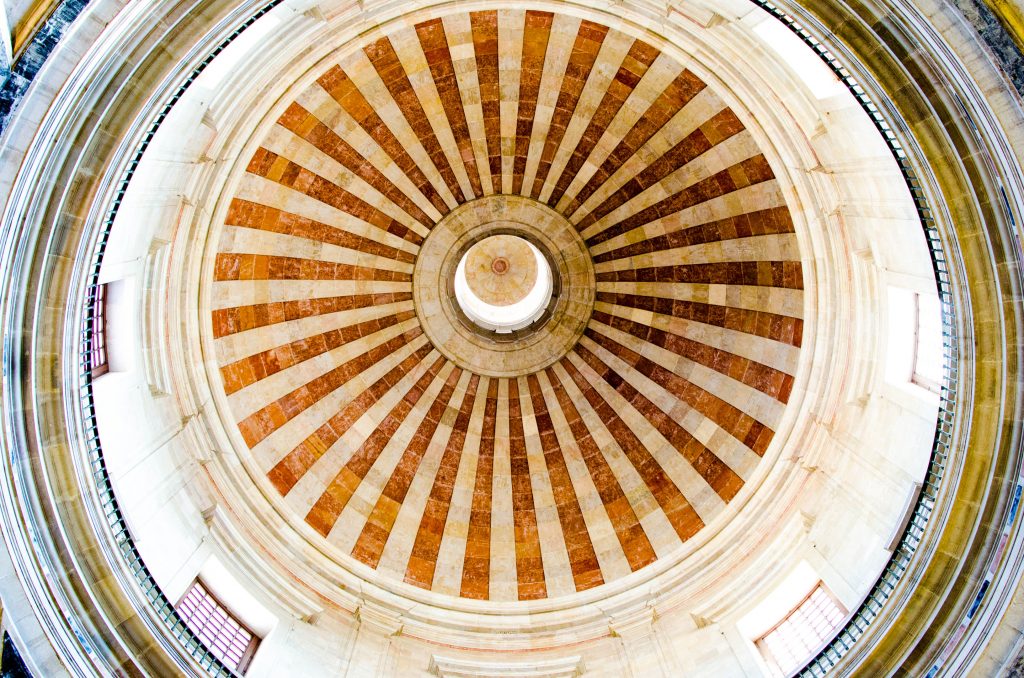 The National Pantheon in Lisbon is a museum, but I wouldn't say that it's the most interesting place in the city. There are a couple of art pieces and there are graves of the most famous Portuguese people. That's it. But just walk up to the terrace at the top, where you can admire the view over the harbour and Alfama. During my visit there wasn't anyone there except me. It was so calm and peaceful and I found it hard to leave. On a sunny day it's really worth going up there.
Jardim Botto Machado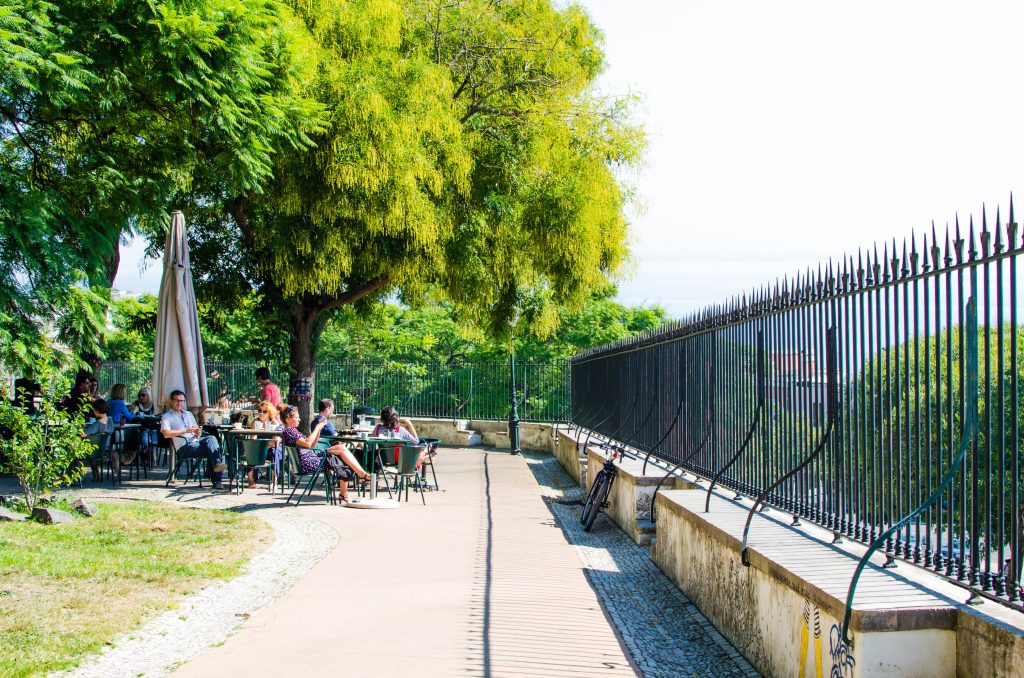 This small park is located just behind the Pantheon. There's nothing special about it, but it's a nice place to grab a drink and relax. You can enjoy some cool breeze from the river and admire the views.
Sao Vincente de Fora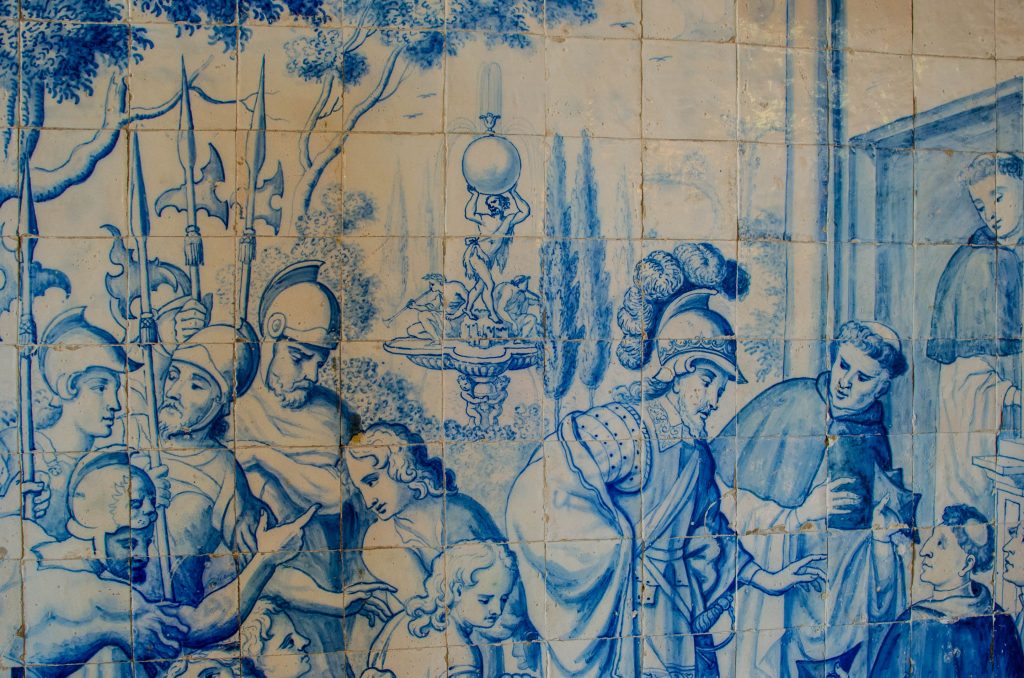 This small church will welcome you with a very charming square. I was a little hesitant to go in. The entrance costs 5 Euros and I didn't know if it was worth it. I had read that the museum includes a beautiful collection of baroque azulejos (traditional, colourful tiles) and many pieces of art. This was enough for me to decide to pay the entrance fee. As it turned out, the Internet didn't lie. The museum part, which is located just next to the church is filled with art. I really didn't regret going in.
Miraduro das Portas do Sol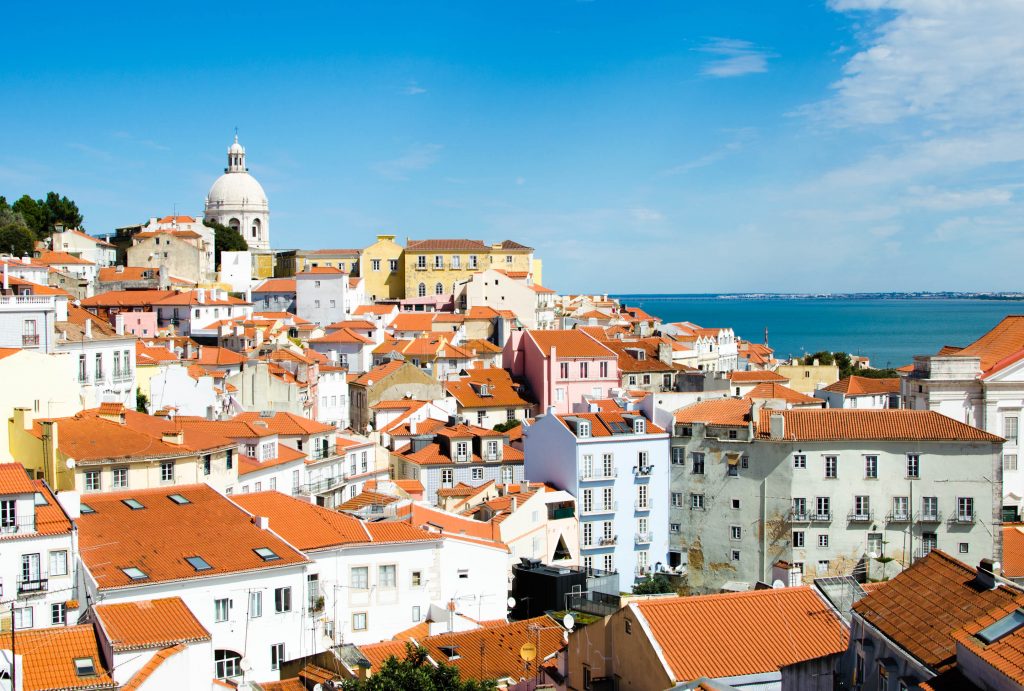 Visiting Alfama will probably tire you out. The area is located on a hill and all the streets go up and down again. The good thing about it are the views. Miraduro das Portas do Sol is one of the most famous ones. From here you can admire the views over the river and the nearby houses. It's a very touristy spot, but it's worth stopping here for a minute, or two.
Miraduro de Santa Luzia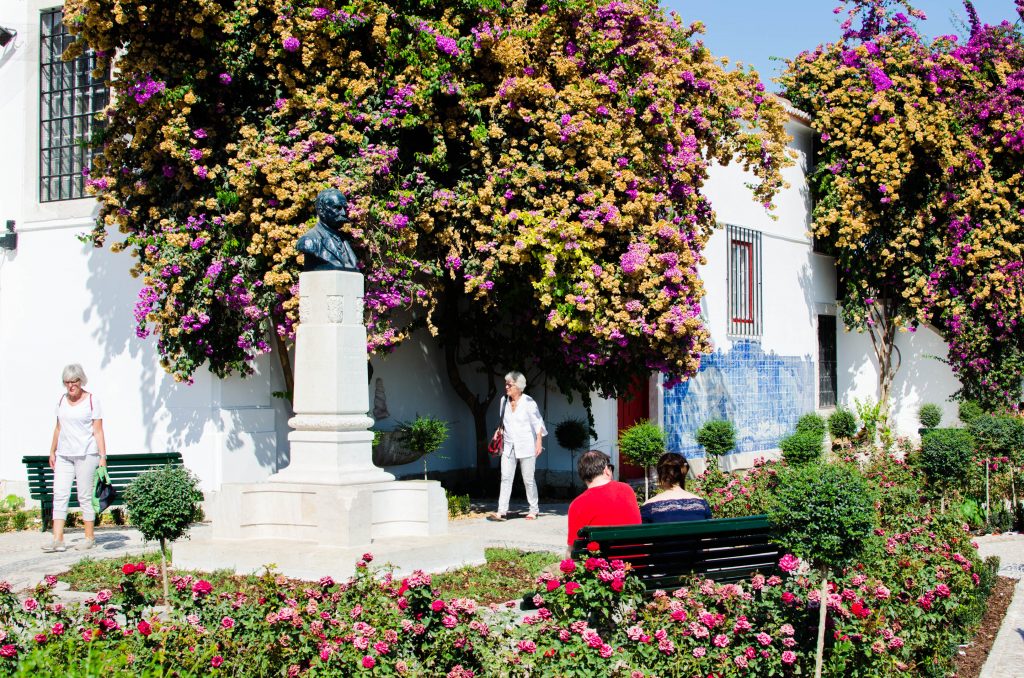 Miraduro de Santa Luzia is located just next to the Miraduro das Portas do Sol. The view from here is very impressive and the garden is stunning. There are less people at this spot than at the previously mentioned one, which makes it a nice place to unwind for a bit.
Sé Cathedral
The famous trams pass the church. It's a great spot for photos!The Sé Cathedral in Alfama was built in the 12-th century. It's one of the oldest buildings in Lisbon. From the outside and inside it's not as impressive as the other churches you will find in Europe, but art enthusiasts and historians will find it very interesting. I really like the streets that run near the church.
Saint George's Castle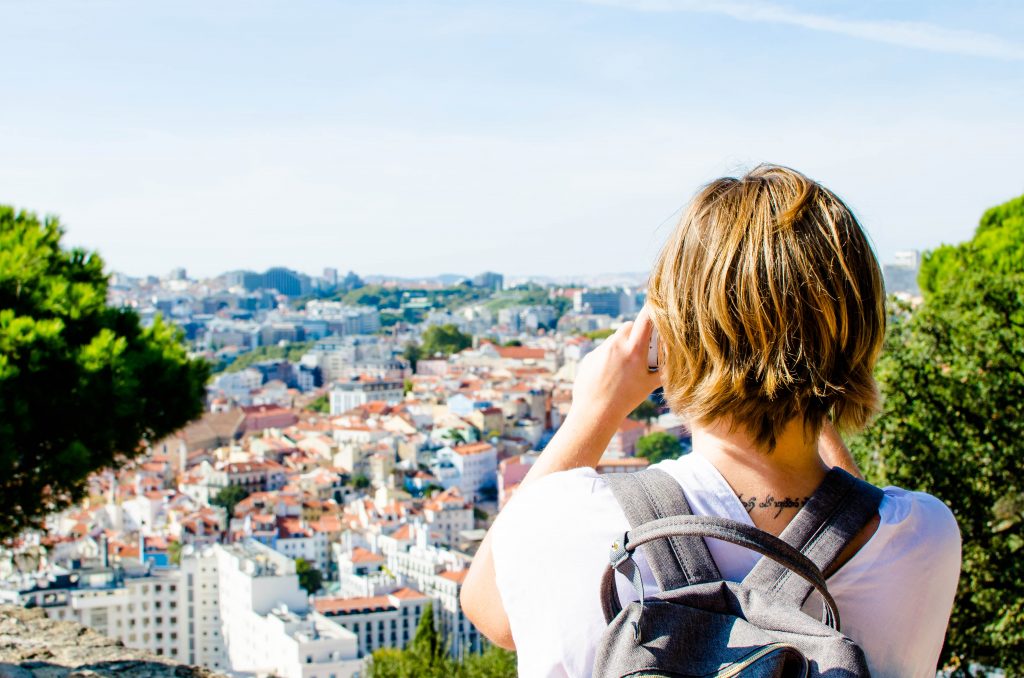 If you have some cash and time to spare then visiting Saint George's Castle will be a nice way of seeing the city from above. I think that visiting Alfama without coming here wouldn't be complete. If you don't want to pay 8 Euros entrance fee, then wander around the streets near the castle.
Take the tram 28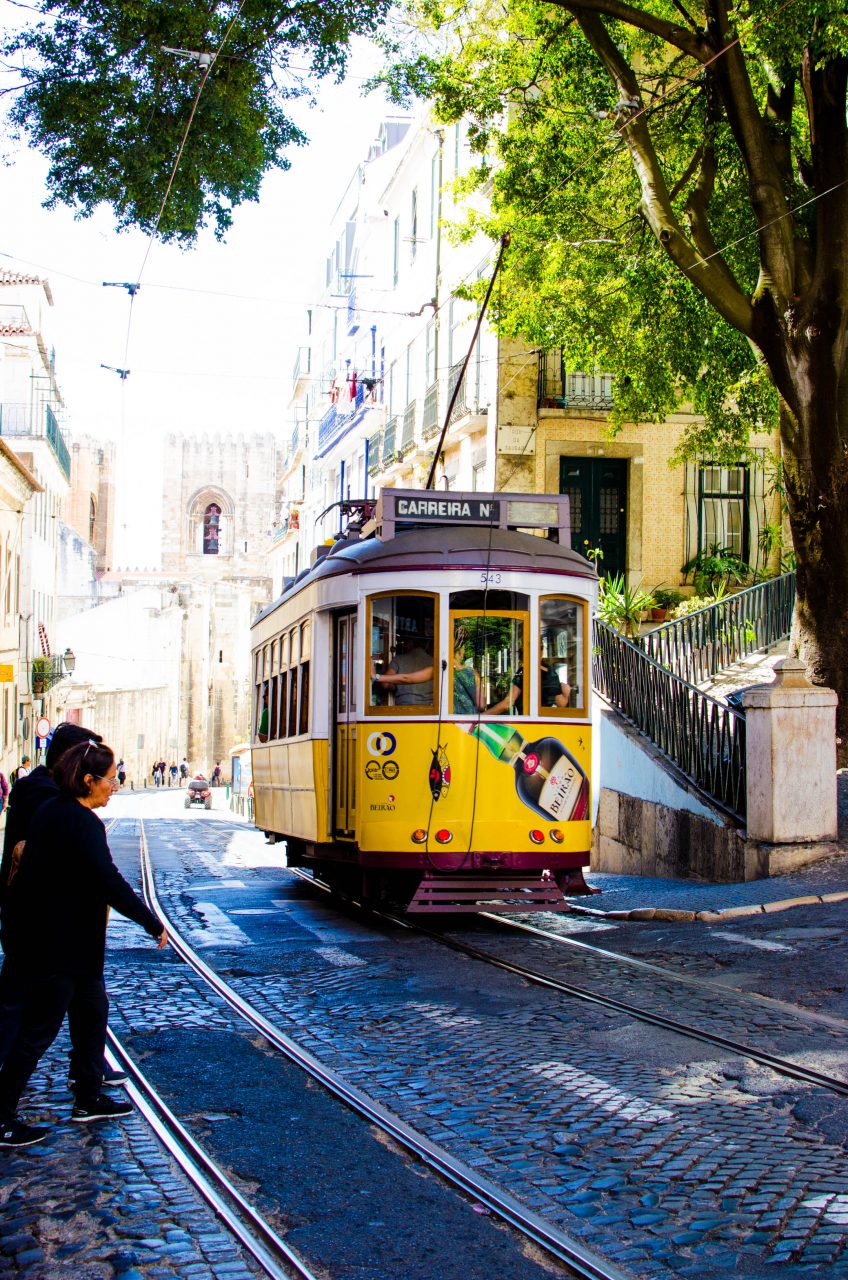 The famous tram 28 goes through the whole Alfama! It's a really cool attraction. The trams come from the 30s. They were supposed to be given to a museum, but it turned out that they cannot be replaced. The tracks in Lisbon are too narrow and modern trams wouldn't be able to ride on them. That's why the old ones, including the number 28 are still used here as a mode of public transportation. A ticket costs 1.45 Euros.
Buy something cool at Feira da Ladra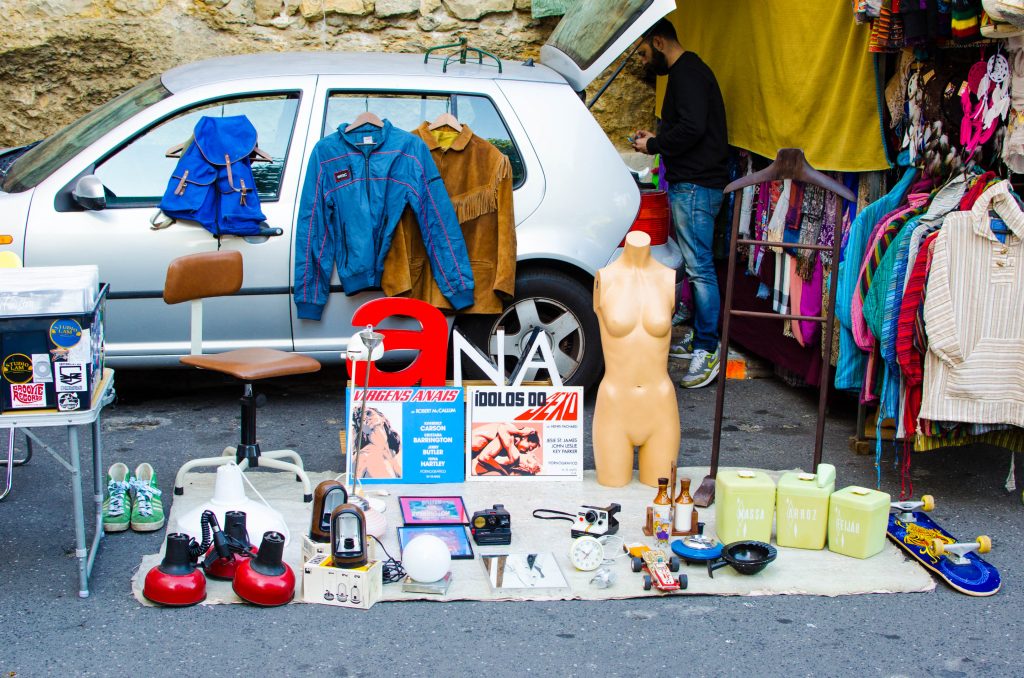 Feira da Ladra, a thieves' market, is a very famous flea market in Lisbon, where you can buy everything. Are you looking for stylish, old furniture? Are you collecting coins, dolls, tools? Do you like reading books? Are you looking for something unique for a present? You will find everything here!
What is the best way of visiting Alfama?
Alfama is a relatively small area. You can walk around on your own and just enjoy the general atmosphere of it. If you're looking for someone to show you something extra special, then I recommend hiring a guide, who will take you on an off the beaten path tour. I always use With Locals, who offer independent tours around Lisbon and other cities. I've had a tour with them before in the capital and I can really recommend their services.
Visiting Alfama – Practical information
You will get here from the nearby metro station. Santa Apolonia is the best one to go to. From here you can easily walk to the Pantheon.
Dress comfortably. I am not talking about comfortable heels, ladies, or even about flip-flops. Wear trainers and some light clothing in the summer. You will really need to climb a lot of hills here.
Take water, sunscreen and some change for the tram.
Where to stay in Alfama?
It's very easy to find accommodation in Alfama. The problem is the price. A nightly rate might be quite high. Most of the accommodation here include apartments and rooms in private flats. If you would like to pay less, aim to stay outside the city centre.
Alfama4U -self-catering apartment. The flat is very nice and newly renovated, but the owners kept the wooden floors and high ceilings, which is very characteristic for the Portuguese flats and houses.
Alfama Tejo Penthouse Sudio – small, but cozy and you can come here with your pet. Additional advantage is the vieew from the windows.
BMyGuest -I like the colours of this apartment and the design. It really looks very stylish.
Where to eat in Alfama?
Santa Rita -a friend took me there once and until this day I go there from time to time. It's a very small, local restaurant run by a family. Prawns are very good here! Try them with curry sauce and rice.
Damas -a very pleasant, stylish restaurant for those that like good food and unique interiors. Damas is like fresh air in the old Alfama. Order fried eggs with potatoes, olives, bread and hummous. You won't regret coming here!
Ginjinha da Se – one of my favourite places. A small bar owned by 2 French women. You can drink some cheap and good wine, eat some cheese and delicious grilled chorizo. It's best to come here after dark and sit outside.
Pois Cafe – Pois is a cafe – legend. Many locals as well as tourists come here to relax, chat and study for the exams. It's a good place for work, but there are no power sockets. The food is good and in reasonable prices.