I arrived in Kuta after a 12 hour journey from Sydney. I was tired, sweaty and hungry. It was 2 am. All I could think of was to go to bed and sleep for ages and not to chase a huge cockroach around my room.
That's another thing I learned about myself during the journey – I am able to kill. No one will do this for me. So, after seeing this roach on the floor of my bathroom, I took my flip flop and went for it. Unfortunately, the bloody creature was faster than me and ran away. It's still hiding under my bed. I didn't have any other choice than to give it a name (Chris) and live with it for the next 2 days.
The next day I went out to explore. The town was slowly waking up. The street vendors were setting up their shops and were greeting me with a huge smile.
The famous streets  Poppies I and Poppies II were half empty. I wandered through the little streets, admiring the houses. Each crafted and decorated with small mythical gods. Some of them looked like temples.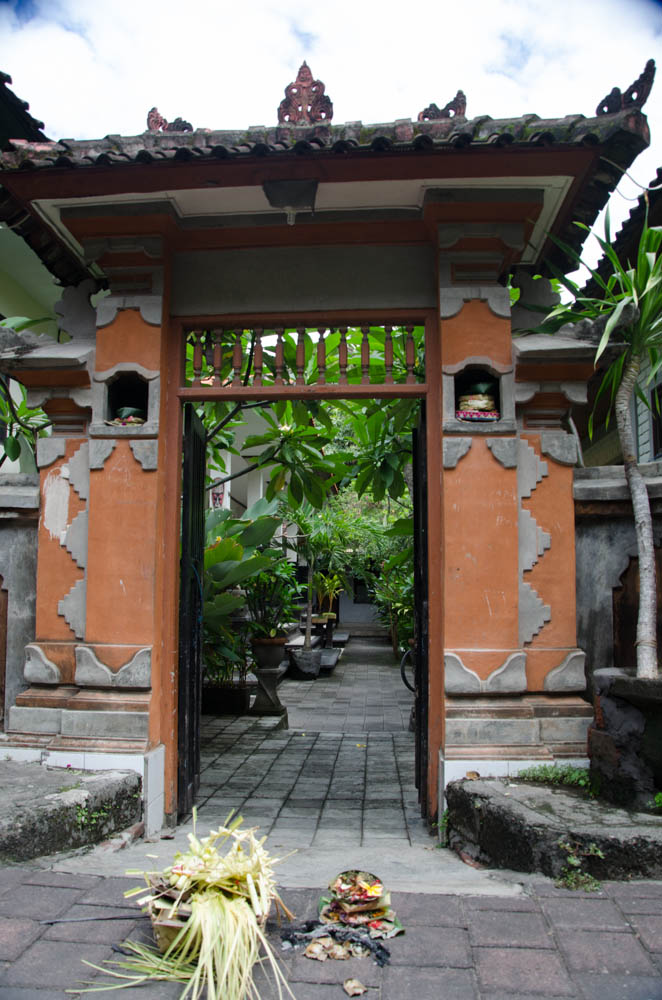 I got lost in the labyrinth of the streets.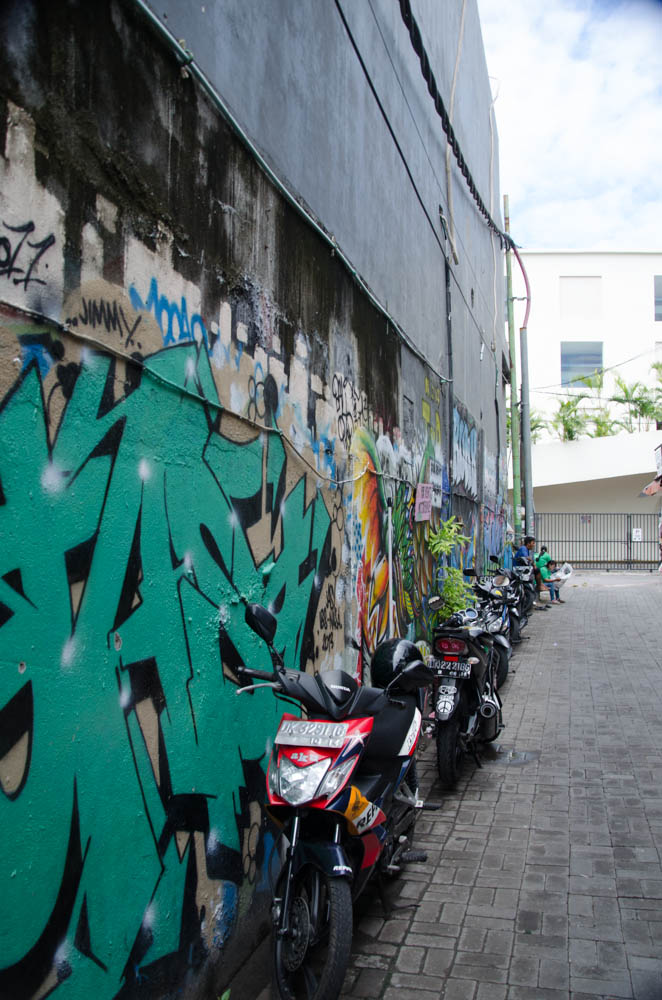 "Miss, would you like a pedicure", asked a beautiful young woman on the street. After negotiating the price, I followed her to a dirty, little place in the back street. We chatted. She had lost two sons prior to her two young daughters – one was now 7, the other 11 months. The younger one was sick, but they didn't have time nor money to go to the doctors. A consultation with a doctor costs her monthly salary.
She complained in a mocking way about her husband, who was too serious and quiet for her taste, but it was an arranged marriage, so she didn't have a choice. But, she was happy. They didn't have much, but she was grateful for every day she spent with her family.
I gave her a good tip.
It was time to check out the beach. I made my way through the Poppies lanes.
This time the streets were busier and the sellers were trying to make me buy something. I must say that after a while it became annoying.
Kuta seems like a nice place, but overwhelming amount of the nagging vendors spoils the atmosphere.
I walked through the grey sand and watched the water taking the offerings, which had been put there by the locals in the morning. Waves, not too big, were perfect for those taking the first steps in surfing.
Kuta Beach is not the best I have seen. It's not only the quality of sand, which is far from white, but also the rubbish lying around. It becomes dirtier throughout the day and in the evening you really need to be careful not to step on glass, or some leftovers.
I sat down in one of the "bars", which was a portable fridge, a few plastic chairs, coca-cola crates served as tables. 18 year old Robbie was my waiter. He sat down next to me and lighted a cigarette.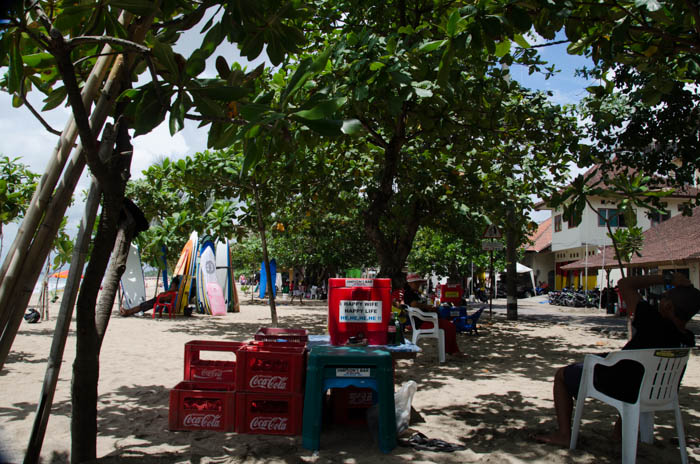 'You know her' – he pointed to an older woman, who was working there with him – "She wants me as her toy boy. She calls me every day to come to her" – he laughed.
The woman looked at him and rolled her eyes. "He's stupid" – she said 'Don't listen to him'.
Robbie was laughing. "She wants a white man" – he continued – "Because Balinese men have small bananas" – he wriggled his little finger.
"Yes. And you…" – the woman laughed 'You like woman with big boobs'
I was enjoying this little conversation between them two.
Robbie then told me he had never seen snow in his life. He asked if the snow was hard and if it hurt when the flakes fell down on your head. He wondered how it would be to make a snowman. He would love to make a huge snowman one day.
I went back to the hotel room with a smile.
Balinese are very chatty. They will ask you about your personal life and about your country. They want to know everything. This is their version of small talk. We talk about the weather, they talk about their husbands and wives.
Young Balinese boys also like to pick up western girls. They are however very polite and will walk away if you don't show any interest.
In the evening I went for another walk along the beach to see the sunset. There were big groups of young Muslim girls dressed in colourful veils, looking beautiful against the red sky.
"Miss!", shouted one after me. I turned around and a couple were running towards me. "Miss, can we have a photo with you?", they asked.
I was surprised. No one had asked me that before. I agreed and posed for photos with each and one of them.
I took one of 4 of them, too.
They giggled and cheered me good-bye.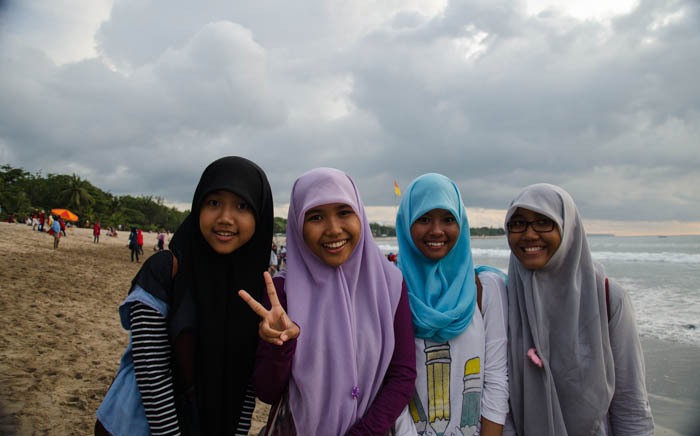 Indonesia is mostly a Muslim country. Bali is an exception, where most of the population is Hindu. Kuta seems to be a favourite holiday spot for those living on the mainland.
I sat down on the sand and watched the sun go down. I was greeted by people passing me by. Some stopped for a second, asking me questions. I had a longer conversation with a guy called Chris, who was curious about spelling of some of the English words.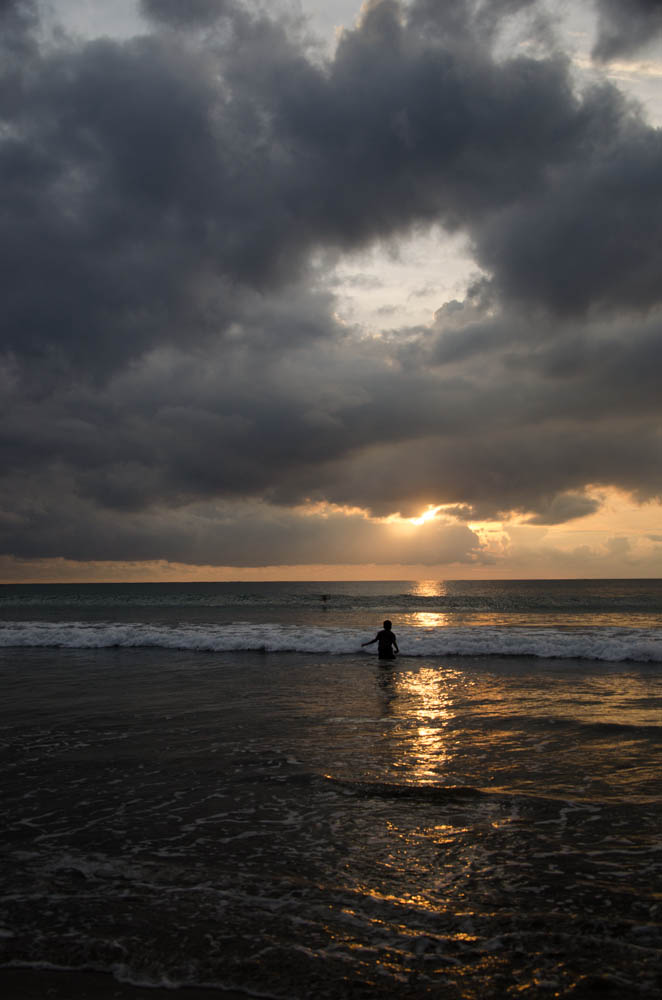 When the sun was gone and I felt really tired, I went back to the hotel. I stopped at the Mini-Mart, and Indonesian version of 7-11.
"Where are you from?", asked the shop assistant. I smiled and the conversation flowed for another 5 minutes or so.
I got to the hotel early to get ready for my trip to Gili T the next morning.
It was a slow, but blissful day. I think Bali and I will become friends.