After a whole day of sightseeing you deserve to treat yourself with a nice meal. There are plenty of restaurants and bars in Marrakech that serve delicious, flavoursome meals at very good prices. Find out where you can enjoy one the best cuisines in the world!
Did I know that Moroccan cuisine is so good? No! I'm ashamed to admit that I really had no idea how good it was. Before traveling to Marrakech I had avoided Moroccan restaurants. I don't know why. I was always more keen on Indian, Thai, or Chinese. When I finally had a chance to try my first dish in Marrakech I was in awe. Wow! That was amazing! Every day, during my stay in the Red City, I ate something new and I didn't have enough of it. During that time I went to some nice places to dine.
If you have your itinerary for Marrakech, you need to incorporate some of the places from this post. I guarantee you that you won't be disappointed. All of them serve really good food at reasonable prices.
Food in Marrakech – Which dishes to try?
There are plenty of traditional dishes in Marrakech and it's hard to choose the most important ones, especially if you're there for only a couple of days. In my opinion, the best ones to choose are:
Tajines – it's a stew cooked in a special clay pot. A tajine is served sizzling hot. You can choose between meat dishes, like chicken or beef, or you can go for a vegetarian option. In some restaurants it comes with a side dish of cous-cous, but often you need to ask for it. Normally, you are served a basket of bread with olives. I found that dipping bread in the sauce from tajine is even more fulfilling and you don't need cous-cous.
Harira soup – this soup is a great starter if you're very hungry. If you don't eat much, then you can order it as your main. It's a thick soup with lentils, beans, and some meat. There are a lot of recipes of it, therefore it tastes different in every place you try it at.
Grilled meat – in the evenings you will see plenty of street stalls and carts, which sell grilled meat. I stumbled upon an area full of them and the air was thick with smoke! Grilled meat is almost everywhere in Marrakech. Go for lamb, which is very succulent. Just remember to ask the seller to grill a fresh piece for you.
Pastry – Moroccans have a sweet tooth and pastry can be found in almost every shop. I think it's impossible to stay slim in this country. Head to a good bakery for the best pastry and try desserts and sweet treats.
Mint tea – that is not food, I agree, but I had to mention it here. Mint tea is everywhere in Marrakech. Order it with your meal. It's very refreshing.
Going to Marrakech for the first time? Read about everything you need to know before you visit the Red City.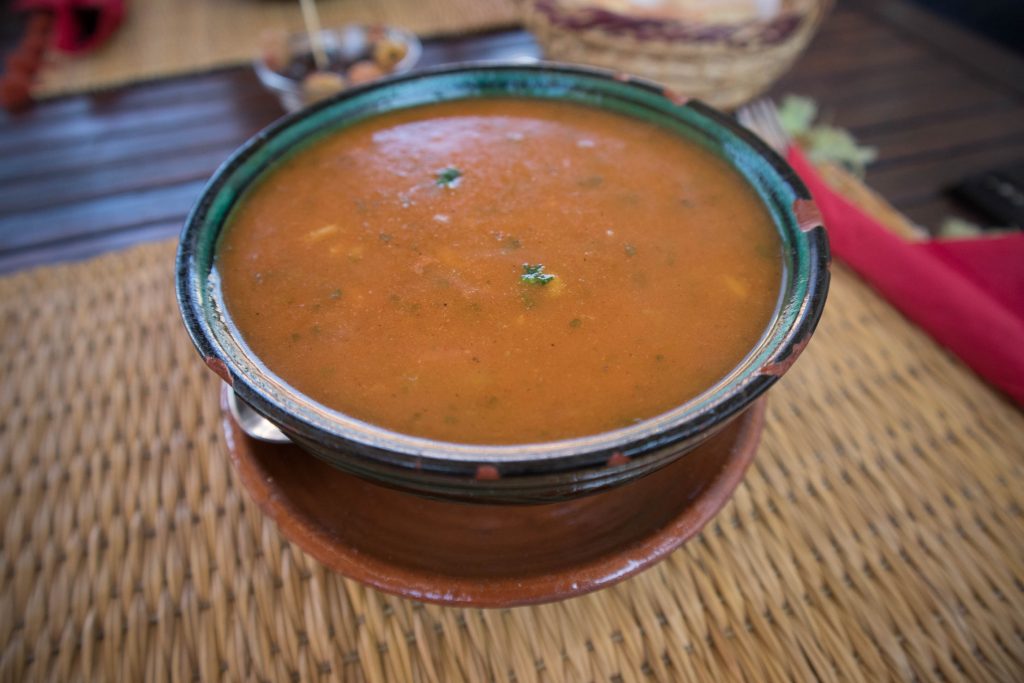 Don't get sick in Marrakech! Tips for healthy eating
One of the concerns people have when going to Marrakech is how to enjoy the food and not get sick. Hygiene standards are not the priority in most restaurants and bars, so it's important to know how to buy your meals and not get sick. Here are the most important tips for healthy eating that I usually follow.
Eat where the locals eat – go out to eat at the same times as locals do. Moroccans eat their dinners after sunset, when it's cooler. If you see a place full of people, then you're sure that it's a good spot. Have a look at the tables around you and if you see what you like, point at it and ask for the same.
If you choose a restaurant, choose a good one – it's easy nowadays. You can choose something from TripAdvisor that has good reviews, or you can use this guide to help you to find the best places to eat in Marrakech.
If you want to try meat, choose only fresh pieces – don't take something that's been grilled already. You don't know how long that has been there. Ask for a fresh piece to be grilled in front of you.
Opt for vegetarian dishes more often – in my opinion it's safer.
Don't eat vegetables and fruit that have a peel on – anything that has a peel, or cannot be peeled is not safe to eat. I must say, while in Thailand, I didn't stick to this rule and I survived, but it's better to be safe than sorry.
Don't drink tap water – I would go as far as brushing your teeth with bottled water.
Sometimes the fanciest restaurants are worst than street stalls – I experienced that on my own skin (or stomach). You cannot really predict if that particular restaurant will give you food poisoning, but choose the place to eat at wisely.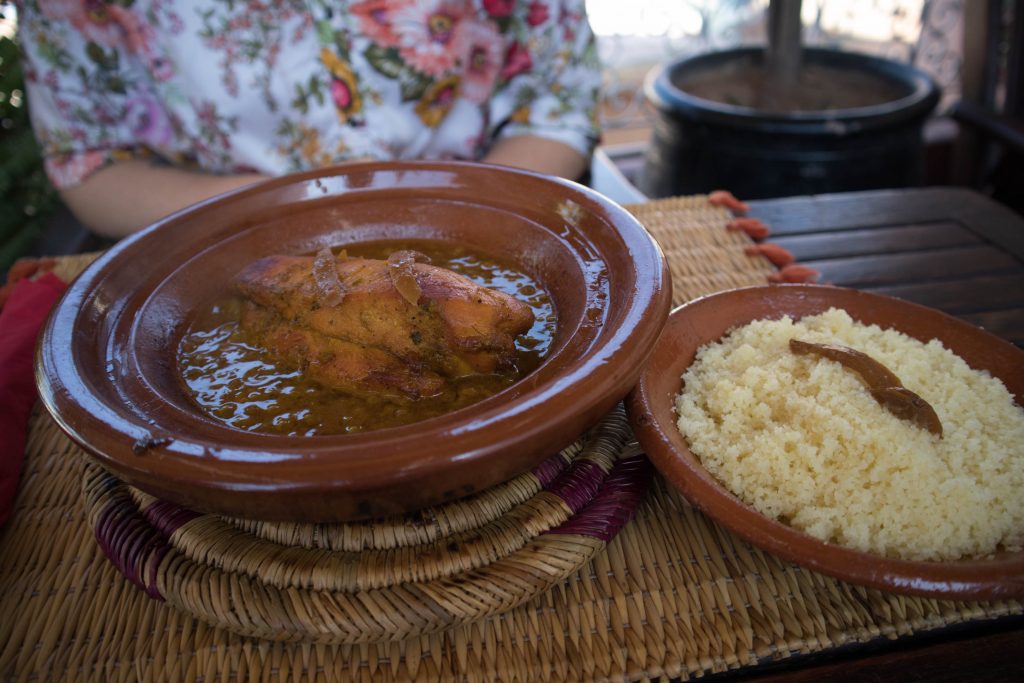 If you want to know more, read my guide to staying healthy while traveling. It has detailed information on how to avoid getting sick when being abroad.
Taste 10 Moroccan dishes during a food tour with a local guide. Visit the best places to eat in Marrakesh and find out more about Moroccan cuisine. Book your tour here.
The best restaurants and bars to eat in Marrakech
Ready to eat your way through the Red City? Here are some great places to eat in Marrakech!
Dar Mama
A tiny place by a busy road that serves amazing tajine. There is nothing more I can say about it. It really doesn't look like much, but the food is outstanding. I had a lemon chicken tajine and Christopher had beef with plums.
Prices: tajine 80 – 150 Dirham
Souk Kafé
A lovely place for lunch or dinner. The rooftop is especially lovely with nice decorations, comfortable seats, and a laid-back vibe. We liked the food so much that we went there twice. I recommend ordering the set menu, which includes a soup, a main course, dessert, and a drink.
Prices: Set menu – 130 Dirham
Black Chich
This is not really a Moroccan restaurant as they serve Senegalese food, but it's really wroth visiting. I discovered it on the day I was leaving. The inside has a very cozy decor with some nice details. The rooftop offers an amazing view over the city. Above all, the food is delicious. Even if you're not very hungry, you should try some salads and snacks.
Prices: main courses 35-85 Dirham
Jamaa El-Fna Food Stall 31
Do not go to the square to eat tajine. Instead, head there for some grilled stuff. Stall 31 was recommended by a Morocco based blogger MarocMama. It is, in fact, one of the best grilled meat I have had. Order the sausages as they are what the locals eat there. The skewers are more expensive and they might not be worth the price. Try the bread with dips that are served before you get your food. They are amazing!
Cafe Clock
Recommended for dinner. Every night Cafe Clock offers live performances by local artists. There are storytelling nights and music nights. You can experience Moroccan culture either for free, or for a very small price. We saw a female Berber band playing there and it was amazing!
The food at Cafe Clock is also great. You have a good variety of dishes. I recommend to take Moroccan salad and a choice of falafel and hummus.
Prices: From 30 – 100 Dirham
Le Warner
This might not be what you want to have in Marrakesh, but if you are fed up with Moroccan food and want a change, then this is the place to go. An This American diner with a really fun decor and very polite and pleasant waiters serves great burgers and delicious shakes.
Prices: A burger – 59 – 90 Dirham
You will find that there are plenty of places to eat and drink in Marrakech and the above places are only a small piece of what the city has to offer. I hope I helped you a little to find those worth recommending.
Do you have a question, suggestion? Do you want to share your opinion, or experience? Don't be shy! Leave a comment!