Do you remember any historical facts about Iran? You probably heard about the Alexander the Great, Persian wars and even about Persepolis. When you go to Iran, be ready for a good history lesson because there are places between Yazd and Shiraz, which will remind you about everything what you have already forgotten.
I can honestly say that if I was at school now and had that opportunity to travel, I would remember more about history and all those facts I used to learn about at school. At the moment it feels like I'm learning everything again, that I'm discovering the world, which I've managed to forget about. My two weeks trip to Iran showed me that history can be incredible and beautiful and that you can learn something new all the time.
You can visit amazing places between Yazd and Shiraz. Despite the fact that they are on everyone's list, you can still enjoy them without the crowds if you come to Iran outside of the season. You must stop at the below places if you are interested in history. They are the cradle of Iran, the country's culture and traditions come from there. If you want to understand the country, you cannot miss them.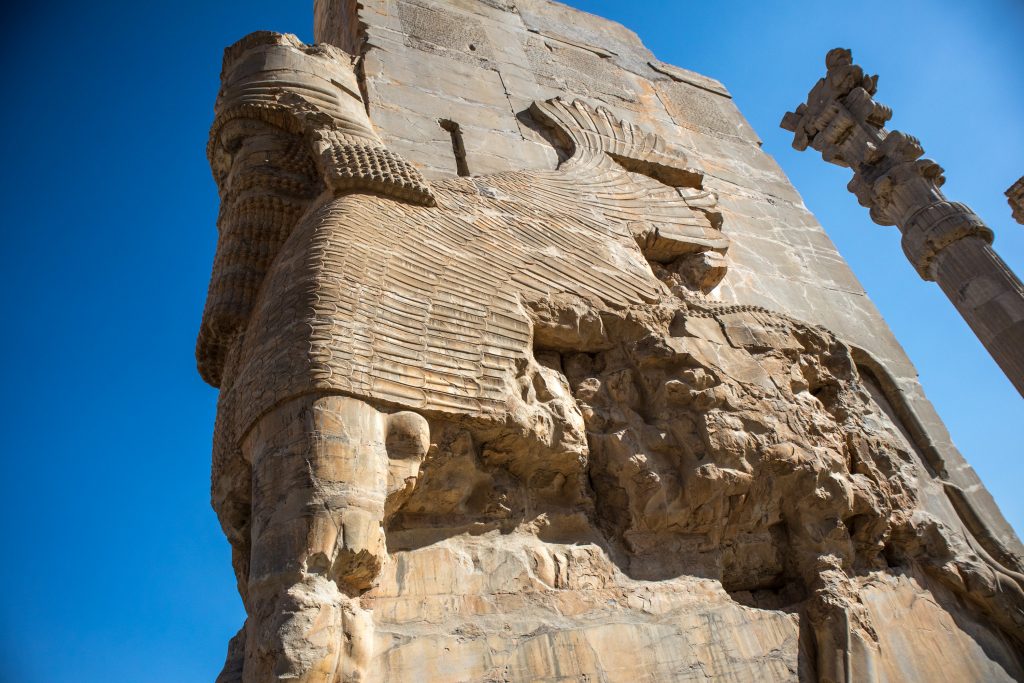 Between Yazd and Shiraz – What to see? Where to stay?
About 300 kilometres of straight road going through the desert and the mountains connects Yazd and Shiraz. The whole day of sightseeing will be filled with views, landscapes and visiting the most incredible historical places.
The Tower of Silence
As soon as I heard about this place, I wanted to visit it. The Tower of Silence is a sacred sight, where Zoroastrians used to bury their dead. There are a couple of them around Yazd and they are located a couple of kilometres from the city.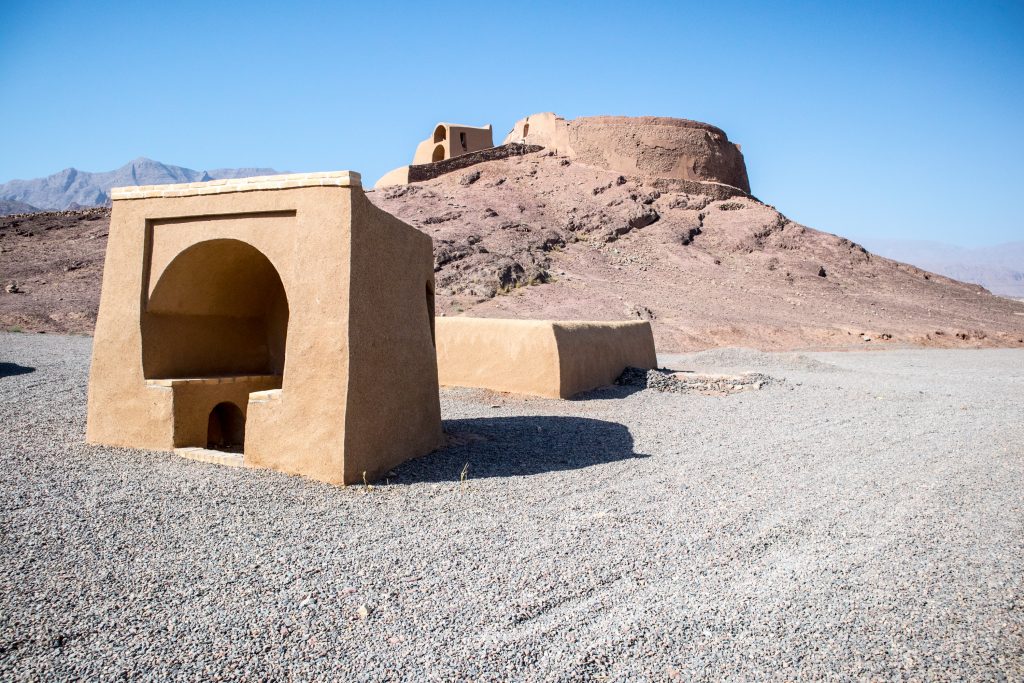 Zoroastrians believe in one god – Ahura Mazda – who created the world. They also believe that he is represented by fire. That's why all of their temples have eternal flame, which burns constantly. In Iran Zoroastrians, as a non-Muslim minority – have the right to practice their religion, which is not something everyone in the country can enjoy.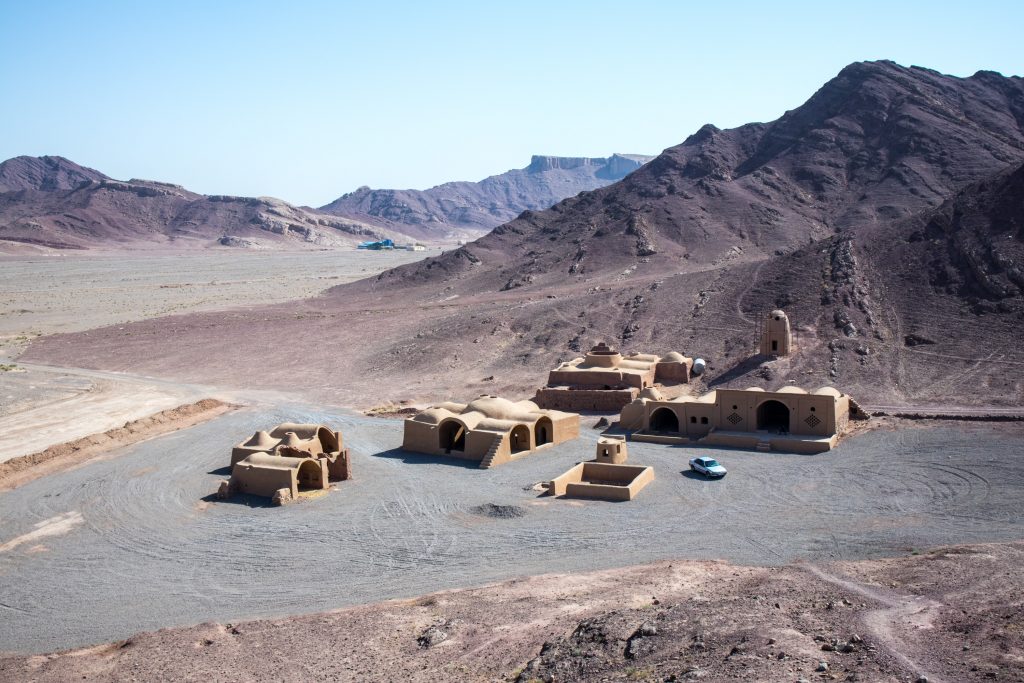 The Tower of Silence consists of small, clay huts spread out around the burial place. The bodies used to be prepared there. Then, they were brought up the hill and left for the wild birds and the elements.
It might seem like a very grim tradition, but Zoroastrians believe that we come from nature and we must be given back to it.
The Tower of Silence today is a tourist attraction. The Iranian government doesn't allow for the traditional funerals to be performed as it is against Muslim religion. Instead, Zoroastrians must bury their dead ones in normal cemeteries, which are usually located to the Tower of Silence.
Entrance: 200,000 Riali
Pasargady
I once studied for a history test with a friend of mine, Alice. She always changed the names of every historical figure. For some reason, it was hard for her to remember the proper name. We reviewed the ancient Persia and Alice would say the name Cyprus. 'Cyprus this, Cyprus that…' she would say. I knew something wasn't right, so I looked into my notes. As it turned out, it wasn't Cyprus, but Cyrrus. And that's the reason why even now I know who Cyrrus the Great was.
Twenty (!) years later I stood on the hot Iranian soil and couldn't believe I was looking at the Cyrrus the Great's grave. If only Alice could be with me there! Pasargady is the place of his burial and I had the honour of visiting it!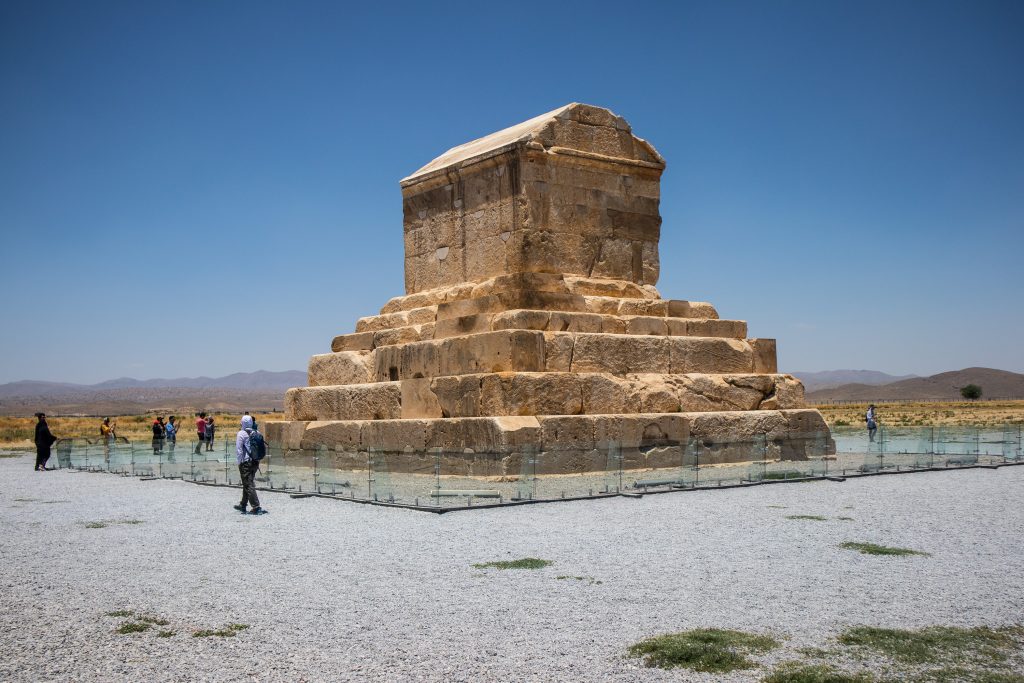 Cyrrus created this amazing and impressive city around in 500 B.C. Some remains of the buildings can still be admired. The area is so huge, you need to take a special electric car to see it all.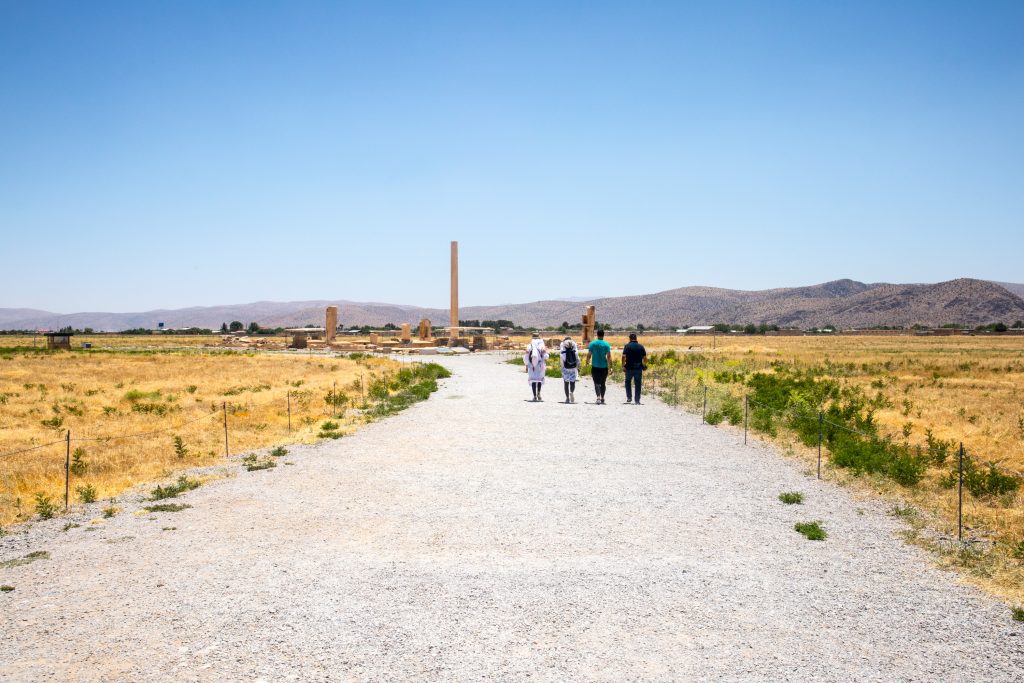 All that history aside, quite honestly, I thought it was the least impressive site I saw that day. However, it's still worth visiting if you love history and historical facts.
Entrance: 200,000 Rials
You have to pay extra 20,000 Rial for the car.
Naqsh-e Rustam, Nekropolis
When you stand at the foot of the rocks of Nekropolis, you feel so small and insignificant. Just imagine how much effort the creators of these graves must have put into building it all.
Naqsh-e Rustam consists of only 4 graves, which were sculpted into huge sandstones. The greatest Persian rulers rest there. It is estimated that the graves were created around 500 B.C.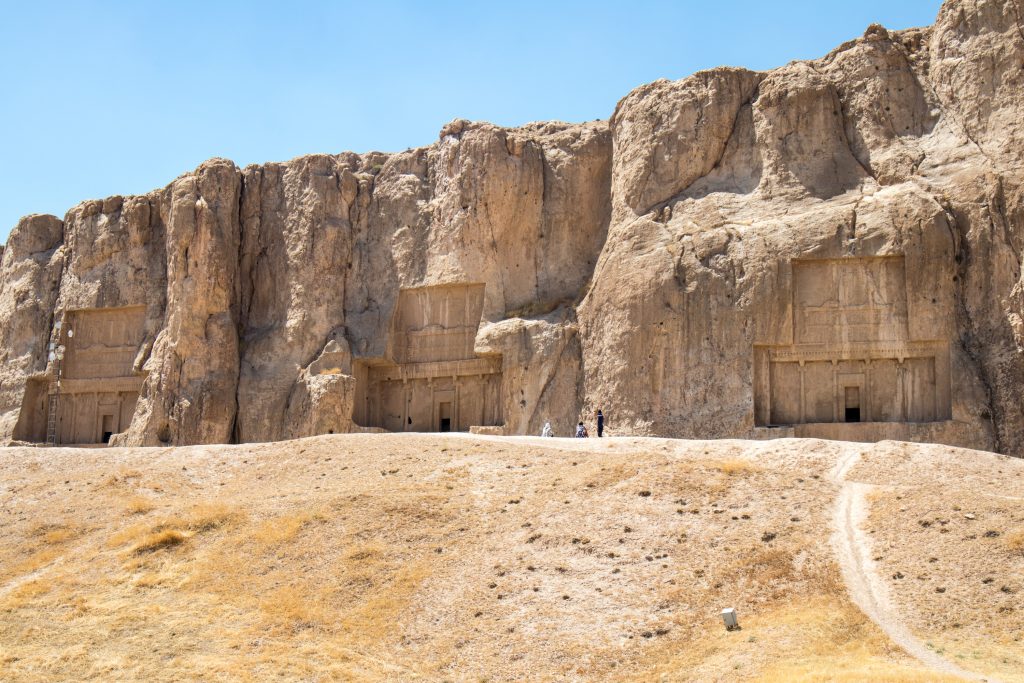 Only one out of 4 of those graves was identified. It is a grave of Darius I. The other two are big question marks and the scientists believe that they hold the remains of Darius II, Xerkes I and Artakerskes I.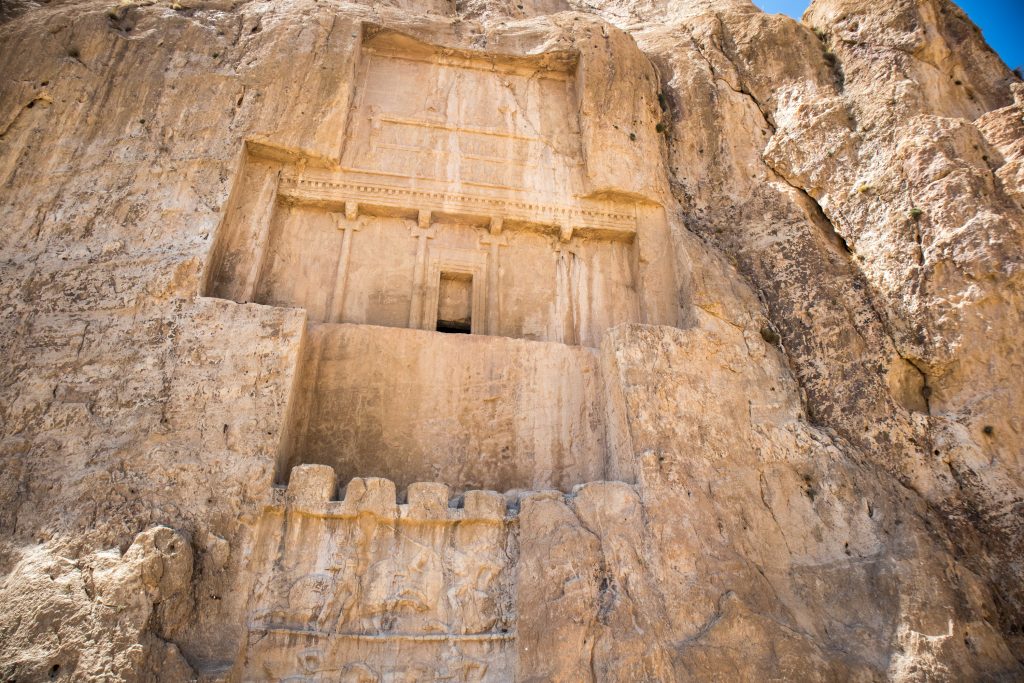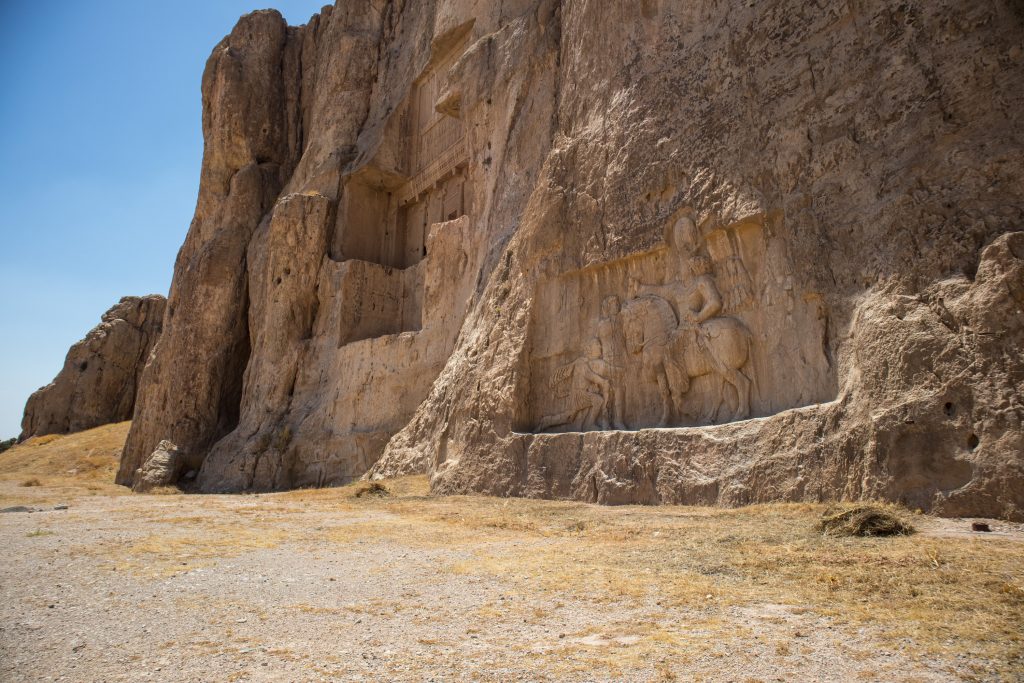 There are huge reliefs of the kings sculpted above the entrances to the graves. At the bottom you will see pictures of the battles and other events that took place during the lives of those buried there. It is believed that one of the sculptures comes from the time before the graves were even built!
Entrance: 200, 000 Rials.
Persepolis
Ready for more history? Your next stop between Yazd and Shiraz is Persepolis – the ancient city, created around the year 500 B.C.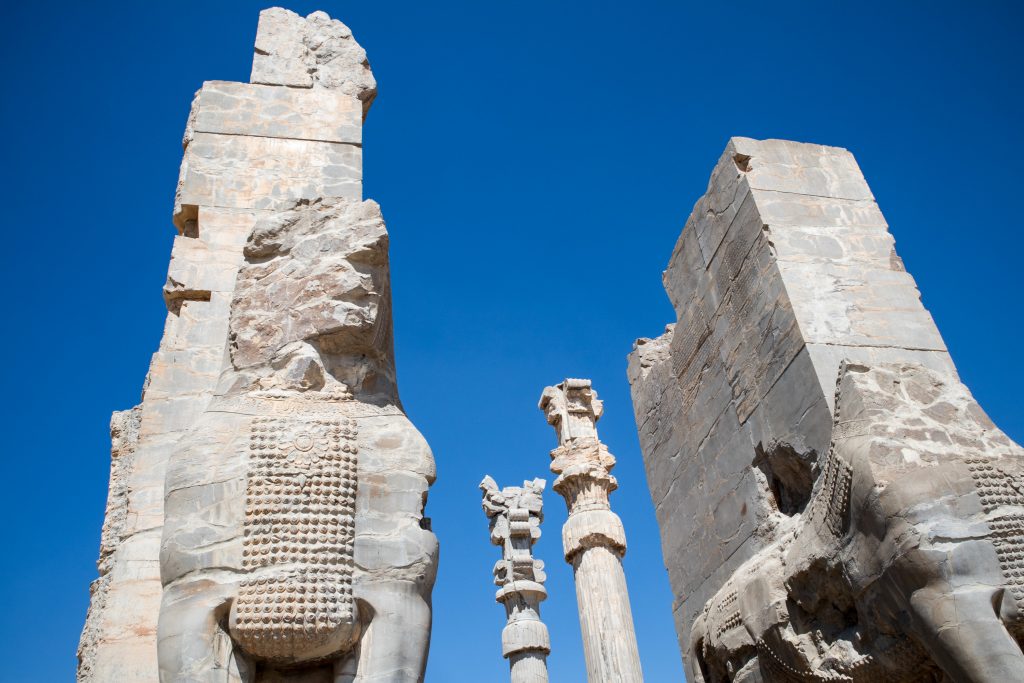 You can spend here a whole day and still not see everything. Beautiful ruins in Persopolis are incredible and very well maintained. The most special among all of this is the Gate of All Nations, which consisted of a great hall that measured 25 square meters, 4 columns and 4 pair of doors made out of wood with decorative elements. Huge, sculpted bulls were keeping an eye on the hall. Some parts of the gate can still be admired. It reminded me of the scene from the Neverending Story, when the main character crosses a very similar gate.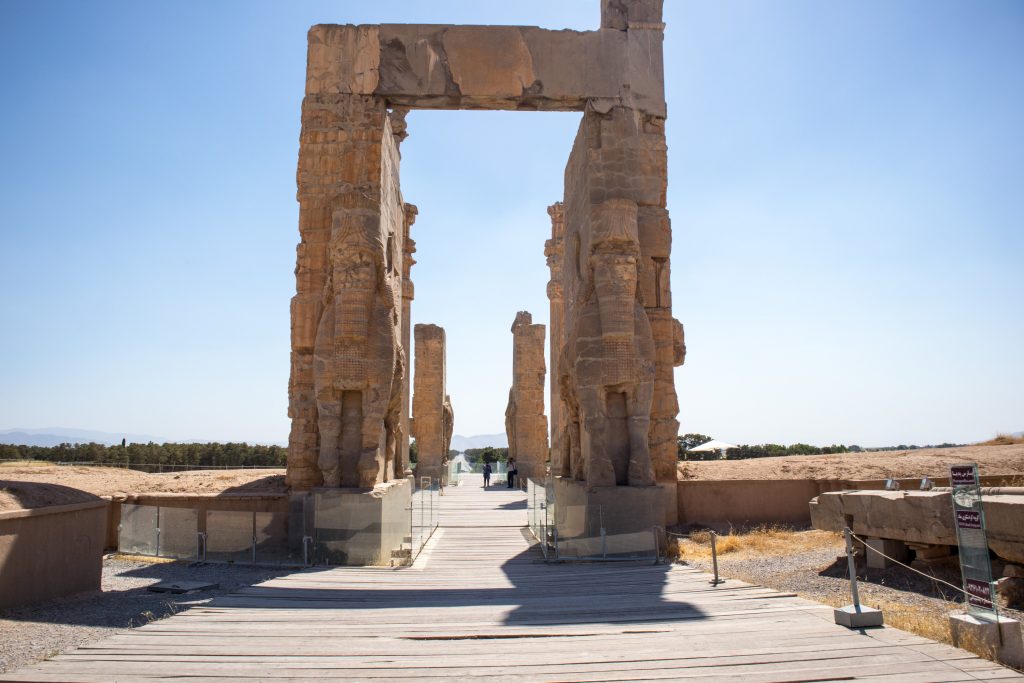 If you want to see everything in Persepolis, you can hire a guide. It costs only 100,000 Rials.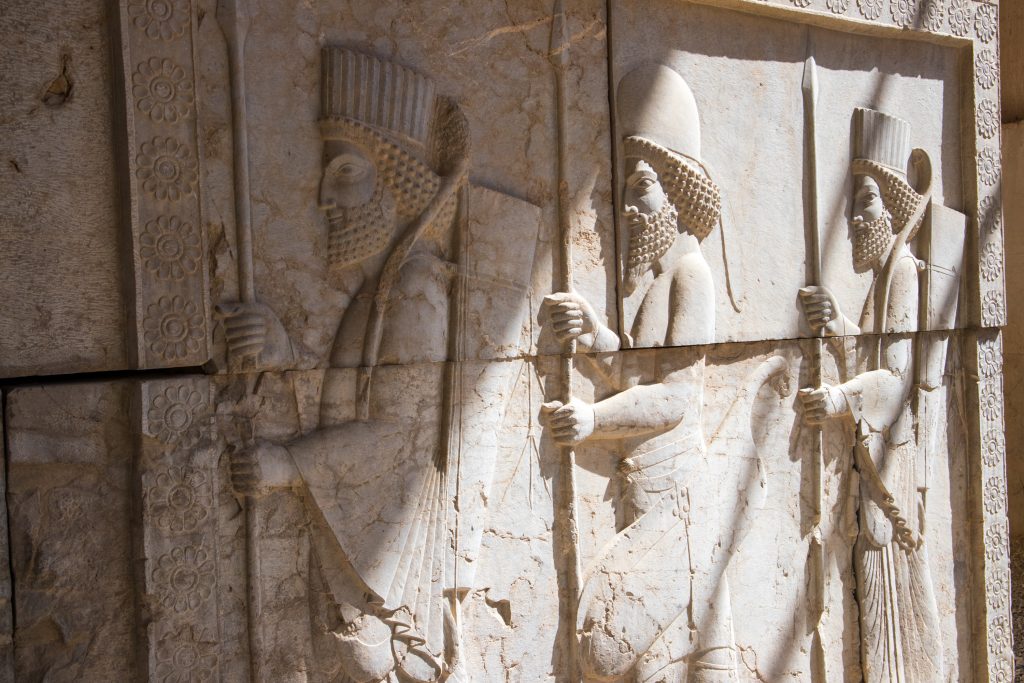 How to see it all in one day?
All of those places between Yazd and Shiraz can be seen in one day. To not to waste time, I hire a private guide, who picked me from Yazd and drove me to Shiraz stopping on the way. The cost of the taxi is around 40-50 Euros. I can recommend you a good driver – Younes, who is a very pleasant young man and a very good driver. You can find him on Instagram under the nickname Younes_Iran.
Another way to do it is to buy a trip at your hotel either in Yazd or in Shiraz. You can share the taxi with other people. The cost is much lower – 10-5 Euros per person.
You can also use agencies. During my trip in Iran I booked everything through 1st Quest, which I truly recommend. You will find some great tours on their site, which you can adjust to your needs and interests.
If you leave Yazd in the morning, you will be able to see everything in one day. You will arrive in Shiraz in the evening. If you organise it starting the trip from Shiraz, sightseeing will take you 3-4 hours.
Do you have any questions? Would you like to share your experiences or your point of view? Don't be shy! Leave a comment!