You've probably heard of the White Temple and the Black House in Chiang Rai. But have you heard about the Blue Temple in Mae Taeng near Chiang Mai? I am pretty sure that you haven't. If you are interested in Thai culture, Buddhism, or architecture, this might be a site that you would enjoy. It stands out from all the other sacral buildings in the north of Thailand and it's a great stopover on the way to the Mae Ngat Dam.
I once have seen the Blue Temple from a distance. I was on a road trip and saw the blue roofs from the main road. I got curious of course but didn't have too much time to explore it further. I haven't forgotten about it though and visiting the site was on my list for a long time. During my last visit to Chiang Mai, I decided to finally check it out. I was lucky as Take Me Tour, a company that connects independent, local guides with tourists offered me a trip there and I instantly agreed. I thought it was a great opportunity to ask a lot of questions about Buddhism and local culture as well as see something completely different.
I booked the tour with Sakhon, who comes from the area near the Blue Temple. Except visiting the site, we were also going to the Mae Ngat Dam, where we were planning to spend a couple of hours eating and relaxing.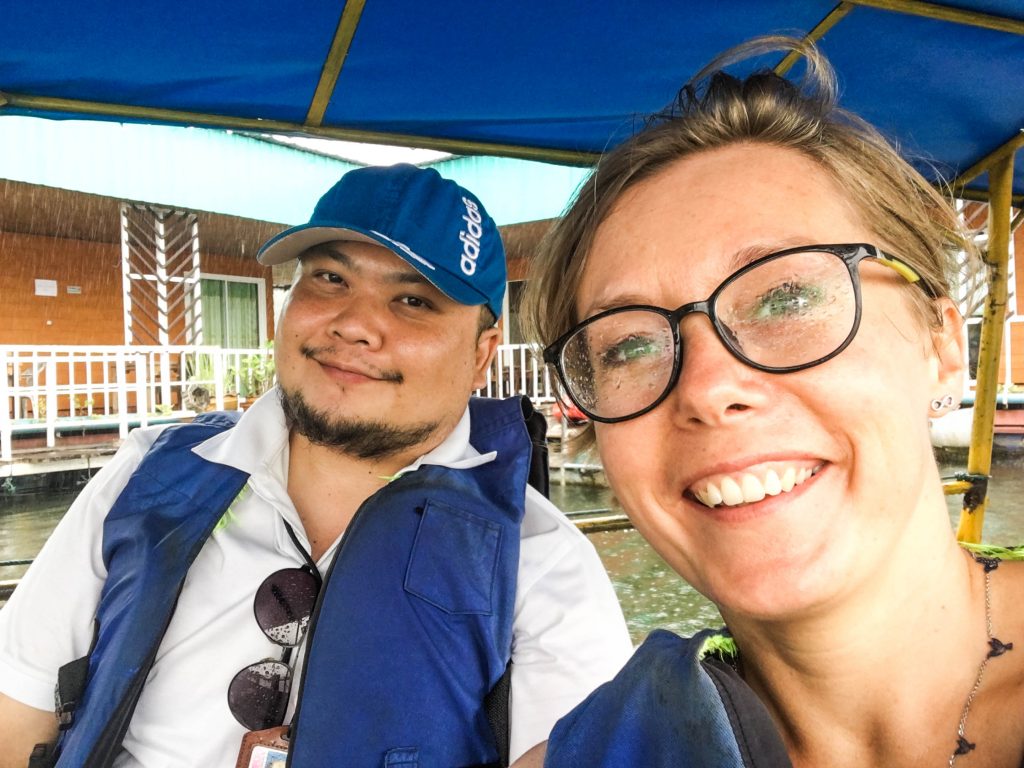 Why did I choose Take Me Tour?
My first trip with Take Me Tour was a while ago and I still think sometimes about the amazing food I had an opportunity to try in Chinatown in Bangkok. I liked the trip so much that I have been working with them on a regular basis. I find them to be very helpful and extremely tourist friendly, but that's not all.
My blog provides information for expats, digital nomads, and travelers. The readers like to visit places that are a bit less known, they support locals and prefer to take things slow, just like me. I know that the content on The Blond Travels needs to bring them all of that and more. That's why I always look for something different, something that it's either away from the beaten path, or has a local twist to it. Take Me Tour helps me with discovering such places. The guides are independent freelancers, not employed by tourist offices, which means that they are also flexible and have a more personal approach. I highly value the fact that I am able to ask the guide questions and talk to them like to a friend rather than someone, who only provides a service.
At the moment Take Me Tour offers a wide variety of tours across Thailand, as well as Cambodia and Japan. The company grows fast and there are more and more destinations being added. Check them out if you're looking for something different and would like to support local people.
Visiting The Blue Temple
Sakhon picked me up in his car on a rainy morning in June. We drove for about an hour chatting about different things and making a stop or two for a coffee. The whole thing really seemed very laid back and I didn't even feel like a tourist that hired a guide. It was just a couple of friends enjoying our time together.
The temple was quite deserted with only a few people around making merit. Despite the humidity, I had to cover my shoulders and legs. Luckily, Sakhon had sent me a message before, advising on an appropriate attire. I was hot, but when you visit a temple in Thailand, you need to look decent. So, make sure you take some extra clothes with you.
The Blue Temple, otherwise known as Wat Ban Den, can be seen from the main road leading to the dam. Its blue roofs tower over the nearby rice fields and forest. It's an interesting complex built quite recently and cherished by Thais due to the fact that it's inhabited by a famous Buddhist monk. Many rich families from all over the country donate money to it in exchange for blessings and good karma.
Sakhon, patiently walked around the buildings with me, explaining all the interesting facts about the temple and the Buddhist religion. Sakhon is very religious and spiritual and I was very keen to find out as much as possible from him.
The Blue Temple is around 30 years old. No one knows why the buildings are blue. The artist who designed it decided that it will be the main colour of the site. As it's a modern temple, it's also a bit different from the other ones that you normally see in Chiang Mai. The first thing I noticed were the dragons that stood outside of the entrance to the shrines. I had never seen them before. The mythical creatures were pink and blue, highly rich in detail and looked like they just came out of a sci-fi movie. I liked it. Quite a lot of temples in Chiang Mai are similar to each other, this one was different and definitely more interesting.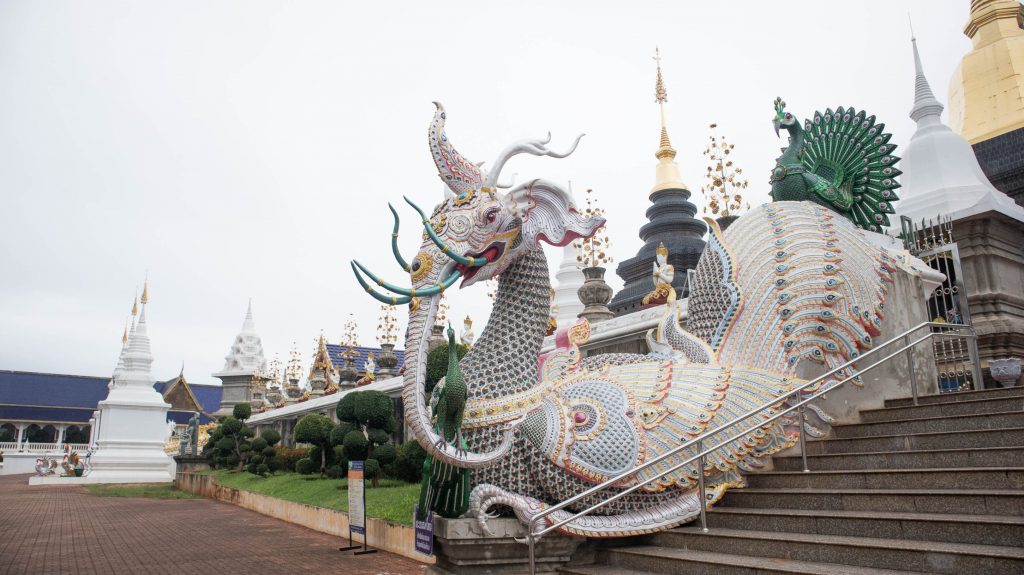 There are around 6 temples on the site. Each of them has a beautiful altar with an image of the Buddha. There are smaller statues on every wall and in every corner. Everything gleams with gold and silver. It is no doubt a very rich temple.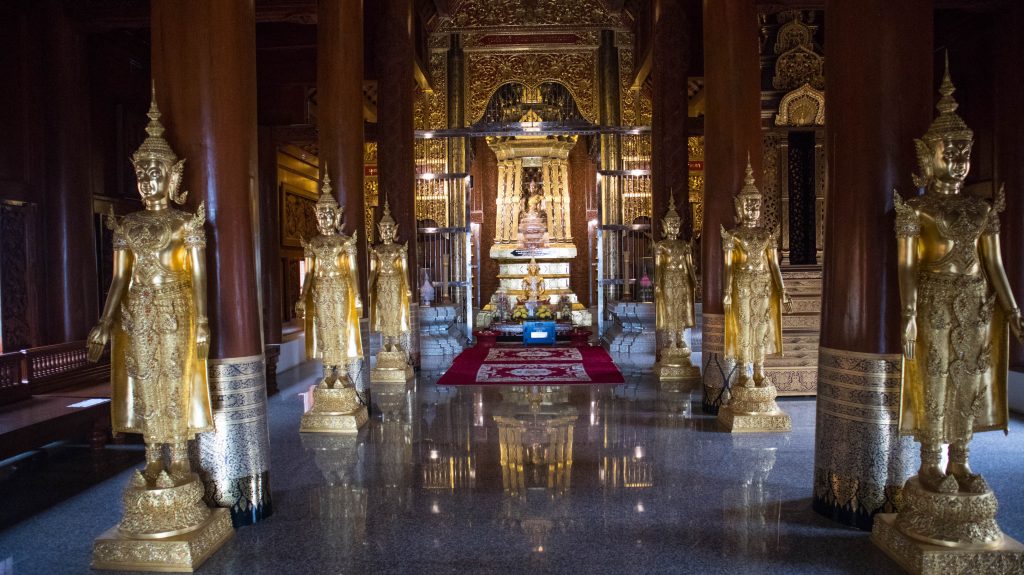 Just behind the main complex, you will find a space with dozens of shrines and jedis. As the belief says, every single one of them has important relics associated with Buddha. Sakhon also explained to me that before a jedi is built, people bring money and expensive gifts that they put in a hole on which the structure then stands. Recently Thailand has had some problems with young people destroying jedis and trying to dig out the jewels. That's why Wat Ban Den has that site guarded with fences. You can still visit it and walk around quite freely though. Notice the animals sculpture scattered around. These come from the Thai calendar, which works a little bit like the Chinese one. If you're a Buddhist, find your sign and pray at it for good luck and fortune.
One of the most prominent sites at the Blue Temple near Chiang Mai is the reclining Buddha. It's not as ancient as the one at Wat Pho in Bangkok, but it's even bigger. You will not see so many such sculptures around Thailand as they need to be large and not many temples can afford that. The statue at Wat Ban Den was funded by one of the rich families in Thailand.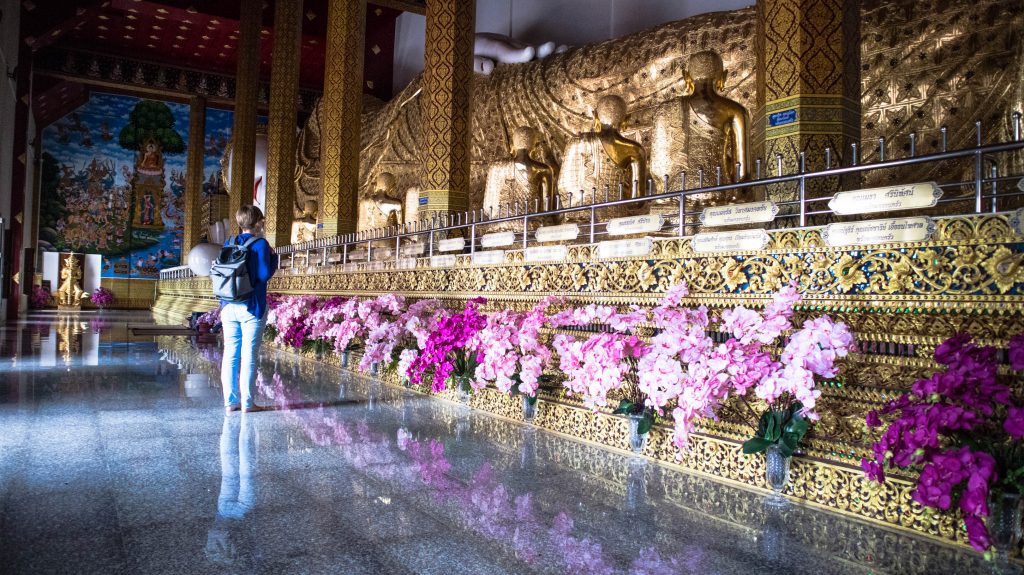 The Blue Temple is a lovely site and the views from the main buildings are great. I was there during a very rainy and cloudy day and couldn't quite capture the fields around, but maybe you will be lucky enough to have clear skies and even more stunning panorama.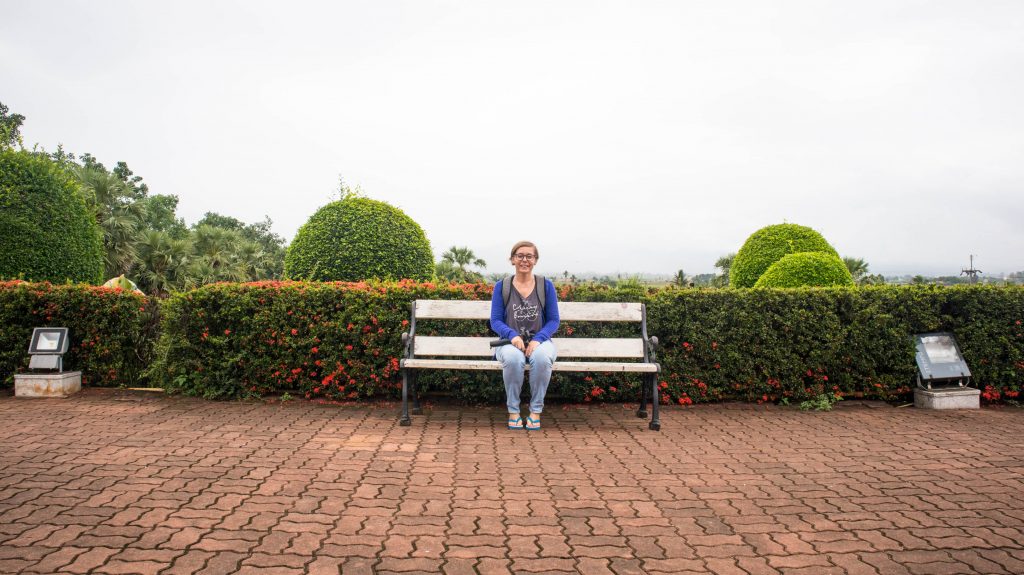 Many of those that visit Thailand often say that sacral sites in the Land of Smiles look quite similar to each other. I quite agree with that, but to me, they are also pieces of art and architecture, so I never have enough of them. If you're such a geek like me, or you have never seen a modern temple in Thailand, then stopping at the Blue Temple in Chiang Mai will be a great idea. It's a nice attraction, especially if you combine it with a trip to Maen Ngat Dam.
And if you are someone who takes guided tours on their holidays, or likes to connect with the locals, then I can definitely recommend checking out TakeMeTour. I lived in Thailand for more than two years and still had a good time with Sakhon. If you decide to book a Blue Temple and Mae Ngat Dam tour with Sakhon, then make sure to say hi from me!
The Blue Temple in Chiang Mai – Useful Information
Entrance is free.
You can get to the temple on your own by a car or a motorbike. It takes about an hour to get there. Before you set off, make sure you have valid health insurance that covers road accidents. If you don't want to drive, hire Sakhon who will take care of you!
Make sure you cover your shoulders and legs. This concerns especially women, but men should also look decent. I think that on a sunny day the site gets really hot, so it's worth taking something light with you.
On a rainy day, the surface is slippery. I was there in my flip-flops and I almost fell a couple of times. Take good shoes with you.
There are a couple of shops just next to the temple if you need to buy water or some food. On the way from Chiang Mai, there are 7-11s and street stalls with food.