Are you looking for authentic and local food in Bangkok? In the city centre you will find an amazing treat. Boat noodles are small soups, which can really fulfill you. Check out where you can find them and why it's worth trying them out.
When I'm in the capital of Thailand, I always look for local food. I'm not only talking about street food. The city offers all kinds of options, but I always go back to the same place – to the market near the Victory Museum, where you can get boat noodles.
I went there once with Chris, who had spent in Bangkok 6 months. He took me there in the lunch time and it was a new discovery for me! The soups were delicious and fulfilling. Additionally, the atmosphere of the market was really local, without crowds of tourists, which you can see at the more popular attractions in Bangkok.
If you're looking for local food in Bangkok, these boat noodles will be perfect for you!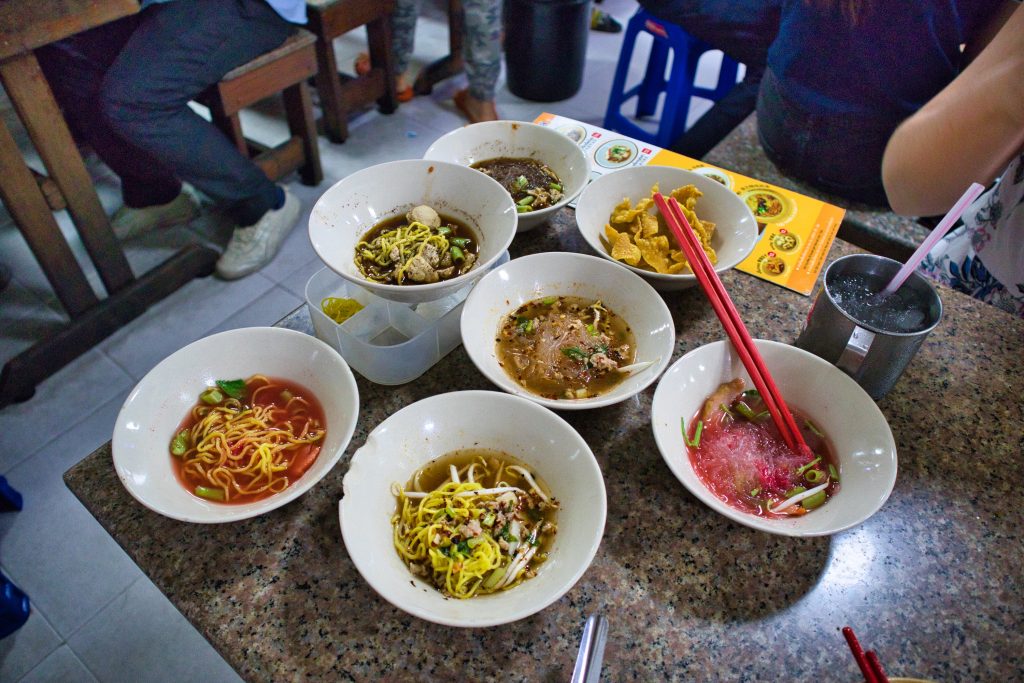 Where did the boat noodles come from?
The name boat noodles come from the boats from which they were once sold and which sailed the nearby canals. They were served on small plates as a snack.
Today there are a few stalls selling them around the Victory Monument in Bangkok. But you can only get the special atmosphere when you enter the small market located just around the corner.
What are boat noodles made of?
Boat noodles are not much different from the noodles sold at other markets. They are made out of meat (often pork) broth. Then the cook adds pig's blood, which gives the soup its distinct flavour. At the end they add noodles and spices.
The special thing about the noodles is the size of the plate. The portions are tiny and you need to order a couple of them if you want to feel full.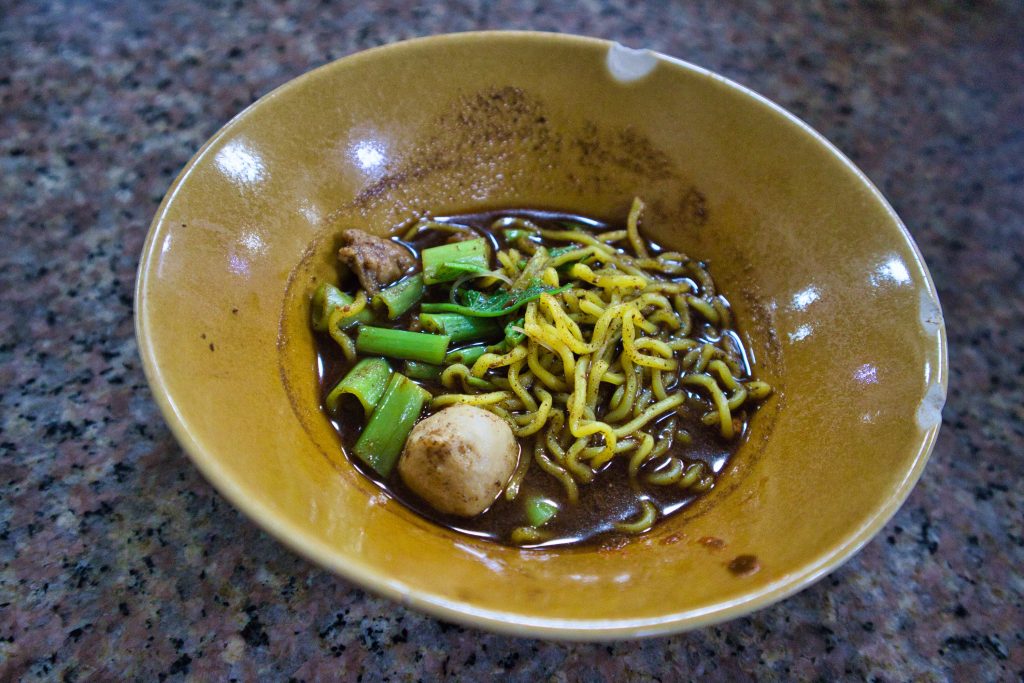 Boat noodles – local food in Bangkok
Intrigued? I hope so. Remember that the whole market is a place worth visiting. Be ready for something really special and authentic.
The alley with boat noodles
The alley that sells boat noodles – Sud Yod Kuay Teow Ruea – doesn't offer much else. When you enter you will be surrounded by the sellers and overwhelmed by the smells and sounds. The air is heavy from the vapours from many pots with boiling broth.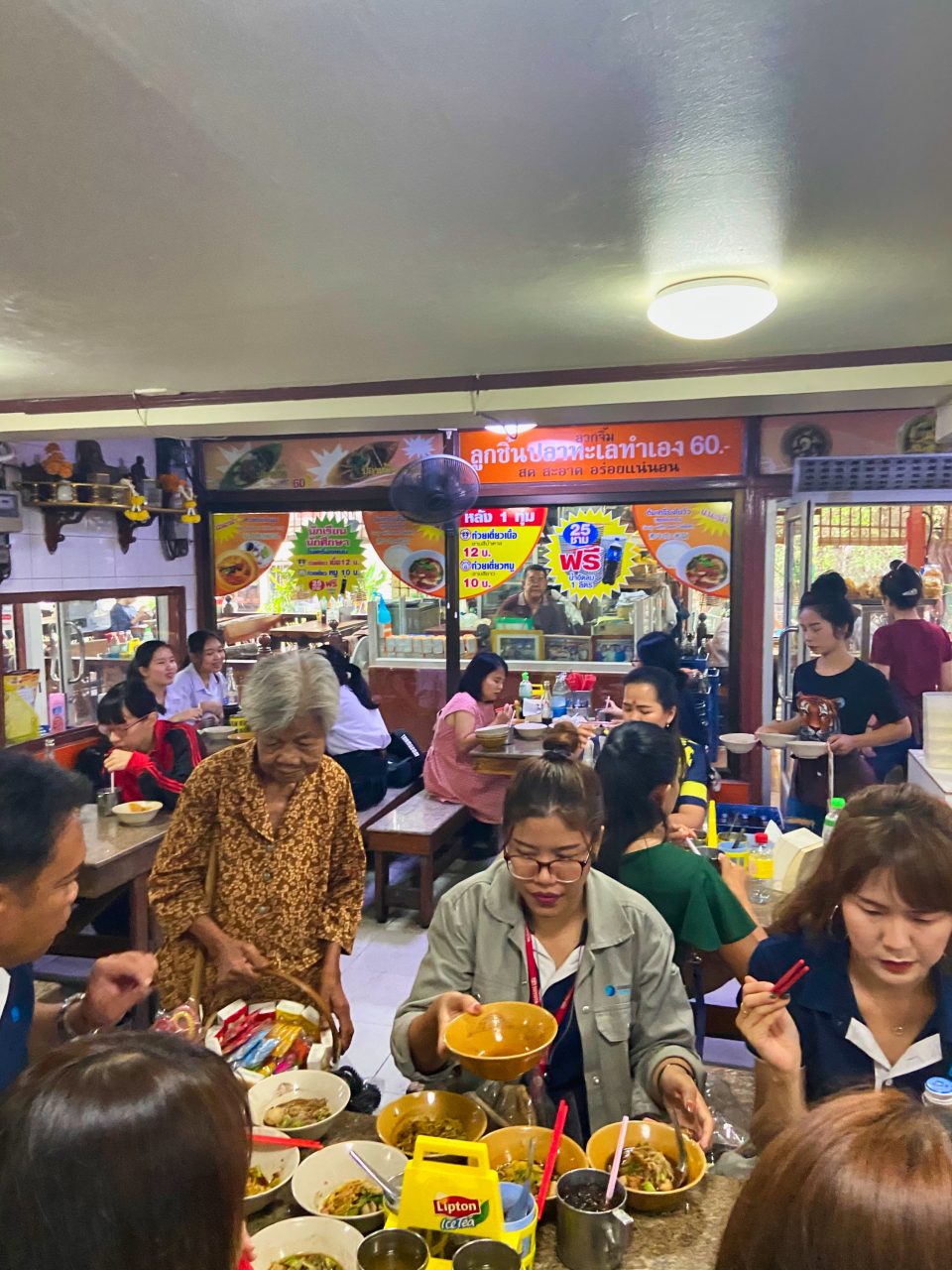 The sellers and owners of the stalls will stop you and invite you to their shops. Personally, I have been to two restaurants with boat noodles. The soups tasted similar, but the locals claim that there's a difference and they always have their favourite shop.
Some bars have seats outside and you can eat and enjoy the view of the river and the alley. Others have restaurants inside and offer air con. Prices are the same everywhere.
Boat noodles – It's a different kind of experience
If you decide on a bar and sit at one of the tables, you will get a menu. Most restaurants have them in English with pictures of soups they serve.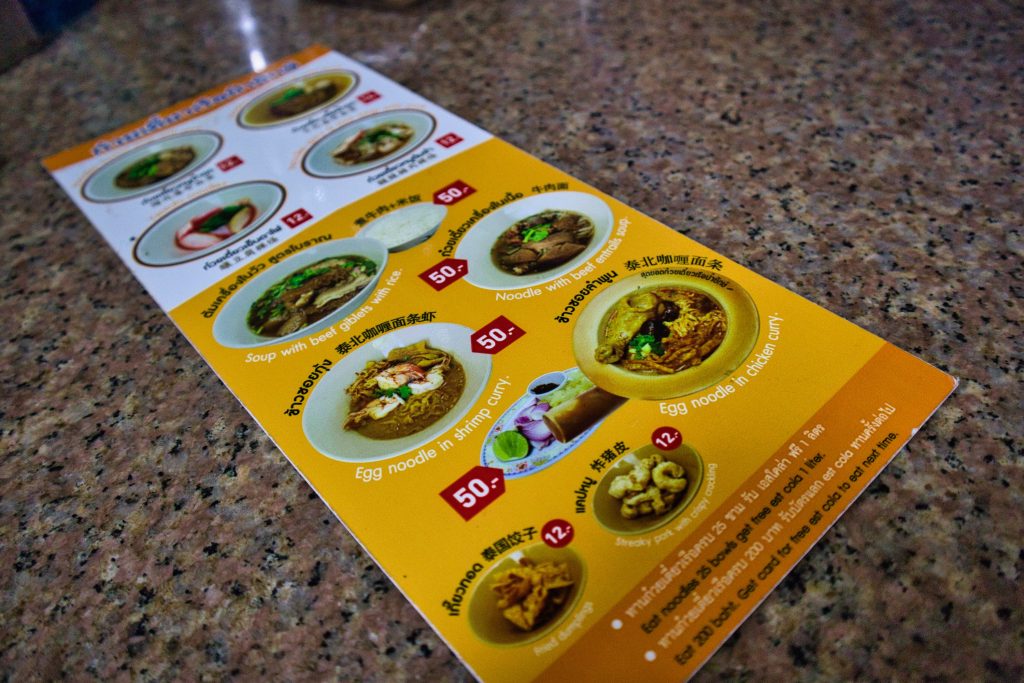 Remember to choose a couple of plates if you want to feel full later. Sometimes the stalls have special offers like 5 soups in the price of 4 or if you eat 20 of them, you'll get a bottle of Coke.
Once you make your decision, you need to choose the type of noodles. Sometimes you can choose them from the menu, or pointing at them, other times you will be shown a container, just like this one below.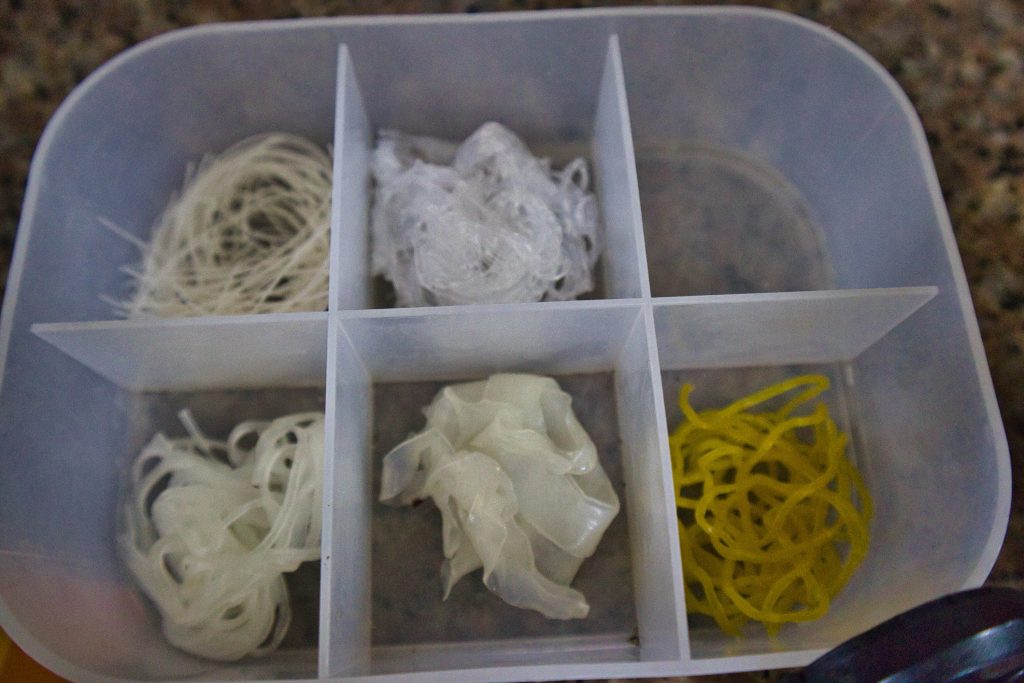 Before you start eating, you need to put somet spices in. Thai people don't eat anything before they spice their food up. On the table you will find chilli, sugar, vinegar and salt. I usually add vinegar and chilli. I like my soup sour and spicy. However, you can add whatever you like.
After you eat, ask for the bill.
Boat noodles in Bangkoku: Useful information
Do you want to find good, local food in Bangkok? Below you have everything you need and more.
How to get there?
Boat noodles znajdują się przy Victory Monument. Przy samym pomniku znajdziesz wiele stoisk sprzedających to danie, ale najlepiej wybrać się do Sud Yod Kuay Teow Reua (Boat Noodle Alley).
Boat noodles are located near the Victory Monument. Don't buy them on the street. Go to Sud Yod Kuay Teow Reua (Boat Noodle Alley).
You can get to the Victory Monument by BTS. Take the exit leading to the monument and then go along the walkway (don't go down) until you get to Fashion Mall. At the mall, go down and go north, towards the market and the mini van stop. Cross a small bridge and after a few more meters you'll be at the market.
The market is open from 9 am until 9 pm, every day.
Map
Cost
One plate costs from 10 – 15 Baht. Order more than one because you'll be hungry.
You can't pay with a card here. Take cash.
What to remember about?
This is not a vegetarian dish and you won't get anything without meat at the market. If you're a vegetarian, it's still worth coming here to see the stalls and the market.
The alley is very hot, especially during the hot season. The market is covered from the wind and almost all of the kitchens are outside. The steaming pots and the hot air create an outside sauna. It's hard to breathe here. Luckily, there are restaurants with air con at the market.
What's next?
Boat noodles are very close to Khao San Road, which is very popular among tourists.
There are many markets in the area and some local residential streets, which are worth visiting, too. I would suggest going away from the monument.
If you like culinary tours, then I recommend trips with Take Me Tours, which connect locals and tourists. Thanks to them you will see the unknown parts of the city.
Read about my trip around Chianatown with Take Me Tour.
Every tour is for a small group of people only thanks to which you have a better contact with the guide. Except that you can customise your tour.
Check out the Take Me Tour trips in Bangkok.
Summary
Boat noodles is not only local food in Bangkok, but trying them out is a great experience, which is worth coming to the Victory Monument for. It doesn't matter if you're in the capital of Thailand for the first time, or if you live here, eating boat noodles will be a great feast and good fun!
Do you have any questions? Would you like to share your experiences or your point of view? Don't be shy! Leave a comment!
This post includes affiliate links.