Chiang Mai is still the most popular location for Digital Nomads in Southeast Asia and with more and more people coming over to try out the nomad lifestyle, it can get a little bit crowded. Beautiful cafés in Chiang Mai are plenty but if you want a cozy atmosphere and a good internet connection, finding the ideal place to work from in Chiang Mai can be quite the hassle – especially if you want to avoid the more popular locations.
This list of more and lesser known co-working cafés in Chiang Mai will help you to find the perfect workspace for you. Whether you like a more quiet atmosphere, far away from the crowds or a place where you can meet other Digital Nomads like you: With this extensive collection of coffee shops you will never have to worry about finding a workspace that suits you best.
Wake Up Huaykaew
Wake Up at Huaykaew Rd. has become my absolute favourite co-working café in Chiang Mai lately. The chairs are some of the most comfortable I have found in a coffee shop, yet. Internet speeds are decent and you get a 4-hour pass with every drink, which is totally fair. The only problem in my opinion is the AC, which is always turned on full blast. Even if I take a jumper with me, I will get too cold at some point, depending where I sit. Usually there are enough spaces to switch to a more secluded area though. Wake Up is open 24/7 and thus perfect for night owls.
Address: 99 Huaykaew Rd. (Map)
CAMP
CAMP is probably the most popular co-working café in Chiang Mai. It is open 24/7 and located at the 5th floor of Maya Mall. For every drink over THB50 you get two hours of the fast and reliable AIS WiFi. If you would like to use the internet without interruption and safe some serious bucks while you're at it, getting an AIS SIM card with either the normal or the faster Super WiFi plan is a no-brainer. The AIS shop can be found on the 4th floor of Maya Mall and you will need your passport to buy the SIM. CAMP offers a huge variety of different chairs, benches and tables. You can also sit outside and enjoy the beautiful mountain panorama while working.
Location: Maya Mall, 5th Floor (Map)
Artisan Santitham
Artisan is a relatively new brand of coffee shops in Chiang Mai with only a hand full of locations. This little café near the YMCA in Chiang Mai has become more and more popular in the recent months. It's not the most spacious café but it can still be very comfortable to work from if it's not too crowded. The great thing about the Artisan coffee places is the hand-picked interior. Every accessory has an old-timey charm which makes for a very cozy atmosphere. Coffee aficionados will definitely enjoy this place, too. The drinks are delicious and reasonably priced.
Location: Mengrairasmee Road, opposite the YMCA (Map)
Artisan Wua Lai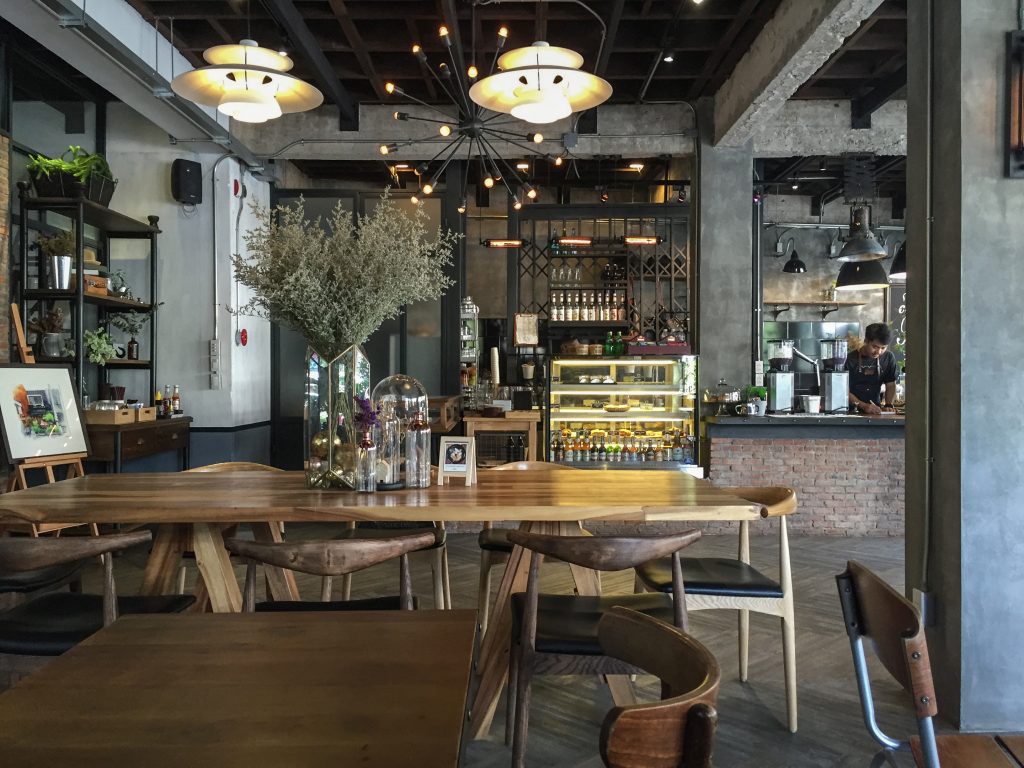 Located in the south of the city – in a beautiful and quiet neighborhood – Artisan Wua Lai is still a hidden gem in Chiang Mai. Unlike its smaller sister in Santitham, the café is very spacious and comes with lots of tables for solo workers as well as a big conference table if you want to sit together with multiple people. If you like to work outside, you will definitely enjoy the beautiful patio that even has a few sockets available to keep your notebook powered. The wifi is free, blazing fast and most importantly: stable. I measured up to 30MB down and 3MB up on several visits.
Location: Wua Lai Road, at the Oxotel (Map)
The Barn Eatery and Design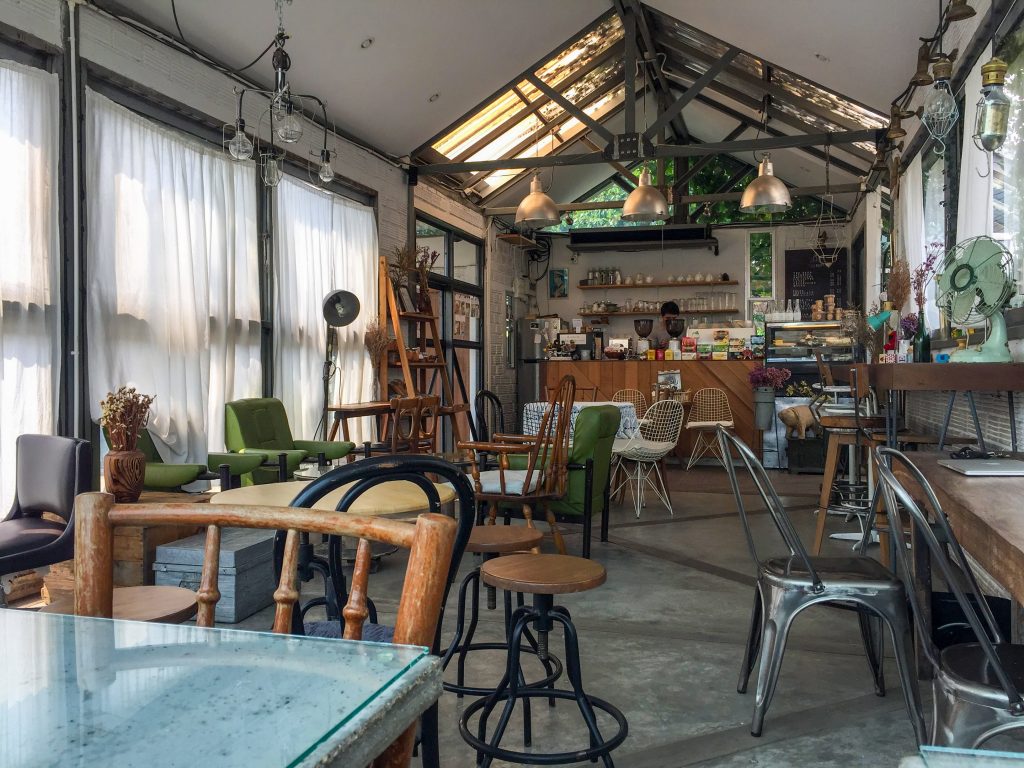 Like the name says, this café used to be a barn and was converted into a coffee shop. The entire interior is very bright and friendly and although the place is rather small, the high ceiling makes the room feel big and spacious. One thing that I really enjoy is the noise-level at The Barn. People usually keep quiet and even if some person has to make a Skype call, they usually keep quiet enough not to bother anyone. Overall I would say that the atmosphere here is perfect for working. The only downside is, that there aren't enough sockets around. Especially if it gets a little bit more crowded, finding an available seat that has a plug nearby can get kinda tricky.
Location: 14 Sriwichai Suthep, a Soi off Suthep Road (Map)