Are you thinking of spending Christmas and New Year in Lisbon? If so, you might wonder what you can do here and if it's really worth it. You probably don't want to travel all the way to Portugal only to find out that Lisbon in December is dull, cold and not very attractive. In this post I will give you everything what you need to know before you make your decision whether to come here or not.
People know Lisbon for its sunny weather, close proximity to beaches and lovely architecture. Most choose Summer or Spring for a visit. After all, this is the place that's perfect for a short holiday, or a city break and not for Christmas markets, shopping, or even street lights….or is it?
I am a huge Christmas fan. I simply love everything about that time. December 2017 was amazing in Lisbon. There were Christmas lights everywhere, markets and lots of activities were taking place. I was really surprised by how lovely it all was. This year I'm not going to Poland and I'm staying here again. I'm mesmerized by the city and its Christmassy atmosphere.
If you're considering coming for Christmas to Lisbon and you are a little bit apprehensive, don't worry. You will have a lot of things to do here and you won't be disappointed. This is what you can expect from spending Christmas in the capital of Portugal.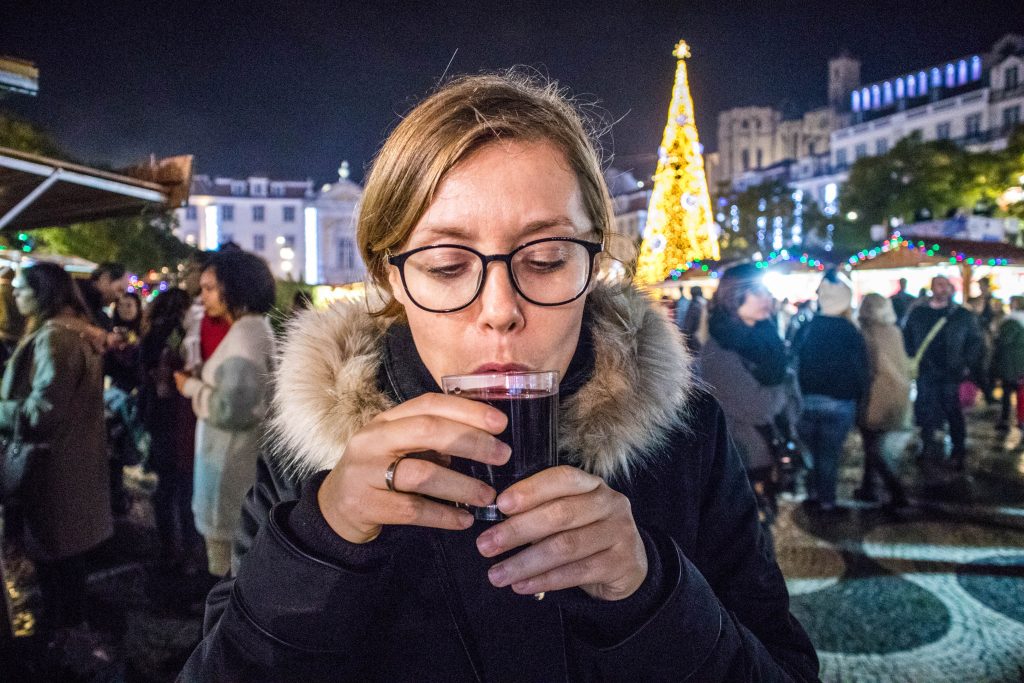 Christmas and New Year in Lisbon – Is it worth it?
When you think of spending Christmas in another country, you might not think of Lisbon. Most people go to Germany, Austria, or even Italy. Portugal comes to mind at the very end. This city is more famous for it sunny weather and not for markets and lights. But, trust me, if you come here in December, it will surprise you.
Every year Lisbon becomes even more Christmassy. The local government spends more and more to attract tourists. Winter is the time when people don't really want to come here. That's why lavish decorations and new markets are added every December.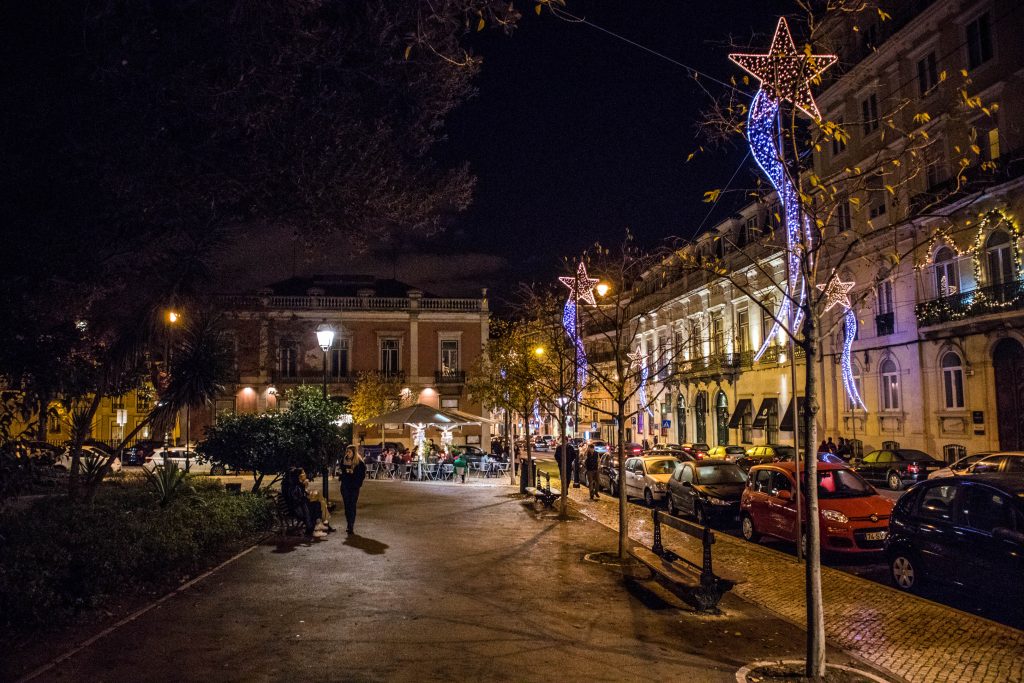 The city centre is decorated with thousands of colourful lights. The main squares have tall Christmas trees with lovely markets selling hot wine and chocolate. You can hear Christmas songs everywhere. The temperatures are mild, but you can still feel the chill in the air. It's really a wonderful time!
Above all, Lisbon is lovely at any time of the year. If it rains, you can hide in one of the wineries, or pastelarias. If it's sunny, you can wander around the narrow streets and admire the architecture, and at the end of the day enjoy a glass of wine and a delicious dinner in one of the restaurants.
Weather in Lisbon during Christmas and New Year
One of the things that stops people from coming for Christmas and New Year's Eve to Lisbon, is the weather. I'm often asked about it and if people should risk it.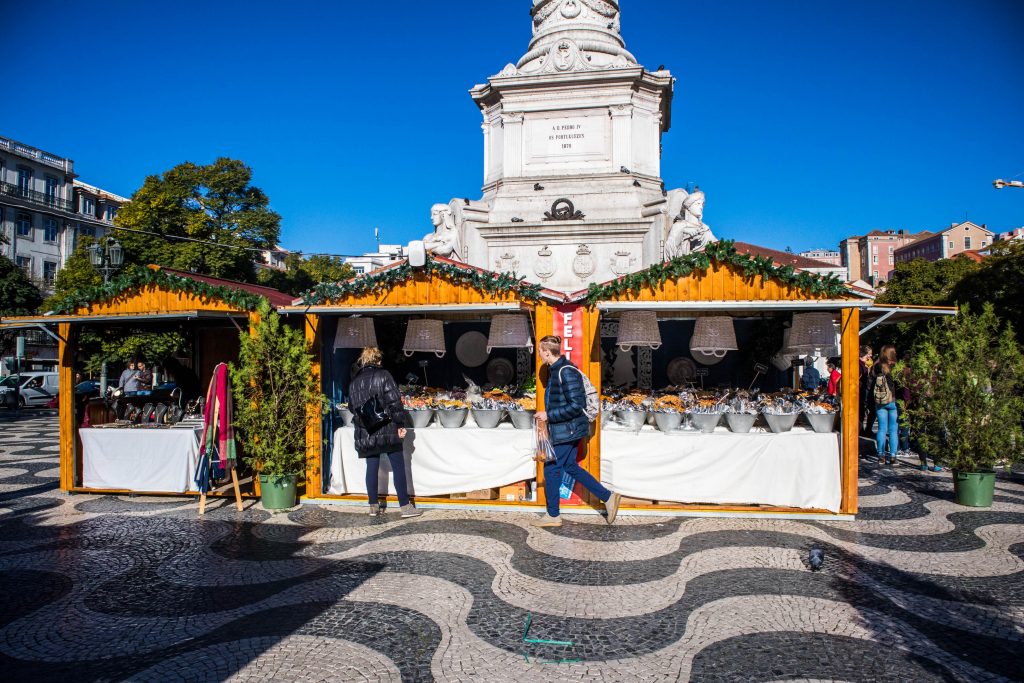 I must admit that the weather here during the winter months changes and you can never be sure if it's going to be fine. Normally it's dry and sunny, but it can be also cloudy and misty. However, the worst thing that can happen to you is the rain. If it rains in Portugal, it rains heavily and it's really humid, which makes it feel much colder. That doesn't happen very often, however, and you can be assured that you have 90% chances that the weather will be good with mild temperatures of around 10 degrees. 
Portuguese Christmas traditions and customs
Catholicism is the main religion in Portugal, so Christmas is quite an important holiday here. Although, to me it doesn't seem like it's as big as in Poland, Portuguese people have their own customs and traditions.
Many families celebrate Christmas Eve with a traditional supper that consists of cod, boiled potatoes, and cabbage. If that doesn't sound too appealing, you can always go for more dessert. There are several types of them. The one that you will see everywhere in the shops around Christmas, is bolo rei, which is a round cake decorated with fruit. Traditionally, it's a cake eaten during the New Year's Eve, but it has become more and more popular during Christmas time. In the cake, you will find two surprises: one is a little present, like a doll or a fake ring, the other is a raw bean. Whoever finds a raw bean will have to buy a bolo rei for everyone next year.
Opening presents takes place on Christmas Eve, or on Christmas Day. On the 25th of December people normally eat stuffed turkey and some traditional desserts.
The 26th of December is not a bank holiday and most people go to work as normal.
What to do during Christmas in Lisbon?
There are plenty of things you can do in Lisbon before and during Christmas. The city has so much to offer that you will not be bored and you will definitely feel the Christmas spirit.
Christmas markets in Lisbon
All major cities in Europe have their Christmas markets and Lisbon is no exception. There are quite a few of them and they offer a lot of fantastic things.
The major one can be found in the Rossio Square. There are a few wooden stalls, where you can find hot wine, sangria, ginjina and a lot of food. Sample some of the chocolate, which is handmade by local producers and drink a glass of wine. If you haven't tried ginjina, then this is the perfect time to do it.
Some of the Christmas markets can be found on the viewpoints. One of the most popular ones is Sao Pedro de Alcantara. It's small, but cute and offers almost the same things, which can be found in Rossio.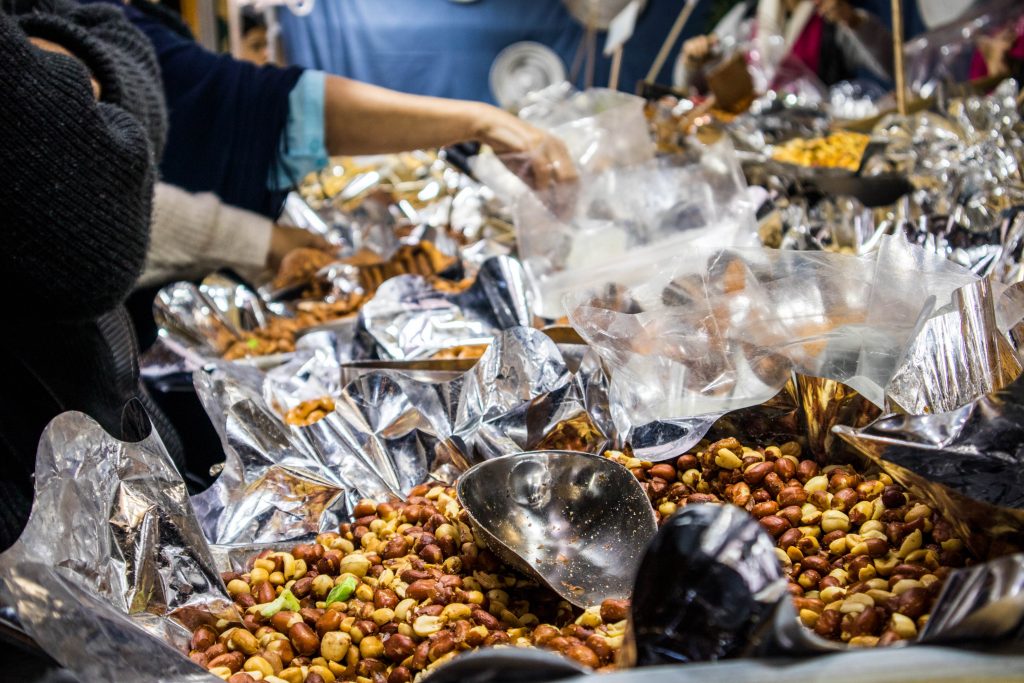 One of the biggest Christmas markets in Lisbon is Winter Wonderland, located in Eduardo II Park. There is an ice rink and a lot of attractions for kids and adults.
Christmas lights in Lisbon
Streets in Lisbon are beautiful without them, but decorated with so many of colourful Christmas lights they look even more stunning.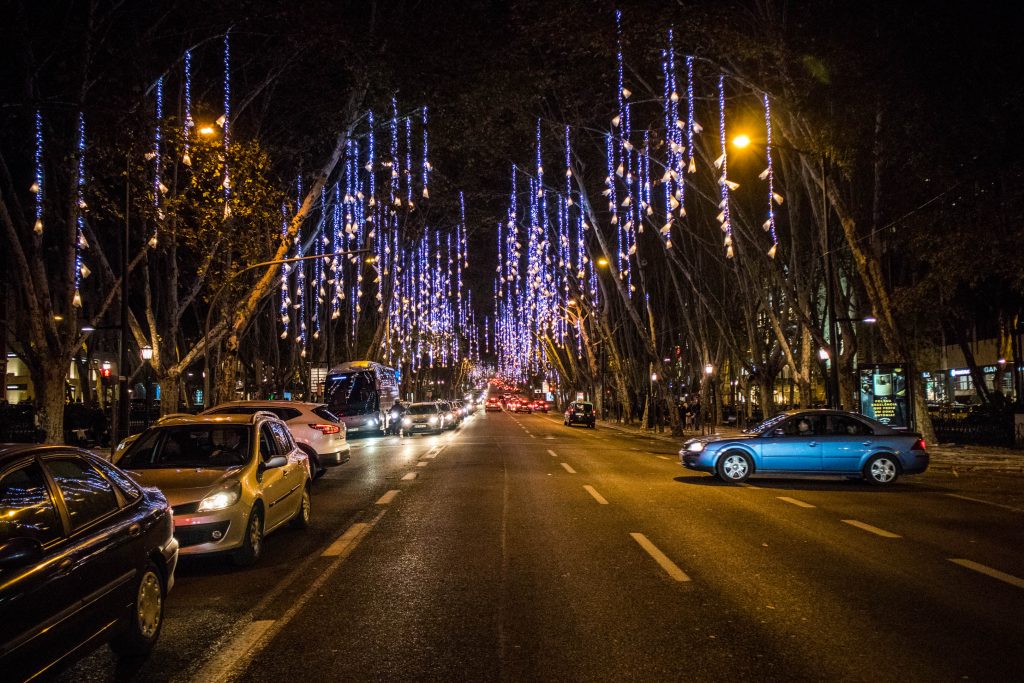 If you want to see the best of them and feel the Christmas atmosphere, head to Praça de Commercio and follow the main street to Rossio. Walk around Baixa Chiado, Bairro Alto and don't forget Avenida de Liberdade, which looks amazing at this time of the year.
Christmas shopping in Lisbon
Lisbon doesn't have a great array of shops like London, but here you can also do your Christmas shopping. If you're after stores like H&M or Zara, you can head to Baixa Chiado, where you will find all the major brands. You can combine your shopping with a visit to the Christmas market, which is nearby.
Cozy bars and restaurants
There is no lack of bars and restaurants in Lisbon. Most of them look really cozy and are perfect for a nice, quiet dinner and a glass of wine.
My favourites for this time are Pavilhão Chinêse, Livraria Bar and Pensao Amor. Recently, thanks to my friend The Lisboner, I have also discovered Foxtrot.
Christmas Eve and Christmas Day are usually very quiet in Lisbon, but quite a few restaurants and bars are open. If you fancy Christmas dinner, you can go to Sacramento, Bastardo, or Cervejaria Trinidade. In most of these places a Christmas dinner will set you off 50 Euros per person.
Sightseeing in Lisbon during Christmas
If you're here for the first time, don't miss visiting some of the best areas of Lisbon. Visit Alfama, Bairro Alto and Cais do Sodre. Enjoy a glass of wine and castanhas – roasted chestnuts. Take it easy and remember that Lisbon is a city to get lost in.
And if you want some help, I have an ebook guide book on my blog for people, who haven't been to the capital of Portugal yet. Click here to find out more.
One of the best ways of sightseeing in Lisbon during Christmas is to do it with a local guide, a person that actually lives in the city.
I recommend WithLocals – a company that connects local, independent guides with tourists. Check out this lovely tour with Ana Paula, during which you can taste some traditional pastries, admire the lights and find out a lot more about local culture and traditions.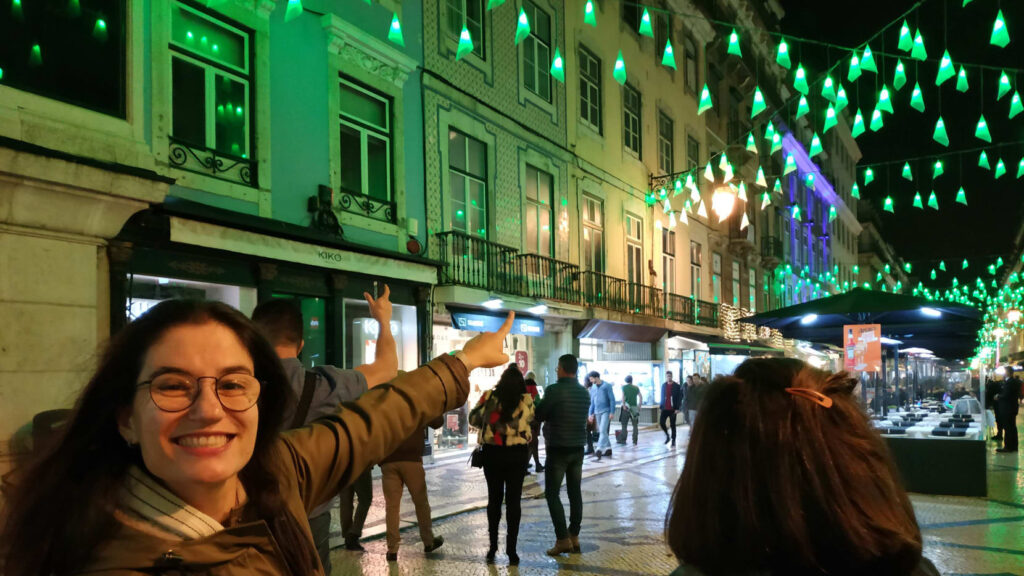 Portuguese New Year traditions and customs
Every part of Portugal has its own traditions for the New Year's Eve. For example, in the south people bang pots and pans to ward off evil. In Lisbon the celebrations are almost the same as in any other city in Europe. There are parties and people celebrate together. The only prominent tradition here is eating 12 raisins at midnight – one for each strike of the clock.
What to do during New Year's Eve in Lisbon?
On New Year's Eve Lisbon turns into a party capital. You can celebrate in a club, or on the street. Below are only a few options available.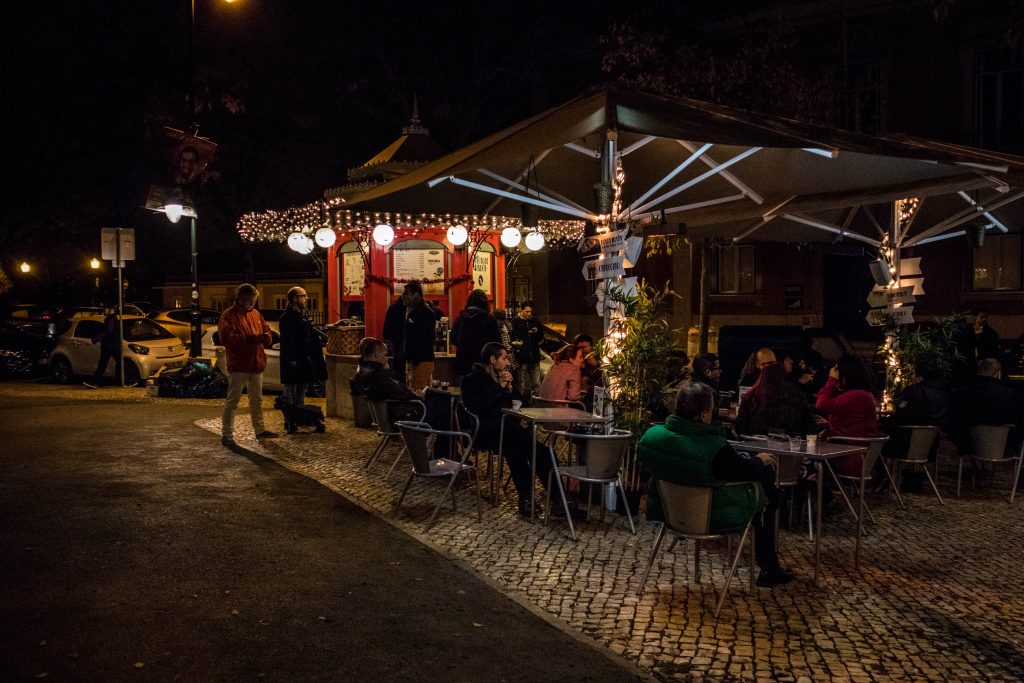 Praça de Commercio
Praça de Commercio is the centre point in Lisbon. On New Year's Eve there is a free street party, where you can watch performances and dance the night away. Beers and wine are sold in small stalls around the square.
Viewpoints
Last year I celebrated the New Year on the viewpoint Sao Pedro de Alcantara. There was a DJ and the party was for free. The market also provided food and drinks. I am not sure if other viewpoints have the same, but if you're not too bothered with walking from one to another, you can always check and choose the one that you like most.
Tascas
Tascas are small Portuguese diners, which serve cheap food. They are almost on every street. They are meeting points for those living in the area and you will only see locals there other than tourists. During the New Year, some Portuguese people go to tascas and celebrate together. If you want to eat a cheap dinner and meet the locals, a nearby tasca would be a good place.
Tours and trips
Take a one day tour around Lisbon, or go away from the city. Visit nearby beaches, Sintra, or Cascais. There's pleny of things you can do.
For those that haven't been to the city before and would like to explore it for the first time, I wrote an ebook guide, which has the best and most useful information. Lisbon Guide keeps everything short and sweet. It has my favourite places to eat, suggestions for places to see and recommendations of hostels and hotels. I put a lot of work and heart into creating it for you and I hope you can use it when coming to Lisbon.
If you rather walk around with a guide, I really recommend hiring someone from WithLocals. They are a great company, which lets you hire local people, who have a passion for showing their city to tourists.
Clubs and bars
I probably don't have to tell you that you will find a great choice of parties in clubs and bars around Lisbon. In some of them you need to book ahead, some accept guests without reservations. Just bear in mind that parties in Lisbon start late. They usually start at home and go out just before midnight. Clubs and bars will be crowded after 12.
I must tell you that I'm not into partying hard on New Year's Eve, so I wouldn't know which club offers the best options. I would advise going to Cais do Sodre. Around Pink Street you have a lot of bars and clubs. You can also head to Bairro Alto, where you will find some cool places to spend the New Year's Eve.
Other useful information
I think visiting Lisbon during Christmas and New Year is a great idea and you will have an amazing time. Here's some more information to help you prepare for your trip.
Business operating times
on the 24th of December most businesses close down early on that day, 7pm the latest. The city is quiet during that time. A lot of places are also close on the 25th. The 26th is a not a bank holiday here. However, some restaurants and bars offer great deals for Christmas dinner. 31st is a normal working day. The 1st of January is a day off and many places are closed.
Transportation in Lisbon during Christmas and New Year
Metro in Lisbon runs until around 12:30 am, but on the 24th it finishes work early. There is a reduced service on the 25th. On the 31st it also works normally and then there is reduced service on the 1st of January. During the Holidays it's best to use Uber or Taxify.
If you're planning to travel around Portugal, check out Omio – my trusted travel partner, which you can find cheap tickets for different modes of transport.
If you're looking to hire a car, I advise using Rentalcars. It's also a comparison site. They have a lot of offers from different car rental companies.
Accommodation
Lisbon might not be the most popular city to visit during Christmas and New Year, but the rooms sold out quite quickly. Remember to book ahead! Here are some nice options for you to choose from, or you can also look for your hotel using this form:
Lisboa Central Park – just by the Eduardo II Park, which is perfect for visiting Winter Wonderland. Avenida de Liberdade is round the corner and you might be able to see the Christmas lights from your window!
Turim – this hotel is located on Avenida de Liberdade, which gives you a great chance to get to the Rossio Square in minutes. You can admire Christmas lights from your hotel window!
At Ease Inn – a more affordable option, also situated by Avenida de Liberdade. Rooms are very clean and cozy. Perfect for a Christmas getaway in Lisbon.
Alternatively, go to Booking.com and look for your dream accommodation there.
Did I forget something? Do you have questions, or suggestions? Would you like to share your opinion? Don't be shy! Leave a comment!