Chiang Mai doesn't embrace, nor celebrate Christmas, at least not as much as the cities in the western world. There are a few lights here and there and shopping centres have decorated their windows with Christmas trees. Other than that it is business as usual in Chiang Mai. Don't let that stop you from doing something special. If you have decided to spend Christmas and New Year in Chiang Mai here are a couple of options of what you can do during this festive season. 
Christmas Eve and Christmas Day
Christmas Eve and Christmas Day in Chiang Mai seem quite uneventful. There aren't any parades, nor special events. However, most of bars and restaurants are preparing festive dining offers.
If you are hoping for some good parties, you might be disappointed. First of all, remember that everything here closes down at midnight. This might be the reason why the clubs and bars in Chiang Mai have decided not to throw Christmas parties. If you really like to have a few drinks and party a little, then your best options are: Zoe in Yellow, Warm up, Spicy and Riverside.
There are plenty of foreign-style restaurants in Chiang Mai, which serve Christmas dinners. If you're looking for something really special, then book your table at some of the expensive hotels and resorts, like Le Meridien Chiang Mai  or Shangri-La.
Less expensive options can be found all over the city, especially around Nimmen area and the Old Town.
I have spent several Christmasses in Chiang Mai already and every time my friends and I prepared a dinner, which consisted of a few things we made ourselves and a couple of Thai dishes and after eating and having a few drinks, we always went out. There are plenty of expats hanging out in bars, who are always happy to have a few Christmas drinks together.
New Year's Eve, 31st of December
Christmas might not be celebrated in Chiang Mai, but Thais love New Year's Eve and the city is buzzing around that time. This year everything is expected to be open until early morning hours. If you like to party in style, have your own table, eat a dinner and then celebrate the upcoming year, then it is best to book your place as soon as possible.
My 3 top choices for this year New Year's Eve party in Chiang Mai are:
1. Rooftop of MAYA shopping mall There are a couple of nice, upscale bars on the rooftop of MAYA shopping mall. Each of them is unique in its own way. The drinks are more expensive than anywhere else, but the atmosphere is great. Plus, you have a view over the busy Nimmanahaeminda Road.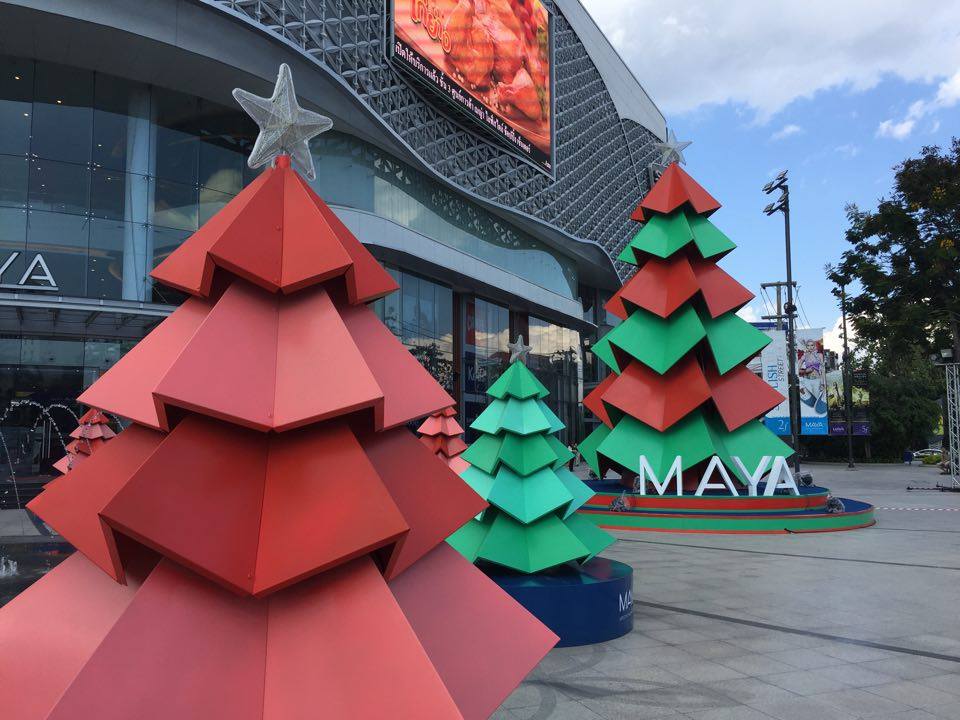 2. Warm Up
Warm up is more and more popular among the expats, but it is still frequented by young Thais. There is delicious food, a good variety of drinks, live rock/pop music and some heavy techno parties. There are only a few tables inside the club, so you need to book your seats fast.
3. Riverside
East bank of the Ping River is famous for its bars with live music. Riverside is especially popular among tourists as well as Thais. This year the celebrations will start from dinner and soft music, followed by rock and pop tunes. Riverside also offers river cruises and they might have some special offers on that for the New Year's Eve.
Some other bars I would recommend are: Bus Bar, Irish Pub, Northgate Jazz Bar. Alternatively, if you want to save a little bit of money, you can just dance at Zoe in Yellow, which will probably be packed, as it happens every year. The city council usually organises performances and celebrations at Thapae Gate. At midnight there is a countdown and Chinese lanterns release. The latter is usually forbidden during the year, but New Year's Eve is an exception.
Unfortunately, Chiang Mai doesn't have a good source where you can find current events and information on what is going on in the city and this is all I could gather. Have a wonderful Christmas and New Year's Eve in Chiang Mai. I hope it will be unforgettable.
If you would like more information, these are the websites to check out every now and then for updates: Chiang Mai City Life, Thai Visa Forum