Morning
I arrived at 4:30 am. First people you meet in a new city are the taxi drivers. Every time I am in Bangkok at least one of them tries to rip me off. This time was no different and I actually had to agree to a slightly higher price. At least the driver lowered the price from 1000 Baht to 650. Remember, always ask the driver to put the meter on. If he disagrees change the taxi, or bargain hard for him to lower the price.
My host at the guest house I had booked through Airbnb (here is the list of other great airbnb's places in Bangkok) turned out to be a lovely American gentleman in his 50s. At 5 am he sat me down outside of his bar (as most of the other guests were sleeping and he didn't want to make any noise), took out maps and leaflets and explained where all major attractions were. He had only slept an hour or so, and got up to let me in, but he still had energy to talk to me. What a lovely guy!
Afternoon
After taking a shower, and having a nap for a couple of hours, I was ready to explore. I checked my wishlist again and my plan for 3 days. I walked around Silom first, walking into small Sois and watching the local life. Because it was early afternoon  everything was at full swing already: there were street carts on every corner with small plastic tables, selling soups, fried chicken and spicy papaya salads. The smells mixed together causing a good rambling in my stomach. I stopped at one of the carts and bought myself a nice rice with some fried pork.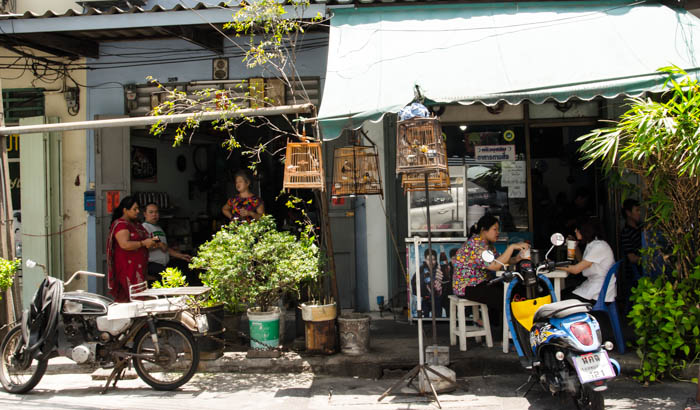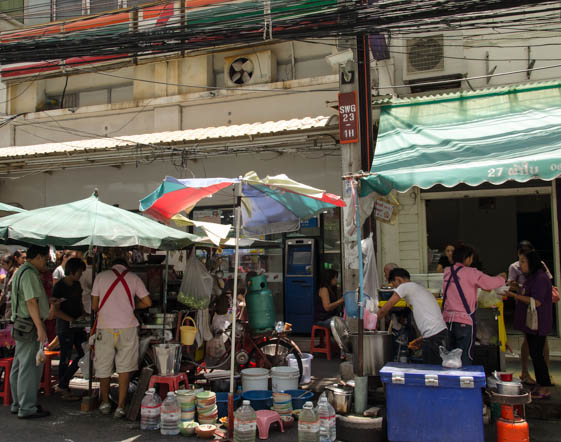 Next on my list was the Lumphini Park. I have always wanted to explore it. It seems like a place that many miss on their travel list since it is 'just a park'. The truth is that there are two places where you can really feel what the local life is like: a grocery market (check out some of the floating markets as suggested by Travelog) and a park.
I checked the map and decided that it would be really nice to walk there. It was only a 20 minute walk after all. I was so, so wrong…. At first I enjoyed the stroll. I passed really nice, glass buildings with palm trees outside. During most of my visits in Bangkok I usually stayed around the main, tourists areas. I did not realise that Bangkok can be so modern and so pretty. I took some photos of the buildings. I watched people having breaks outside of their offices. However, after around 10 minutes of this I started sweating heavily, the heat was getting into me. Still, I kept pressing on.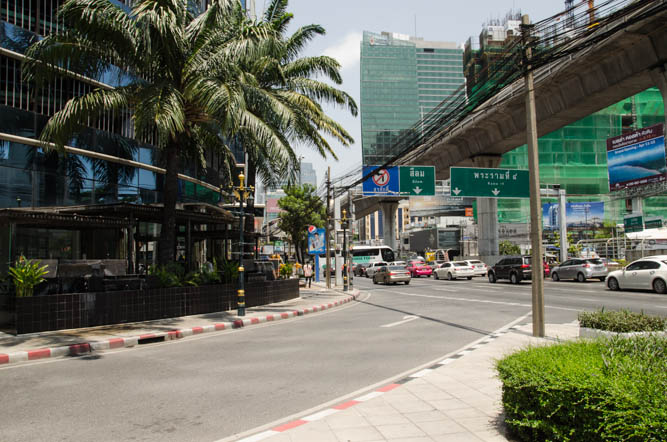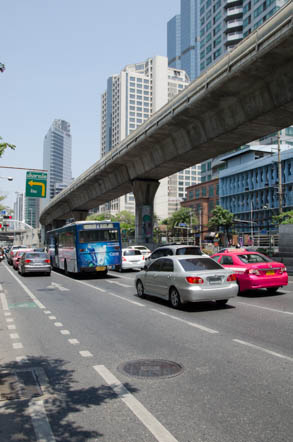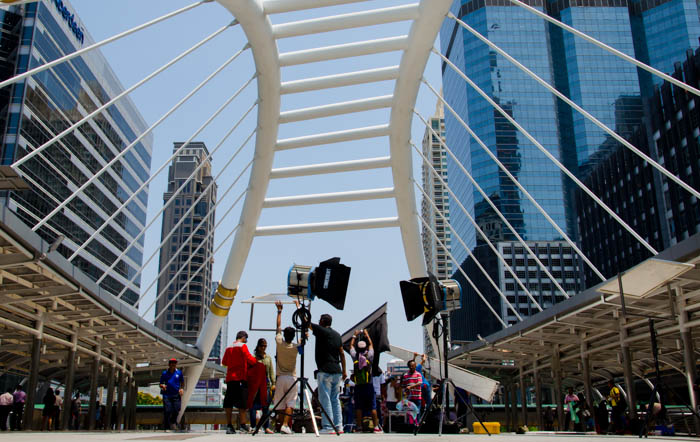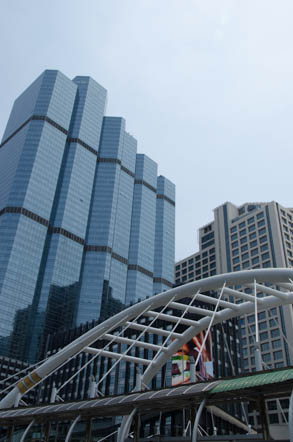 I reached Lumphini Park covered in sweat and so thirsty I could have drunk the entire Chao Phraya River.
I took a quick break and then walked around the park.
I had never realised  how pretty this place was. The park was very quiet as it was still too early for all the joggers that exercise in the afternoon. I sat on the grass, near the water and admired the immaculacy of it all. With all the glass buildings around the park reminded me of the one in Sydney, near the Sydney Opera House. I spent the entire afternoon sitting in the shade, napping and reading a book. The next best thing about the park, except its beauty, was the fact that the entrance was free (find some other free things to do in Bangkok here).
At that time of the day there were only some tuk-tuk drivers laying on the grass and taking  a nap, and the gardeners watering the trees.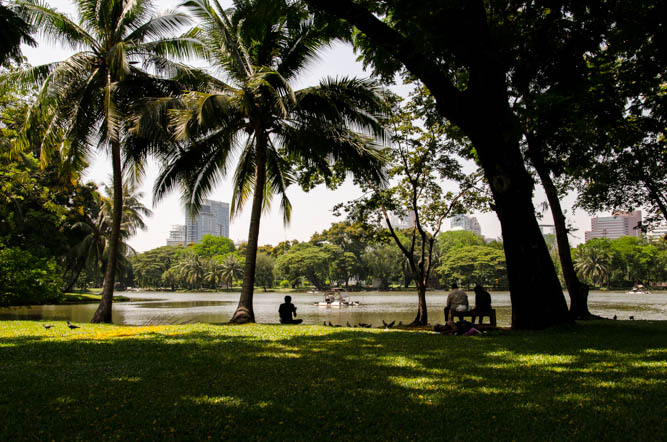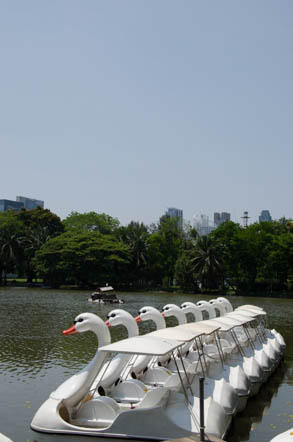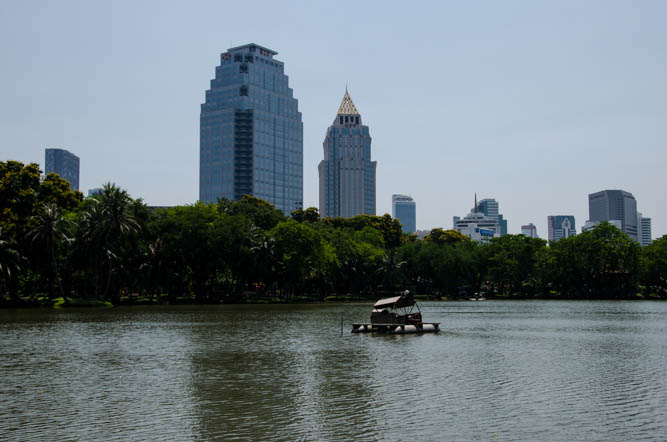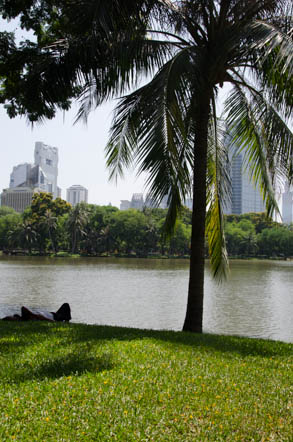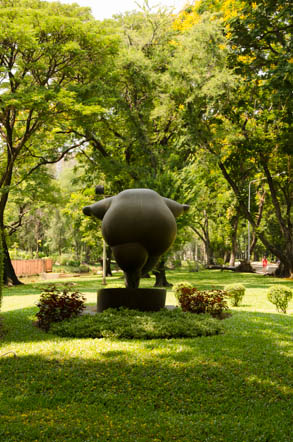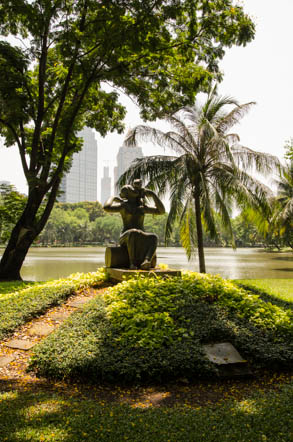 Around 5pm I felt hungry. There was nothing open in the park's food corner, so I had to figure something out. I checked it on Travelog's app. The nearest place that sounded promising, had air con and food was the Central Department Store. It was only 10 minutes walk from the Park, so I decided not to take a taxi. I followed the map on the Travelog application.
Unfortunately, the shopping mall had only fancy western restaurants, which all looked dark and deserted, so I decided to look for something at the Patpong night market, which was just around the corner from the mall.
Evening
I had to wait another hour for the stalls to open, so I strolled around the area, watching people. It was the rush hour, so it was crowded and busy.
When finally the darkness fell and the food stalls opened I was starving and couldn't wait to get my hands on some nice noodles with chicken.
As mentioned in my plan I was also looking forward to buying a watch there. I went from one stall to the other and just couldn't decide, so I thought I would look around at other places, too. I might go to Chatuchak Market, which is another great place to do shopping (read about other good places to buy nice things here).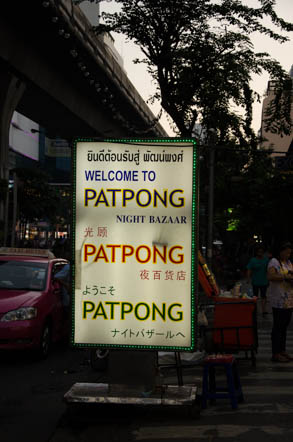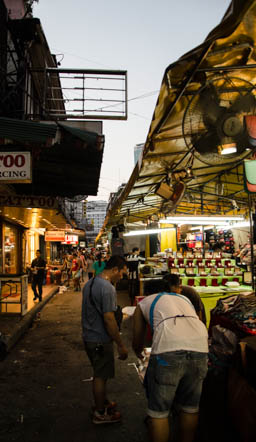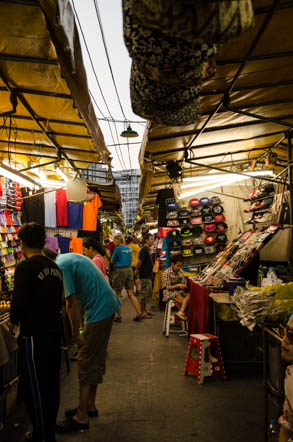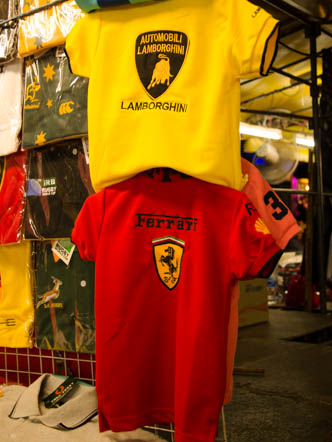 I wondered around the Patpong area. I was chatted a couple of times by dodgy looking men wanted to invite me for a 'ping pong show'. I politely declined. Patpong is famous for not only the night market, selling fake goods, but also for their sex shows, brothels and lady boys. As soon as the night falls the bars play loud music, the girls in skimpy clothes stand outside and chat to foreign men that pass by, inviting them in, and the logos of the 'go-go' bars flash brightly. The sex business in Thailand is illegal and yet it prospers nicely. Mind you, that this area is safe for travellers and is a great insight into the night life of the country.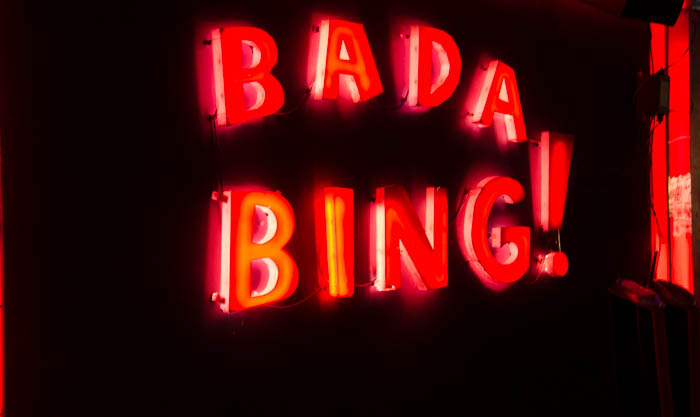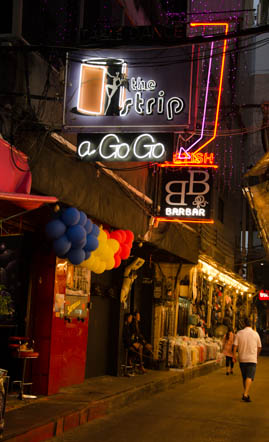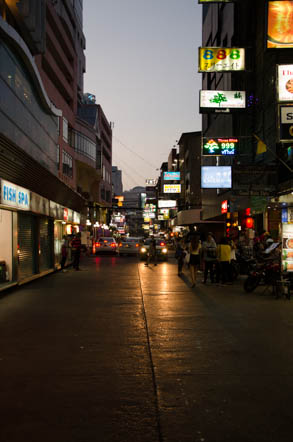 On my way home I took the BTS (sky train), which is cheap and easy to use as the underground in London, plus it has the air conditioning.
Of course, I got lost on the way from the train. By the time I got home I had blisters on my feet and felt like I could sleep for another 2 days. But don't worry, it is not going to happen – I will be up early tomorrow to bring you some more advice on where to go and what to do in Bangkok.