Da Nang is spread across River Han and divided into western and eastern parts by a set of amazing and colourful bridges. During the day they are used by people rushing to and from work, carrying all kinds of things on their motorcycles. In the evening the constructions turn into a beautiful spectacle, flashing with lights and reflecting in the water. Among them is the bridge, which is featured in all guidebooks, post cards and on every single website with the information about the city – the Cau Rong Dragon Bridge.
It was built in 3 years, between 2009 and 2012 and opened to traffic in 2013. This breathtaking structure was designed by an American architecture group Louis Berger.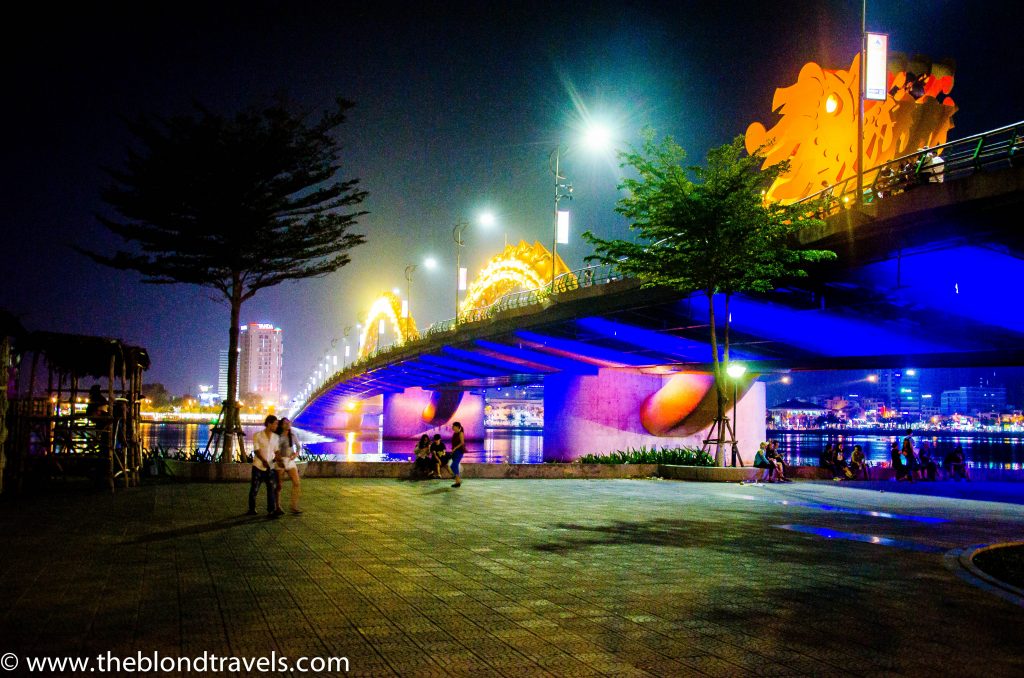 The bridge is a reflection of Vietnamese believes and culture. In this part of the world dragons bring rain, which is essential for agriculture, but they are also symbols of prosperity, power of the nation, universe, existence and growth. The size, and even the number of lanes, also play an important part here. Number 6 is considered a lucky number in Vietnamese culture, so the dragon is 666 meters long, 66 meters high and has 6 lanes for cars and motorcycles.
At night the bridge looks even more beautiful as it is illuminated by 2,500 LED lights, which change colour every few minutes. However, these facts are only an addition to what the bridge is really all about. Every Saturday and Sunday at 9pm Dragon Bridge closes for traffic and displays a truly amazing show – it first spits fire and then sprays water over the excited crowd. This is something really worth seeing. You can watch it from up close on the bridge, or you can stand downstairs, on one of the river banks. Thousands of people gather around it to watch the show. There are concerts, markets and everyone is in a party mood. Come here a little bit before 9 pm to fully experience it all.