We rented a car in Thailand! I thought it was a very bad idea at first. How can you drive a car here? It's hard to drive a scooter in this traffic… But M. was determined and we decided to give it a try.
But this post is not about driving a car in Thailand per se (although, it would be a good subject). This post is about driving to Phu Chi Fa – a mountain on the border with Lao, a place where not many visitors get to…
After visiting the White Temple we set off to the Phu Chi Fa Forest Park. Someone had said it was incredible, the GPS said it was only 2 hours drive from Chiang Rai, and my friends said it was going to be an adventure. And adventure it was. Mostly because only M, who was our driver, could read a map. I was sitting in the passenger seat, clenching to my phone and praying that the remaining 20% of the battery I had left, will last until we reach the destination. My friends' phones were in the same situation. The GPS worked slowly, confusing us all.
I really tried to navigate… I really did.
"Oh turn here!!!", I shouted out.
"Where? Here?", asked M., hitting the breaks.
"Hmmmm… Maybe not… I don't know!", I looked at the phone and then at my other 2 friends, sitting at the back. They were sleeping. Men are useless sometimes, you know.
"Jesus! Joanna!", that was the first time I saw M. frustrated. She pulled the phone out of my hand.
I looked around. We were in the middle of nowhere. It was late afternoon, and looking at the map we weren't even half way there.
M. decided to drive and look at the map at the same time. Thanks to that she hit another car's mirror, but except that she did really well.
Finally, after a great deal of getting lost we got to a mountain road. And you know how the mountain roads are… They usually go up, they are twisty, bendy and dangerous. Our poor Toyota barely managed to drive. The further we went, the more dangerous the roads were. Sometimes it seemed like the car would fall over.
It got dark fast. We saw lights in the distance and were sure that we finally got to a place, where we could stay overnight. But, when we got there, it turned out to be a tiny village with no facilities. We went further. There were more lights… We started considering sleeping in the car, or asking someone to take us for a night… But finally we reached a place, on a side of a mountains, which could accommodate us in one bungalow for 1000 Baht.
Someone said that watching the sunrise from the mountain top would be incredible, the GPS said it was only 5 min drive, my friends said it would be amazing. So, we decided to celebrate the fact we got there in one piece with a bottle of Hong Thong (for those, who don't know – Hong Thong is a really cheap Thai whiskey. 200 Baht for a big bottle).
Thanks to that bottle the 5 am wake up call was painful, the drive seemed like the longest one in the world, the trek from the parking lot took my breath away (and not because of the views) and I began thinking like it was a bad idea to go all the way up to the mountain. But we got there!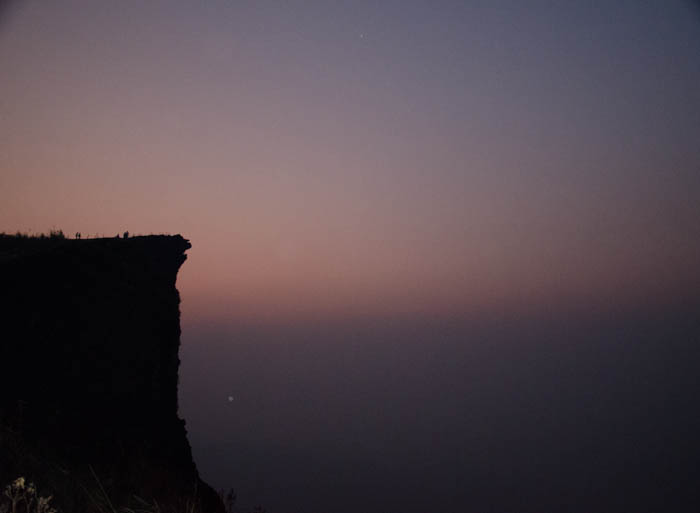 It was cold and misty. It started to brighten up. We stood on the top of Phu Chi Fa and looked around. At the bottom there was forest, stretching as far as an eye could see. Because of the mist we didn't have much hope to see the sun rising, but we waited.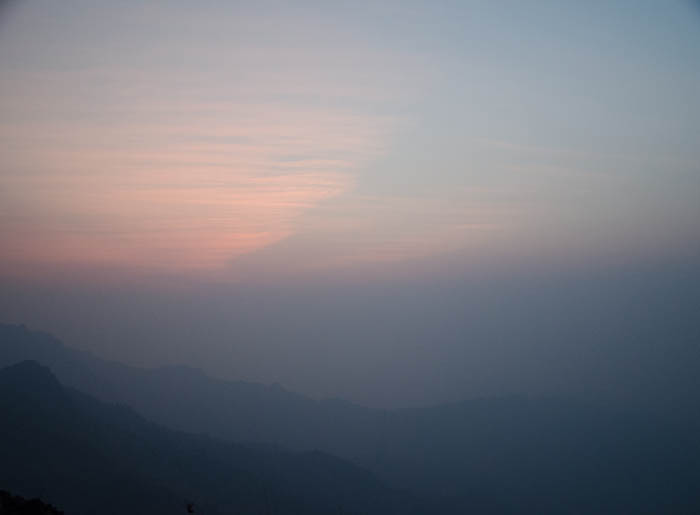 We chatted and laughed and almost forgot why we had got up at the crack of dawn… I turned around at one point, just in time…
"Oh!", I exclaimed, "Here it comes!"
"What?", asked Marion.
"The Sun!"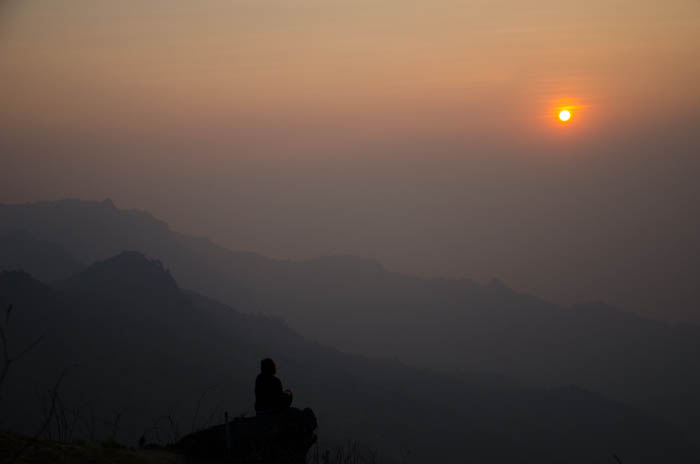 I must say, I have seen some sunrises in my life, but that one I can count to one of the most spectacular I have seen so far.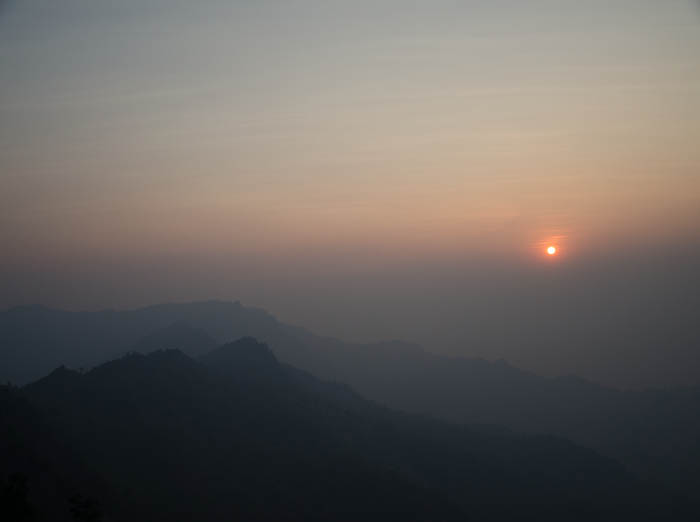 Phu Chi Fa Park is around 2.5 – 3 hours drive from Chiang Rai (at least that's what the Wikitravel says. Bear in mind, that it took us 4 hours to get there.) Directions from Chiang Rai: Leave the city southbound on Route 1 (Phahonyothin Road).
Take the turn off for Road 1020 which will lead you south and then east. 1020 eventually splits in a rural town – with a left turnoff continuing as the 1020 and 'straight on' becoming the 1021. Follow the 1021 – you will begin to see signs for Phu Chi Fa and will take a left turnoff for the 1155 before reaching the town of Ngao.
This road passes through some incredible scenery but you will need to keep an eye on signs at junctions – eventually you will come to a checkpoint, keep right. A little further you will reach a T junction – take a right, following the signs for Phu Chi Fa Forest Park. From now it is a direct road and you will see signs for the amenities – parking, camping, information, and the 'viewpoint', i.e. the peak.
The Phu Chi Fa Peak is not the largest one in Thailand, but it is located in a remote area. The only tourists we encountered were mostly Thai.