If you're not interested in history and the story of the Death Railway and the Hellfire Pass is not so fascinating to you (although, I highly recommend the train ride), then a trip to Erawan Waterfall itself is worth traveling to Kanchanaburi. It's easily accessible from the city and you can get there by motorbike. That's what I did and it was a wonderful experience.
Erawan Waterfall is probably one of the most beautiful places in Thailand. It looks like out of a fairy tale and when the sun shines through the dense forest and sparkles on the turquoise water, you can almost see mythical nymphs having a bath, or tiny spirits, which Thais believe live in the trees here. The photos that you find on the Internet don't give justice to the beauty of this place. Despite the crowds, you can still enjoy the trek up the waterfall and find peace and quiet among the cascades.
I visited Kanchanaburi in June. During most of my stay, the weather was amazing. Despite the rainy season, it was sunny and very hot. Therefore, I wasn't too worried about driving a motorbike to Erawan Waterfall. The trip took me a whole day. The road was pretty long and on my way back I was a little bored, but at the end I think it was worth doing it on my own, especially that walking up the waterfall took me quite a bit of time. It wasn't the best road trip I have done in Thailand, but overall it allowed me to see the waterfall on my own terms and live through yet another adventure.
What's so special about Erawan Waterfall?
Erawan Waterfall is located in the Erawan National Park, one of the most famous parks in Thailand, founded in 1975. The fall is called after the three-headed elephant from Hindu mythology as the top cataract resembles it.
The national park is home to many kinds of birds and animals. It is said that wild elephants live deep in the forest as well as deer, wild boars, and gibbons. They obviously stay away from people and from the waterfall, but it's really exciting to know that there are still places in Thailand, where these animals roam freely.
Most people don't come here only to find out about the local fauna and flora. They come here to witness the beauty of cataracts, which are quite breathtaking. There are seven tiers in total. Each has its unique name: the first one Lhai Keun Lung it's the easiest to get to as there are no hills and the terrain is pretty much flat. Even if you're not fit, you can get here very easily on foot. The second tier Wang Matcha is usually quite busy as there are a lot of people swimming. It's a popular place as there is a small cave under the cascade. Pha Nam Tok – the third floor is a great place to jump into the cool water and swim with the fish. The fourth and fifth tiers are very beautiful. You cannot swim here, but they are stunning to look at. Surrounded by trees and rock formations are great for a quick rest from hiking. On the sixth tier, the walk begins to be more difficult. This is where I gave up and didn't see the last part, but I'm glad that I got to this part anyway.
I am not a huge fan of touristy places that are filled with people and where I cannot relax. This waterfall is definitely a major attraction in this part of the country and it does get crowded. However, it is really worth seeing the emerald water and the surrounding forest. The beauty of it is quite indescribable.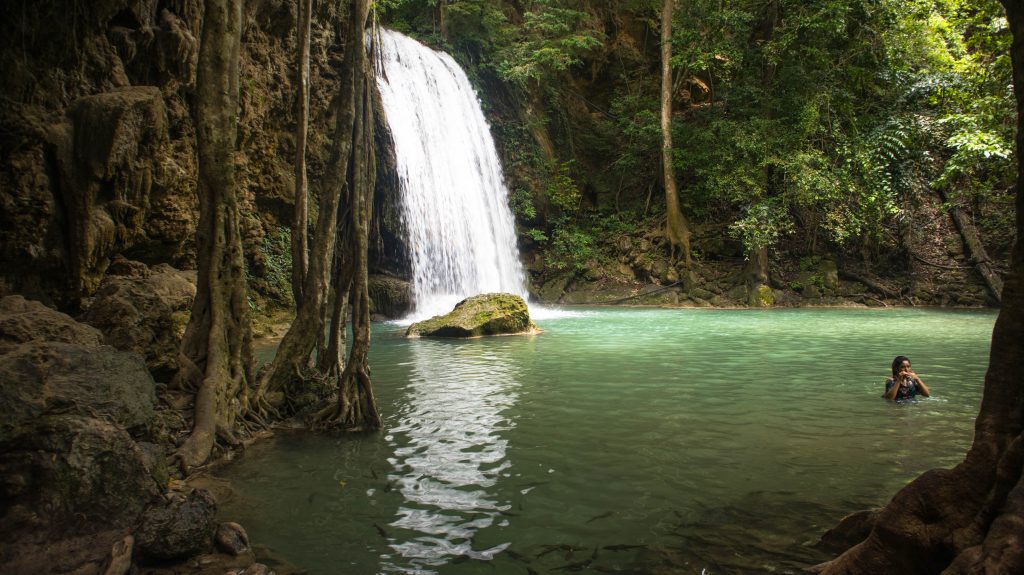 Driving a motorbike to the Erawan Waterfalls
I stayed in Kanchanaburi for a couple of days and after riding the Death Railway I decided that the next trip will be to the Erawan Waterfalls.
I rented a small motorbike from a local rental place. It cost me 250 Baht for a day. As I didn't have a phone, I drew a map and wrote directions on a piece of paper. It seemed like the road there was straightforward. I was supposed to drive straight almost all of the way.
When I was leaving Kanchanaburi I saw a couple of signs for the waterfall, but after a bit, there was nothing that pointed me in the right direction. I was driving for a couple of kilometers and started wondering if I was on the right track. I stopped at a small 7-11 and asked there. They confirmed that I should stick to the main road. So, I did.
Despite being the major attraction in the area, Erawan Waterfall is not clearly marked. It's either because not many people drive there on their own, or the local government thought that putting one sign at the beginning and one at the end of the route would be enough. Although the road is straight and is not very complicated, I think one, or two more signs would be quite useful.
The first part of the route was busy with cars, who passed me with high speed. I drove slowly and kept to the left always looking in the mirrors. I'm a good driver (or so I tend to think so), but if I drive alone I am extra careful. After about 40 minutes the road became narrower with only two lanes with fewer cars and nicer views. Big, concrete buildings disappeared. Instead, I was surrounded by fields, forests, and hills. I stopped a couple of times to rest and to take a photo with a sign that warned against roaming wild elephants. Exciting!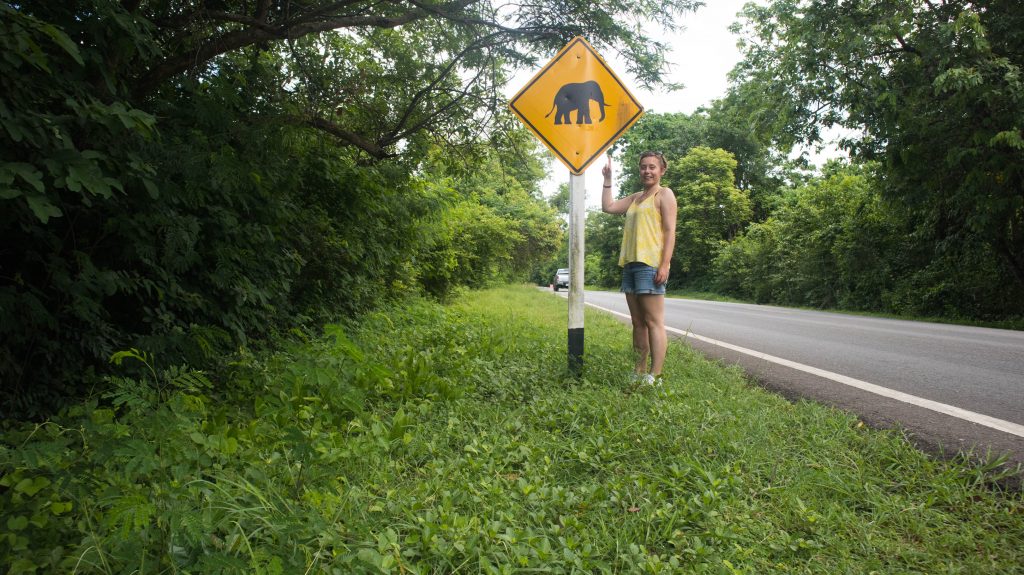 The end part of the road was the best. I drove through a bridge and a huge dam, which looked quite beautiful against the surrounding green hills.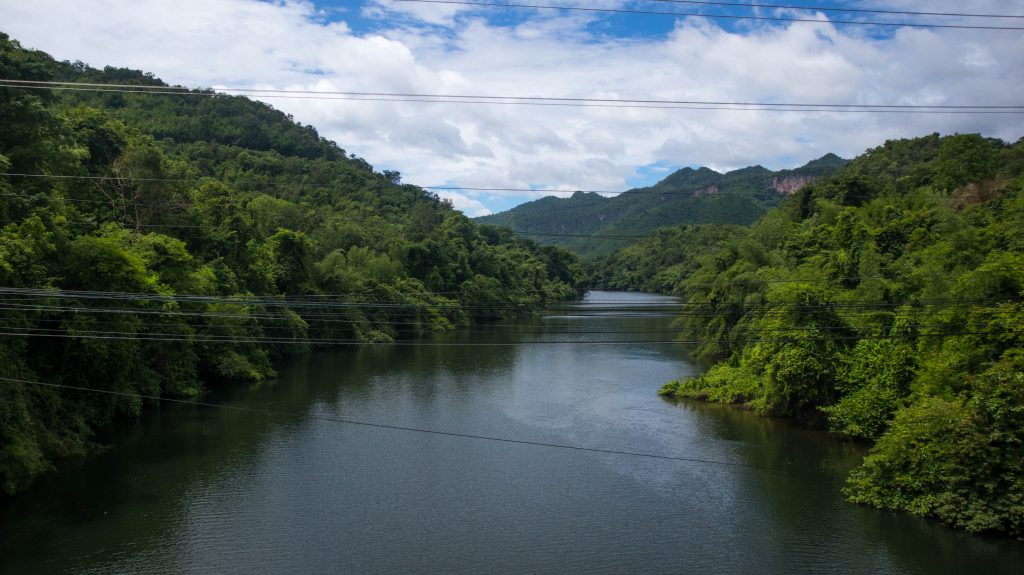 After paying the entrance fee to the park, I left my scooter at the gates and set off to conquer the waterfall, which turned out wasn't that easy.
Not such an easy trek after all
As soon as I started walking I realized that it would be harder than I thought. The first part of the route was flat and didn't require any effort, but the humidity and the heat were pretty bad. I was already sweating after 5 minutes. When I hit the first tier I had to rest. It was only worse later on.
I might not be the fittest person in the world, but I do exercise and love walking, so I consider myself quite capable of dealing with hard trails. However, when the temperature is over 35 degrees and humidity is so high that I can literally feel that my pores opening, I get not only tired but also quite irritated. My body tends to overheat then and I end up looking like I have just had a shower.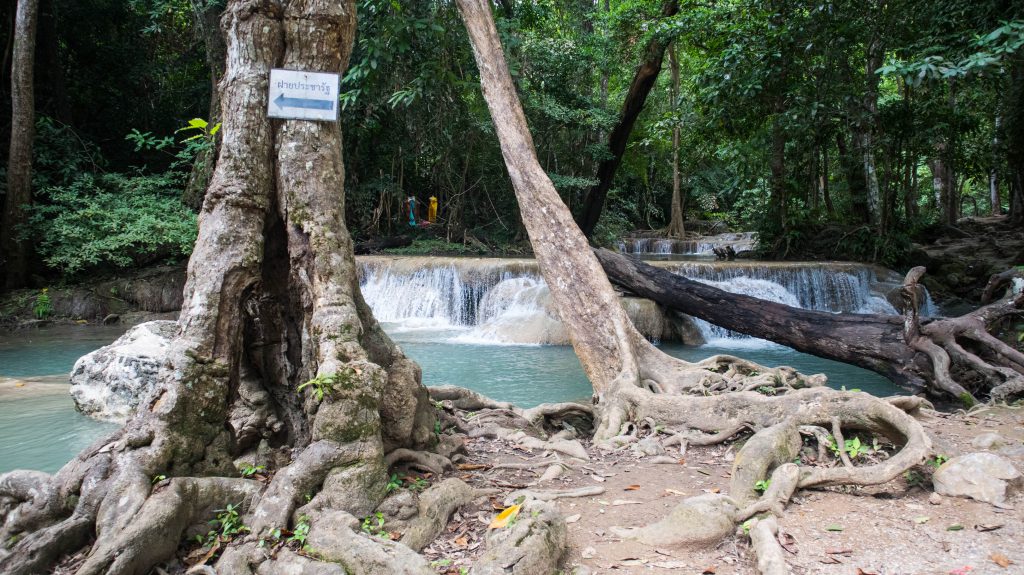 I got to the waterfall early, around 11 in the morning and the trek wasn't that crowded yet. I took some pictures and stopped at a few places admiring the pools of emerald water. I didn't have my bikini with me. I didn't intend to swim as I carried a few valuables with me and was afraid that someone was going to snatch my backpack when I'm in the water. I did regret not having a dip though as after walking so much a swim would have made my trek a little more bearable.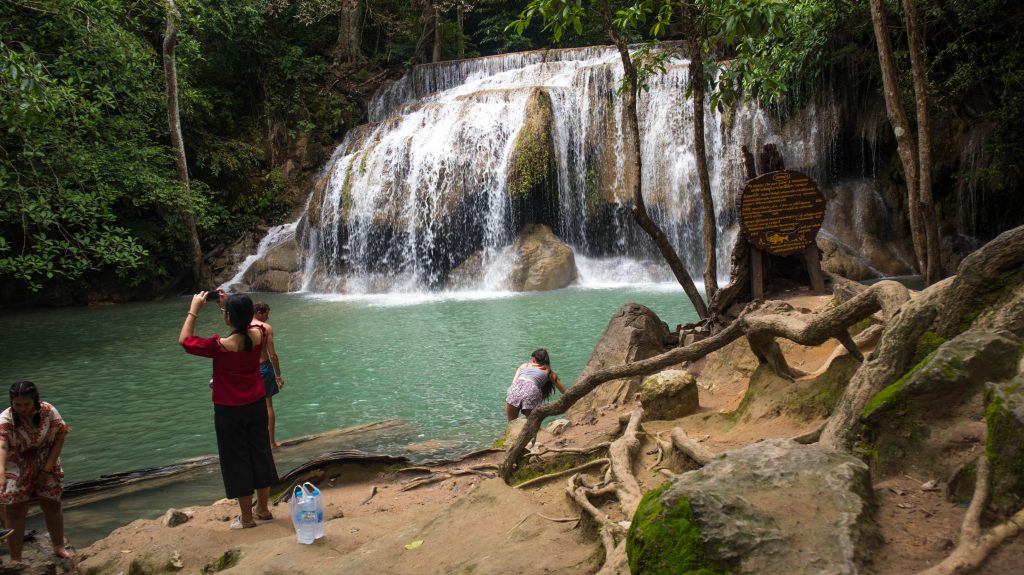 When I got to the tier number 5 I was covered in sweat. I did actually look like I had been in the water. I literally can't imagine how all these girls on Instagram pull off looking so glamorous. I resembled someone, who forgot their umbrella on a rainy day in London.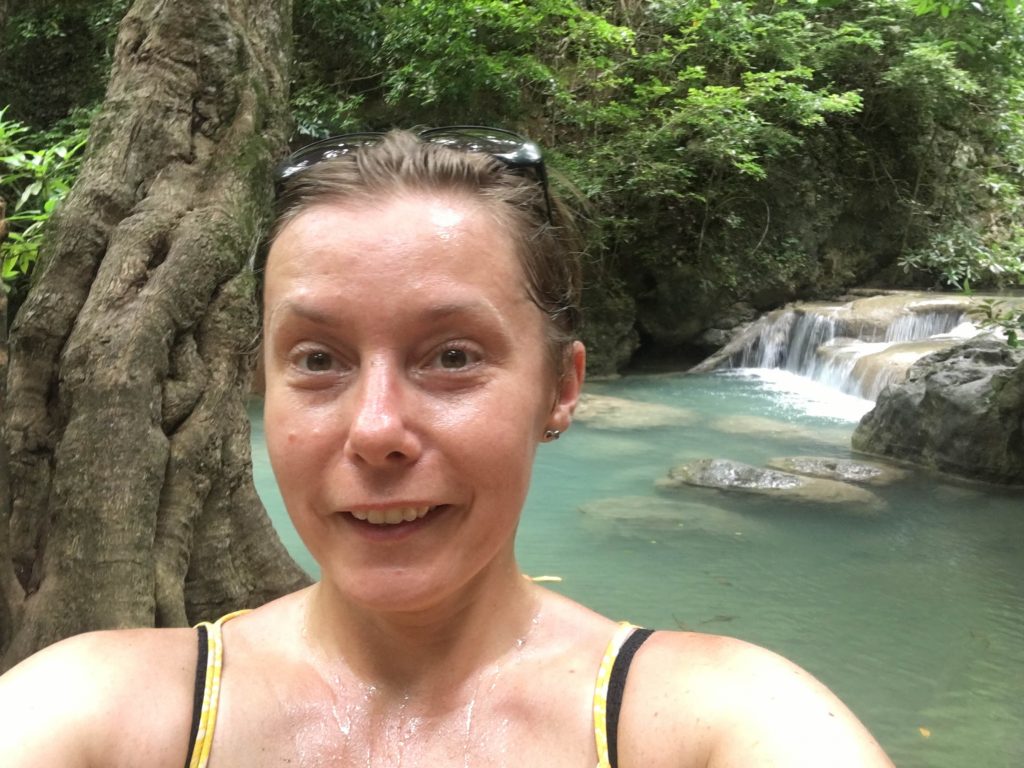 I still enjoyed the views though. The water and the forest looked absolutely stunning. The day was cloudy, but from time to time the sun came out and made the water sparkle and even more blue. It was magical. I stopped in one place for a bit longer and it seemed that with every minute the view changed.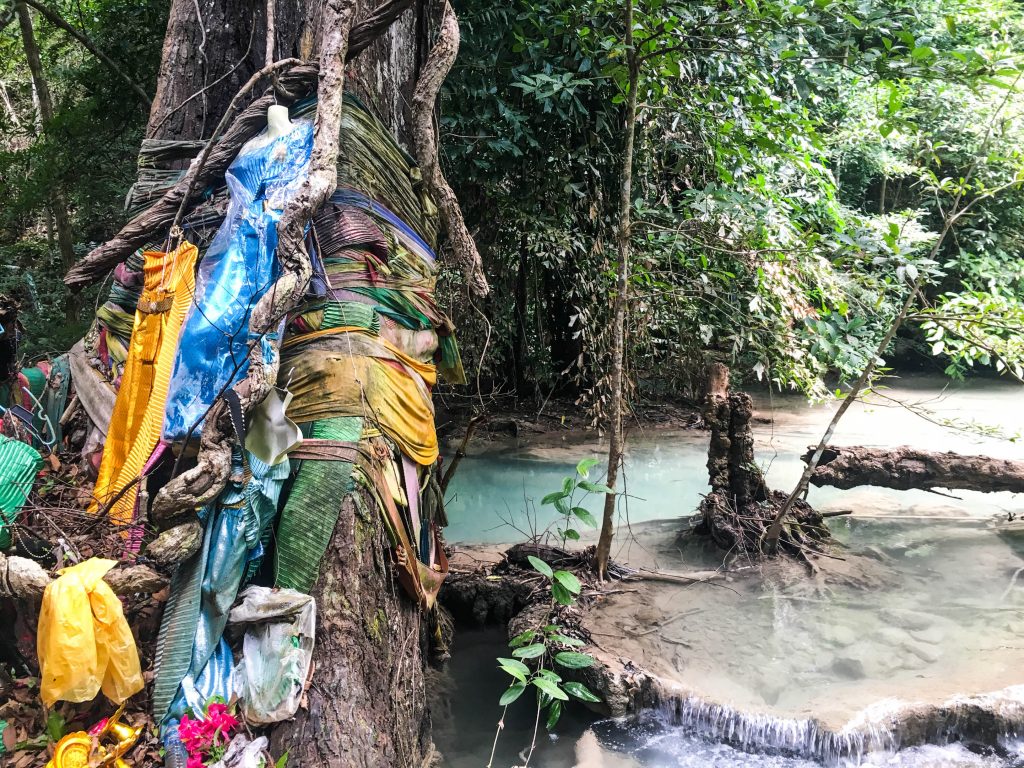 I reached tier 6 and then I gave up… I'm not really sure why though. The top of the waterfall wasn't that far, but I think I just felt very uncomfortable and too sweaty to put up with more walking. I turned around still proud of myself that I coped with the heat and got so far.
On my way back, at around 2 pm, I passed a lot of people who were just beginning their walk. Some of them in flip-flops, with blankets and picnic baskets, seemed not to be aware that to get to the very top requires suitable shoes and a little less equipment.
Useful information about Erawan Waterfall
Before I went to the waterfall I thought it was going to be an easy climb. I had probably missed the information saying that the last tiers were a little harder than the beginning and I hadn't anticipated the high temperatures and the humidity. Below you will find everything you need to know to get to the waterfall and have a great experience.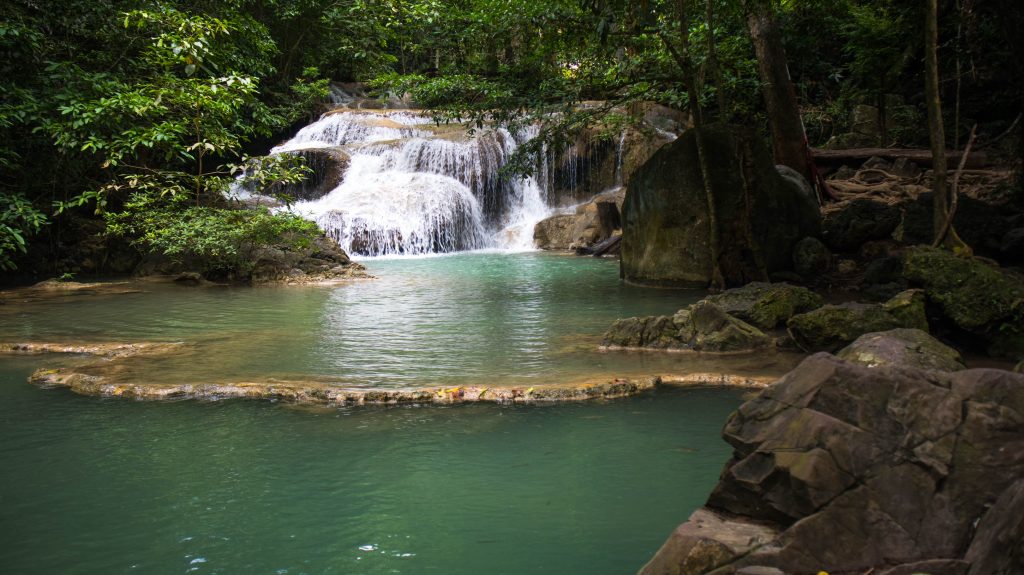 Getting to the waterfall
The waterfall is pretty close to Kanchanaburi and Bangkok. You can organize the trip by yourself or you can use one of the organized tours.
By motorbike
You can drive a motorbike to Erawan Waterfall. Rent a scooter in Kanchanaburi. It costs 200-300 Baht. I don't remember which rental place I used, but there are plenty of them in town. When you rent your two-wheel drive, you will be asked to leave your passport. A deposit of 200 Baht is often required, too. Take photos of any scratches and damages before taking the scooter and make sure that the owner sees them, too.
Remember about a helmet and a good travel insurance before you attempt to drive in Thailand. Stick to the left and don't drive fast.
By taxi
If you travel with your family, or with a group of friends, it might be more affordable to rent a taxi. You can hire a songtaew, which can be found at the Bridge on the River Kwai, or at the bus station. A ride should cost you at least 1000-1500 Baht per person.
Book a tour
There are plenty of places, where you can buy a tour to Erawan Waterfalls. However, most of them are commercial tours without personal touch and they are often rushed. You will end up going with a group of random people and won't' find out anything about Thai culture nor about the area during that time.
If you really want to have a great experience, I recommend going with Take Me Tour. I always use them when traveling around Thailand and have never been disappointed. Take Me Tour is a company that connects local independent guides with tourists and provides you with genuine experience. You can book a tour to the Erawan Waterfall or you can combine it with some other attractions. Check out their other tours in Kanchanaburi, too. 
By bus from Kanchanaburi to Erawan Waterfall
There are local bus services departing from Kanchanaburi bus station to the Erawan Waterfall. Ticket costs only 50 Baht.
Departing from Kanchanaburi to Erawan Falls: 08:00, 08:50, 09:50, 10:45, 11:50, 13:00, 14:10, 15:25, 16:30, 17:50
Departing from Erawan Falls to Kanchanaburi: 05:20, 06:10, 07:20, 08:30, 10:00, 12:00, 14:00, 16:00, 17:00
You can buy a ticket at the station, or you can book it now online through 12GoAsia, which is another trusted company I use when traveling in Thailand.
Book your ticket from Kanchanaburi to Erawan National Park
Book your ticket from Erawan National Park to Kanchanaburi 
By train from Bangkok
You can take a train from Bangkok to the Bridge on the River Kwai. If you want to do it all in one day then you need to take the 07:25 train from Bangkok Thonburi Station. You arrive in Kanchanaburi at 10:25. The ticket costs around 100 Baht. You can book your ticket at the station, or you can book it only through 12GoAsia.
Book your train ticket from Bangkok to Kanchanaburi 
From the station, you can take a taxi, or you can ask to be taken to the bus station and from there you can take a bus as mentioned before.
By bus from Bangkok
You can read about my experience with the bus from Bangkok to Kanchanaburi in my previous post. You also have other choices, like a bus from Khao San Road that departs at 13:30 and 18:30. For all available rides visit 12GoAsia and book your tickets online.
Book your bus ticket from Bangkok to Kanchanaburi
You can take a very early bus to Kanchanaburi, visit the waterfall and then go back on the same day in the evening. It will take you a whole day and it will be a bit tiring, but it's doable.
There are also tours from Bangkok. Inquire at your hotel.
The cost of getting to the waterfall
A private tour to the waterfall from Kanchanaburi will cost you about 4000 – 5000 Baht. The price includes the entrance fee to the park and a light lunch. If you want to save some money you might want to hire a songtaew and share it with other travelers. You will then need to pay for the entrance and for your food and drinks separately. The ride will cost you a maximum of 1500 Baht per person, plus the other extras.
It's cheap to visit the Erawan waterfall by a motorbike. It's about 250 Baht to rent it, plus the entrance fees, gasoline, and other extras.
The entrance is 300 Baht for a foreigner. If you're driving a motorbike, you will need to pay 20 Baht for a parking spot.
My cost of getting to the waterfall
Motorbike: 250 Baht
Gasoline: 50 Baht
Entrance fee: 300 Baht
Parking: 20 Baht
Lunch (on the way): 35 Baht (with a small bottle of water)
Total: 655 Baht
Facilities on the site
At the entrance, there is a shop and a bar serving food. Prices are reasonable (it's Thailand after all). On the way to the top, you have one place where you can buy water. You won't find anything further.
Toilets are located at the entrance and then at the first tier.
What to take with you?
Shoes: Flip flops are not suitable for this trip, so bring at least some trainers with you. At first the road is flat and paved, but later on, it gets worse and worse.
Swimsuit and towel: If you want to go for a swim.
Mosquito spray: You will be in a forest and you will be sweating. It's a perfect feeding ground for mosquitos. Take plenty of repellents.
Sunscreen: Most of the pools are shaded with trees, but on a sunny day the sun goes through them and can seriously burn you.
Plenty of water: A LOT of it. It's better to be safe than sorry.
Where to stay in Kanchanaburi?
Did I forget anything? Do you have any other questions or suggestions? Don't be shy! Leave a comment!