When I was planning my trip to Esfahan I knew it would take at least 3 days to see everything there. Considering my short stay in Iran I decided to give Esfahan this exact amount of time. I didn't expect to regret my decision so soon, though.
Esfahan is a city in central Iran known especially for its architecture. It touched my heart with something more – the friendliness of the locals and a more relaxed ambiance than in Teheran. During my stay, I got to see just a small part of Esfahan and that is why I regretted not being able to stay longer. This city touched my heart and roused my imagination.
In Esfahan, I stayed at my friend's friend's who had planned a very intense sightseeing trip for me. Every day we walked and drove miles and miles to see the most important places. I was really glad about it of course. On the other hand, I really wanted to stroll along the streets of the city to see how people live. Nonetheless, thanks to Nagme's hospitality I can recommend so many places worth seeing in Esfahan.
Before we start – unfortunately I accidentally deleted almost all of my pictures from Esfahan and that is why this post is not as colorful as it should be.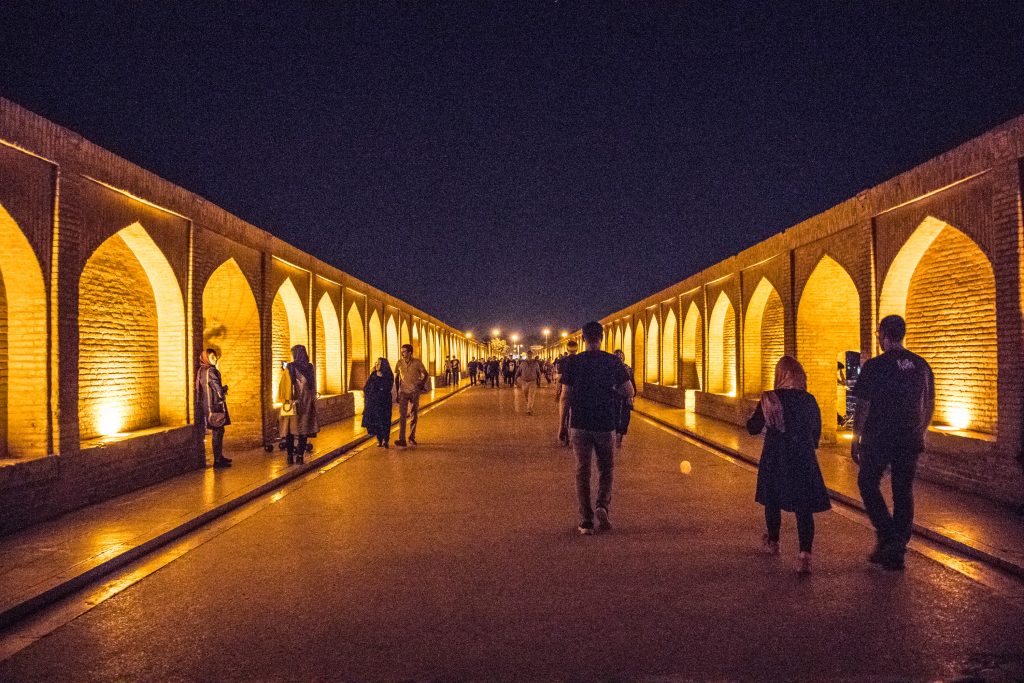 What is so magical about Esfahan?
Esfahan, or rather Isfahan, is the third biggest city in Iran. Its history reaches back to the Old Stone Age and its first permanent settlers were the Elamites around the year 2700 BC.
The city is filled with history which you can see everywhere. Bazaars, bridges, museums, and mosques, as well as the beautiful main square, are a paradise for those interested in culture.
My first clash with Iran was in Teheran. I wrote about my feelings connected with Teheran in one of my diaries. I was completely unprepared for the awe I felt looking at ornately decorated mosques and the delight I would feel making short friendships with the locals. The stay at Nagme's was the cherry on the top of the whole experience and leaving Esfahan I knew it would stay with me forever.
I think that Esfahan will appeal to everyone. Do you like shopping? You will find handmade products at good prices here. Looking for stylish cafés and restaurants? In the city center there are a lot of them. Do you want to feel the real Iranian hospitality? Here people are a lot more open for talking than in Teheran.
That is why Esfahan touches your heart!
Attractions in Esfahan – What to see and experience?
Esfahan is a huge city with countless places to see and visit. There are a lot more typical attractions here than in Teheran. Here are those I managed to see during my 3 days stay in Esfahan. 
Naqsh-e Jahan Square
There are a few adjectives I could use to describe the main square of the city. The first that come to my mind are: beautiful and extraordinary but also delicate and petite because despite its size Naqsh-e Jahan seems to be in its own way extremely mignon.
The square was constructed between 1598 and 1629 and is currently an immensely important historic place. It is one of UNESCO's World Heritage Sites which is not surprising at all. This place is breathtaking in every way.
On an area 160 meters wide and 560 meters long beautiful lanes were created for strolls. There are also a few fountains with pools with azure water where the residents of the city come to cool down in the evenings.
The name of the square Naqsh-e Jahan means "the World's gem" and that captures perfectly the intentions of the creators as to what the square was supposed to represent – power and wealth of the Safavid empire.
Naqsh-e Jahan is not the only place worth our attention. Each side of the square offers a feast for the eyes and spirit. Masjed-e Shah and Masjed-e Sheikh Lotfollah mosques are beautifully decorated and will astonish every visitor. I liked very much Kakh-e Ali Qapu – the palace in the western part of the square from which you can admire the view of the whole area. I spent about 2 hours there!
Bazaar-e Bozorg
Around the whole main square behind the columns of the buildings, there is a bazaar. Shopaholics will love the place. Many shops sell their handmade products. You can even see the process of making dishes, fabrics, or paintings. You don't even have to buy anything. All you need to do is enter and ask if you can watch and take a few pictures.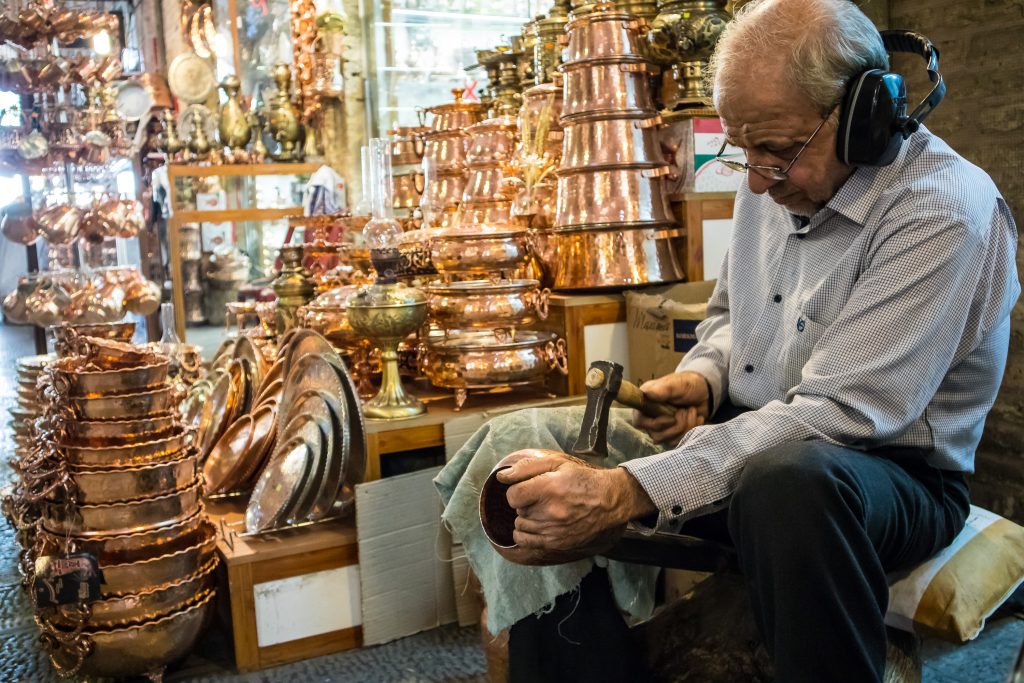 Handicraftsmen can make extraordinary things here.
The most interesting things about the bazar are the main aisles. They are constructed in a way to bring relief from the heat in summer and in winter attract buyers with warmth.
You will find more lavish cafés and restaurants here where you can eat a fair meal at an affordable price (in comparison to western prices, not the Iranian ones).
Bridges in Esfahan
Esfahan is famous for its bridges. There are 11 of them and practically all are historic places. I have seen two of them – Si-o-Se Pol and Khaju. I have seen both in the late evening and at night. During the day they are both enchanting but it is after dusk when the most is happening here.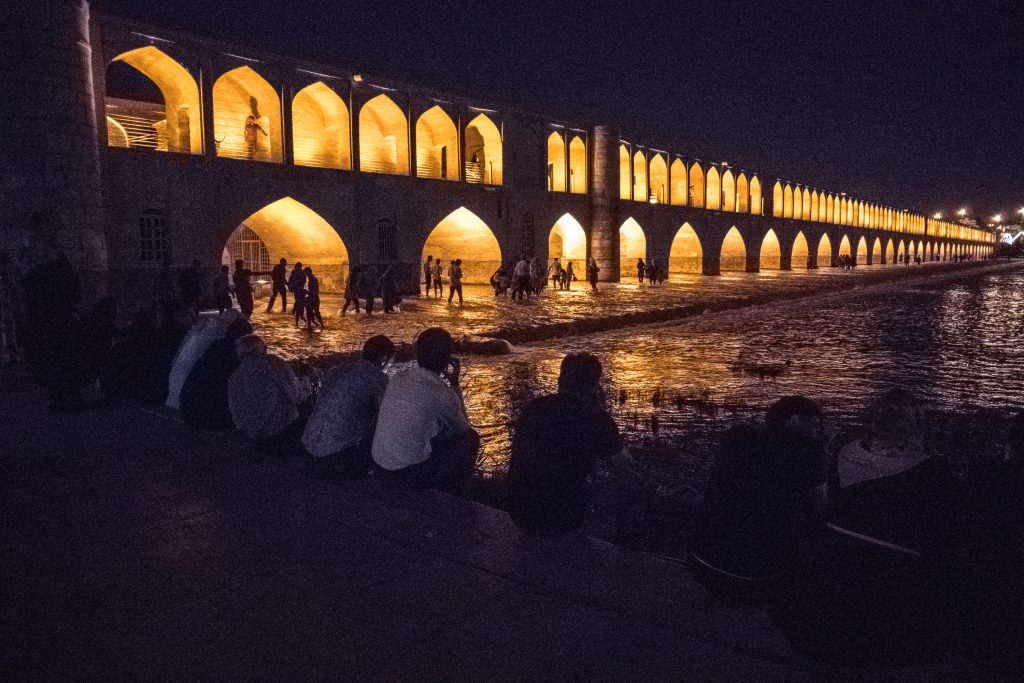 Si-o-Se Pol is the biggest of all the bridges. It was built in the 17th century and served not only as a connection between the two banks of the river but also as a dam. It has 33 arches that reflect beautifully in the water. During summer the residents of Isfahan come here to dip their legs in the water or to watch the turbulent river rushing through the bridge.
Khaju bridge made an even bigger impression on me not only for its beautifully decorated walls but mostly because it's so full of life. It's a place where by the lights of the lanterns in the hidden corridors men gather and sing Iranian songs to the sounds of drums or just rhythmic clapping. Larger groups also dance creating mystic shadows on the walls.
I recommend visiting both places in every season of the year. During summer it's especially busy. I have to mention, though that at the end of June all of the water is channeled to the adjacent fields and the river is practically dry. Half of the fun of observing children playing in the water with their parents evaporates with the water.
Chehel Sotoun
Chehel Sotoun is a pavilion and a park from the 17th century. It was built by Abbas II as a place of rest and entertaining guests.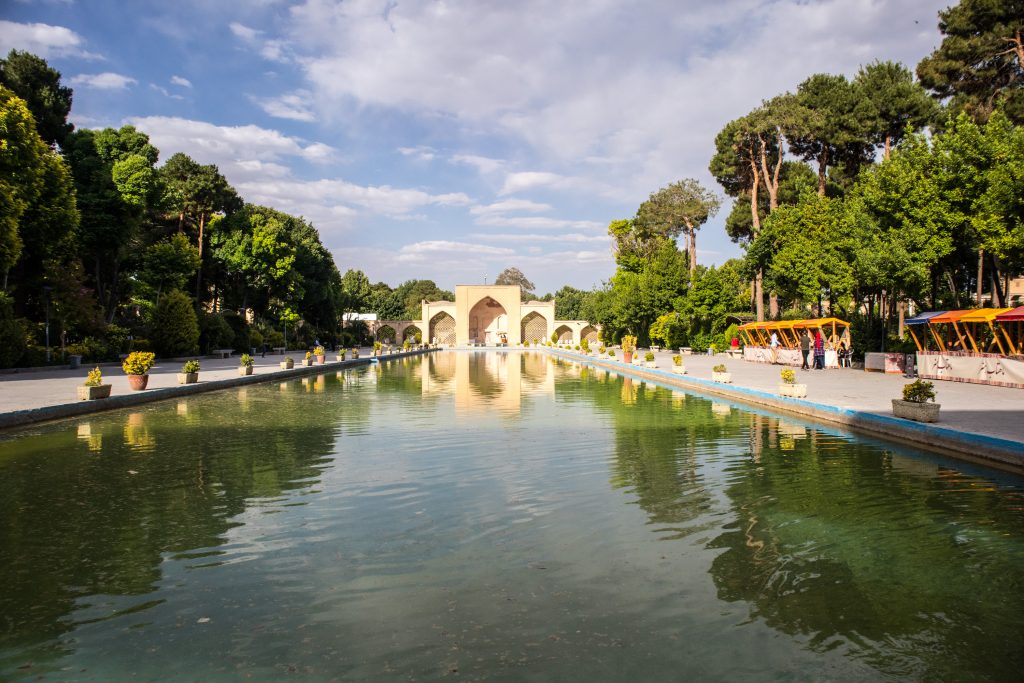 The whole palace is covered in frescos.
I can honestly say that I wouldn't say no to organizing parties in such a place. The garden is a quiet place for an afternoon walk and relax by the long pool right in front of the pavilion. Inside the pavilion, you will find ornately decorated chambers with colorful frescos depicting battles and scenes from the life of Abbas II.
Vank Cathedral and the Jewish Quarter
Vank Cathedral may not look impressive from the outside. Also, the entrance price is half that of other attractions throughout Iran (500,000 Rials). However, it is worth visiting.
The cathedral was built in the 17th century by the Armenians who were made to resettle on these grounds by Abbas I. You can read about their history in the museum next door.
The cathedral itself is extremely small but each centimeter is covered in frescos depicting biblical scenes. The main part of the ceiling is the dome which shows the history of the creation of the world and the exile of Adam and Eve from Eden. You can also see here Persian motifs with delicately painted flowers.
Orthodox and Protestant Christians are buried in the courtyard in front of the cathedral. In the very center, there is a bell tower, under which there are also graves.
If you have time walk around the area. It's the Jewish Quarter. Many lanes were restored. It is quiet and pleasant here and for those tired and weary of sightseeing, there will certainly be a peaceful café with good Iranian tea.
Soffeh Mountain
I visited it last and I was there just for a picnic with Nagme. We went there in the evening with hampers full of food and blankets under our armpits. It was 10 pm and the park was still full of families with children who just like us had a feast and relaxed in the cool evening.
At night Soffeh Mountain fills up with people having picnics or meeting with friends.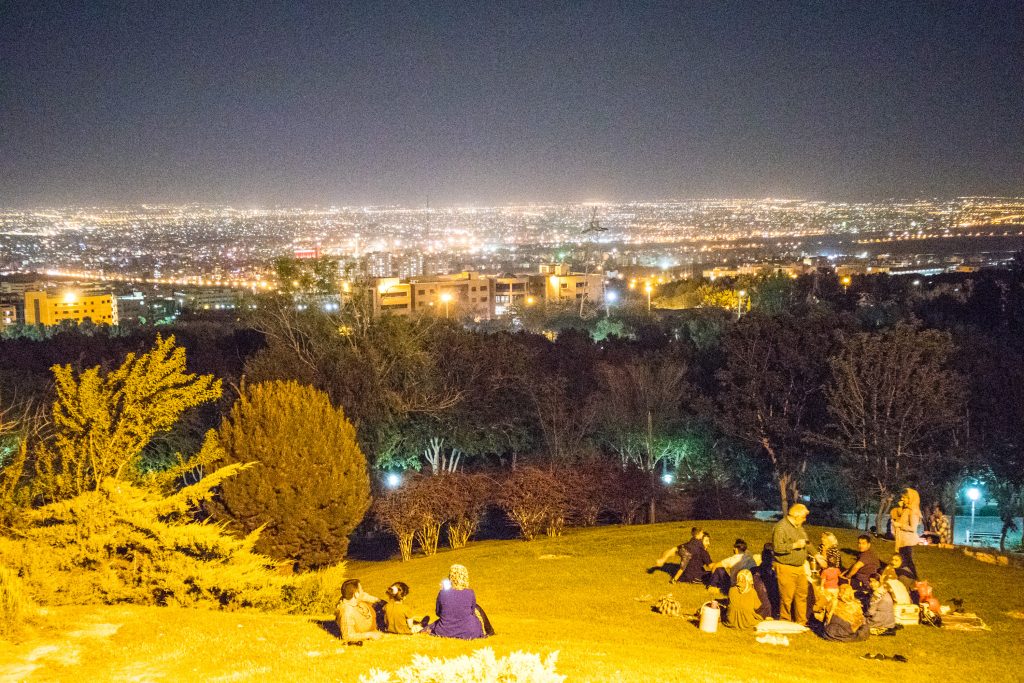 Right under the mountain, there is a park with benches and strolling routes. You can also climb a little higher and admire the view of the city. There is also a lift to the very top, working till late hours. The panorama must be amazing. We did not go then (our bellies must have been too full).
Abasi Hotel
Do you have some spare time in the evening? Go to this exclusive place for tea and a light meal. For 300,000 Rial you can order something from the menu, sit in the beautiful garden and enjoy the luxury. It might not be the greatest attraction but Nagme insisted on going. She said it's the Iranian way of spending free time in Esfahan. She was right. Apart from me, there was one family of foreigners there. Others were all Iranian families.
The hotel is famous all over Iran. You can freely walk around the hallways, see the display of Persian carpets and admire products made by local artists. The hotel is decorated in a truly Iranian way.
Pigeon Towers
They were once points where the city started. Today they are a shelter for thousands of pigeons. Inside you will find small nests in the wall of the building where those birds reside. It is really impressive. You can also climb to the top and see what the area looks like from the perspective of the residents.
How to sightsee Esfahan?
I will not be a good advisor here. As I was Nagme's guest she took me everywhere by car. We took the subway a few times to get to the more known places in Esfahan.
Taxis work well in the city. They are available on the main streets and are extremely cheap.
It is worth hiring a guide for a more effective sightseeing tour. Every attraction has its own guide and there is a possibility to buy the tour with someone who works in the chosen object. It is cheaper to buy the whole day of sightseeing or half a day.
Accommodation in Esfahan
As a guest in an Iranian home, I wasn't able to see what Esfahan has to offer when it comes to accommodation. That is why I recommend checking the 1st Quest website where you will find a wide range of hotels. On the website you can also pay for your hotel online which is not possible on other websites of the sort.
Where to eat in Esfahan?
At Nagme's! I'm joking of course. I wish you could taste her cooking. It's not possible but I can recommend a very good and interesting restaurant Nagshe Jahan Restaurant. The place might seem a little touristy but the food is delicious and cheap and the décor is fabulous!
Seen Esfahan? What next?
If you have seen everything worth seeing in Esfahan it is time for the next adventure. Your next stop will be Yazd – a city on the edge of two desserts. You can get there by bus for only 5 euro. The ride takes about 3-4 hours.
Esfahan is a pearl on the map of Iran. Here lived monarchs and kings of the country and here took place various important historical events. The city is huge and offers tourists many attractions. Three days is a minimum. If you can spend a longer time in Esfahan and leisurely walk around its streets.