This is the third part of Follow the Expat series, where we spend time with people who live away from their home countries.
Today we are in Valencia, where we meet with Dany, an American, who has been living here for over a decade.
Check out the last post from the series: A walk through Porto with Magda.
A while back I was invited to stay at Bed and Breakfast Valencia Mindfulness Retreat by Dany and Thijs, who run this beautiful place. I spent 2 days there enjoying their hospitality. I decided to use the opportunity and asked Dany to be another guest on the Follow the Expat series. I asked him to tell me about his life in Valencia and show me his favourite places.
Tell us about yourself
Hi, I'm Dany. I'm from Holland and I live in Valencia. I've been here for 11 years and I run a small bed and breakfast.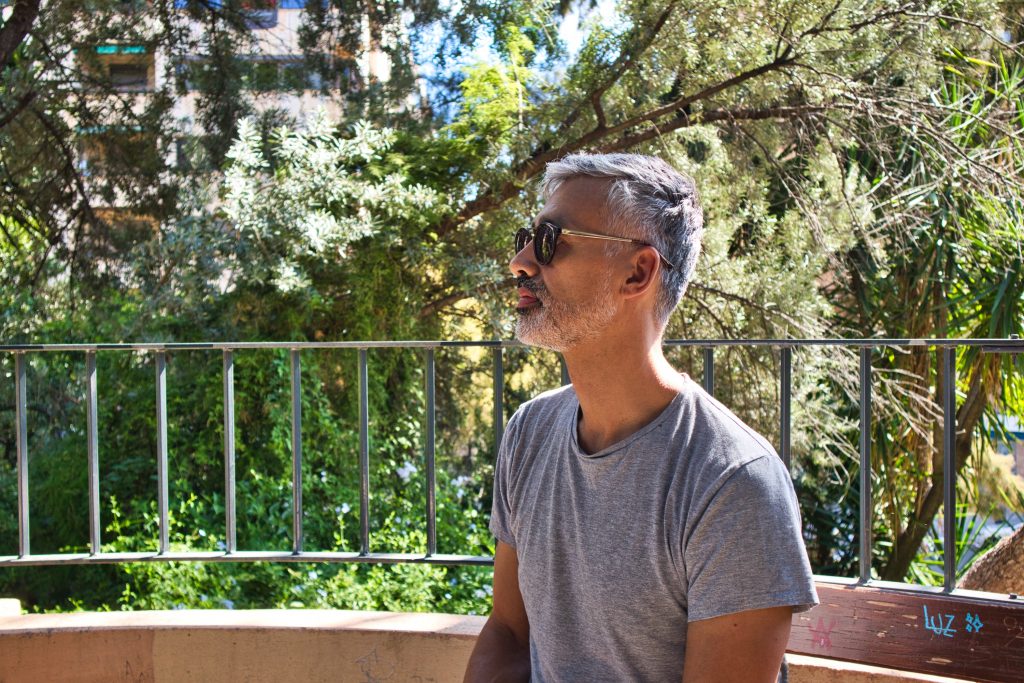 The inspiring story
Dany says he's from Holland, but he was born in Hawaii and grew up in the States. His personal story is full of twists and turns. He is the living proof that whatever comes your way, you can survive it and become stronger. I can't share the details with you unfortunately. Just remember that Dany is an extraordinary person and he worked very hard both physically and mentally for what he has now.
When I was about 20 years old, I left everything I knew and went to Europe. I hitchhiked for a while and lived through some really great adventures. I then found myself in Holland and settled down there for around 20 years. There I met Thijs and after a while we decided to make our dream come true. We came to Valencia. By a total coincidence we found the dream place for our B&B.
Dany and Thijs had a close friend, who went to Valencia with them. Paul was 69. He was, as Dany described him, an elderly gentleman. At one point Dany and Thijs started talking about how lovely it would be to live in Valencia. Paul laughed. 'Dream on, guys. Dream on' – he said.
Soon after Paul was diagnosed with a muscle disease. His health was decreasing rapidly and finally he was found dead in his apartment.
After the funeral, Dany and Thijs decided to move to Valencia. They had talked about it for a long time and felt that it was the right moment to do so. Thijs came to the city first and found the perfect place in the heart of the city. Dany followed him soon after.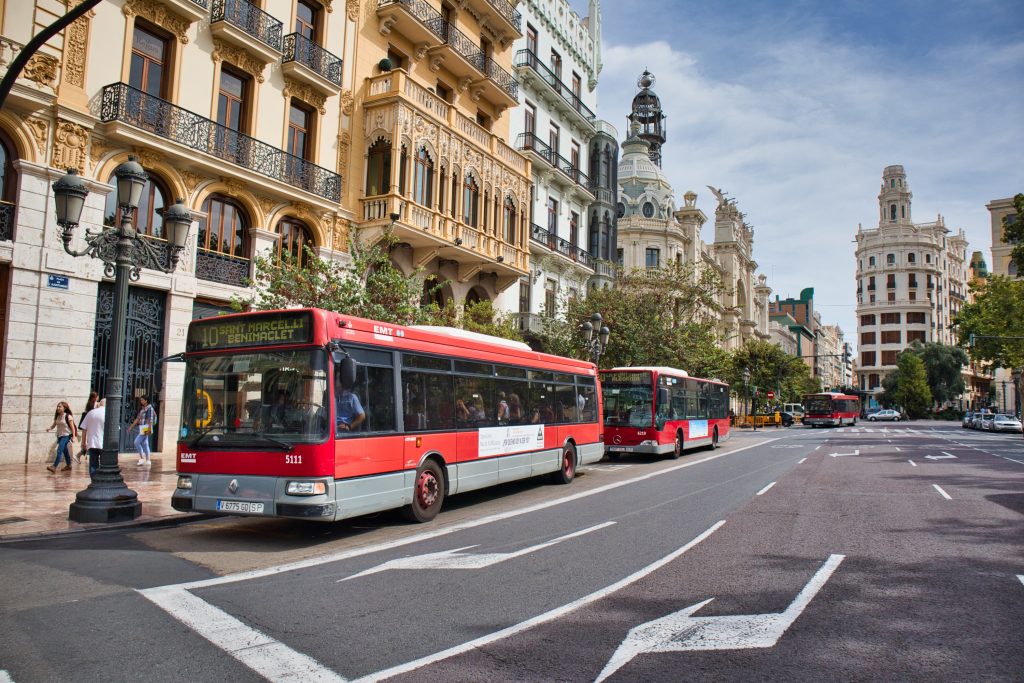 We came outside and were walking down the street. I raised my hands to the sky and said 'Paul, we made it!' and at that moment a white dove flew down and landed next to my leg. I took it as a sign from Paul, who had said 'guys, dream on' in almost the exact spot.
For a couple of years Dany and Thijs lived in a tiny room in the apartment while working on making the place special for the guests.
I was quite worried at first when we came here. It was the uncertainty. I left a good job in Holland, my friends. I did it for my partner, to be honest. When I slept on the laundry room floor I thought to myself – is this what I came here for? But then I saw how happy my partner was, how calm and relaxed and I knew it was worth it.
There were lots of other bed and breakfasts in the area in Valencia and they had to come up with a different plan. After a bit, Thijs decided to combine the rooms they offered with something he was passionate with – mindfulness and meditation.
Their Bed and Breakfast Valencia Mindfulness Retreat is not just accommodation for anyone. It's a combination of a retreat and a little guesthouse. People who come here want to rest, and if they are in a mood, learn to meditate, mingle with other travellers and see the best of the city.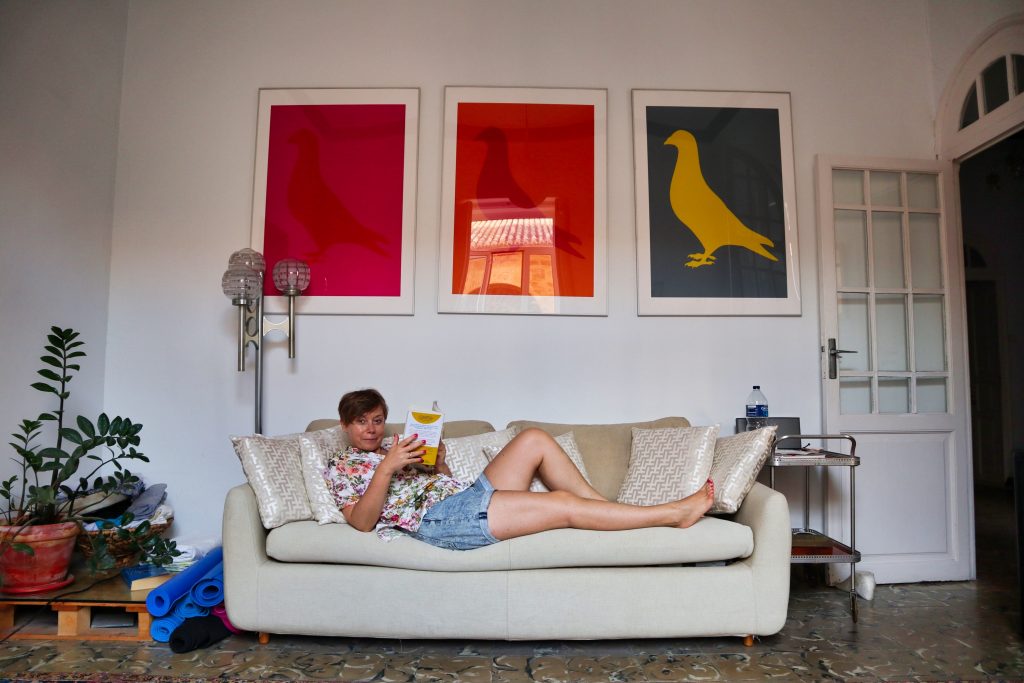 After 11 years of living in Valencia, Thijs and Dany are settled. There is no more sleeping on a floor!
Both are very proud of what they've achieved and they truly deserve the recognition.
The life in Valencia
Dany loves the city he lives in. He wouldn't change it for anything. He seems very content with what he has, which nowadays is quite rare in people.
I don't need more. I have a place to stay, I do what I love. I have my partner and I live in the most wonderful city in Europe. There is a beach, there are amazing cycling routes and the food is great. I'm happy.
Life in Valencia treats him very kindly. He's my parents' age and he looks like he is a bit older than me. He says it's because he doesn't have kids, but I think it's also his lifestyle.
Dany is very fit. He cycles everywhere and rarely uses his car. His bike is the main mode of transport. Being outside, meditating, eating well – that's all you need to look good and feel good.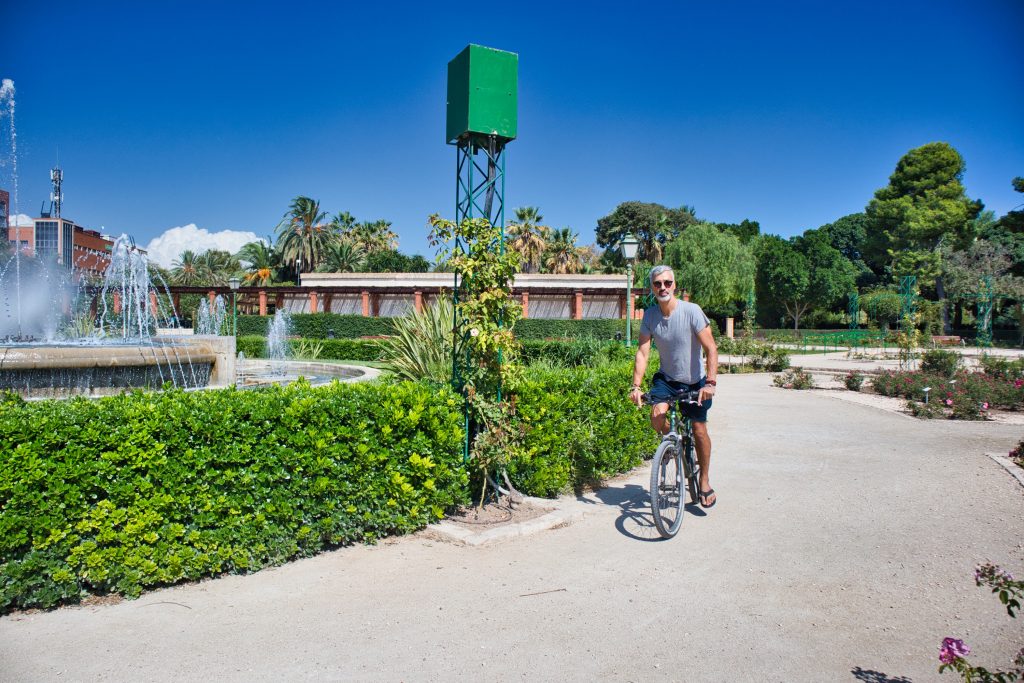 As he's such a keen cyclist, no wonder then that he takes me for a sightseeing tour on a bicycle. We go to a befriended rental place, where an Italian family rents bicycles and scooters to tourists. Their shop is conveniently located, just next to the main square.
We jump on our bikes and Dany leads me through busy streets to a place he discovered once – a small, hidden park. Here we stop for a little rest, which just means getting off the bike and walking around. It's quite hot and I have some trouble with keeping up with his pace. I wish I would be so fit when I'm his age!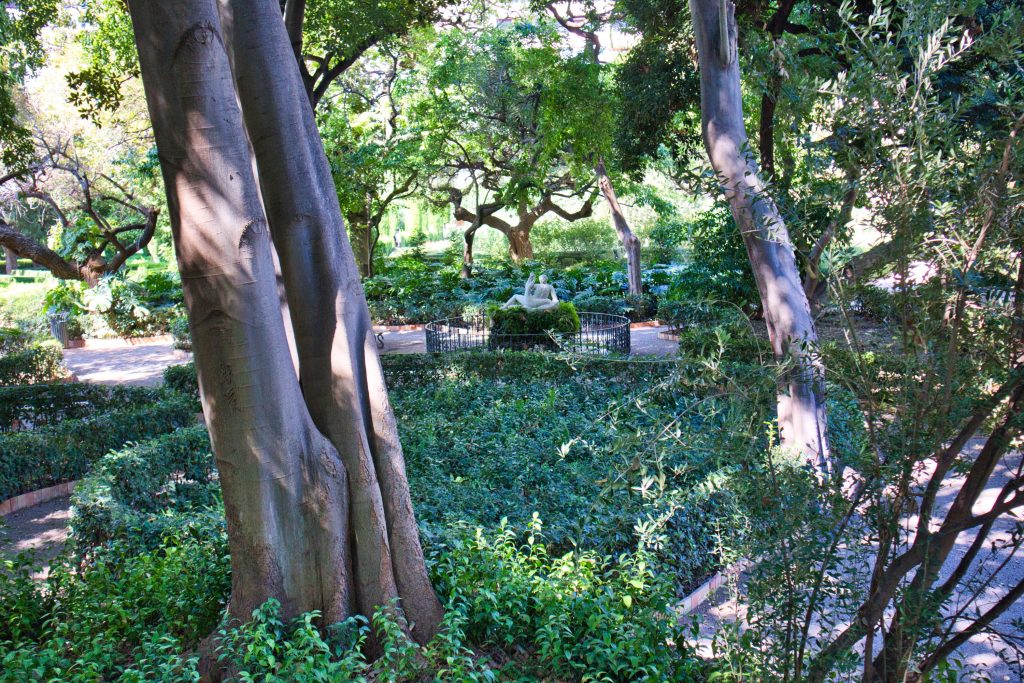 We move just next door, to the Royal Gardens, where once stood the palace. We order a coffee at the kiosk and sit in a shade to cool off and talk.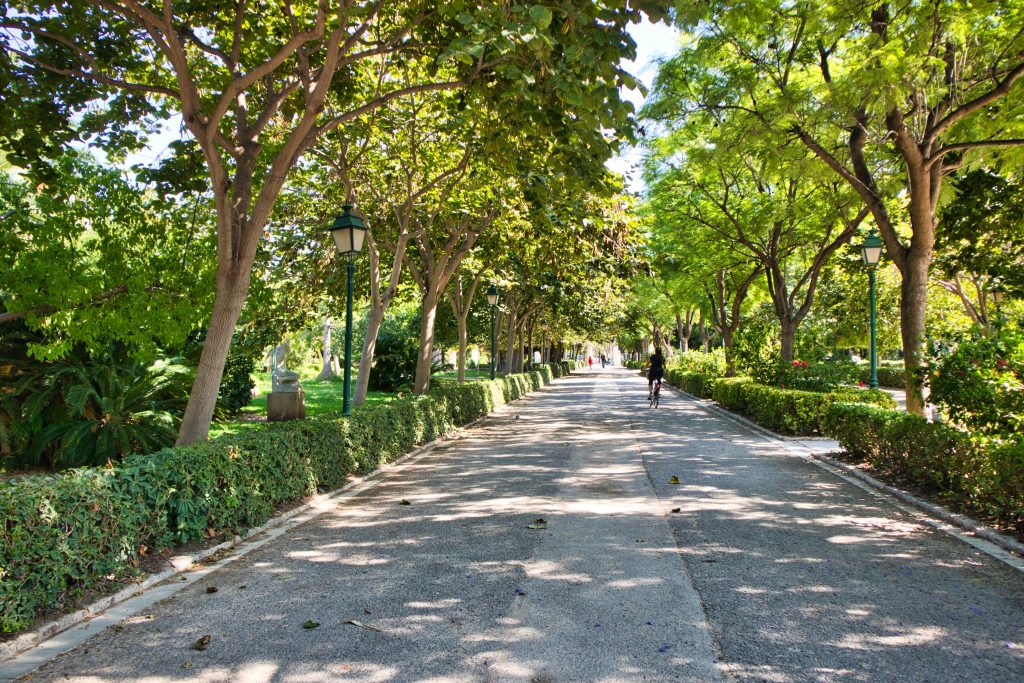 It seems that Dany has everything and there is nothing bad he can say about the city he lives in, but I ask him the question anyway.
I don't like the fact that a lot of people here are so distant. You can't really make friends. We only managed to make a few good friends in Valencia. I know the language and I tried to make an effort, but Spanish people don't really care about making friends with the expats. They have their own lives. We have a couple of friends here, but that's it.
This answer really surprised me as I've heard this before from so many people that live abroad. It seems like it's a common problem among us, emigrants. If you have moved when you were a bit older, then it's very hard to meet someone, who can become your best friend.
However, Dany and Thijs are still content with what they have. They try to make the most of their lives here and work for most of the year, inviting tourists to their homes and their lives.
Dany gets up very early every day to prepare his famous breakfast. Thijs does the meditation with the guests and then joins Dany and helps him out a little. Then, they clean up and wait for the new arrivals.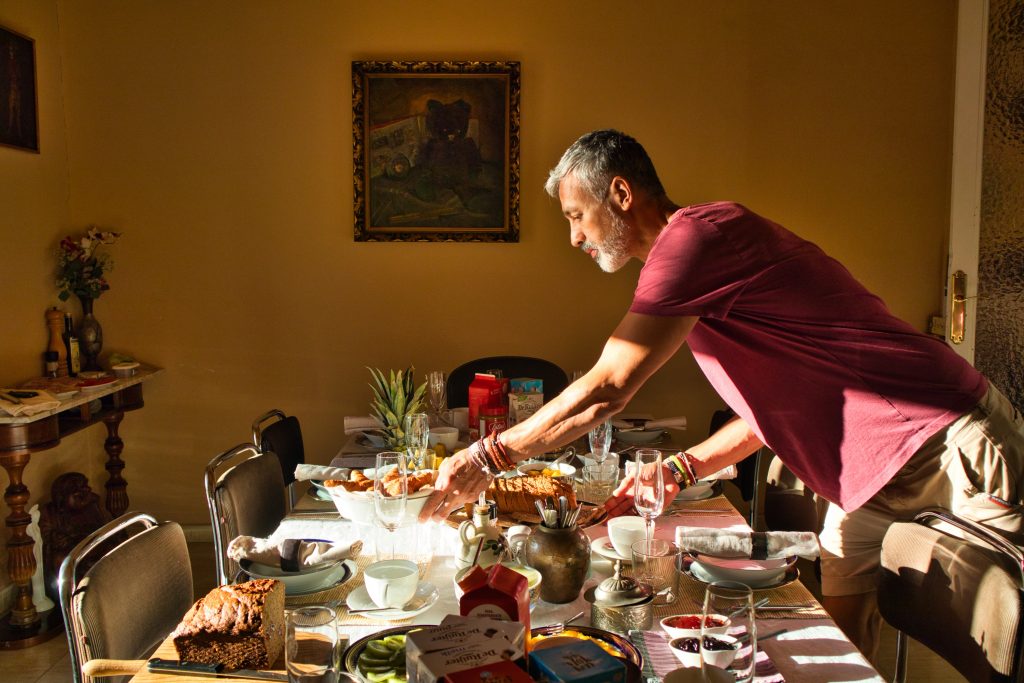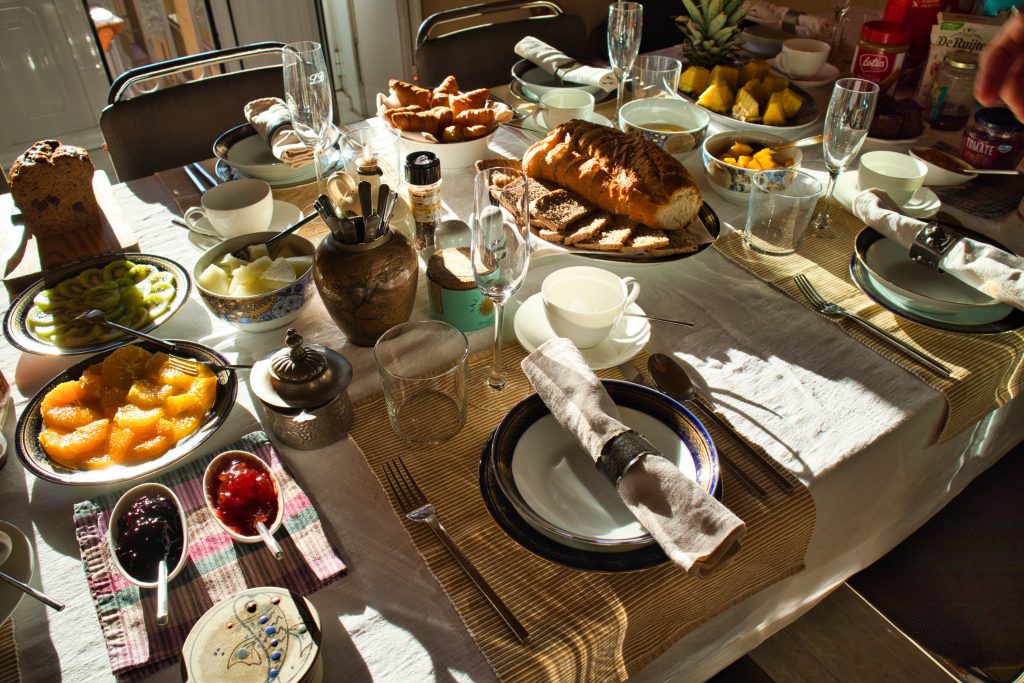 Their home is very close, so they can always jump on the bike and come to the retreat when needed. They are always opened to hang out with the people who stay at their place.
The winter months it's when they both close their business and move to the countries like Thailand for some sun and to recharge their batteries.
We're not really 'winter people'. Neither of us is. We usually skip the winters and go to Thailand. We come back when the Spring starts, around March. It's like switching from Summer to Summer, without the Winter. This lifestyle was always a big attraction for us.
The business
Dany makes a reservation for lunch in a busy restaurant next to his home. We still have some time, so he invites me to the other properties they rent and which they use for some additional income.
The first one is in the centre. It's a beautifully renovated and restored the Loft by Torres de Quart in a very old tenement house. I follow him up the stairs with my camera thinking 'where the hell is he taking me?' Dany laughs and says that the building might not look like much, but that I will like the flat.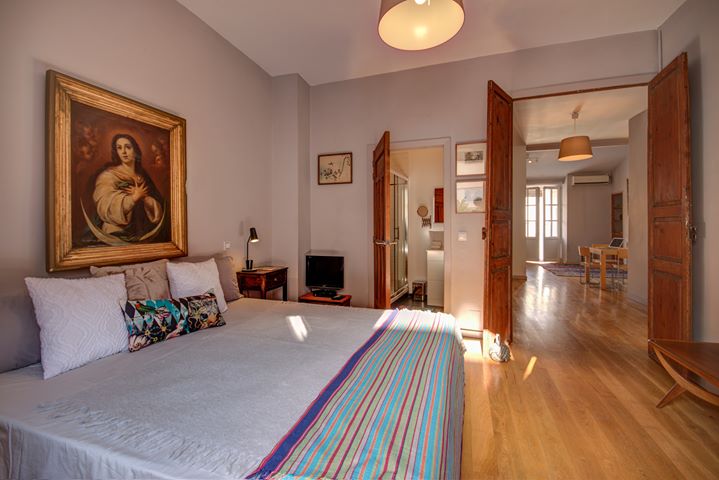 He's not wrong. It looks amazing. I would love to stay there during my holiday. Inside there is everything what you need for a short visit in Valencia – a kitchen, a great sized bathroom. And everything is so beautifully decorated.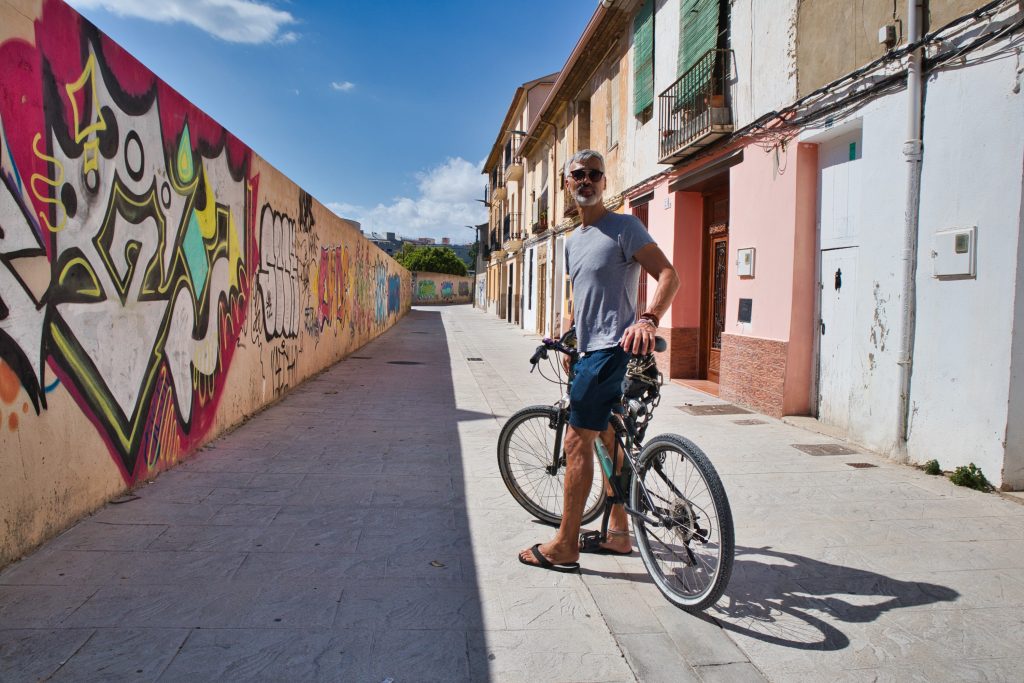 Thijs and Dany have more than just a good taste. They are both real businessmen, even if they don't think about themselves in these categories. They know how to make money, they invest it wisely and they live off of what they earn, but don't lead a lavish lifestyle.
They work a lot during the year, when they're in Valencia. Having the Bed and Breakfasts requires them to be in the city all the time. Guests come and go throughout the day. Some of them become Dany and Thij's friends, so they also hang out with them after they finish work for the day.
They have slightly different personalities, so managing the business was a little hard at first.
We had to divide the responsibilities according to what we like doing. I'm more of a people's person, so I do the breakfasts and I entertain the guests. Thijs likes his own space. That's why he does the meditation in the mornings and he manages the administration side of things. In this way we don't get into each other's way and we can keep our relationship healthy.
We go for lunch to a very modern but cozy place, where for 15 Euros you can eat a very fancy three course meal.
Dany doesn't have that much time for himself during the year. He always needs to be ready to welcome new arrivals. The two properties they have need to be looked after, too.
When I have free time I usually go to the gym. Sometimes I go out for some drinks with friends. I'm involved in Bed and Breakfast a lot, so I hardly ever have time to do much. Sometimes we go to a theatre here, to a museum, to a concert. But, to be completely honest, a lot of time we spend at the Bed and Breakfast.
Luckily, Thijs and Dany have their winters to look forward to. Yes, they work hard for a couple of months, but who wouldn't love to spend the cold months away from the rainy weather? There need to be some sacrifices and Dany is completely aware of that.
Expat advice
I think the best guides and the best people to speak about the city are either long term expats, or locals. That's why, in this series you will always find some good tips from the people I interview. Here are a couple from Dany.
Two places you must see in Valencia
The top of the Micalete Tower at the Plaza de la Virgen Cathedral, around the corner from the one and only Holy Grail that has a Vatican stamp so it is the REAL one Dan Vinci Code Dan Brown etc.
The Turia Park, yet not the way towards the beach where you find and idyllic swan lake and you could take a swan and as a boat be one with nature in the middle of the city.
Off the beaten path: Hidden gems in Valenica
Would you like to see something extraordinary? Are you looking for an off the beaten path, local experience?
Become the Patron of The Blond Travels and get the best tips from all around the world of places that are not in your usual tourist guide!
Here is one from Dany:
The secret restaurant L´Estibador is great for lobster paella! It's at the tourist free clothing optional beach of Pinedo, direction El Saler at a 15 minute bike ride from Arts and Sciences.
I have 3 more amazing places for you! Want to find out what they are? Click here and become a Patron!
Advice for people who want to move to Valencia
Usually I ask people for one advice, but Thijs and Dany shared with me a lot of interesting things, which I want to share with you.
Accommodation
Who needs to buy? Renting a 60 square meters apartment in Valencia city including sunny balconies would set you back anywhere between 450 and 800 euro per month depending on the area and distance to the historical center. Try Idealista or fotocasa for the latest selection.
If you are one of those lucky ones that have found a way to make a living on line, Valencia is the place to be due to the weather and the low cost of living. With an income of 1000 euro monthly you can live well, paying all your bills and go out for lunch 5 times a week.
Meal times
Spanish Mealtimes 101
Desayuno (Breakfast): 7 a.m. to 9 a.m.
Almuerzo (Mid-morning snack): 10:30 a.m. to 11 a.m.
La Comida (Lunch): 2 p.m. to 3:30 p.m.
Merienda (Mid-afternoon snack): 5:30 p.m. to 7:30 p.m.
La hora del aperitivo (Tapas Hour): 8:30 p.m. to 10 p.m.
La Cena (Dinner): 9 p.m. to 11 p.m.
If you do like the Valencians do and stick to these moments and add 2 terrace coffee moments and 2 bar drink moments, you only have 4 hours left to run around to work and other boring stuff.
Learning Spanish
An interesting way to learn Spanish that is 100 % free and also helps in getting your alcohol intake down is joining a Spanish speaking AA group. ( Just for people who have the desire to stop drinking )
Top three of Spanish Expressions that where very hard for us to get used to:
No te preocupes – this kind expression means "dont worry", yet it is often used when I worry, it is not easy to get used to it.
For example:
My arm is broken, the doctor puts it in a cast and I ask: how long does it need to be in a cast?
Dr: No te preocupes.
Yes, of course I pre-ocup, I need my arm to make beds.
Another example:
Upstairs neighbour has a leak, there is water coming through our ceiling.
Nieghbour: No te preocupes.
Yes, I am pre-occuped, the water is leaking on my croissants on the breakfast table.
No pasa nada – kind expression yet often used at moments when a lot is going on.
Example:
I am sorry I stepped on your dog, is it fine?
No pasa nada. Yes, I stepped on your dog.
Or:
No, I cannot come back tomorrow to take this couch I bought with my car, tomorrow I am on vacation, so it needs to be today.
No pasa nada, then you come after your vacation.
Puente – vacation day. So, let's say a bank holiday is on Wednesday and my bakery is closed. So, I say to the lady "see you on Thursday then". And she tells me that we're going to see each other on Monday because Thursday and Friday are also puente. So…the days after the vacation days are also vacation days.
Dany and Thijs run Bed and Breakfast Valencia Mindfulness Retreat. It's a perfect place for people who want to rest, relax and see the best of the city. You can book your stay here.
I hope you enjoyed reading this episode of the Follow the Expat series. Remember to check out other posts, too! If you like it and find it interesting, support The Blond Travels and Follow the Expat on Patronite!