It is said that Gilli Trawagan has become a victim of its own popularity. Once it was a quiet haven for all those, who just wanted to escape their busy lives. Today, half of the island is lined up by shops, restaurants and bars. Every few meters there is another diving school, or a tourist information stand, where you can book your ferry ticket, a trip to Komodo, or a flight back to one of the major hubs in Asia.
However, if you turn into one of the small streets you will find the old Gilli T, just as it used to be: quiet, simple with that special atmosphere that only villages in Asia have. There are chickens and children running around, older generation sitting on the stairs of their huts, women walking with big bowls of food on their heads. The loud music from the main street doesn't reach these parts and it seems that it's a completely different world. This world however is disappearing slowly. There are new homestays and guesthouses being built everyday with a speed of light. Soon the whole island will be a one big resort.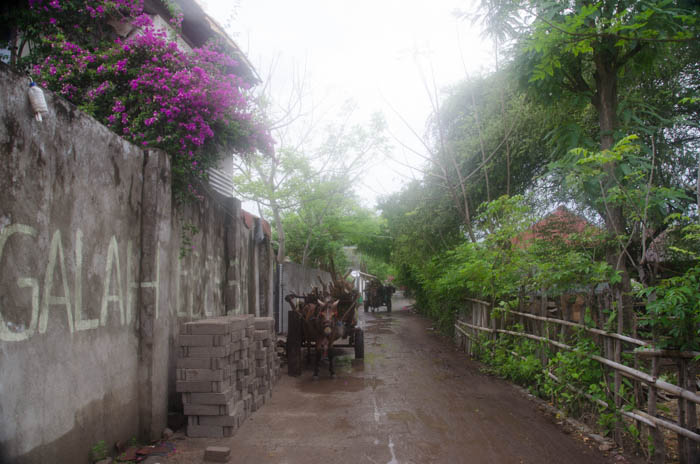 The island is only 3 km long and 2 km wide, so you can cycle or walk around it in a matter of hours. Despite its growing popularity you can still find places, where you will be completely by yourself.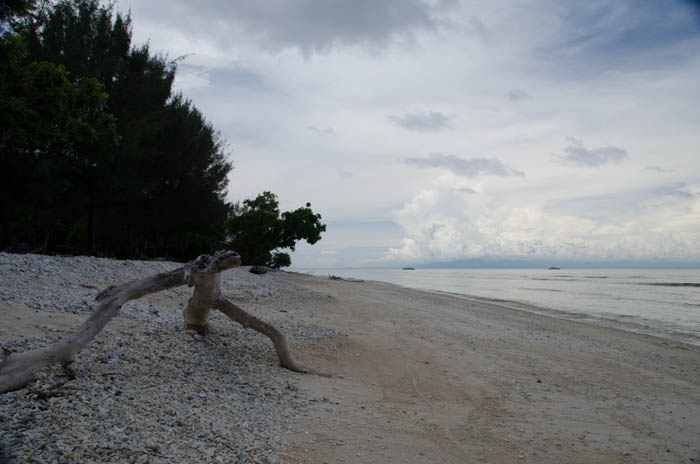 Motorcycles, cars, or anything that has an engine are not allowed on the island, so the only modes of transport are horse carriages, bicycles, or your own two feet. Every homestay, or resort has bicycles to rent. You can also walk 10-15 minutes outside of the main town to find your own piece of beach.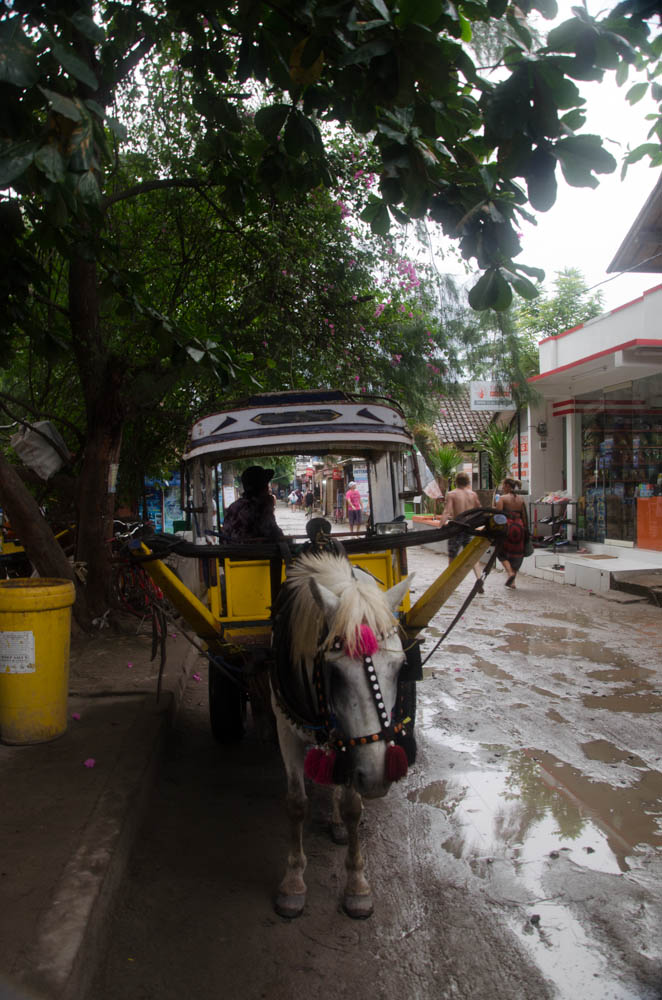 At night Gilli T turns into a real party scene, where alcohol runs freely and live music blasts from huge speakers. If someone is bored with alcohol and the usual kind of party, they can  purchase magic mushrooms from one of the bars, which advertise it openly on their billboards.
Many people keep coming back here with a hope to find their island just as it used to be 2, 3 or 10 years ago. Most of them are hugely disappointed. I heard so many times from those, who left Gilli T for a couple of years, that it's not their island anymore. So much has changed in this short amount of time that when they get off the boat they can't recognise it. "The beach used to be wide and free of all those bars", told me Inga, who used to work on Gilli as a diving instructor a while ago. "We used to burn little fires and had local people playing guitars whole night. Now, people don't do it. I don't even think that they know that there's a beach out there. All these bars covered it all… Even the type of tourist is different now.", she said with sadness.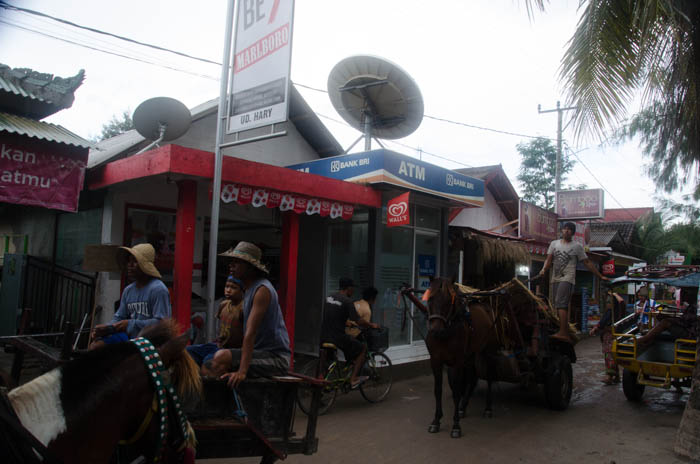 It's true. When I first heard of Gilli T I was told that this was a backpacker's hub. There are still quite a few real travellers around. They are a little older, a little less wild. There are a lot of diving enthusiasts, who don't really party during the night. However, because of growing amount of big resorts, there are also a lot of people on all inclusive holidays, who just came for 2 weeks holidays. There are rich Russians and Indians, who splurge the cash everywhere. Because of that the number of cheap eat outs is shrinking and a normal backpacker will soon find it hard to have a nice Indonesian meal for a low price. Things are changing here in Gilli T and if you want to see it and you travel on a budget it's better to hurry up.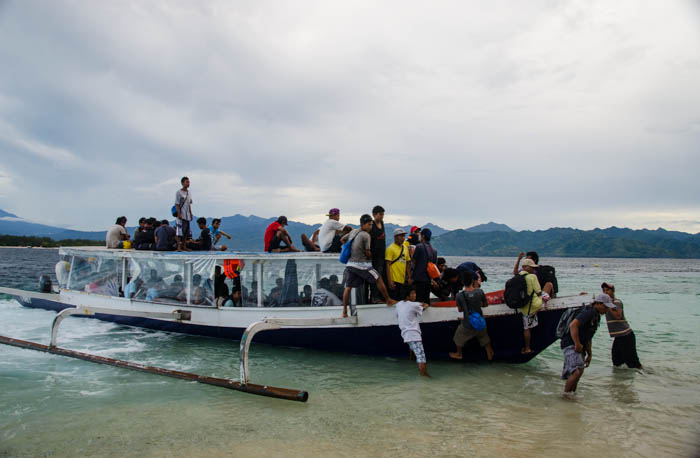 I was lucky. I hadn't seen Gilli T before. This was my first time and I really liked it. I stayed in one of the guesthouses in the back street, where I didn't hear the music and parties. I cycled to the deserted beaches in the morning and had a swim. I had beautiful dinners and smoothies in some of the bars, and watched the calm and peaceful ocean. I had massages, I had drinks in the evening. I felt relaxed. I loved Gilli T and I hope that when I come back next time (and I definitely will) the island will be just as nice.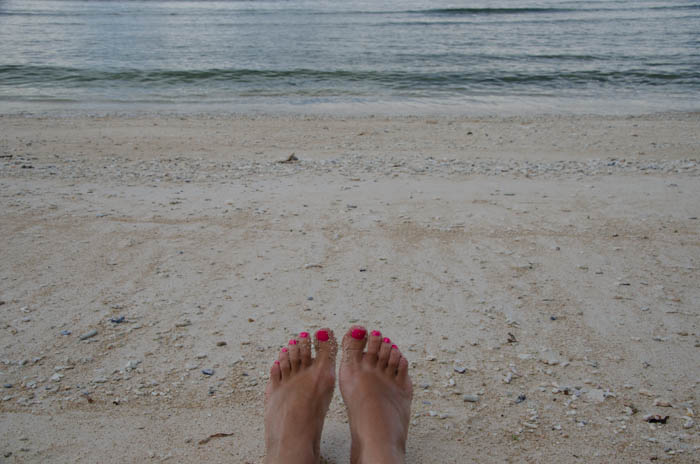 Have you ever been to Gilli T? What did you think? Would you recommend it to other travellers?