Lisbon has become very popular recently. It's a lovely city at any time of the year and offers a lot of things to see and do to the visitors coming here. Some fall in love with the city and come back again and again. No surprise! You can fall in love with this city very easily.
I moved to Lisbon in 2017 and during writing this post I have been here a year. I have seen many places, discovered those that are known and some hidden treasures, too. I still feel that there's so much more for me to explore. I have decided to put together a comprehensive post, which I will update as I go. I hope it will help you with the preparations for your upcoming holiday in Lisbon.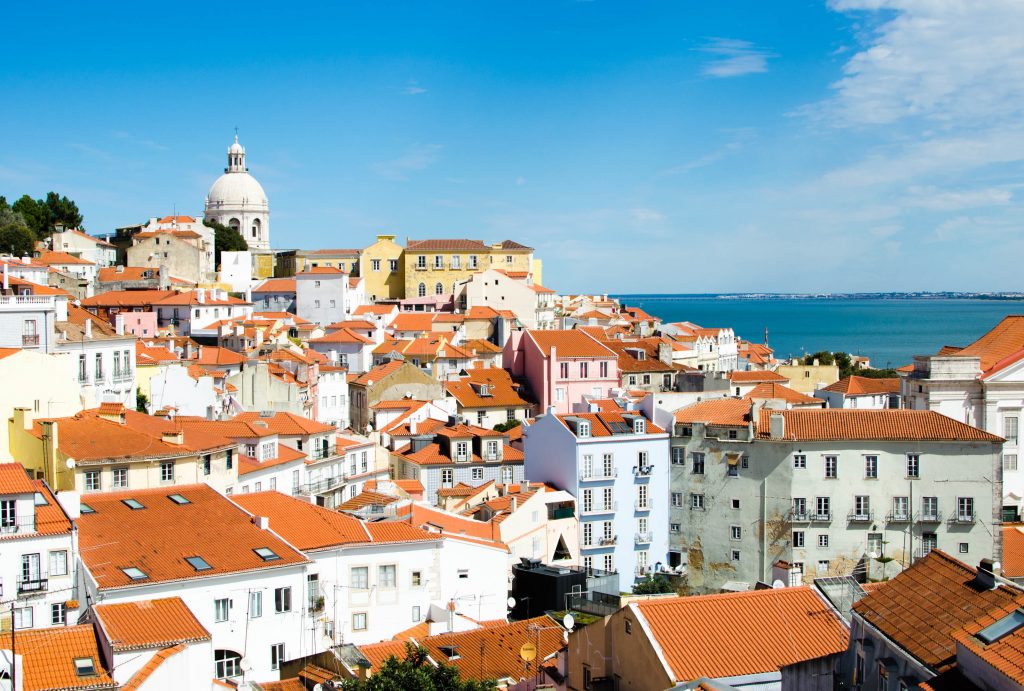 When is the best time to come to Lisbon?
Lisbon is located in the Mediterranean climate, which means that winters here are short and warm and summers are hot and long. In the last year, I have been here the weather wasn't that great. The winter was very long and during March and April, it rained almost all the time. The Portuguese say that it's quite extraordinary, so let's hope that it will change.
The best time to come to Lisbon is September – October (average temperatures are 26-22 degrees with a few days of rain), and May – July (average temperatures are 26-28 degrees with almost no rain). August is very hot and quite a lot of people go away to the seaside, where it's a bit cooler (average temperatures 28-30 degrees with almost no rain).
How to get there?
There are many cheap connections to Lisbon from many parts of Europe. Ryanair, EasyJet, and WizzAir all operate here. If you're traveling around Europe, you can take a train or a bus from places like Madrid, Barcelona, or Seville.
The airport in Lisbon is located around 20 – 30 minutes from the city center, depending on the traffic. There are two terminals, which are connected by a free shuttle bus. Taxis are located outside of the terminals. Usually, you need to stand in a very long queue. It's best to order Uber, but make sure that you know where the pickup point is. Call the driver after booking your ride.
Coming to Lisbon with pets
Portugal is quite a pet-friendly city. In fact, landlords here have no right to refuse to rent out their apartment to you only because you have a dog or a cat. However, this might be different when it comes to renting a room in a hostel, hotel, or on Airbnb. It's best to check first.
Many restaurants and bars are also pet-friendly. They allow owners to bring their dogs and sometimes they even provide a bowl of water. Most of them have outside seating areas, so even if you can't walk inside with your dog, you can dine in the fresh air.
Coming to Lisbon with children
I don't have children, so I can't say that much about it. However, I see a lot of tourists coming here with small babies, toddlers, and children that are a bit older. I think kids find Lisbon interesting and a fun place to discover. There are a lot of additional activities for them, especially during the summer.
Orientation
The main point in Lisbon is Pracça do Comércio, also known as Terriero do Paço. It's the most perfectly planned square in Europe. The huge arch at the top of the square is the gate to the city and opens up to a very busy street lined with bars and restaurants. Further on you will get to Rossio, which is another beautiful square in Lisbon. Praça do Comércio and Terriero do Paço are two orientation points for many travelers.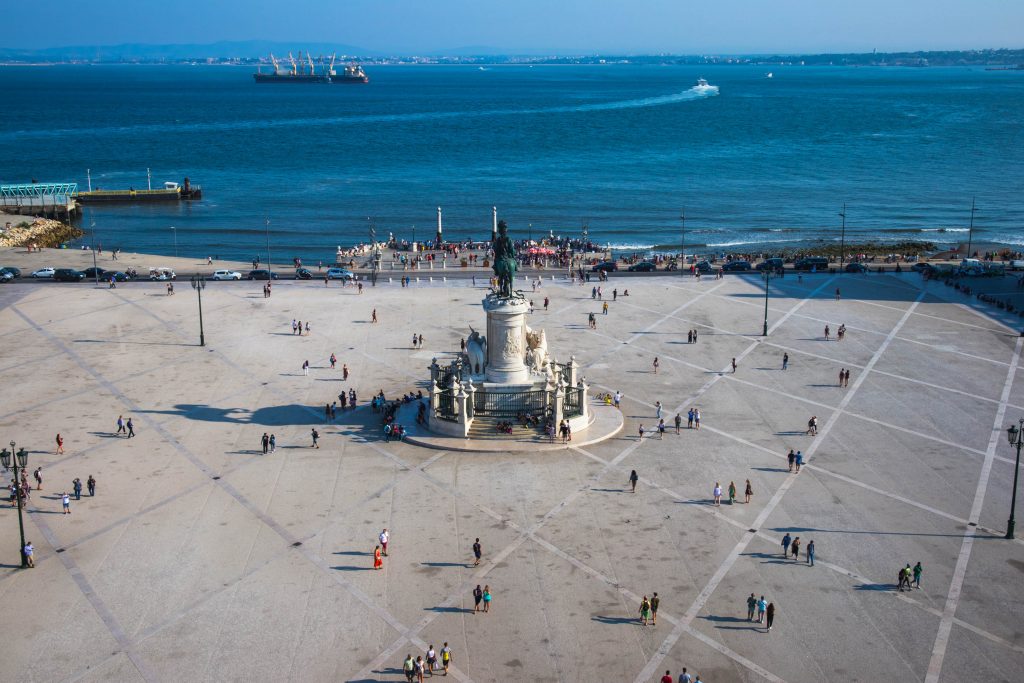 Not so far from Praça do Comércio there is the Santa Apolonia Station, which serves as a connection hub between Lisbon and Porto. From there you can also very easily get to Alfama, which is one of the most well-known places in the city.
Everything around the places I've mentioned so far is the center of Lisbon. Here you will find a great choice of shops, restaurants, bars, and accommodation.
Where to stay?
As a tourist, you will want to stay near the center. Lisbon has some good accommodation options, but be aware that it gets pricey during the high season. I normally use Booking.com to find the best options. I have found some good ones for you for every budget.
Accommodation in Lisbon for a backpacker
Accommodation in Lisbon for over 50 Euros per night
Fancy and exclusive
Transport in Lisbon
I have lived in many places and I don't think that transport in Lisbon is particularly bad. Especially if you're a tourist and you don't rush anywhere you will be quite pleased with the prices and the options that you have here.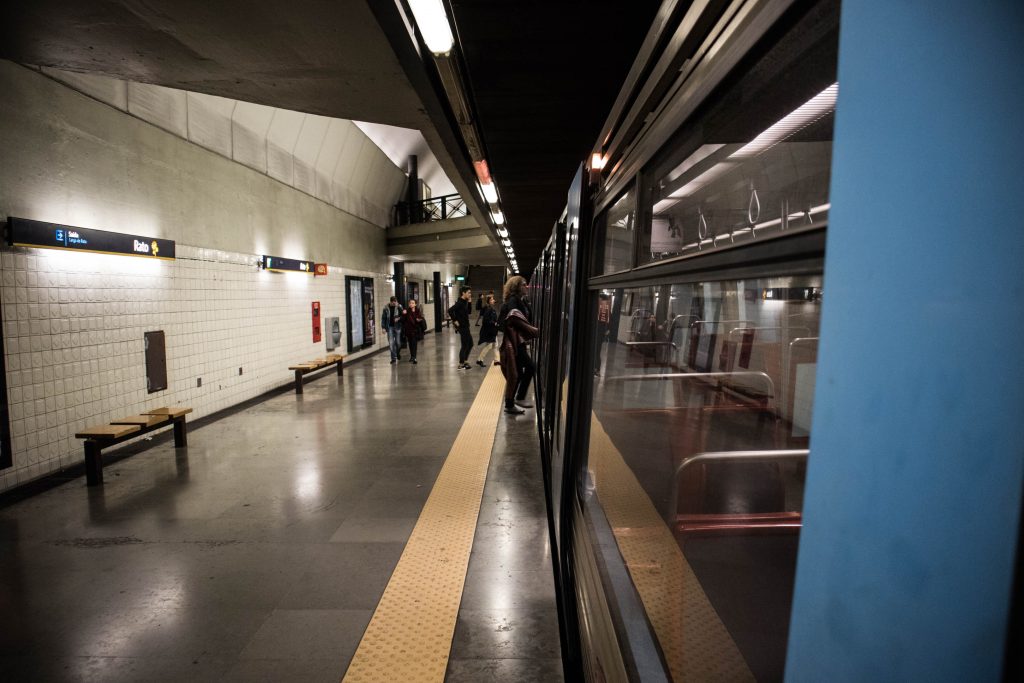 VIVA Card
The best option to use public transport on your holiday in Lisbon is to buy a VIVA card, which you can then top up and use on buses, metro, and trams. It's the cheapest option and will allow you to move around the city freely. You can buy the card at one of the metro stations in the machine or at a counter. It costs 0.50 cents. Top your card up straight away. If you're buying at the machine, you can charge it with 2 Euros, 5 Euros, 10 or 15 Euros.
It's cheaper to use the card as one ride with it costs you 1.45 Euros whereas without it you will pay 1.85 Euros.
A very strange thing is that if you top up your card for the metro, bus or a tram and you still have some money left on it, you won't be able to use it on the trains, or on the ferries. You then need to buy a new card and top it up again.
Metro in Lisbon
Getting around the city using the metro is probably the easiest and fastest. You won't get lost as there are only 4 lines: green, blue, yellow and red. It is open from 6am to 1am.
People living in Lisbon often complain about how it works as sometimes it can take as long as 10 minutes for the next train to arrive. If you're rushing to the airport, it's best to leave quite early, especially if you're going there outside of the rush hour. Except that, it works well and it connects all the major points in the city.
One ride costs 1.45 Euros.
Buses in Lisbon
To figure out how the buses work, you will probably need Google Maps. Otherwise, it's hard to know where you should get off and get on and which direction to go. The buses in Lisbon don't have automatic announcements and they are often very crowded, so it's hard to stand by the driver and ask him for tips where to jump off.
Be aware of pickpocketers, especially on the bus going to Belem.
One ticket costs 1.85 Euros without the VIVA card and 1.45 Euros with the card.
Trams in Lisbon
One of the biggest attractions in Lisbon. The most well-known tram is number 28, which goes through the most important parts of the city. Start your trip on this tram near Martim Moniz. Everyone usually waits for the tram just opposite the square, but walk a little further, where you will find the number 28's final stop. You can get on there and avoid standing in a long queue.
If you want to do the whole route it will cost you 2.90 Euro and will take around 45 minutes.
Trains in Lisbon
Lisbon has a good connection to the nearby towns and cities. The main stations are Santa Apolonia, Cais do Sodre, and Oriente.
From Santa Apolonia, you can take a train to Porto and other well-known destinations. Cais do Sodre operates trains to Belem and the nearby beaches.
Prices vary. You can buy your ticket at one of the machines, or at a cashier desk. As I mentioned earlier, if you have your VIVA card topped up at a metro station, it won't work on the trains at all. You will need a new card.
If you're going outside of Lisbon, you can book your ticket online. It's a very quick and efficient way of finding the best and cheapest possible option. Try GoEuro for all your travels in Europe.
Ferries in Lisbon
It's easy to get away from the city center and crowds and take a nice ride on a ferry to the opposite side of the river. I recommend checking out Cachilas and Almada. You can catch the ferry from Cais do Sodre. Your ticket will cost 1.50 Euro one way. Remember that VIVA card only works there if you don't have any money on it. Otherwise, you will need to buy a new one.
Uber in Lisbon
Uber in Lisbon works like a dream. It's cheap, fast and reliable. If you have some money to spare and don't want to use public transport, you can easily move around the city using Uber.
If you don't already have an Uber app and would like to sign up, use the code joanna4551ue. You will get a free ride and I will get 5 Euros that I can use in the future to order a taxi. Everyone wins!
Renting your own car
I wouldn't say that it's worth renting a car in Lisbon. If you really want to see the city and experience the best things, then walking is the best option. You need to get lost, wander around and completely let it go if you want to get to know this beautiful place.
I recommend renting a car only if you want to go somewhere outside of Lisbon and it's hard to get there on public transport, or you just don't want to use buses and trains. We have rented a car here and used Interrent. We were very happy with general conditions and service.
It's best to start looking for a car in advance. It's cheaper to book it at least a month ahead. Prices vary, but you can get something nice for as little as 30 Euros per day!
Cycling in Lisbon
I am not that keen on cycling and I haven't had much experience here with it. However, I can tell that you need to be quite fit to be able to cycle in Lisbon. The city has many steep hills and the center is located on 7 of them. Combine that with high temperatures and you will get exhaustion.
In some places, you will see bicycles for rent, but this is not as common. The city doesn't have that many cycling routes either and I would say that the streets here are not the best when it comes to safety.
E-scooters
They are the latest addition to transportation in Lisbon and are a great way of doing sightseeing and being an eco-friendly tourist. My favourite are Lime scooters as they are literally everywhere and I can catch the ride at any time, any place.
If you would like to get a discount for using Lime scooters, you can use my code that will allow you for a free unlock: R2BJZFP.
What is the best way to see Lisbon?
Walking – no doubt. Lisbon is not a city filled with attractions you can tick off of your list. It's just a city you need to get a feel of. Wander around, peek into small streets, have a coffee in a local bar. Take things slow and you will see what Lisbon is all about.
There are great areas of the city away from the crowds, which are only known by locals. To find them, you need someone who can show you them and tell you how people live in the capital of Portugal. That's why it's worth hiring someone. I always go for With Locals, which are great if you want to get away from mass tourism. Recently I have done a nice tour with them around some off the beaten path districts of Lisbon. I highly recommend it.
Things to see and do
There are so many things to see and do in and around Lisbon. I have tried to explore it bit by bit, but I always find something that I haven't yet done nor seen. Below places are the most important ones that you cannot miss.
In Lisbon
Here are the must sees and must dos. There are of course many other places, but if you have only a couple of days, this is what you need to do in Lisbon.
One thing is worth remembering – Lisbon is not a city for sightseeing. It's a city, where you wander, get lost and discover it on your own. I would recommend taking it easy and not ticking off things from your list.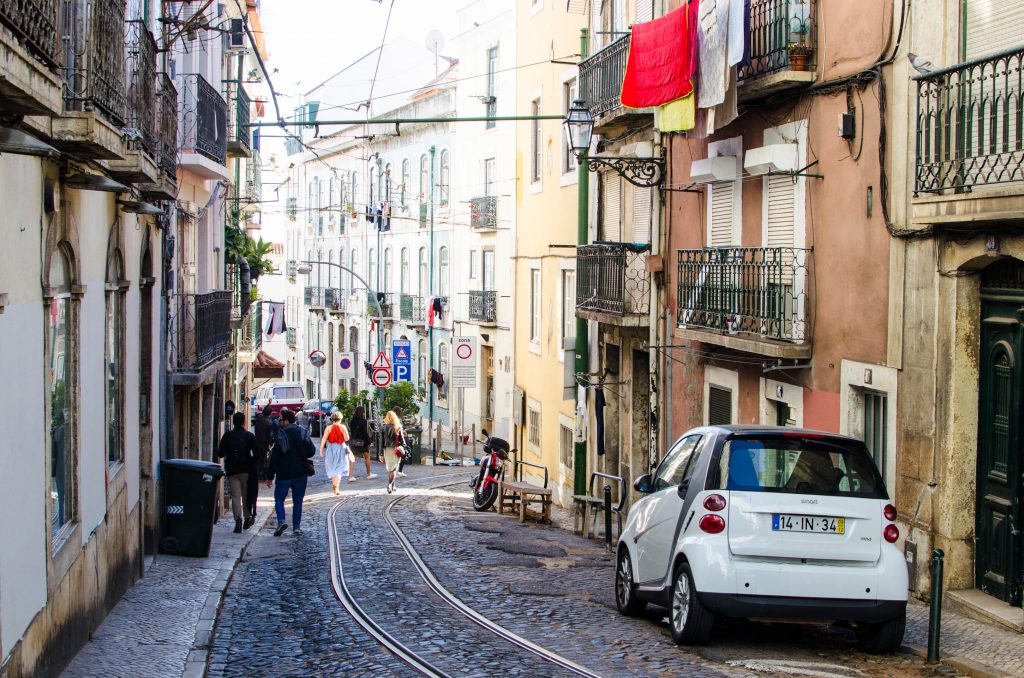 Alfama
An absolute must! Alfama is the oldest part of Lisbon and definitely the most charming. Think ancient tenement houses, small shops galleries and coffee shops, laundry hanging above the cobbled pavement and Portuguese grandmas sitting around and gossiping. It's a charming neighborhood, which feels like the time has stopped.
You don't need a map in Alfama and you don't need to know where to go. Simply walk around and get lost. If you like getting to know a place by simply wandering its streets, then this part of Lisbon won't disappoint you. You can simply spend a whole day here.
St George's Castle
Some say that it's not worth paying almost 8 Euros to get into the St George's Castle. There are no rooms to see, no exhibits of old armory and no other attractions except ancient walls. Some of them come from the 6th century! It used to be a home of the Portuguese kings until the great earthquake in the 18th century.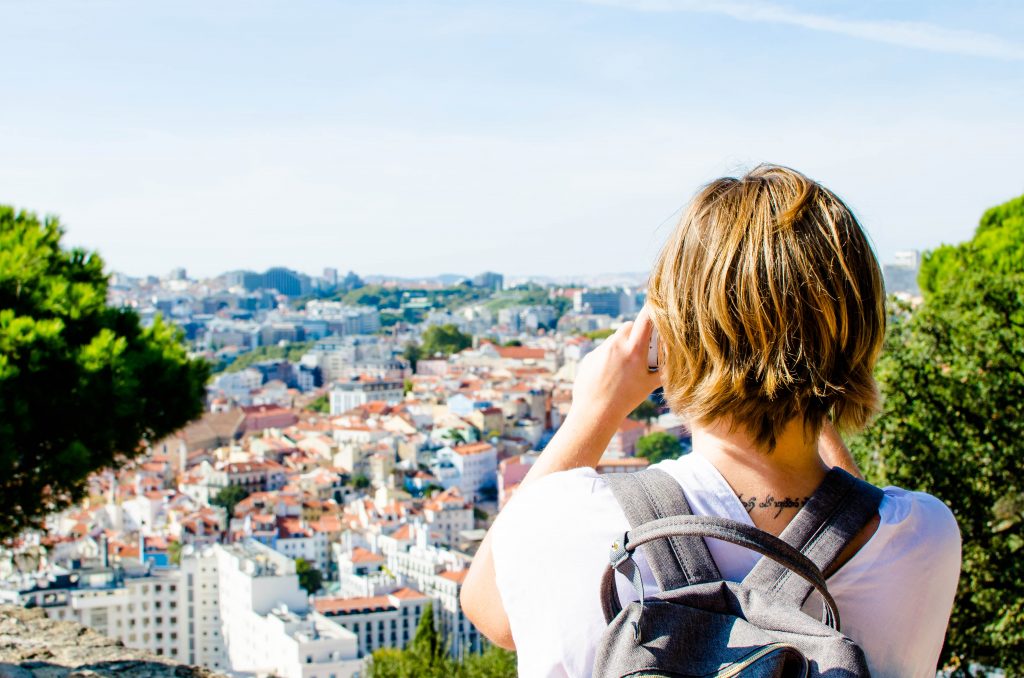 Despite its rich history, not many people say that the site its worth the money. For 8 Euros you get to admire the views from the walls. Yes, they are amazing, but you can also see the city from above on one of the viewpoints. So, why am I including this site here? I think that if you come to Lisbon for the first time, you need to climb the hill and visit the castle. The main square is lovely and you really get to see the city from every side. And if you really don't want to spend the money, then walk to the gates of the castle and then walk the streets around it. It's a really lovely area.
Bairro Alto
You will find lots of amazing spots in Bairro Alto. Start from Rossio – a beautiful square, which is also an orientation point for many travelers. You can then take Elevator da Bica to the top of the hill. Just around the corner, you will find my favorite viewpoint – Miraduro De Sao Pedro de Alcantara. I also love the little park Jardim de Principe Real with a huge tree, where you can rest on a hot day. Opposite there is Embaixada – a concept store with some nice, designer stores.
I think Bairro Alto is yet another spot in Lisbon, where you can get lost and just wander around. Don't rush anywhere and take it easy. Have your eyes wide open as you might stumble upon something really great.
View Points
There are so many of them in Lisbon that it's hard to find the best one. There are some hidden ones and some more well-known ones. Wherever you are, you will probably find a terrace with sweeping views of the city.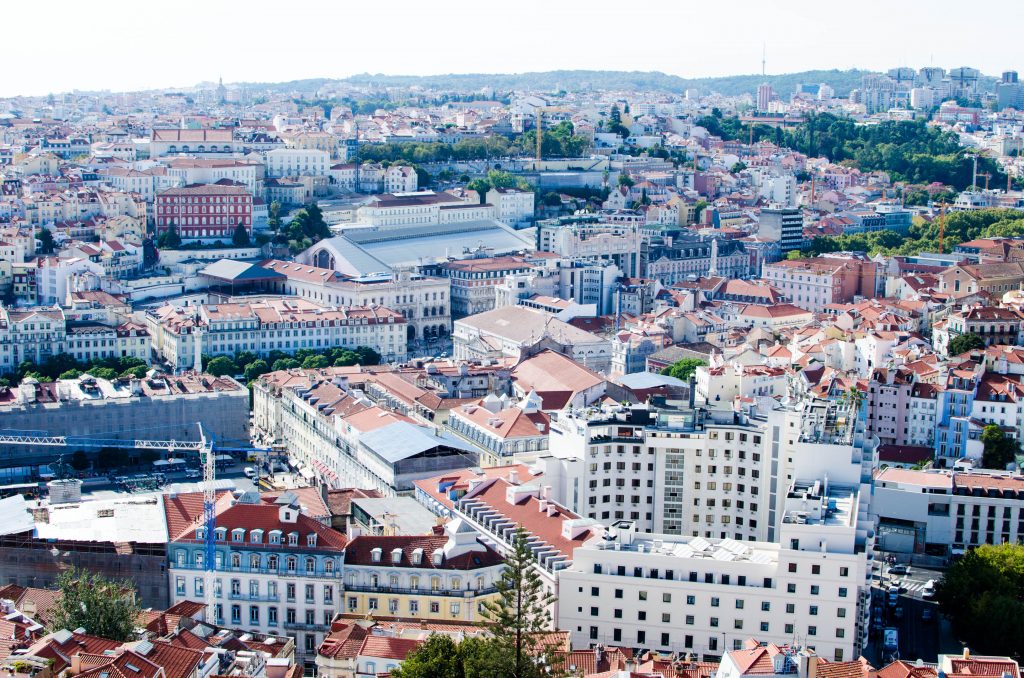 I've already mentioned Miraduro De Sao Pedro de Alcantara, which is a great place especially outside of the high season. I also like Miraduro De Santa Catarina, which is closer to the city center and from there you can see the famous Lisbon bridge and the Cristo Rei monument, which was designed to resemble the Jesus the Redeemer statue from Rio de Janeiro.
Fado
Fado is a traditional Portuguese music, which was created in Lisbon and comes from the 19th century. It is believed that it was first sung by prostitutes, who awaited their lovers to come back from the sea. Today Fado is on the UNESCO Heritage List and is one of the must-dos when you're in Portugal.
Quite often you can listen to Fado for free. It is sung on the streets and in small bars. In the center of Lisbon you can go for a dinner and a Fado concert for 20 Euros per person. I, however, prefer to save some money. My favorite place to listen to Fado is Tasca Do Chico. The concerts are free and you only need to order food. Just bear in mind that the place is very small and quite often there are no seats available. That's why it's good to come here just before they open at 7:00.
Tram 28
Iconic trams in Lisbon can be caught from almost any corner of the city center. The famous tram 28 goes through the most important parts and the journey from the beginning to the end takes 45 minutes. Start from Martim Moniz square. The best thing to do is to jump on board on the last stop and not on the first stop. You will avoid the long queues.
Around Lisbon
There are also a lot of places to see around Lisbon. It's good to have a spare day or two to get out of the city and do some extra sightseeing.
Belem
You cannot miss Belem. During your holiday in Lisbon, this is one of the places to go. There are two reasons why you should visit it. First are the sites. I absolutely love the Tower of Belem. I went there on a cloudy and rainy day, but in a sunny weather, it makes an even bigger impression. Some go there during sunset and if you're lucky, you can witness colorful skies reflecting on the water.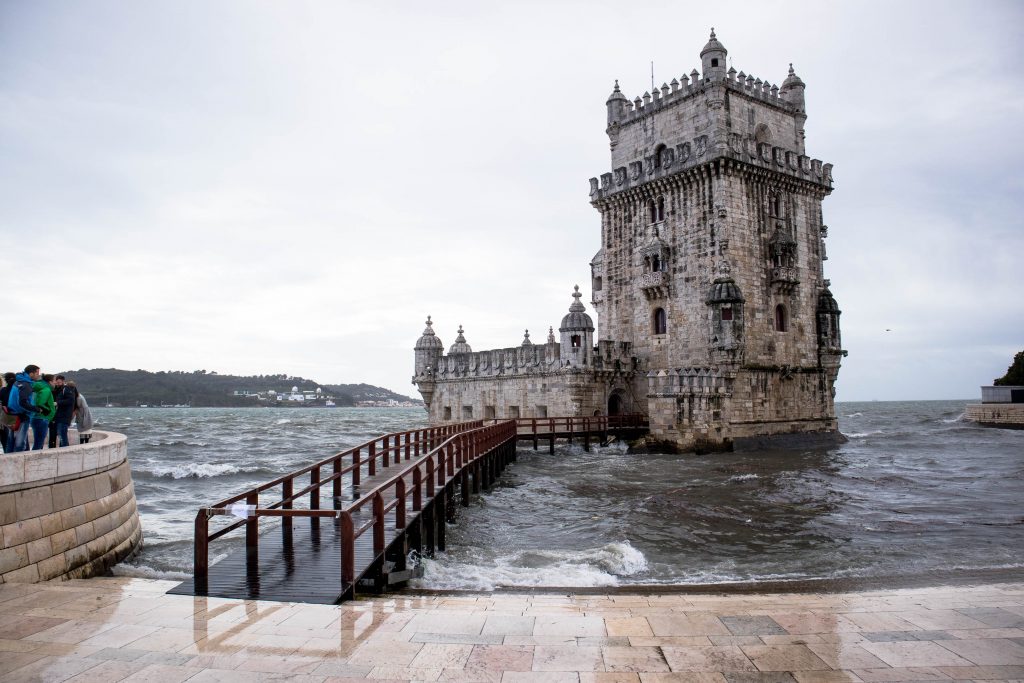 The second reason why you should visit Belem is the famous pasteis the nata. The legend says that they originated here. Just next to the Jeronimos Monsatery you will find a small bakery. Purchase your pasteis there. They are more expensive than in other shops in Portugal, but they taste like heaven!
Sintra
Sintra is only 30 minutes from Lisbon. It's a huge national park with a few main points. Don't miss Quinta de Regaleira, which I personally loved. It's a beautiful palace with an amazing garden. You can spend here a whole day discovering secret passages, caves, and small waterfalls.
If you have more time you can explore Sintra Forest, which stretches from Guincho Beach near Cascais. It's a good hike, very enjoyable.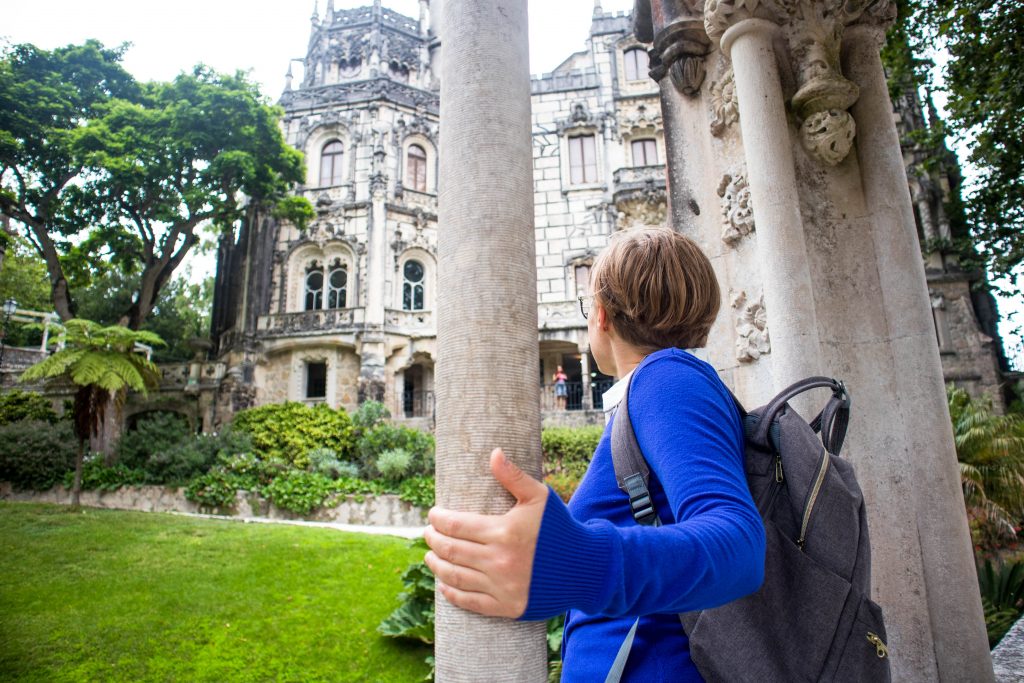 Pena Palace is another attraction, but I found it very crowded and due to that a little annoying. Nevertheless, it's one thing you must see there.
Spend one day in Sintra walking around the gardens, the little streets of the town and the two attractions I've mentioned. It's a bit of a hike, but the views are wonderful.
Beaches
Lisbon doesn't have any beaches, but a short train ride away you will find some nice spots to soak up the sun. During July and August, quite a lot of them are crowded, but you will still find a place to spread your towel.
The most popular beaches for tourists in Lisbon are Estoril and Cascais. You can reach them by a train from Cais do Sodre. Tickets cost 2.50 Euros one way.
If you want to go where the locals go, you would need to rent a car and go to places like Torres Vedras. You can also take a ferry from Cais do Sodre and then a bus number 127 to Costa de Caparica.
Off the beaten path
Lisbon has so many nice, hidden places that it's impossible to see them all in a couple of days. I have been here a year and I am still surprised when I discover something special and unique. Quite often these places are just around the corner form a well-known attraction and I wonder why I haven't seen them before. Below you will find my favorite off the beaten path places in Lisbon. I will be adding more as I go.
Almada and Cacihlas
These two places are often missed by travelers because it's a bit harder to get there. The ferry ride itself is worth the effort. On the other side of the river, you will find many cute local restaurants serving fish, seafood, and beer.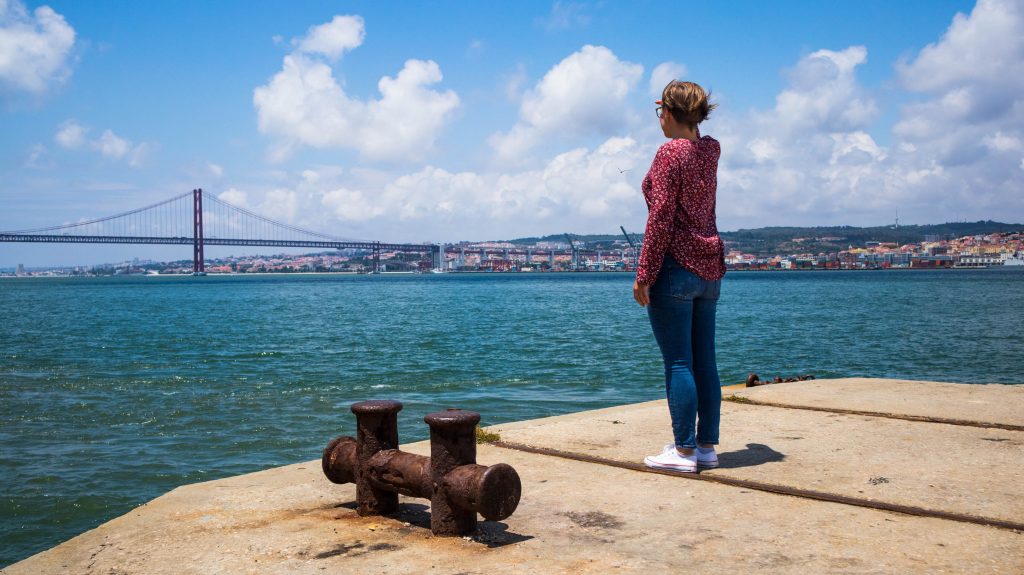 I really like Cacilhas and Almada, but a little further from the ferry stop. It's very local with small shops and bars. Life goes slowly here and people are not very used to seeing tourists wandering around.
From the ferry, you can walk to Christo Rei. In every guide, I read it says that you should take a bus, but I think walking there is really fun as you can see the towns and experience the way of life on that side of the river. On your way back, if you're not tired, take a different route.
The ferry to Cacihlas departs from Cais do Sodre and costs 1.50 Euro.
LX Factory
A real hipster hang out. It's a small street with designer shops and quirky bars and restaurants. You can also admire the river from up close and have a nice picture of the bridge.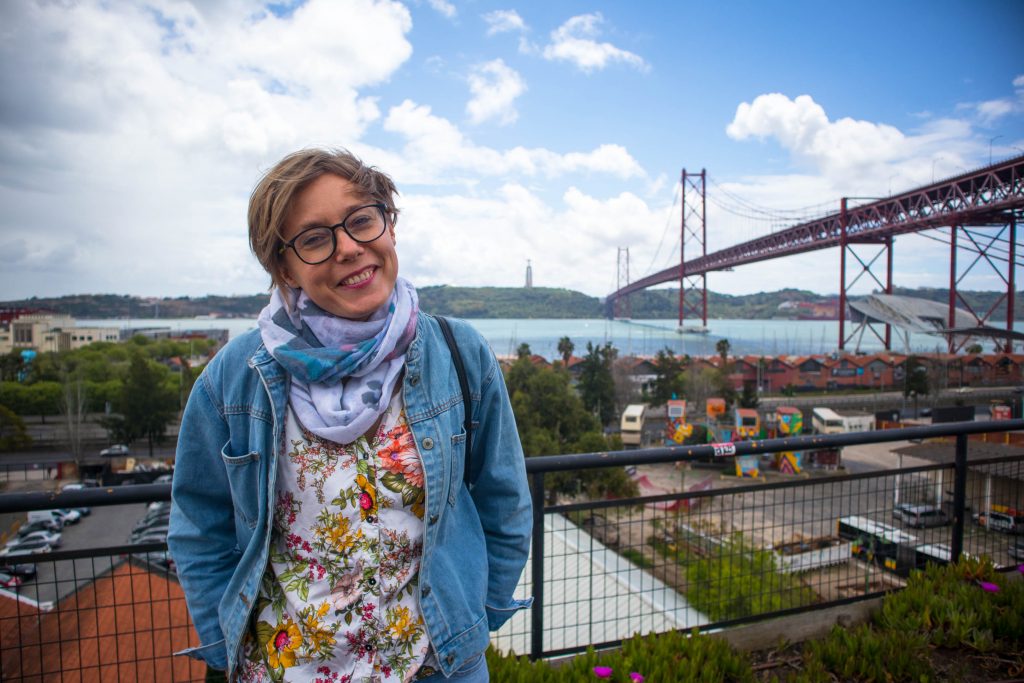 I only went there once and think that it's really worth visiting. It is a little bit out of the way, so you might have to take a taxi.
Muraria
This area is still quite undiscovered despite its location. Right in the center, around the corner from Martim Moniz, Mouraria is a small neighborhood, where the famous Fado was born. It is said that it once was inhabited by prostitutes, who sang sad love songs. Today you will see portraits of the singers painted on the walls of the houses. Notice also the pictures of people hanging here and there. These are the most prominent inhabitants of Mouraria.
This area has a very strong local feel to it. People who live here are very close to each other. You will see them sitting around in cafes and on benches chatting and exchanging gossip.
Rua Augusta Arch
Praça do Commercio is crowned with a huge arch. Not many people know that you can actually climb on top of it. From there you can admire the nearby areas. It's a very cool attraction that costs only 3 Euros.
Where to eat in Lisbon?
When you're on holiday in Lisbon, you will want to try some local food. I must say, I'm not the biggest fan of Portuguese cuisine, but I know that many people like it. Here are some places, where you can eat some affordable and tasty dishes.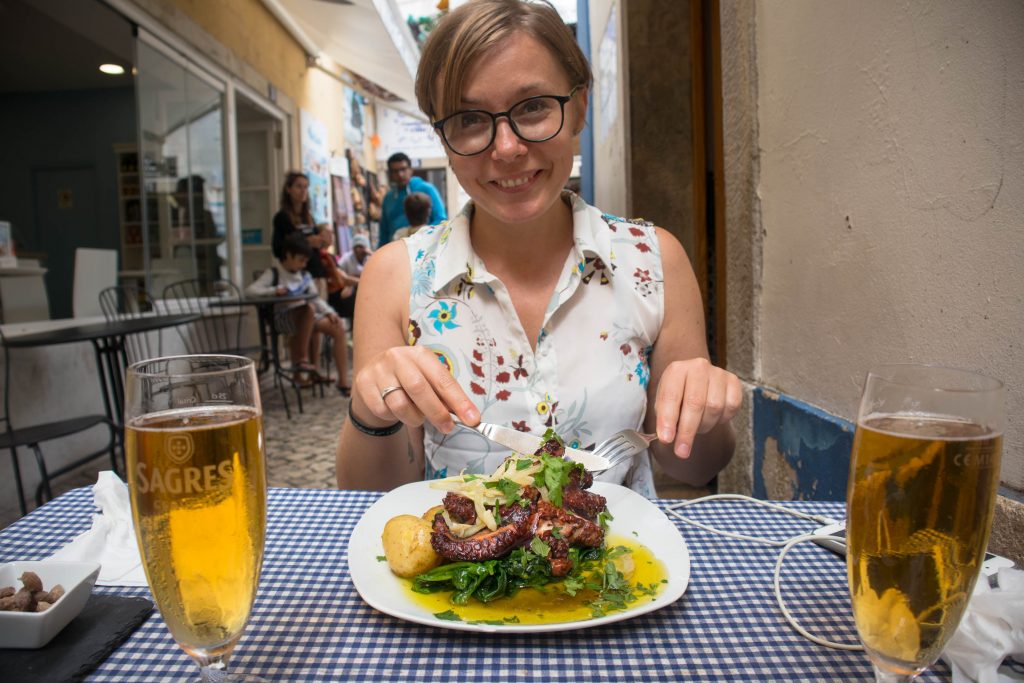 Tascas
Do you want to eat like a local? Head over to one of the tascas. These are small bars that usually look very simple. Lit by fluorescent lamps with tables covered with plastic or paper table clothes and waiters that are also owners, they sell typical Portuguese dishes for a very affordable price. You will find them almost everywhere in Lisbon, but keep an eye out for them as it's hard to miss them among some more fancy places in the center.
Order sopa do dia (soup of the day) — which is usually a vegetable soup. Normally tascas offer specials, which are meat dishes with fries and potatoes. I would recommend secretos – a pork cutlet with a fried egg. Don't forget about a glass of house wine!
Ramiro
Portugal is well known for its seafood and fish and Ramiro is the best restaurant where you can eat it. I've had crab there and it was fantastic. The only minus of this place is that it gets very busy and sometimes you need to wait outside for your turn. However, the food is worth it, so be patient.
Versailles
A really lovely place with impressive decor. The food here is cheap and very tasty. You can either sit at a table and have a full meal, or you can stand by the bar and eat like a local.
Santa Rita
It was one of the first places I visited in Lisbon thanks to a friend of mine. It's a family run restaurant in the center of the city. It serves a wide variety of dishes for a good price. I really like prawns in curry sauce with rice. Try the olives here, too.
The restaurant opens at 7. Come just after the opening time as it gets very busy after that.
Illegal Chinese restaurants
This is something that is quite outstanding in Lisbon. To be honest, I don't know if these restaurants are truly illegal, but they definitely used to be and still try to preserve the atmosphere of secrecy.
They are normally located in a house and you need to knock on the door to get in. There is no advertisement outside. Sometimes you will see a small note in Portuguese. The food is great and very cheap. Eating there is a real adventure.
One of the restaurants is actually called Illegal Chinese Restaurant and you can easily find it on Google Maps.
Where to drink the best coffee in Lisbon?
I am a coffee lover and drink it every single day. Portugal has the best coffee I have ever had and Lisbon is full of small places, where you can have a cup of this strong beverage. Actually, wherever you go, you will be able to get a good coffee, but here are some of my favorite places.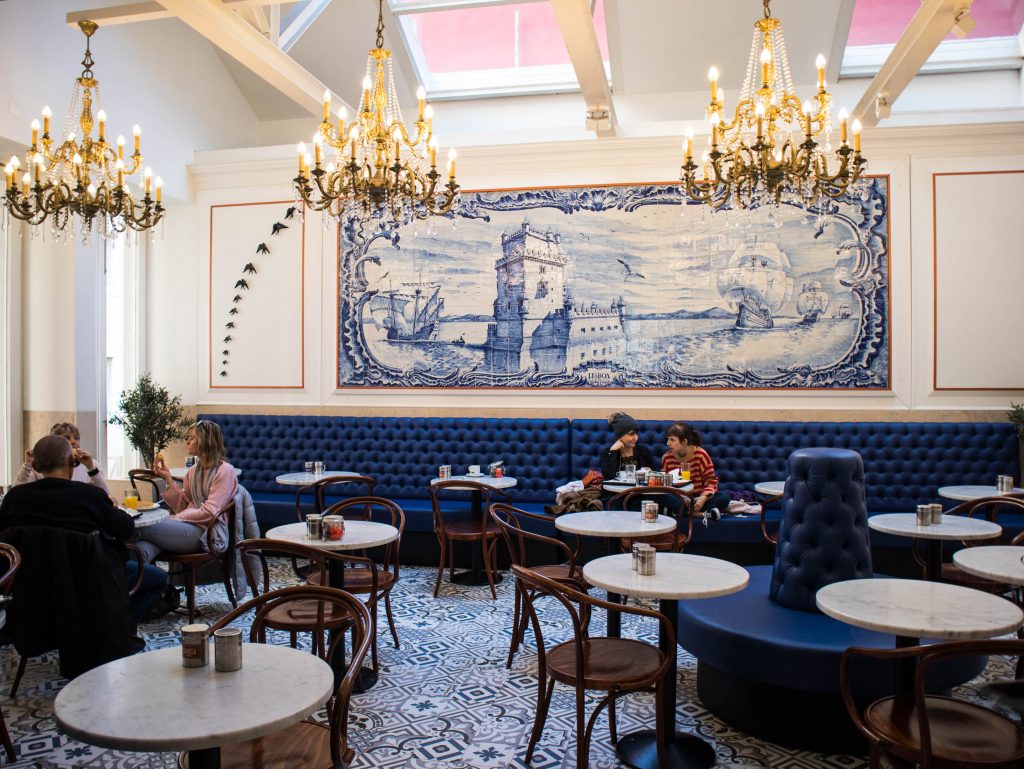 Fabrica Coffee Roasters
This place has no wi-fi, which makes it a great spot for meeting friends or reading a book. It is never too crowded and has a very nice, laid-back atmosphere. The coffee here is delicious. Combine it with some nice pastry and you will want to come back here again and again.
Just bear in mind that the service is kinda slow and you will need to go up to the bar every time you want to order something.
Fabrica da Nata
Except amazing paisteis de nata, this lovely bakery serves amazing coffee, which is to die for. I normally go for a black abatanadu – small, strong brew – but you will also get americano, or cappuccino as well.
They often have some special offers on sandwiches and snacks. I think it's a great place for a quick lunch before you do some more sightseeing.
Cafe de Garagem
I didn't know if I should recommend this place for coffee, drinks, or for views. It's worth coming here for all those things and more.
Cafe de Garagem is a small place, situated in a theatre, near the St George's Castle. It has good coffee and serves some nice wine, too. The most magnificent are views from here and for that alone it's worth spending a few Euros. Make sure that you come just before 3 and are one of the first people at the door as the place fills up quickly.
Where to party in Lisbon?
You want to put your hair down and party all night? No problem! Lisbon has a lot of places to go on offer. I'm not a big party girl anymore but can recommend you a couple of nice spots.
Pink Street
This is a very famous place, which used to be lined up with brothels. Today it's a street with bars and cheap beer. During the day it's very quiet and it looks lovely in the photos taken from the above walkway. At night it turns into a crowded, buzzing street, where you can stay up all night.
I think Pink Street is a good place to start the party if you're on holiday in Lisbon. There are plenty of places nearby. You can head to Bairro Alto, or you can head to Santos, where you will find a lot of nightclubs.
Where to have a drink in Lisbon?
I might not be a party girl, but I like to go out for a drink or two. I have a couple of places, where I normally like to go and I discover new ones all the time.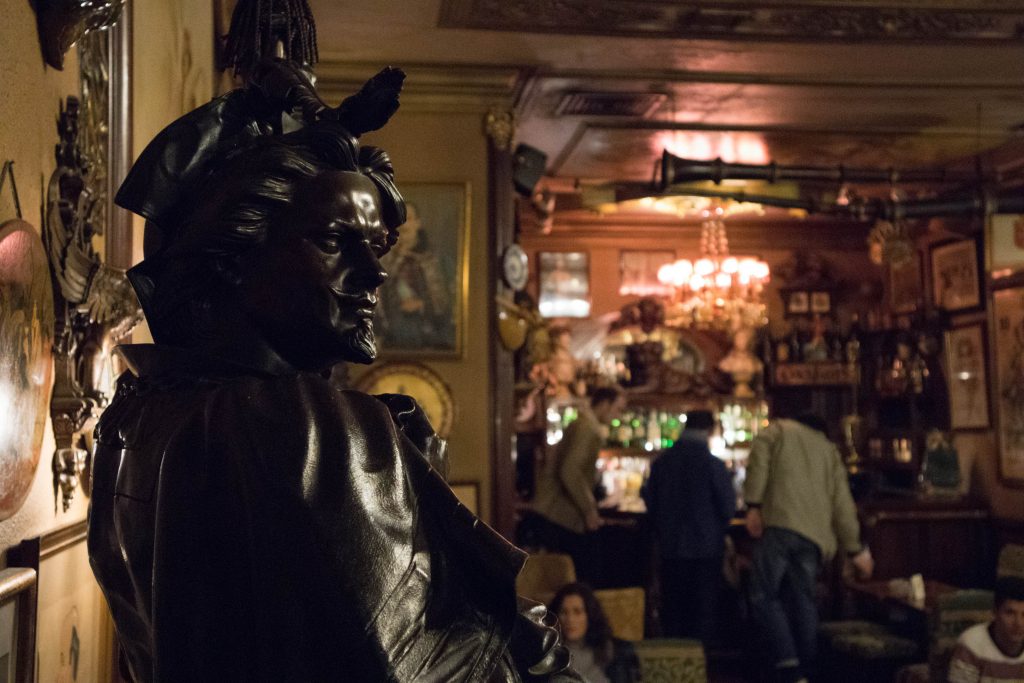 Pavilhão Chinês
A quirky little place with a very interesting decor. The owner must be a collector of old dolls and war memorabilia as the walls are full of them. Everywhere you look, you will see glass cabinets filled with dusty objects. Even the ceilings aren't empty.
There are some pool tables and a lot of seats. The music is quiet and you can have a conversation without trying to shout over others. The only thing I don't like about this place is that you're allowed to smoke inside.
Pensao Amor
It used to be a brothel and today you can enjoy your drink and feel like you're on a set of a burlesque movie. Dim, red light illuminate posters and paintings of naked ladies. It's very cozy, but also daring, bold and original.
The bar is very busy during the weekends and in the evenings, so come here early.
O Bom O Mau e O Vilao
The name might be a bit complicated to a foreigner, but this bar is very simple. It consists of two large rooms with only a few tables. It's one of my favorite places in Lisbon for a drink and I really recommend it. During the weekends you can dance to some 90s and 80s hits while sipping on strong margaritas. On the other days, it's a great place for a meeting with friends.
Where to from Lisbon?
Lisbon has a great connection to and from many European cities. You can travel to Madrid, Seville, Barcelona, and London for a very good price. Alternatively, you can take a train or a bus and go to some other places in Portugal. Check out the most popular connections with GoEuro.