Once upon a time I met a spiritual healer in Bali. At that time I was in a very bad place. I had divorced my husband and my friend of 12 years. I had quit my job, left my life in London and moved to Asia. I was truly lost and felt unhappy. Only now, after so many years, I can say that visiting the healer in Bali was an experience that helped me to find myself.
This post is about my story – how I met the spiritual healer in Bali. I'm telling you about it because I would like you to be happy, too. Maybe the visit will help you, maybe not. However, I think it's an experience you will never forget. Read on to find out more.
If you would like to meet Gede and the healer, sign up to the newsletter – you will find the form at the beginning of this post and at the end.
I also recommend my ebook, which tells you my full story, gives you some good advice on meeting the healer and Gede and answers some common questions I get from the readers.
Visiting the spirutal healer in Bali
I am standing on the corner of a street in Ubud. I am a bit agitated and anxious. Today my driver, Gede, is taking me to see a spiritual healer. I don't know what to expect. How should I behave? Is it going to be all flower power and weird?
Gede shows up on time. We drive through a beautiful countryside. The sun is shining, the rice paddies are greener than green. Women walk by the side of the road dressed in sarongs, carrying huge loads on their heads.
Gede tells me a little about the healer. "He's the best I know" – he says – "You know the one from Eat Pray Love? He's no good. He only earns money on tourists. He doesn't have time for Balinese people anymore. It's sad".
He then tells me that he does healing himself a little. "I'm not a healer" – he explains – "I just talk to others about their problem. I'm like a head doctor" – he laughs.
We arrive in a small village. The healer's house is by the main road. He admits his "patients" in a small, lush green garden on a small concrete verandah. There is a matt and a carpet. The healer is nowhere to be seen. There is a Japanese man sitting on the floor. I take my shoes off and sit next to him. We wait…
Suddenly, from around the corner, a small, skinny man appears. He looks really old but walks in briskly. His hair is long and white, his skin wrinkled. He's wearing a white long sleeved top and a brown sarong. There is an aura of calmness about him. He welcomes us without a smile, but with an expression of kindness on his face. He sits down on the chair and calls the Japanese patient to him. I watch in silence…
He tells the man to sit down on the floor in front of him. He touches the Japanese's man head, ears. The man winces in pain. "Too much worry" – the healer says – "Your left side of mind is not in tune with the right".
He tells him to lay down on the matt, sits down next to him and touches his toes with a small wooden stick. The Japanese screams in pain. "Yes" – the healers nods – "Computer.. too much computer… you are healthy, but too much worry". This goes for a while. Finally, the healer waves his hands over the man, tells him to relax and lets him go.
At this point, I want to laugh. The healer is smart. Everyone knows that Japanese work hard and don't have time to relax.
It's my turn. I sit down on the floor in front of the healer, take my sunglasses off and look into the old man's eyes. His eyes go wide. "Oh!" – he exclaims – "So young and so much sadness. Why so sad?" – he asks. My eyes water. How do I explain to him everything that's happened to me recently? The divorce, the loneliness, my struggles… He doesn't give me a chance. Gently he touches my shoulder. His eyes dig deep into mine. He tells me to turn around. He touches my forehead, mouth, ears… The pain! Oh, the pain! it's like someone puts a hot rod into my skull! I pull away a little…
The healer stops for a moment. "A broken heart…" – he says – "Many times… but now a very broken heart. You lost love. You are lonely. You have a boyfriend?" – he asks. I smile and say that I don't. "You find a boyfriend soon… You first need to heal your heart. Don't look now for boyfriend. Heal your heart first".
He tells me to lay down. He touches my toes just like he did with the Japanese. I scream in pain. He looks at me with worry. "You will kill yourself if you don't stop worrying. First your liver… but liver is fine now. Not good in the future. First, your liver and then your heart will break. Stop worry. You give more money and I help you a little ok?"
Yeah, more money… Everything's about the money in Bali, but I want to know what he will do and I am so in awe that I will pay any price. I agree to give him more.
He takes a marker, pulls down my top, so my chest is revealed and draws some symbols on it. He then stands up and prays for me.
He sits down again and does the same things with my toes. He presses the wooden stick hard, really hard, but I don't feel the pain. 'Ok now?' – he smiles. I nod. I feel like I want to cry forever. I struggle to stop my tears from flowing.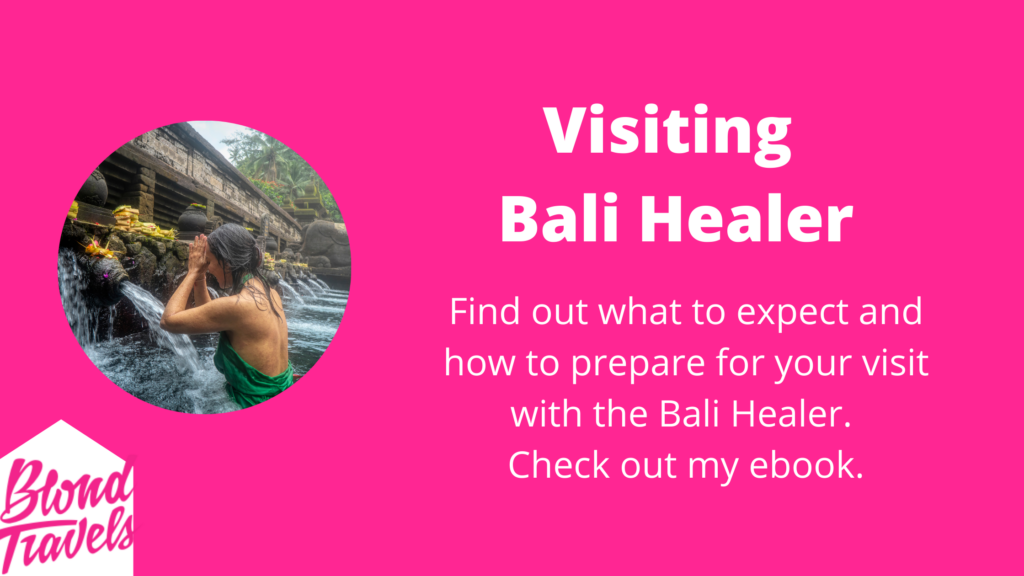 He points at the symbols on my chest. 'No photos' – he says – 'You go back home, look in the mirror at the drawings and do that…' he extends his hand, pretends that he catches something and then puts that into his mouth.
Gede and I leave. I don't say anything for a while. He stops me and says "You know, every day when you get up you say "thank you god for this beautiful day!" Because every day is a new day. Look at yourself in the mirror and say 'I'm fine. I feel good' and you will be fine. You will see". I just nod… I can't utter a word.
We get to his car and drive away. He puts traditional music on and sings along. 'Today, Joanna, we celebrate your new life' – he smiles at me.
"Well…" – I answer – "I just want to cry, to be honest".
He smiles. "Then cry my dear. Crying is good… But cry from happiness. Cry because you can be here!"
I cry the whole way back… I feel like a heavy load has lifted off my shoulders.
Gede has been my taxi driver here in Ubud. He was recommended to me by my fellow blogger, Emily from the Innocent Nomad.
Gede is not only reliable but knows lots about the area and can take you anywhere you want for a good price. He's also a very nice and kind person. I must say that Gede changed something in me and I have never forgotten him. If you're also feeling lost, or you simply want to go through something special, I really recommend meeting him and the healer.
Would you like to meet Gede?
I shared my story here because I also want others to experience something amazing while they are on Bali. It's been over 6 years since I last saw Gede and the healer and their kindness and care is with me until today.
A lot of my readers have gone to Bali to meet Gede and the healer. Some of them emailed me back with photos and their story.
I have recently received an email from Pamela, who was so kind and agree to show you some of her photos.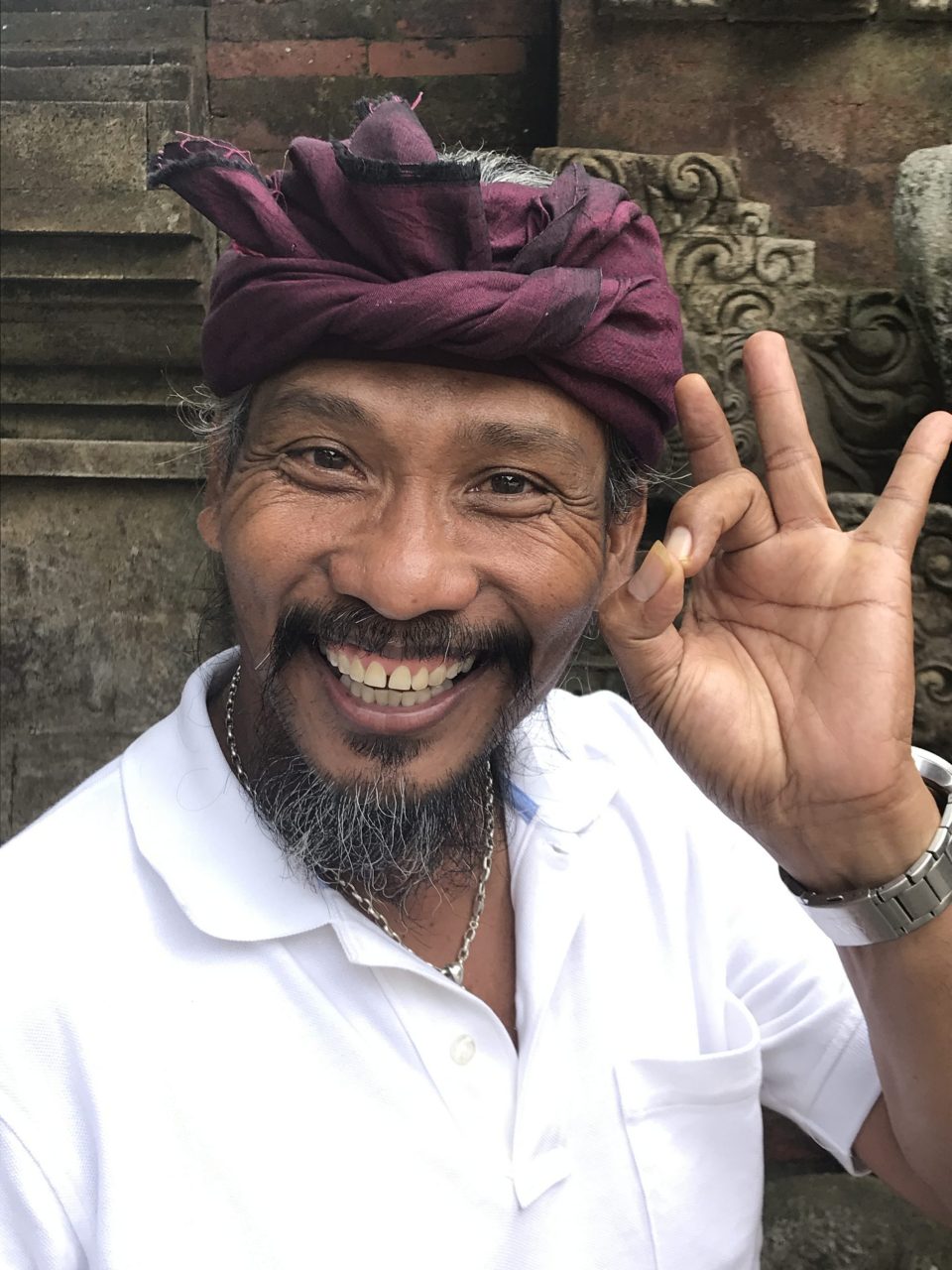 Pamela writes:
We had such an amazing day!!! We visited the healer that you went to and it was magical to say the least. Holy crap did it hurt though – you were not kidding. I, like you, just sat in Gede's car and cried after. It was so freeing to me and so great to know that it was normal to have this reaction (thanks to your post)!!!
I'm truly happy that she had such an amazing experience and I hope you will, too.
Would you like to meet Gede? He can take you around the island and, if you want, he will also introduce you to the healer. If you would like his contact details, here is what I have for you:
An ebook guide, which includes the full story of how I got to Bali and why I have decided to use the healer's services. You will also learn how I felt before meeting him and after. I tried to be as honest as possible. I've added some advice on how to prepare for the session, too, so you can feel safe and prepared for what will come. Of course, the details for Gede are there as well!
You can purchase the ebook here.
If you prefer not to spend the money, no worries. Simply sign up to the newsletter at the top of the page and you'll get the details straight to your mailbox.
All the best on your journey!