The internet in Portugal is probably the fastest and the best in Europe. I've never experienced such a stable connection. Check out how to install the Internet in your home, or on your mobile phone.
Moving to Portugal was a great idea also because the access to the fast and stable Internet is very easy here. You can connect in most places and have it installed at home quite easily.
If you come here to work remotely, you won't be disappointed.
Read on and find out how to get access to the Internet in Portugal.
My experience with the Internet in Portugal
I have a SIM card, which costs me 17 Euro per month. It gives me 5GB on my phone. Here you can find information about the company I'm using.
At home we have Vodafone. The speed is really good. Have a look yourself.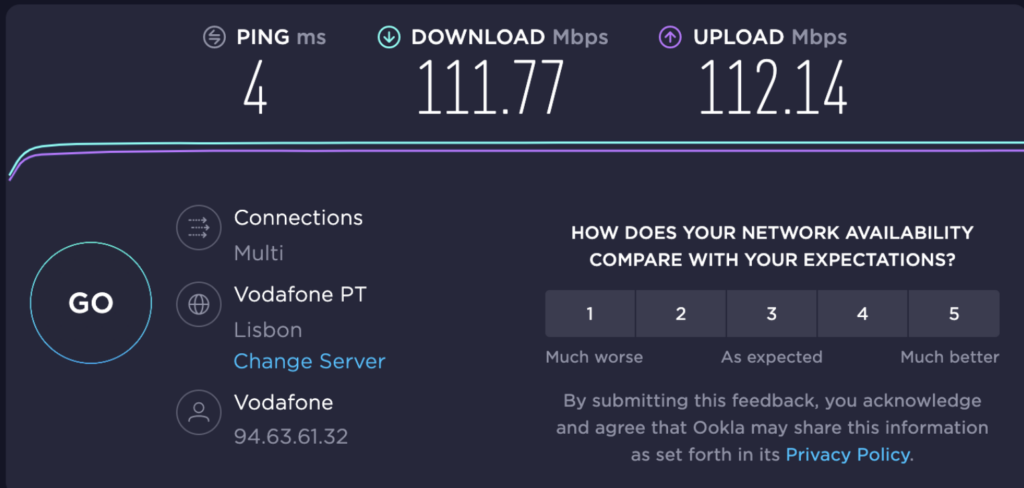 In the cities you can use 4G almost anywhere. In many places there is wi-fi. Moder cafes and restaurants offer it for free to their customers. In more traditional places there is no wi-fi available.
I also noticed that in many buildings there is no reception at all.
In remote locations it's harder to get a proper Internet connection. Once we went to the mountains for Christmas and to call home we had to climb a small hill, or drive 10 minutes to the nearest town. So, it's worth downloading GPS and maps before you decide to go for a trip to more remote places.
Internet in Portugal – Choose the right option
If you come here for holiday
If you come here for a short amount of time, you will not need a SIM card. You can switch the roaming on. If you have a number from an EU country, then you don't need to worry about it at all.
Internet in Portugal – When you come here to stay
If you want to stay here longer, then it's worth getting a SIM card and connect the Internet at home. Here's how to do it.
Internet on your phone
I wrote about SIM cards here.  You have a few companies to choose from:
They are the most popular companies. You can buy a card in their shops or in kiosks as well as from a shop at the airport (the Vodafone shop is located just next to the exit from the arrivals hall).
The prices are different and vary depending on what you need.
Internet at home
Sometimes, in some places, you will have the Internet installed already, for example when you rent a place from Airbnb, or you renting a room.
If you want to rent an apartment on your own, you will need to sort out the Internet.
The best companies are:
The best offer has Vodafone. For 50 Euros you get:
Internet – 200 Mb
TV
A phone number and unlimited calls to other numbers in Portugal
If you want to install Internet at home, you will need:
Bank account

Address confirmation in Portugal (e.g. an electricity bill)
A solution for digital nomads
Those working remotely will find their accommodation on Booking.com. If it's a place outside the city, check with the owner if they have wi-fi and what the speed it. Sometimes you will be told that there's Internet, but it might turn out that it's weak and not very fast.
In the bigger cities Internet in rental places is installed and ready to use.
It's worth buying a SIM card, just in case. You can do it at the airport.
Is it worth buying VPN?
VPN will be needed if you want to watch TV from your country. For example, the UK tv is not available in Portugal. So, if you can't live without it, then subscribing to VPN is a good idea.
When I travel, I buy Nord VPN, which is cheap and very reliable. I recommend it to everyone.
Do you have questions, or would like to share your experiences? Leave a comment!