Jai Thep Festival is the newest addition to Chiang Mai's event calendar. A group of like-minded people got together and decided to do something amazing – they created a music festival unlike any other that has taken place in Northern Thailand before.
I love everything about music festivals: the happy atmosphere, crazy people dressed up especially for this occasion; The smell of sun-burnt grass, even the tiredness I feel after a whole day of dancing and drinking beer. There's nothing like it and in Thailand, festivals are even better than in Europe – at least you don't have to worry about rain and mud. I had been to Shambhala and Smile Party in Chiang Mai before and loved both of them, but Jai Thep turned out to be the best one, yet.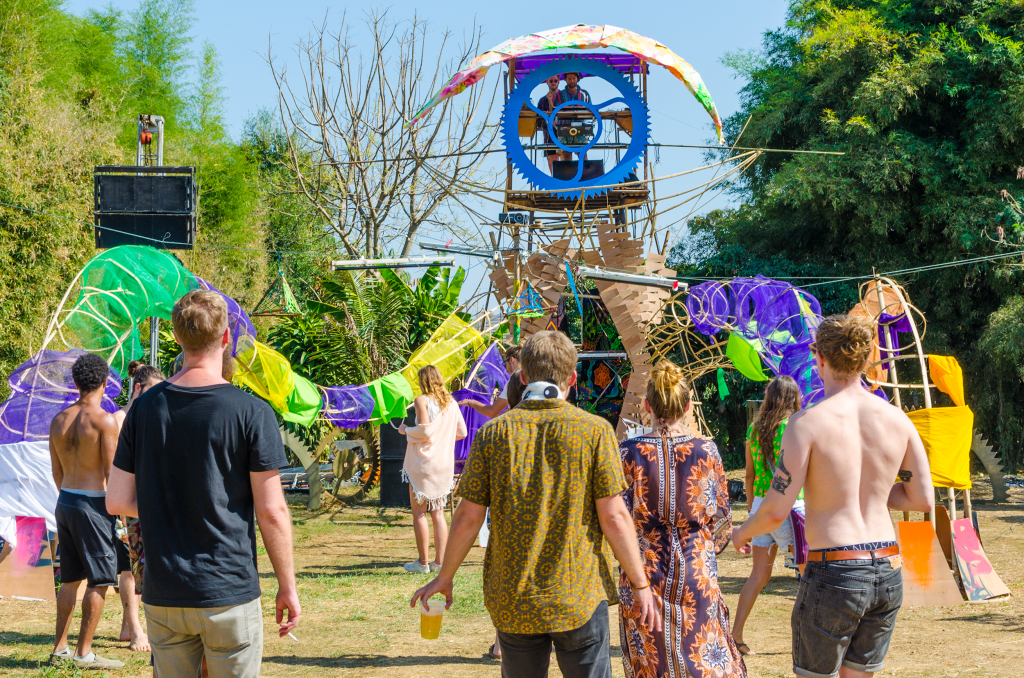 Why was it worth going to Jai Thep Festival?
Jai Thep Festival was a whole day of fun. It started at 10 am and finished at 11 pm. There were 4 stages with an amazing line-up of bands and DJs. There was music for everyone.
The festival reminded me a little of Glastonbury. There were special areas created for different purposes, like 'Home', where you could chill out and in the afternoon listen to comedians, poets and people, who generally had something to say.
The main asset was the price – a whole day of fun cost you only 700 Baht! There was also an option of getting an early bird ticket for 650 Baht, which included a complimentary pint of beer.
How did the day look like?
It was hot and the sun burnt hard when we took a songthaew from the city centre. After around 15 – 20 minutes we were outside of Chiang Mai in a remote farmland area, where Jai Thep Festival had already started. We passed through the checkpoint and were greeted by a very cheerful, hippie-looking young man, who showed us the map of the festival and invited us to explore and have fun.
We went straight for cold beers and wandered around the area. A large stage near the main entrance was being prepared for first performances of the day. On the opposite side there was a small playground for kids and further down one could chill at "Home" – a special tent made for comedians and speakers, who wanted to drop something off their chests and for people, who wanted to listen to them. We stayed there for a little while, chilling on very comfortable seats and having fun with Marvin The Unicorn.
Before we moved further, we visited a little market, hidden away from the noise of the festival and even got our faces painted.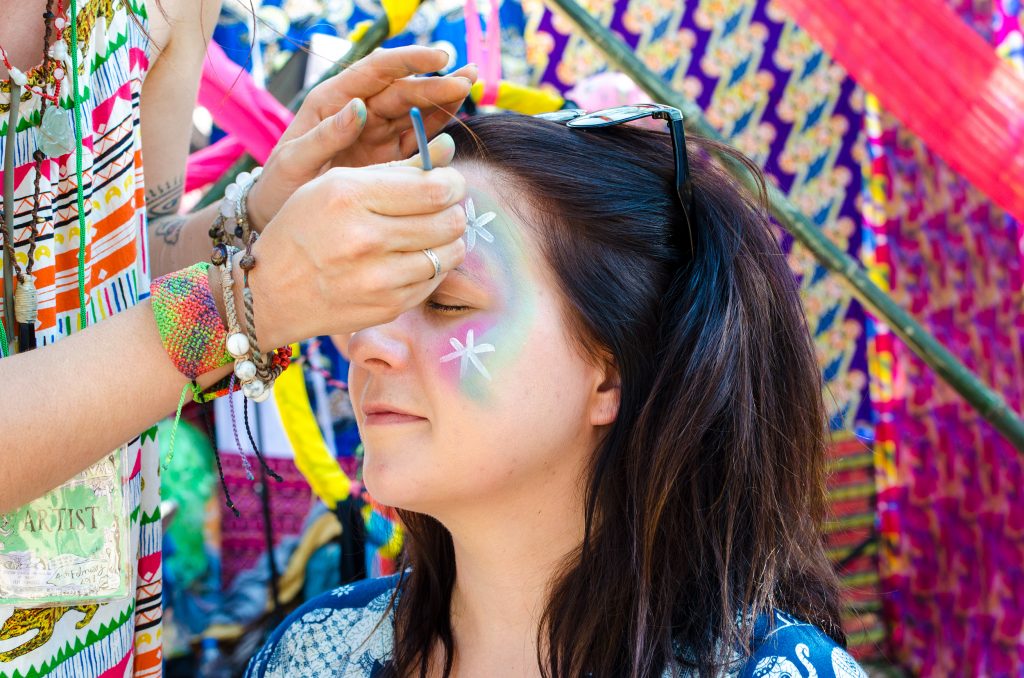 The day was hot and we spent quite a bit of time in the shade. We moved from Home to a lovely corner with hammocks, where other festival goers were chilling out, too. On the nearby stage someone played cool, slow rock tunes and just behind us there was another, bigger stage with electro and deep house DJs. Despite people and two stages surrounding the area, it wasn't loud at all and we had tonnes of fun playing with our bubble makers and meeting other people. I even met two Polish girls – one yoga instructor, travelling around the world and one event organiser, who currently lives in Bali. Wow! Polish ladies, you rock!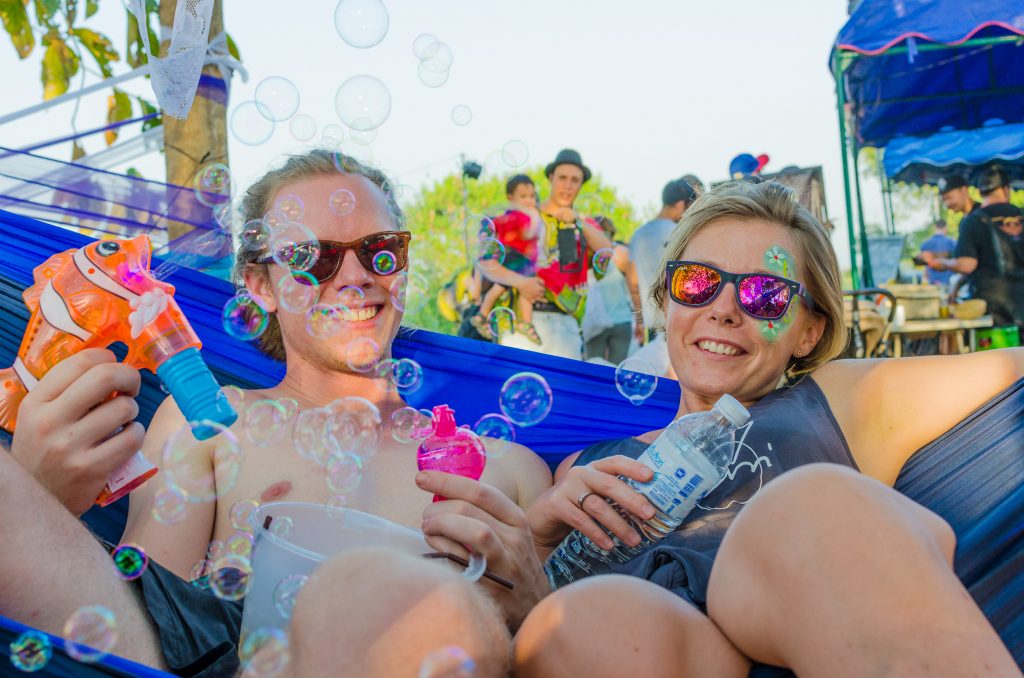 Once the sun started setting we finally moved and went dancing. It was much cooler and there were more and more people coming. When it was already dark, the festival site sparkled and shined with thousands of colourful lights. We danced to some electronic music and at the end, we moved to the main stage to listen to some Thai rock bands and a DJ, who played old-school Thai disco. Chris and I didn't miss trying some of the vegetarian dishes that were on offer at the site.
As everything in Chiang Mai, the festival closed its gates before midnight and we took a songthaew back to the city. I simply cannot wait to go to Jai Thep Festival again next year!
Here is a short video from the day.
Jai Thep Festival – Useful Information
Ticket information and location of Jai Thep Festival
The festival took place for the first time in February 2017. The organisers want to do it again next year, but nothing has been confirmed yet.
Tickets cost 700 Baht at the gates. You could buy it in some of the bars in advance in Chiang Mai for 650 Baht. There was an option of pre-booking online and picking up the tickets at the gates. Only early bird tickets included a complimentary beer.
If you wanted to pick up your ticket at the entrance AND use the free shuttle, you had to pay 100 Baht at the pickup and then got a 100 Baht discount on your ticket at the Jai Thep ticket booth.
The site was located in San Kamphaeng, around 15-20 minutes ride from the city centre. You can get there by scooter, but remember not to drink too much!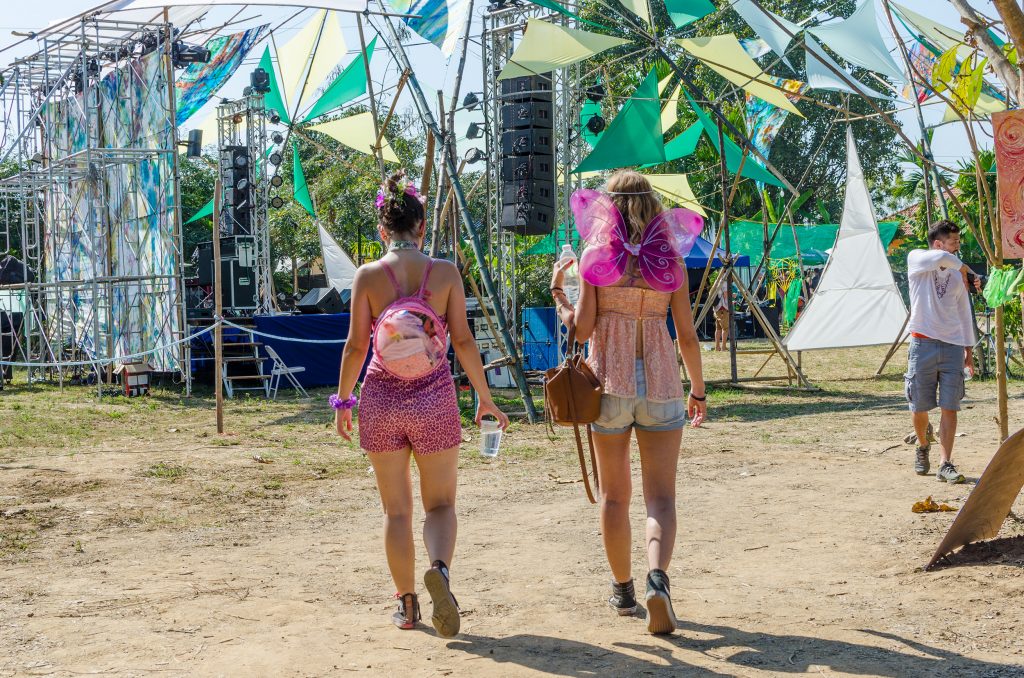 Facilities at Jai Thep Festival in Chiang Mai
There were food and drinks available at the site, sold throughout the day. One beer was 100 Baht and a portion of noodles was around 50 Baht. Burgers and fries were also sold.
Things like face painting and yoga classes were available for a small donation.
There were two places with toilets: one at the entrance with simple cubicles, which were pretty clean, but there probably should have been more of them for ladies. The other toilets were at the other end of the festival site, in a bus. These were slightly less clean and pretty stinky (it's a festival, after all. You can't expect much.)
There were a lot of places to relax, chill out and have a drink with friends.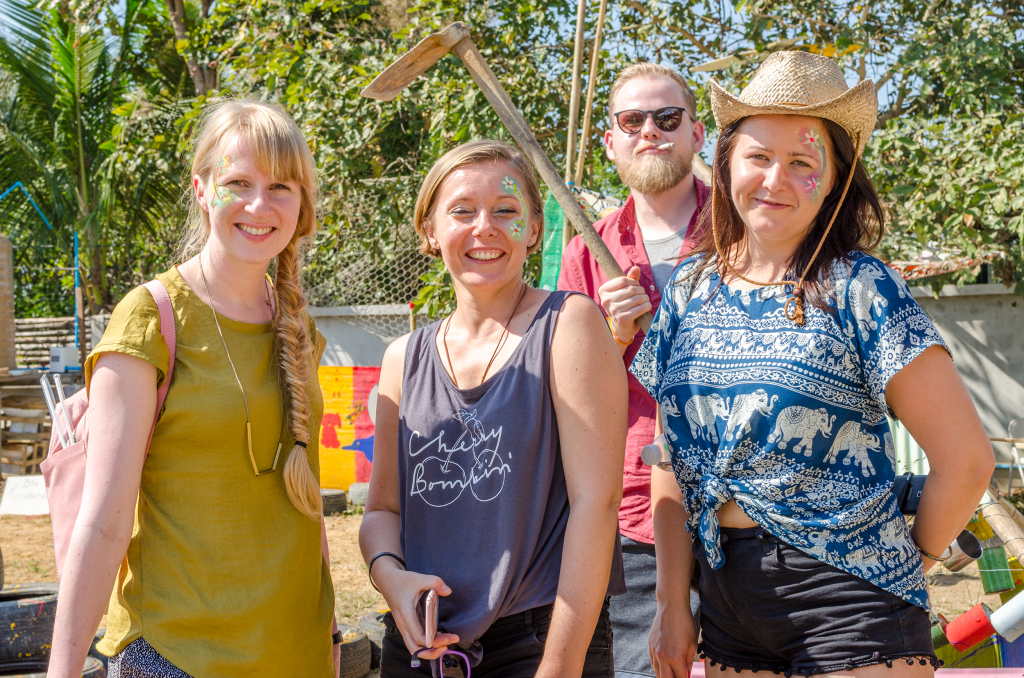 What to take to Jai Thep Festival in Chiang Mai
Sun screen: Quite a lot of the area is in the sun. There are places where you can stay in shade, but if you want to walk around a lot and dance from the start, it's better to bring a cream with you.
Cash: There are no ATMs around and no one accepts cards at the site.
Mosquito spray: Very useful in the evening!
Tissues and an antibacterial hand gel will come useful.
Good mood and a colourful outfit.
Safety at Jai Thep Festival in Chiang Mai
I thought that Jai Thep Festival was really safe. I didn't see any fights and didn't hear about anyone getting robbed. It was a very cheerful event. The only dangerous thing I saw there was a scorpion, which you can see in the video above.
You can find more information on the organiser's site and their Facebook page.