There are plenty of beaches in Thailand. There are those, where one resort is built next to another and where you cannot escape hawkers and cheap souvenir sellers. There are those, where backpackers party until dawn with loud music and cheap buckets. There are those, where thousands of tourists lined up to take a photo and there are those that are quiet, empty and undiscovered. One such place is Khanom, a small town in the south of Thailand with beaches that stretch along for miles on end, with white sand and lush green forests. This is an unspoiled paradise of Thailand.
I came to the Land of Smiles in June, at the very beginning of the rainy season. I knew that there was no point of going to Koh Phi Phi, or Phuket as the weather there is unpredictable at that time. So, I googled 'where to go in the rainy season in Thailand' and received quite a few results with good suggestions. On one of the forums, people advised going to Koh Phangan or Koh Samui. The first I have visited a couple of times and the latter was not my kind of thing, so I kept reading. My interest was spiked when I read about Nakhon Si Thammarat and Khanom. My favorite Travefish said that it was unspoiled, very quiet and had that 'Thai feel' to it. Yes! I was sold! I decided to go there straight after my trip to the east of Thailand.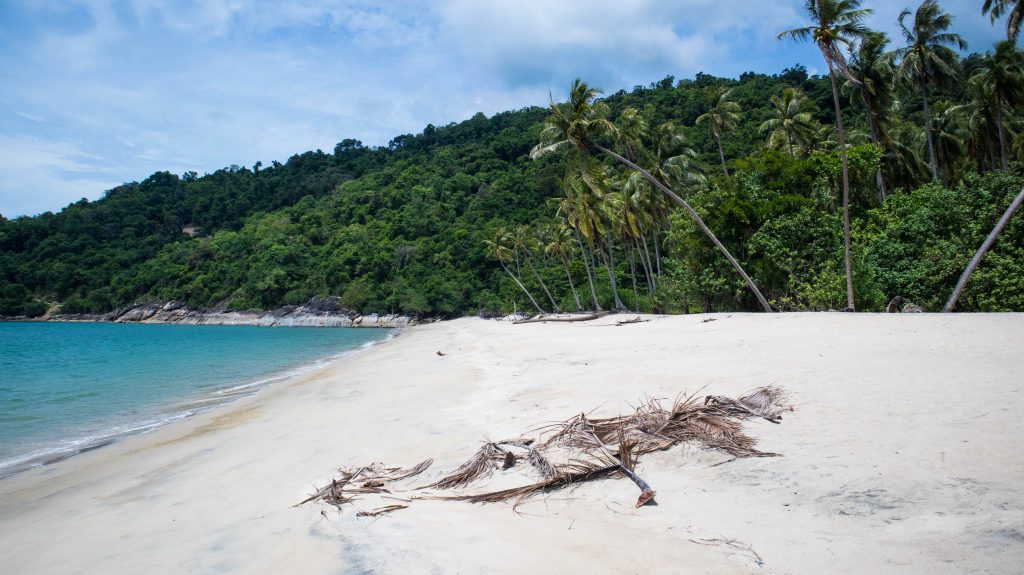 Khanom – the first impression
I flew to Nakhon Si Thammarat and got a minivan at the airport for 250 Baht. The journey took around an hour. I arrived in the town with no beach in sight. The driver left me on the side of the road. I looked around and I could tell straight away that it was yet another town in Thailand, nothing special: racing motorbikes, street sellers, small shops and I could see a 7-11 in the distance. It was also hot, scorching hot and I was sweating.
There was a minute of panic when I thought I was stuck there forever. It didn't look like a tourist destination hence there were no taxis, no tuk-tuks, and no information, at least not in English. Finally, after a few minutes, a motorbike taxi driver approached me and asked me where I was going. I showed him the place and he took me on his scooter with my small backpack and a huge suitcase in the front. That's what you do when you travel to a less know destination – you take what you get regardless if you're scared and worried about dying on a Thai road. W drove for a couple of minutes outside of town and once we got out of the main street, I could see what Travelfish meant.
There were lush green palm trees on both of my sides, cows were grazing here and there, we passed only one motorbike I saw some resorts and guesthouses, but no crowds, no loud music, and no go-go bars. And yes! I could see the sea in the distance on the right! It really looked like a place I would enjoy.
Exploring the area
My bungalow was quite far from the town. I was slightly concerned with the distance. As Khanom didn't seem like a tourist destination, I wasn't sure if I could rent a motorbike. Luckily, the owner of the place I stayed offered to rent her scooter to me. I was set. I could not wait to explore the area and go on an adventure.
On my first day, I went to Ao Nang Yee, also known as the 'beach at the end of the road'. The drive there took around 15 minutes and it was simply wonderful. The road was curvy and surrounded by banana orchards and tall palm trees. I stopped a lot of times to take photos and enjoy the views. Just as the wider path ended and the more damaged began and started to twist and climb up, I could see the long-tail boats and the nearby beaches.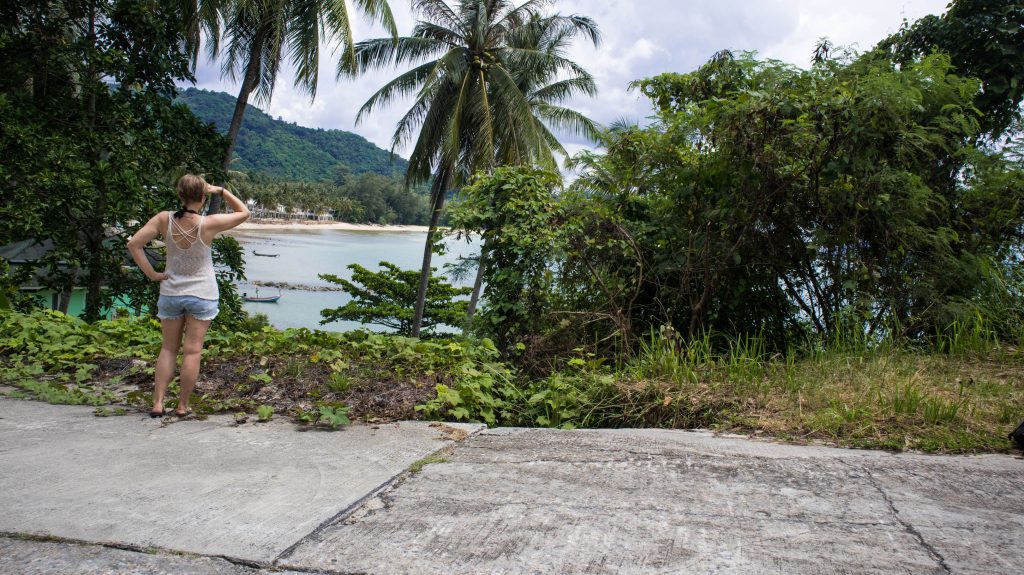 Ao Nang Yee turned out to be very pretty. It was deserted, no one around, just one lady selling shakes and food with a monkey chained to a wooden pole. I had a shake, sat down and enjoyed the views until the clouds came and I heard the thunder in the distance.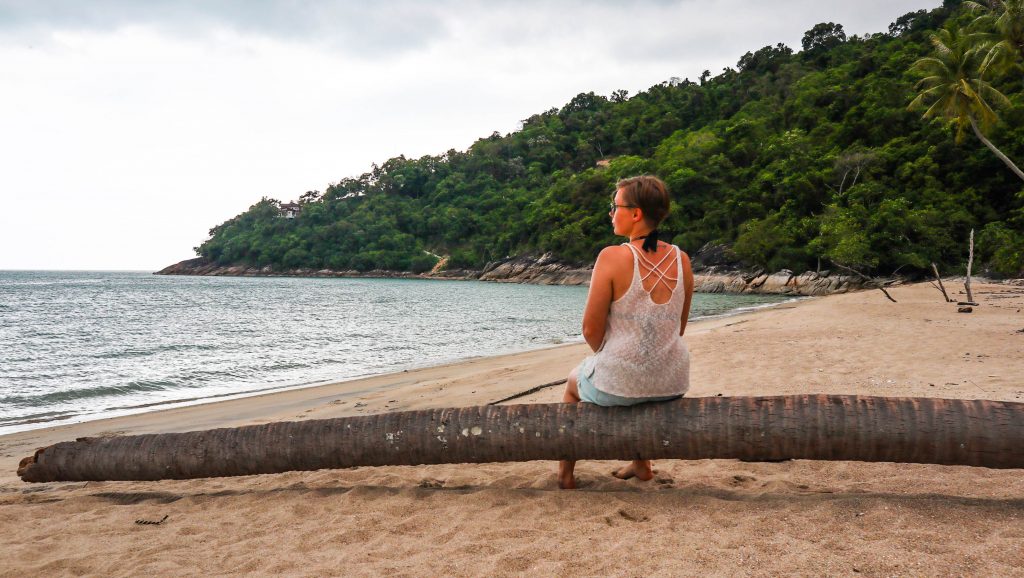 The beaches in Khanom are in fact a long stretch of one beach divided into sections. They all look more or less the same. The ones near local business and hotels are cleaner than the ones that are not administrated by anyone. Don't expect any paradise views, like on Koh Phi Phi. However, the sand here is very soft and white and the water is crystal clear. Ao Nang Yee is the most picturesque beach in the area.
Every day I went for a ride and discovered new things.
There are a few waterfalls near Khanom and I attempted to see one of them – Hin Lat Waterfall. On my first attempt, I caught a flat tire and had to wait for a very long time to get it fixed. On my second attempt, I finally got to the waterfall and spent quite some time taking photos and getting my feet soaked.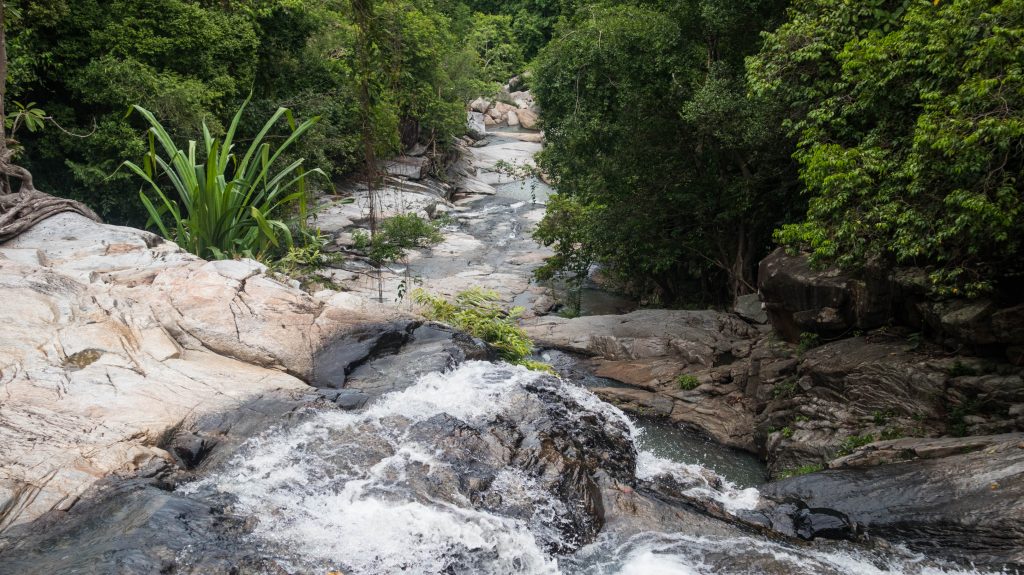 My last trip outside of Khanom consisted of a ride to a cave, which turned out to be closed, but I had a lot of fun taking photos of rubber trees. There are plenty of them in the area. They create ort of tunnels that look stunning in the sunlight.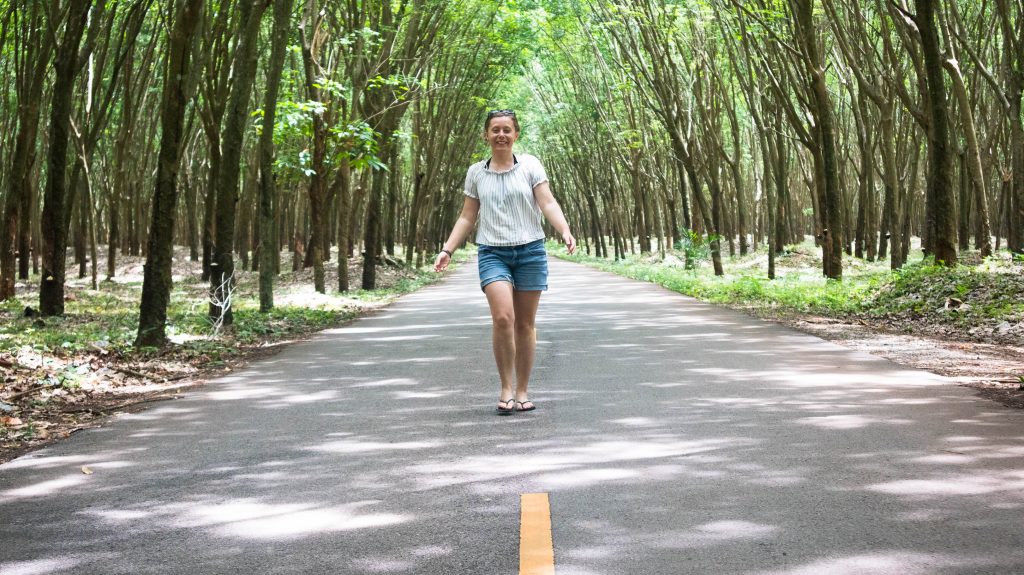 Khanom – a town of many faces
At first, it seemed to me that Khanom doesn't have much to offer. It looked like it was only one intersection and two main streets, but then I discovered that there were quite a few things in the area. I decided to drive around and get lost.
After a while, I finally stumbled upon a fishing community, which is hidden away from view. Luckily, I saw them preparing nets from the distance and wanted to see them from up close.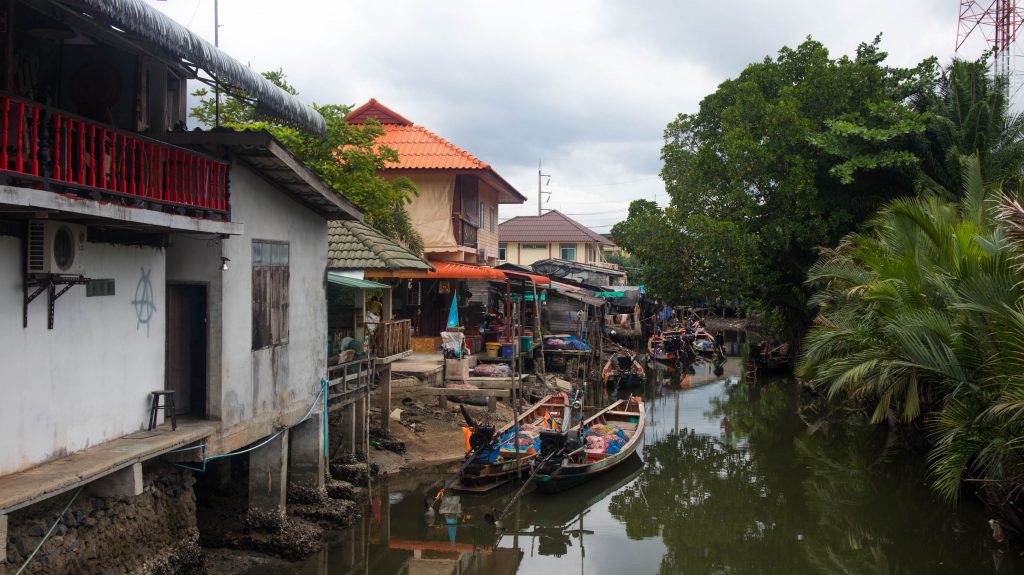 The canal leading from the bay in Khanom is lined with small wooden and brick houses, where fishermen load and unload their boats. I walked around, trying not to be too nosy and watched people going around their business. In some houses, whole families were working on fixing fishing nets, quite a few of them sold fish and seafood, older people sat outside eyeing me with curiosity. I was greeted with laughs and friendly 'hellos' from children, which hasn't happened to me in a long time in Thailand. In many places, Thai people are either oblivious to foreigners or tired with constantly serving them. Here, similar to Chanthaburi, or Rayong, they were curious of me and happy to see a visitor.
I rode further and just after a few minutes, I reached another bridge and a bay with colorful fishing boats. On the other side stood a fresh market, which foul odor I could smell from the distance. Yes! This is what I was looking for! Markets are the best for people watching and I love them, even though after a while they all look the same, but photographing these lively and crowded places is a true pleasure.
First, I took some time to take photos of the boats. However, after few minutes it turned out that I was stirring quite a fuss. Cars were honking, people (actually, only men) were shouting something from their vehicles. I heard a long whistle and some laughs. I started to feel quite uncomfortable, but I couldn't understand why this was happening. I was dressed in shorts and a sleeveless top. I knew that people in provinces in Thailand are not used to seeing foreigners and you should cover yourself up if you are in a more remote place, but I never had to do it before. I never had any comments when I went on road trips outside of Chiang Mai. This was the first and I was dumbfounded.
And then I saw a woman in a hijab and everything became clear. In the south, there is a large Muslim minority. You don't see that clearly when you go to places like Koh Phangan, or Koh Samui. However, if you ever travel to Nakhon Si Thammarat and the nearby areas, you will see a lot of mosques and Halal restaurants. The Muslim culture is more visible here and the landscape of the cities changes once you go more south. As they are not used to seeing foreigners, especially women in skimpy clothes, their reactions can be somewhat rude.
We could argue that they shouldn't whistle at me and they shouldn't catcall me. We should also argue that as an independent woman and a feminist I should probably walk around in my bikini to prove my point, but this is the nature of travel – things like that happen if you are a woman and there's not much you can do about it, except covering yourself up and not reacting to people's comments. So, I put a sweater on (despite the 35-degree heat) and kept on doing what I was doing – taking photos and looking around the area.
I went into the market. And what a market it was! One part of it was covered by a plastic roof. The stalls lit up only with yellowish, artificial light, looked amazingly colorful. Mostly Muslim women were selling meat and other fresh products shouting and advertising whatever they had on offer. Customers, with a characteristic for Thais calmness, walked around, looking at various things, greeting one another, joking, gossiping, bargaining. No one paid attention to me. It was loud, it was colorful and crowded. It was wonderful.
I reached the end of the roofed part only to find even more stalls. This section was mostly fish and meat. The stench of it overwhelmed me and I had to breathe through my nose. Here the sellers hid from the rain and sun under small parasols. Sitting on the ground they displayed a wide variety of fish and seafood. The path was unpaved, muddy, with pieces of meat laying around. It reminded me of the markets in India. It was so colorful and so utterly fascinating that I walked along the area twice or three times before I headed to the bungalow for the day.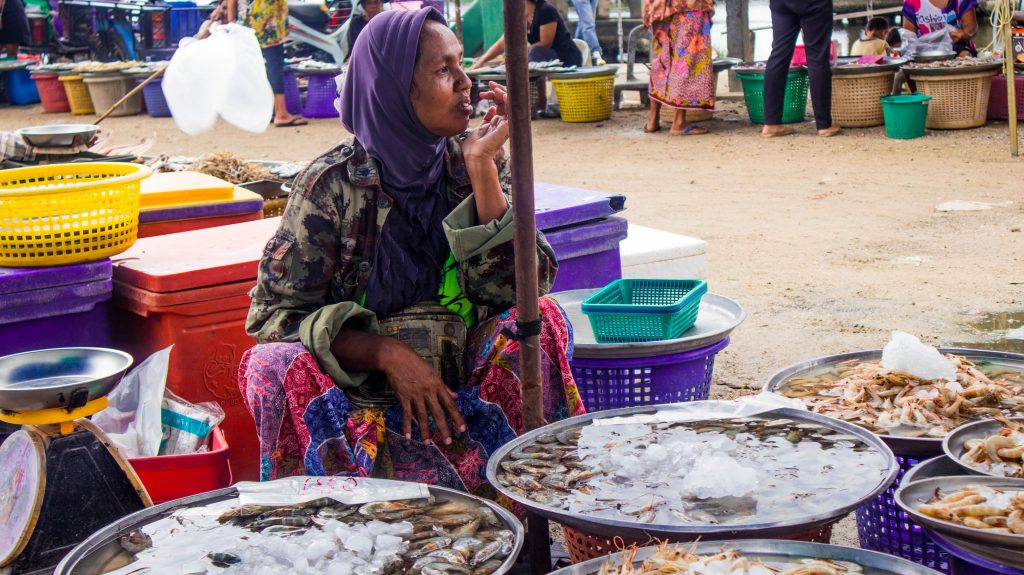 The expats and the nomads
While riding along the road leading to the Ao Nang Yee I noticed how many adverts in English of houses to rent there were. Near where I stayed I saw at least 3, further down the road there were a couple more. It was surprising as I had not seen one foreigner since my arrival.
I asked the owner of my bungalow about it and she confirmed that during the high season quite a few westerners come to Khanom for a bit longer than just a couple of days. I was told that a Bulgarian lady stayed in the same place as me for 4 months and she has already booked it for the winter again. 'It's quiet now' said the owner 'but during the high season I have a lot of guests, Thai and foreigners'.
During the hotter days I craved a beer and after seeing a sign advertising a 'Rasta bar' I headed in that direction. Not surprisingly, I met a few farangs there soaking up the sun and chilling out on big cushions. In the evening the bar organized bonfires on the beach, which were attended by a lot of foreigners living in the area. Some of them just passed through, some were expats and there were even a couple of digital nomads. It seemed like I discovered a hidden hang out in Thailand.
Slowly, a thought started to form in my head. 'What if I could come and live here for a while?' – I wondered. A life in a small house by the beach, surrounded by palm trees and with all these things to discover is very tempting and I keep thinking of going back and settling in there for a couple of months.
Khanom – Useful information
How to get there?
You can fly from Bangkok to Nakohn Si Thammarat. Minivans operate from the airport and it costs 250 Baht to get to the town. You are drop off in the center, where motorbike taxis take you to wherever you want to go for around 50 Baht. Alternatively, you can let your host know and they might pick you up from Khanom.
If you want to know what to do see and do in Khanom, check out my other post!
Where to stay in Khanom?
Baan Thanayan – I stayed there during my trip. It's quiet and clean. Rooms are with aircon and good wi-fi. Every day you get water, tea, coffee and they can clean your room whenever you want. The place is far from town and you can take one of the bicycles for free, or rent a scooter from the owner, or in the town. During my stay they were building a swimming pool, so that will be an additional plus. Long-term villas cost from 12,000 Baht per month.
Khanom Garden Suite – located in a very quiet area. Bungalows have air conditioning and wi-fi. The hosts really look after their guests and they help out with booking tours and sightseeing.
Ava Resort and Spa – on the luxury side, perfect for those that want to pamper and treat themselves. There is a swimming pool and a direct access to the nearby beach.