Peter is around 55 years old. He is a very chatty tuk tuk driver with a sunny personality. Two of my friends found him last year, when looking for a guide that would take them to the Killing Fields and Genocide Museum. I think only some crazy coincidence put Peter on their path. Today he is taking me on the same one day tour.
He picks me up at 10 am from the apartment building I am staying at. Straight away I am warmed up to him. He is smiling broadly and chatting all the time, while making sure I am comfortable in his tuk tuk. 'You are my family now' – he says – 'I will look after you. Tell me where you want to go'. So, I tell him I want to visit the Killing Fields, Genocide Museum and, if I still have time, the Royal Palace. We set off quickly.
Through the whole way he smiles at people passing by, honks at some of them and waves them. 'Hello!' he shouts at tourists 'How are you today?'
He stops at one of the small street shops and buys a surgical mask for me and him. He explains that the road to the Killing Fields is very dusty. He helps me to put it on. After a few minutes, despite wearing the mask, my mouth is full of dust and my sunglasses are smeared with the red soil. As it turns out, the road is not only dusty, but also very bumpy. There is a pothole on a pothole. 'Sorry!' shouts Peter over his shoulder 'Really sorry! This is Cambodia, you know!' and then he laughs with his silver, wonderful laugh. And Cambodia it is! We go through back streets, where the locals sit outside of their homes and look really surprised when they see me in the tuk tuk. The kids are running behind us, shouting hellos and how are yous. I feel like a pop star.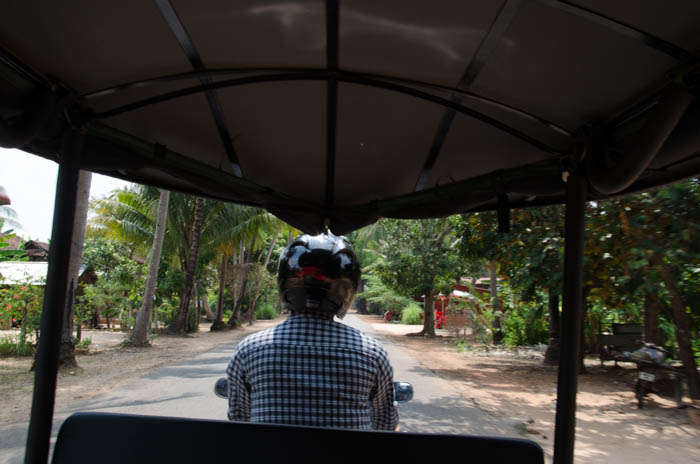 We stop suddenly next to an empty piece of land. There is only a palm tree growing in the middle. 'Come with me' says Peter and helps me to get off his tuk tuk. I follow him to the tree. 'Look' he points at the parts of the leaves, which grow out directly from the pine. 'Look how sharp this is. Touch it, but be careful'. I am amazed how sharp the leaves are. 'This is what they killed people with. The Pol Pot's soldiers…They killed my father like that. They slit his throat with a leaf. I saw it'. He looks at the ground. 'I was 10 years old. They killed my brother and my father, they raped my sister and then killed her, too. My dad was a doctor. He studied in France. I was going to be a doctor, too….Only my mum and I survived. My mum died a year ago and my wife divorced me 10 years ago. Now, you are my family'.
We go back to the tuk tuk and drive further. When we reach the killing fields he asks me to sit down in one of the cafes. 'Now, you sit and listen. I tell a story now'. So, he tells me how he worked in the fields with his family. How they made little birds out of paper with his brother, and that one day his brother told him they would play the next day and he never showed up. He never saw his brother again. He tells me about interrogations, killing of the intellectuals, tortures, about war, about Americans and the mines they left, about the Vietnamese. It's a history lesson in a pill.
At the end he takes out a large piece of paper. 'I drew this for you' he says with a visible pride. It's a map of the Killing Fields. He explains to me where is what. 'Take this and buy a ticket for $3, not for $6. With my map you don't need the headphones'. At the fields there are no guides and instead the visitors get headphones with a recorded tour. Without it visiting the fields is a bit pointless. But I have my map and save $3.
There is a church-like silence at the Killing Fields. Tourists wander around and look at the sights. Many of them are young backpackers, who probably party away during the night, drink Angkor beer and dance to the western music in the bars at Pub Street. The fields remind them of the true and horrible past of Cambodia and I hope it makes them realise that travelling is not only to have fun.
The display of the skulls and bones of people killed there is overwhelming. At the bottom of the glass chamber are tools with which they were killed. None of them are guns. They are every day tools, used for cutting grass, or chopping wood. I squeeze around the chamber and leave after just few minutes.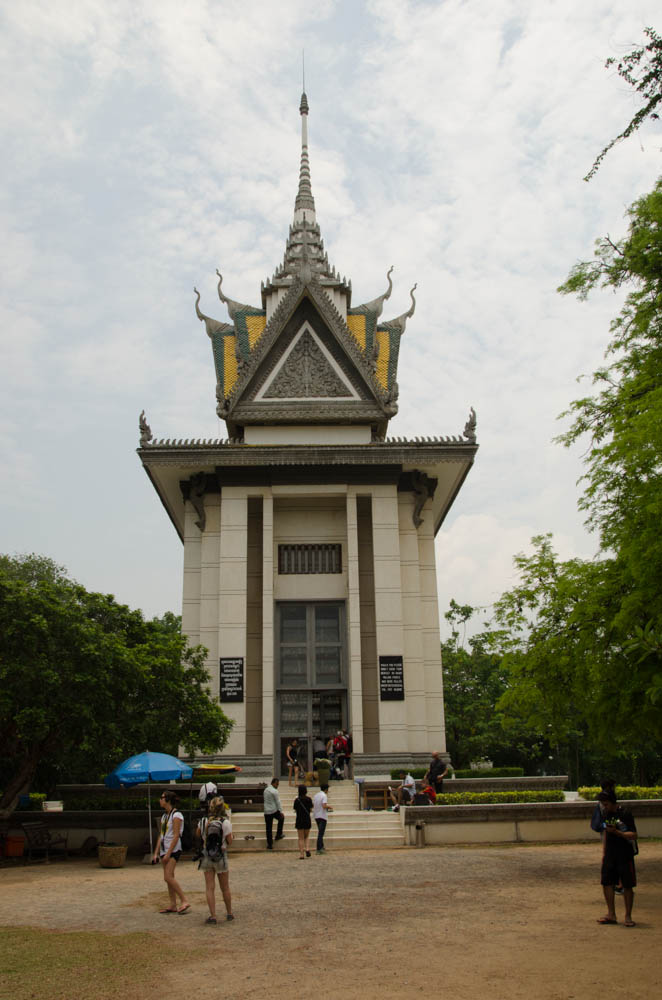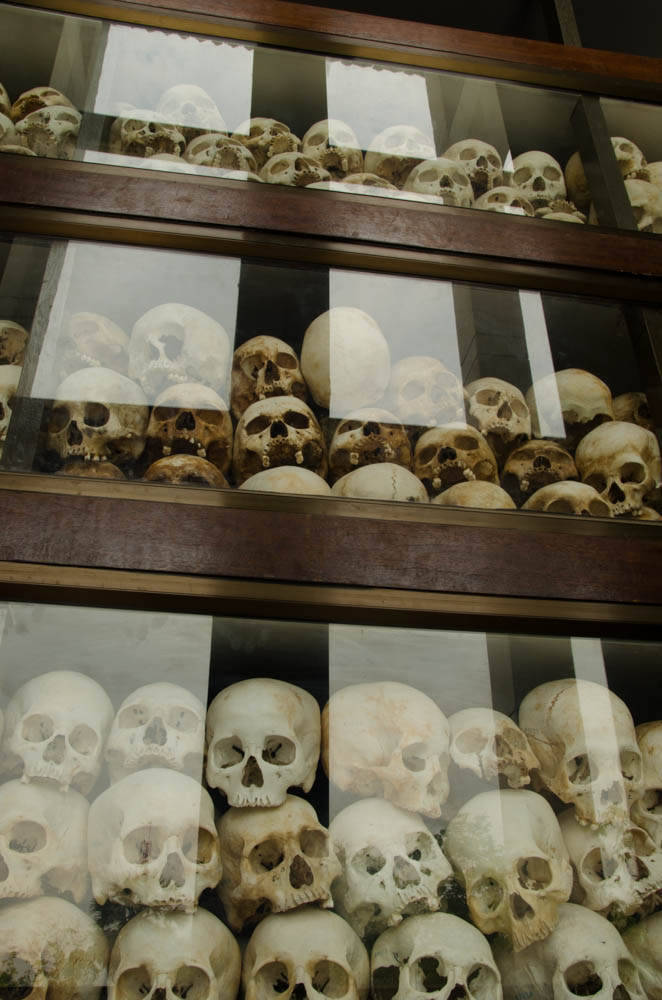 The Killing Fields look like a peaceful park. It's very calm and green, but the trees that grow there were witnesses of the mass murder. There is one where the soldiers killed babies as young as few days old. They took them from their mothers and hit their heads against the trees, holding the babies by their feet. There's also one, where loud speakers were hanged. Music was played through them, so the moans and screams of the victims couldn't be heard.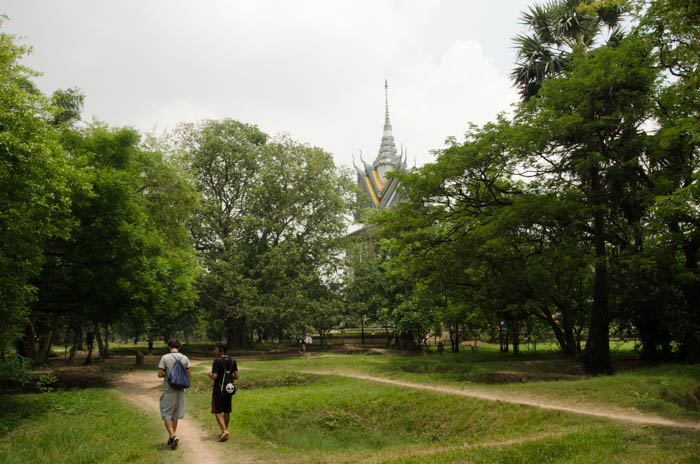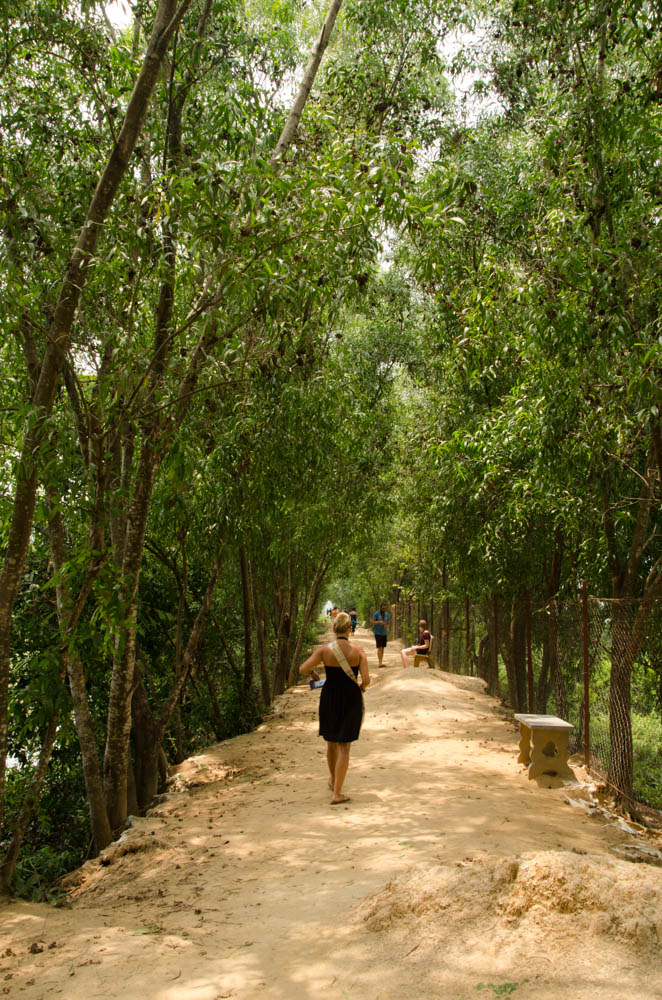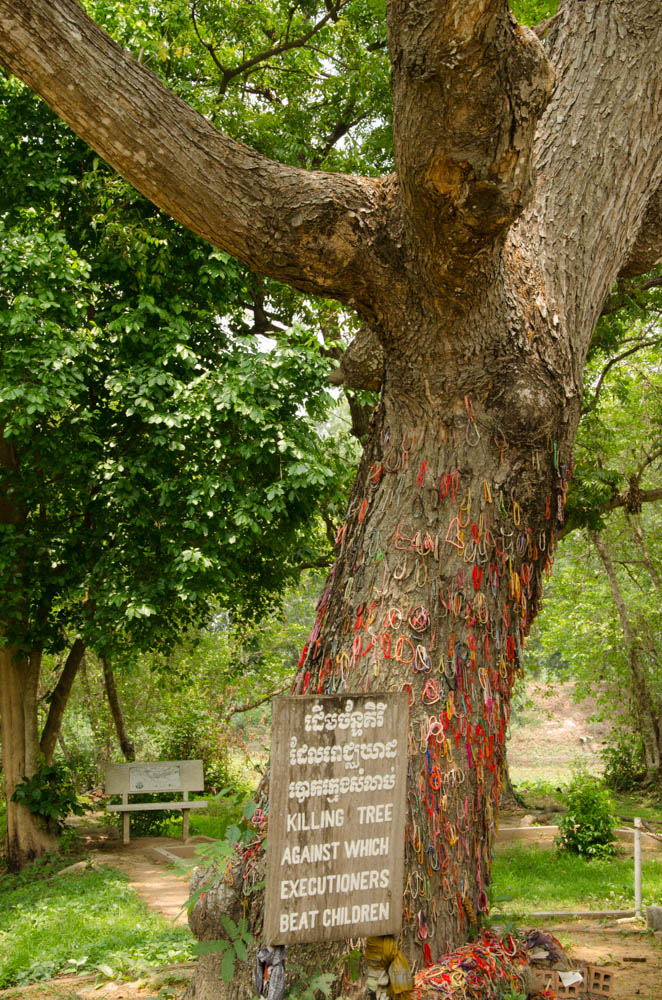 There are mass graves everywhere… Bones are still being discovered today.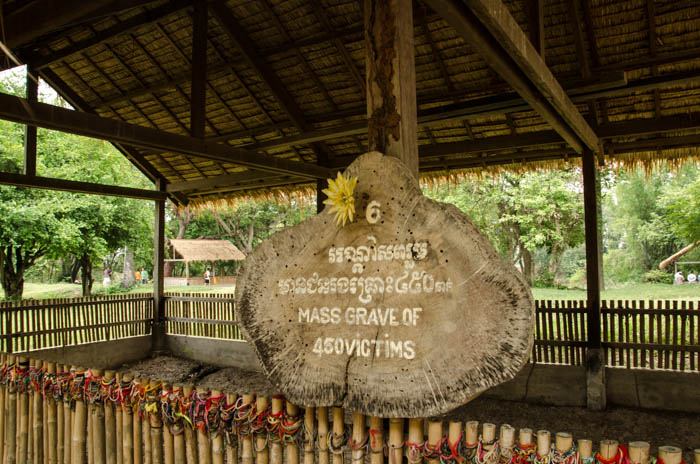 I leave the site feeling absolutely shocked. The history of my own country is also brutal and full of horrific stories, and every time I hear about such atrocities I lose faith in humanity. I keep thinking of a quote from a Polish book, which describes crimes committed by Nazis: 'It is the fate prepared for the people by the people'.  Is our real nature that cruel?
Peter doesn't ask me about what I think when I meet him outside the Fields. He smiles at me and tells me to get on. We leave for the Genocide Museum. The whole way he sings, laughs and waves at people. I think about his family and that he's the only one left in this world and yet he managed to keep his sunny personality.
There is a school girl walking slowly at the side of the road. He slows down and asks her something in Khmer. She waves him off with a smile. 'I asked her if she wanted to come with us. I could take her to her home. She looked tired. She said no. She's also my family, you know. Everyone is my family' he laughs.
We arrive at the Museum. Peter comes with me to buy a ticket and, what seems to me, flirts with the lady behind the desk. He then sneaks through. 'I will show you the most important things' he says.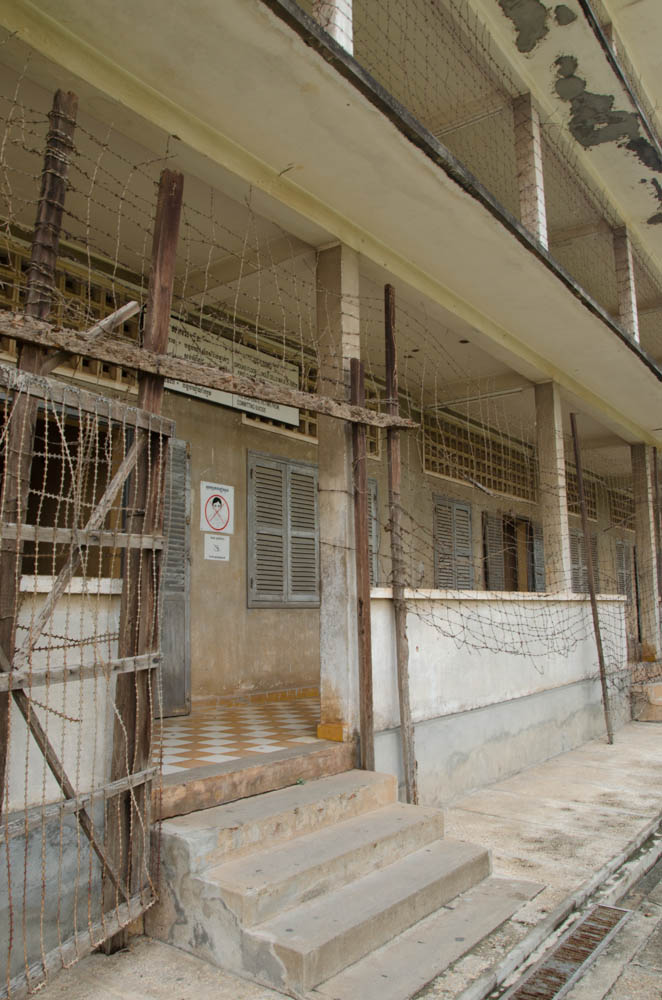 The Genocide Museum was once a school. The classes were converted into cells and torture chamber. We go from one cell to another. Peter tells me how the soldiers starved people to death and then ate their livers and kidneys, how they ripped women's nipples, how they drawn prisoners in their own faeces. He shows me the portraits of the Pol Pot's government and the photos of the last 7 survivors of the prison.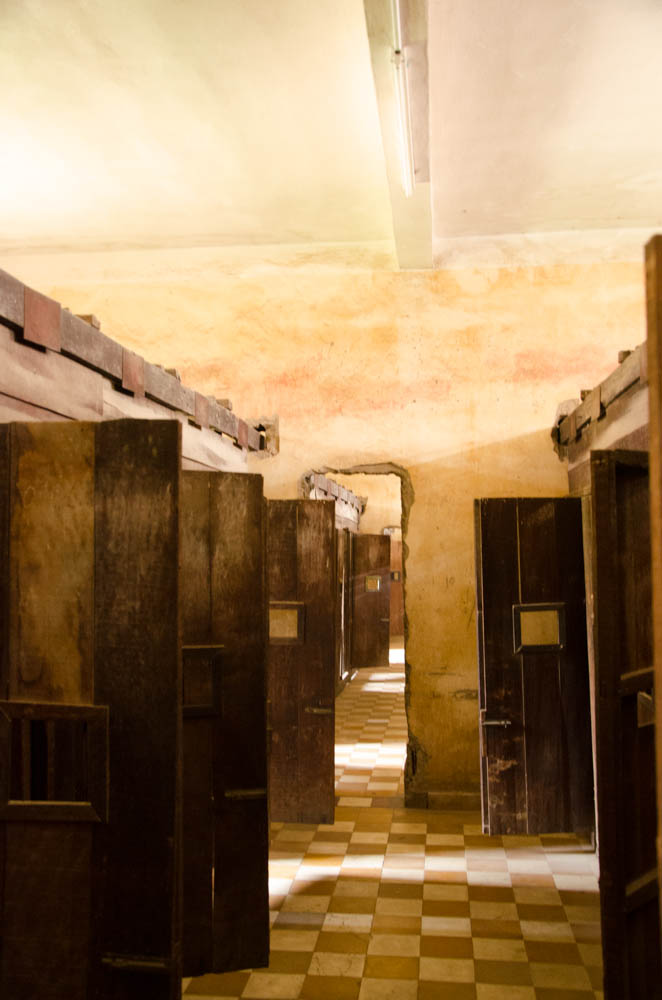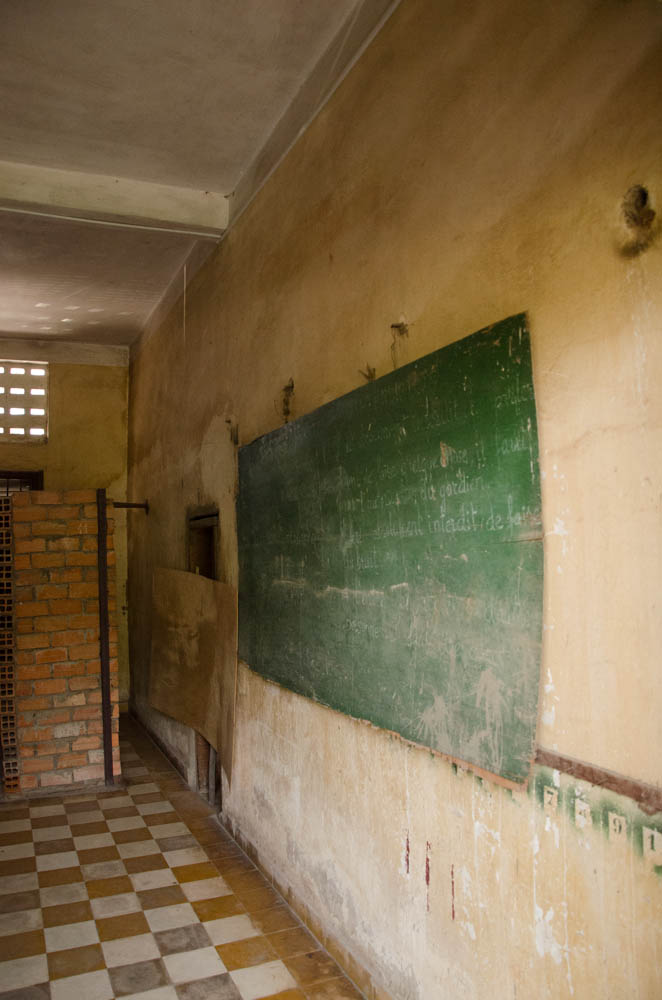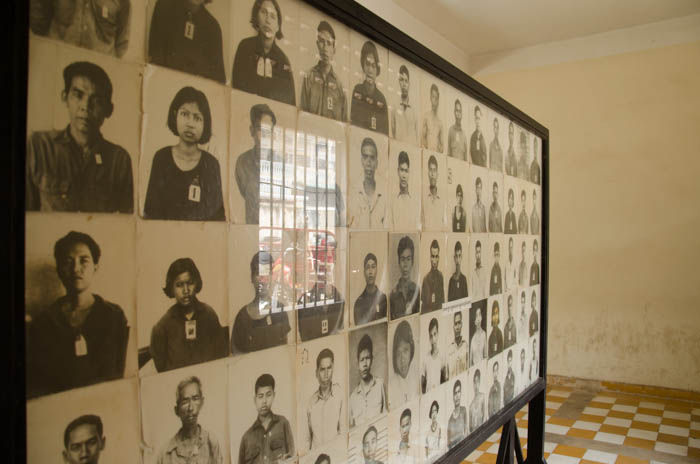 'So what happened with the soldiers that killed all these people?' I ask 'What happened with the people, who killed your family?' Peter explains that they all got amnesty from the king. 'The man, who killed my father…I am almost sure he did…Lives now in my village, where I grew up. He's a free man. That's why I don't go there any more'. I ask him if he feels angry that that man and the others, that committed all those murders, are walking as free men. 'No' he answers 'I'm not angry. If I was angry I wouldn't have life at all. I am happy that I am alive'.
Peter walks with me from building to building. We finish the tour and he drives me to the Royal Palace. He leaves me there and tells me to call him when I am done as he is now going to drink a coffee 'at one of his sisters' cafe'.
The street at which the Palace is located is stunning. It is a long, wide road, closed to the vehicles. It must be the most beautiful street in Cambodia. The Palace looks huge from the outside. It is a big, orange and white building, surrounded by acres of gardens.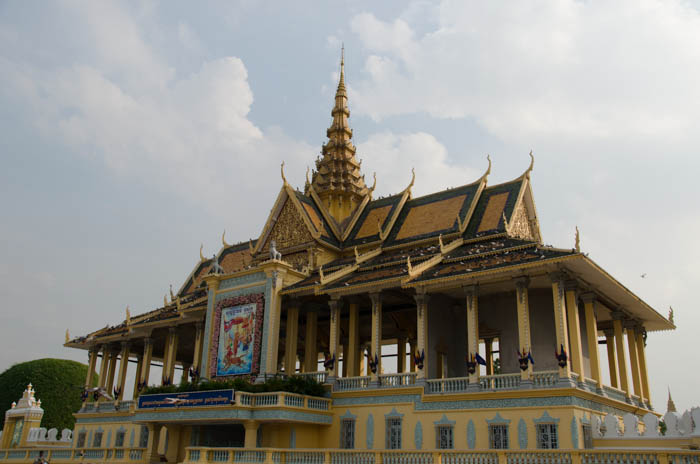 I am wearing long trousers and a t-shirt, but my shoulders are uncovered, so I need to buy a $6 shirt and pay the extra admission fee.
I step into the gardens. The first buildings I see are impressive. There is a big temple in the centre. The gardens are immaculately clean, the grass is trimmed and the trees are cut in different shapes. It is not as grand as the Royal Palace in Bangkok, but it is still quite beautiful. However, the whole impression is spoilt by ever present large groups of tourists, mostly from China and Japan. I walk into one of the temples and look around. My view is obstructed by another Japanese tourist taking a selfie. I get annoyed, especially with the fact that it is clearly stated at the entrance that photos are prohibited.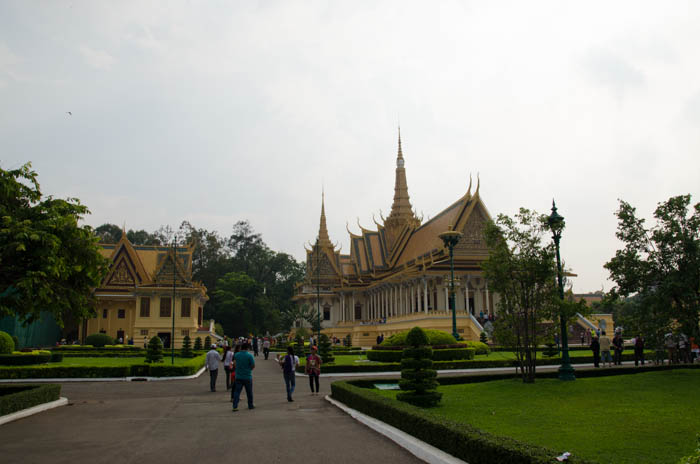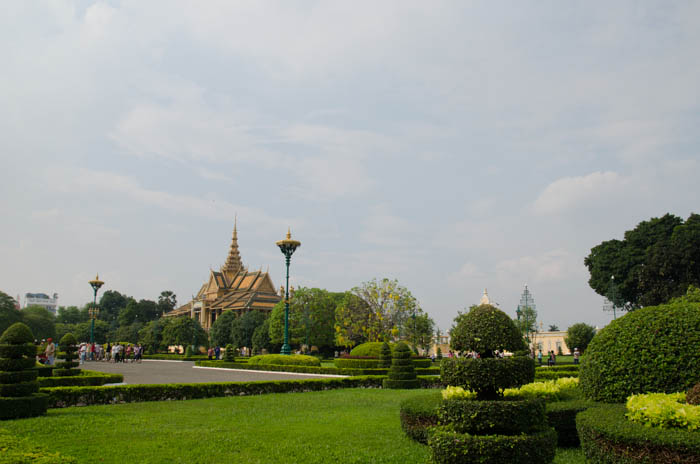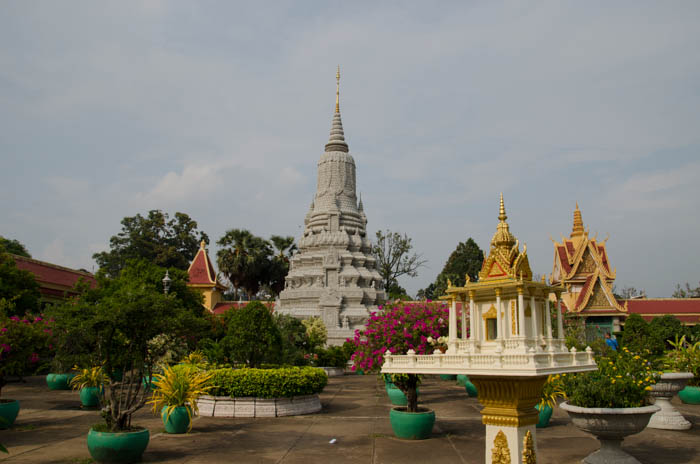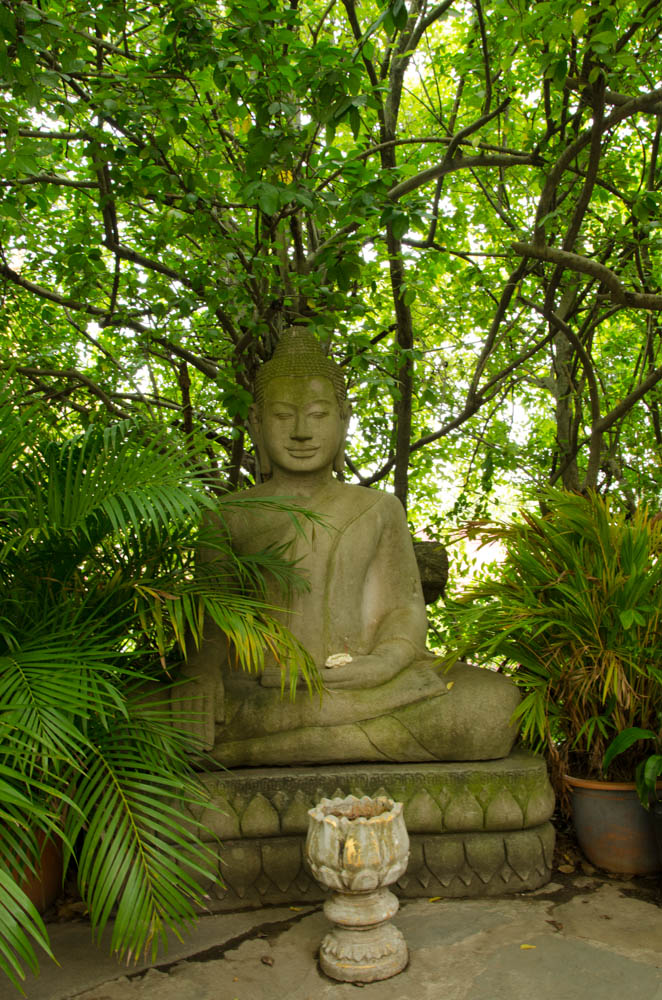 I go from building to building and my annoyance at the other visitors is growing, so I leave quickly.
I call Peter to pick me up. '10 minutes' he says. He needs to finish his coffee. I stand at the side of the street and observe the locals, having picnics on the street, near the river. Kids are chasing the pigeons, or feeding the birds. It is a Sunday atmosphere.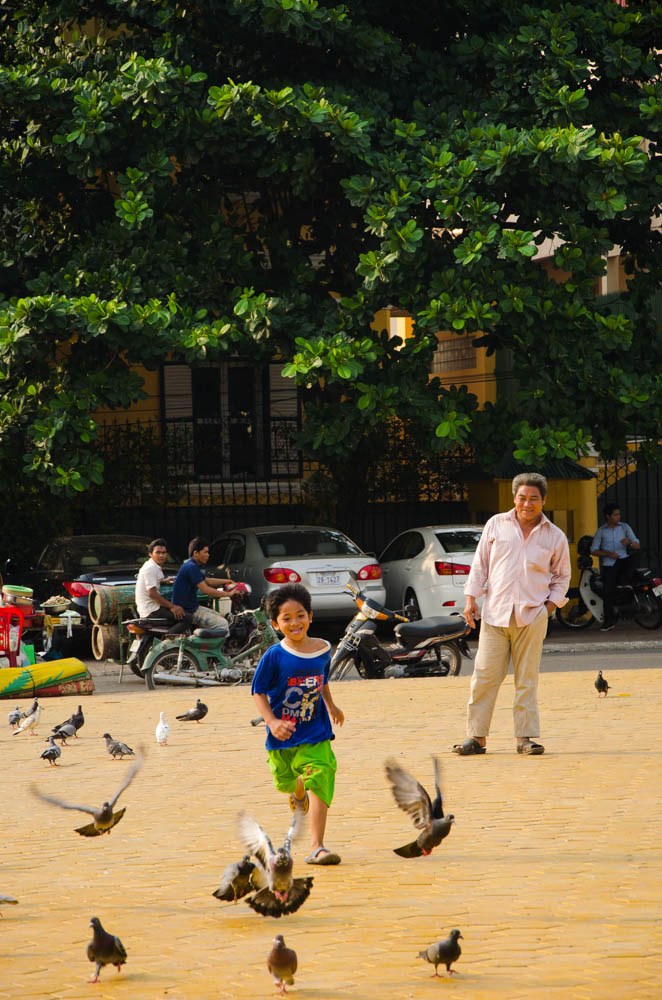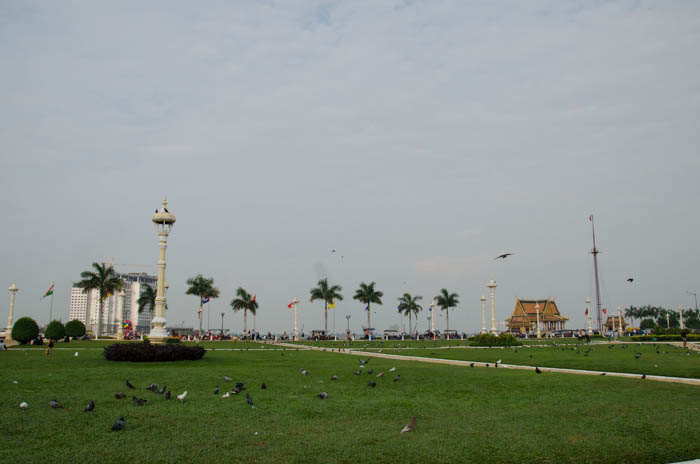 Peter appears and apologizes to me for not turning up quicker. He takes me home, tells me to go inside for 15 minutes and come back as he has something for me. I do exactly that. After 15 minutes I go downstairs. He is sitting in his tuk tuk drawing something. When I approach him, he shows me the map of the Killing Fields he drew for me before. On the reverse there is a map of the Genocide Museum. 'So you remember. You can show your family and friends where you have been' he says and hands me the map. I give him a big hug and a big tip.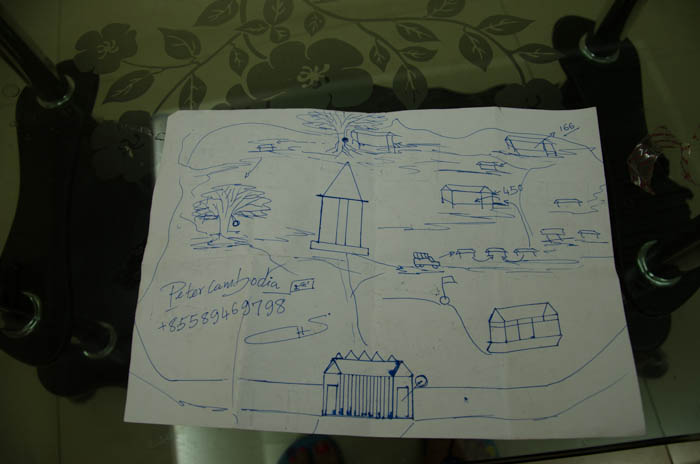 Peter doesn't have a set price for a whole day of sightseeing. He said it was up to me how much I was willing to pay him. People give him from $15 to $25 for a day, but throw a little extra as a tip.
He is the best guide I have ever had and will make your day really extraordinary.