This post would not be possible without AirAsia – a low budget flight company in Thailand. AirAsia flies to many destinations in and around the Land of Smiles. Check out their low rates and enjoy saving time and money!
Tired with smog and noise of Bangkok? Looking for something that is a little bit more easy-going and laid back? Head to the garden of Bangkok. Relax on the green Koh Kret island.
I kind of like Bangkok. I don't love it, but I enjoy the fact that there's so much to do and you can always find a hidden corner, a restaurant that serves something truly extraordinary, or a nice spot for a beer. But, I know I wouldn't be able to live here. The noise, the traffic and the heat tires me out in a matter of a few days. So, I try to find a spot that allows me to rest for a little bit. That's why I decided to head to Koh Kret during my last visit in Thailand.
Koh Kret is not only a green island with nice cycling routes, but it is also famous for its pottery villages and food. It's a great idea for a nice day away from Bangkok's busy life. It can be easy to get to (or getting there can be an adventure. See below.) and you don't need to spend a lot of money on the trip. Doing it by yourself will be quite easy and cheap.
If you, like me, enjoy nature and culture, or would like to see something different other than Grand Palace and Wat Arun, visit Koh Kret for at least a day. It will make your stay in Bangkok much more bearable and will reveal to you the more gentle face of the city.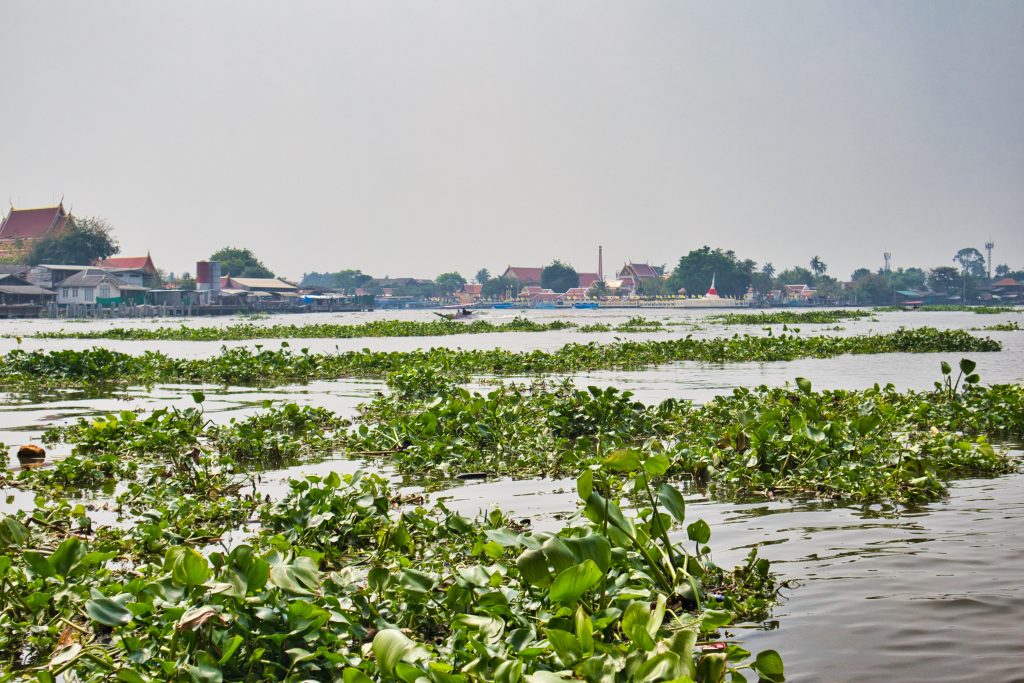 Koh Kret – What is it exactly?
Koh Kret (pronounce – Goh Ged) is a small island in the north of Bangkok. It lays directly on the Chao Praya River. It's 3 km long and 3 km wide.
It is mostly famous for its pottery, which is produced by Mon people. Their products can be bought all over the island.
The place attracts locals during the weekend, when the market takes place. It's the best opportunity to buy pottery and some local deserts.
The history of Koh Kret
Koh Kret is a man made island. Its shores were created in 1722 during a construction of a canal. The canal was widened and finally the island was created.
During centuries, the island became a home to Mon people, a tribe that dominated central Thailand at that time. Today they live here peacefully earning money mostly by producing beautiful pottery.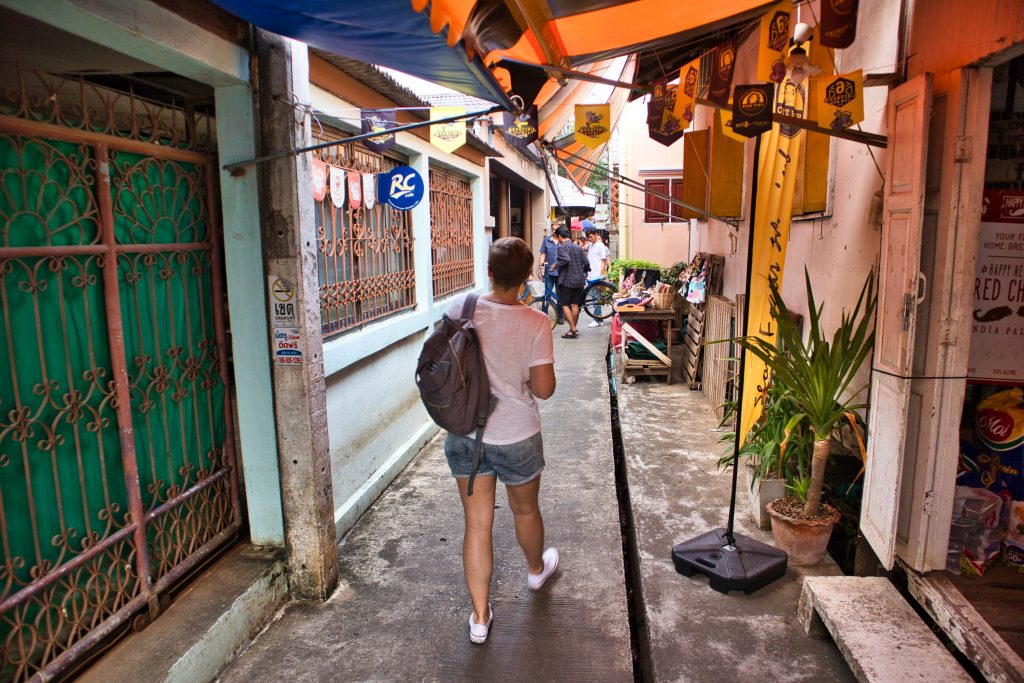 My day on Koh Kret
I wouldn't have planned to stay in Bangkok for so long, but I really wanted to see Koh Kret. I read about it and saw a few videos and I was intrigued! I decided to spend one day there and discover it on my own (with Chris's little help, of course!).
I chose to go there on a Saturday despite the information I had read that it gets very busy there.
I left my hotel in Bangkok very early in the morning. Getting there wasn't easy and wasn't short either. I stayed in Chinatown and decided to walk to the Rachawangse pier. From there I took a boat to Nonthaburi, then a bus number 32, then another boat. The whole trip took me 3 hours and you can read detailed information on how I got there a little below, in the useful information section.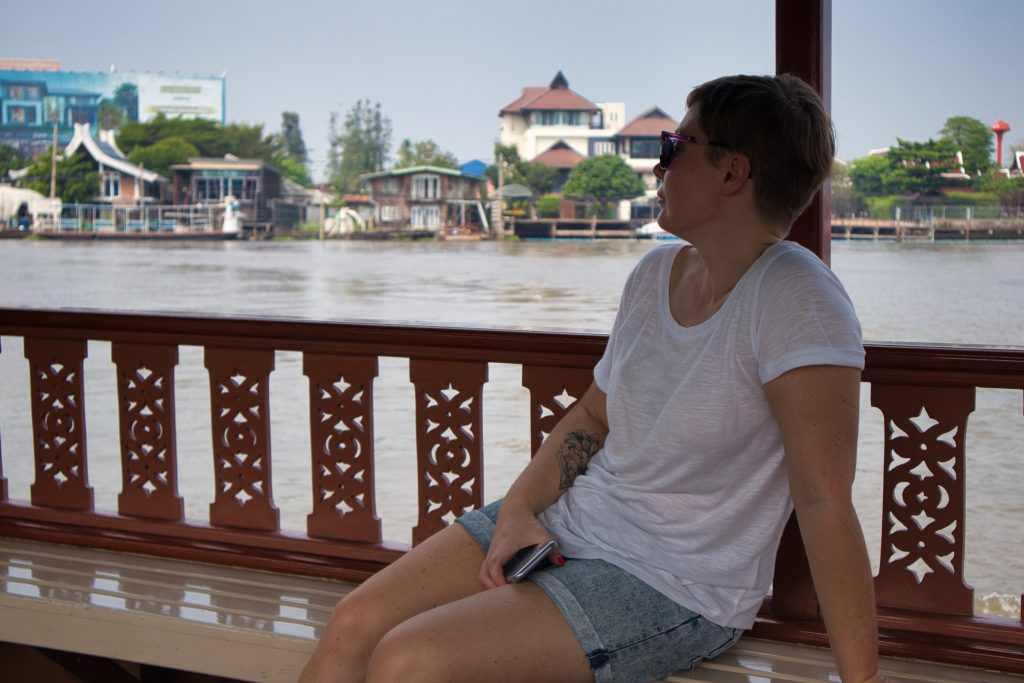 It was already noon by the time I got there and it was very, very hot. The pier led me to a market that stretches along the shores of the island. I walked through it looking at some of the interesting deserts on offer. However, I had a feeling that the other things that were sold were identical to those found in places like Khao San Road. I tried to find an exit and started thinking that there was none. The market was endless! I have no idea how long I walked, but it seemed ages to me. There were countless stalls selling similar things and even new food I saw wasn't that appealing to me.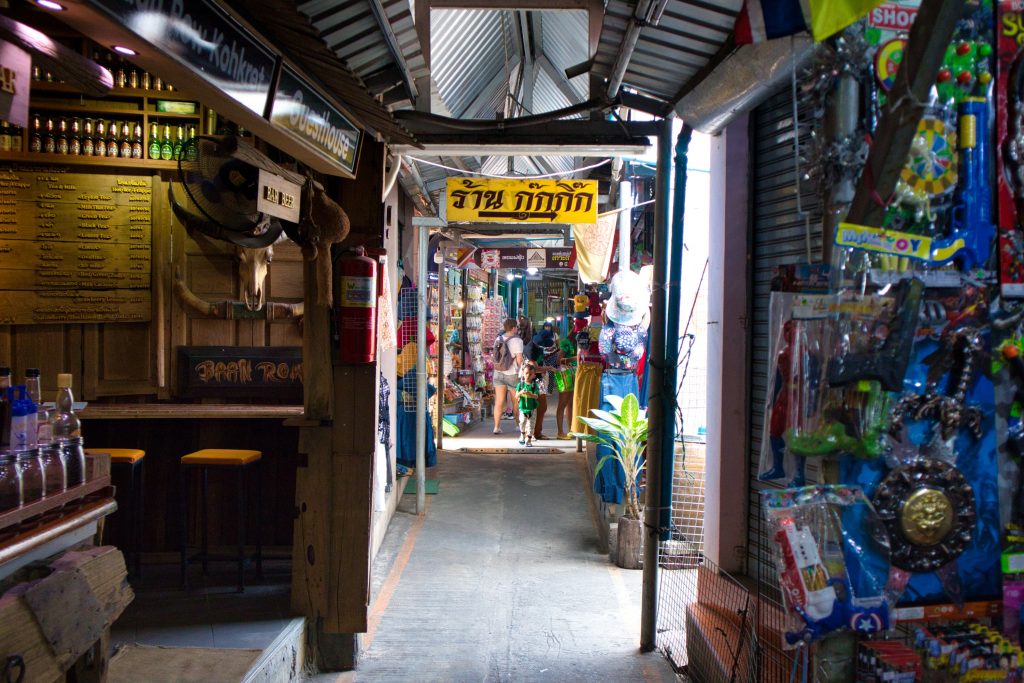 Finally, I found the exit and could walk along a very narrow lane surrounded by palm trees and little, cute houses. Nearby was another small market. This one selling pottery, which I didn't want to buy. So, I strolled a little and then (fortunately) I could just walk out and continue my walk.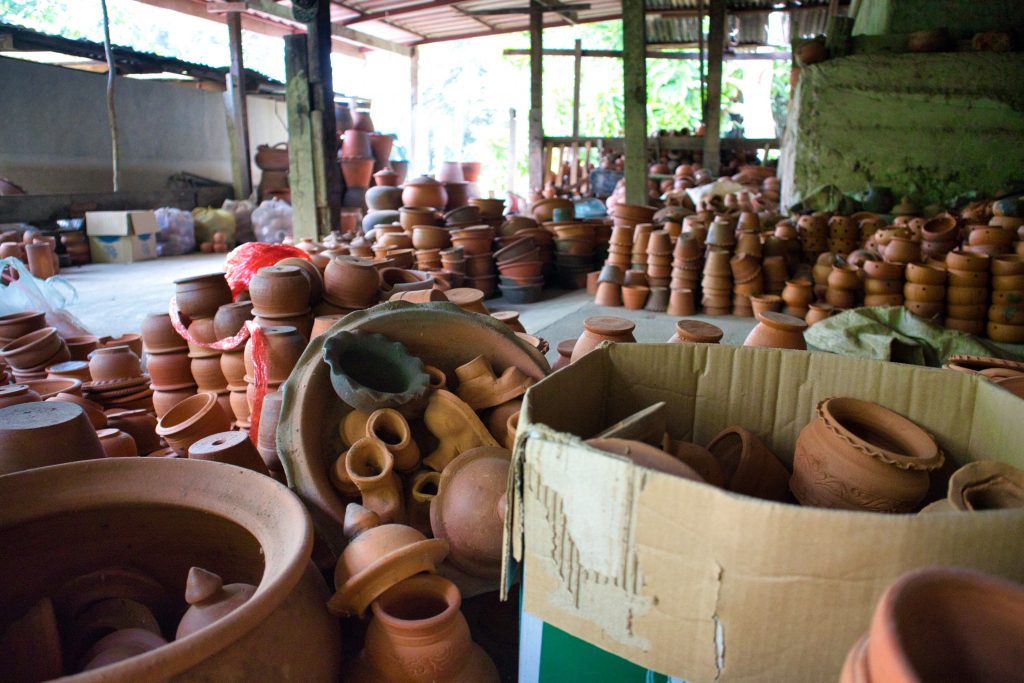 Koh Kret seemed to me a very different place from the capital. It was like being somewhere else, somewhere in the countryside. There were only a few people on the streets, kids were playing in the river and it was so quiet, so peaceful! If it wasn't for the heat, I could have walked a long way.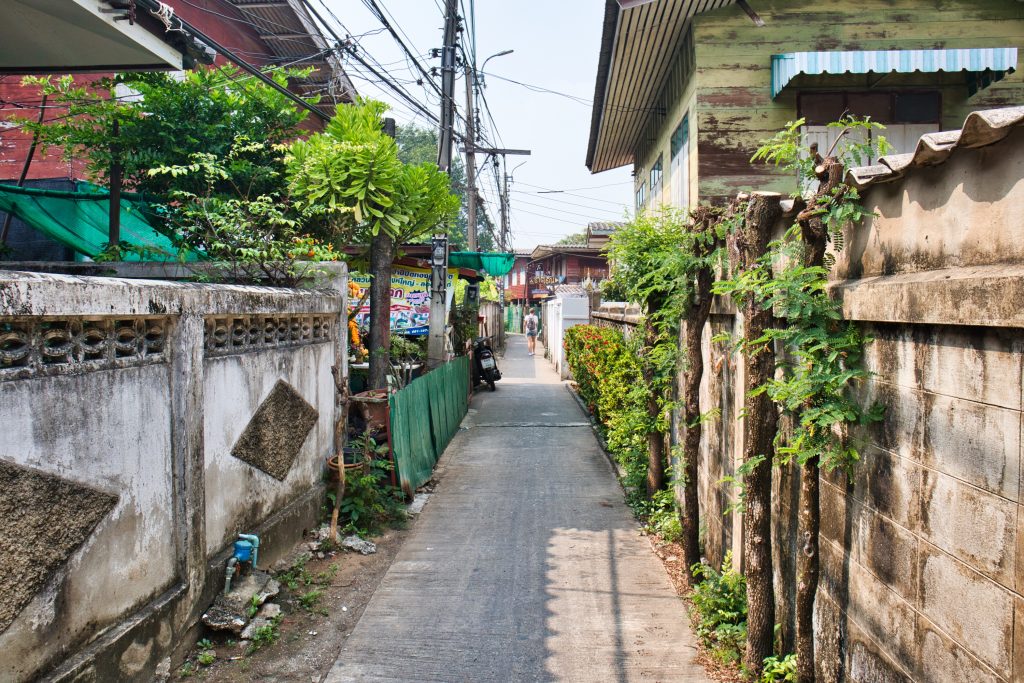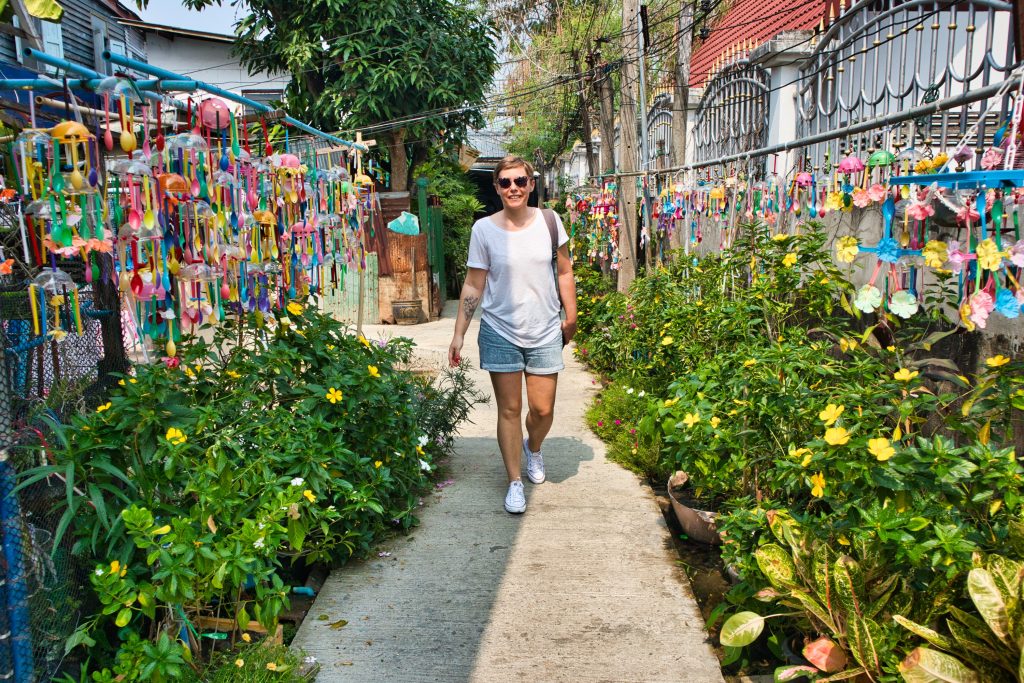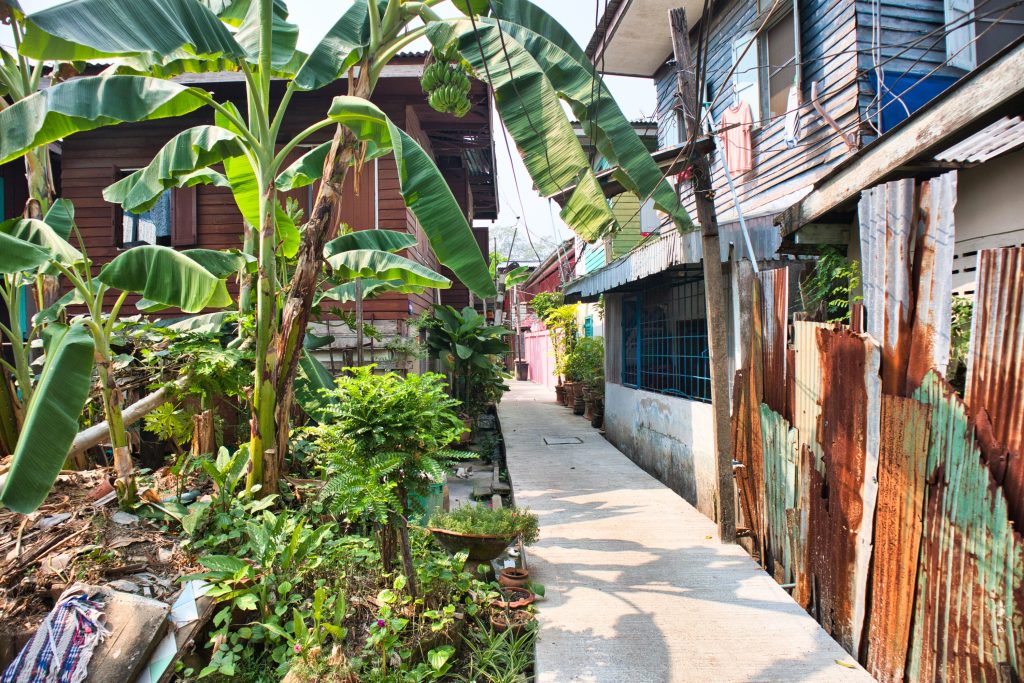 But, as it is often in Thailand, my stomach let me know that it was time to eat. I turned back to the market, but the food on offer there didn't look appealing. I didn't fancy a soup, or fried rice either. It was definitely too hot for that. So, I roamed aimlessly, from one corner of the market to the other.
Finally, I decided to go to a cafe I had seen previously during my walk – Rongsri Studio and Milli Cafe.
The place was transferred from a mill that used to work here. Everything was made out of concrete and wood. There were still some parts that looked like oversized machines. In the middle of the room, on a stage, a band was playing a pop Thai song. A few tables set outside were empty, but I could imagine them being full during the night and having a romantic dinner there.
I ended up buying a home made lemonade and sitting in an air-coned part of the cafe. After checking the map and the local information, I decided to go to the other part of the island for some beers and food.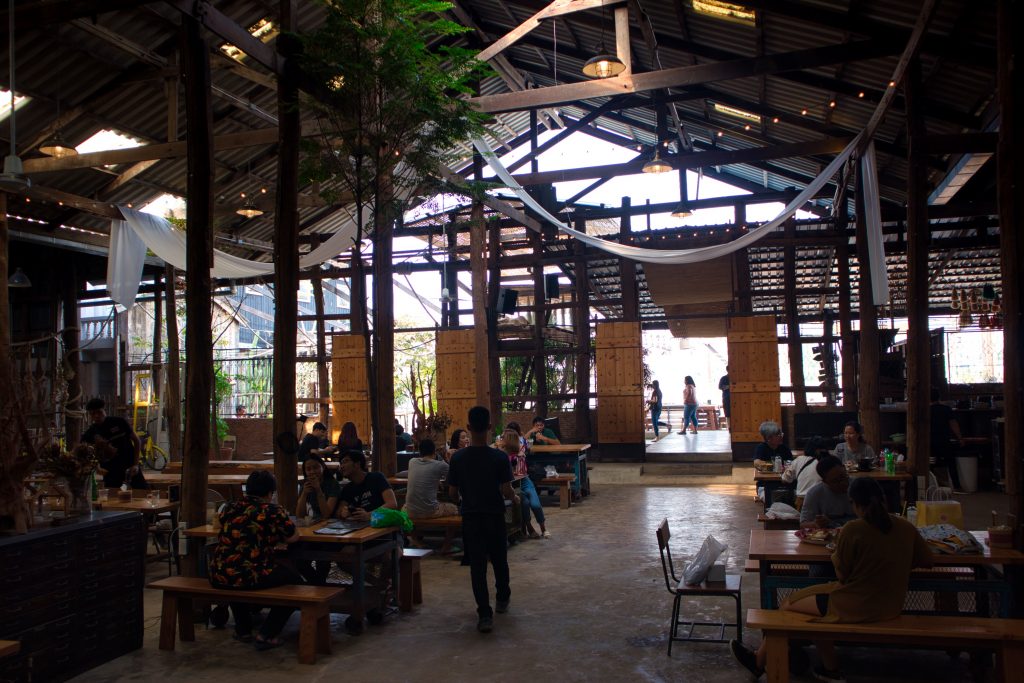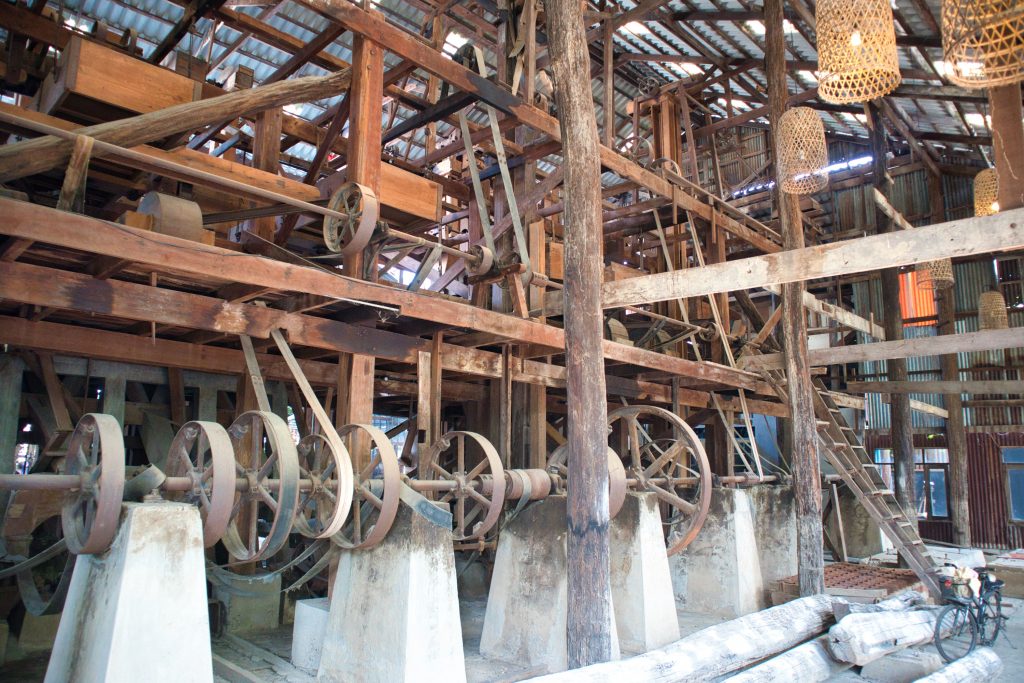 Koh Kret is not only one village. It consists of several group of houses and the part where you arrive seems like the main one. However, you can rent a bicycle, or hop on a motorbike taxi and get to the other side, which is a little bit less touristy, more local and also offers a few attractions, mostly connected with food.
One of them is kraft beer, which you can buy at Kraft beer in general is illegal in Thailand thanks to the lobby of Chang and Singha, but some places manage to produce their own drinks. Chit Beer is one of them.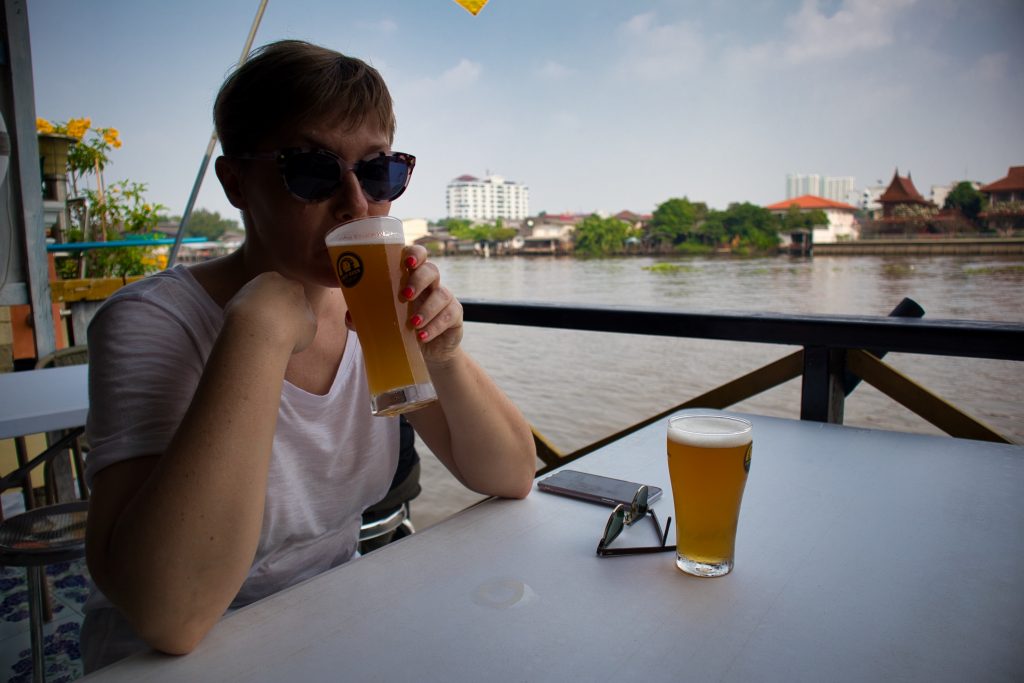 Here you have a huge selection of beer and you can enjoy it while looking at the beautiful river. The place also offer snacks and western style food, like chicken wings.
A few feet away there are some restaurants, which sell local, Thai food. Some of them are pretty expensive, but not too much. You can still afford a 100 Baht pad thai, right?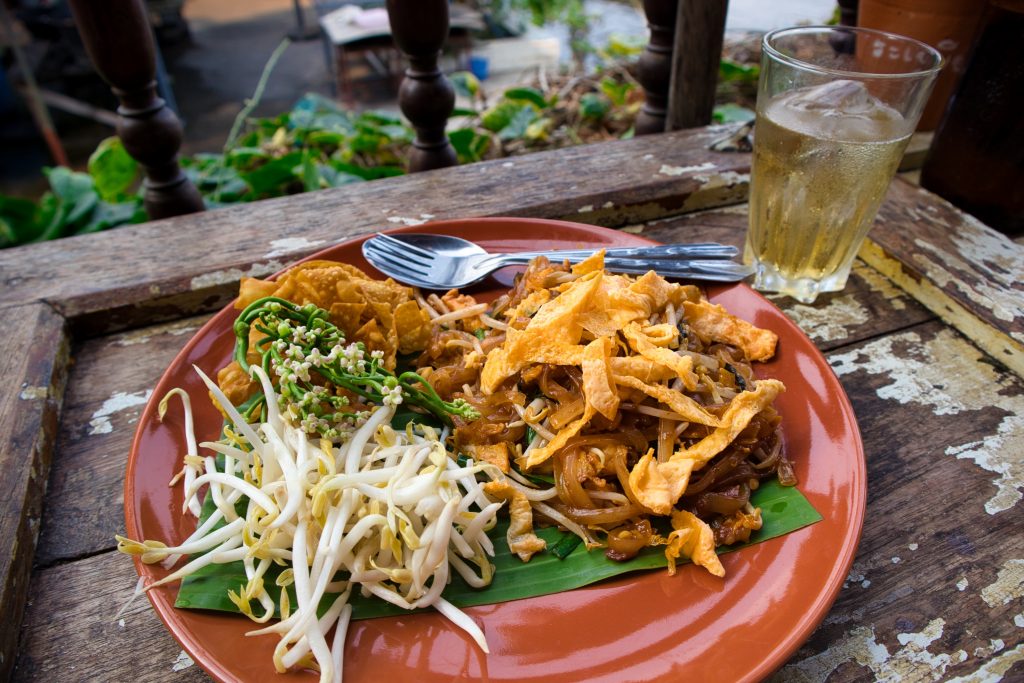 We chose a restaurant set in a wooden Thai-style house, with a balcony overlooking the river. The food was really good and the views really added to the experience.
The walk back turned out to be quite short. It was funny how long it had seemed when we had taken the motorbike! The path was quiet, surrounded by green palm trees and made me regret that I couldn't stay here for longer.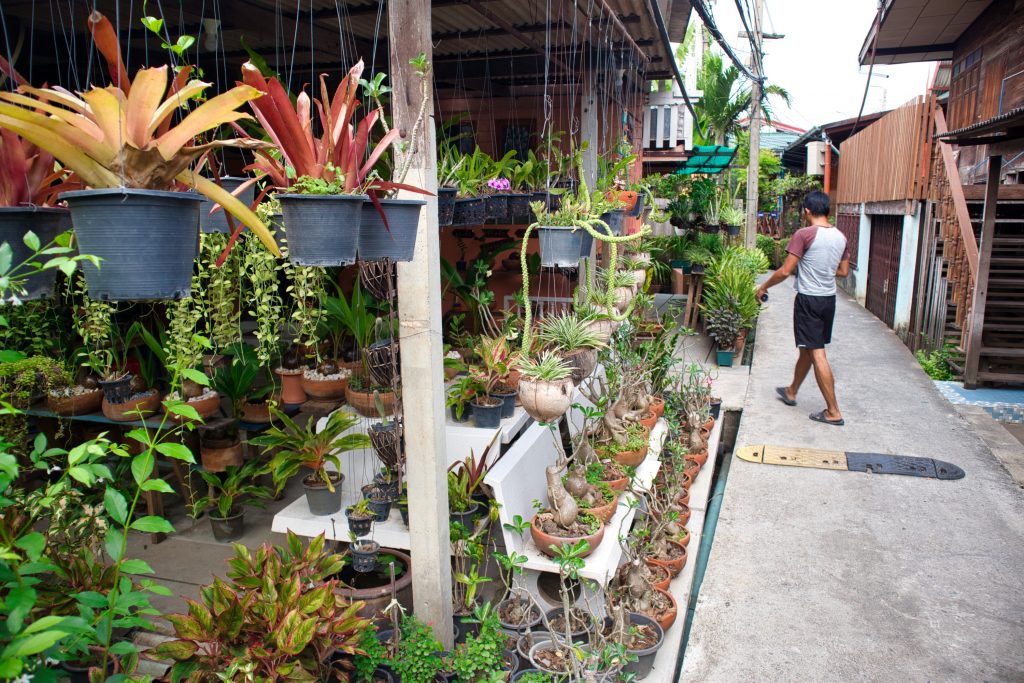 The way back turned was a little trickier. We got off at the first pier and decided to take a mini van that just road by. I asked the driver in Thai where he was going and it seemed that he would take us to the next pier, from where we were going to take a boat to the city. The thing was, we were very tired and fell asleep. I woke up somewhere a bit outside of Bangkok, on a motorway and quickly checked the map. Yes, we were far away from the pier. I asked the driver to stop and we got off. It's good that transport in Thailand is quite well organised and getting a Grab taxi wasn't that difficult. Although, we had to wait 30 minutes.
We came back to the hotel at night, completely exhausted, but happy that we managed to get to Koh Kret and spend a beautiful day there.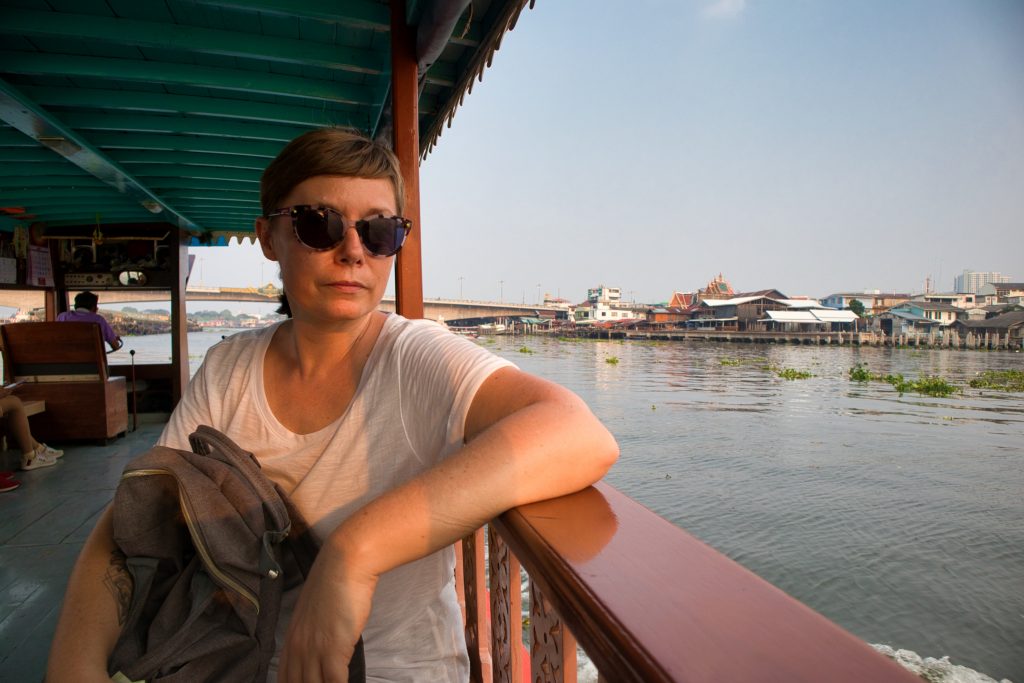 Koh Kret – Practical Information
Would you like to go to Koh Kret, too? Great! Here is everything you need to know!
How to get there?
There are a couple of ways you can do it. Some are easier and some are much harder. Choose one that most suitable to you.
Option 1 – Hard, long but cheap
I did that and it was an adventure! First, I took a boat from Rachanwongse pier to Nonthaburi pier for 15 Baht. Then, I walked straight from the boat through the main street. I took a bus number 32 from the first bus stop, on the right hand side. This cost me 8 Baht. I rode until the very end. When I got off, I went to the pier. Here I was approached by boat drivers willing to take me to Koh Kret for 50 Baht. I ignored them and went through the market and turned left to the pier. There I took a boat for 10 Baht.
This trip took me around 3 hours and it was very hard due to the temperatures, but also finding the right transport. If you don't speak Thai, it can be a little difficult (but not impossible!).
Option 2 – A bit easier and still cheap
You can combine different options. For example, you can still take a boat to Nonthaburi, but there you can hire a boat. The drivers wait at the pier. They will take you there, wait for you and bring you back for 800 Baht. The driver told me that he would wait for me for 2 hours, which I think wouldn't be enough to explore the island.
You can also get to the last pier and take a boat for 50 Baht, not for 10, which would save you some time. The pier I took the boat from was quite hard to find.
Option 3 – The easiest and most relaxing
Go on a tour. Yes, I know that sometimes they are annoying, but they can be really fun if you choose the right one! I recommend Take Me Tour's Koh Kret trips. They are small, adjusted and customised to your needs and you can make friends with the locals! Check out their tours on Koh Kret.
What to do on Koh Kret?
Visit the market on the weekend. I think it's interesting to try the Thai desserts.
Drink a coffee in one of the stylish coffee shops, like
Drink a kraft beer and enjoy the views of the bay.
Visit the pottery village.
Rent a bicycle and ride around the island.
How many days should you spend there?
This is up to you. I did it in one day, but you can stay there for longer. I think it would be lovely to spend a couple of days in a peaceful setting.
Accommodation on Koh Kret
I only found one place on Booking.com. I know that there are some homestays, but they are not online. If you would like to stay nearby, choose one of these:
Cast Away – the only place on Booking.com on Koh Kret. It looks lovely and has good reviews!
Villa Baron – the closest one to the island. To get there you will only need to take a boat to the other side.
Food on Koh Kret
There aren't that many restaurants. There are stalls by the main pier, where you can get some Thai food and some desserts. On the other side of the island, in the pottery village, there are a couple of restaurants. The food there is a bit more expensive.
Do you have any questions? Would you like to share your experiences or your point of view? Don't be shy! Leave a comment!