Łeba is full of restaurants and bars. You won't go hungry here. I have my favourite places to eat in Łeba and I always go there whenever I have a chance. Because my parents still live in this little town, I usually eat at home and I don't have that many opportunities to try out new places.
During my last visit I decided to go to a few restaurants, where I had never been before, and then eat my favourite food at the places I already knew. Below you will find some of my recommendations.
Before you start reading, I must worn you that I don't like fish. It's the most popular thing to eat in Łeba, but because I don't eat it, you won't find anything about it here.
Romantic dinner at Hotel Łeba
Let's start from something more expensive and more extravagant. Hotel Łeba invited me and Chris for a romantic dinner. Oh, what a feast it was! It was great to start our adventure with food in Łeba from this place.
Our favourite dish was a traditional kashubian soup – dziadówka with a bacon chip – you have to try it if you're in the area!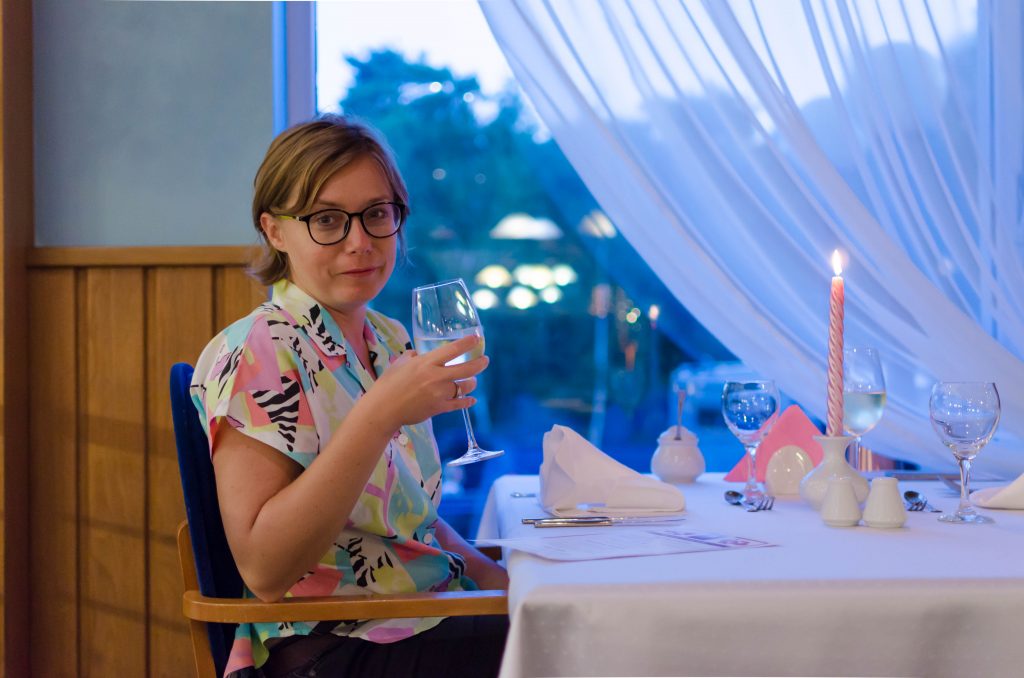 As our second dish we had goose breast in red cabbage and pork with wild mushroom sauce – yummy! But to me the most delicious was the dessert – honey and cinammon cheesecake.
We had some wine and a good conversation. Despite the fact that we spend so much time with each other, it's hard to organise time for romantic dinners. The dinner at Hotel Łeba was a great opportunity to be together, without the internet and computers and any other distractions.
More information: Hotel Łeba
The best soup in town – Hotel Wodnik
Hotel Wodnik is situated near the beach, on Nadmorska Street, so you can come here after a long, relaxing day in the sun.
Decor of this restaurant is a little outdated, but the food makes up for that.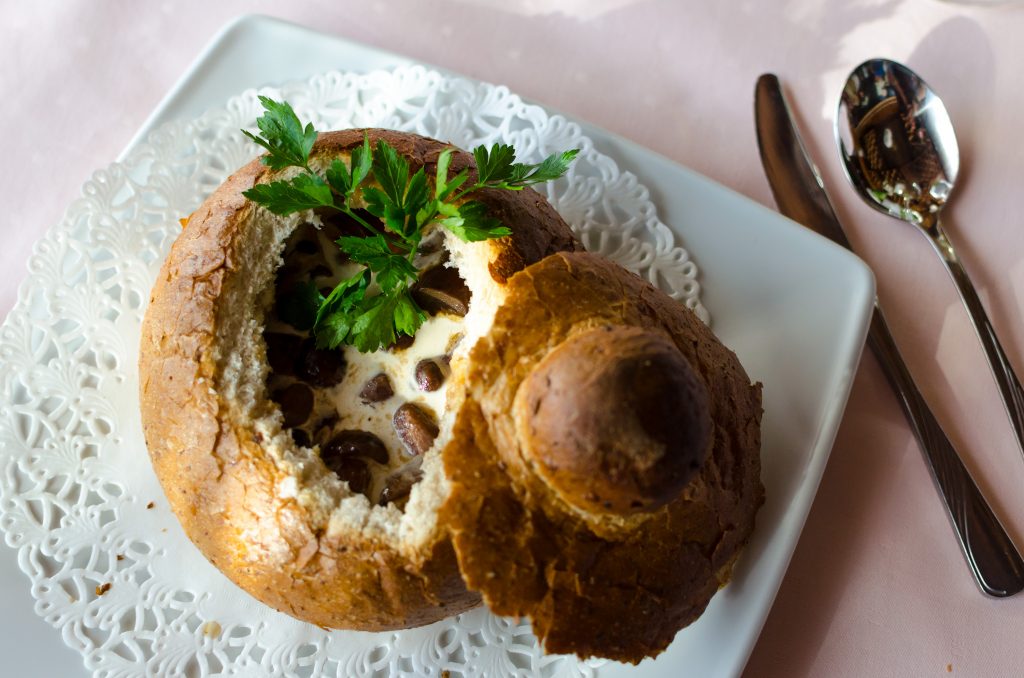 I think the wild mushroom soup in bread was the most delicious. It was probably the best soup I've had in Łeba. It smelled with forest and it was perfectly thick and creamy.
More inforamtion: Hotel Wodnik
Zamek w Nowęcinie – a stylish restaurant with a great atmosphere
Zamek w Nowęcinie (Castle in Nowęcin) is a very cozy, peaceful restaurant that serves amazing dishes. It is another perfect place for a romantic dinner in Łeba. I really didn't expect that the food here was going to be so nice. I am not a culinary blogger and I really don't know how to describe the richness of the food in Zamek w Nowęcinie. I think this photo says a lot.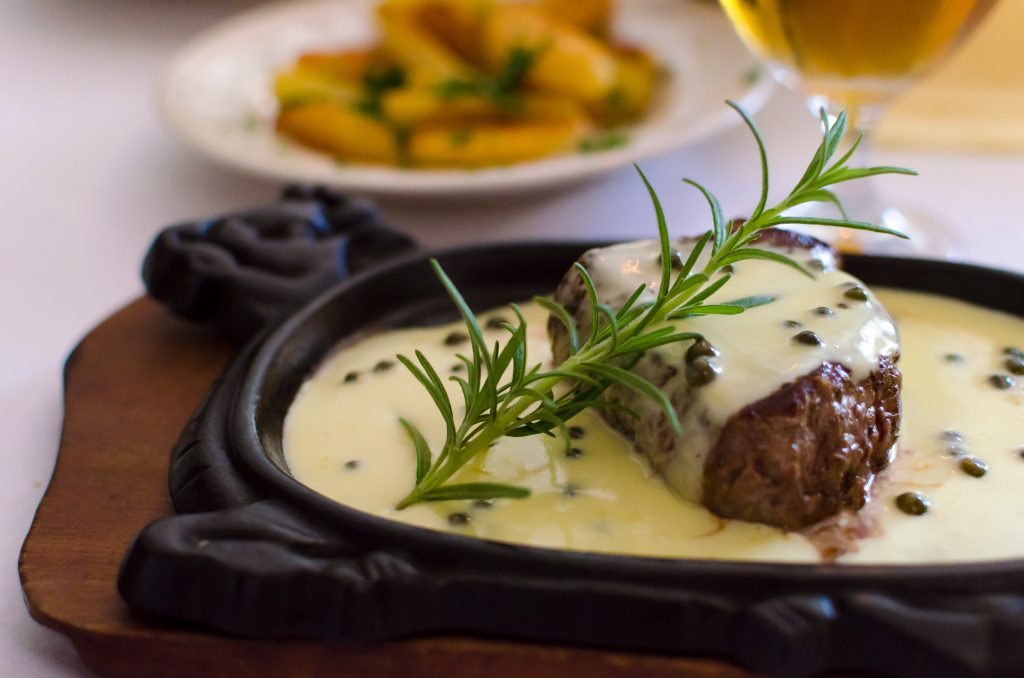 I really liked the design of the restaurant – it was full of antiques and I really felt at home there. Candles burn on the tables, relaxing music is played in the background and you can see a beautiful, green garden through the windows – what else do you need to be happy?
The owners of the restaurant are a lovely, hospitable couple, who will look after you and make sure that you will leave with a full tummy and in a good mood. This place is a great alternative to the food in Łeba, especially to all the fast food.
More information: Zamek w Nowęcinie
The best żurek in Pomerania
Żurek is a traditional, sour – rye soup. You will find it in every Polish restaurant and I guarantee that every time you eat it, it will taste differently. That's why it's important to know the best places to eat żurek. One of them is Pałac Poraj near Łeba.
It is another stylish place, which is famous for one thing – żurek. A few months ago it won an award for the best żurek in Pomerania region.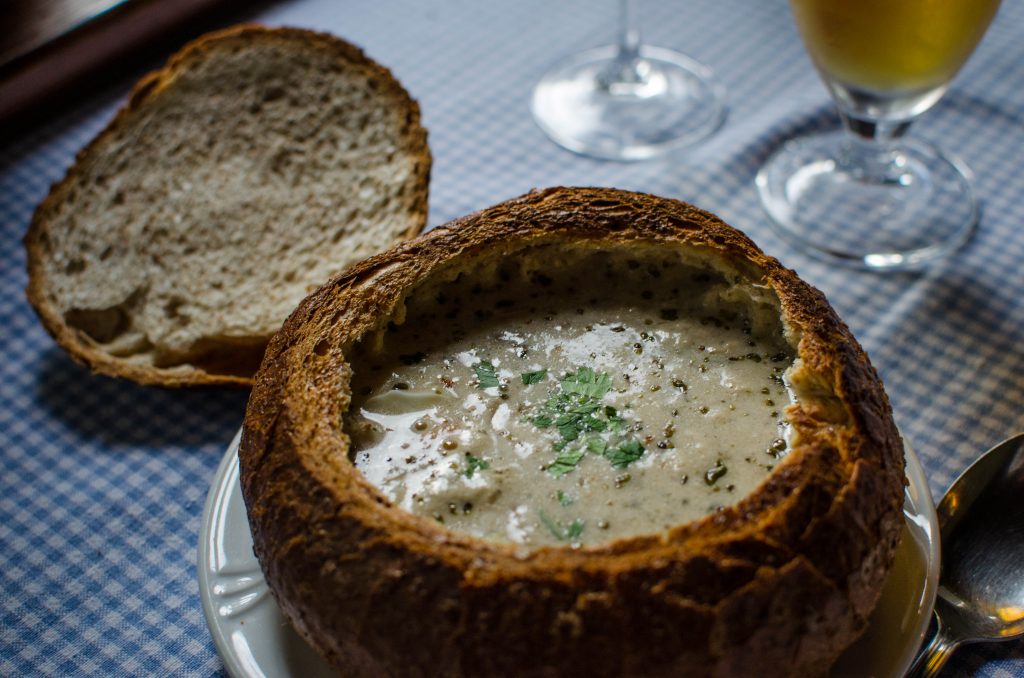 I loved the soup here. It was totally different than anything I've had before, more rich and aromatic. I am definitely going back to eat some more!
More information: Pałac Poraj
Just like home at Faleza
Guesthouse Faleza is located near the Beach B and on Tursytyczna Street. It is a perfect place to stop for a homey, affordable meal.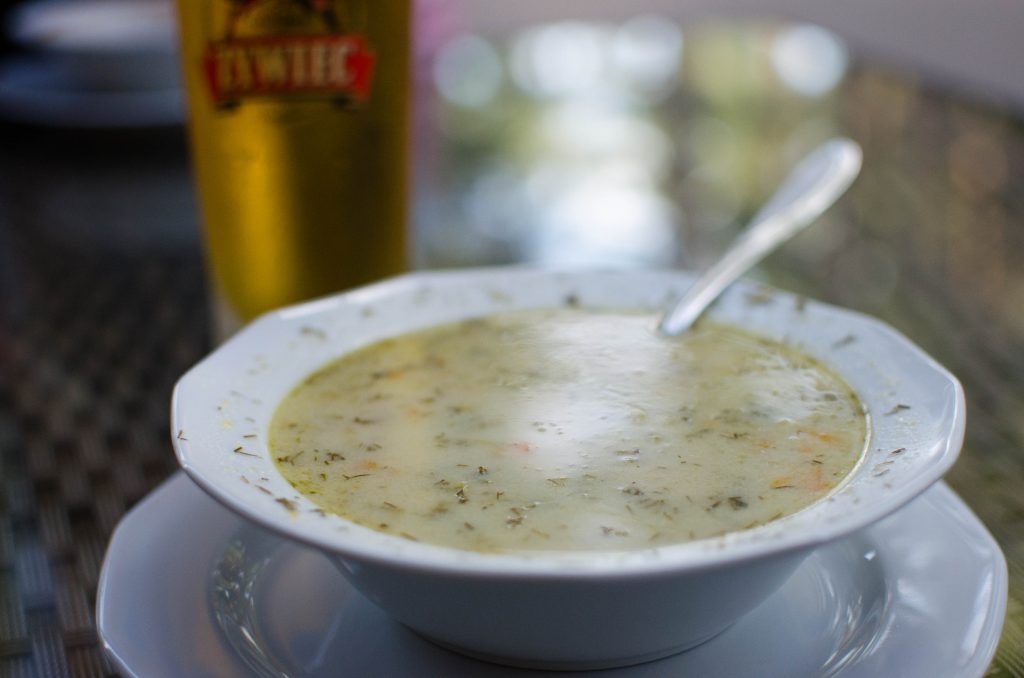 I like Faleza for its home made meals. Here you will find delicious and well prepared food. Try one of the soups. I really liked tomato soup and sour gherkin soup. One thing I don't like about this place it's the fact that no sun gets here. It's very shady and dark, but it's a good place to relax during those hot, Summer days.
More inforamtion: Dom Wypoczynkowy Faleza
Pierogi only in Koga
It is easy to find home made food in Łeba, but not all restaurants are good. This one is worth trying! Koga Restaurant is hidden from the hustle and bustle of the town in a charming little street.
Pierogis in Koga are delicious. If you fancy this traditional Polish dish, you must come here. The are fresh and melt in your mouth.
It is a very charming place and the owner is a very pleasant lady that will welcome you with a smile.
More information: Restauracja Koga
Try the best gofry in Łeba at Pod Strzechą
Gofry are Belgium waffles that are extremely popular in Poland. It might seem like it's nothing special, but if done right they taste like heaven.
Pod Strzechą is my favourite place. I come here to eat gofry and drink coffee, or for a pint of beer in the evening.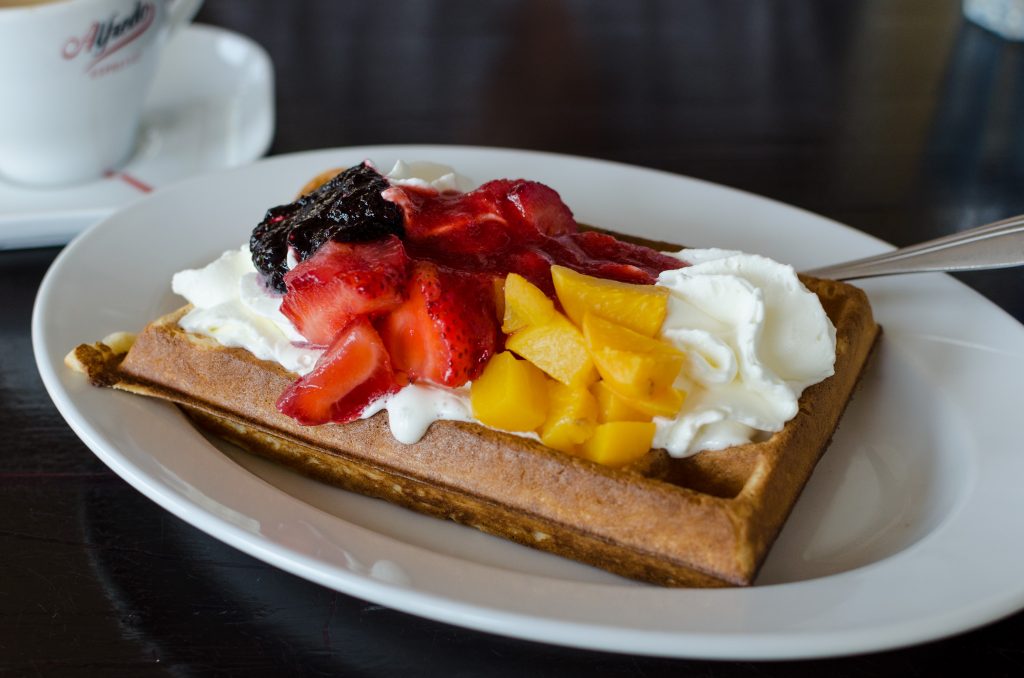 Gofry at Pod Strzechą melt in your mouth. Mr Rysiu – the charming owner of this place – assured me that he makes them himself and doesn't use any pre-prepared ingredients like many other places in Łeba. You just need to try them here!
You can also eat some nice food here for an affordable price.
More information: Pod Strzechą
Eat the best zapiekanka at Vega
Zapiekanka is a type of  Polish pizza – it's a baguette with cheese, mushrooms and other toppings. If not done properly, or if made from frozen, this Polish fast food might not taste good.
But zapiekanka at Vega in Łeba is so delicious you will fall in love with it and you'll come back again and again.
During the last couple of years it has become a sort of a legend in Łeba and customers queue all day and night to try it.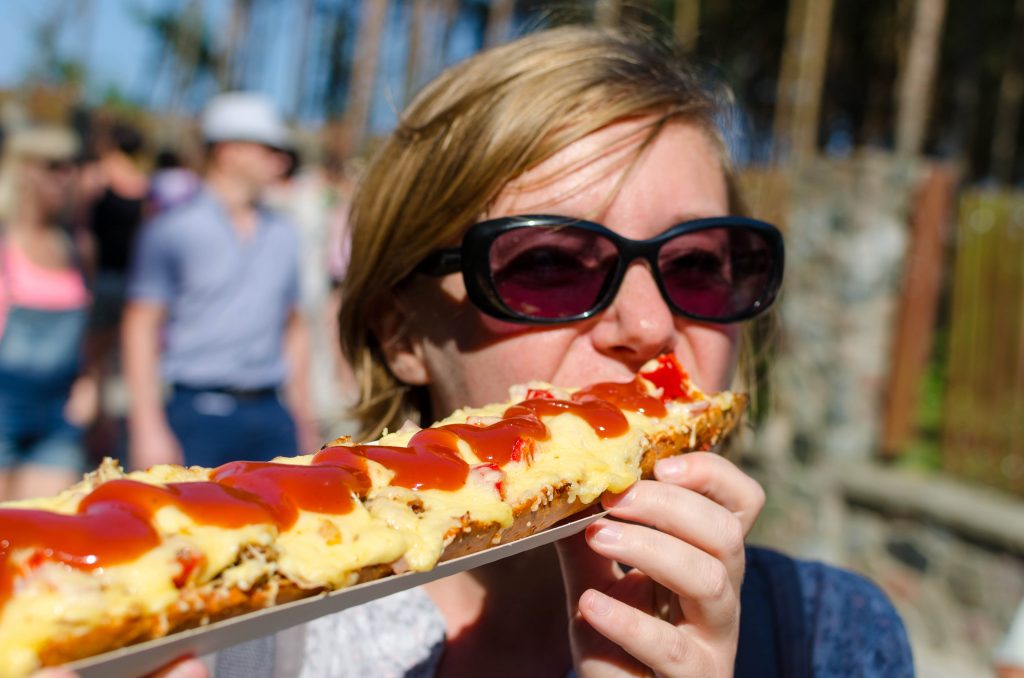 I recommend zapiekanka cheesy crust – it's amazing!
More information: Zapiekanki w Łebie
Hipster burgers at Czary & Mary
Czary & Mary was created by a few passionate, young people who dreamed about introducing good food to customers in Łeba.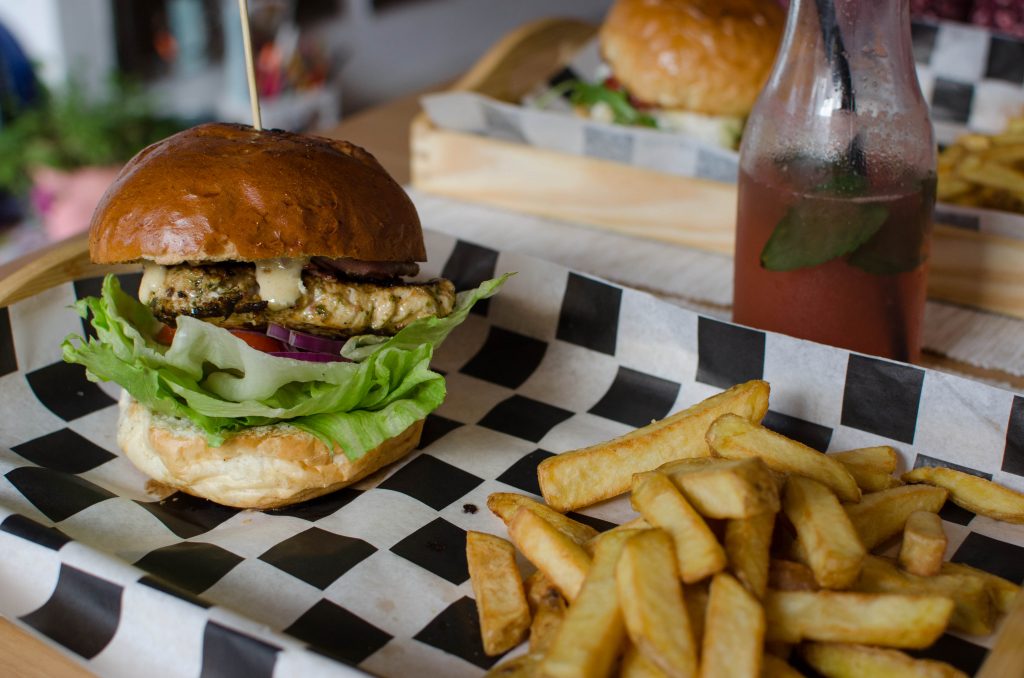 Burgers are delicious, made out of fresh ingredients – something that it's hard to find in Łeba. Czary & Mary will be open during the Winter and Autumn, so that's another reason to visit Łeba outside of the Summer season.
More information: Czary & Mary