The Mae Kampong village is in a peaceful setting. Surrounded by mountains and rice fields, the resort provides the perfect atmosphere for relaxation and a true Thai experience. It is located 50 minutes north of Chiang Mai, Thailand.
I visited Mae Kampong because I wanted to escape the city, see something different and meet my friends for a nice weekend away. We stayed there for a couple of days, enjoying the peaceful surroundings, observing the local life and eating some delicious food.
If you're in Chiang Mai and would like to spend a few days in a small, tranquil village, head over to Mae Kampong.
What is so special about Mae Kampong?
Mae Kampong is not only a beautifully located village, but it's a great idea for a trip outside of Chiang Mai. It is also, so called, a community project, a project with supports the local people. In the area there are plenty of coffee plantations, which is then sold in the village. The government additionally supports it by teaching people how to grow different fruits and vegetables and invests in the area so the people can sustain themselves.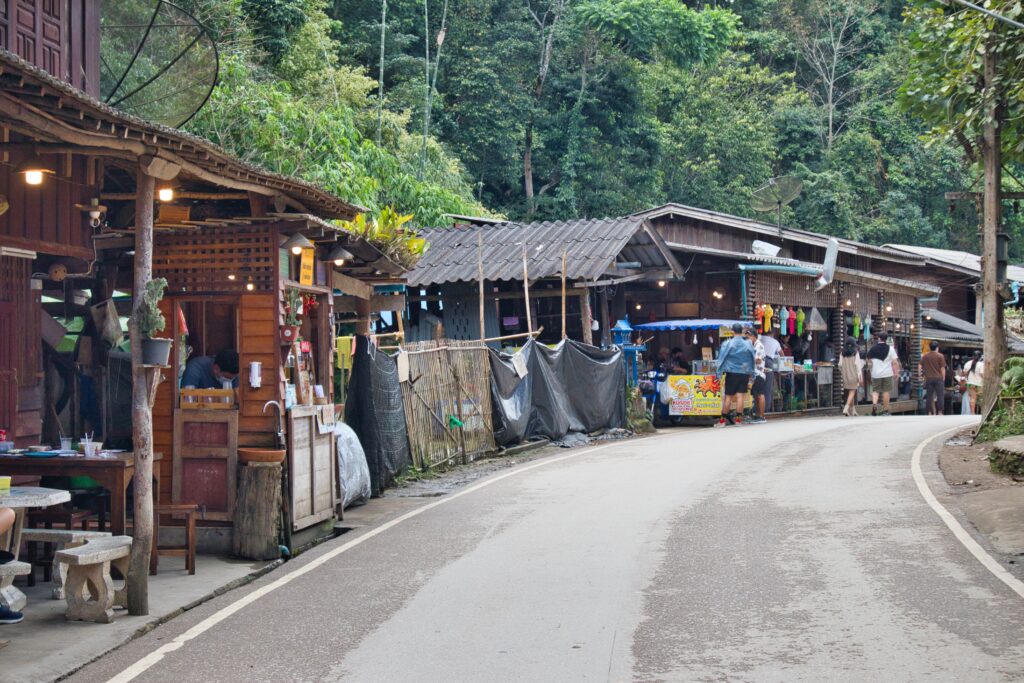 For us, tourists, realising that by coming here you help the village and its people is an additional benefit of spending a couple of days in Mae Kampong.
A short stay in Mae Kampong
I got to Mae Kampong by a scooter. It took around an hour to get there.
I had booked a bunglow earlier, when I was still in Europe. I chose to stay in a very local place, owned by a local family. For 20 Euros per night I got a bungalow with 2 bedrooms and a bathroom, and a big terrace.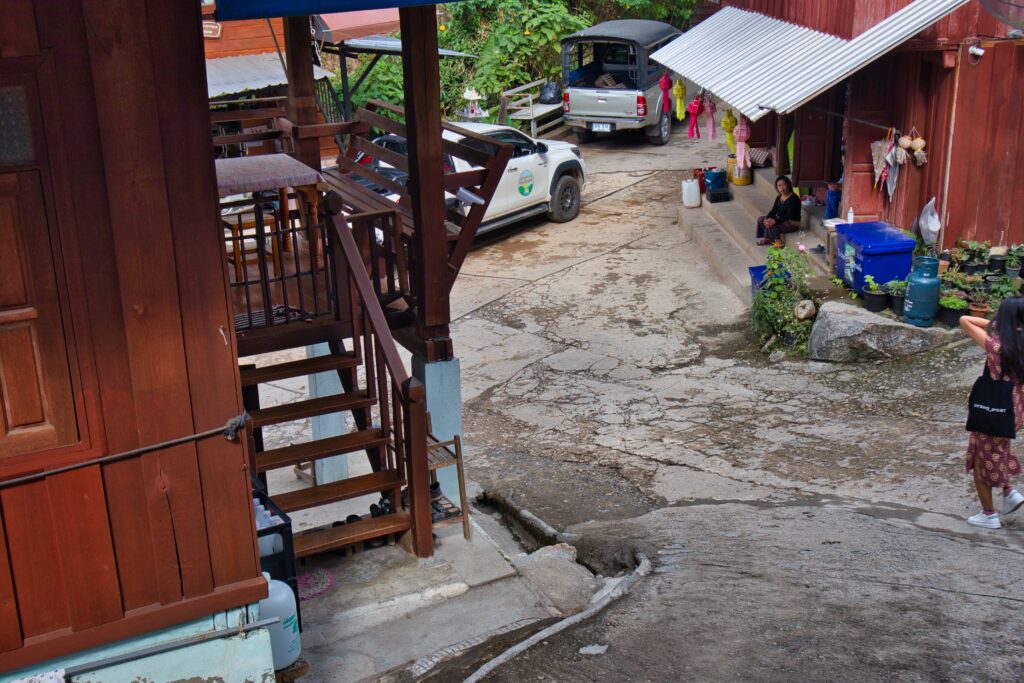 The building was built in Thai style – mostly with teak wood. It was modest, but perfect for an adventure like this one.
The owners didn't speak English at all. The older man who overlooks the area only smiled to us and gave us some food to try. The other members of the family didn't speak English either, so Thai skills were quite useful. Don't worry if you don't speak Thai though. You can always show what you want and they are very willing to help out. The family also has a friend, who speaks English and they can always call him when he's needed.
After my arrival, I took some rest and then ventured out to the village centre. I went for a short walk and to check if they had any food. Mae Kampong has quite a few little restaurants, which sell local dishes. You can find khao soi everywhere, too. It's a curry soup with dried noodles. Everything is served with some sour cabbage and chilli. It's really good and fulfilling.
Coffee is amazing in Mae Kampong. The local people grow it on the hills and coffee is mainly sold here. It's not exported anywhere. You can enjoy a fresh brew in nearly every place that sells food and drinks.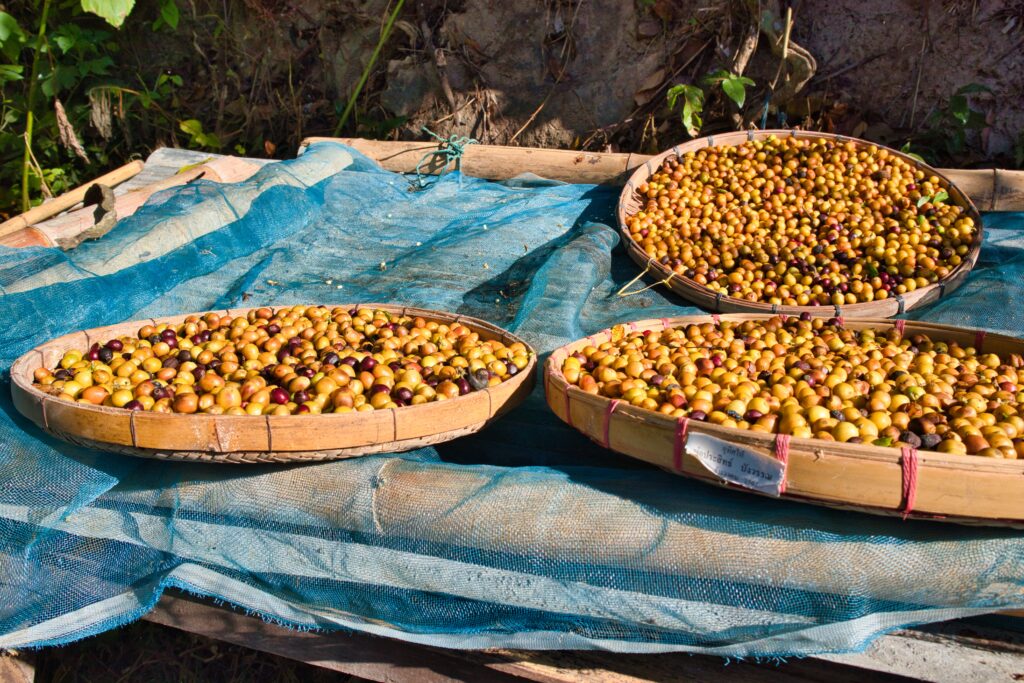 The most famous place here is Lung Pud Pa Peang – a local restaurant. It's impossible to miss it as everyone takes photos outside of it.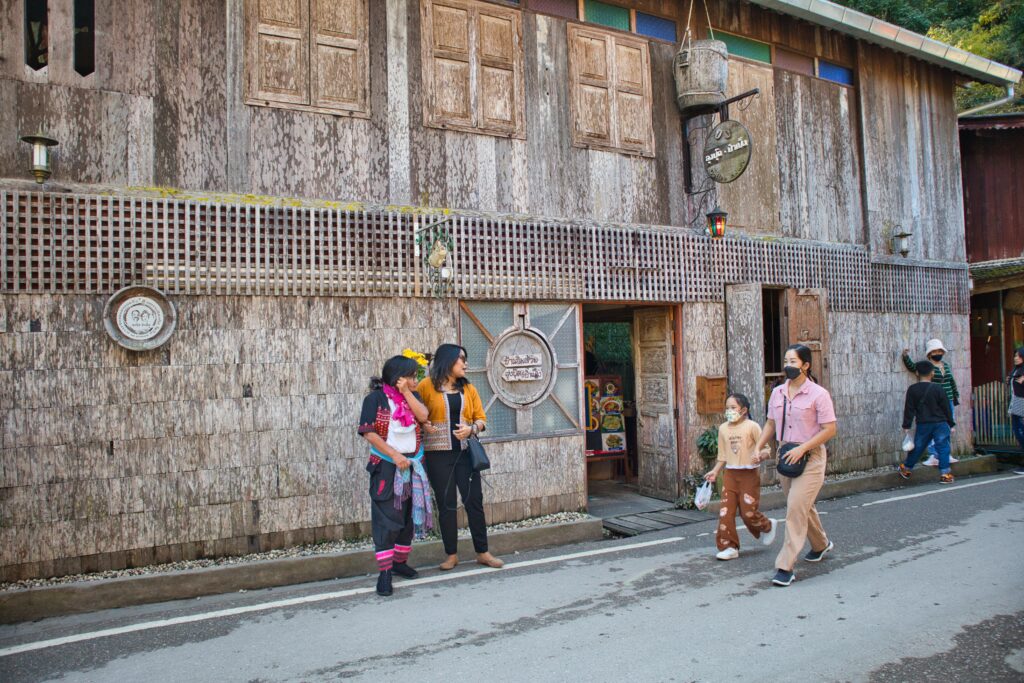 After having some khao soi, I wandered around and stumbled upon Wat Mae Kampong – a small temple built in the middle of a stream. It looks really amazing and I was very keen to check it out, so I went downstairs and took some photos.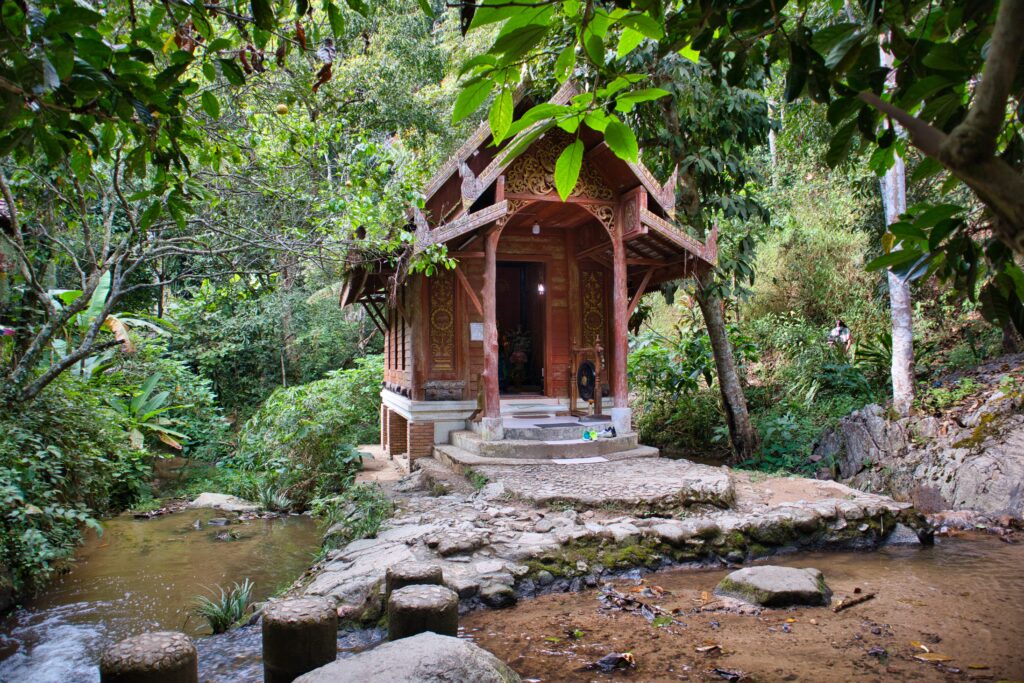 The village is not so big and walking around doesn't take so long. It's a place, where you can walk around and enjoy the peace and quiet.
That day I had another coffee and then ate moo toom – a Thai hot pot served in a clay dish, with fire burning underneath. The cost of it was 100-200 Bhat, depending on what you wanted and how big the pot was.
On the next day my friends joined me and Chris. We took our scooters and zoomed around. Outside of Mae Kampong you won't find many tourists – neither Thai nor westerners. Despite many guesthouses, there are not that many people around and the area is really quiet.
One thing I recommend to do is stopping in little cafes and restaurants, which always look really pretty and serve great food and drinks.
A lot of people drive here to see The Giant – a huge tree with a coffee shop. You need to cross a hanging bridge to get to the tree and then you are welcome to sip a coffee while sitting on a deck built around the bark.
After a day of driving around we decided to have mookata – another Thai hot pot. Mookata is made on a special metal plate, which is placed on a gas stove. Water is poured on top of it and then you can add whatever you want – meat, veggies, herbs. All guests sit around it and help themselves to whatever they want.
On our last day we drove to Kew Fin – a well-known viewpoint. It's very popular among tourists to see a sunrise. For 40 Baht you can hire a taxi to get you there.
I was a bit too lazy for that, so we went there after breakfast.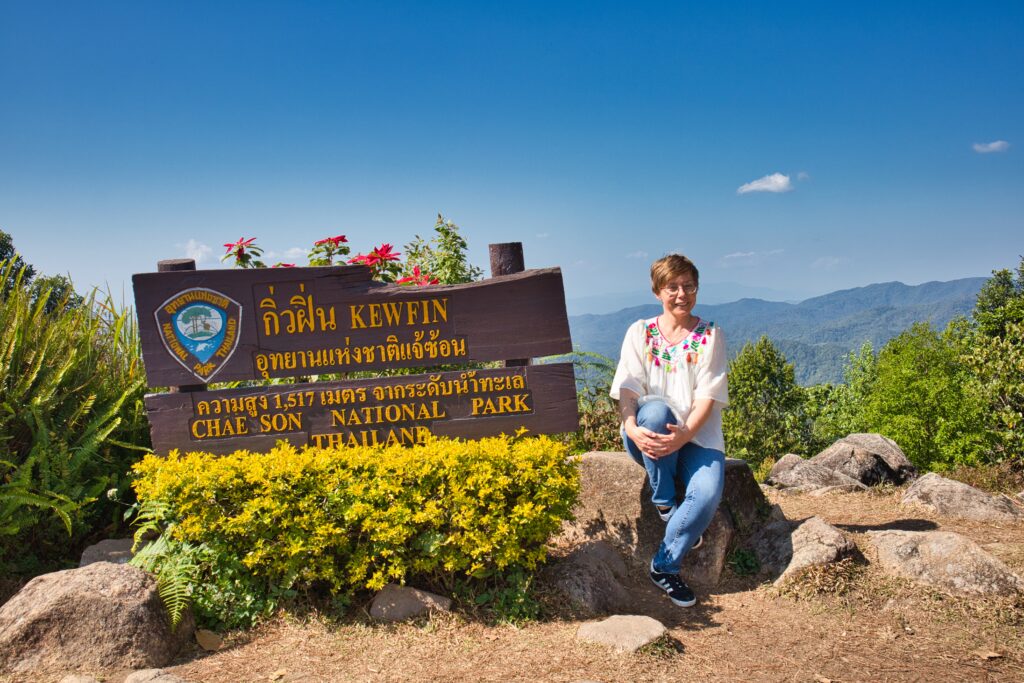 The drive was tricky and quite difficult. The hills were very steep and it took a lot of strength to hold the brakes. But, at the end of the day, it was worth it. The views were incredible!
Mae Kampong – Practical information
Are you going to Mae Kampong? Here's what you need to know.
How to get there?
The village is located 50km from Chiang Mai. You can get there by a taxi or scooter. There are also some songteaws from Chiang Mai.
You can book your transport on 12GoAsia, which I recommend for any transportation in Asia.
You can also hire a guide. Try out Take Me Tour – they connect tourists with local guides. You get a private tour, which you can customise however you want.
Accommodation
There are many options of accommodation in the area. You can find it on Booking.com.
There are a couple of them on Agoda, too. A lot of guesthouses are on Facebook and take bookings using messenger, which requires you to know some Thai.
I recommend Chiyampol Homestay, where I stayed. It was really great. It's really not luxurious, but it's a good experience, if you'd like to stay somewhere local.
Where to eat and drink?
The main village serves food and drinks until 9pm.
Outside of Mae Kampong there are quite a few good places to eat and drink.
I recommend:
Khao soi in one of the restaurants in the centre
Coffee in Kampong Coffee
Bua Loi – a Thai desert. You can find it on the main street, at a open-air stall
Moo toom – worth eating in a restaurant opposite the bua loi place.
What else to see and do in the area?
Mae Kampong waterfall
Teen Tok Royal Project
Flight of the Gibbon
Mae Kampong is a perfect place to relax and enjoy Thai culture. It's really worth leaving Chiang Mai behind for a bit and go somewhere totally new. I hope you'll find it as precious and lovely as I did.