If you're tired of the city, of pollution and the heat, doing a trip outside of Chiang Mai is a perfect solution to get away from it all. Traveling in the north of Thailand is easy, affordable and it's an amazing experience. In just 10 minutes you can be at a lake, or in a peaceful village where life slows down. If you have more time, go further and explore something new. Mae Ngat Dam is only an hour drive from Chiang Mai, but it seems like it's a completely different world. It's peaceful, tranquil and you can spend a whole weekend sleeping in a floating bungalow. Sounds like a place for you? Let me tell you more about it!
I first went to Mae Ngat Dam a couple of years ago, straight after I started working in a school in Chiang Mai. It was a long weekend and I and some of my friends decided to spend a day on the water. It was a long weekend and the floating houses were all booked up, but we managed to get two rooms for all of us. It wasn't the most comfortable experience, but we didn't sleep much anyway. Instead, we stayed up playing games, swimming and enjoying ourselves. It's been one of the most memorable things I did during my time as a teacher in Thailand. That's why I was more than excited when I was offered a one day trip with Take Me Tour, a company that connects tourists with local, independent guides and creates amazing experiences for the visitors. I did a street food tour in Bangkok with them and I knew that they provide the best service, so I didn't think twice. I quickly agreed and made the appointment with Sakhon, a very experienced freelance guide.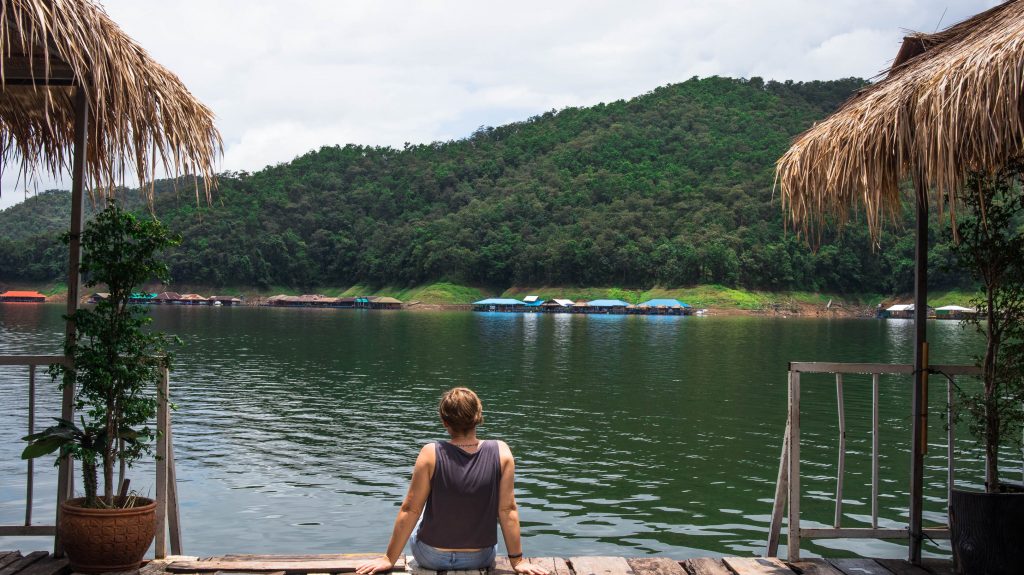 About Mae Ngat Dam
Mae Ngat Dam was created 30 years ago. It's hydroelectric earth fill with 2 hydroelectric generating units each with a capacity of 4.5 MW. It's 1,950 long and 59 meters high. However, that's not really the attraction. The main purpose of coming here is to chill and relax.
Local people are very entrepreneurial and after seeing the potential they installed floating bungalows on Mae Ngat Dam, where you can spend a day or a couple of days swimming, kayaking and resting. It's a wonderful place for a weekend and if you want to escape the city and are looking for something, where you can take a refreshing dip in cool water, then this place is for you!
The legend of Mae Ngat Dam
On our way to the Dam, my guide Sakhon asked me a very strange question. He enquired if I was wearing any red clothes. After I said no he sighed with relief. He then told me the legend of Mae Ngat Dam.
Whenever you build something in Thailand, you need to ask spirits of the place for permission. After building the dam the investors wanted to add the floating bungalows to attract visitors and make more money. Unfortunately, the spirits of the place were not so keen on that. The monk that came to ask for the permission informed the builders that it wasn't such a good idea. The main spirit of the dam demanded sacrifice. As it often happens, the investors were too greedy and built the bungalows on the water. Since then, every year for ten years someone died on Mean Ngat. The legend says that every single one of these unfortunate people wore something red.
Sakhon truly believed in the story and he had goosebumps when telling it to me. He also said that one of his friends died there, too and when he was found he had strange marks on his legs, like someone or something had wrapped around them.
If you want to spend a few days in one of the floating bungalows in Mae Ngat Dam, remember not to wear anything red!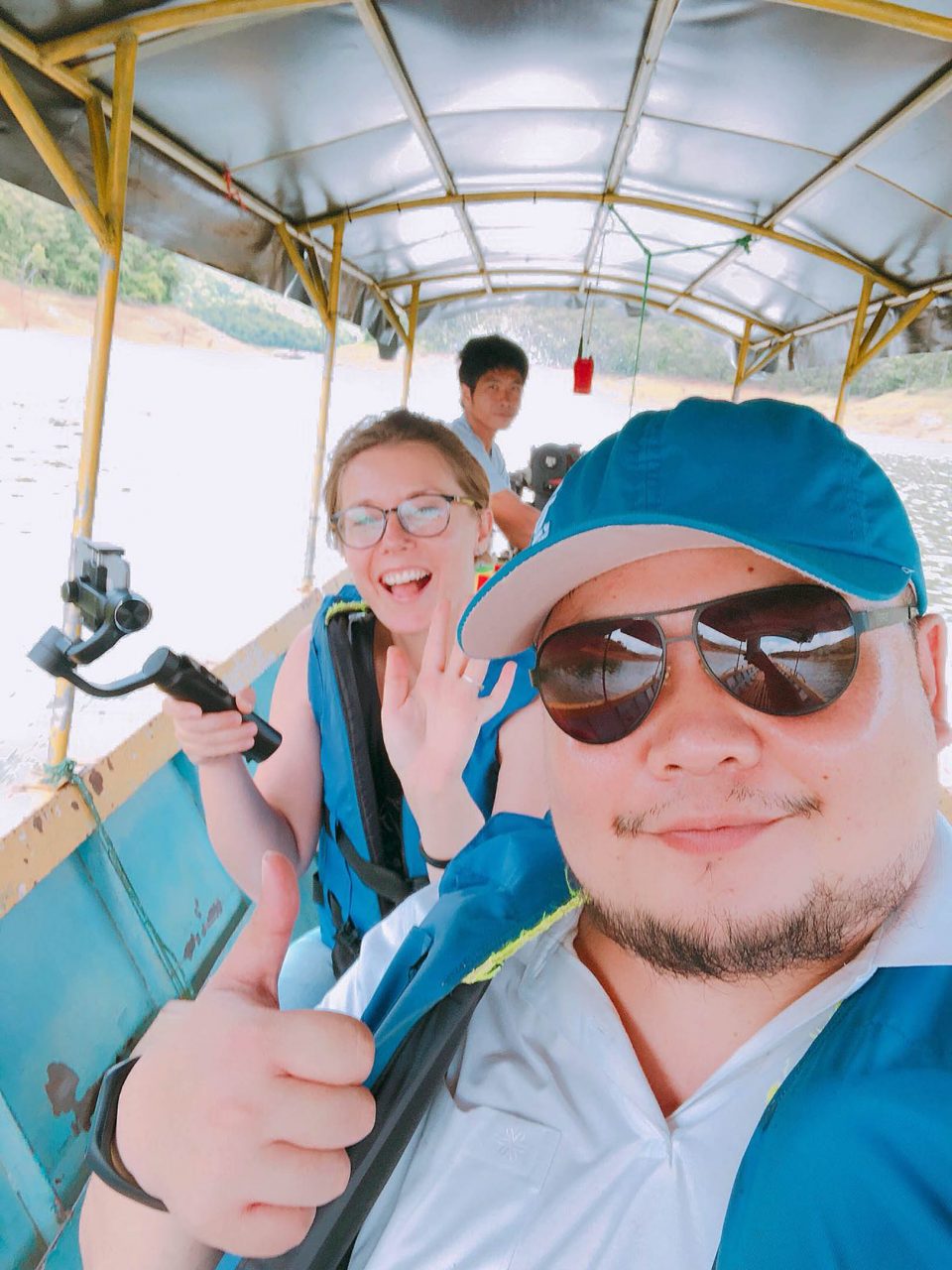 Visiting Mae Ngat Dam
On our way to Mae Ngat Dam we stopped at the Blue Temple, which was an hour drive from Chiang Mai. The dam is located 10 minutes from it. It's really not far and once you get there it feels like a completely different world.
It was pouring down with rain when we arrived. I wasn't really disappointed. It was another exciting trip outside of Chiang Mai and I was keen on exploring the dam further.
A friendly driver that waited in a bar took us in his songthaew to the boat stop. From there we took a long tail boat. We sailed for ten minutes. At first, the views were quite unimpressive, but the further we went, the more beautiful they became.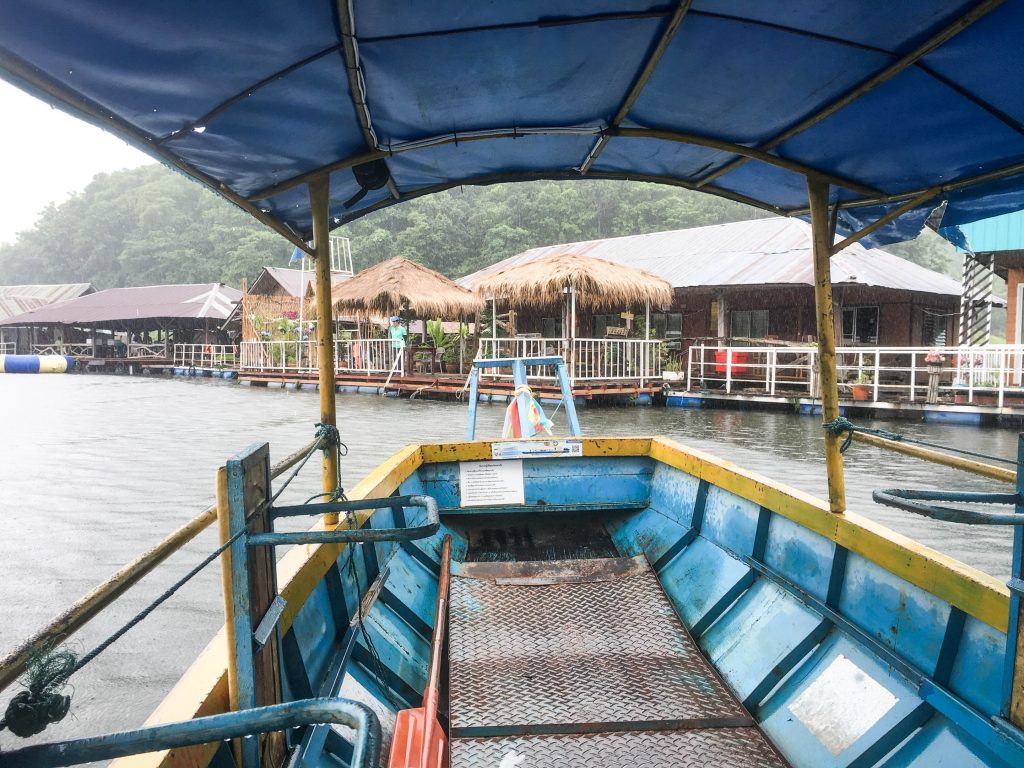 The first floating bungalows appeared after a couple of minutes. They were surrounded by hills and forests. Despite the pouring rain, it all looked tranquil and very pretty. When we finally arrived and the engine stopped working, there was just silence, interrupted by the sound of rain falling on the metal roofs of the bungalows.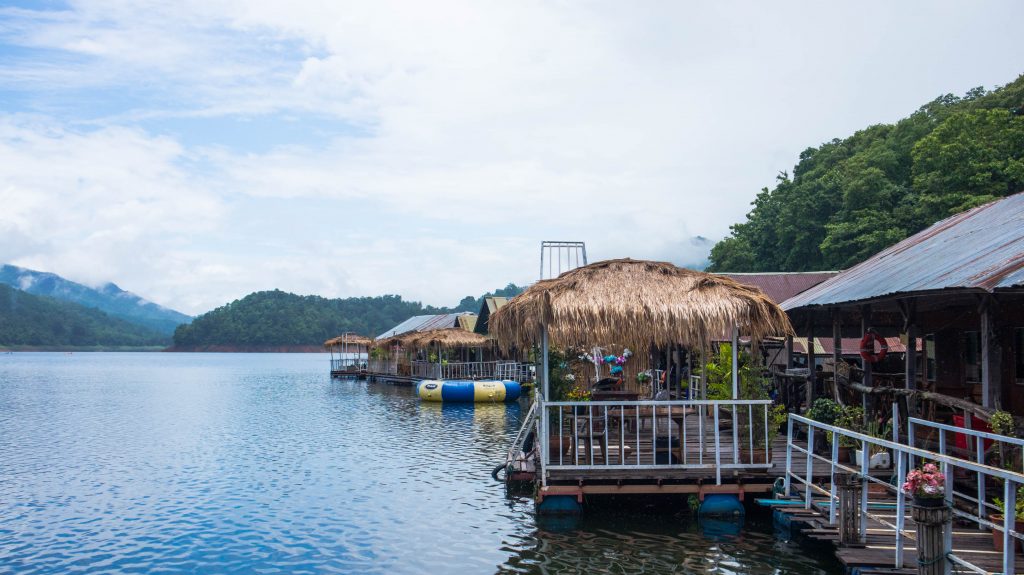 An older lady emerged from behind one of them and helped us to get off. She pointed to a small table on a wooden terrace, where we were allowed to stay as long as we wanted. However, as this was only a one day trip, Sakhon made an appointment with the boat driver, who was going to pick us up in 3 hours.
We were given a menu with Thai dishes and I let Sakhon choose our lunch. We had rice with pork and fried egg and a very nice soup with pieces of soya that looked like an egg – something that I used to eat all the time when I was a teacher in Chiang Mai.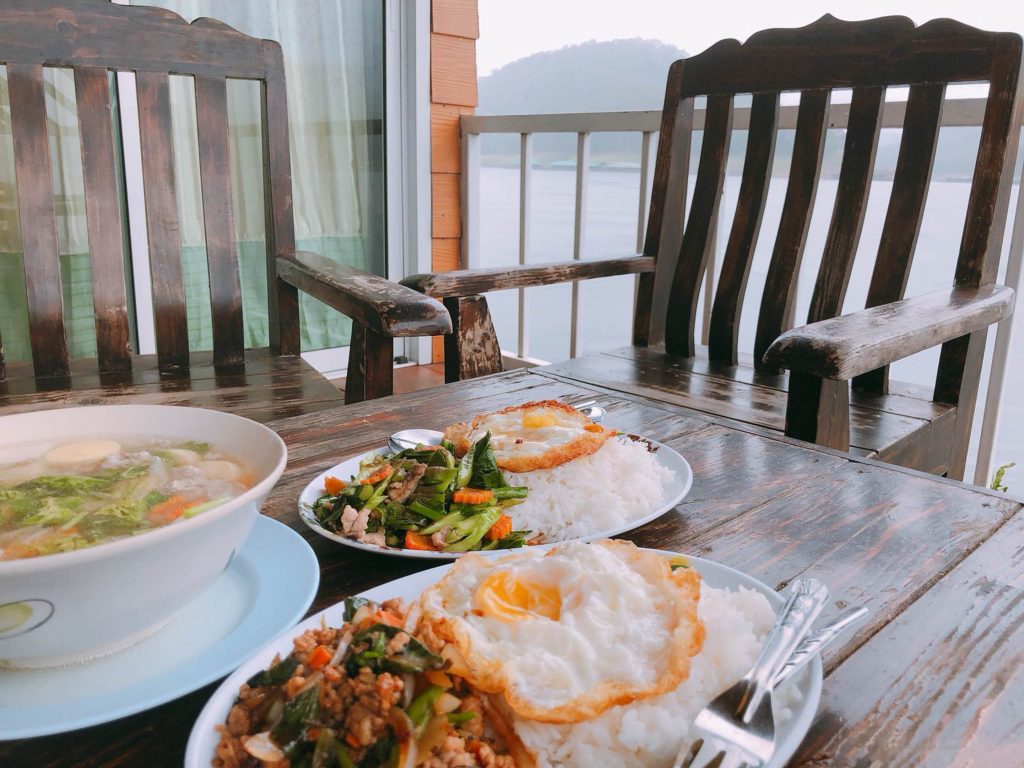 The rain was still falling, but suddenly, without any warning, the sky turned blue, the clouds disappeared and the weather was more than perfect. I regretted that I hadn't taken my swimsuit. With envy I watched some Thai boys swimming and kayaking. In the end, Sakhon and I just chilled a bit and had a nice chat over food.
Mae Ngat Dam – Useful Information
Mae Ngat Dam is not well known among tourists, therefore, there is not much practical information on the Internet. Here's a couple of tips that will make organizing a trip there easier.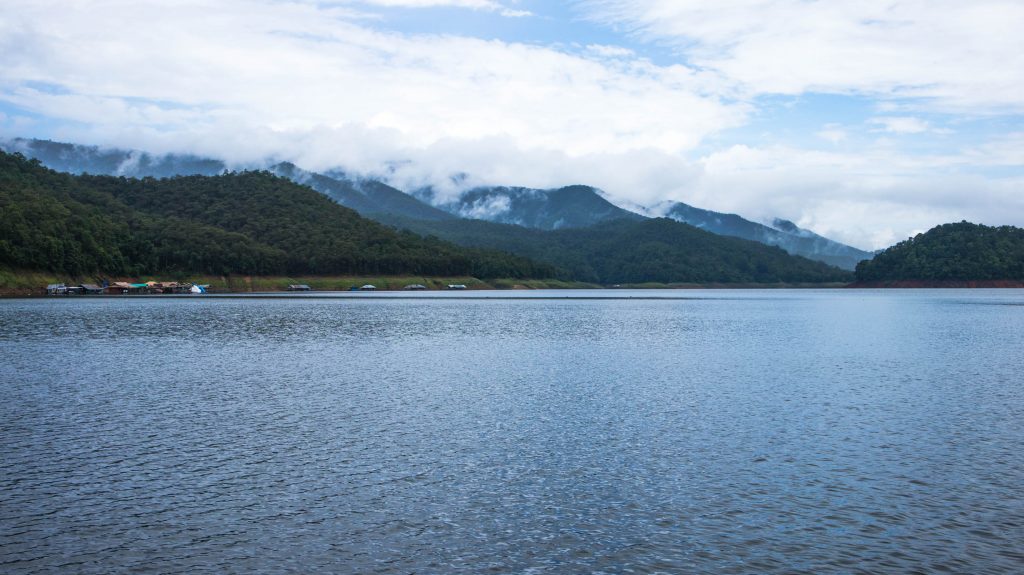 Getting there
Mae Ngat Dam is located an hour drive from Chiang Mai. You can easily get there by scooter or car. The road leading there is quite busy, so make sure that you are actually able to drive in Thailand. Be aware that police like to stand in and around Chiang Mai and they catch everyone that drives without a helmet or a driving license. If you need to know more, read my post about driving a scooter in Thailand. Remember about your travel insurance and make sure you have one that covers you in case of accidents on the road.
Direction on how to get to Mae Ngat Dam
If you don't like to drive, then I recommend hiring Sakhon, who will take you in his car for one day. On the way, you will visit the Blue Temple and then the dam.
If you're planning to go there for a weekend and don't want to drive, you can hire a songthaew. Just ask around in Chiang Mai and I am sure you can find someone who will take you there and then pick you up on the next day.
To get a boat to the floating bungalows, you need to stop after you pass the entrance gate. There you will find a couple of restaurants, which own the boats. The owner will take you in their songtaew to the small nearby pier.
Cost: Entrance – 20 Baht, long tail boat (return, spread among the number of people) – 600 Baht.
Bungalows
The floating bungalows are very simple, one room bamboo houses. The conditions are basic. There is usually one-two beds with a tiny bathroom. There is no hot water.
Every bungalow comes with a private terrace and a big table, where you can eat and relax.
Thai people love this place and quite often they spend whole weekends in Mae Ngat. Some of them are loud after drinking a couple of Sangsoms. They don't stay up too late, but it happens that they make a bit of noise at night.
You cannot rent the bungalows online. You need to call the owner. It's best to ask your Thai friend to do it for you. You can also show up and try to get something there. However, on the weekends and bank holidays it is normally really busy, so be prepared to turn back.
Cost: 2000 Baht per bungalow.
Numbers for the bungalows:
Nong Ann Floating House: (081) 961-3369
Sainatee Floating House: (081) 960-5357 or (086) 396-9453
Pun Piron Floating House: (081) 253-3996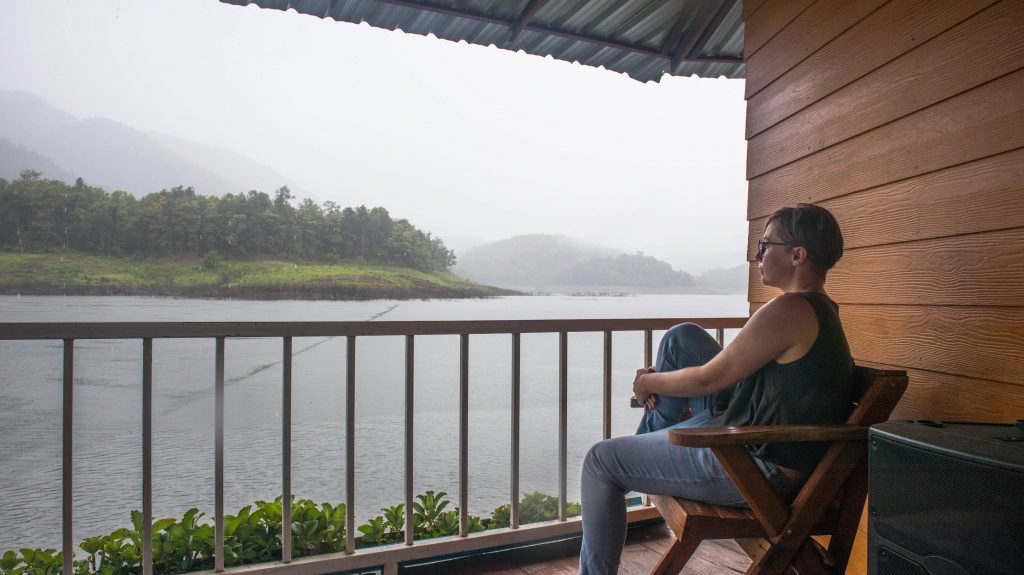 Food and drink
The bungalows are spread around the water in bundles. Each group has a restaurant that serves drinks and Thai food. There are whiskey and beer available. The prices are very reasonable.
You can order food and ask to deliver it straight to your terrace or enjoy it in the restaurant.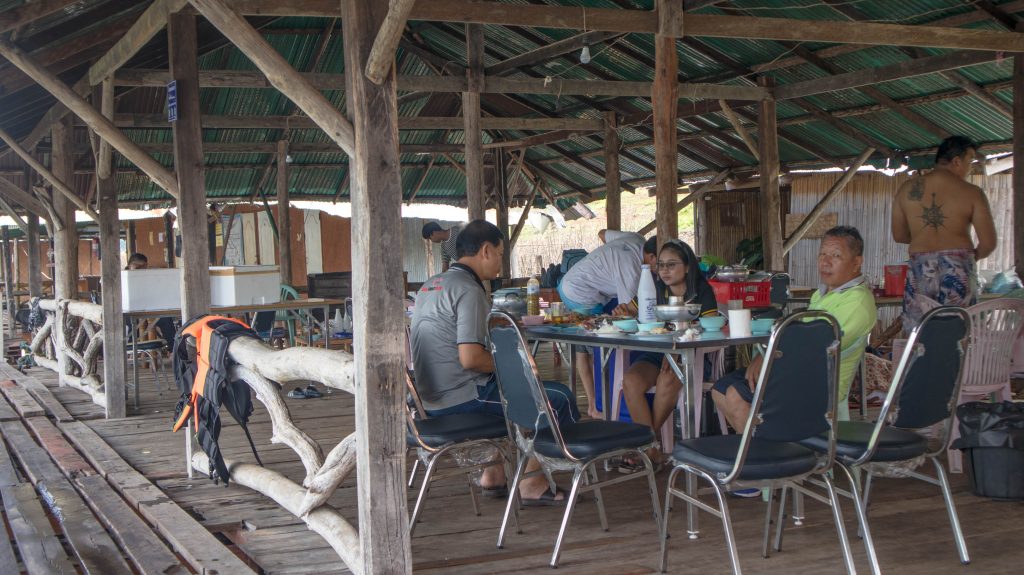 You can also take your own food with you. However, the food served in the restaurants is really good and I would recommend trying it at least once.
Food: 50 Baht per dish, 100 Baht for a beer.
Take with you:
Swimwear
Sun lotion
Insect repellent
Toilet paper or tissues
Soap, shampoo, toothpaste, and toothbrush