If Marrakech is on your list of places to visit, then you might want to prepare well for the trip. The Red City is full of wonders and you will have the best time if you know where to go and what to do. I spent a week there and prepared a full itinerary for a visit to Marrakech. Here's all the information you need to for a nice stay in this amazing city.
Morocco was never really on my list of places to visit, but as soon as I saw really cheap tickets, I decided to buy them and see what this country has to offer. I have seen a lot of pictures on Instagram from Marrakech. It seemed like it was a very lively and colourful city. As it was my first time on an African continent, I decided to properly prepare for the trip there. So, I made some research, drew a plan for a whole week and followed it. I think the below itinerary for Marrakech will be very useful for those that come to the Red City for the first time.
Marrakech is every traveler's dream. If you give it a chance, it will mesmerise you with its scents, sounds, food, and colours. You will be amazed by it, I guarantee you. Just take it easy and allow yourself to get used to the hawkers, the traffic and the noise. Once you settle in, you will love Marrakech. Here's what you need to know before you visit and your plan for a couple of days.
Have you read the practical information about Marrakesh? No? Read now and find out what you need to know before you go!
Your itinerary for 4 days in Marrakech
So, you have read all the prcatical information on Marrakesh and are ready to explore. Great! I spent a week, so I drew up a plan for you for a couple of days. Let me know in the comments what you think!
Day 1: Medina and Jamaa El-Fna Square
Let's take it easy! Your first day is all about getting used to the place. Spend your time walking around the Medina – the old city. Discover the stalls full of lanterns, colorful clothes, food, spices and everything else on the planet. Don't rush anywhere.
When you reach the Jamaa El-Fna Square, take your time and have a good look around. During the day it's full of street performances. There are monkeys, snakes, live Berber music, henna artists. You can also buy some spices and herbs, or sweets (although I think they are all slightly overpriced).
If you want to experience the Medina and the souks like a local, you can hire a guid that will show you the real side of it and will take you to the most unique places. Have a look at the tour with Withlocals!
Next, there is the Kotoubia Mosque – the most important and the oldest mosque in the country. It measures 77 meters. Next to it there are ruins of a mosque that stood there before.
Straight after the mosque you will find a beautiful park, where you can sit down and buy some mint tea from a local vendor.

In the evening wander off to the main square again. You can eat something at a street stall and then watch the square from above from one of the nearby restaurants.
Day 2: Sadiaan Tombs and the palaces
Do you like history and architecture? Marrakesh will be a paradise for you!
Early in the morning head to Bahiia Palace. It's one of the most beautiful places in Marrakech. It's also one of the most popular ones. That's why it's worth coming here very early. Bahiia Place was built in the 19th century and was intended to be the greatest palace of its time.
Opening times: 9:00 – 17:00
Entrance fee: 70 Dirham per person
Just around the corner you will find the Sadiaan Tombs, another amazing place. It is small and has only a couple of rooms, but it's worth to come here to see the Moroccan architecture at its finest.
Opening times: 9:00-17:00
Entrance fee: 70 Dirham per person
Walk to Badii Palace – ruins that come from the 16th century. It's a very interesting complex that is slowly being renovated. Some of its parts are under excavation and you can see how huge it used to be. It's a nice place to wander around. There are some hidden rooms and a viewpoint, too.
Opening times: 9:00 – 17:00
Entrance fee: 70 Dirham per person
Explore the area around these attractions. There are some nice streets and markets, where not many tourists go. I especially liked the Jardin Sidi Hmed El Kamel – a little square with cafes and street stalls.
Day 3: Venture out to the mountains
The trip to the Atlas Mountains was one of the best I have ever taken, hands down. It was so nice to get away from the city and just enjoy nature. The mountains are amazing and I really recommend taking a tour, or going on your own.
There are many tours on offer. You can go for a day, or a few days, you can climb the highest peak and you can go for a ride in a car. Whatever you decide to do, I'm sure it will be awesome.
Day 4: Mellah, Le Jardin Majorelle and Hammam
Mellah is a Jewish quarter and I decided to put it in the itinerary for Marrakech because this area of the city is still not that commercialised.
You can walk around here for hours. Some parts don't even have a pavement and the markets are set up on a dusty ground. I really enjoyed this area. It's a great place to visit if you want to see how the locals live.
Nearby there is a big Jewish cemetery and a synagogue, which are open to visitors.
If you're looking for spices and tea, go to the spices souk, which is in the same area. It's the best place for buying some things to take home.
From there you can either walk, or take a taxi, to Jardin de Majorelle — a garden and a museum now owned by the designer Ives Saint Laurent. Now, I would recommend it to those that like fashion and would like to have some nice pictures for Instagram. Otherwise, I don't know if it's such a good spot to visit.
Have a look at other gardens and parks in Marrakesh and explore the city on a bike. This guided tour in Marrakesh will take you to the most extraordinary and beautiful places.
Opening time: 8:00-17:30
Entrance fee: 70 Dirham per person

Finish your day off with a massage and spa treatment at a hammam. Hammam is a traditional bath house. There are a lot of them in the city. You can go to the one that locals go, or you try out something a little bit more fancy.
One of my students recommended me Rosa Bonheur, where I had a hammam treatment, including a body scrub, a mask and a sauna for 300 Dirham. It was really worth the price!
An extra day? Go to Essaouira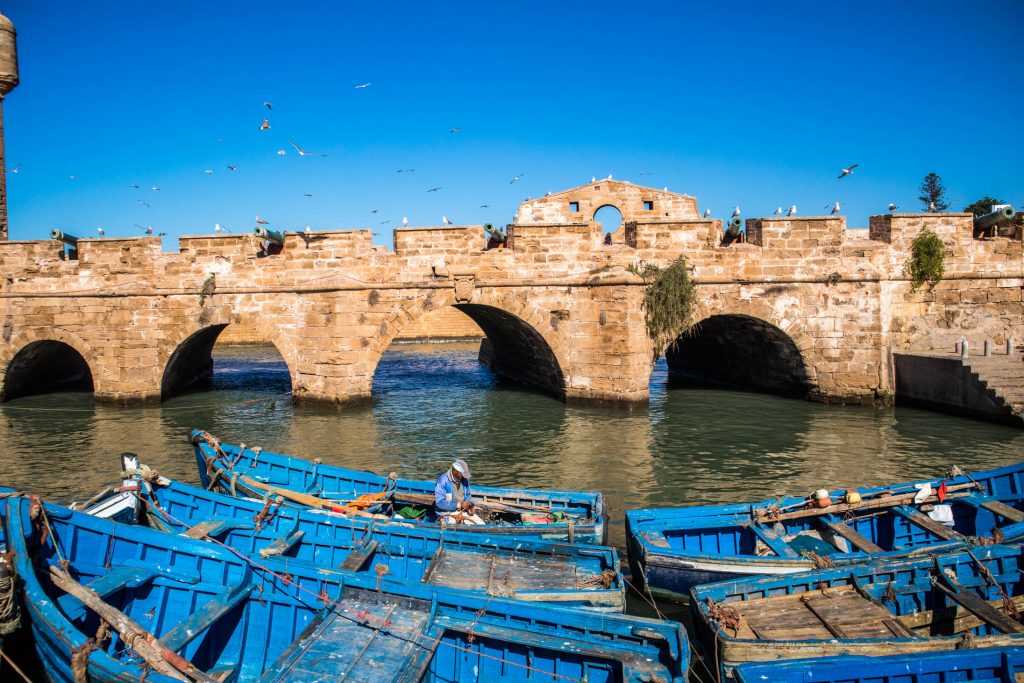 You can make a one day trip to Essaouira. It's a little coastal town, only 2-3 hours drive from Marrakech. There are a few attractions, including a very local port and some great seafood restaurants and bars.
You can leave Marrakech in the morning and come back in the evening.
Where to eat in Marrakech?
There are plenty of great places to eat in Marrakech. During my stay, I visited quite a few of them and tried a variety of dishes. I wish I had had more time for exploring Moroccan cuisine.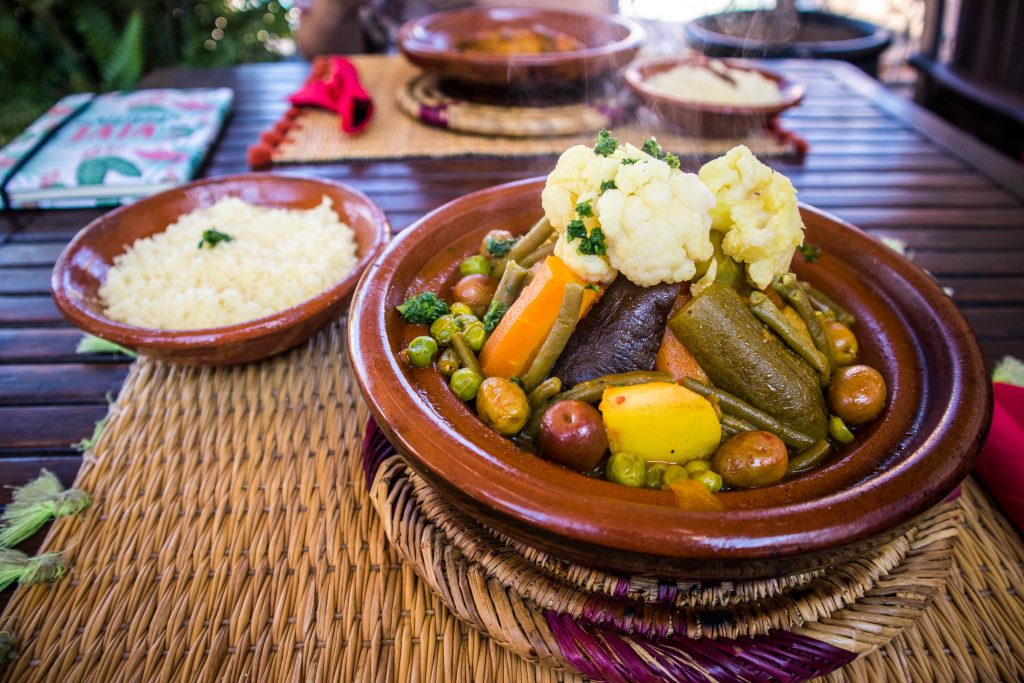 My favourite place to eat was Cafe Souk, where I used their special offer and ordered 3 dishes and a drink for 130 Dirham. Chicken tajine was to die for!
I also recommend Clock Cafe, not only for their delicious food, but also for evening entertainment.
Remember to order mint tea at the end of every meal. It's a great finish to your dining experience.
Where to stay in Marrakech?
Hotels, hostels and riads – you will find many accommodation options in Marrakech. I stayed in Riad Dar Nael, which was a lovely place and I highly recommend it. It has 2 terraces with a view over the city and the mountains, a small swimming pool, very friendly staff and, most of all, comfortable rooms. It's a great value for money!
That's it! That's the itinerary for 4 days in Marrakech. I hope you will enjoy your stay in the Red City. Don't forget to come back and let me know in the comments how it was and if you liked it!