Are you going to Marrakesh soon? Is this your first time? Would you like to prepare properly to have the best time of your life? This post will provide you with the basic, but the most useful, information about Marrakesh.
Marrakesh is one of those cities that you either love, or hate. It is very colourful, vibrant, lively, but it is also chaotic, dirty and can be at times annoying. If you're going to the Red City for the first time, then it's worth reading up on it. If you're prepared, you know what to avoid, how to move around and what to wear, your first moments in the city will be much better.
I have prepared this article especially for those that have not been to any country like Morocco and that's their first contact with Marrakesh. Here you will find everything that you need in order to have the best time in the city. Don't forget to check out my itinerary for 4 days in Marrakesh!
Everything you need to know before coming to Marrakesh
The weather, transportation, safety, clothing – all of those things are crucial when preparing for your first trip to Marrakesh. Below you will find the most useful information and advise. I hope this will help you to get a better idea of how to get ready for your holiday.
The weather in Marrakesh – The best time to come
Apparently, the best time to come to Marrakech is Spring (March-May), or Autumn (September to November). The Summer months are very, very hot and it's not really advisable to visit in July and August.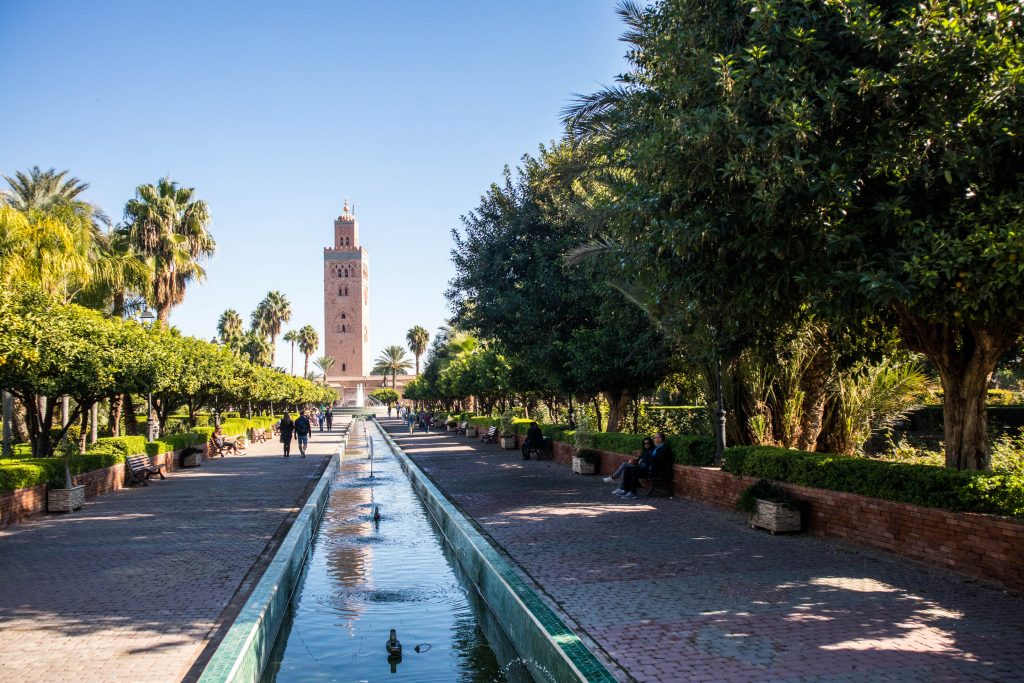 I went to Marrakech in November – December and was very happy with the weather. The days were warm and sunny, the temperature was about 25 degrees. The nights were quite cold, so if you're going in the Winter take some warmer clothes with you, especially for sleeping.
Orientation
The centre of Marrakesh consists of Medina – The Old Town – and the Jamaa El-Fna Square. The Old City is surrounded by ancient walls and is a labyrinth of small, narrow streets. It's easy to get lost here. I would strongly advise using your GPS and not a paper map, unless you're very good at navigating.
Transportation in Marrakesh
There are local buses in Marrakech, but tourists usually use other modes of transportation.
There are two types of taxis. Pettit taxis are allowed to take 3 people, big taxis – up to 5. The drivers have a bad reputation as they tend to rip people off. If you don't want to become yet another scam victim, make sure that you have some change with you. If you use big bills, your driver might tell you he doesn't have any change and will insist on driving off with the money.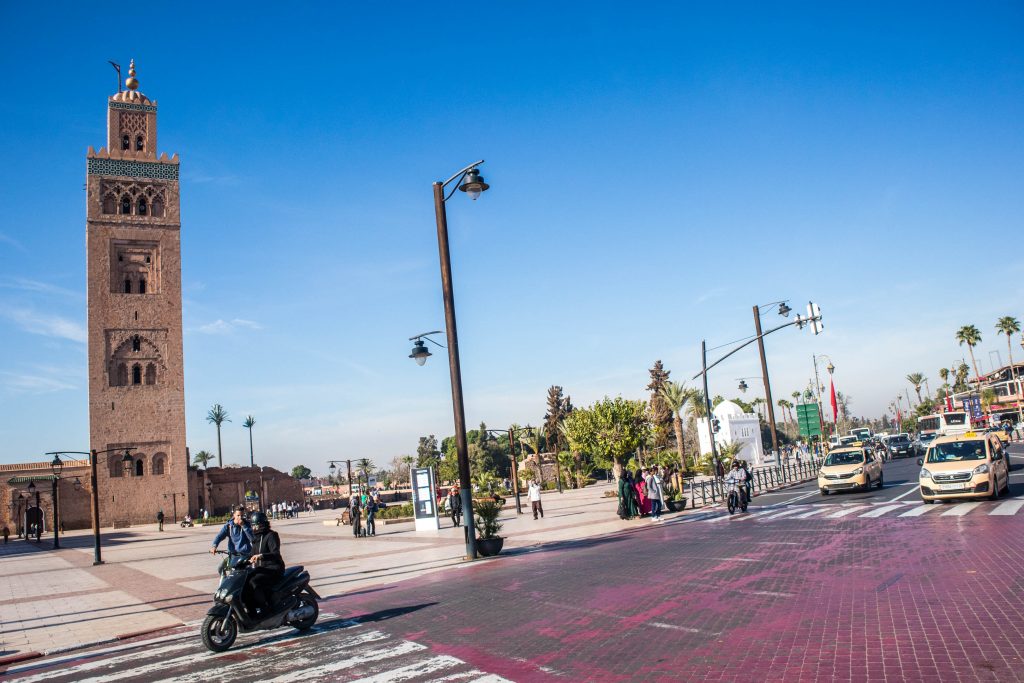 A lot of drivers don't use meters, or refuse to use them. Before getting in, ask them to switch it on. If they refuse, then try another driver. Sometimes they will tell you a fixed price. Normally driving around the centre costs around 20-50 Dirham. You shouldn't pay more. If they ask for more than 50, look for another ride.
In Marrakech you will also find tuk tuks. If you would like to use one, you can catch it at the El-Fna square. There are no meters and you need to agree the price beforehand.
Caleche – horse drawn carriages – are a common mode of transportation for tourists. They are everywhere in Marrakech. You can arrange a half day trip around the city walls, which costs only 300-400 Dirham.
Accommodation in Marrakech
There is plenty of accommodation in Marrakech. There are hotels, hostels, and riads, which are traditional guesthouses. If you're thinking of where to stay in the Red City, then I would suggest the latter. Riads give you an insight into the local life and you really feel the atmosphere of the city.
I stayed in Riad Dar Nael, which I highly recommend. It's a lovely place with amazing terraces, friendly staff and comfortable rooms. Staying there made my visit to Marrakech very special.
Money in Marrakesh
I would advise taking money with you in cash. Take half of your budget and exchange some money at the airport to have some for a taxi, or a bus to the city. Then change the rest when you're ready to explore the city. You can find exchange points in the Medina, or at the post office.
Finding a working ATM might be a problem in Marrakech. There are a couple of them in the Medina (use your Google maps to find the closest one). There are a few also near the post office at the main square. However, not all of them work with foreign cards and some might not have enough money. That's why I think the best solution is to change your cash when you're in Marrakech. Just check the exchange rate first!
Safety in Marrakesh
I think Marrakech is a safe city. I didn't feel threatened in any way. It can be a little intimidating, that's true. If you have never been in a similar country before, you might feel overwhelmed. I had a good training in Asia, so Marrakech felt a little like home to me.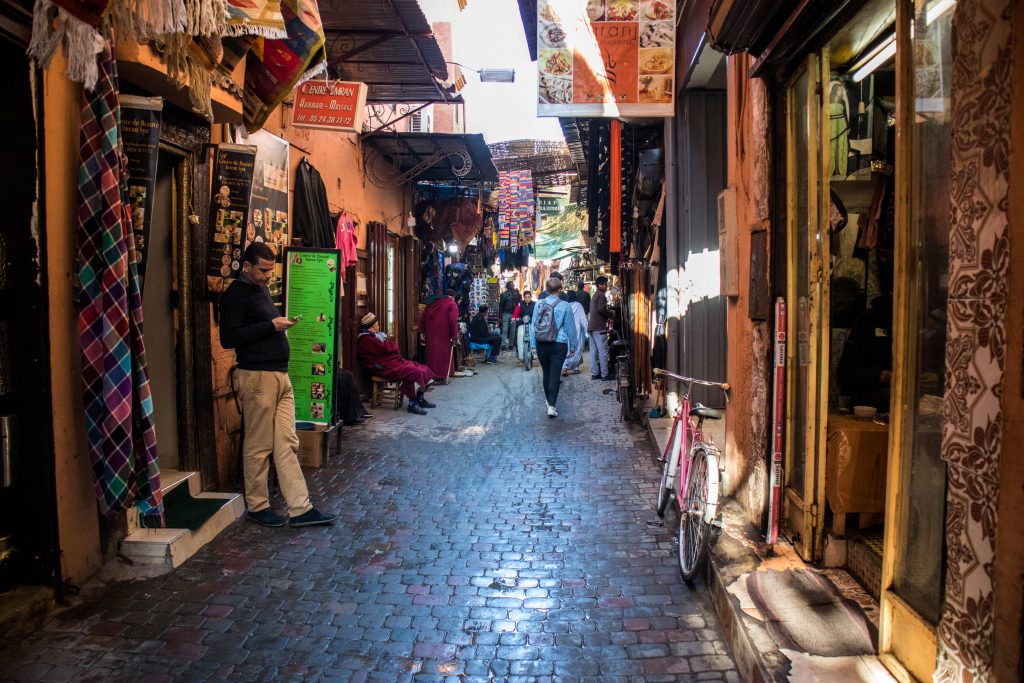 Few things to remember to stay safe in Marrakech:
Watch out on the streets. In Medina, the allies are very narrow. There are no cars, but the locals drive scooters. They speed and they drive up really close, so pay attention to where you walk and don't hold your phone, or your camera, in a way that it can be snatched by someone.
Some areas can be very crowded. Keep an eye on your belongings.
It might be intimidating to see young men standing in the streets after dark. Don't worry, they don't look for trouble. They simply hang out. I was there with Christopher and we were never threatened by anyway. However, if I had been there alone, I would have stayed in my riad after dark. Despite the fact that I know that it's safe, I wouldn't feel very comfortable passing all these men on the streets.
If you feel unsafe, or someone approaches you in not so nice way, go to the nearest police station, or a policeman. I saw many police officers on the streets there and I heard that they have good reputation.
Local customs in Marrakesh
Morocco is a Muslim country, therefore dress modestly. Women and men should wear longer trousers and cover their shoulders. As a tourist you can wear something lighter and you don't need to cover your head, but it's best to look modest and not draw unnecessary attention to yourself.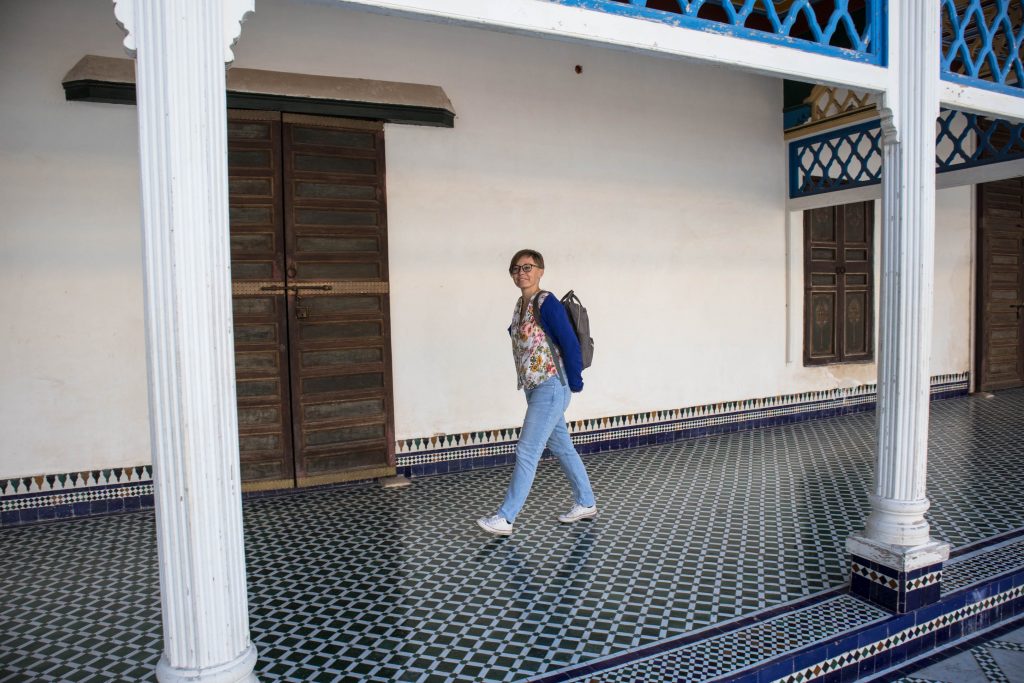 When you walk the streets, you will be asked to buy something or to visit a particular shop. At night the Jamaa El-Fna Square, especially the food section, is notorious for this. You will be approached by seller from all sides. If you don't want to buy something, firmly say 'thank you' and walk away. It takes time to get used to it.
Bargain when shopping. It's a custom in Morocco and if the item doesn't have a price, you have the right and you should bargain.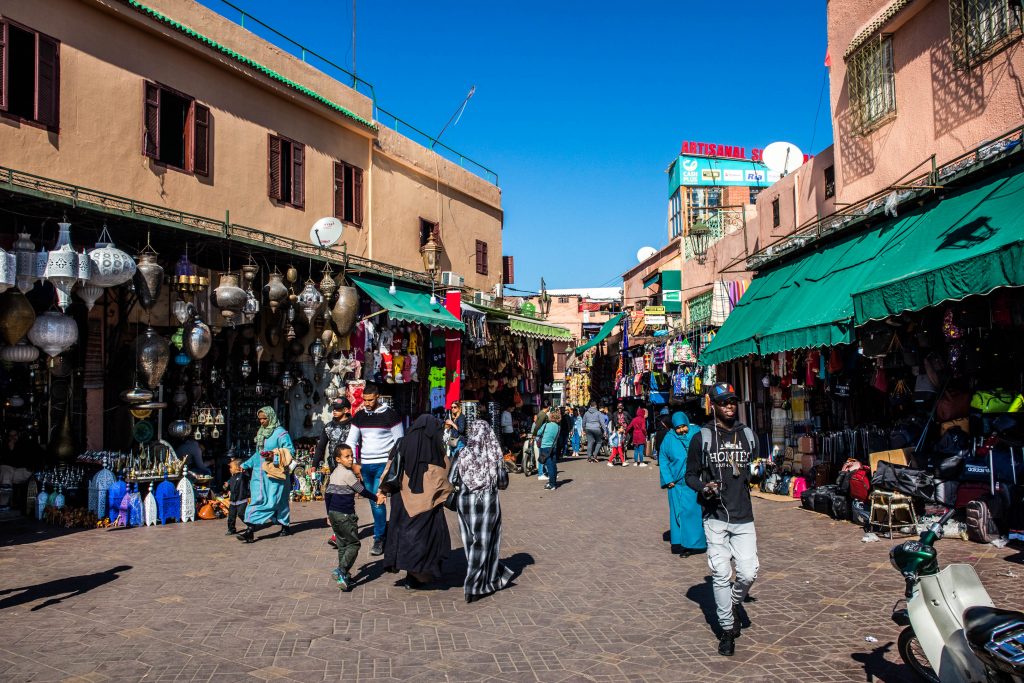 You are also expected to tip in bars and restaurants. I am not sure how much you should leave, but I guess, some change will do, especially if you're happy with the service.
Don't take pictures of people. Moroccans don't like it. If you really want to take a photo of someone, ask their permission first. They might ask for money in exchange. Usually, it's a cost of 10 Dirham. If you want to take pictures of the streets, that's fine and you won't have any problems with that, but sticking your lens into people's faces is not very nice and the locals dislike it.
Food in Marrakech
There are so many amazing places to eat in Marrakech that you need to write a book to list them all. Here you will find some street stalls, some cheaper bars, and fancy restaurants. There's something for everyone.
While in the Red City try tajine: a stew made in a special clay pot. My favourite was chicken in Cafe Souk. There are some vegetarian options, too. You can also go for some cous cous with meat, or veggies.
At the end of every meal ask for some mint tea, which will help you to digest and will be a relaxing end to your feast.
Be ready for Marrakesh
When I first did my research about the city, I found a lot of beautiful pictures of it on Instagram. There were girls in long, flowery dresses and hats, looking stunning in front of the red houses. Yes, Marrakech is a very nice city, but most of all it's noisy, dirty, sometimes stinky, it's a a buzzing place, full of people. There are donkeys, people carrying food, there are a lot of beggars. It's not a paradise you might think it is. That's why – be ready. Prepare yourself for a culture shock, give yourself time to get used to it. Your visit might go in two ways – you might love it, or you might hate it.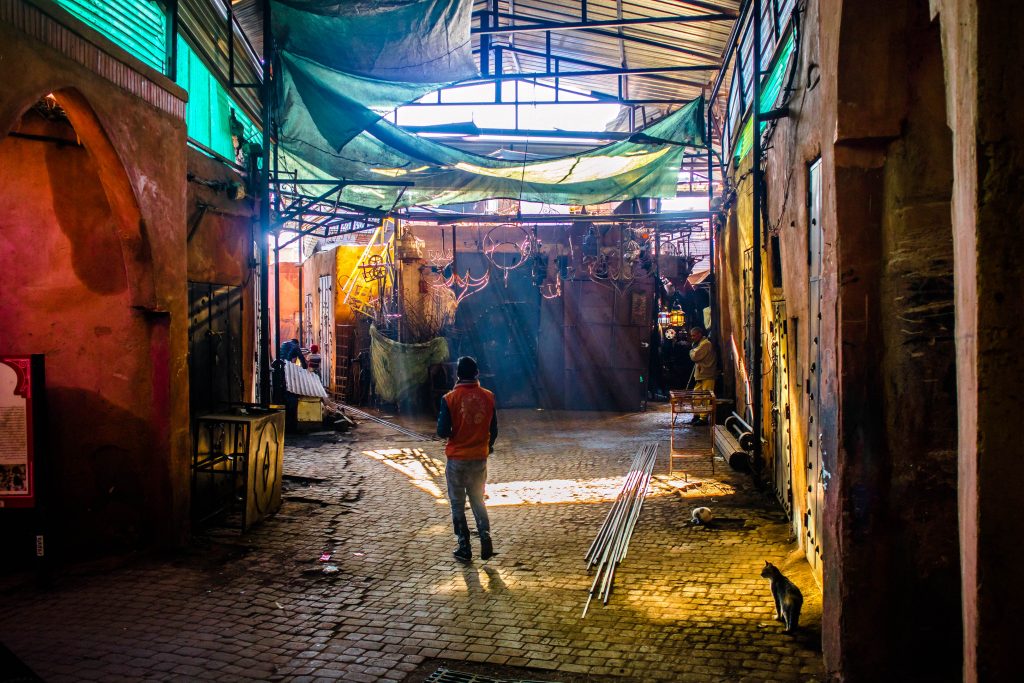 The best way of seeing Marrakesh
I think the best way of seeing the city is on your own two feet. I walked everywhere, even if the place I was going to was very far away. This way I saw a lot of places I wouldn't have had a chance to see.
I was also my own guide. I made a list of attractions and restaurants and I just walked there. However, I found that information in the museums and other spots wasn't available, or was only in French. That's why, if you want to know more about the place, I would suggest hiring a guide.
There are a lot of local tourist agencies in Marrakesh, offering different tours. You can go to one and hire a guide from there. Prices start from around 2500 Dirham.
I always recommend companies that connect tourists and locals. This way you can customize your tour and you can also make some friends. In Marrakesh I used Withlocals and did a trip to the Atlas Mountains with them. They have all sorts of other tours available and I highly recommend guides from there.
That's it! I hope that thanks to this guide you will be better prepared for your trip and will be able to relax and enjoy your time in Marrakesh. If you are interested in what to see and do in the Red City, check out my sightseeing plan for 4 days.
Do you have questions? Would you like to share your opinion? Don't be shy! Leave a comment!