This post has been created in cooperation with Luma Health, the international health insurance provider for nomads and expats in Asia, and Chiang Mai Ram Hospital.
Expats in Chiang Mai can benefit not only from good food and a relaxing atmosphere of the city, but from excellent healthcare. If you live in the Rose of the North and want to look after yourself properly, going through an annual check up is a great idea to stay healthy and prevent future health problems.
I am very strict with my medical check ups. Every year I do a PAP smear and routine blood tests. I have been doing this for years and never had a longer break. (It's better to be safe than sorry, don't you think?) So, whenever I'm in Chiang Mai I do my annual check up there. It's much more affordable than in Portugal and I get better service than in Poland. Plus, I can combine my holiday in Thailand with something practical and useful.
For years I have been going to Chiang Mai Ram Hospital. I had my melanoma treated there and, during the time when I worked at school, that was my first point of contact whenever I got sick. So, it's also my first choice for a medical annual check up, too. I have done it a couple of times before and I have never been disappointed. This time I went there again and I decided to tell you all about it.
But first, a disclaimer! Normally, I have covered my medical check up by myself, but this time was different as I was approached by Luma Health, which provides medical insurance to expats in Thailand, as well as by Chiang Mai Ram Hospital. They asked me if I would be interested in working with them and then writing about their offer and the check up. Luma offers an annual health screening to their customers and Ram Hospital is one of their partners. Since I have worked with Luma for over a year now and know Ram from my own experience, I decided to give it a go.
Please note that I'm not a medical professional and I can't give you an advise on what tests to have and if you really need it. This article is based on my own experience and beliefs. The decision of what to do and if you need a health check should be yours only.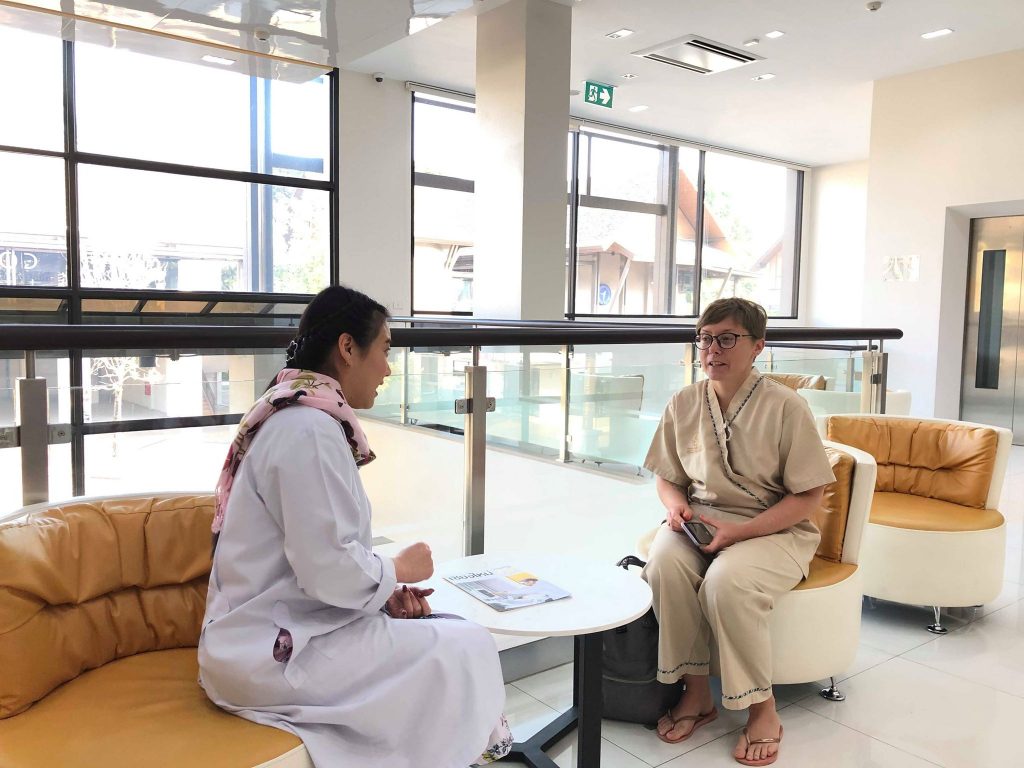 Medical health check-up at Chiang Mai Ram Hospital – My experience
I am slightly nervous around doctors and nurses. As I didn't have great experiences with them as a child, hospitals and surgeries make me slightly nervous. I actually get less stressed in Thailand probably because everyone there is very nice and so gentle.
Before I went for my check up I didn't feel nervous at all. I was pretty happy and proud of myself for taking care of my body.
Registering and making an appointment
At Chiang Mai Ram Hospital you can show up and have tests without previously registering. You can also call them before and make an appointment.
I went there a day before I was planning to have tests done. I didn't have to do it, but making precise plans and knowing what's coming up is something that creates a sense of control for me.
Previously, Luma informed me what is usually included in a check up and advised to consult it with a doctor and a nurse.
At the hospital I was greeted by smiley nurses. They took my details and pulled out all of my records. As I have been there a few times before, there were a lot of documents, including those from over 5 years ago!
Then, I was taken to a small room for a short interview. The nurse showed me a list of tests I should have at my age.
Expats can choose from many health check up packages. They are adjusted to your needs and lifestyle and include things like a chest x-ray, an abdominal ultrasound, a mammogram etc. It can be overwhelming at first to see all these abbriviations for tests and not knowing what to choose and if you actually need them. The nurse should explain it to you and advice you on what to do.
There are also insurance companies that offer standard medical policies that include check ups as well. There you have a list of the tests ready and you don't have to think about it too much.
So, if you're looking for expat insurance in Thailand, you can easily find one that includes routine, annual tests.
The nurse I talked to was very understanding and quickly adjusted the list of the tests to what I asked for. She gave me some advice, too. We finally agreed on the most important ones and I made the appointment for the next day.
How it all went
I turned up at the hospital on time and was taken for my first exam straight away. I didn't even have to wait for too long!
The first test everyone goes through is the weight and height check and BMI. A nurse checks your temperature and blood pressure as well. Everything is recorded and then you move to the blood test.
The next stage depends on what you need. I was asked to go upstairs and there I was given trousers and a shirt to change. There a nurse showed me to the x-ray room, where a lovely technician took a very quick x-ray of my chest. Straight from there, I was asked to sit down and was given a couple of glasses of water. The next test was an abdominal ultrasound and for that I needed to have a full bladder.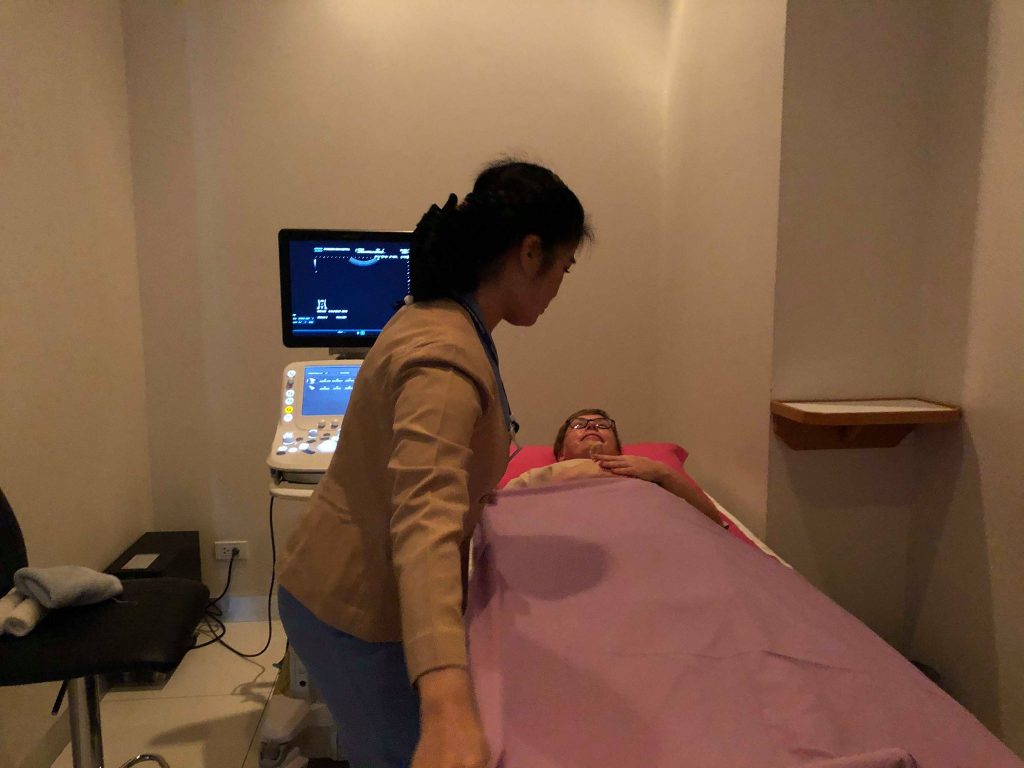 I was sitting then in a nice, comfortable armchair, sipping my water and watching the nurses at work.
The hospital is very busy and extremely popular with expats and Thai people, so there are always quite a small crowd. Luckily, I had my tests done as the first one, so I didn't have to queue up. I even had time to take a photo with the lovely doctor that was going to do my scan.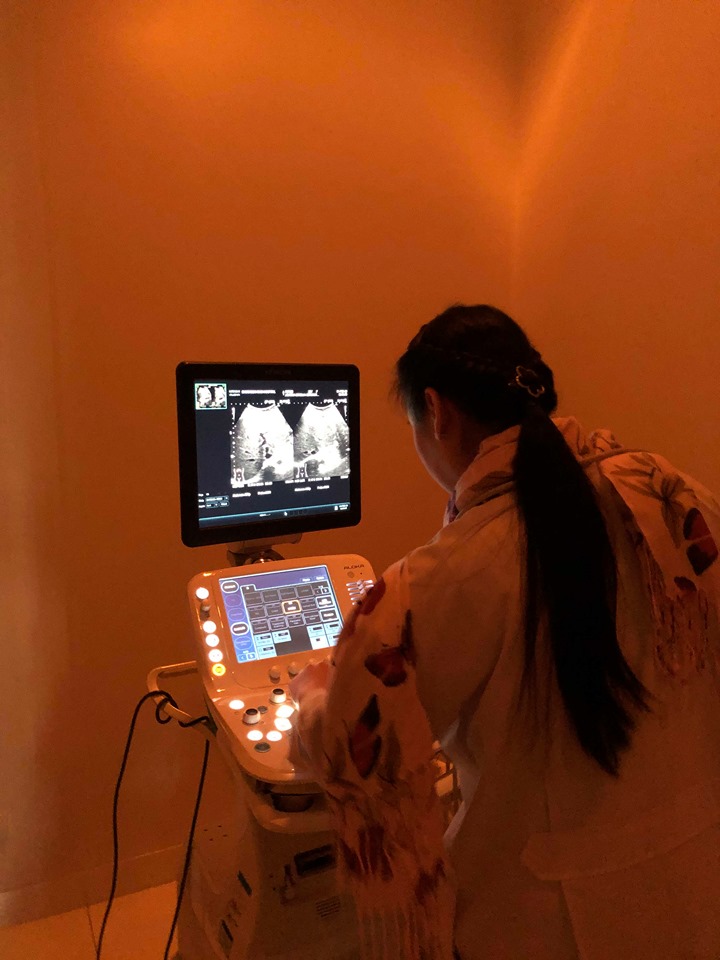 It's worth mentioning here that Ram employs English speaking doctors and nurses. Those that have a direct contact with patients can communicate fluently, without any problems.
After everything I could dress and I was led downstairs for a snack! What a luxury! Every patient at Ram can have 2 snacks and a hot drink. If you need to fast 12 hours before your tests, you might be very hungry at that stage and the buffet really helps.
I rested, I ate a little and I could see a doctor, who did a thorough examination of my throat, my stomach, knees and arms. I asked him about my minor health issues and we chatted a little about it.
It all took about 10 minutes after which I went outside and waited for my results.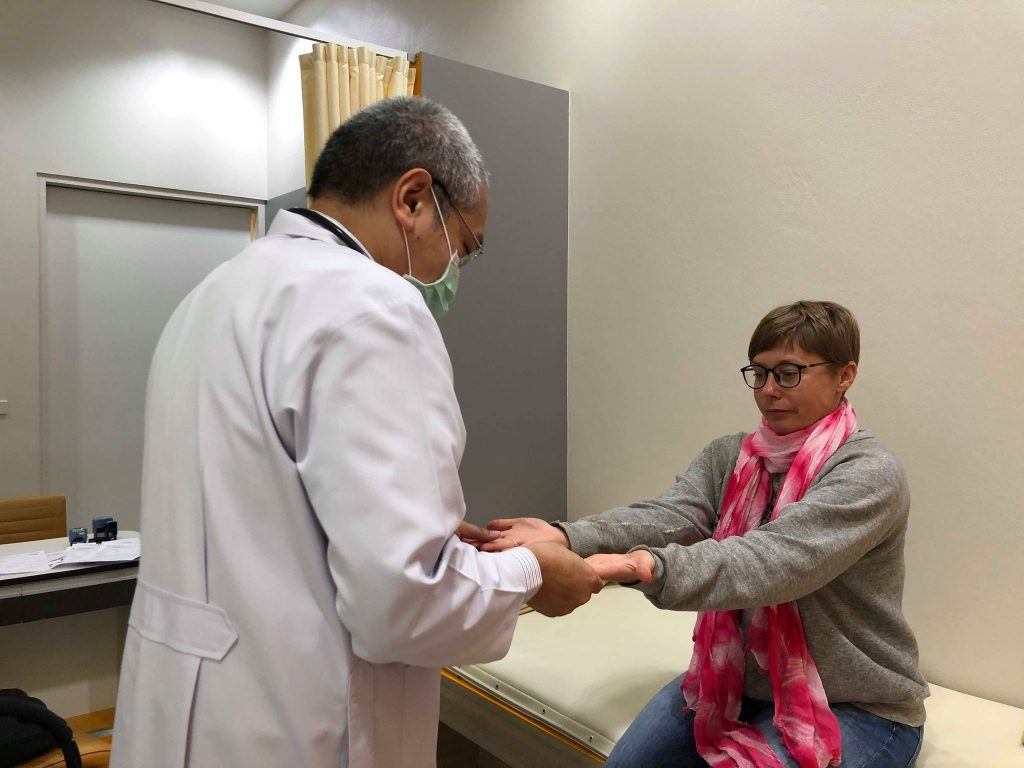 Normally, it takes half a day to get it back. Some more advanced ones, like PAP smear, take a month. Blood test, urine and the other tests I had that day take a couple of hours. But, luckily, for me, I had them ready almost straight after I had left the doctor's room.
I went back in to see the same GP. He went through my tests one by one, explaining everything and pointing out some things that weren't right. Luckily for me I only had high cholesterol and I'm a little overweight (thank you, Thai food!). So, when I get back to Europe I need to finally go on a diet and really start exercising!
The final summary
The health check up at Chiang Mai Ram Hospital was a very pleasant experience. The staff was amazing and really nice to me. The doctors were extremely professional and I was very impressed with the cleanliness and equipment the hospital has.
I would really recommend going there for a health check up if you live in Chiang Mai, or in the area. It's painless, quick and can really save your life! Next time I'm in the city, I will do it again, for sure!
Additional Information
If you would like to go have a health check up in Chiang Mai, here are a couple of things that should help you to arrange it.
Paying for the check up
You can pay for your check up by yourself. The cost depends on what kind of tests you need.
Some expat insurance companies in Thailand and Asia, such as Luma, offer medical check-ups in selected hospitals and for selected plans.
You select the plan, pay the premium and the cost of the check up is included in the price.
What to bring for the check up?
You need to have your passport with you. The nurses will need your date of birth and your passport number, as well as your name and surname.
If you have a glucose and cholesterol test, you need to fast 12 hours before.
Don't worry about what to wear. You will be provided with some clothes to change for things like x-rays. For PAP smears you will also be given special trousers that make things more comfortable and less awkward.
Chiang Mai Ram Hospital – Contact Details
Chiang Mai Ram Hospital is conveniently located very close to the city centre, near the North Gate. You can get there by a scooter, or a taxi.
You will find the health check up centre next to the in-patinet services building, just next to Starbucks.
Map
Address: 8 Bunrueang Rit Rd, Tambon Su Thep, Mueang Chiang Mai District, Chiang Mai 50200
Website: Chiang Mai Ram Hospital
Opening hours: 8:00 – 17:00
Luma Health Details
If you are interested in a health quote from Luma, check out their site. You can fill out a form and a consultant will contact you straight after.
A disclaimer from Luma Health:
This is neither a recommendation nor an endorsement of the mentioned medical centre, nor of the doctors or health professionals practising in this hospital.
The decision to go or not to go to this facility is at sole discretion of the traveller.
We assume no responsibility in relation to the management of care in the hospital facility.