Mon Cham, also known as Mon Jam, is a restaurant and a camping resort located approximately an hour drive from Chiang Mai, in the Mae Rim district. The site is famous not only for the amazing views, but also for the agricultural Nong Hoi Royal Project, which helps the hill-tribe people with growing various kinds of vegetables and fruits and turning their farm productions into high-income crops. Nong Hoi Royal Project lays on the 1,400 m-high mountain and grows strawberries, various kinds of vegetables, herbs and lavender. The rest of its income comes from the tourists that visit this place every day.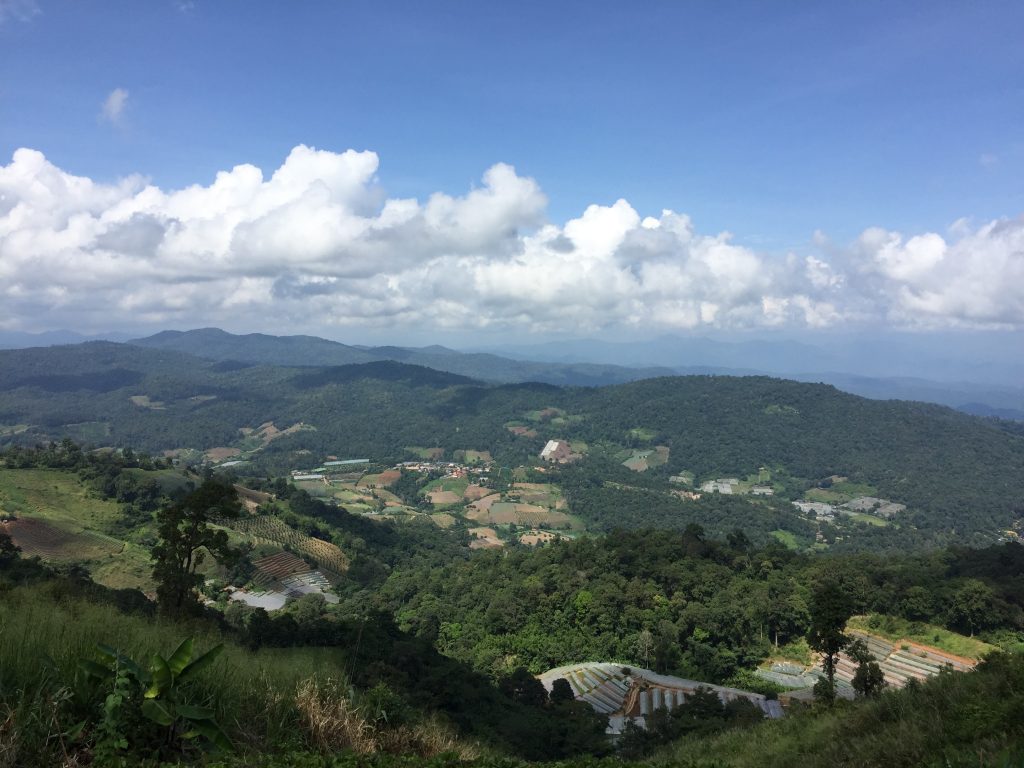 A few weeks ago Chris and I, during our 'let's have an adventure today' mornings, decided to visit Mon Cham, after reading about it in one of the Chiang Mai's magazines we found at the Baan Kang Wat Village. We had already explored the Mae Sa Valley, which leads to Mon Cham, but we had not been to the Nong Hoi Royal Project yet. It seemed like a nice, easy trip from Chiang Mai.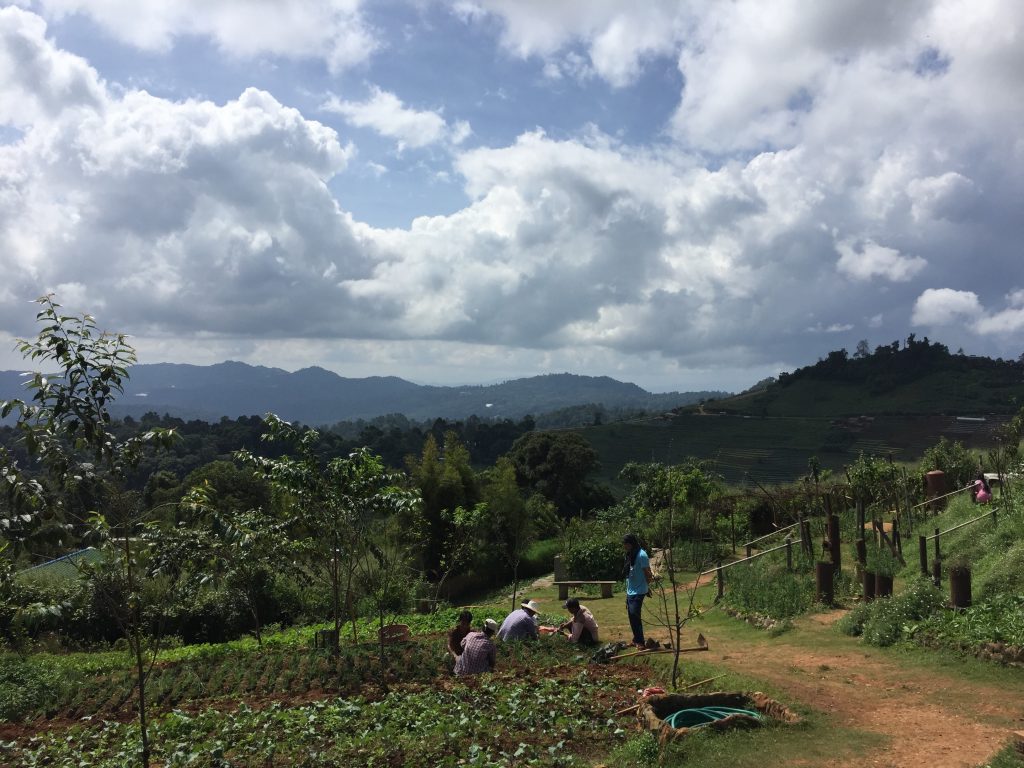 That day, on our way, we found a really nice, cozy place for a sleepover and decided to go back there a few weeks after. Last weekend we took my sister, Magda, and our Brazilian friend, Celina, for a one night sleepover in Mon Cham.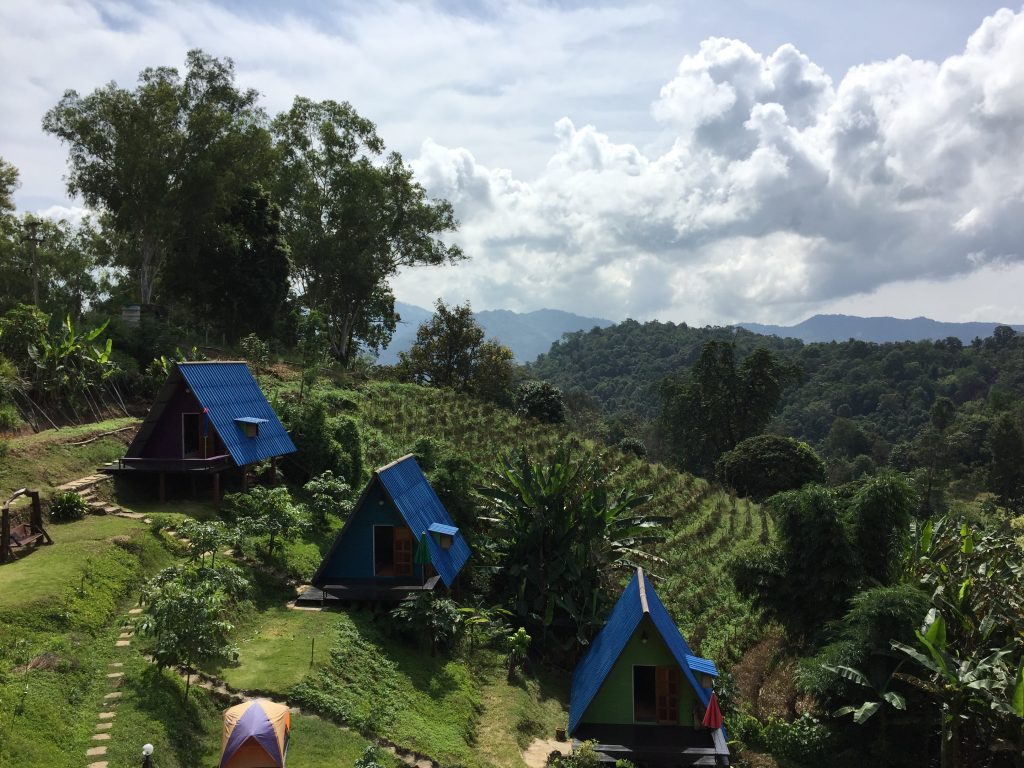 Siwilai Home, where we stayed, offers great accommodation – simple bungalows, with bathrooms, fans, hot water and outside terraces. We rented a bigger bungalow for four people for 2000 Baht. Breakfast, consisting of Thai rice soup, was included in the price. They have a small restaurant, which offers quick, simple meals, snacks and drinks. For 100 Baht you can rent a Thai – style barbecue (it's a heavy, concrete bucket with a crate and coals), so bring some food with you. Alternatively, you can ask the owners for some meat and they will be able to provide it for you at an additional cost.
After leaving our things, having a drink, and resting for a bit on our terrace, we went to Nong Hoi Project for food and views. My scooter is a typical city-ride and I struggled to drive it up the steep hills, but I managed somehow to get to the very top.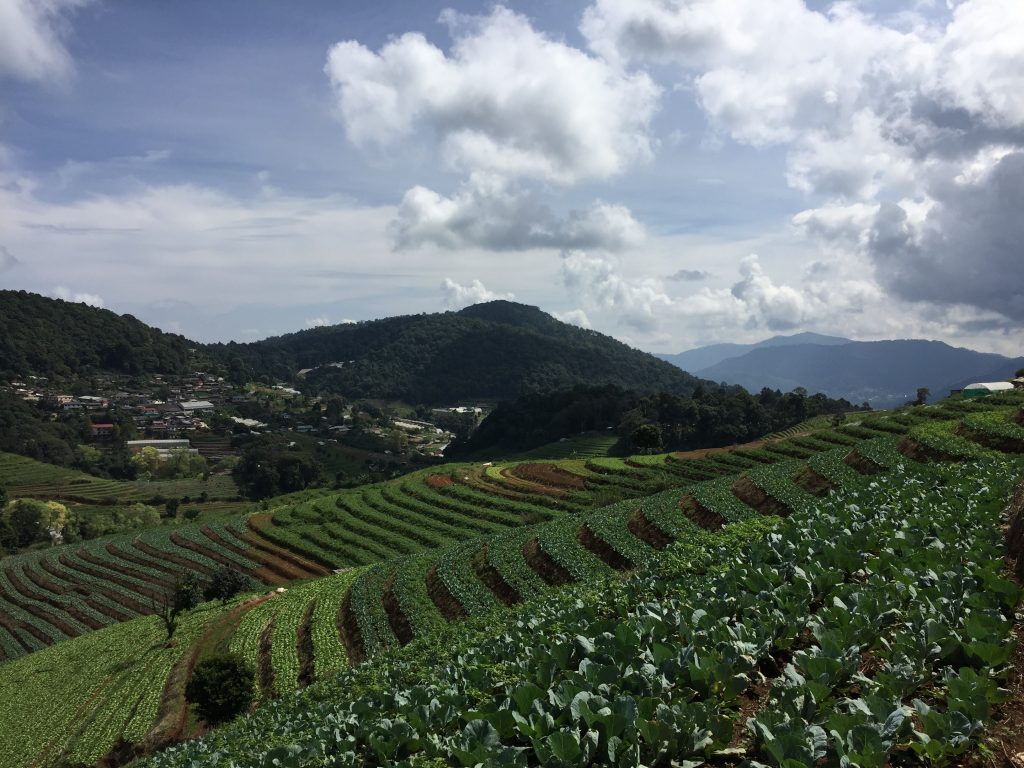 It was already late afternoon when we got to Mon Cham, but the restaurant was still serving food. We settled in one of the bamboo huts on the hill, and ordered a lot of food – minced vegetables with spices, peanuts and big pieces of garlic and onions that we wrapped in salad leaves, dry pork with herbs, Burmese curry and fried tofu. Everything was fresh and really delicious, although much more expensive than the food prices in Chiang Mai (150-130 Baht for curry).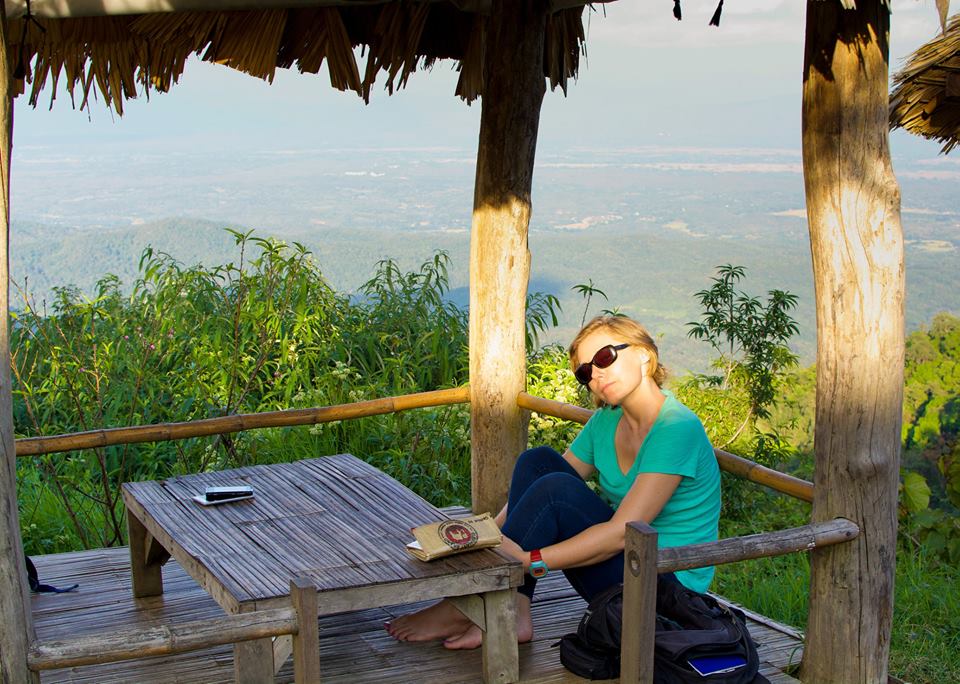 Once the sun started setting it became obvious that it was going to be a cold night. We finished our meal and took a couple of pictures in the gardens. There were still a lot of tourists, mostly Thai and Chinese, around. A couple of kids from the hill tribes were hanging around, probably waiting fro their parents to finish work.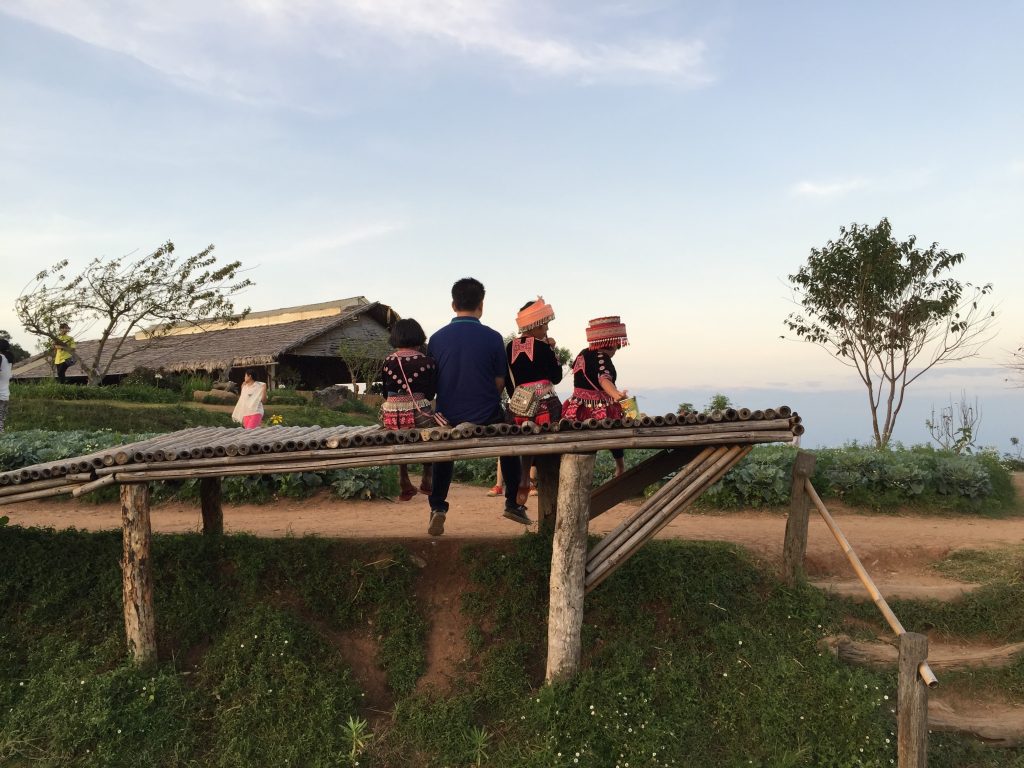 We got back to our accommodation and spent the evening playing games and barbecuing some vegetables we had bought on the way back from Nong Hoi Royal Project. The night was freezing cold. We slept in our clothes and wrapped ourselves in the duvets.
The morning was crisp, fresh and sunny. We ate our Thai soup and decided to go and check out a nearby coffee shop, which Chris had discovered during one of his lonely excursions into the mountains.
Chris promised us great views and great views we had. The coffee shop sold decent coffee in cute, small cups and we sipped it while looking at the surrounding hills. It was an unforgettable morning. The coffee shop also offered newly built bungalows for 1000 Baht per person. In the 'accommodation' section I gave rough directions on how to get there.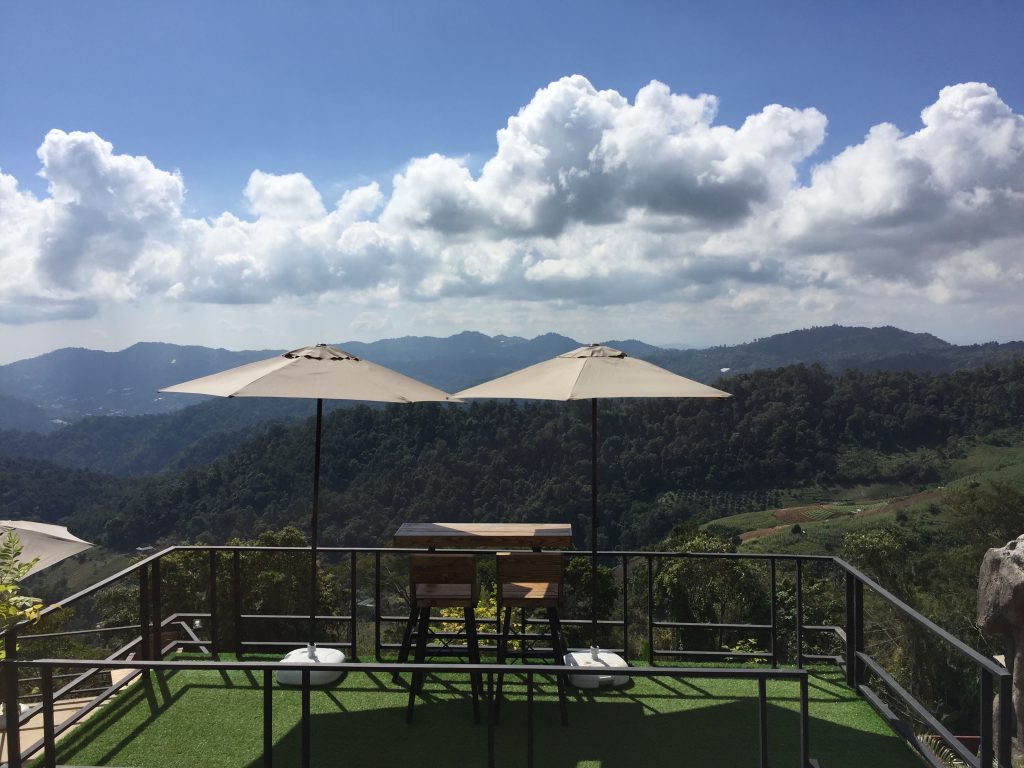 The Mae Sa, Mae Rim and Mon Cham area are all located near each other and you can spend a good couple of days driving around and discovering the mountains. Nong Hoi Royal Project is a great option for a one day trip from Chiang Mai, but stay here for one night and enjoy the cold, crisp and fresh air of the Thai mountains.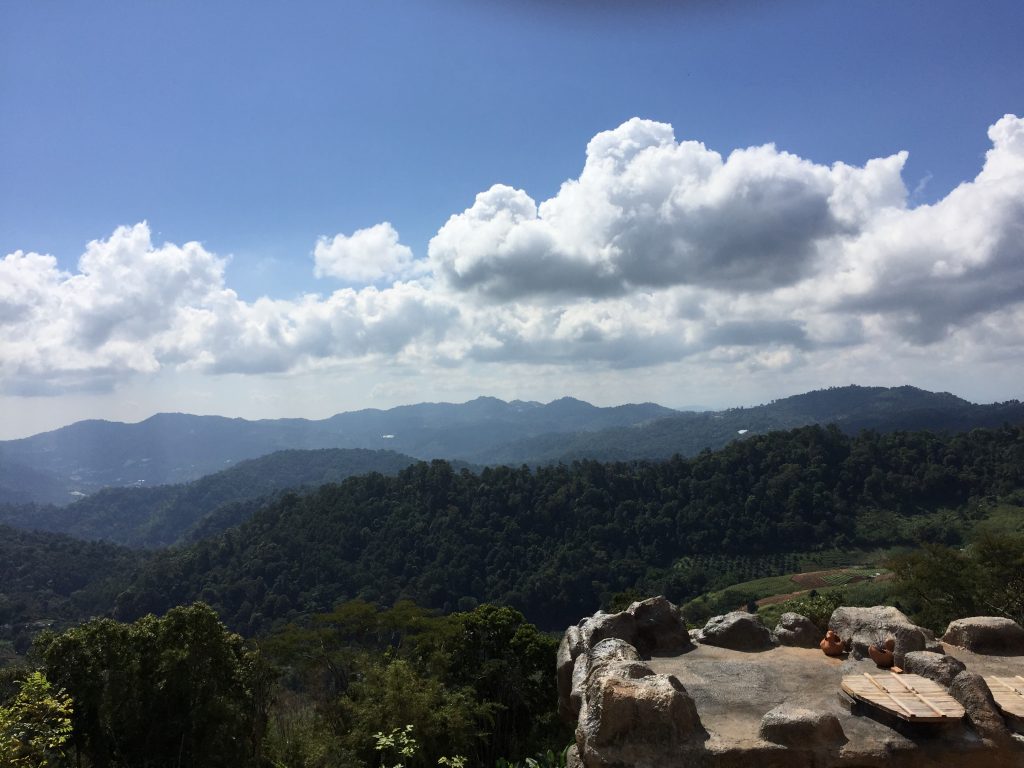 Directions to the Nong Hoi Royal Project
Drive to Mae Rim and follow the road to Mae Sa Valley. Pass Mae Sa Waterfall and Botanic Gardens. After you pass Pong Yang Ang Doi Resort drive for another 1 km until you see a sign for Mon Cham on your right hand side. Turn right there, drive straight until you get to a fork road. Follow the sign pointing to the right. Drive up the hill for around 10 minutes.
Accommodation in Mon Cham
One of the most popular options is the camping on the top of the mountain, at the Nong Hoi Royal Project. Here you can rent a tent, with sleeping bags, matts and everything else you may need for 1000 Baht for two people per night. For more information click here: http://www.thairoyalprojecttour.com/
Siwilai Home is situated by the road leading to Mon Cham. After you pass the Pong Yang Ang Doi Resort and turn right, drive for another 5-10 minutes. Siwilai House is located on the right hand side. Despite the fact it is by the road it is hard to spot it. You can only book it via the phone. There is only one lady who speaks little English. The rest of the staff speaks Thai, so you need to ask a Thai friend to call them and book a bungalow for you. Telephone number: 087-1830642
The coffee shop I have mentioned earlier is located a little further than the Siwilai Home. When you get to the fork road do not head to Mon Cham, take the left road instead. After a couple of minutes you will reach some farm fields on the right and a dirt road on the left- turn there and follow it to the end. There are signs pointing to the coffee shop, but they are all in Thai. The staff at the shop don't speak English.
There are plenty of other places, where you can stay. If you leave Chiang Mai in the morning you will have a good chance of finding a nice place to stay overnight.
What to take with you
It is always colder in the mountains than in the city, especially if you are visiting the area during the cool season. Take long pants, long sleeved top and a jacket. Socks will be useful during the night. If you are planning on driving during the day then shorts and a t-shirt should be comfortable enough.
There are plenty of places by the road to drink coffee, eat and enjoy the views. There are a couple of petrol station and small shops selling gasoline.
There are not that many ATMs around and it is best to take cash with you.