My digital nomad life led me to Da Nang — one of the rapidly developing cities in Vietnam. I chose it mostly because it was by the sea and the internet was supposed to be good. I expected it to be different than Thailand, but I didn't expect it to be so fascinating and beautiful.
To me, Da Nang is an absolute must visit place in Vietnam. It has everything want one might want on their holidays: good weather, interesting culture, beautiful landscape and a wide variety of entertainment. Oh, and did I mention that the beaches in Da Nang are probably the cleanest in South East Asia?
When I prepared for my trip I couldn't find much information on what to see and what to do. I had to ask around for advice and do a lot of research. Discovering Da Nang took me a bit of time and it would have been much more pleasant if I had had a guide, which could have helped me. That's why I created One Day in Danang – a short guide to the city, where I included all you need to know when visiting the city.
Want to read more about the guide? Read on!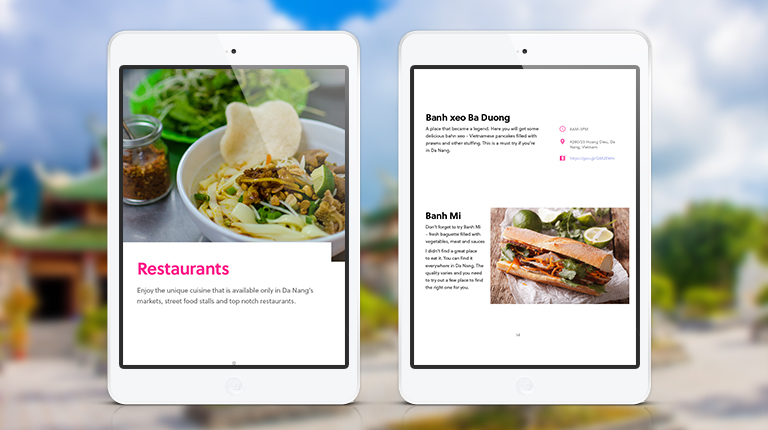 For many years Da Nang was not more than a sleepy, fishing town. Today – thanks to extensive financing and investments – it is a fast developing, modern city, which still manages to keep its laid back character. It is mostly famous for its pristine beaches, close proximity to stunning nature and famous attractions such as the Marble Mountains and the ancient town of Hoi An.
---
What's inside?
The most interesting things to see and do.
Recommendations for restaurants and coffee shops.
Night entertainment – places to have fun!
Accommodation for every budget.
Why buy this guide?
I think the main reason why this guide is so great is that you have everything in one place, plus the ebook was written by someone who has lived in the city for a couple of months and knows the best sites and attractions. I have been to every single place I included in the book and I know that you will not be disappointed by my advice.
The information is presented in a clear way. There are addresses, maps with links and prices, so you don't need to look for those somewhere else. I have also added some beautiful photos to encourage you even more to visit Da Nang.
Lastly, ebooks are great for saving paper and our environment!
So, what are you waiting for? Buy the guide now!