When you come to Lisbon for a short holiday, it's worth spending one day in Sintra. This beautiful, fairy-tale like town will envelop you with its charm. There's plenty of things to do in the area, but if you don't have enough time, you can focus on two main sites: Quinta da Regaleira and Pena Palace.
Since I had arrived in Lisbon, everyone told me to go there. First, I had to settle down, find an apartment and sort out formalities, then the weather was very bad and I was told to wait for a few months. I finally had a chance to go to Sintra in July, when it was very hot in Lisbon, but there weren't that many tourists around yet. It was a lovely day and I was totally blown away by the town and its attractions.
There are plenty of things you can do in one day in Sintra, but because they are quite far away from each other, you should just focus on maximum 2 main attractions if you have limited time. It will be enough and I'm sure you will be blown away by both of them. During my visit, I walked to Quinta de Regaleira and Pena Palace and it was a great day, full of adventures!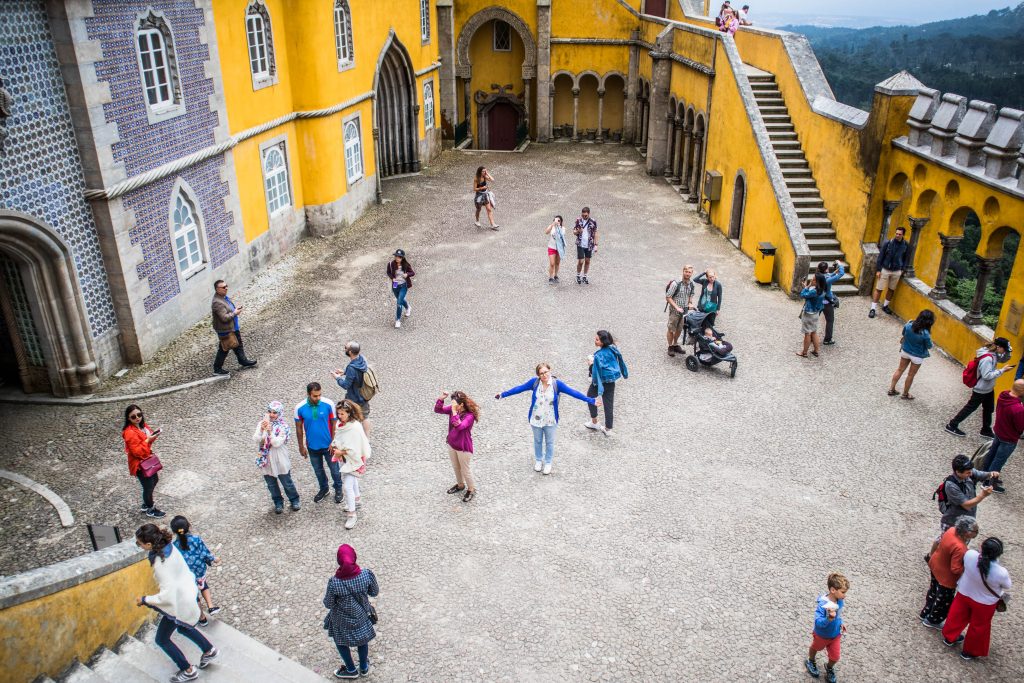 The history of Sintra
Sintra is a huge area with a very rich and complicated history. Thanks to that there are some great attractions waiting for you to be discovered.
From the 9th century, the terrain was occupied by the Moors, which left Sintra with one of its prominent buildings – the Moorish Castle, which you can see from almost any point in the town.
In the 12th century, the area was taken over by the Portuguese and later on, it became the home to the royal family. They flocked there to build beautiful and expensive houses. In a document issued by King Edward in the 15th century, it said: "A land of good air and water and of the Comarcas with an abundance in the sea and land […] our most loyal city of Lisbon being so near, and being in it sufficient diversions, and the distractions of the mountains and hunting…". That encouraged even more people to move to Sintra.
During this period Sintra flourished. Many new buildings were added and the old ones were reconstructed.
In the 18th and 19th century the area attracted wealthy citizens of Portugal as well as artists. Their influence can be seen in many of the buildings in Sintra. This was the time that created that special atmosphere and aura around Sintra due to which the town is so famous today.
When is the best time to visit Sintra?
You might spend only one day in Sintra, but I think it's good to choose the time when it's warm enough to do a long walk and when the risk of a rainfall is slightly lower, and at the same time there are not that many people around. You don't want clouds to obstruct the beautiful views. It's better to know when the peak hours for visitors are. Sintra is a very popular place in Portugal and it gets crowded here, so plan beforehand.
You might want to spend your holiday in Lisbon during the Summer (July – August), so in that case, you don't have much choice. However, if you can come to Portugal a little earlier, or later, you will be able to enjoy Sintra a little more. I would say that the best time on average is May and then September – October. The weather then is sunny with almost no rain. Remember that Sintra is usually cooler than Lisbon, so if it's about 20 degrees, it might be even up to 10 degrees colder outside of the city.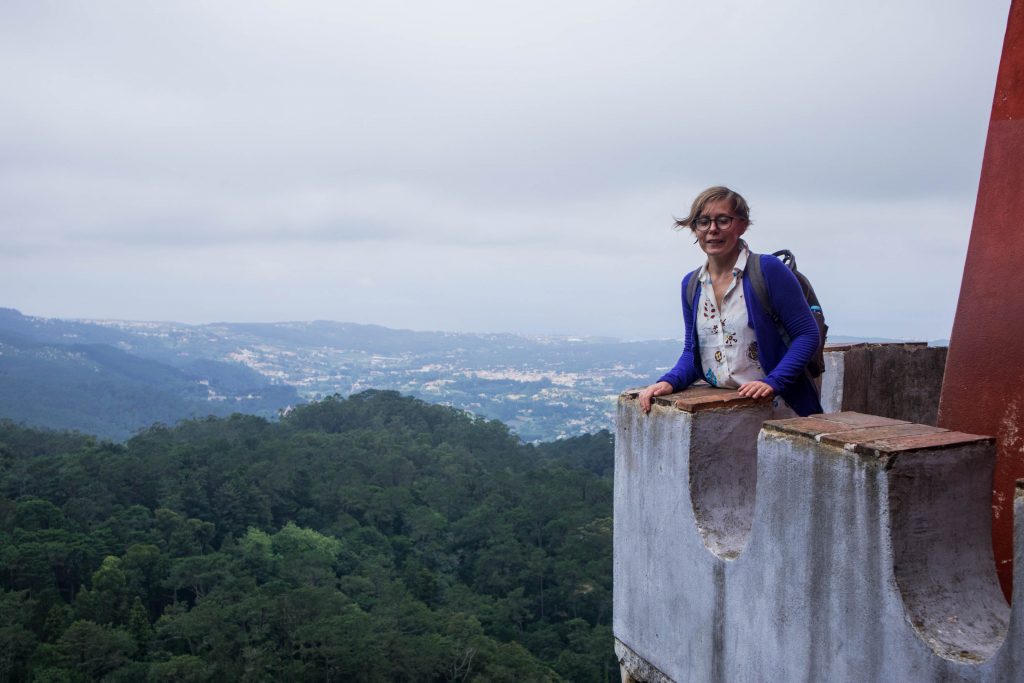 This is also a good time when it comes to the number of people visiting the town. July and August are the busiest. If you go outside of these months, you will be able to enjoy the surroundings much more.
Why should you visit Sintra?
There are many reasons why you should visit it! First of all, it's one of the finest examples of Romanticism style in architecture. That might not sound interesting to you if you're not into art but think of colorful buildings, decorated with rich details inspired by ancient cultures, filled with hidden passages, fountains, and caves. It's absolutely magical!
Sintra is also surrounded by beautiful landscape of the Parque Natural de Sintra-Cascais. Thanks to the rock formations, forests, and hills the buildings look like out of a fairy tale. There are plenty of hiking trails around. If you're spending only one day in Sintra, you might not be able to hike to every corner of the park, but I recommend you to walk to both palaces as the trails are quite fun. If you have a couple of days here, then it's worth wandering around a little bit more into the park.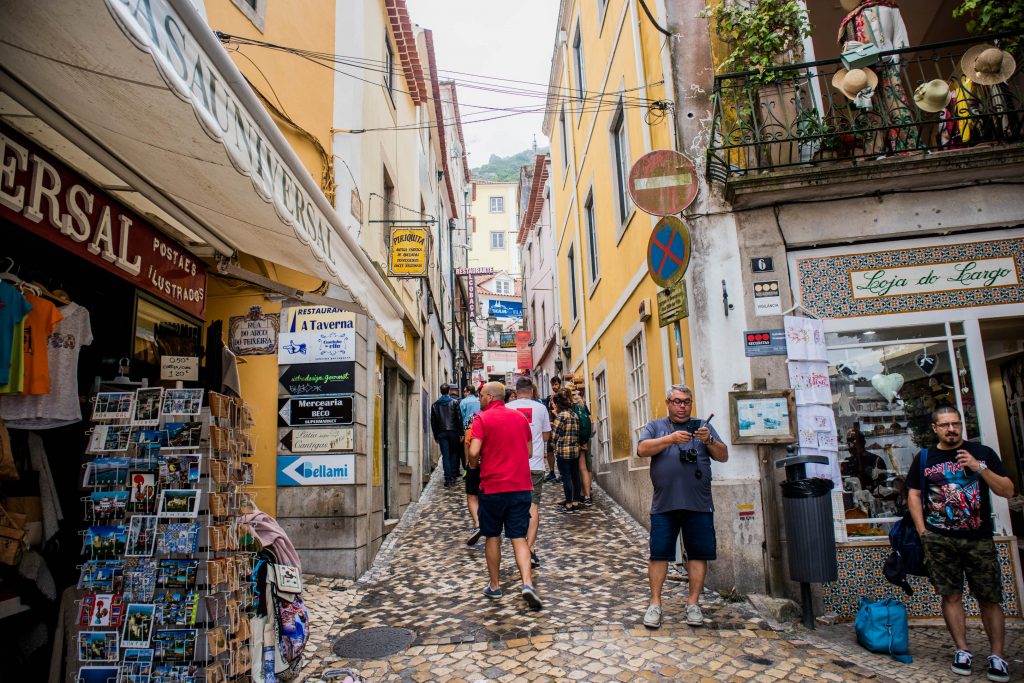 The streets of Sintra are amazing. They climb up the hill, winding, and twisting, leading you to the most charming corners. Even if you don't want to see the Pena Palace or the Quinta da Regaleira, come here to experience the town and get lost in the net of the alleys.
Getting to Sintra from Lisbon
Getting to Sintra from Lisbon is quite easy and straightforward. There are a couple of ways you can get there.
To Sintra by train from Lisbon
You can get to Sintra by train from Rossio, which is right in the center of Lisbon. I lived in Benfica at the time of my trip there and I took a train from Sete Rios. Another station that operates trains to Sintra is Oriente. The trip takes around 40 minutes up to an hour. Tickets cost 2.25 Euros per person. You can buy them online or at the station.
To Sintra by car from Lisbon
I think driving in Portugal is quite pleasant. Personally, I haven't driven to Sintra, but I drove to other places and I really liked it.
You can rent a car at the airport. Just remember to book ahead as the prices are lower the earlier you book. I can recommend RentalCars.com as a search engine for the best deals. We also often use Interrent. If you look early enough for your ride, you can get it as cheap as 4 Euros per day! Bear in mind that it's best to drive to Sintra and leave your car in the town. Later on the roads are very narrow and there are no parking spaces.
Sintra in a day – Quinta da Regaleira and Pena Palace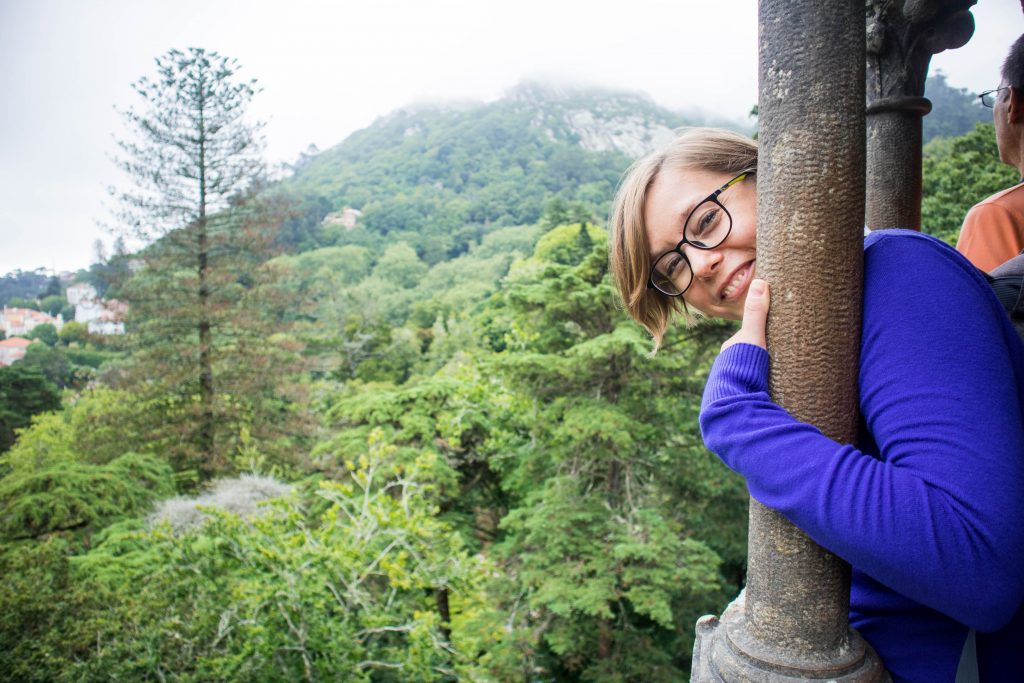 These two places are one of the highlights in Sintra and at least one should be explored. Before I headed there I knew that I wanted to see Pena Palace. I chose Quinta because it was close to the station and on the way. I'm so glad that I went there because that was actually my highlight. I liked Pena Palace less, but as it's one of the most popular attractions in Portugal, I recommend visiting it, too.
The best way of exploring Quinta da Regaleira and Pena Palace
Both attractions can be explored independently. You just pay the entrance fee and you are free to roam as much as you want. I enjoyed it, especially that I love nature and I spent more time in the gardens. However, I was very curious about the history of both places and had to google it every time I wanted to find out something new. I also have missed some of the highlights as I completely forgot to check them out when I was there, or I just didn't know about them. For example, I didn't realize Quinta da Regaleira has two wells and not only one.
If you are also someone who likes to ask questions or just wants to have a professional with you, who will direct you to the right places, then I recommend hiring a guide. For Lisbon and other European countries, I use Withlocals, who connect independent guides and tourists and create really amazing experiences. I have done an off the beaten path tour with them in Lisbon and I really can't recommend them enough. For Sintra, check out their Once Upon a Time in Fairytale Sintra tour, or A Family Day Out in Sintra.
Quinta da Regaleira
Quinta da Regaleira is a huge mansion near the center of the town. It is on the UNESCO World Heritage Site and it's one of the main attractions in the area. The queues here are long, but the gardens surrounding the building are quite large and after you cross the gates it won't be as crowded anymore.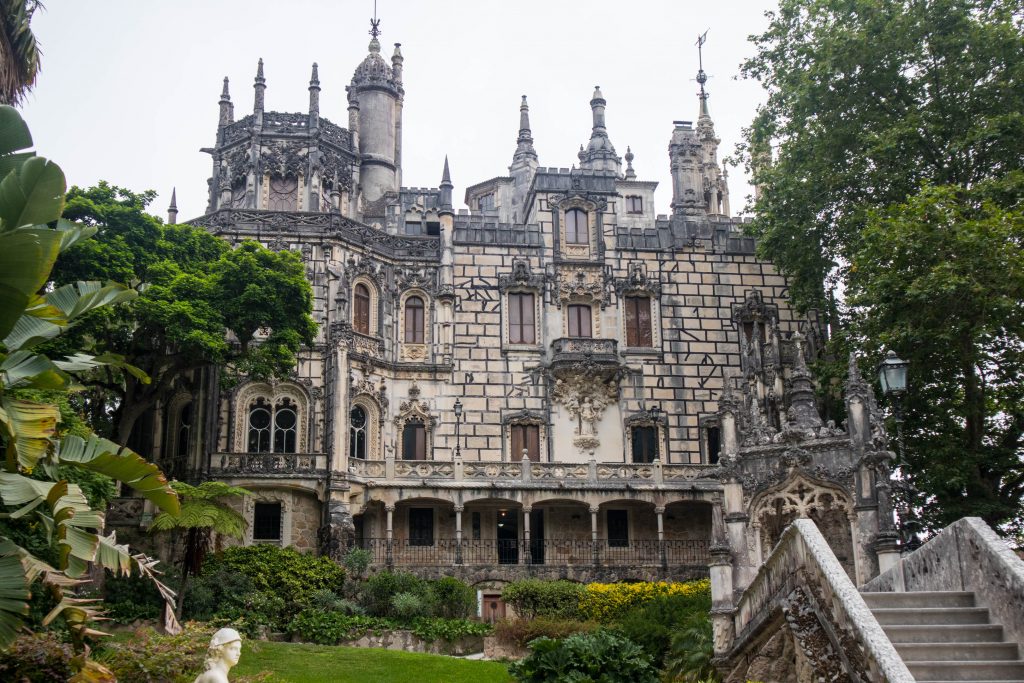 The place has a long history and was owned by many people over the years. In 1892 it was sold to Carvalho Monteiro, whose dream was to build an amazing, mysterious place. With a help of an Italian architect, he created something truly remarkable. Thanks to him, the estate now consists of enigmatic buildings, grottoes, caves, hidden waterfalls, and a famous well, where everyone takes pictures. I don't know how much time I spent there, but I really didn't want to leave. Every time I turned somewhere I discovered something new.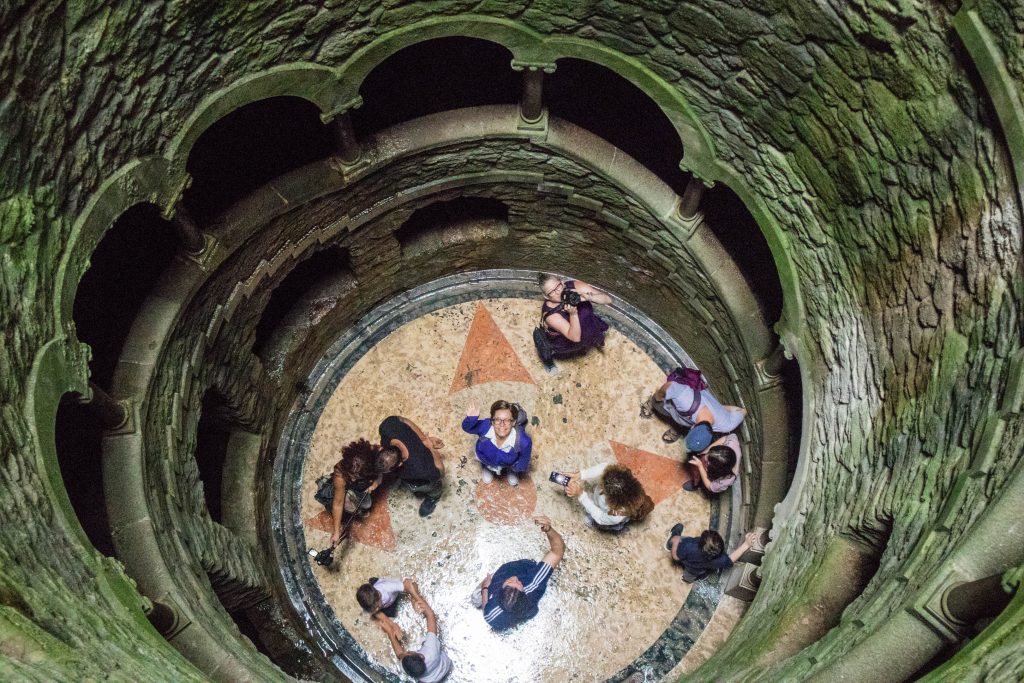 The mansion itself is surprisingly small inside. Although, it was being renovated during my visit and maybe some of the rooms were closed to visitors. I quickly strolled through the chambers and went outside feeling quite disappointed. I think you need to have a guide, who will tell you something interesting about the place to actually find the inside of the house interesting.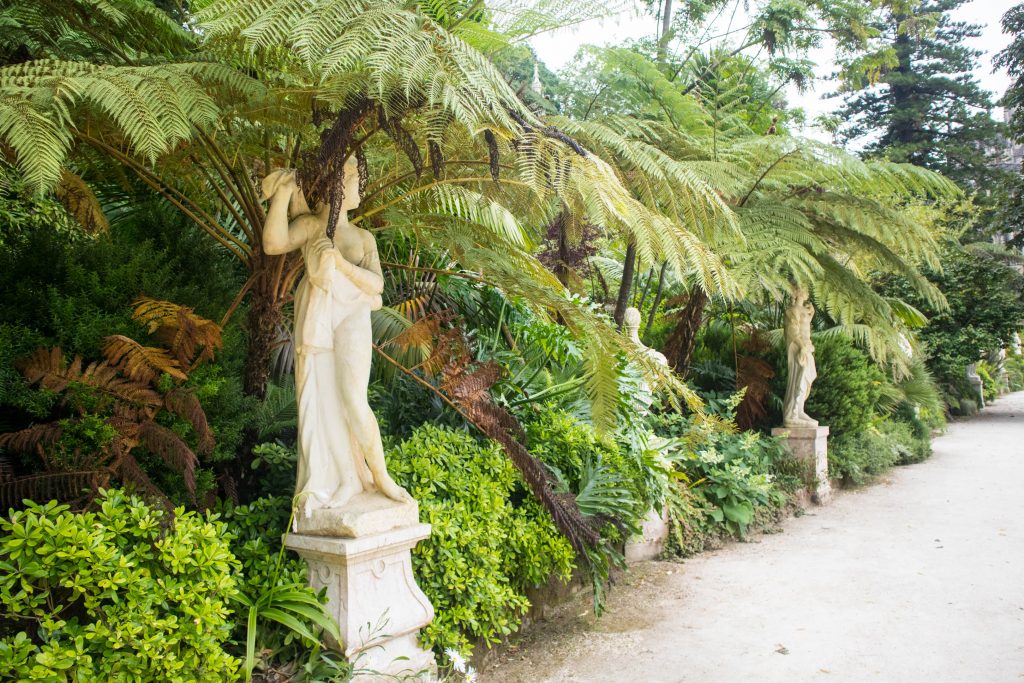 Just next to the mansion there is a small chapel, which is richly decorated frescoes and stained glass windows. Its architecture is very impressive from the outside as well as from the inside.
I don't think you need a map to visit Quinta da Regaleira. I definitely had a lot of fun just strolling around and discovering hidden corners.

How to get to Quinta da Regaleira
The mansion is located 10 minutes from the train station and you can easily get there on foot. It is not advisable to drive there as the roads are very narrow and there is only a tiny car park nearby, which is often full. If you have your own two wheels, leave the car in the center and then walk. See the map here.
Opening hours
Quinta da Regaleira is open from 9:30 am until 5 pm.
The cost of visiting Quinta da Regaleira
You can visit Quinta da Regaleira on your own – ticket costs 8 Euros for an adult. If you want to visit with a guide, it will cost you 12 Euros per person.
Facilities
There is a coffee shop on the grounds of the gardens, where you can buy a snack and drinks. There are toilets available for free as well.
Pena Palace
Pena Palace is a definite must when you're spending one day in Sintra. It is the national monument of Portugal and one of the most prominent places in the country. On a sunny day, the yellow building can be even seen from Lisbon and other nearby towns. The Palace is also on the UNESCO Heritage Site and is considered as one of the Wonders of Portugal.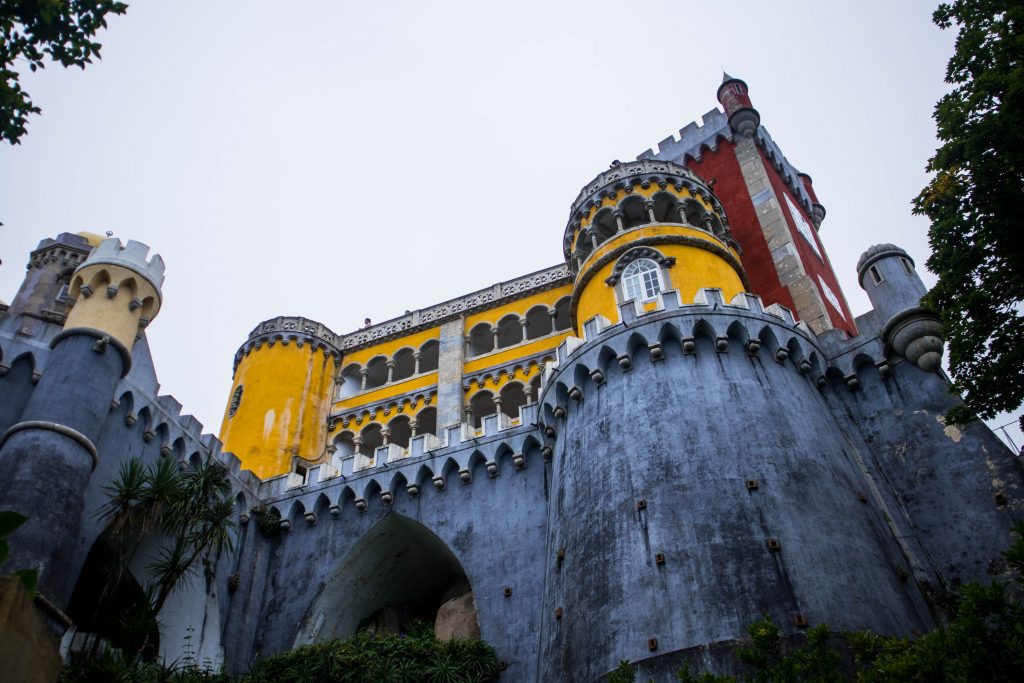 The building has a very long history, which started in the Middle Ages when a small chapel was built on the top of the hill. For centuries it was a quiet place, dedicated to prayer and meditation until the 15th century when it was transformed into a summer residence by Ferdinand II. In the 20th century, it was taken over by the government and turned into a museum. It quickly became one of the most famous places in Portugal. Nowadays it is visited by thousands of people every year.
I decided to walk from Quinta da Regaleira to Pena Palace. It didn't seem far away, but I quickly found out that it's a bit of a trek. However, since I'm trying to be fit, I thought it would be a good opportunity to get some exercise.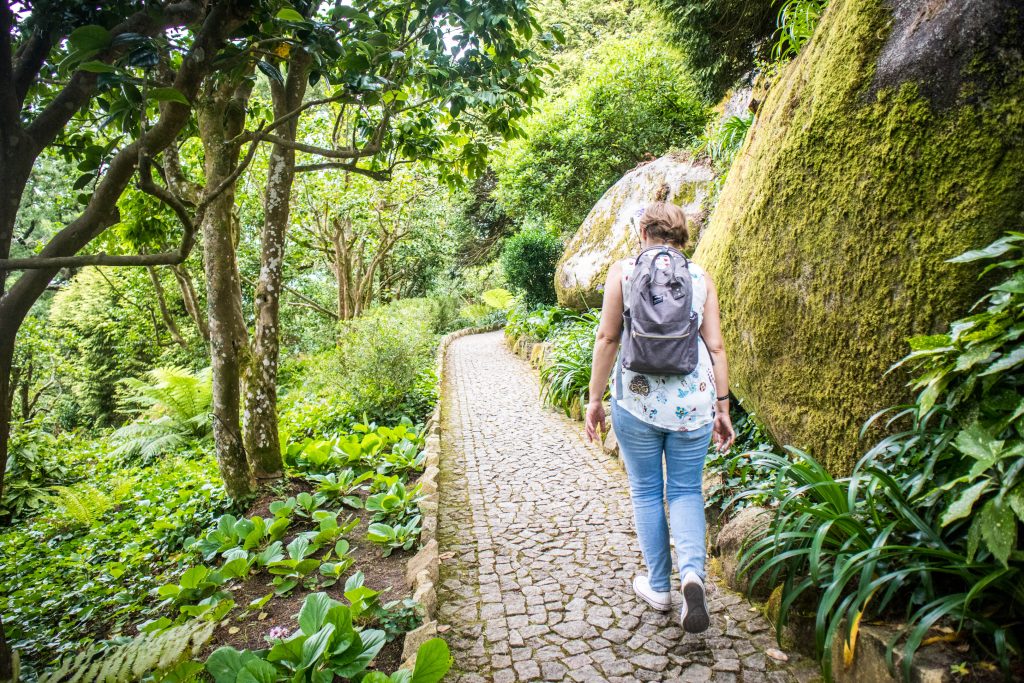 The route first led through a small park that quickly turned into a forest. The path was going up and up and at one point I thought I would never reach the summit. Just before the Palace, there was a nice viewpoint overlooking the Moor Castle, which made me think that the climb was worth the effort.
When I finally reached the palace, I was slightly disappointed. I was so crowded! There were people everywhere and it seemed that the place was struggling to take everyone in. There was not that much space to walk around. I loved the terraces at the back of the building though. The sweeping views over the nearby area rewarded me for all the previous disappointment I felt.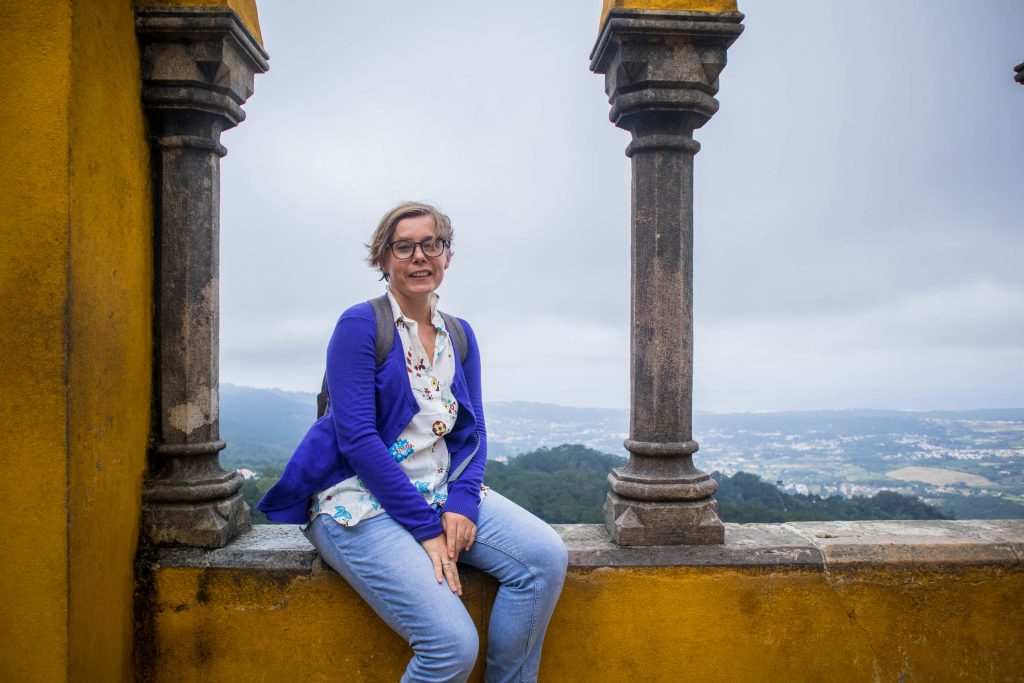 I took a couple of photos, wandered around the palace for a little bit and then quickly made my way to the surrounding gardens. It seemed that not many people get an idea to see them. In some places, I was completely alone. It was a lovely walk and I even got to pet some horses!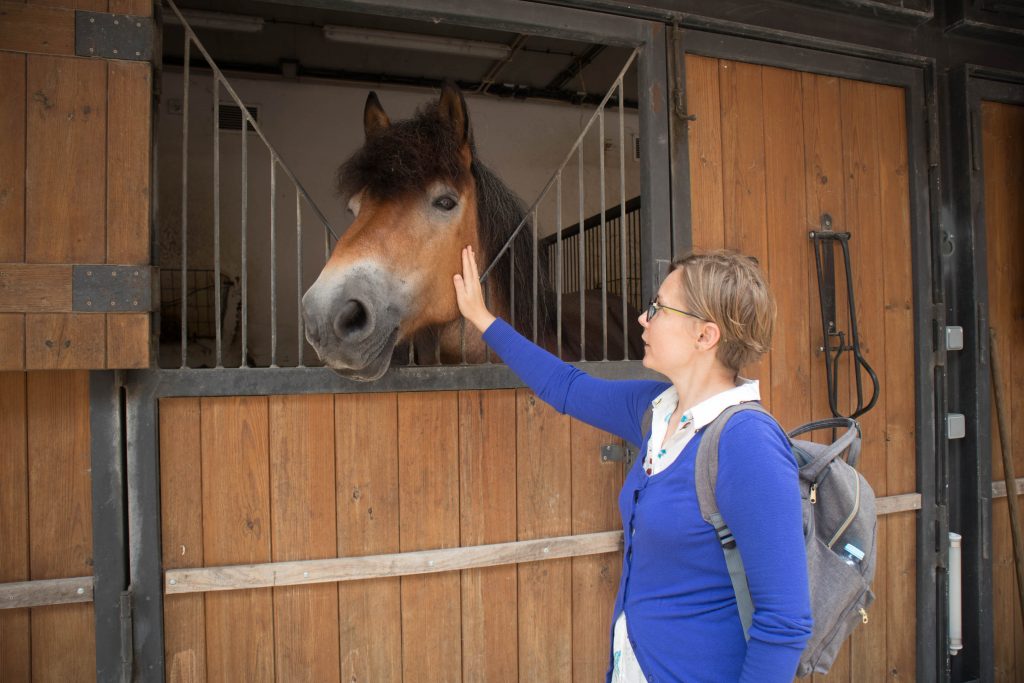 How to get to Pena Palace?
You can walk from Quinta da Regaleira to Pena Palace. The trek should take you a little over an hour. Yes, it's a bit of a way, but the route is really lovely. Bear in mind that you need to be quite fit to do it. See the map here.
Again, driving a car there is not a very good idea. The roads are narrow and can be tricky to navigate on a busy day. After visiting Quinta da Regaleira, just make your way straight to the Palace.
Another option is the bus 434, which goes through the Pena Palace and stops at the Moor Castle as well, so you can also see it on your way up.
Opening hours
Pena Palace is open from 9 am in the Summer months and from 10 am in the Winter. It's best to arrive as early as possible to avoid crowds. In the high season, avoid sightseeing around 11-12 and 3-4, when it's very busy.
The cost of visiting Pena Palace
The entrance fee is 14 Euros for an adult. You can also purchase a cheaper ticket for 7.50 Euros that allows you to enter the park and terraces. The latter is a better option for people, who are not interested in history and would rather spend the day in nature.
Facilities
During my visit, I didn't see any shops nearby, but I'm sure there must be one that sells drinks. Just in case, if you are going there in the Summer, make sure you have a bottle of water with you. There are free toilets at the site.
Other useful information
Spending one day in Sintra will make you hungry and thirsty, so below you will find some great recommendations for places to eat and drink. And if you want to stay there a bit longer, I also have a list for you of accommodation for every budget.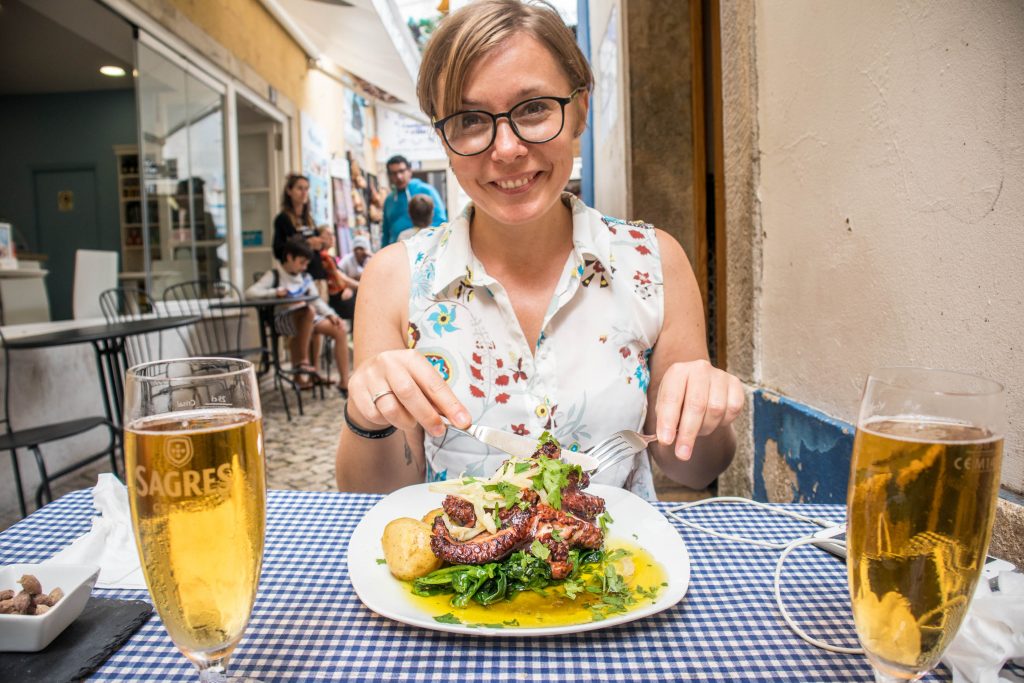 Where to eat and drink in Sintra?
Sintra is famous for its pastries – travesseiros – which are made in a small bakery called Piriquita. The recipe is a secret and only here you can buy the originals. They are best eaten warm with a cup of strong coffee.
Another place to eat at in Sintra is Queijadas de Sapa, where you can buy quijadas – small muffins that are prepared using cheese, eggs, milk, and sugar. They are also mainly produced here.
There are plenty of places to eat and drink in Sintra. The easiest choice is the restaurants in the center of town. Of course, the prices are a little higher, but most places serve fresh, good food. For lunch, we went to Tasca do Xico, where I had my first octopus! I really loved it and since then I have been eating it every time I have a chance.
Where to stay in Sintra?
Here are some places I chose for every budget.
Portuguese Hostel: The cheapest option in town. Offers private rooms with shared bathrooms. It's in a great location, in the center of the town.
M.J. Guesthome Sintra: Homey and nicely designed. A great location and the low price makes it a really good deal.
Sintra Central Flat: This apartment looks so cozy and inviting that I really had to include it here. The price is reasonable and the location is great!
Vila Lunae: Want a room with a view? You don't need to look far. These apartments are spacious and very comfortable. They all come with small balconies and kitchenettes.
Vila Gale Sintra: An upscale hotel, where you can feel like a king or a queen. Rooms and suites here come from kitchenettes. There is a breakfast included and after a whole day of sightseeing, you can relax in a spa.