I must be honest with you, I am very old fashioned when it comes to travel guides. Most of the time I prefer paper copies, where I can scribble down some notes, and highlight the places I want to visit. I am just a big fan of hand writing, you know… But, recently I have decided to give the technology a shot. I can't really stay behind those 20-something travellers.
As my  first website and app to try out I chose the Travelog, where you can get information from local guides and bloggers, which is right up my alley. I also decided to try it out because the site looked really friendly to someone, who knows very little about technology.
I decided then to check what they recommend to see and do in Chiang Mai on their website, the city I live in at the moment, and I know pretty well, and then choose another city I didn't know much about on their app.
The Website
When you first go to http://travelog.me it asks you to log in straight away. This is what I don't like. Nowadays we have so many logins and so many passwords for these logins that every time I am asked to create new ones I get annoyed. I kind of understand the whole point of this here. I assume if you create the account the website will save and track your searches, so you can come back to it every time you want. But what if I just want to check out if it is worth creating such account. Maybe I won't like the website, and I will never use it again?
The site  conveniently allows you to log in via Facebook and Twitter, but there are people (believe it you or not) that do not like social media, and therefore they stay away from them.
It gives you the option to access the site without putting your contact details in, but this is not clearly visible, and I miss.
I try to login via Facebook and I have a problem with my user name. I try again, and it's exactly the same. So, I finally decide to use my email address. This time I go through.
I am taken to a very nice site. I like the simplicity of it.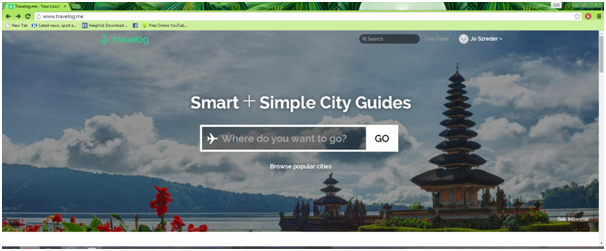 I quickly check what's under my profile. There are 4 options available: Travelog, wish list, following and settings. Under Travelog there is a space for a profile photo, which is a nice personal touch. I assume that here you can save your destinations and guides, but I am not entirely sure as the site doesn't really explain it, but I decide to explore further and come back to this option again. The same happens when I enter the 'wish list' option. There is actually not much here. It seems that the site is not yet completed.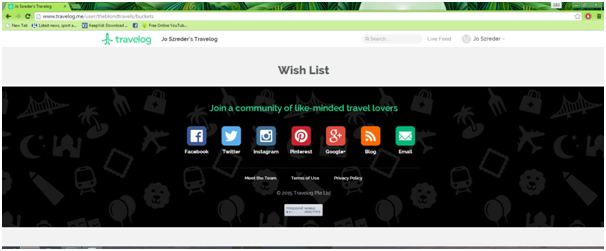 'Following feed' is exactly the same as 'wish list'. Maybe this is something that they still working on…
Under 'settings' you can change your city, email address etc. It's very basic and simple.
I go back to the main site and as my destination I put Chiang Mai.
This brings me to the site with a couple of options on what to see and do here. I am a little disappointed at first. 'Is that it?' I think. The site lists all the main attractions in the city and that's ok, but I do know that Chiang Mai has a lot more to offer.
There is a main tab that has the name of the city and country and I click on that. There is a general information about the city, including current weather. Only after I scroll down I notice that there are more attractions that the site offers. They are divided neatly into 'must see places', 'hotels', 'family fun'. Yeey! This is more like it! I explore every option.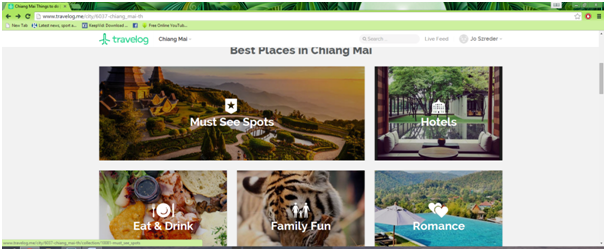 There are plenty of hotels to choose from. However, most of them are expensive, over $20 per night, which would be too much for me if I travelled to Chiang Mai and I would probably use another booking website to find my accommodation.
'Eat and drink' section has a lot to offer, too. But again the photos look like they listed only fancy and more westernized options.
The site owners say that they prefer to focus on young professionals, who could afford to stay and eat at such places. I think the site should state that clearly.
Each destination, hotel and place doesn't have much information about it and the reviews are based on users opinions. You can add each place to your wish list, which I try out. The places I chose are now nicely listed  under my 'wish list' option.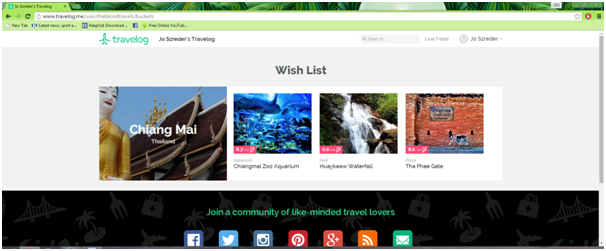 Summary
Pros
I love the design. It's simple, not messy and you know what to do and what your options are straight away. You use it instinctively.
I like the photos they include. They are very colourful and you can see that they were taken by someone, who knows a little bit about photography. You can actually spend quite  lot of time browsing around the website.
Cons
I will repeat myself and tell you that I didn't like the login part. I want to have an option to look around before I decide to open an account and give someone my contact details.
I also think that the destinations should have more information about them, except the user reviews. Just a short summary at the top would be useful.
The App
I download the app from the Apple App Store. It is free – big PLUS!
The download is easy and straight forward.
Once I open it, it asks me to login. I get slightly annoyed…again. I try my login details from the website and it doesn't allow me to do it. I try again…It doesn't say why I can't login. I just don't go further. After a few attempts I finally manage to get to the main page.
Oh wow! again, I am greeted by a wonderful, simple and stunning design. I like the photos.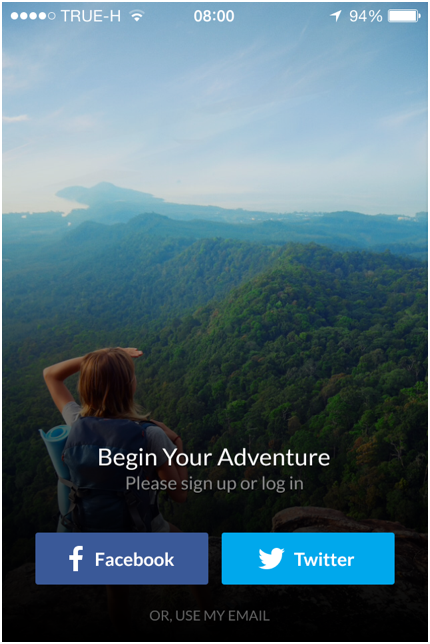 There are again a few options to choose from – news feeds that lists articles from different websites about the most popular cities, explore – that allows you to look for a destination, wish list that keeps the log of your places you want to visit (I am glad to see the ones I chose on the website saved), community – that has a list of the users, who you can also contact, which I think is a great option, people like to stay in touch and exchange information, and finally you can post a log using a photo from your mobile.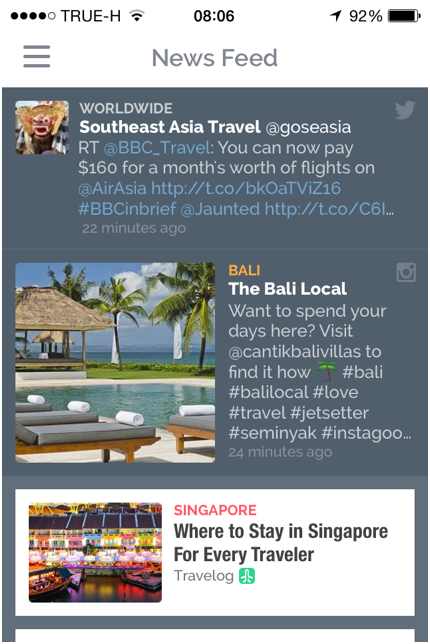 I go to the 'explore' option and choose Bangkok as my destination as I am going there in April. This takes me to the sections with hotels, spots to see, family fun etc, just like on their website. Again, I explore everything. This is not much different from the site. It is easy to use, straight forward and professionally designed.
I decide to create a tour around Bangkok for myself. I have been to the city before, but there are still a few places I haven't been. I add a few places to my wish list. However, I do not find that many interesting spots under the 'must see places' tab. I have seen the Palace, Wat Po and Khao San Road. The other places the app lists are not really that interesting to me. However adding them to my wish list is again simple, straight forward and fun. You just press a small heart at the top right corner of the screen. So cute!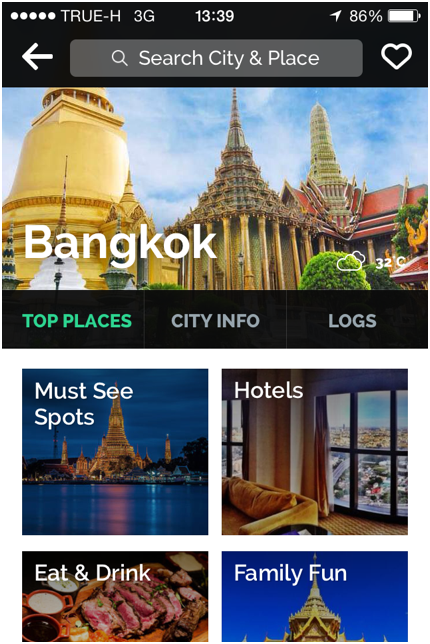 Summary
Pros
Again, the design is lovely and very clear. I like that.
I also like that I know straight away how to use it and don't have to look for any help and get discouraged by the experience.
The community is a great feature. I think with time it will grow and connect people around the world.
The app is a very useful tool to keep a track of the places you want to visit.
Cons
Not sure why I had trouble with logging in. This discouraged me a little.
I think the site could benefit from having an option, where you can create an actual tour of the city, but I guess this is a little bit more advanced and time consuming to make.
Sometimes it took time for the images to load. I am not sure if this was caused by a slow wi-fi, or if the images were a little big to load quickly.
My final opinion
I did like both the site and the app. Except maybe the login part I didn't get discouraged once. It is a brand new website and I predict that they have a great future ahead of them. It is definitely not a website for someone, who is looking off the beaten path destination, but more for a typical tourist, who wants to see the most important places in the city. I would say that it is also for someone, who can afford to stay in a hotel, which is a little bit more expensive than a dorm.
At first I thought that the site didn't offer what it claimed to – the tips and advice from bloggers and travellers. However, after speaking to the creators of the site, I realised that the feature 'news feeds' is just that – articles written by professionals especially for Travelog. As far as I know they are working on changing this section slightly, so the users know that these are not links to external websites, but unique posts on the Travelog.
I was thinking how I would use both the website and the app to prepare for a trip.
I would definitely use the site. I would really explore all of the options they have there, including the hotels. I would read the news and reviews.
Would I use the app? Probably not. This is not because it is useless, or bad. In fact, I think quite the opposite, but I am one of those people, who will use paper travel guides until the rest of their lives. I just can't convert. Sorry Travelog!