This post has been created in cooperation with AirAsia and Find Folk, which together created Journey D – a project that is supporting local communities and bringing them closer to the visiting tourists.
There is more to Thailand than Bangkok, Koh Samui or even my beloved Chiang Mai. In fact, many of these places are slowly losing their identity and become a market of cheap souvenirs and loud bars. But, the country is vast and it's not so hard to find a great spot, which is unique and offers something special to the visitors. A day with Promlok Community gives you a chance to see and experience the remote Thailand.
I had never heard about Promlok Community before. Only when I agreed to try out the new AirAsia's trips – Journey D – did I found out about this unique project. In January 2020 I spent a whole full day with the people involved in the Community and it was such a great experience that I didn't think twice about writing about it and recommending it to you, too.
If you are looking for something truly unique, which will introduce you to the real, remote Thailand, Promlok Community will help you to do just that.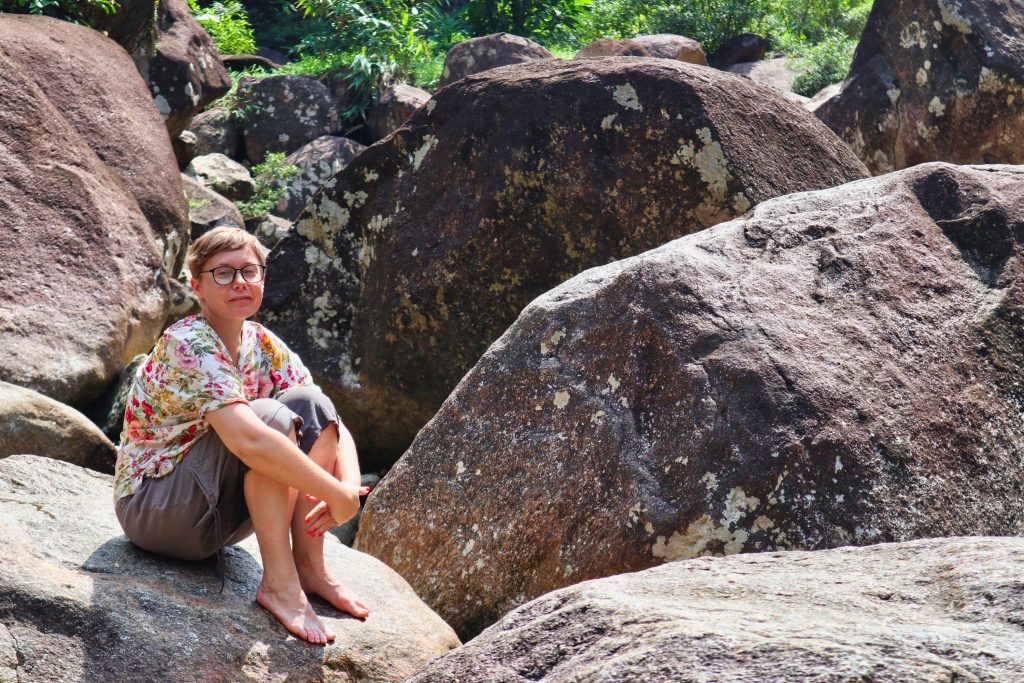 Community Based Tourism in Thailand and Promlok Community
There are countless tour companies in Thailand, which normally sell the same thing to most of those that visit the country. So, you can visit the Grand Palace in Bangkok, go on a four island trip from Railey Beach and then see the temples in Chiang Mai. You follow the crowd, not even touching the real essence of the country. This might seem enough for quite a few people and there's nothing wrong with it. These tours are needed and lots of visitors use them to see something that is quite extraordinary and unusual.
However, some organisations and charities have noticed a niche, which they are trying to explore – Community Based Tourism.
Thailand is a very large country with a lot of minorities and little communities living in those less known places. They have a lot to offer to a tourist that is tired with seeing the same offers in the more touristy places. These communities, along with some of the organisations, try to attract visitors and show them the 'Thai way of life' and give them an opportunity to meet and live with the locals for a while.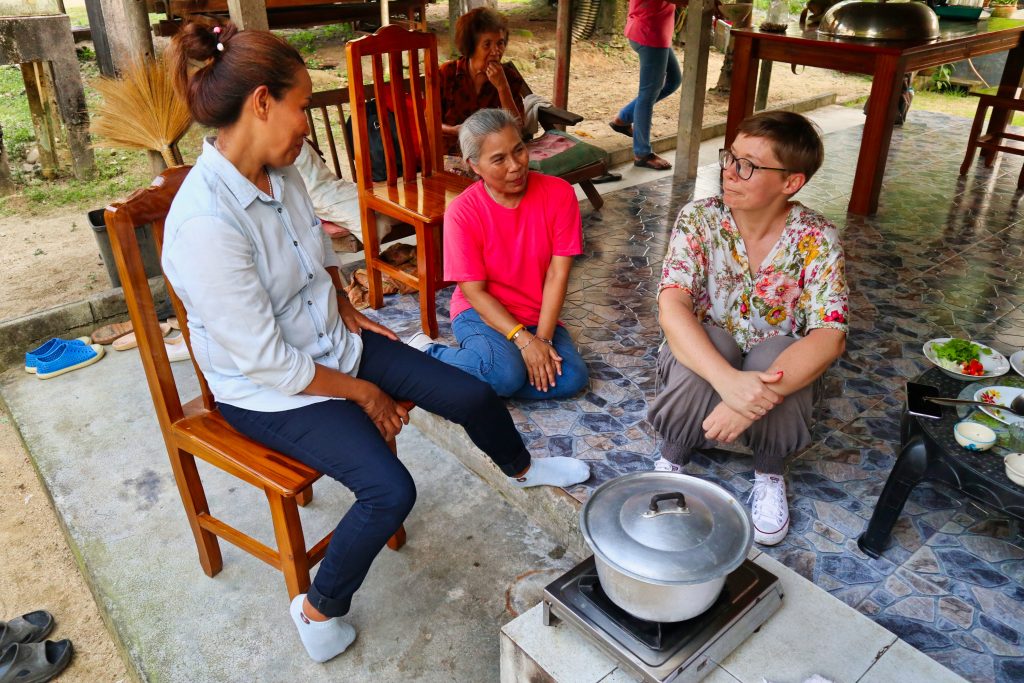 Journey D has led me to Community Based Tourism Promlok, which has a small homestay and organises excursions for domestic and international visitors coming to Thailand. They have a whole list of activities for their guests, including batik making, hiking, cooking and visiting nearby temples.
Their modest home can be a real refuge from hustle and bustle of Thai tourist destinations.
A day with Promlok Community
I had a day with Promlok Community and spend around 10 hours with them. It was an intense day, filled with exciting things.
Morning – Wat Phra Mahathat and the religious insight
I was picked up from my hotel in Nakhon Si Thammarat in the morning at 9:00 am. My guide turned out to be an older gentleman from the Khanom Tourism Association, who told me that his greatest passion is to preserve the local wildlife and promote sustainable tourism in the area.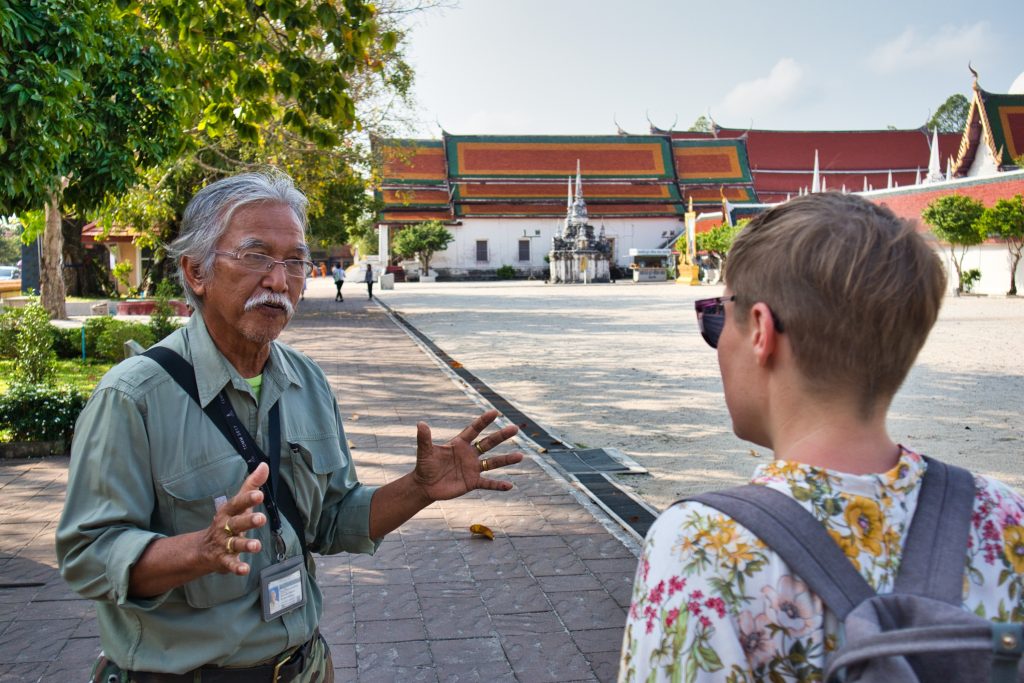 I had been to Khanom 2 years before and remember that one of the greatest treasures there were pink dolphins, appearing often at the shores of the town. I didn't see them then, but I really hope to be able to in the future. This time we weren't going to see dolphins, but the day was going to be as exciting.
Our first stop was the famous Wat Phra Mahathat, the biggest temple in the Nakhon Si Thammarat province. The chedis that are seen outside the main building date back thousands of years. Originally they stood on a beach. With time the water dried out, but the locals decided to keep the surrounding sand in a reminder of the beginnings of the temple.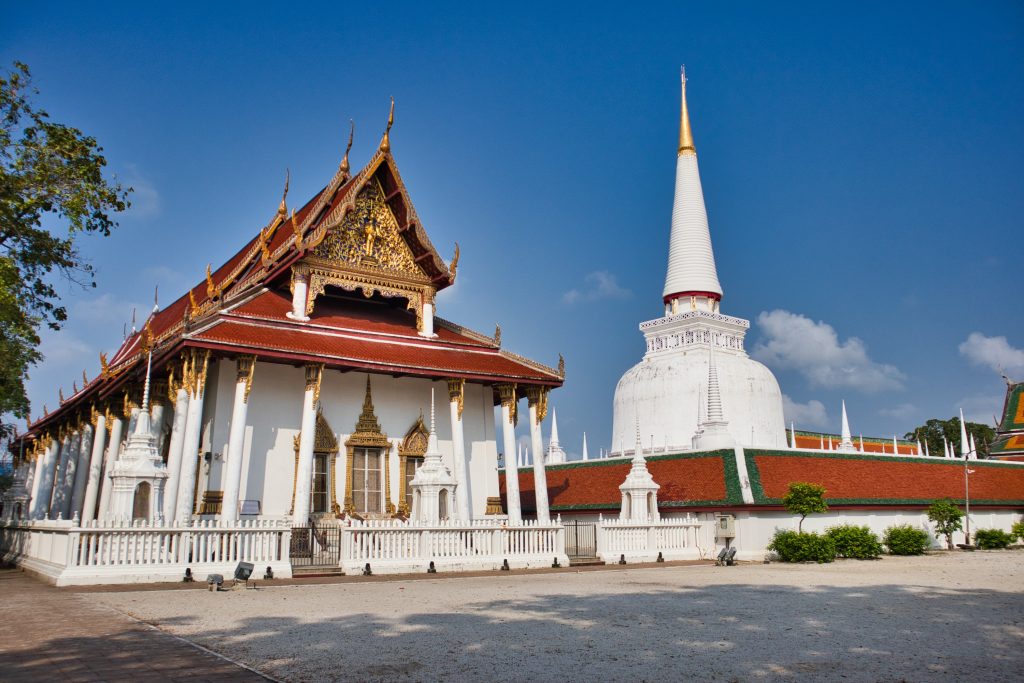 At the entrance we were welcomed by the police and the president of the Tourism Association of Nakhon Si Thammarat. It was obvious that they don't see many foreigners in this area. Everyone was very excited and welcomed us with smiles and greetings. A few minutes later we were also joined by the delegation of Thai Airways, who came to the temple to pay their respects.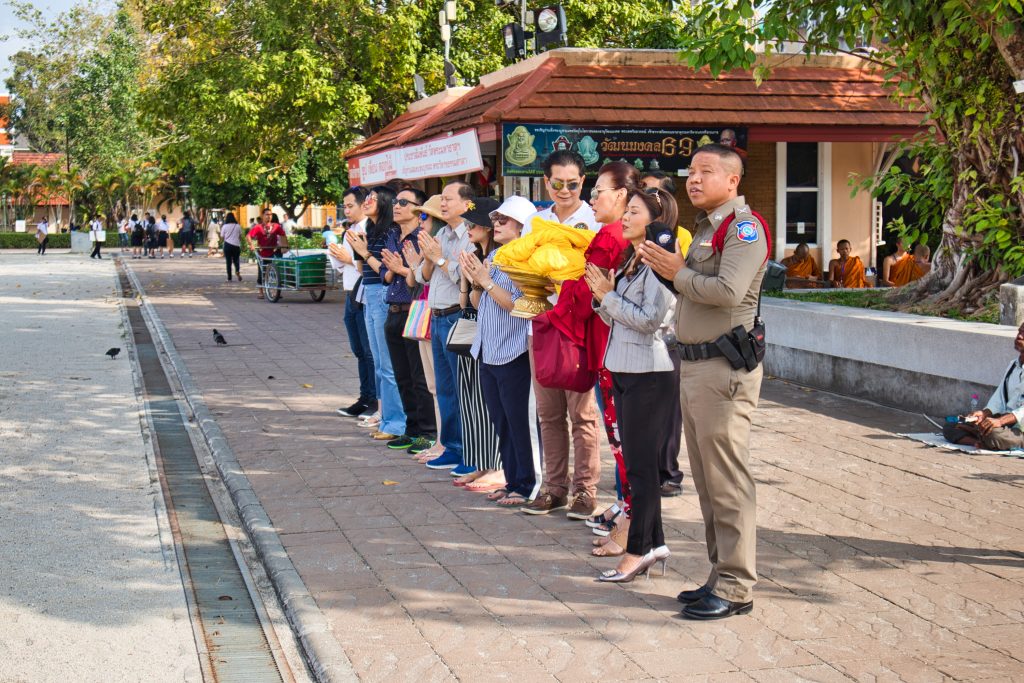 Sometimes, if you're lucky, you can witness Thai people bringing a long piece of yellow cloth to the temple. They leave it inside the building. Some write their names on it. This is what the mentioned delegation were doing. Each of them held the material above their head and was chanting a prayer while walking slowly inside. I was invited to join them and really enjoyed the experience.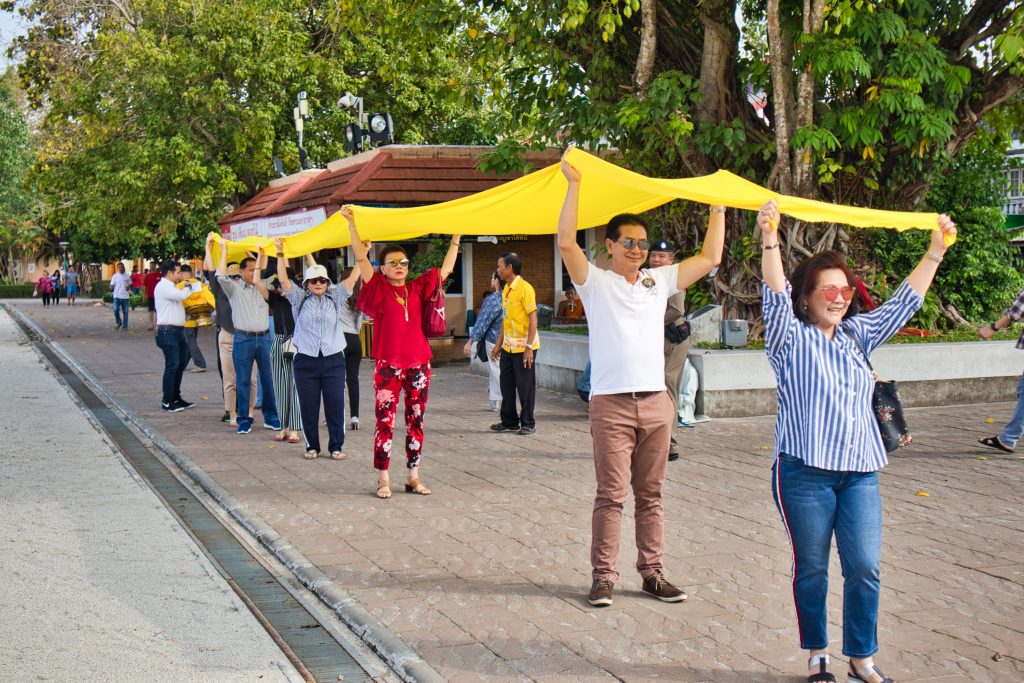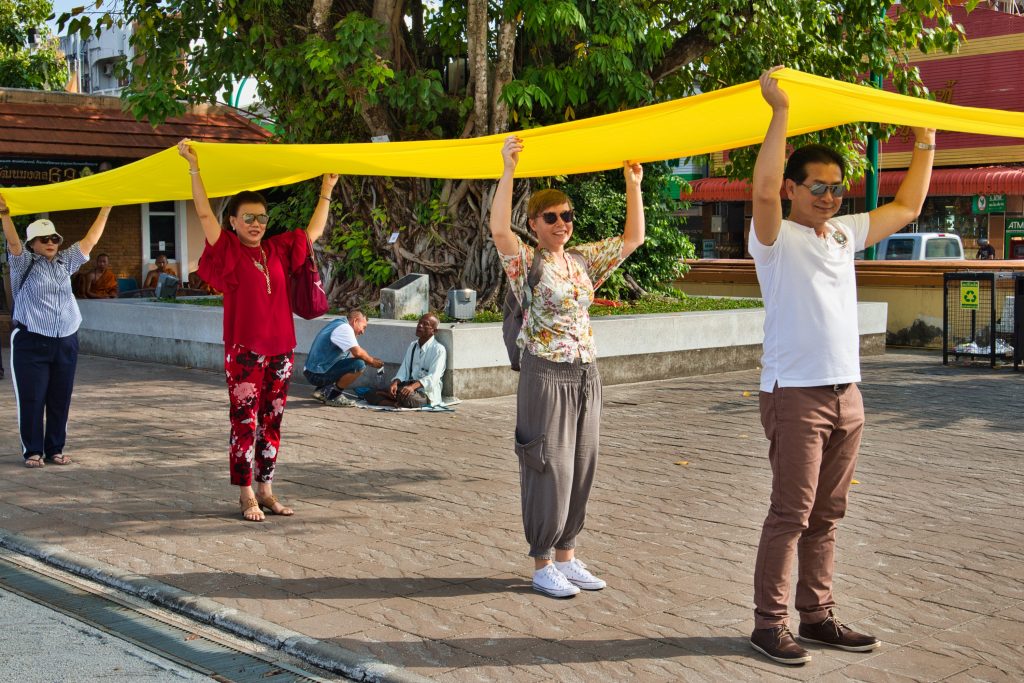 After we left the Thai Airways crew, we proceeded to sightsee the temple.
The temple is divided into two parts: Buddha-avasa for religious celebrations and Sangha-avasa – a living area for the monks.
Inside the main stupa you will find a beautiful golden stucco, which illustrates the life of the Buddha and next to it there are stairs leading to the top of the stupa (which you mustn't climb) guarded by demon giants. Inside there are relicts of the Buddha, which were transported here thousands of years ago from India.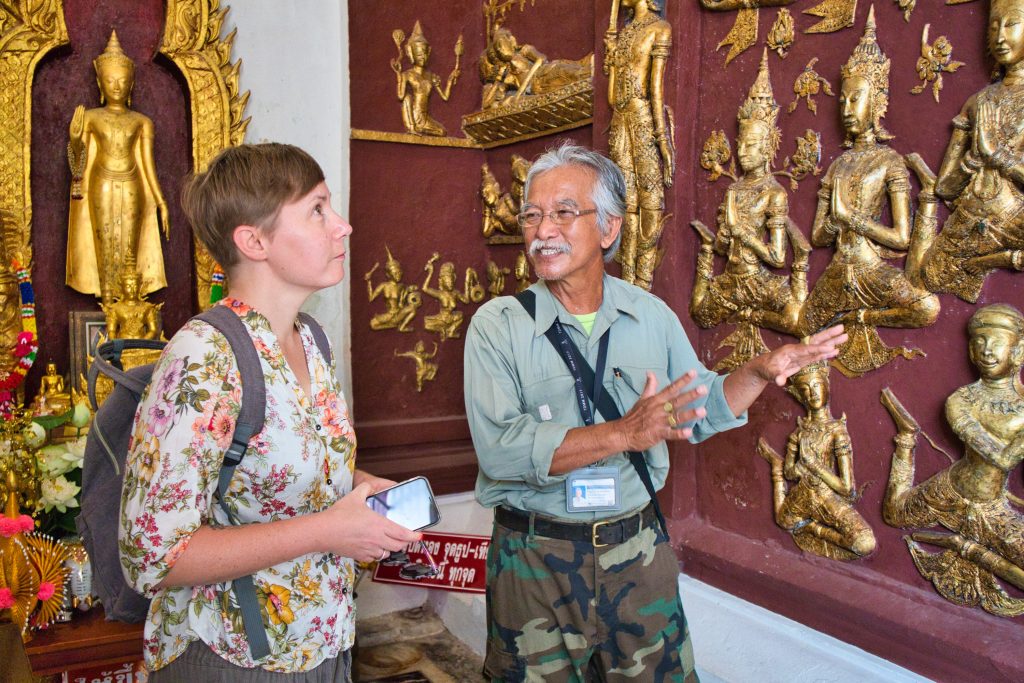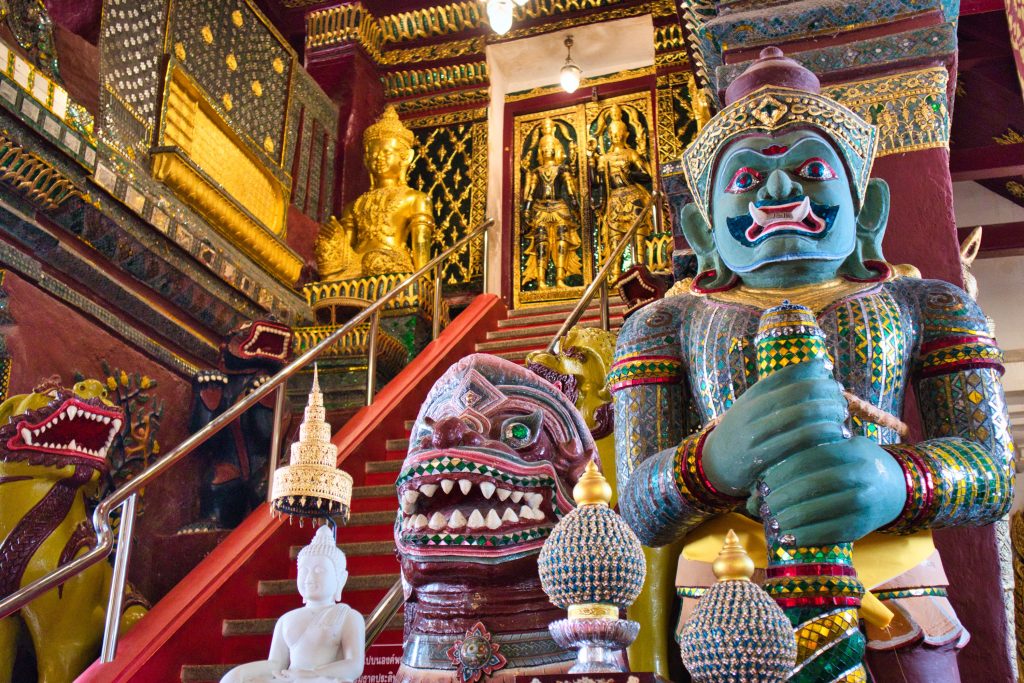 In the area you will also find a museum with collections of religious objects. Some of them are thousands of years old.
The sightseeing of the temple was really interesting despite the fact that I had seen many similar places. I think it was thanks to our guide, who was so patient explaining all the things we were seeing.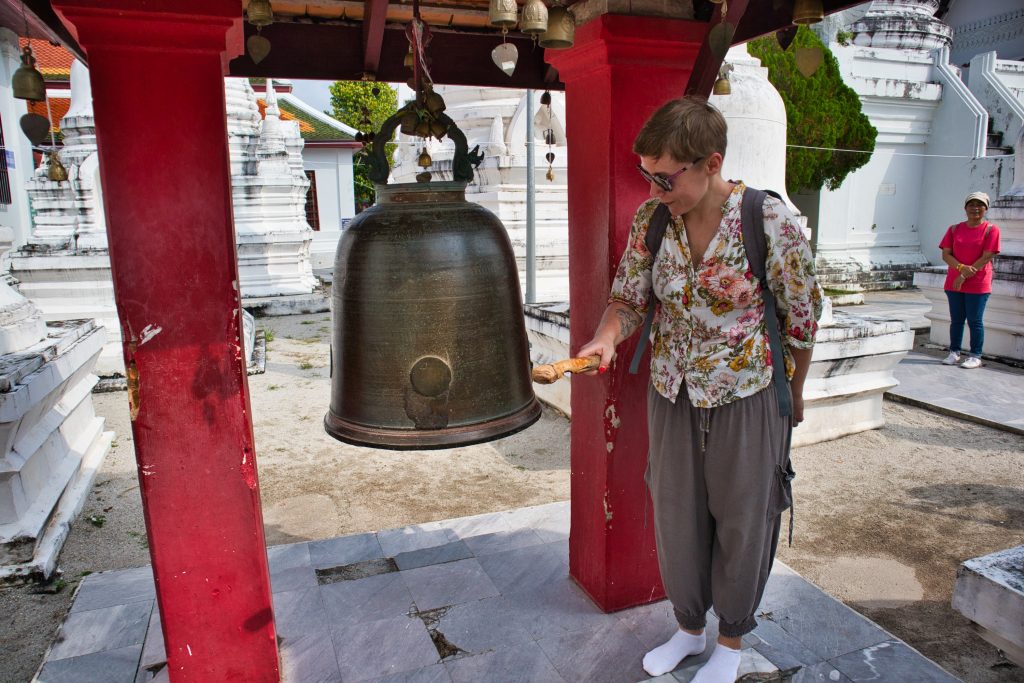 Dan is a religious person and really wants the visitors to understand Buddhist principles and Thai culture. I could ask all the questions I wanted and he always explained things very clearly. He also stopped at the more interesting pieces in the museum and told old legends and stories that involved super natural powers, old superstitions and believes.
At the end I was treated with a fresh, cold coconut bought at a local seller, we jumped in the songteaw (taxi truck) and left for the Khao Luang National Park.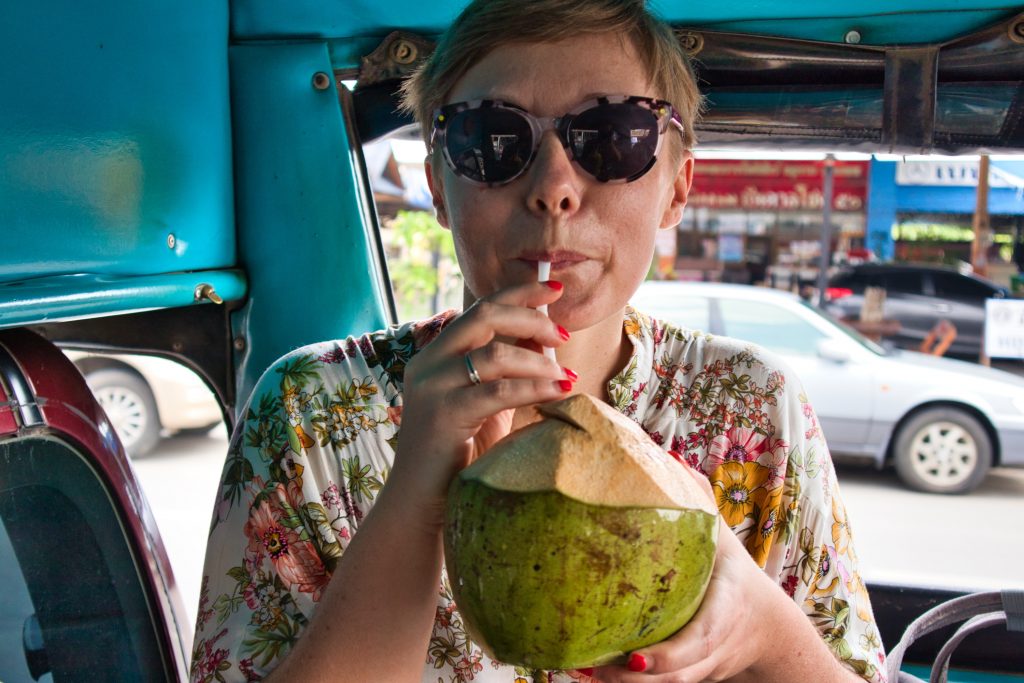 Noon – Promlok Waterfall and lunch in the nature
We stopped shortly at the CBT Promlok. Two ladies, who were accompanying us and later turned out to be the owners of the centre, disappeared for a short moment and came back carrying a lot of metal food containers and a whole tray of delicious, small bananas.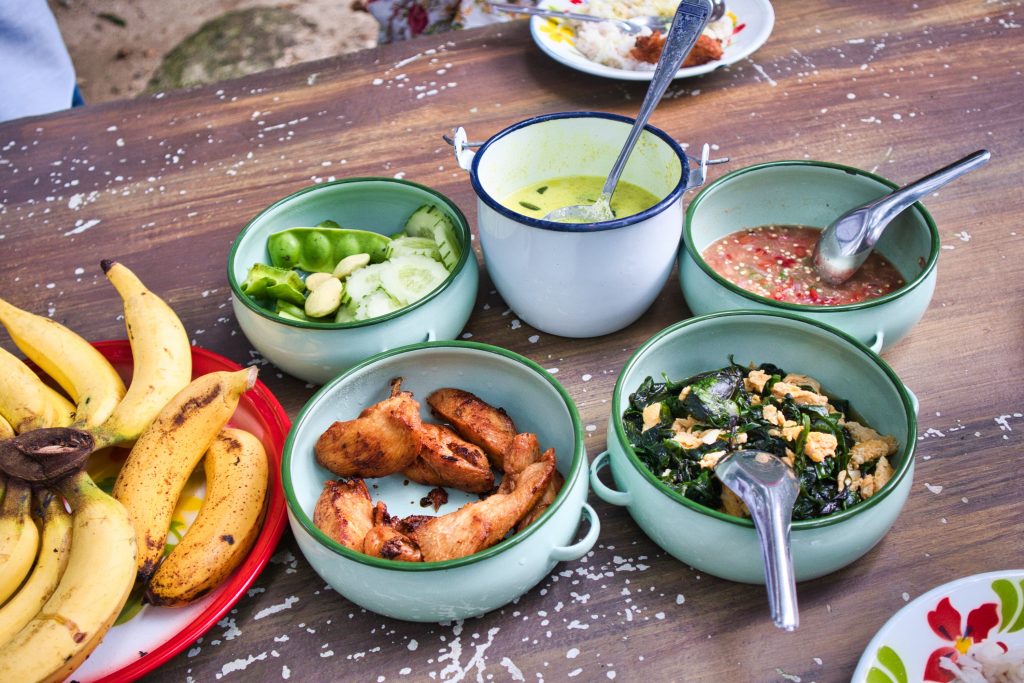 We drove for a short while through the countryside and then through a road surrounded by a lush, tropical forest. Finally, we got to the Promlok Waterfall. This was clearly remote Thailand – there were nearly no people around, just a group of Thai teenagers splashing in the nearby pond.
All of us got to work and in no time we made a picnic under a large tree. The food smelled amazing. Green curry, fried chicken, dipping sauces – all prepared by the CBT Promlok. My stomach started growling.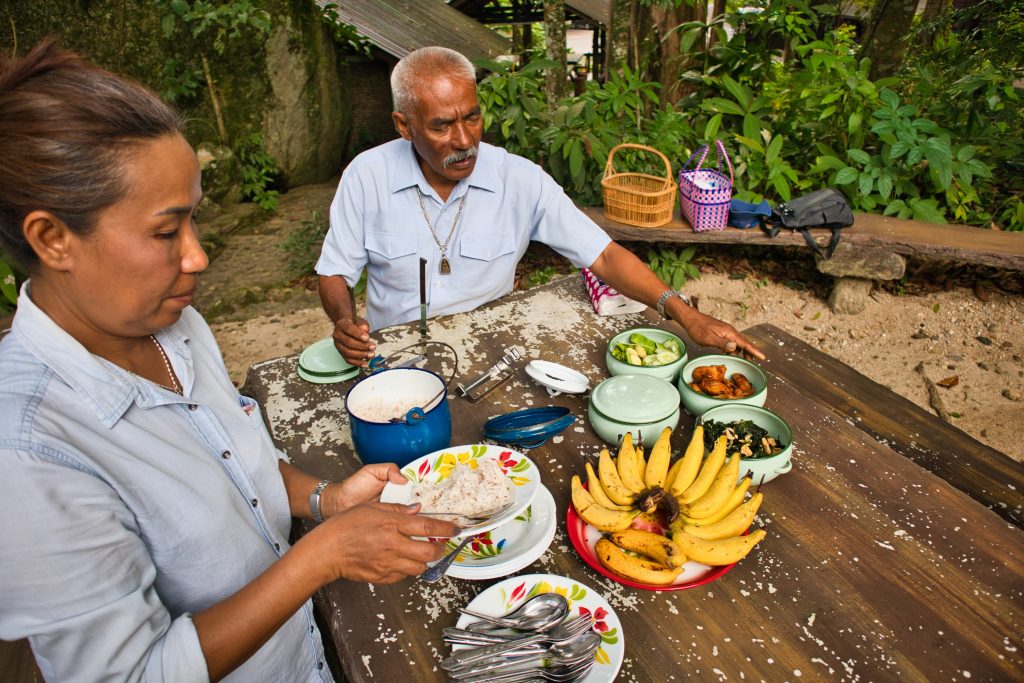 I tried everything, one by one. Some of the things were a little bit too spicy, so I was shown how to chase the uncomfortable feeling of burning with some fresh veggies. My guardians were really trying to show me the right way to eat all that delicious food.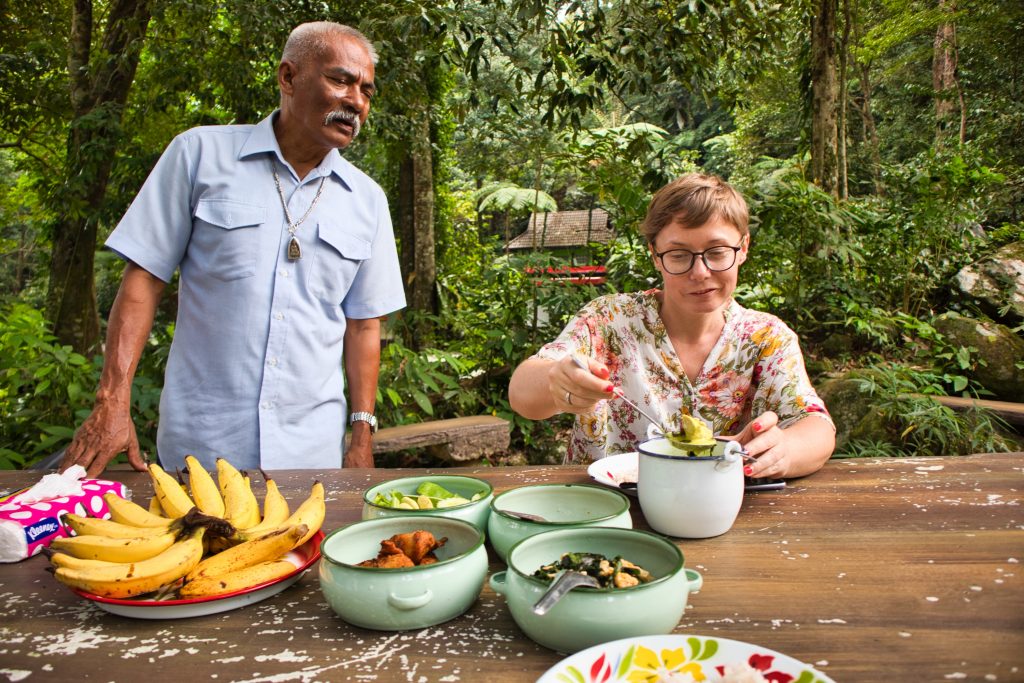 So far, the ladies and the driver, an older gentleman who also helped out with setting up our picnic, were pretty quiet. They didn't speak much English and only smiled at me shyly. I decided to try out my Thai with them. This opened a completely new door. Suddenly, in a blink of an eye, they started chatting with me, quite excited that they could communicate. For me it was a real exam. Until then I had been pretty shy and afraid that no one would understand me due to my bad tones. It turned out, that I could actually communicate and I think we all enjoyed each other's company very much.
After filling up on one of the most delicious food, I was sent to the waterfall and encouraged to step into the cool water.
Promlok Waterfall has 50 levels. You can reach the top only with a ranger and with a guide. It normally takes a whole day. I didn't have time for trekking this time, but I took a walk as far as I could – to the 4th level.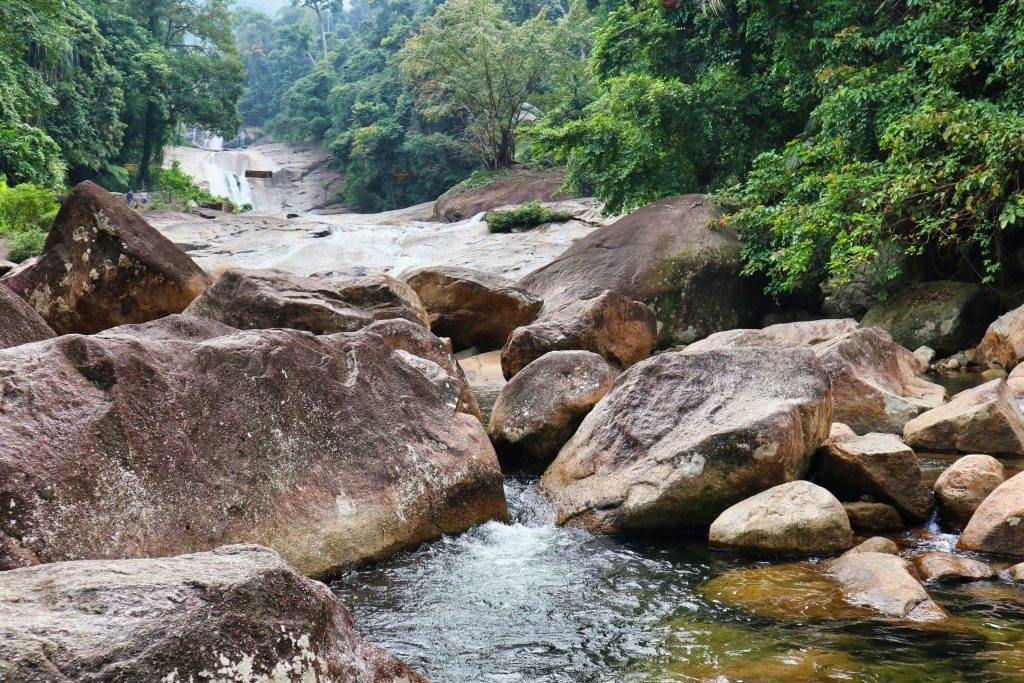 The waterfall is located in a jungle and it's surrounded by the most amazing trees. If you look closely you will find some lizards sunbathing and if you go further into the forest, you might stumble upon monkeys!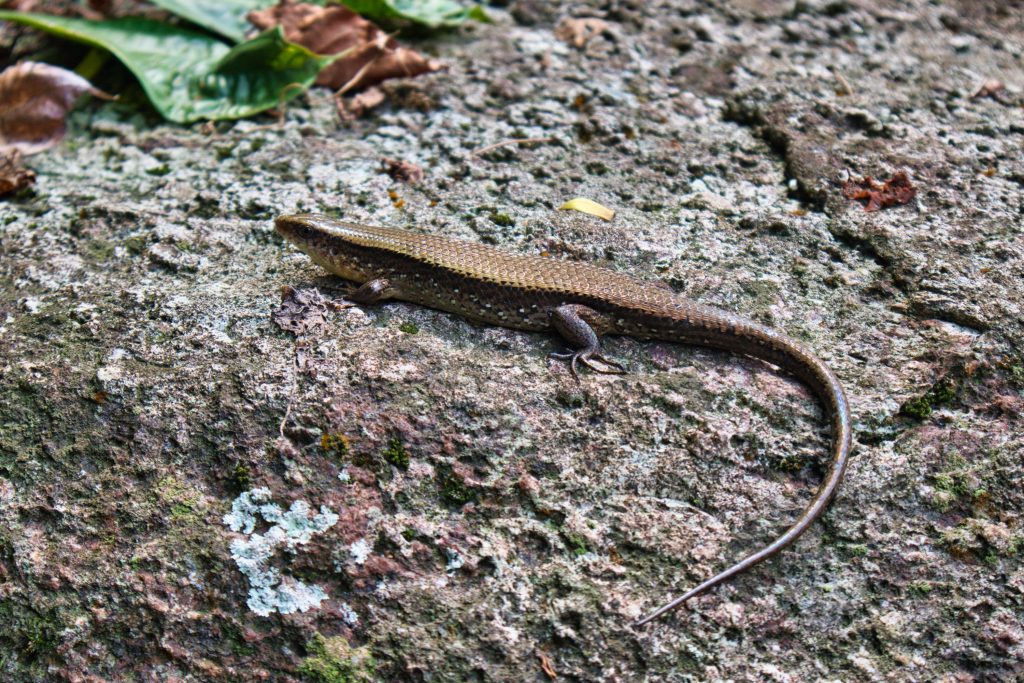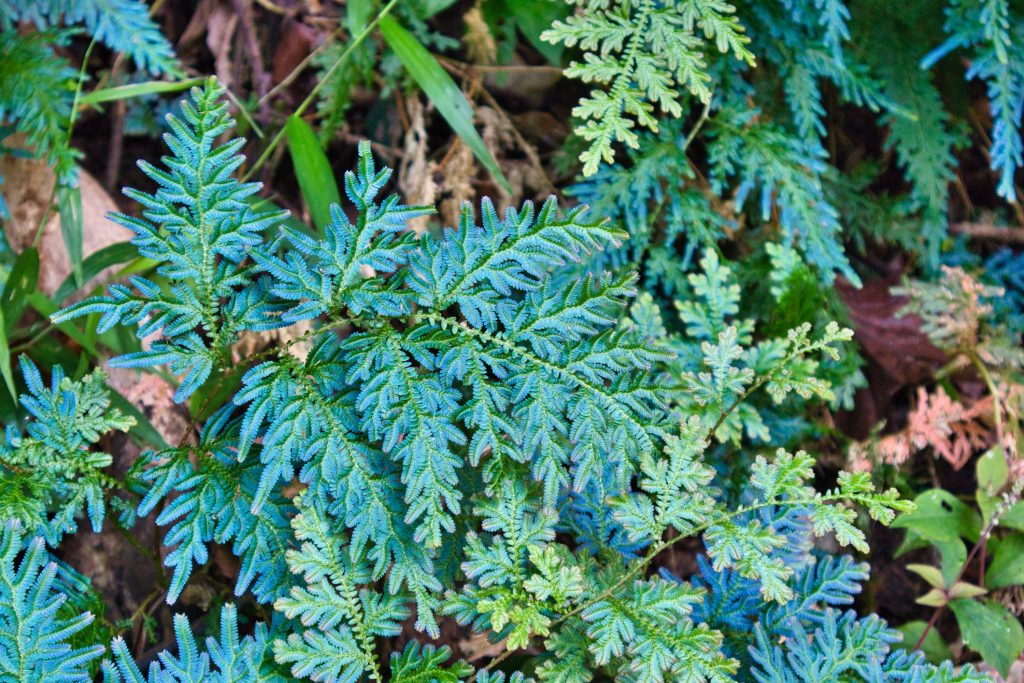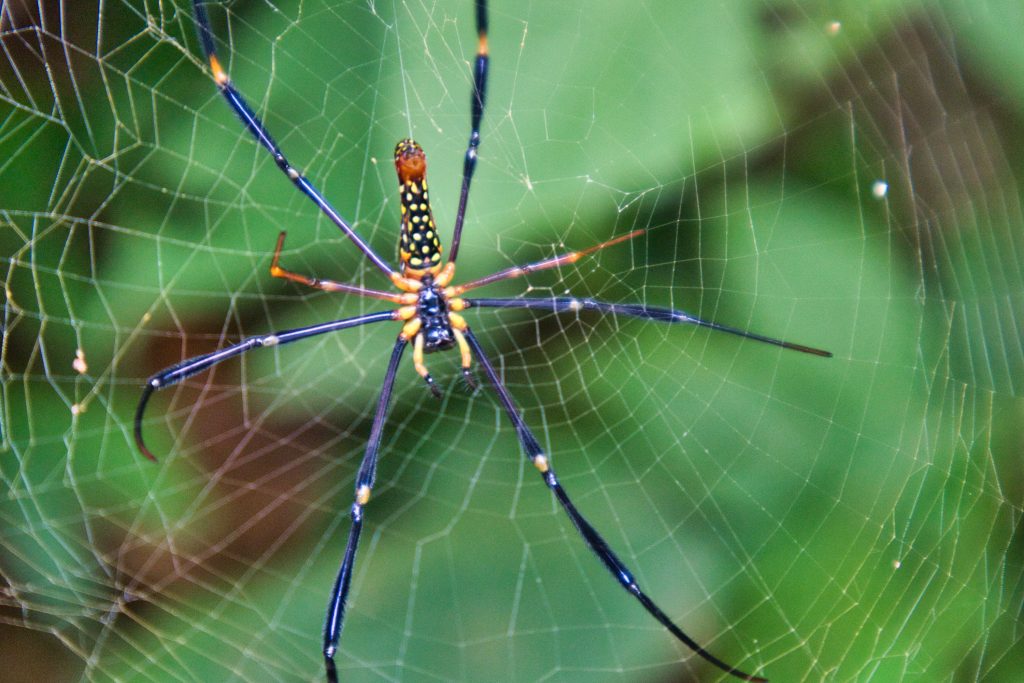 The place is also a memorial of the late king Rama IX, who years ago went there and left a carving of his signature on one of the rocks.
Another great thing about the waterfall are the fish. Garra rufa fish can be found in many shops in Thailand. They swim in special aquarium, where you put your feet in. After a few minutes you are done and can enjoy smooth skin, just like after a peeling. In Promlok you can have the same experience, but for free! Fish are not dangerous at all and won't bite too hard. Don't be afraid to put your feet in the water.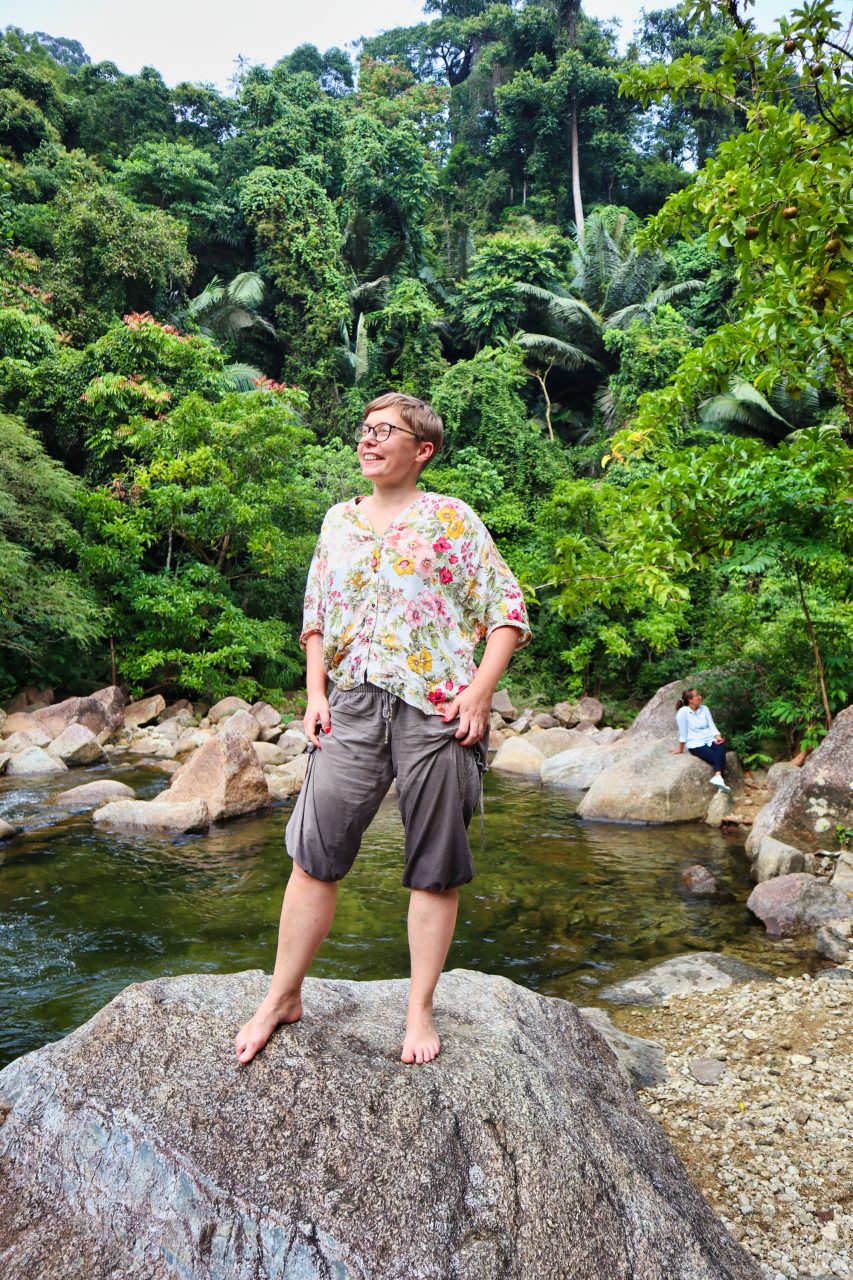 It is possible to swim in the designated places in the waterfall. Just remember that you are in the province and people here are not used to seeing others wearing skimpy bikinis. It's best to swim in your shorts and a t-shirt.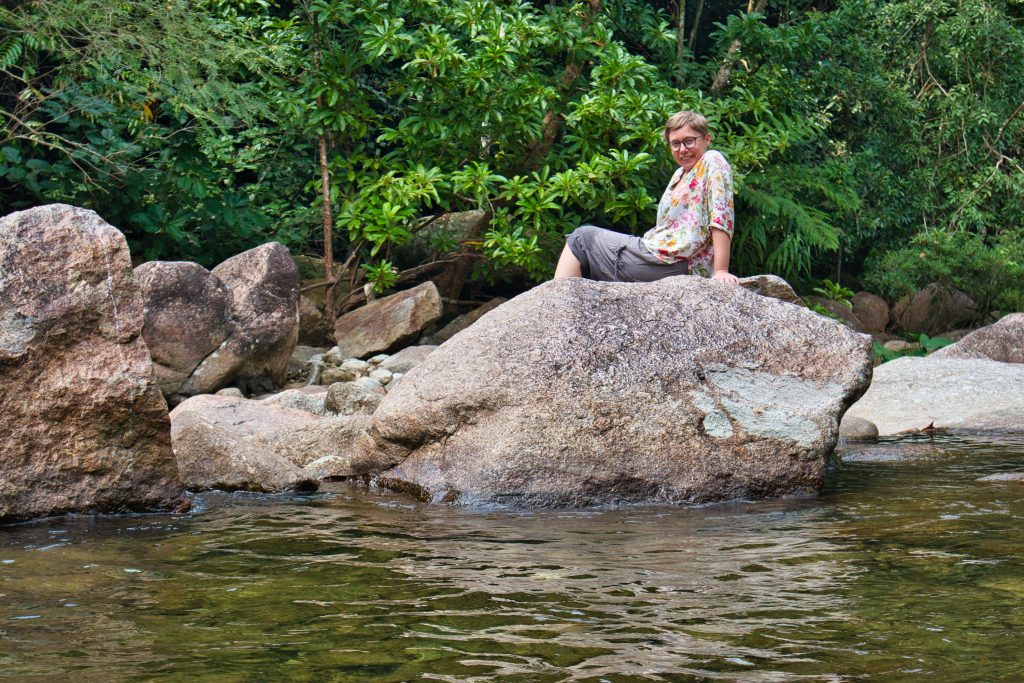 I enjoyed the cool water for a long time. I just didn't want to go back to the civilisation. The air seemed so much nicer there than anywhere else I had been before Promlok.
On the way back from the waterfall, a young man set up a table and opened his suitcase revealing a whole set of glasses for sale. It was a very random place to sell them, but the ladies I was with were very intrigued. I helped them choose glasses that suited them very well, discussing the best colours and shape (I was so proud of my Thai!). Then I noticed a small mirror on the table with a label "kocham cię" – I love you in Polish. As a Pole myself I thought it was really exciting. The whole group of Thai people I was with learned how to say it properly and we had a good laugh together.
The afternoon – Batik, market, fish palace, and a cooking class
The afternoon was packed with activities.
Again, we stopped at CBT Promlok. Nunee, which I found was the name of one of the ladies, prepared colours and a canvas for me. She asked me to draw something with a pencil. Now, I'm not the best at creative things. In fact, I draw like a 5 year old and have bad memories from school, where I was one of the worst at painting. Nunee was very encouraging and finally, after much consideration, I decided to draw the simplest thing – flowers.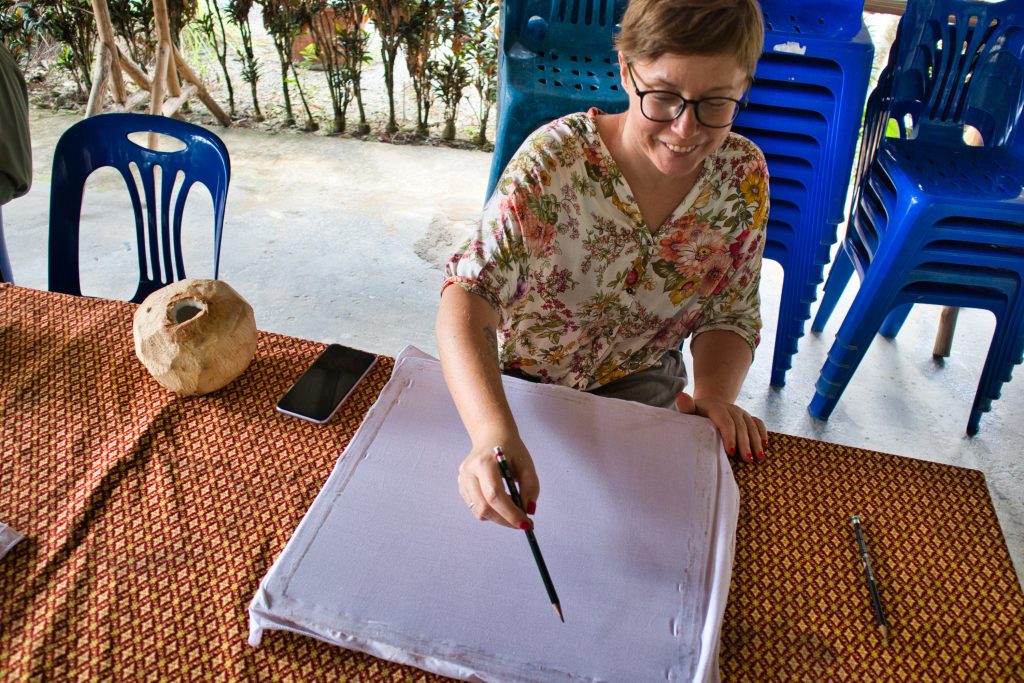 After, I was shown how to cover the lines with hot wax using a pen shaped metal tool.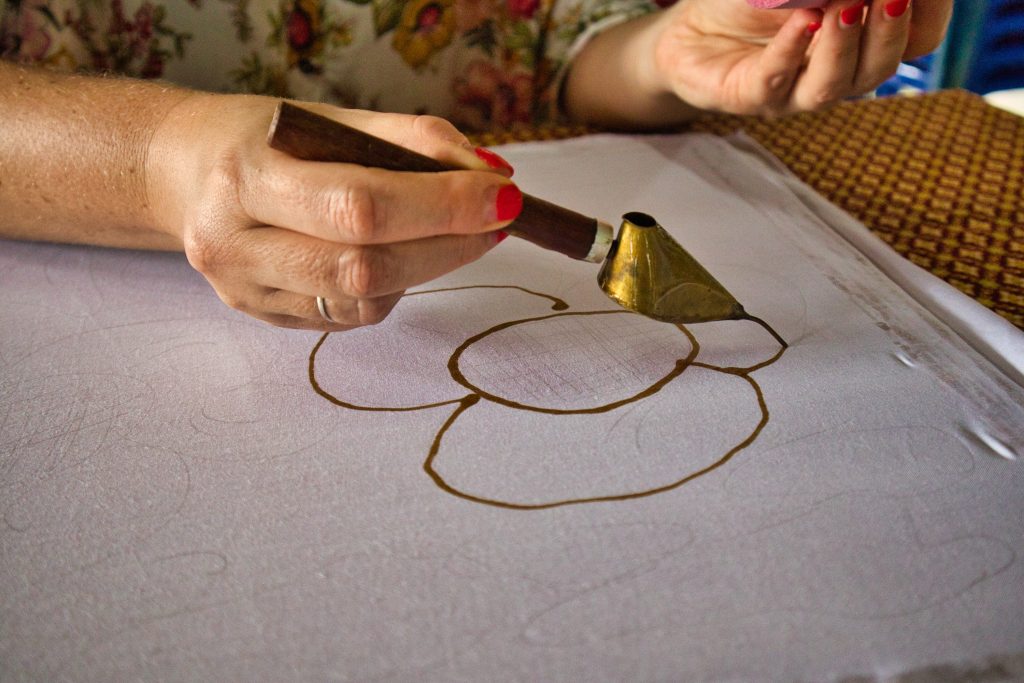 Once ready, I could fill in the spaces with colours. Everything that was on the table was made from natural ingredients, including the paints. Flowers, spices and even coffee beans were used to create stunning colouring.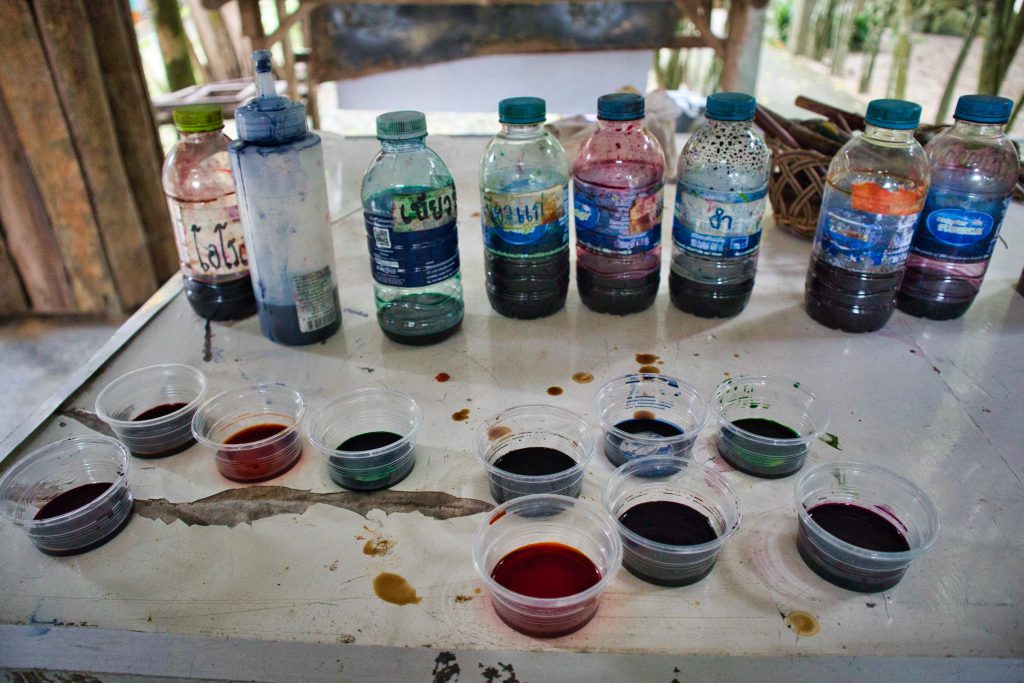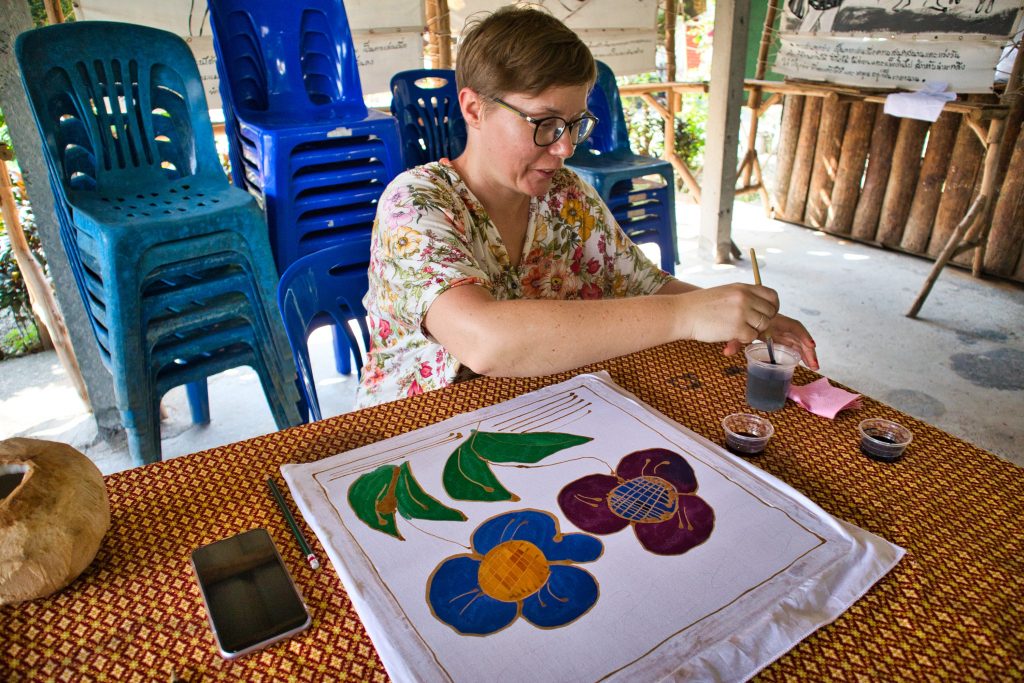 We still had some time and Dan took us for yet another short trip. First, we stopped at a local market, where we bought some fresh peanuts, mango (which is my favourite fruit) and I even tried grilled insects.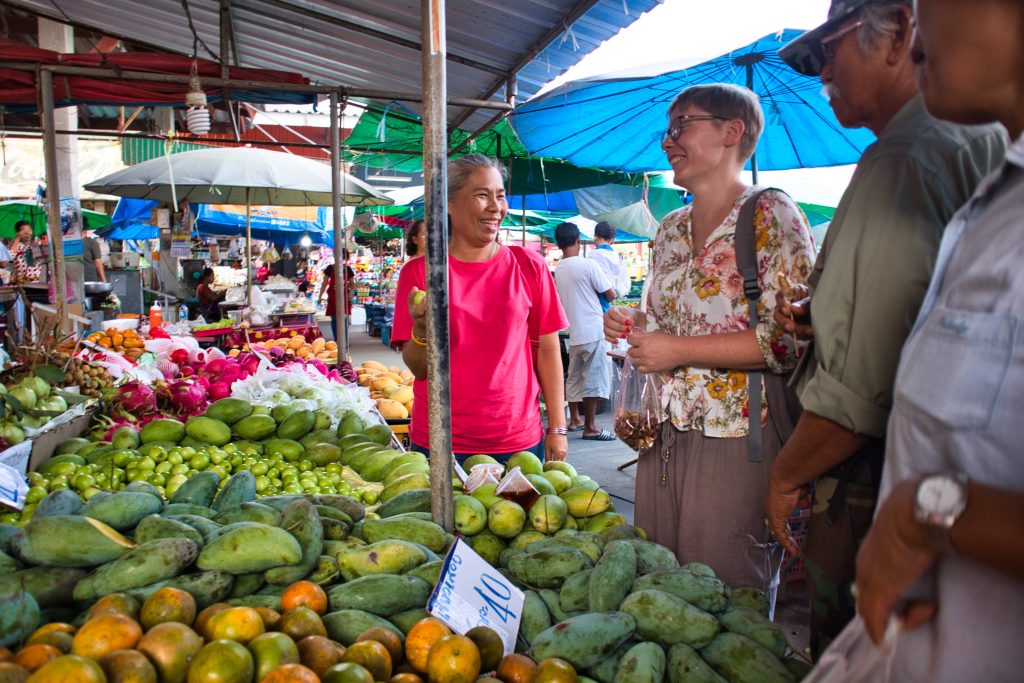 These kind of markets are very common in Thailand and you will see them in every village and town. Some of them are a little bit more touristy, like the Night Market in Chiang Mai, but some are very, very local. You won't find any souvenirs here, nor any typical Thai dishes. If you really want to know what Thai people eat, find a market like that and get lost in the winding paths, among the stalls.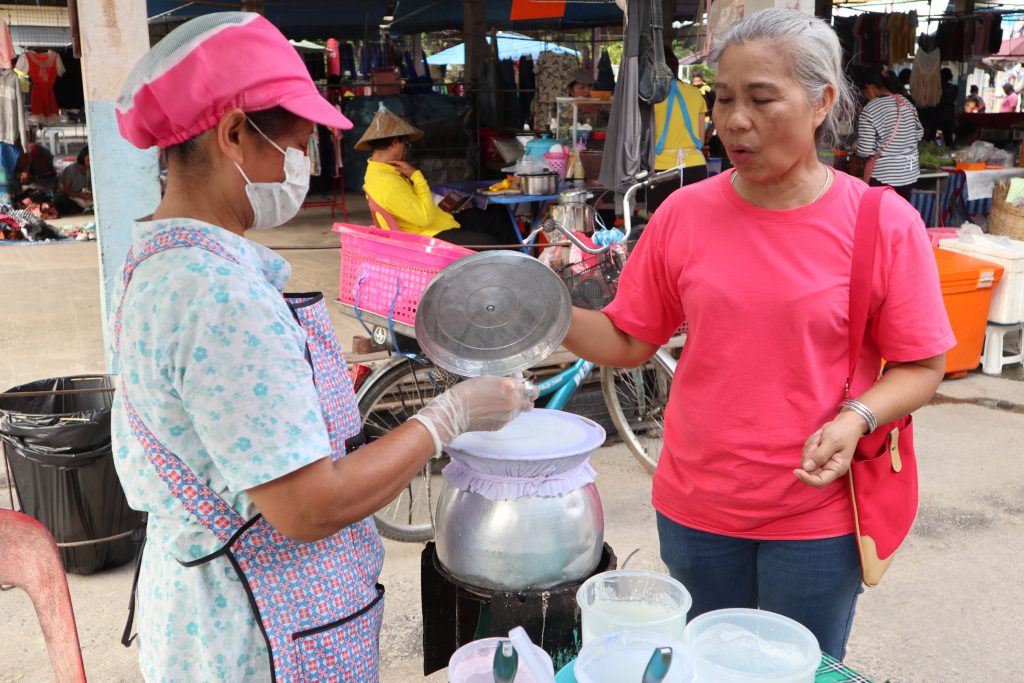 Before we headed back to the centre, we stopped at a very nice village, where the stream from the waterfall cut the main road. The local kids were having lots of fun there despite the cars going back and forth. The stream was full of the fish and it all look so serene, like a scene out of a movie.
This place is called Wat Pla Nea – the fish palace. Nea is the name of the Garra Rufa fish in Thai. This is the place where it has its kingdom and where there are lots of them swimming around. This is really a prefect spot for cooling down, resting and observing the locals coming here to do exactly that.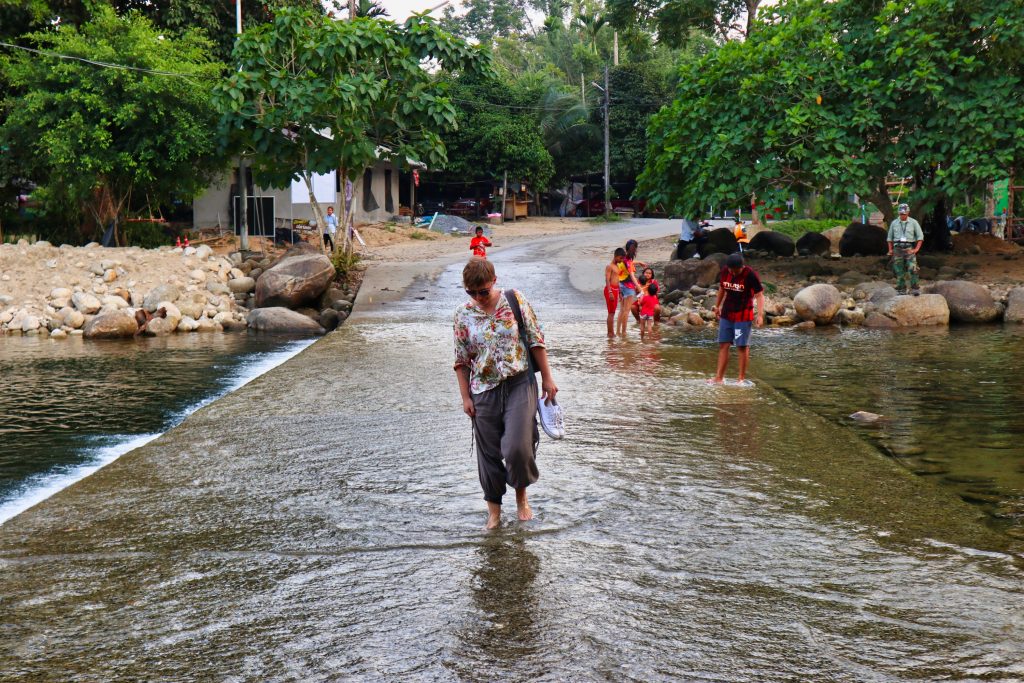 We jumped in the songteaw again and went back to the centre, where Nunee's mum was already preparing dinner. I was invited to try and make som tom in a very Thai way. I sat on a little plastic stool, at a gas stove, where they set up a huge, metal pot. Nunee's mum was showing me what I should put in and how much of each thing I needed. I made quite a good soup in no time.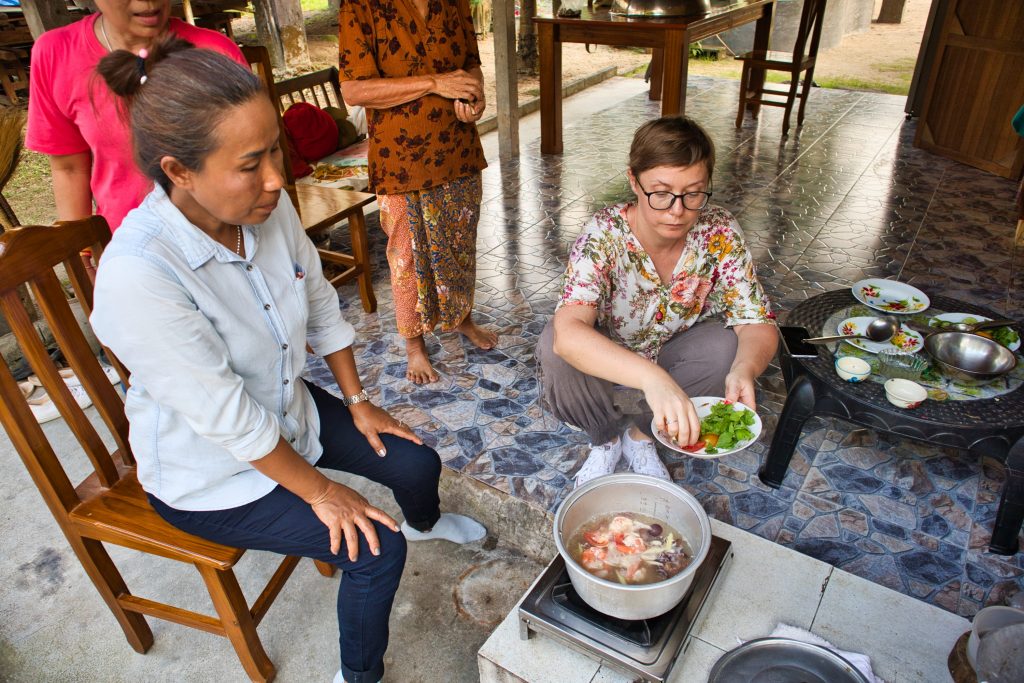 Finally, we could sit down and eat. It was a real feast. Except the soup, on the table I found massaman curry (a Muslim style curry that's popular in the south), some broth with mushrooms nad vegetables, fresh veggies and as a dessert fresh fruits.
We chatted a little after. Nunee called her daughter and I was very excited when we did a very short language exchange. She spoke Thai to me, I spoke English to her. Dan was very encouraging.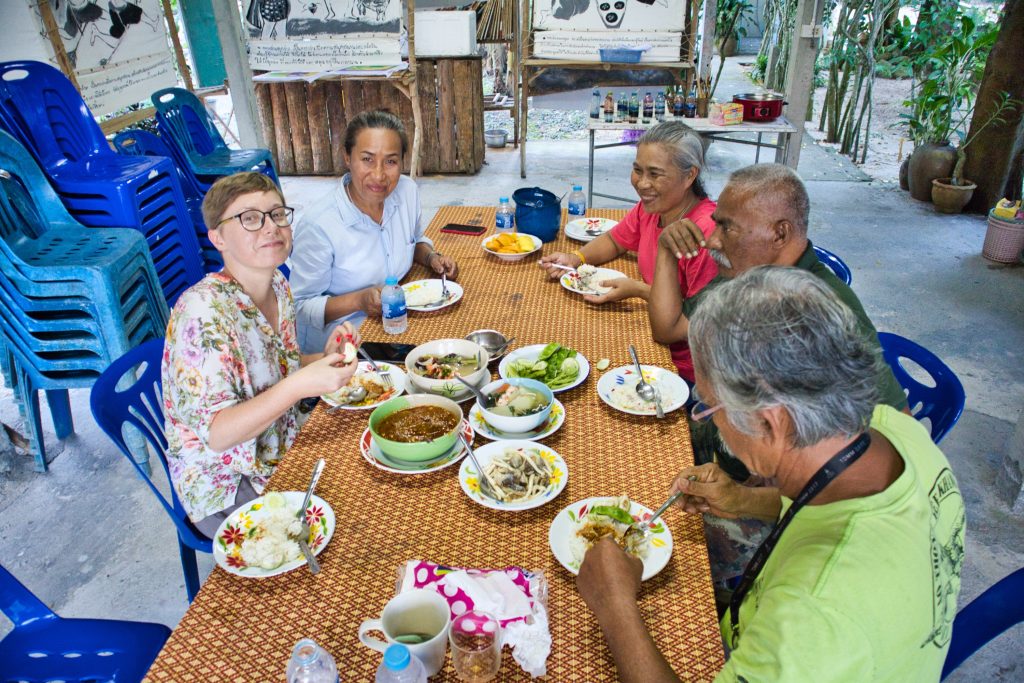 "If people want to come, how can they contact them? " I asked Dan. He told me that I should ask the same Nunee in Thai, which I did (I gave myself additional points for saying something so complicated!) and they understood me! I really need to come back here for more lessons like this one. I'm sure that after a month or so I can speak fluently.
Summary
A day in a remote part of Thailand with Promlok Community turned out to be one of the best experiences I've had in the country. It was a lovely trip with the loveliest people. I found out a lot about their way of life, about the area and about the preservation of the Khao Luang National Park.
I know that you are tempted to see those more known places in Thailand, but if you have more time and you're truly interested in the local culture, please don't hesitate and book your stay with CBT Promlok.
Journey D and Promlok Community – What's on offer?
Journey D was created to elevate local communities and introduce them to the visitors. The project is truly changing people's lives. They earn a bit more money, they learn English and they meet new people.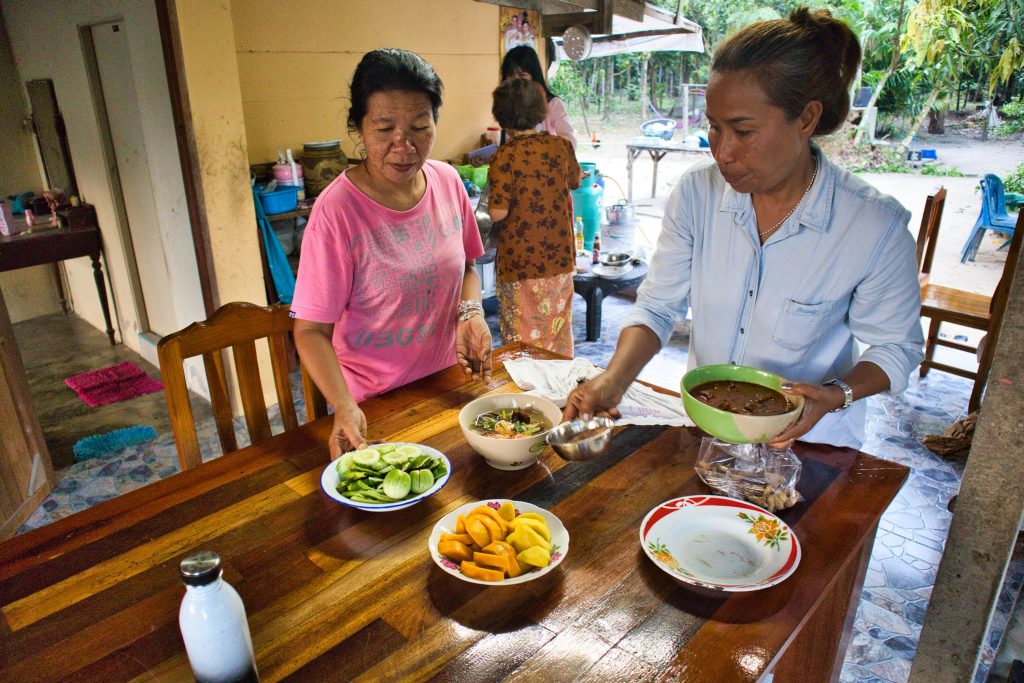 At the moment there are 4 tours on offer in a few places in Thailand. There is one in the north and also in Krabi, in the south. Each tour can be customised and all the extra things, like cooking classes, trekkings can be taken out or added on. Additionally, almost all of them have accommodation options, too, so you can stay with the locals and find out even more about them!
How to spend a day with Promlok Community?
If you would like to spend a day at CBT Promlok and take part in all of the activities, you can book it through Journey D website.
Click here for more information.
Additional information
Ready for an adventure? Here are a few other things worth remembering about.
Transport, accommodation and food
CBT Promlok is located near Nakhon Si Thammarat. To get there, you can take a short flight from Bangkok by AirAsia. You can also take a bus. Check out 12GoAsia for some transportation options.
The centre has a homestay, where you are welcome to stay overnight. It's good to plan a few days there as you can go for a trekking to the waterfall. I stayed at Pura Nakhon in Nakhon Si Thammarat for a few days and did this one day trip from there. The CBT Promlok picked me up from the hotel in the morning and dropped me off in the evening.
The food (lunch and dinner) is provided by the centre. It's very delicious. They are very considerate, so don't be shy to say that you don't like specific things. They accommodate vegetarians (probably not vegans, but double check with them) and people with all sorts of allergies.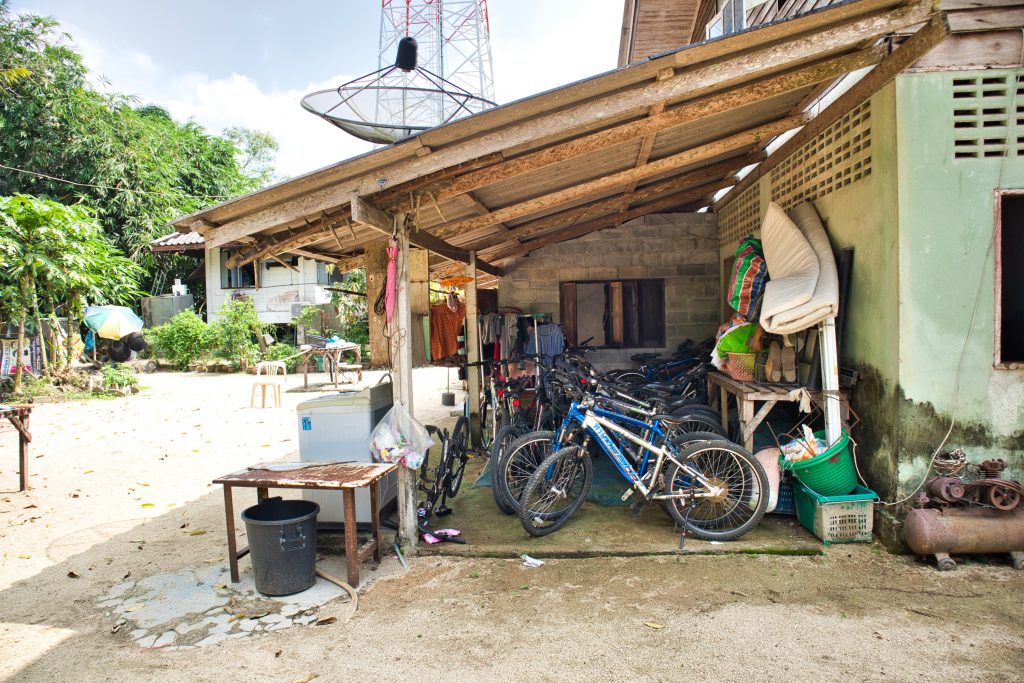 Bring this with you
Sunscreen and a hat – I don't normally take a hat, but I think it's a wise thing to have one.
Mosquito spray – although during the whole day I didn't see one, it's better to be safe than sorry.
Good shoes – flip flops are ok, but if you're going trekking, you need to have something a little bit more durable.
A bottle of water – they will provide you with things to drink, including fresh coconuts, but for the beginning, take one with you.
Trunks and thing you can swim in – I decided not to go swimming and just chilled at the waterfall. If you decide to do it, please be mindful that you are in a province and it's better not to expose yourself to not to draw attention of the locals. Nothing will happen, but you will feel uncomfortable. Thais normally swim in t-shirts and shorts.
Dress appropriately. You will visit a temple, so cover your arms and legs.
Don't forget your insurance! Check out SafetyWing if you're a long term traveller.
And remember!
You are someone's guest. This is not a usual, typical tour. Journey D wants visitors to get closer to the locals and actually make friends. Listen to your guide, ask questions, be friendly and open to the new culture and experiences. If you do that, I guarantee that you will have the most amazing time!
Do you have any questions? Would you like to share your experiences or your point of view? Don't be shy! Leave a comment!