Lisbon is another place where digital nomads come every year. Here they work remotely on their businesses and enjoy the sun. There are some that stay here longer, like me, and decide to have their permanent base. Do you think of coming to Lisbon and working remotely from here? Below you will find all the information that you need for the start.
I came to Lisbon not because it was a good place for remote work. Chris, my partner, got a job here and that's why we moved to Portugal. To me, the fact that there are so many nomads in Lisbon, was a huge plus. I was curious of the country and how the capital could be compared to places such as Da Nang, Hoi An, Chiang Mai, or even Kraków. After 3 years of working remotely in Lisbon I decided to create a short guide for you with all the useful information about the city.
The below post is for those that would like to move to Lisbon and would like to work remotely from the city.
Lisbon – General Information
Let's start from the basics!
Location
Lisbon lays on the coast of Portugal. It is surrounded by beaches, the ocean and the river Tag. There are lots of national parks nearby, including Sintra – Cascais. The city is located on several hills and thanks to that it has many beautiful view points and is a good place if you want to work on your fitness.
Weather and climate
If you check the weather in Lisbon in Google, you will quickly find out that it is rather warm here all the time.
My experience is a bit different.
First of all, the weather in Lisbon changes quickly, especially in the winter. In one day you can get very clod rain, then wind, and then sun. It reminds me of the weather in London.
The Summer is hot, but rain and wind happens quite often.
The Winter is very humid and rather cold. In January and December the temperatures fall below 5 degrees. The air is mild often, but because the flats and houses here don't have insulation, inside it's normally colder than outside.
The Summer and Spring are nice and warm. August is the hottest month of the year.
Transport
Lisbon has a metro system, a bus network and trams. Transport in Lisbon is not that developed. You will find that you have to wait for the metro for about 10 minutes and the buses go and come as they please. If you are in a rush, this might be a problem.
Uber and other applications work in Lisbon quite well and are cheap.
Lisbon has an airport where you can catch domestic and international flights. The latter fly to several countries and are quite expensive comparing to those that fly from Barcelona or London. Cheap flights from Lisbon cost around 100 Euros and for that price you can fly to Madrid, Barcelona or London.
If you would like to go somewhere further, then you have to pay from 200 to 400 Euros!
You can also rent a car in Lisbon. Expats and nomads rent them for a couple of months or for weekends. It's a good idea if you want to see the other parts of the country.
Shopping and food
The centre of Lisbon doesn't have that many supermarkets. Shopping can be done in small, independent shops or you will have to take a bus or a metro to get somewhere further.
There are plenty of supermarkets in the suburbs.
In Lisbon, as in the whole of Portugal, you will find small bars, so called tascas, where local, rather fatty and cheap food is served. You can eat there everyday for a good price, but you need to be aware that it's not very good for your health.
Alcohol is very cheap and very accessible. Wine and beer is drunk here at almost every time of the day and night.
Coffee is another popular drink in Portugal. It is normally very strong and quite sour. In more local places you will not get a cappuccino. If you would like something more fancy like that, then you need to head to the hipster, modern cafes.
Clothes can be bought in shops in the centre, or in the shopping centres, like Colombo or Corte Ingles.
Cosmetics are available in the supermarkets. Make up, perfumes and face masks can be bought in Sephora. They are not very cheap. My friends usually order them from other countries.
Prices
Lisbon is not the cheapest, but it's not the most expensive either. Here are examples of some prices.
Accommodation – a room in a shared flat – from 350 Euros per month. One bedroom flat – from 700 Euros per month.
Bills (electricity, water etc), flat – 80 square meters – about 100 Euros per month.
Internet – from 20 Euros per month
Transportation ticket for 24 hours – 6.40 Euro
A small coffee in a bar – from 0.50 Euro
A small beer in a bar – up to 1 Euro
A glass of wine in a bar – from 2 Euro
A lunch in a tasca – from 4 Euro for one dish
A loaf of bread – from 1 Euro
Milk – from 0.60 Euro
Culture and people
I heard a lot about Portuguese people being closed and that it's hard to make friends with them. I don't believe in this opinion as I had a pleasure of getting to know them. I also hear similar ones from expats in Thailand about Thai people and those that live in Spain about the Spanish.
Portuguese is a nation that is proud of their heritage and culture. They think that one should know Portuguese if they live in Portugal. If you want to learn the language they will help you out and encourage you to learn it.
The Lisboners are relaxed. They like spending time in restaurants and bars. In the Winter they sit outside, at the tables set out by the local bars and in the Summer they go to the beach.
As it is the capital city, the people here are busier, but they are not as busy as those in London, or Warsaw. They always have time to chat, or drink a quick coffee.
The life in Lisbon is more dolce than in London.
The language
The main language is Portuguese. You can easily learn it through online lessons or schools in Lisbon. I especially recommend Italki.
English is spoken in major cities, but if you need to sort out something in a city hall, or some other institution, then you need to be prepared that the people working there will want you to speak Portuguese.
The healthcare
If you come from a country in the European Union, then it's good to apply for a special health card in your home country. You will get it by post and then any emergency care in Portugal can be provided to you for free. You don't need additional insurance.
If you'd like some additional cover, or you come from a country outside of the EU, then read this post about insurance for digital nomads.
If you stay in Portugal longer than 3 months you must register as a resident and then you can register in your closest health centre. However, bear in mind that for that you need a NIF number, which is a special number provided to people that live here permanently.
I don't move as much as I used to and stay in Portugal permanently. That's why I have decided to buy a private medical cover. For the last couple of years I have been using Cigna Global, which provides me with everything I need. My policy includes inpatient and outpatient care as well as some annual check ups. I chose a cover only for Poland and Portugal (my country of birth and my country of residence), which costs me 1,000 Euros per year. If I travel, I use SafetyWing or World Nomads. Check out Cigna and see what they can do for you.
Staying in Portugal legally
If you come from a country that is a member of the EU, then you can stay in Portugal without limits. After 30 days you need to register in your local junta – an area office. This is not often easy as each junta is different. Some require you to come with 2-3 Portuguese people, who will certify that you live in the area.
After registration you can apply for your tax number – NIF, open a bank account and register at your local healthcare centre.
Remote work in Lisbon – What you should know about
If you would like to live and work in Lisbon, check out what you need to know first and find out if this is the city for you.
Your finances
To survive in Lisbon you need to have minimum 1000 Euros per month. This will be enough to pay for the room, pay your bills and buy food. It will also allow you to go out (assuming you will rent a room and not an entire apartment). It won't be a luxurious living. You will need to watch your expenses.
Beginner nomads, starting with their business, I recommend going to Asia, where it is cheaper and your money will last for longer.
First steps – Finding accommodation
Finding accommodation in Lisbon is quite difficult. Renting short term is possible, but contracts like these are more expensive.
If you would like to rent a room for longer, then you need to allow more time. Before the pandemic it was nearly impossible to find something in a reasonable price.
Internet
Wi-fi in Portugal is everywhere and it's very good.
Here is how it looks like at my place.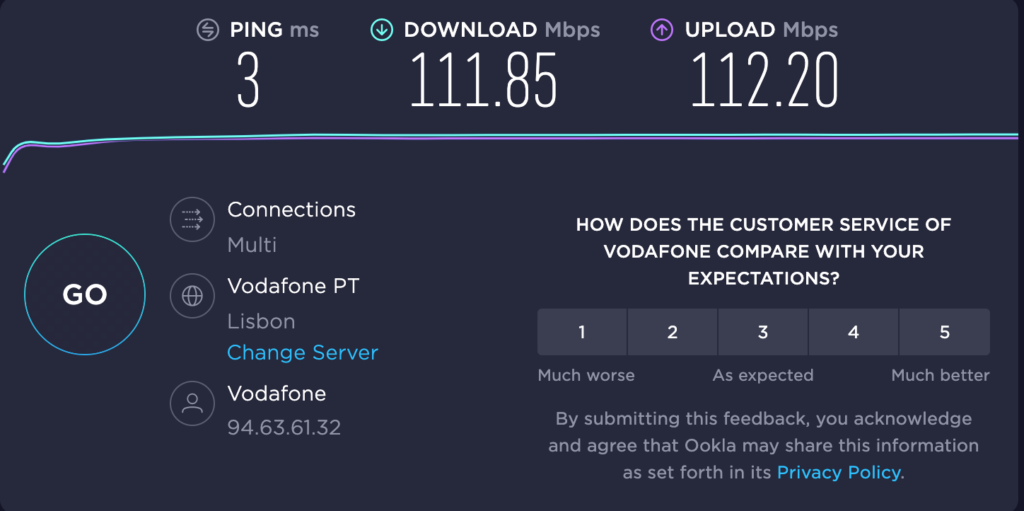 In public places, you will find free wi-fi and 4G.
I think Portugal is the best country when it comes to internet speed.
Working remotely from cafés
Coming to Lisbon, I thought it was going to be very easy to work with nice coffee shops. This was the standard I was used to in Chiang Mai.
I went through a huge disappointment.
In the capital there are a lot of coffee shops, where you can work remotely from, but most of them are in Santos or Cais do Sodre, which are very far from where I live. To get there by metro takes about 45 minutes, or more.
In the centre there aren't that many nice cafés, where you can work from.
Traditional coffee shops don't have wi-fi. They are also very crowded and too loud for work.
Working remotely from coworking spaces
There are many coworking spaces in Lisbon. They all have great amenities and good wi-fi. Some sell day passes for around 15 Euros, but most would want you to sign up for a whole month. A monthly pass costs about 150-200 Euros.
Working remotely from other places
There are a couple of other places, where you can work from. On the blog I have a list of free places to work remotely from in Lisbon.
Making friends with other digital nomads in Lisbon
There are quite a few Facebook groups, where you can meet other people who also work remotely in the capital. Here are my favourites:
On meetup.com you will also find meet up groups that will be a good places to find friends.
Summary – is it worth working remotely from Lisbon?
I think that yes – Lisbon is great for remote work, but if you want to have fun, please remember:
To have enough money when you arrive – You don't want to end up poor, counting every cent and not being able to enjoy yourself.
To find accommodation in the centre of the city – It will allow you to have access to the best parts of Lisbon.
To have your own transport – Without it you can't see the country and you will be stuck in the major cities.
To be friendly – Open yourself up to new people and new opportunities.
I think if you have the right mind set and some good funds, you will be very happy in Lisbon and you'll have a great time!
Do you have any questions? Let me know in the comments!