Thailand is now not only popular among tourists. It is a favorite country of digital nomads who come here to take advantage of the sun, comfortable life and, above all, low maintenance costs. This is a great option for those who are just starting their adventure with remote work and want to develop their skills and businesses.
I started my adventure with digital nomadism in Thailand. After long 2 years in a Thai school, I have had enough and I started to work on the Internet. The Land of Smile turned out to be very friendly to digital nomads and it's no wonder that cities like Chiang Mai become their Mecca.
If you are thinking about working remotely and moving to Thailand for a few months, then in this post, you will find the most important things you need to know before you go. Do not miss the links to other posts that will help you prepare for your trip.
Pros of digital nomadism in Thailand
Weather – even in the rainy season, the sun shines often and the temperature is around 35 degrees.
Low prices – the cost of renting an apartment with one bedroom is 10, 000 Bahts. The price often includes a gym or swimming pool. In Thailand, it's really easy to stay and save.
Comfortable life – especially when you live here only for a short time, everything seems to be easier and less complicated.
Exotic – who would not like to live in a country where palm trees grow outside and glisten the golden roofs of temples.
A large community – something for extroverts and people who like to make friends. There are many digital nomads in Thailand, as well as co-working and co-living places.
The negative aspects of digital nomadism in Thailand
Visa – if you can not afford a 6-month visa, then you can stay in the Land of Smile shortly. Continuous border runs and visa runs are the everyday life of every digital nomad in Thailand.
Poor internet – depending on the location, but mostly wi-fi in cafes and apartments is fairly weak. If you teach online like me and need a good connection, you have to invest in better internet and buy a package.
Language – sometimes it's hard to get along in Thailand. You must be a really open-minded person or speak a bit of Thai to get friends among local residents.
Transport – in Bangkok, moving around the city is not so difficult. Transport in the Thai capital is well developed. However, there is a problem in other parts of the country. Here, you have to take taxis, Uber, or have your own scooter.
Crowds – Chiang Mai is slowly failing in its popularity. This is particularly visible on roads that are extremely crowded during the day.
What you should know about
Before you become a digital nomad in Thailand, it is worth getting acquainted with some facts about the local life there. Then you will avoid surprises and quickly get used to the new reality.
The best places for digital nomads in Thailand
There are many great places for digital nomads in Thailand. Facilities are getting better, there are more and more coworking spaces, wi-fi is not bad at all. The most popular spots are:
Bangkok
Chiang Mai
Koh Lanta
Koh Phangan
There are also other towns and cities, which offer great accommodation and attractions, but they are less popular. Therefore, you might encounter worse wi-fi and no social events for those working remotely.
You are in Thailand illegally
That, unfortunately, is the truth. If you work and do not pay taxes in Thailand, and you do not have a work permit, you are here illegally. It is best not to speak out loud about what is being done and not to admit it to the people in Thailand. Thai people are a nice nation, but you never know when they will recognize that you have lost honor and go to immigration with a message about farang who works illegally in Thailand.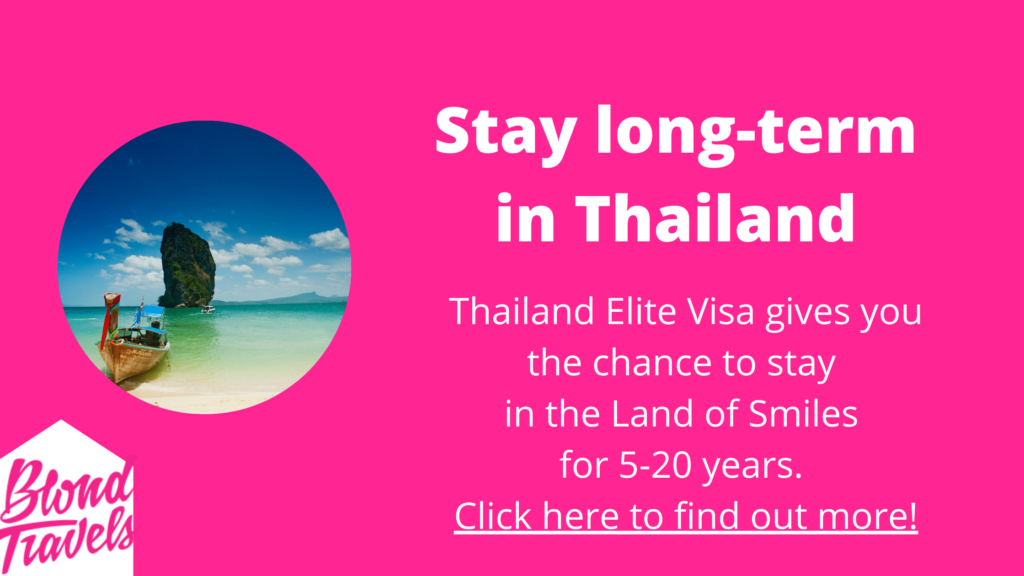 Of course, there are thousands of digital nomads in the Land of Smile, and I bet that virtually none of them have legal documents. Just do not admit it to what you do and it is best not to ask about legal matters on Facebook forums.
Your visa will not last for too long
Currently, you can use a 6-month multiple entry visa, but if you can not afford it, you can only apply for a visa for 90 days or enter the country on the so-called visa exemption, i.e. permission to enter. Having a tourist visa in Thailand means that you will have to enter and leave the country from time to time, which also involves costs and the loss of valuable time that you could spend on working on projects.
In 2022 a new LTR (long-term resident) visa was introduced. If you work for a foreign company, which has a significant turnover and earn more than 80,000 USD per year, you can apply for this visa and stay in Thailand for 10 years.
Chiang Mai is the capital of digital nomads
You must have heard about it already. There are plenty of digital nomads in Chiang Mai. If you are a person who likes company, want to meet others at workshops, this city in the north of Thailand will be the best for you. Why do digital nomads love Chiang Mai so much? Because there are plenty of cafes here, finding a flat is easy, and the cost of living is lower than in Bangkok. The city has a really great atmosphere. Unfortunately, its popularity also brought many cheats who want to put others in a bottle (if you have not heard of the Atlas Brothers, google them and you'll see what I'm talking about). For me, Chiang Mai has also lost a bit of charm and I am sad to see a city that was wonderfully original four years ago, turning into a pretentious hipster seat. If this does not suit you, go to Bangkok, Phuket or Koh Samui.
You will not be insured in Thailand
Take care of your health and not only get vaccinated before leaving, but also buy insurance. If you go to another country after Thailand and do not have a return ticket to your country of residence, you may have problems getting compensation from most insurers. In Poland, Planeta Młodych is very popular, which I personally did not use. I do not know exactly what their policy is. I'm using World Nomads alone and I'm really happy. The big plus is that I do not need to have a return ticket, and their procedures are fast and very clear.
At the moment, when writing this post, there are no digital nomad health insurance policies per se, but some companies are making an effort to accommodate us. There is a light in the tunnel, my friends! At the moment companies such as Luma Health are offering policies for people that stay in the Asian countries for longer than 185 days per year. The cost is much lower and you can be sure you have comprehensive care when something happens.
I also recommend SafetyWing, which is another company that offers insurance to digital nomads and travellers.
If health insurance is a thing that you worry about, check out my other posts about expat health insurance, travel insurance, and digital nomad health insurance. I also have a video on the subject, which might help you, too.
Do not worry about the flat
A flat in Thailand is very easy to find and you can do it upon arrival. It's best to simply rent a hostel for a few days and look for a different place during this time. Of course, you can stay in a hostel, but usually, the internet is very weak and the guests are loud in such places.
Transportation is not such a problem nor a hustle
Transportation in Thailand is very good. In the bigger cities there are taxis (Grab is the equivalent of Uber), buses, ferries. Bangkok's transportation has so many options that you can practically get anywhere for a very low cost.
In the provinces it's a bit more challenging, but you will always find a local, who will be willing to drive you where you want to go.
Renting or buying a scooter is a good idea, but remember that you must have a valid driving licence and an international driving licence. It's not only to avoid tickets, but because if you have an accident and if you don't have the required documents, your insurance will refuse to pay for your treatment.
Getting from one place to another is fairly easy, if you stick to the main towns and cities. Those who want to explore more remote places will have to struggle with buying a ticket. For any case, if you want to travel around Thailand, I recommend using 12GoAsia, which is a great search site for transportation tickets in Asia.
Check out your trip below!
Prepare for unstable connection
Honestly, after my short stay in Poland and Germany, I no longer think that the Internet in Thailand is so weak, but it's better to prepare for problems anyway. People who need a stable connection around the clock may be disappointed. That is why it is good to rent an apartment and buy a package from eg Sinet, which costs only 700 Baht a month. You can also buy a Sim card and use mobile internet, which is quite good and cheap in Thailand.
Most websites in Thailand work well and are not blocked. However, if you need to access something that the Thai government thinks shouldn't be accessible, you can download VPN. I recommend NordVPN, which has a great offer and is reliable.
You are safe
Thailand is a safe country and you don't need to be afraid, even when walking around at night. Of course, some bad things happen, just like everywhere, but in general, I always find it friendly and safe.
Look after your money
It's good to have an international account, which would allow you to withdraw money from the cash machine without charges, or with small fees.
I use Revolut which I'm very happy about. I can pay with it abroad and the currency exchange is very good.
You will not be alone!
Thailand has a very large digital nomad community. There are people from all around the world coming to Chiang Mai and Bangkok to work and have a good time.
So, don't worry. You will not be alone there. Look for Facebook groups and for meet ups on Meetup.org. You will soon find your own circle of friends.
If you need more information, leave a comment or read my post about the things you should know before going to Thailand.