When you are a digital nomad it might be hard to find a good insurance policy. Many companies offer travel insurance, but normally it's not adjusted to the needs of a person who doesn't have a permanent home. Luckily, there are more and more companies who offer good insurance for digital nomads. I have recently bought a policy from SafetyWing and I'm here to tell you all about it.
If you are a digital nomad struggling to insure yourself, you're not alone. Many of us have the same problem. We are not in the country of our residence, we are constantly changing places and we don't have a return ticket home. There are a few solutions to the digital nomad health insurance. I have recently decided to try out one of them and bought the policy from SafetyWing. Fortunately, I haven't had a chance to use it properly, but from what I have heard their policy is worth the money.
SafetyWing have contacted me directly and asked if I would be interested in using them. I was a bit cautious at the beginning as I'm trying to be careful with who I work with. However, I checked their reviews and asked around and decided that they would be a good partner for me. Yes, this is a sponsored post and yes, you will find some affiliate links here, but let me assure you – I'm always direct with my readers and try to tell you the honest truth about the products I use. Therefore, this article will be updated in the future if any concerns arise and you will always find the best information about SafetyWing here.
My current situation and why I chose SafetyWing
As I'm writing this post I'm living in Portugal. I have been in Lisbon for more than 2 years and it seems like this will be my permanent base in the future, too. However, I travel quite a bit and when I do, I work. I also take longer trips, up to a month each, to countries that are considered developing. My government insurance is not enough for me. I do need an extra policy.
In theory I could just buy separate policies for each of the trips, but it's not very cost effective and I always need to remember about buying them every time I go somewhere, which with my level of organisation and procrastination is quite hard to do. I just think it's easier and better for me to buy a longer lasting insurance, so I don't need to worry about it.
In January 2020 I'm going for a month to Thailand, where I will be working. SafetyWing contacted me in the best moment. I decided to use their offer and go to the Land of Smiles with their policy.
I chose SafetyWing because I have heard about it before. People were talking about them on Facebook groups and one of my students used them in Thailand. I heard only good opinions. Their policies are also slightly cheaper than those that exist on the market, which is always a plus in my world! And finally, I wanted to try out something new and write about it here.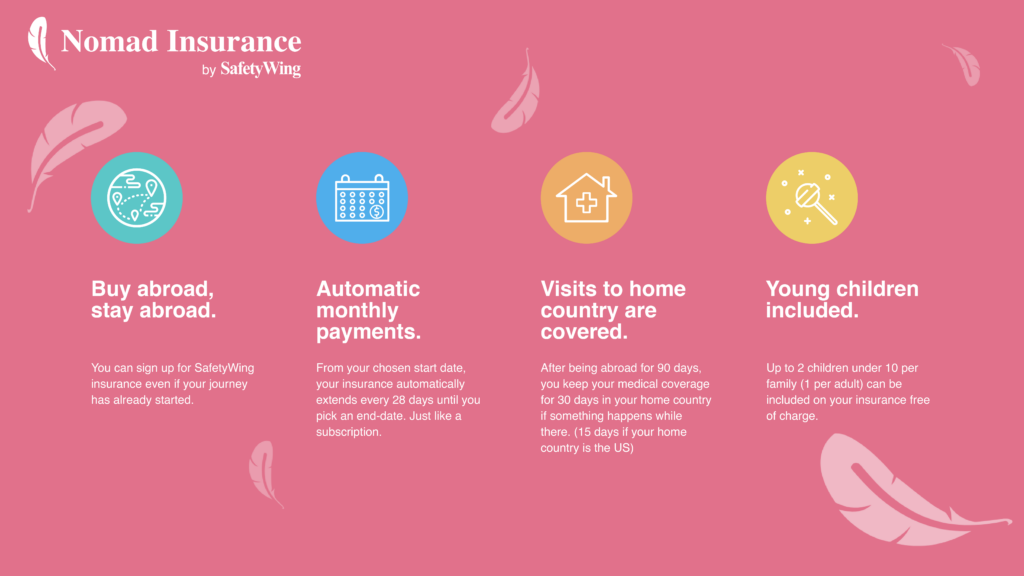 SafetyWing – What do they offer?
SafetyWing is a travel medical insurance for digital nomads. This means that they cover what you would normally have in your travel insurance, but it's adjusted specifically to those that don't have a permanent home.
Solving the problems
The first thing to know about SafetyWing is that it was created by digital nomads, so by people who actually know what they are talking about and have experienced the difficulties themselves.
"People who are location independent fall between the cracks, without proper access to insurance or national safety nets." – they say on their website and I totally agree. Despite the fact that this statement is at the end of their site, it drew my attention. I have experienced the problem with health insurance myself while being in Thailand. The insurance I had back then refused to give me the money back for a visit to a doctor because I didn't have a return flight ticket home. I had a choice of figuring something out or paying from my own pocket. Luckily, the sum wasn't that high, so I covered the cost. And now imagine being in a serious accident! Costs of staying in hospital and rehabilitation are huge. I would have had to ask my family and friends to help me to cover everything.
I know a lot of digital nomads that live in Portugal semi-permanently. They are not residents here, but they come for a longer period of time. In this case, it's also hard to find a policy that would allow you to stay somewhere for longer than 180 days. When you get sick, you need to pay for everything yourself. SafetyWing solves this problem for you.
Buy it anywhere
You can buy their policy anywhere in the world, it doesn't matter if you're in your home country, or away from it. You can click on their site and buy it without a hassle. At the moment most companies that sell insurance, don't offer this option. You must be in your place of residence to be able to purchase a policy. The possibility of buying it anywhere is important for many people. A lot of digital nomads live somewhere for a longer period of time without insurance and if they want to buy it, they get very disappointed. They need to go back to their home country to buy insurance.
You're covered in your home country
Going home for a quick visit? No problem! You're covered. So, when something happens when you're there, for example, you overdose on your mum's home cooked meals and get bad indigestion, you can go to a doctor and get treatment.
There are certain restrictions though. You are covered for visits that take place every 90 days and not longer than 30 days at one time. I think it's still good enough for any digital nomads as we tend to go home once-twice per year.
Automatic payments
If you want to every 4 weeks, you don't need to worry about transferring the money all the time. It's done for you. You don't even need to think about it. Just put your details on the site and that's that! Simple!
What is covered?
There is a whole list of things that the policy covers you for. I think the most important ones are:
Unexpected illness or injury, including visits to the hospital and a doctor and prescription drugs, which are connected to that particular illness or injury.
Travel related benefits: emergency medical evacuation, travel delay or lost checked luggage.
For each of the benefit there are cost limits. The total cost of your treatment that is covered by SafetyWing can't be larger than $250,000 and the total cost of your trip interruption can't go over than $5,000.
What is not covered?
You need to remember that SafetyWing policy is not a full medical insurance you typically have in your home country. Therefore, it won't cover you for any long lasting treatments, like cancer treatment, or routine check ups. There are also certain restrictions on pre-existing conditions, which you need to be aware of. If you're looking for expat medical insurance, then it's better to consider a different insurer.
SafetyWing has a whole list of things they cover and don't cover on their website. It's really good to familiarise yourself with them before you decide to purchase the insurance.
Covid-19 and Safetywing
Are you a bit afriad to travel, or move to a different country due to Covid? Safetywing can help you out.
The policy includes:
Covid-19 tests if they are recommended by a physician. The anitbody test is not covered.
Quarantine outside of your home country for up to 10 days (for $50 per day). Just remember that to claim this benefit you need to be covered by Safetywing for over 28 days and the quarantinne is required by the government of a physician because you tested positive or a symptomatic.
Any costs connected to the sickness from Covid, if you got sick after buying the policy.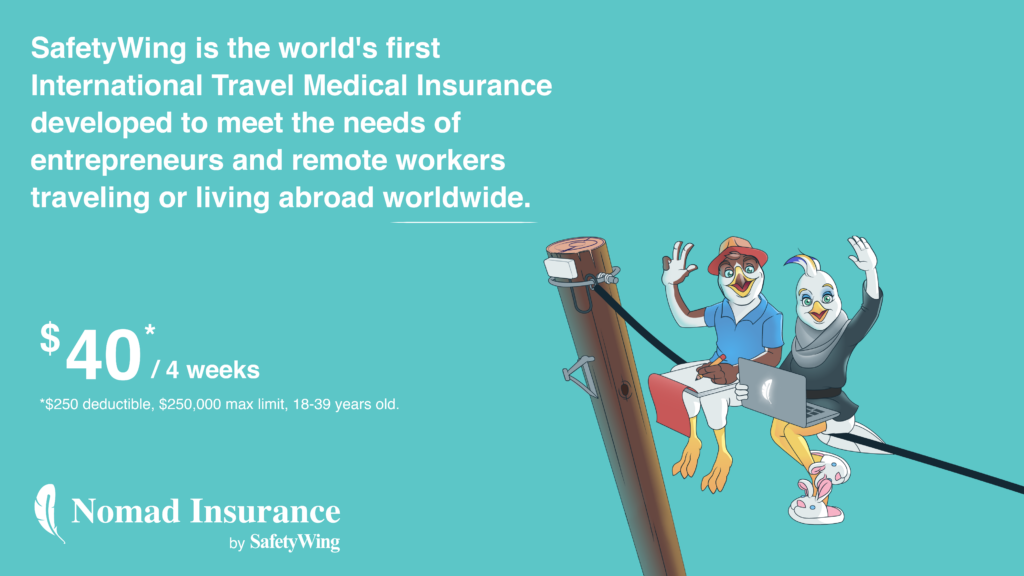 How much does it cost?
And now, the fun part – let's talk about money.
The general cost
SafetyWing says on their site that the policy costs $40 per 4 weeks, which is quite cheap compared to the other policies. However, you will see a little * next to it and quickly find out that there are certain age restrictions when it comes to the cost and the age groups.
So, if you are in the brackets of 10-39 years old, then you will pay around $37 per month. If you're older, your cost will get higher, which is normal and understandable.
The deductible
There's a $250 deductible. This means that, for example, if you're in a hospital and your final bill is $280, SafetyWing will only cover $30. The rest you will need to pay yourself.
To me this means that you can only use this policy in case of serious illness and emergency, when the cost of the treatment is quite high. It won't be useful if you get the flu or food poisoning and need to see a GP.
I must say, I don't particularly like this. I think there should be an option where you choose your deductible and if it's lower, then you pay more. I wouldn't mind paying a couple of bucks extra for a peace of mind.
SafetyWing is working on a zero deductible, however, the $250 deductible right now helps them to keep the price at what it is. Zero deductible means, that every tiny little amount can be claimed which results in a lot more paperwork, which means higher price.
My experience with SafetyWing
I haven't had any experience first hand with their customer service (and thank goodness for that! I really hate being sick). So far, I have only used their site to buy insurance and I must say, I'm very impressed.
First of all, it's super easy to choose a policy. You don't need to think too much about the options. You choose your age group and then the system generates the cost. You can view the policy before you book.
The payment process is also smooth and quick. As a person, who spends her time online quite a bit, I appreciate a well-designed site. I think that even my mum, who is not very tech-savvy, wouldn't have any problems with buying insurance from SafetyWing.
As I said before, I actually know someone who had a first time experience with SafetyWing and their customer service. My student, Marcin, is living in Thailand and had an emergency operation.
Here's his experience with SafetyWing:
A few months ago I felt a strange pain in my stomach. I went to a doctor who diagnosed appendicitis. The operation was valued at approximately PLN 14,000 (about $3,600). There was no time to find a cheaper place, so I called my insurance company SafetyWing straight away. During the telephone conversation my application was opened and I was informed that I should send them all medical documentation and bills, which I did a few days after the surgery. That time I needed to get decision faster, because my passport was held by the hospital, so I contacted SafetyWing for a faster consideration, which was done over the next three days. Finally, I didn't have to pay for the surgery myself and saved a lot of money.

Marcin Wsół
This really convinced me to give SafetyWing a go. I really hope that I won't have to use their services, but you never know. If something happens to me, I'll definitely inform you and write about it here.
Where to find more reviews?
You can find other reviews on these sites:
Also check the post by Two Monkeys Travel about their accident in Pakistan.
SafetyWing seems like a very good option for those that travel and lead an independent lifestyle. It is a very affordable option for digital nomads and I am keen to see how they develop in the future.
If you're interested in purchasing the insurance, head over to their website!
Do you have any questions? Would you like to share your experiences or your point of view? Don't be shy! Leave a comment!
This post includes affiliate links!