Scooters are everywhere in Chiang Mai. Just like anywhere else in Thailand, they are used for transportation of people, goods and even animals. For expats living in Chiang Mai they are a necessary tool to get to work quickly and to see places further away from the city, which often cannot be found in any guide books.
I always encourage visitors, who are a little bit more adventurous, to rent a scooter and go for a road trip. It is a much better way to see the area than organised tours. To avoid unnecessary trouble and accidents it is very important to prepare yourself before you even come to Chiang Mai.
Before you visit Chiang Mai
Improve your driving skills at home. Rent or borrow a scooter and drive around your town. It is important to know the basics: how to use indicators and how to keep your balance. Driving a scooter might seem easy, but I have seen many accidents caused by lack of those basic skills.
Remember about insurance! To be fully insured you need to have a driving licence that permits you to drive scooters, or motorbikes. Otherwise, in case of an accident, you won't receive any compensation. You can read about driving licences a little further in this post.
Safety First!
It is said that Thai roads are one of the most dangerous in the world! I don't think it's actually that bad. The truth is that in Thailand you will see 12 year olds driving motorbikes bigger than them while talking on their mobile phones, people not wearing helmets and speeding through the streets and drunk drivers going back home after a night out. Yes, accidents do happen here, BUT… Chiang Mai is very crowed and that limits the possibilities of driving fast and, because it's Thailand, drivers here are very calm and patient. Of course, as it happens everywhere, you might see a crazy driver from time to time, but in general, especially during the day, roads in Chiang Mai are relatively safe.
I have been living in Chiang Mai for 4 years now and I have never had an accident (touch wood!). However, a few of my friends have had them, but most of the time it was their fault (read: driving after a night of binge drinking, absolute inability to keep good balance and smoking a cigarette while driving on a very busy road). Remeber: Accidents can happen and that's why you should never travel without insurance!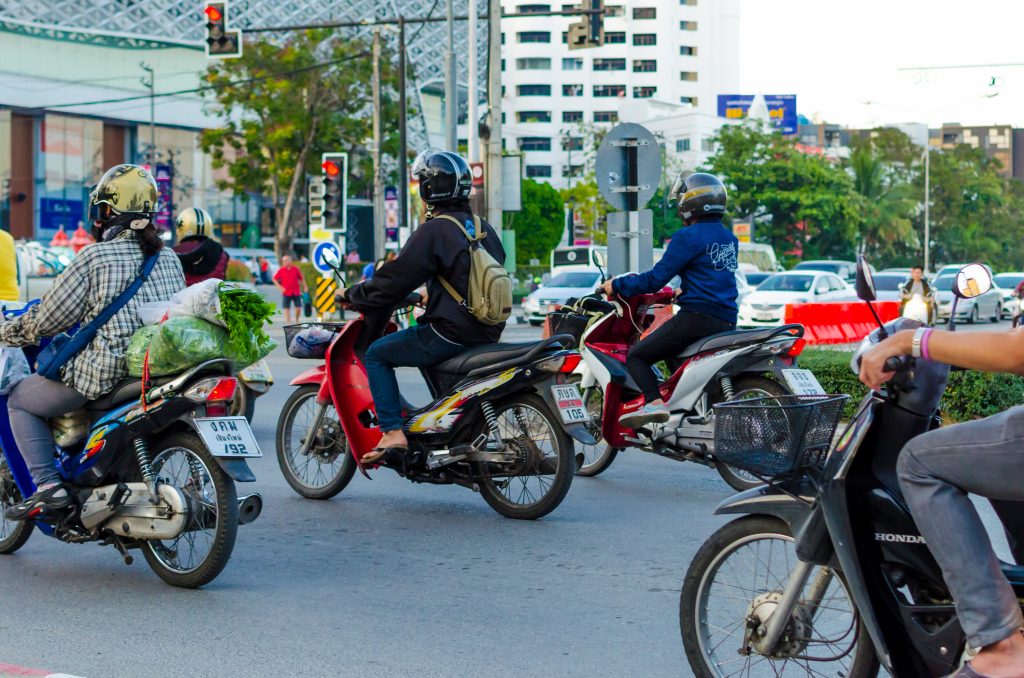 Driving Licence
The official rule is that you need to have your international driving licence, or a Thai driving licence, to legally drive on local roads. But this is Thailand and that means that many rules and laws can be overlooked and very often they are only suggestions.
Police in Chiang Mai has been a bit more strict when it comes to checking papers. At the end of 2015 they only stopped people not wearing helmets. Then they started fining people without international driving licences. I have been lucky to avoid tickets a few times. With my UK driving licence I can drive small scooters and normally after showing it to a policeman I am let go. I have also been made to pay a bribe a couple of times.
So, what to do when you get stopped? First of all, keep calm and don't argue. Show them your driving licence, or say that you don't have one, or that you've forgotten to take it with you. A policeman might then take your licence, or keep your scooter, give you a fine, which you will need to pay at a police station. After you pay, you will be able to take your licence, or your scooter, back.
Bribing is a common way to get yourself out of such situations. However, very recently local police has been setting up small stalls just next to the checkpoint, where you can legally pay your fine. Tickets are the only consequence of driving without a helmet, or without a driving licence. You shouldn't pay more than 250-300 Baht. If the amount is higher, you can bargain a little. It is good to carry small amounts of money in a separate pocket or a wallet. When police stops you, you can always say that this is all you have and you cannot pay more.
There are no checkpoints at night. At the end of 2015 there were a couple of them in the city centre. A few drunk drivers were stopped, charged with heavy fines (10,000 Baht), or put in jail for 48 hours and then let go.
Driving rules
Scooters in Chiang Mai are the most reliable and common mode of transport. Every family has at least one, which makes local roads very busy. Add taxis, cars and tuk-tuks to that and you will get a very heavy traffic. It might seem that there is no order here and the streets are chaotic. As with fines and tickets, there are some driving rules here, but they are often just suggestions and they are very often ignored.
When you first drive on the road here, remember to stick to the left side. In Thailand scooters are so common that even in a traffic jam, cars usually leave some space for motorbikes on the left hand side, so you can easily squeeze through. Just remember not to block lanes.
Drive slowly and carefully and always use indicators.
Remember about a helmet. You get one for free when you rent a scooter. You can also buy something better in one of the motorcycle shops.
It is worth mentioning that in Thailand people don't beep at each other as it is considered rude, just like driving aggressively and being impatient. In fact, something that it's normal in the western countries, like arguing with other drivers might end up fatally.
There have been a couple of instances in Chiang Mai when some impatient and aggressive foreign driver was shot by a local, who thought he'd just lost his face because of the rude foreigner. So, if you really need to warn someone, or let them know that they have done something wrong, use your horn, but do it gently.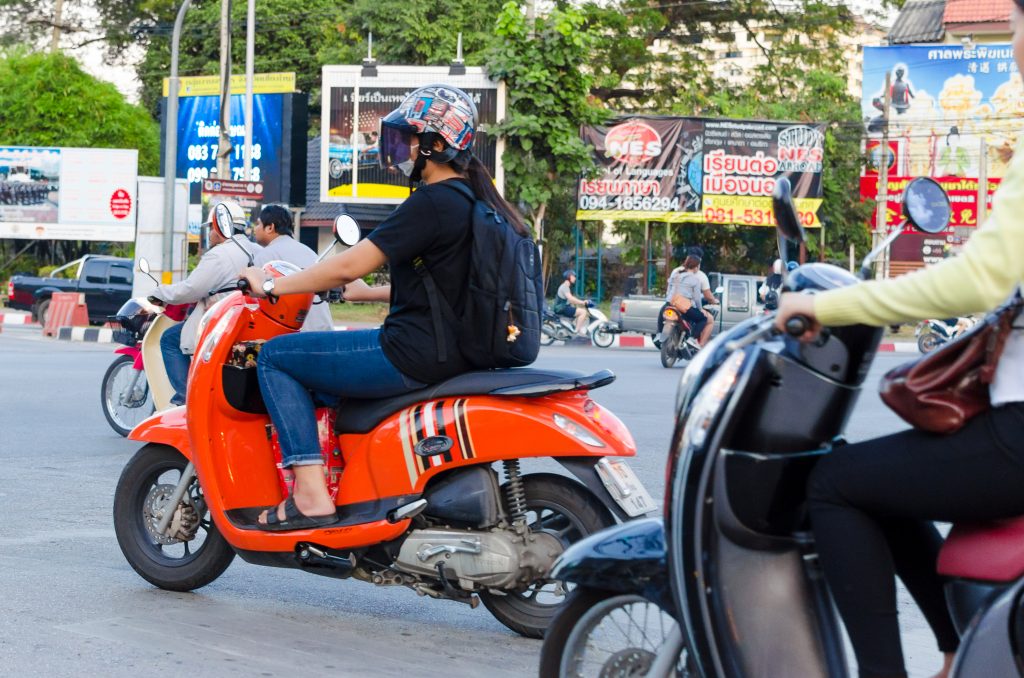 How to move around Chiang Mai on a scooter
The centre of the city creates a square and it's surrounded by ancient walls and a moat. There is only one way traffic on both sides of the moat. While driving around, watch the arrows on the road. This way you will know where to turn around and where to go straight.
The other streets in Chiang Mai are quite narrow. Locals love big trucks and cars, which can never fit in those streets and which seem impossible for the Thais to drive. That's why they move very slowly and every maneuver takes them ages. However, these small and narrow streets are great short cuts. Just be patient when you drive behind a big truck.
Chiang Mai is crowded. Traffic is very common here, but thanks to scooters you can easily squeeze through between cars. Just remember not to block left lanes, especially when you are waiting at an intersection, waiting for lights to change.
Parking is free almost everywhere, with a few exceptions. Don't park at white and red curbs. If you get a parking ticket, which is often left on your scooter, you can ignore it. If you find that your wheels were clamped then all you can do is to go to your nearest police station, pay a fine and go back to the scooter to wait for someone to come to take the chains off.
Stay away from songthaews – red taxis, which in Chiang Mai are used as busses/taxis. At the beginning of my driving adventure in the city, they were the biggest nightmare for me. Drivers stop without warning, even in the middle of the street, they don't use indicators and change lanes whenever they feel like it.
I never expected to like driving a scooter so much. I am totally addicted to this form of transport and during my stay in Europe I really missed my trips to the mountains. I am not saying that accidents don't happen in Thailand because they do occur very often. However, I think that if you're reasonable and stick to the rules mentioned above, you have a 99% chance that nothing's going to happen to you and you will have the adventure of your lifetime.