The shadow puppet theatre in Nakhon Si Thammarat will take you to the ancient times, where the entertainment was completely different than now. Get to know the art and culture of Thailand and discover the secret of the tradition, which not many know.
Nakhon Si Thammarat is one of the bigger cities in the south of Thailand. At the first sight, it doesn't really have much to offer. During the day it's quiet and peaceful and during the night it gets busy with night markets. But, as we know, the first impressions might be deceiving. That's why it's good to spend a bit of time doing research and finding out more about what to do in Nakhon Si Thammarat.
One of not many attractions here is the shadow puppet theatre of Suchat Sapsin, called The Shadow House of Suchat Sapsin. It's a beautiful, wooden house in a side street, on the outskirts of the city. This place is special in many ways because it contains history and tradition that goes back to many, many years ago. Please, don't skip this place if you're in Nakhon Si Thammarat.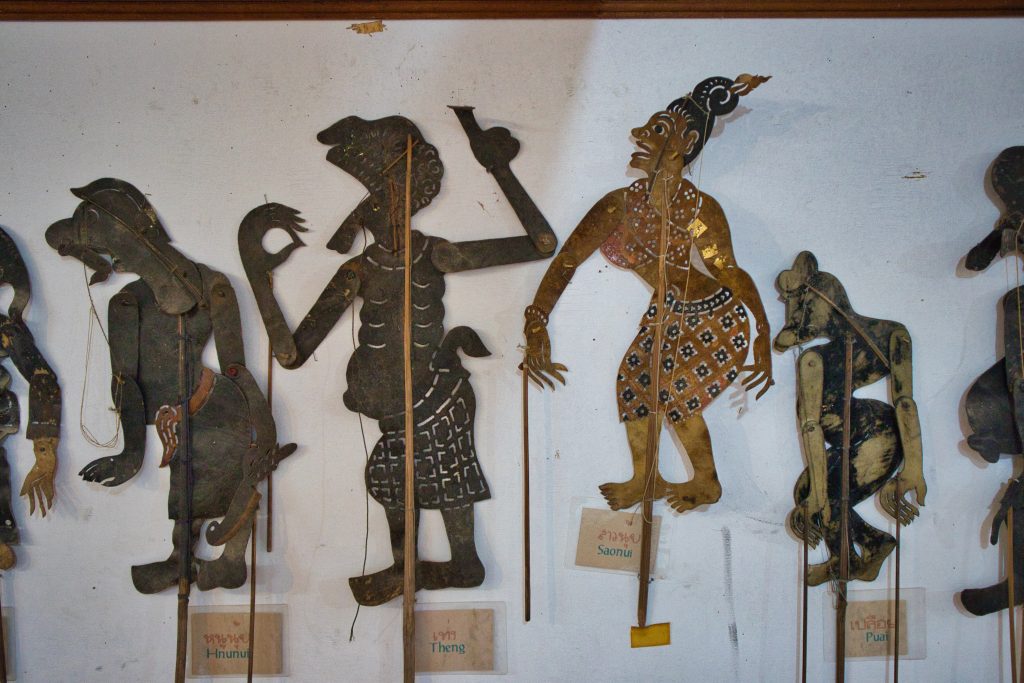 Nang Thalung – The shadow puppet theatre
The shadow puppet theatre in Thai is called Nang Thalung. It was created centuries ago. There is no exact information when it happend, but we know that it is an ancient form of art that came to Thailand from Java.
It is a popular form of entertainment in Thailand as well as in Burma, Cambodia and Indonesia.
Nang Thalung tells different stories through songs, which are sung by actors playing roles with special puppets. They hide behind a white cloth. The audience sees only the shadows of the puppets.
It looks like this:
The Shadow House of Suchat Sapsin in Nakhon Si Thammarat – The History
One of the most famous people in Thailand, who made the art of shadow puppets so well known was Suchat Sapsin.
Suchat opened his small theatre and a workshop in the 80s, when the traditional Thai art lived through its golden age again. For a long time before that it had been forgotten as younger generation had enjoyed Hollywood movies and rock music much more.
In 1985 Suchat had a special audience with the king Rama IX and in 1996 his theatre received the title of the best tourist attraction in the country. In 2006 he got the title of the National Artist of Thailand.
Suchart died in 2019 leaving behind his theatre and his workshop, which is currently owned by his family. It is also run by his students, who learned the art from him for many years.
Visiting the puppet theatre of Suchat Supsin in Nakhon Si Thammarat
I spent a couple of days in Nakhon Si Thammarat because I did a tour with the Promlok Community. The shadow theatre was on the top of my list of places to see in the city.
I walked there from my hotel. The road led through the main part of Nakhon and then through suburbs, near parks and the ancient walls of the city. If you have never been to a non touristy place in Thailand, I really recommend a walk like this. It's a great occasion to see the local life.
The house of Suchart Sapsin looks very mysterious and noble. A small, dirt road leads to the main entrance. There is also a sign in front. You can't miss it when walking there.
At the entrance I was greeted by the sister in law of Suchart, the only one that spoke English in the place. I was given water and then a short tour around the museum, which is located in a small house just next door.
The museum consists of two rooms, filled with puppets from different parts of the world. Each exhibit has a writing in Thai and in English. There are also instruments, which are used during the performances.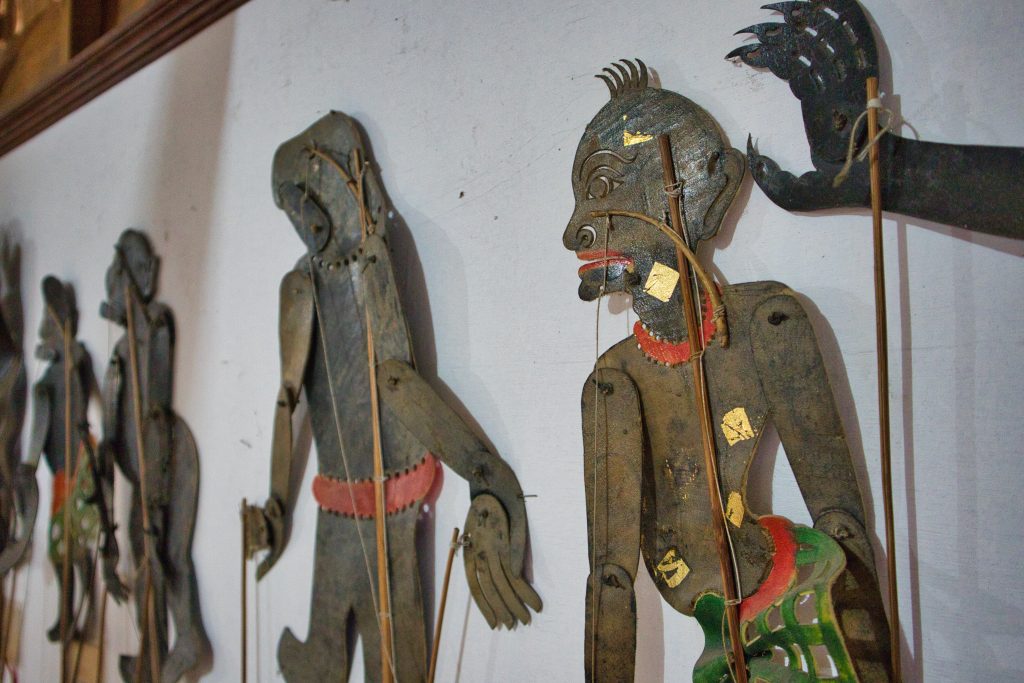 After visiting the museum it was time to find out more about the puppet production.
In a room, next to the exhibits, the family of Suchart produces puppets by hand. It is a very long and hard process, which takes about a week.
The puppets are made out of cow skin. The patterns are cut out and then painted with special paint. The result is stunning!
Almost all of the puppets in the workshp are for sale and the prices start from 20 Baht.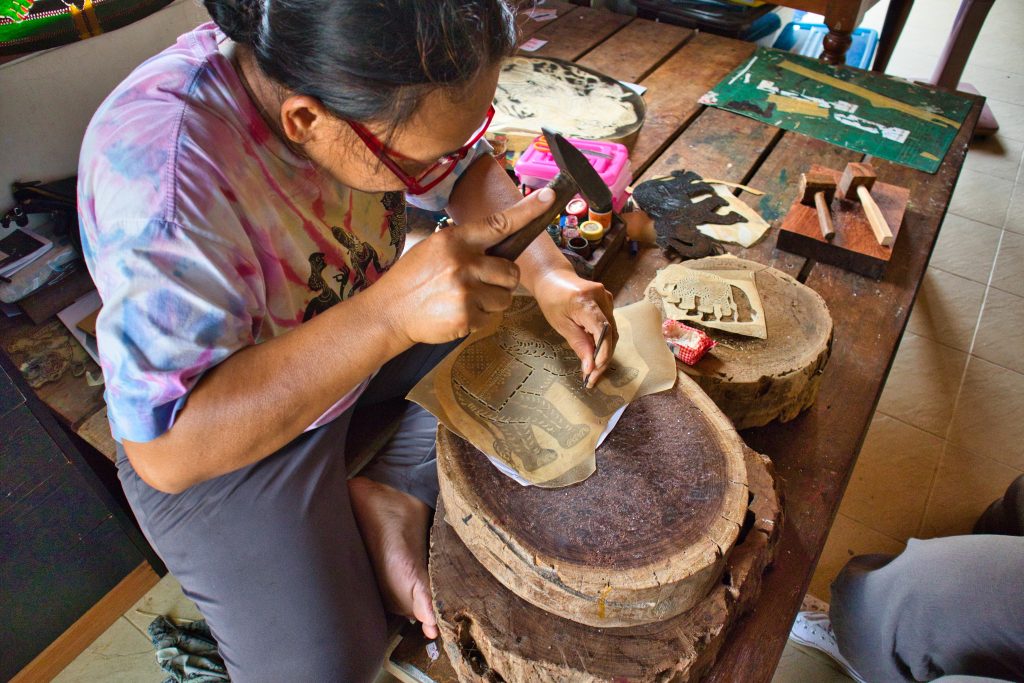 For a 100 Baht you can also watch a performacne. Just ask as it is not normally offered to the visitors.
The performances take place in a small theatre, which has space for 50 people. Everything is in Thai, but you get a card with the story written in English, which helps to understand what goes on in front of you.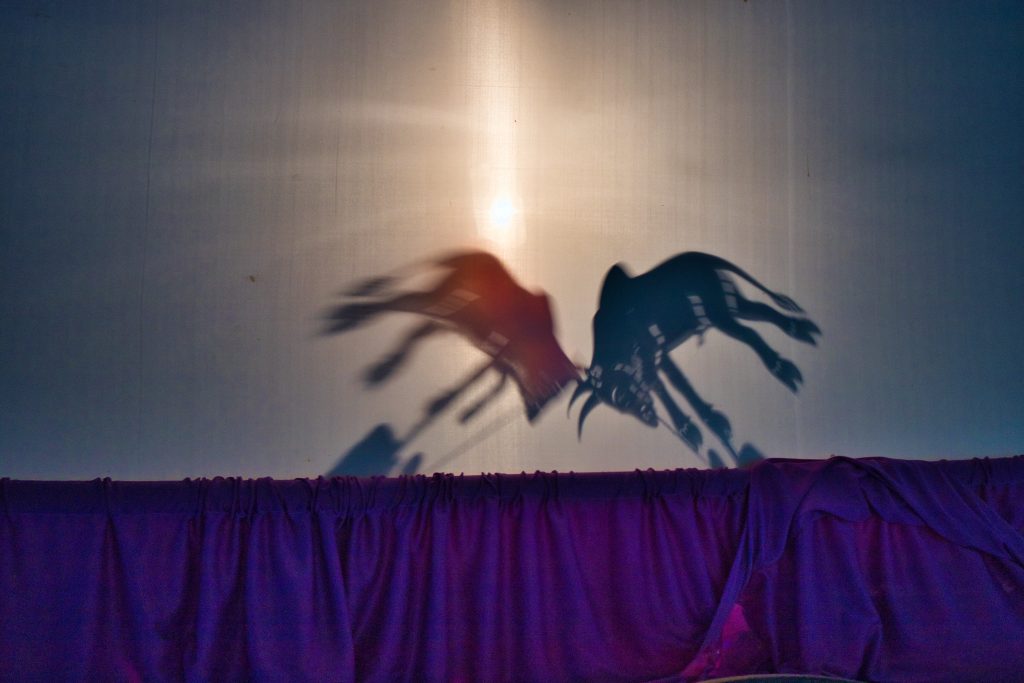 The whole visit is really special and I recommend it with all my heart. It will give you an insight into Thailand's art and culture as well a chance to see a place, which has left a significant footprint on the artistic scene of the whole country.
Suchart Sapsin's puppet theatre in Nakhon Si Thammarat – Useful Information
How to get there?
You can fly to Nakhon from Bangkok. You can read more about how to get to Nakhon Si Thammarat here.
It's a city that lays on the way to Krabi and you can stop here for a few days. Book your tickets to Nakhon through my trusted partner – 12GoAsia.
The theatre is located in Nakhon Si Thammarat, in the south of Thailand.
From the city centre, you can get there by a taxi. Walking is also ok, but on a hot day it can be a struggle.
Map
Address: 10/18 Sri Tharma Sok Road, Soi 3, Nakhon Si Thammarat Thailand.
Cost
Visiting the museum and the workshop is free. You can make a donation.
Watching the performance costs 100 Baht per person.
Opening hours
The theatre, workshop and the museum are open from 9:00 until 5pm.
Visiting
You can visit the theatre by yourself. You will be guided a little at the beginning and then left alone to see everything in your own time.
If you want to combine the visit with something extra, try out Take Me Tour. They offer tours by independent guides, who show you unique places. There are a couple of tours worth considering.
Suggested tours:
Where to stay in Nakhon Si Thammarat?
I stayed at Pura Nakhon. It's a very nice hotel with great service, but it's a bit out of town.
My other recommendations:
Have a look here for other suggestions.
Do you have any questions? Would you like to share your experiences or your point of view? Don't be shy! Leave a comment!