This is the part that most tourists know. Paradise beaches, amazing climate, beautiful water and relaxation – that's why most of people go to the south of Thailand.
My favourite part of the country is the North, but if you're looking for some information on what to do in the South, I have a few posts for you.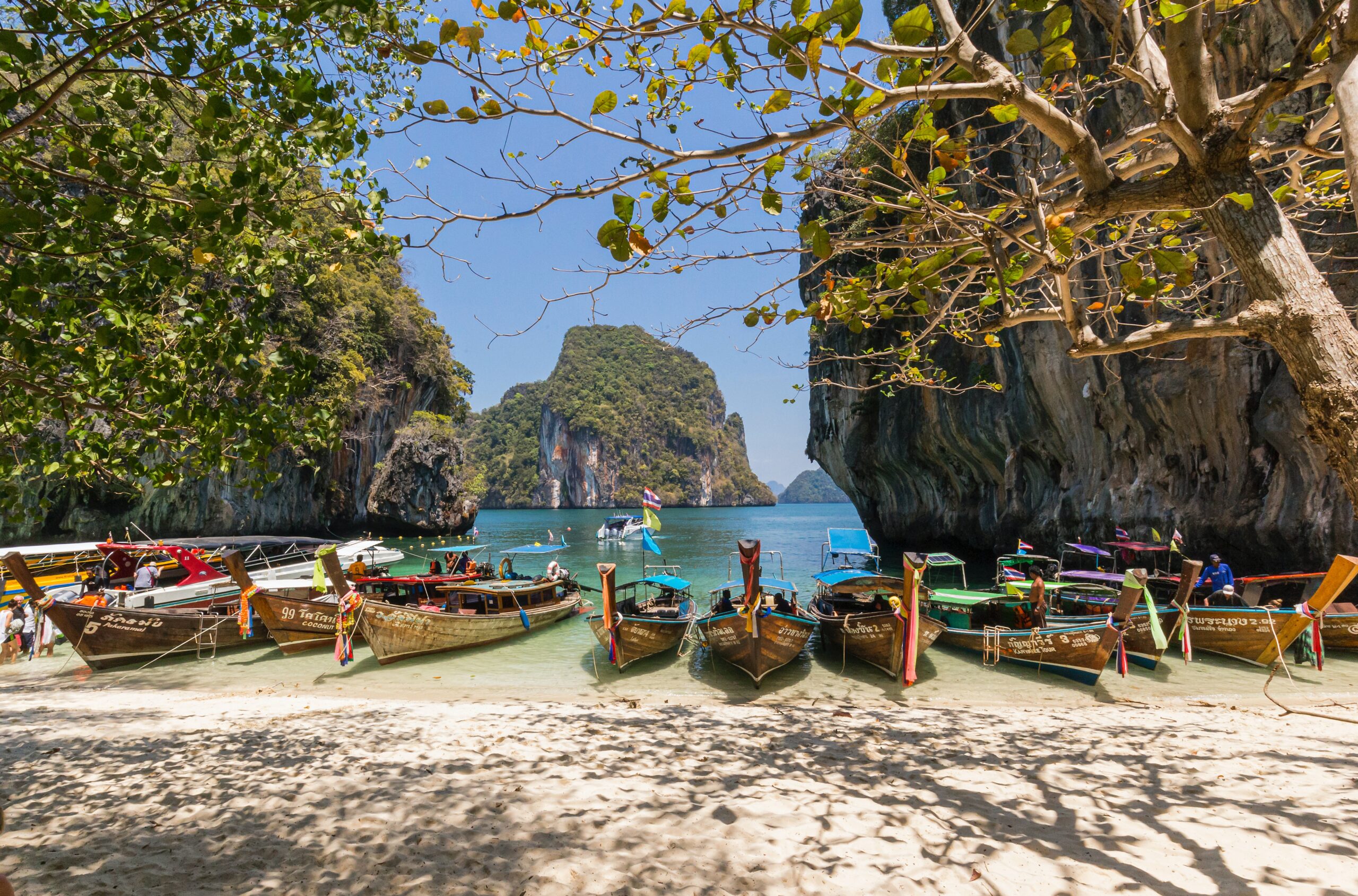 The South of Thailand – Practical Information
It's worth checking the most important information before you go. Here is what you need to know before you visit the South of Thailand.
Location
The South of Thailand consists of the Malaysian Peninsula and nearby islands. The west is characterised by hills and the east is more flat.
The mountain range of Khao Luang runs along the middle of the Peninsula and is the highest in the region.
The weather
The weather in the South of Thailand is similar to the weather in the rest of the country. The climate is tropical with high humidity.
The months from December till May are dry and hot. It's the most popular time to come to Thailand.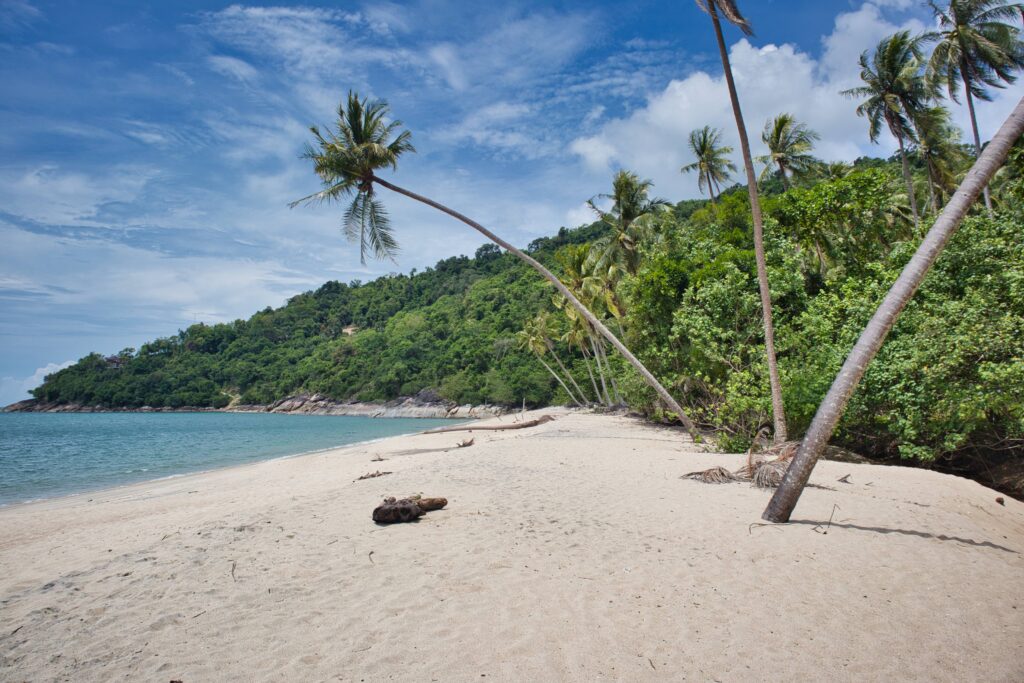 Culture, religion and language
The South of Thailand has a lot of Malaysian influences. This is visible in the behaviour of the local people and the cuisine as well. The main dishes are spicy and are made using yellow, green and red curry.
Thailand is a Buddhist country, but in the South there are a lot of Muslims. It's worth remembering this if you go outside of the tourist areas.
Thai people here understand and, if needed, use the official version of the Thai language. However, this is only the third language used in the region. The main one is so called Southern Thai or Pak Thai, the second one is Malay Thai, a Malaysian version of the Thai language.
Safety
The South of Thailand is very tourist-friendly. Koh Samui, or Phuket are adjusted to tourists and their needs. No one is surprised by seeing women in bikinis and drinking alcohol is accepted.
It's worth remembering that Thai people are quite conservative, especially in smaller towns and villages. That's why it's good to cover yourself to avoid unwanted attention. This applies to women and men.
Thefts, as in other countries, happen. Sometimes it's better to keep your valuables at the reception, in a locker.
I advise avoiding the provinces of Pattani, Yala and Songkla – they are provinces near Malaysia, where terrorist attacks are very common.
If you'd like to travel to Malaysia, it's better to catch a flight from Koh Samui.
Prices
The South of Thailand is generally more expensive than the rest of the country. You can compare them to those in Bangkok.
Of course, it's still cheaper than in the European resorts, but you will pay more here than in Chiang Mai.
Example of prices (2020):
A room in a hostel – from 5 USD per night
A room in a 3-star hotel – from 20 USD per night
Curry in a street restaurant – from 1 USD
Curry in a western style restaurant – from 10 USD
Taxi – 10 km – about 5-10 USD
What places to visit in the South of Thailand?
The most popular places are:
Koh Samui
Koh Lanta
Koh Tao
Koh Phi Phi
Koh Phangan
Phuket
Krabi
I also recommend:
Nakhon Si Thammarat
Khanom
Koh Yao Yai
Koh Yao Noi
You will find more information about these places below.
How to get to the South of Thailand?
Flights from any location in the world to Thailand can be found on Skyscanner.
If you are planning to travel around the country, here is how you can get to the South:
From Bangkok fly to Koh Samui
From Bangkok fly to Phuket
From Bangkok fly to Surat Thani, then catch a bus and a ferry to one of the islands
From Chiang Mai fly to Surat Thani, then, as above, catch a bus and a ferry to one of the islands
From Bangkok fly to Nakhon Si Thammarat
From Chiang Mai fly to Nakhon Si Thammarat
There are also some connections from Bangkok by bus, which take over 24 hours.
Check connections and prices of transportation in Thailand on 12GoAsia.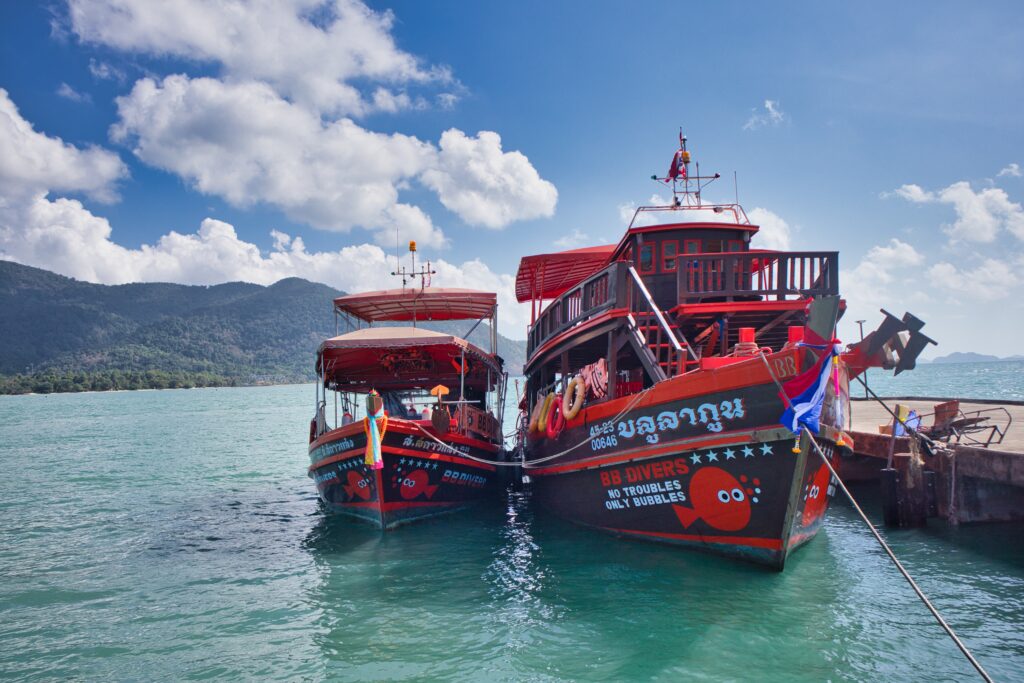 Transport in the South of Thailand
In the more touristy places, the transportation is quick and efficient. It's easy to book a taxi, mini van, or catch a boat to other locations.
Most connections can be found on 12GoAsia.
From my experience I can say that the people in the South are more relaxed and they are not in a rush. That's why, if you need to catch a flight, it's worth going to the airport earlier.
There are boats cruising between the islands. You can choose between motor boats and smaller ones, which are slower, but cheaper.
Red trucks, so called songteaws are a popular mode of transport on the islands. You can get from one place to another for a few Baht.
On some of the bigger islands you will find typical taxis. Download the Grab application, which is easy to use and gives you better rates.
Except that, you can also take a tuk-tuk, which is normally more expensive, but is a great tourist attraction for many visitors.
It's also possible to rent a scooter. Just be careful when driving. The Thai islands have a very high risk of accidents.
Where to stay?
It all depends on your budget. You can rent a bed in a hostel for as little as 5 USD per night or treat yourself to a stay at a 5-star resort for 200 USD per night and more.
Accommodation in the South of Thailand is adjusted to the western tourists. You will find all types of rooms for every budget.
The best site to look for rooms is Booking.com, which I recommend. It's a good site to look for hotels and hostels in Thailand.
Before you go
How to prepare yourself for travelling around Thailand? The easiest way is to make a list of tasks and complete them one by one.
Here are things you should have:
Travel insurance – don't go awya without it. A good travel insurance should cover you in case of accidents and emergencies. If you are travelling during the pandemic, make sure that it also covers you in case you get sick with Covid.
Vaccinations – go to your travel medicine doctor and take all recommended vaccinations. Remember that Thailand has special requirements when it comes to Covid.
Take with you:
Mosquito spray – mosquitos in Thailand can give you dengue fever and malaria. Those in the South are especially dangerous and they really bite. Take one bottle of spray and then buy the rest in 7-11 in Thailand.
Sunscreen – even if you don't intend to spend too much time in the sun, it's good to take sunscreen with you. The sun rays in Thailand are 10 times worse than the ones we know from Europe. They can burn your skin in a matter of minutes and high temperatures can cause a sunstroke.
Summer clothes and some long sleeves – long sleeves and long pants will be useful if you go to temples. Additionally, they protect you from mosquitos. Take light, linen clothes.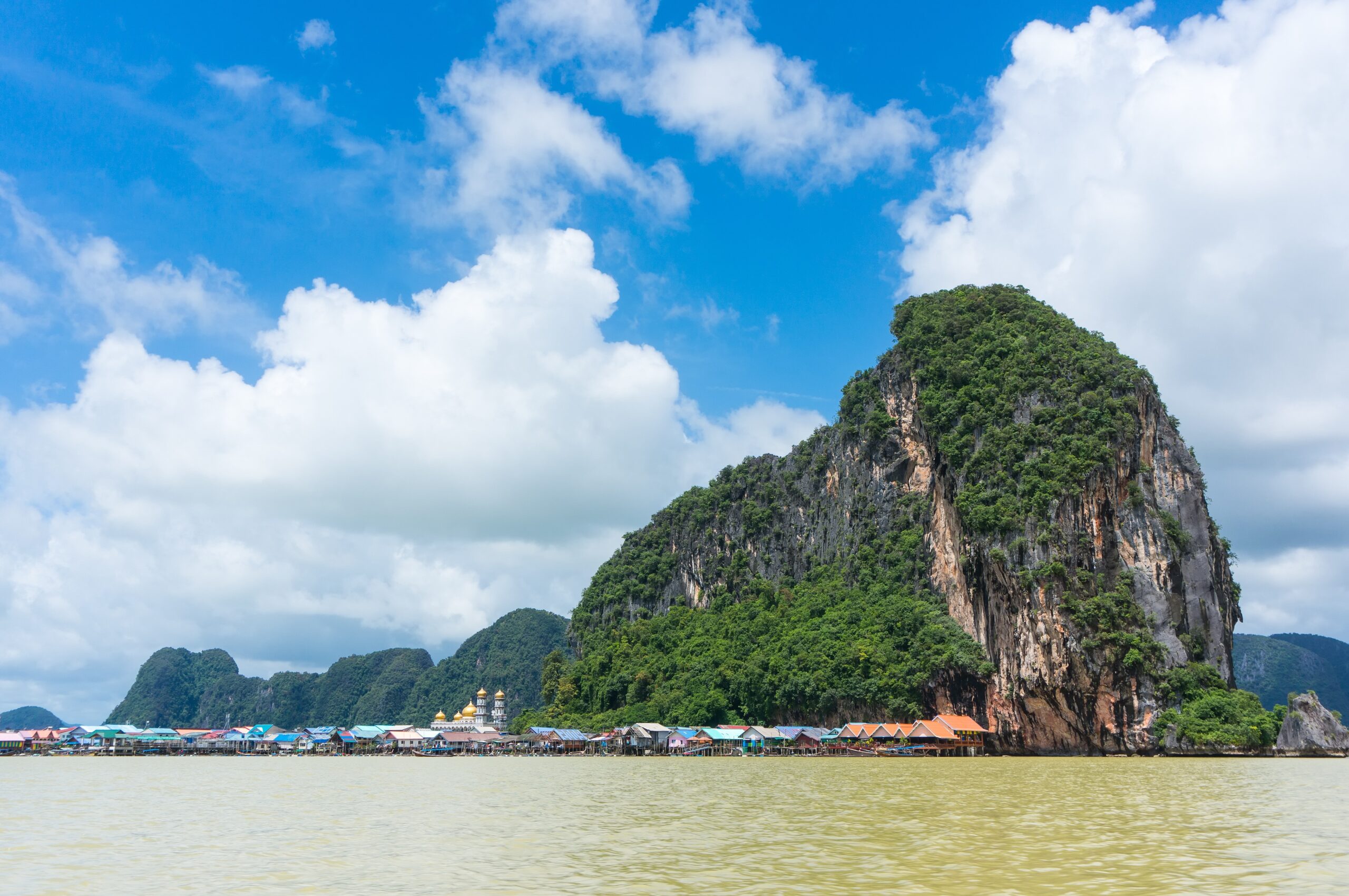 Which places are worth visiting?
There are so many places worth visiting in the South of Thailand. I haven't been everywhere, but I listed some of my favourites for you. I will be adding them whenever I visit a new one.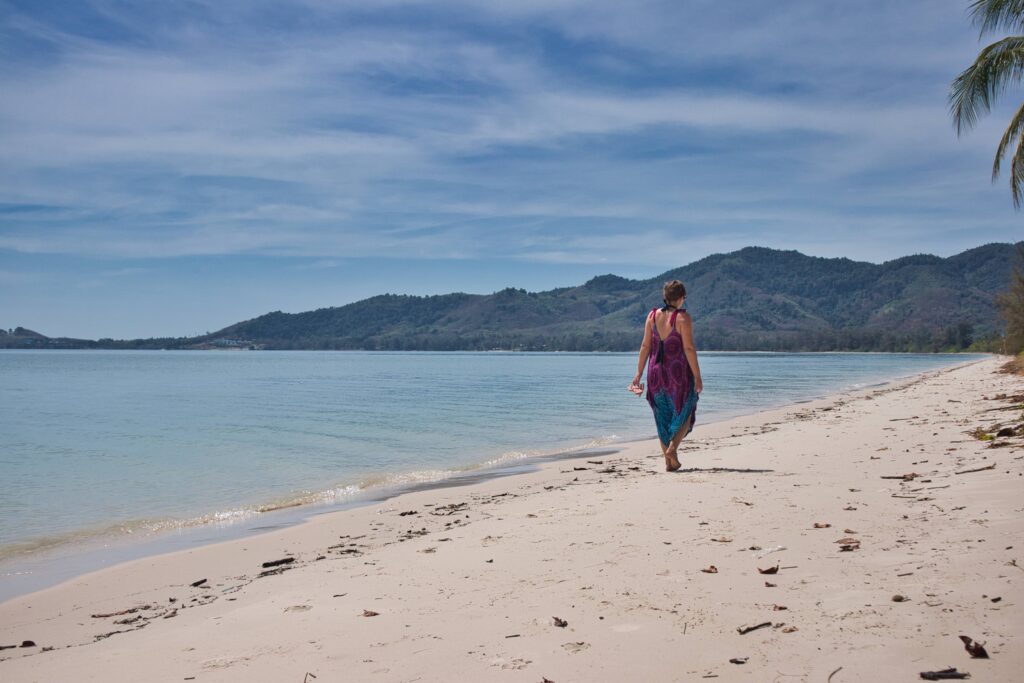 You can also find a list of my favourite places in this post.
Koh Phangan
Koh Phangan is mostly famous for the notorious full moon parties. Every month young people travel to Had Rin to wear some fluorescent clothes, dance to bad techno music, drink some mushroom shakes and get totally drunk on buckets of cheap alcohol. I have done two full moon parties in the last couple of years and, I must say, I didn't really like it that much.
Especially, being a single girl in a crowd of overenthusiastic men was not something I enjoyed. This month I went to Koh Phangan outside of the 'full moon season'. I wanted to party a little and I was also planning on catching up on some sleep and see other places on the island. I stayed near Had Rin beach, where all the parties happen.
Railey Beach
When it comes to choosing a holiday destination I don't have to think twice. I'm such a beach bum and love the ocean, lazing out on white sand and allow my skin to get a little brown. Thailand has so many islands and places, where you can do just that. In October Chris and I went to Koh Phangan. That was my 5th visit there, so this time we decided to check out the other side of the peninsula and visit Railay Beach (or Rai Leh) and Krabi Town.
Khanom
Khanom is a small town on the coast of Thailand, in the Nakhon Si Thammarat province. It's quiet and peaceful and at first, it might seem that there aren't many things to see and do there, but if you do some research, you will find that this area offers plenty of activities and sites to discover. There are beautiful waterfalls, viewpoints with sweeping views over the ocean and nearby hills, caves, rubber tree groves and beaches that stretch for miles. Khanom has something for everyone.
I had never heard about the town before. Only when I was planning my stay in Thailand during the rainy season had I discovered some information about it. It was supposed to be relatively dry in June and offered peace and quiet that I needed. Some articles claimed that it was one of the last remaining spots in the south that hasn't yet been destroyed by mass tourism. I was sold and couldn't wait to finally get to Khanom.
I spent 5 days exploring the area. Every day I had something to do and I wasn't bored at all even though I was there alone. I would get up at 9, take my scooter and drive for hours. I saw some beautiful and unique sites and I also had some adventures, which made my stay there even more special.
Check out what to do in Khanom.
Koh Yao Noi
Koh Yao Noi is a small island near Phuket and Krabi. Not many tourists come here because the island doesn't really offer that much. Those who come here, however, will be able to rest and relax like nowhere else in Thailand.
I've been wanting to visit Koh Yao Noi for a long time now. When I saw it on the map, I was curious what can such a tiny place hide. As soon as I had a chance to get there, I planned a short stay on the island. I spent a couple of days there, breathing fresh air, enjoying peace and quiet and the views.
If you're looking for a place where you can truly relax, Koh Yao Noi will be a great choice. You will charge your batteries here and get away from the hustle and bustle of the tourist places.
Nakhon Si Thammarat
Nakhon Si Thammarat is one of the bigger cities in the south of Thailand. At the first sight, it doesn't really have much to offer. During the day it's quiet and peaceful and during the night it gets busy with night markets. But, as we know, the first impressions might be deceiving. That's why it's good to spend a bit of time doing research and finding out more about what to do in Nakhon Si Thammarat.
One of not many attractions here is the shadow puppet theatre of Suchat Sapsin, called The Shadow House of Suchat Sapsin. It's a beautiful, wooden house in a side street, on the outskirts of the city. This place is special in many ways because it contains history and tradition that goes back to many, many years ago. Please, don't skip this place if you're in Nakhon Si Thammarat.
Read more about puppet theatre in Nakhon Si Thammarat.
Koh Chang
I went to Koh Chang at the end of my stay in Thailand. It was a deserved rest after an intense trip to Nan and the north of the country. I was there during the pandemic, at the end of it, when Thailand was slowly opening up. My impressions about Koh Chang might be a bit different from others as the island was really quiet. I'm sure that outside of the pandemic it's totally different. On the other hand, I trust that Koh Chang is a place that can be enjoyable even if there are more people around.
Find out what to do on Koh Chang.
What's next?
If you have visited the South and are ready for something else, head to the other parts of Thailand.
Check out: