Kanchanaburi – a little town in the west of Thailand, a perfect place for every traveler. History, nature, culture, good food – it can all be found here. Only 3 hours away from Bangkok it's a perfect place to escape pollution and noise. Don't omit Kanchanaburi if you have a few more days to spare in the Land of Smiles.
Many travelers go somewhere else and straight from Bangkok they head to the south or to Chiang Mai, waving off the idea of visiting this little town. Some come here only for a day, ticking off one of the 'must sees'. I'm not surprised. Travelers quite often have only a few days to spend in Thailand, so they want to use it soaking up the sun on one of the islands, or trekking in the mountains. However, if you have more time and want to see more of the Kingdom, but don't want to go too far, Kanchanaburi is the best place to go.
I chose to visit it because I read that it doesn't rain there that much in June and it's a place that despite tourism and quite a lot of visitors, it still remained quite unspoiled and genuine. I gave myself 3 days and at the end of my stay, I extended it for another 2. After seeing and experiencing the major attractions, I just wanted to soak up the atmosphere and enjoy this little town. I loved my stay in Kanchanaburi and would gladly go there again.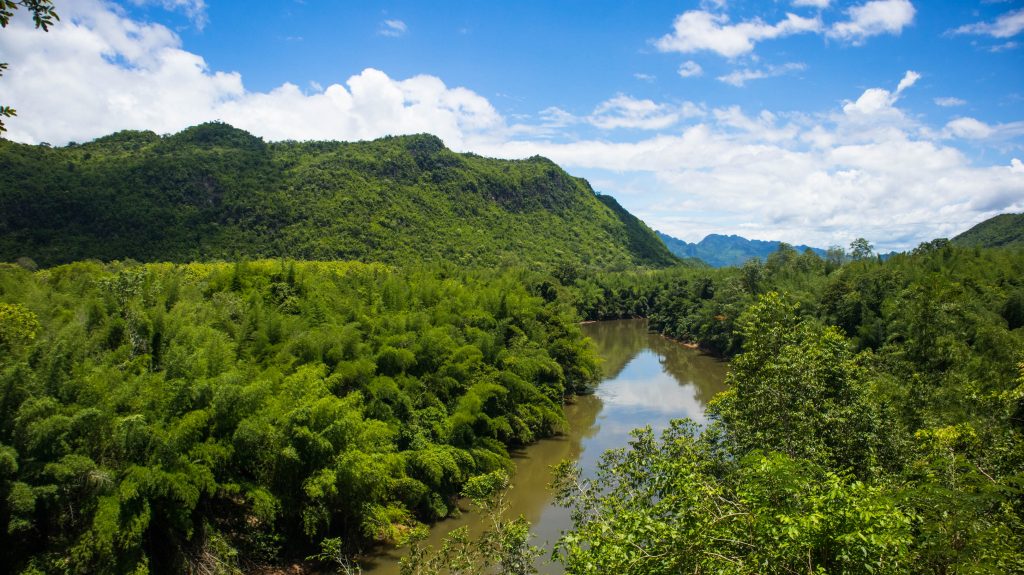 Kanchanaburi – The history and background
The town is located in the west of Thailand, only 3 hours by bus from Bangkok in beautiful surroundings. Two rivers Khwae Noi and Khwae Yai merge here with Mae Klong River, which floats through town. Kanchanaburi lays on an edge of a mountain range, which makes it a little cooler than other cities in Thailand and attracts expats and locals from Bangkok on weekends and holidays.
The town was established in the 18th century by King Rama I as a military outpost against Burmese attacks. However, Kanchanaburi is mostly known for the role it played during the World War II.
In 1942 the Japanese army took over the control over the town and began constructing a railway. It was supposed to help them receiving supplies as their access to the sea was cut off by the Allies. Prisoners of war, mostly Australians, as well as civilians, were forced to work in unbearable conditions during the constructions. Thousands of them died during a very short period of time. Those events were later on immortalized by the famous 50s movie The Bridge on the River Kwai, which in effect made Kanchanaburi a very well-known attraction in Thailand.
Who is Kanchanaburi for?
Till quite recently Kanchanaburi was mostly for history buffs. But today the town attracts all kinds of people. The older generation comes here to visit the bridge and ride the train, but also to have some quiet time. Kanchanaburi is perfect for families as there are a lot of quiet resorts around, where children can play undisturbed.
It's also popular with backpackers. There are plenty of bars, where you can chill, drink a beer and meet friends after your excursions to the Hellfire Pass or the Erawan Waterfall.
Kanchanaburi has something for everyone.
Finding your bearings
The town is relatively small. There are only 30,000 people living here. Your hotel will probably be located on or near Mae Nam Kwae Road, which is where tourists like to stay. It's very close to the Bridge on the River Kwai and the train station. Restaurants and bars with local and western food can also be found here.
Saeng Chuto Road is the main road in town. It runs parallel to Mae Nam Kwae Road, from north to south and connects the bus station with the train station and the bridge.
If you stay on Mae Nam Kwae Road you will need to take a taxi to the bus station. It's a bit of a way and I wouldn't recommend walking there in the day. During the evening the road is a bit more busy and interesting and walking along the Saeng Chuto Road is fun.
What to see and do in Kanchanaburi?
Kanchanaburi is a small town, but there are a lot of things to do and see. If you want to do it all, you will need at least 3-4 days. If you want to relax then you can spend there up to a week.
Ride the train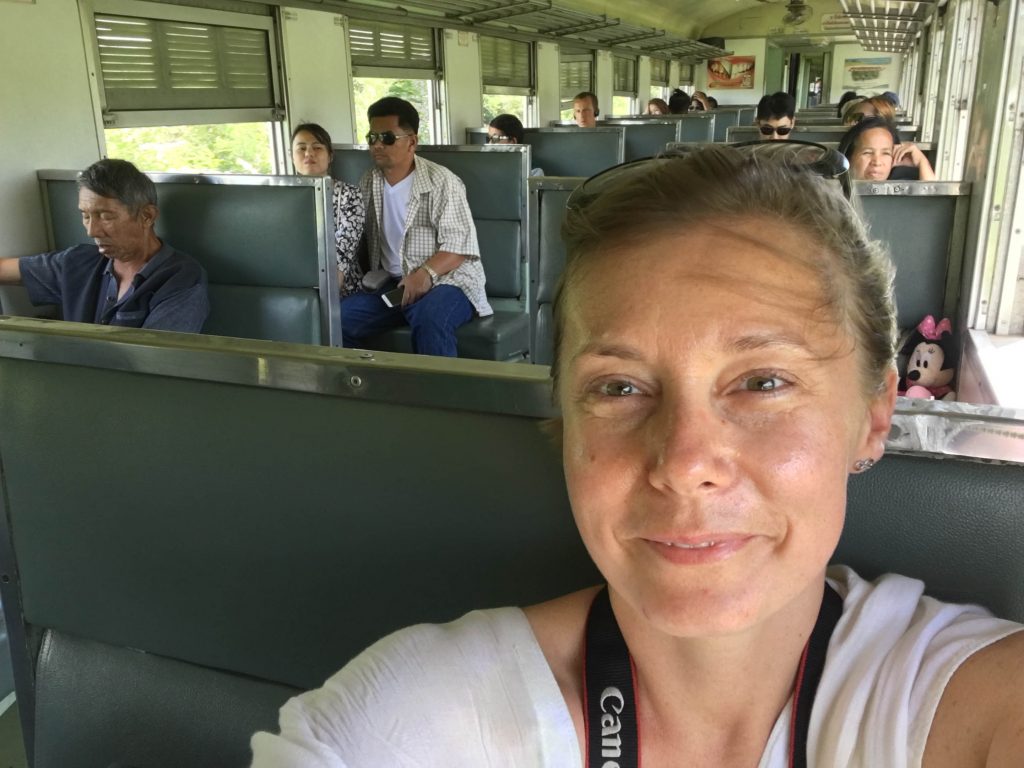 The railway that was built by the Japanese is now a tourist attraction. Because of the number of people that died during the construction, the route is called the Death Railway. What is so amazing about a train ride? You might ask. Well, first of all, the train itself is ancient. It's an old, heavy, puffing machine with simple seating and rusty fans that help to cope with the heat. It goes through the rice fields and mountains. The views are amazing and you can stick your head out throughout the ride to take some cool photos. At the end, the train rides on an edge of a mountain with a river flowing beneath. It's a thrilling, amazing experience!
You can catch the train from Bangkok and ride all the way to the end. You can also jump on in Kanchanaburi. The final station is Nam Tok, from where you can go to the Hellfire Pass. The train ride takes 2 hours from Kanchanaburi. Departure times are: 6.07am, 10:35 am, 4:26 pm. You can purchase the ticket at the station 15 minutes before the train is due to leave. Remember that the trains in Thailand are often late.
If you want to know more about the Death Railway, you can read it here. 
Visit the Hellfire Pass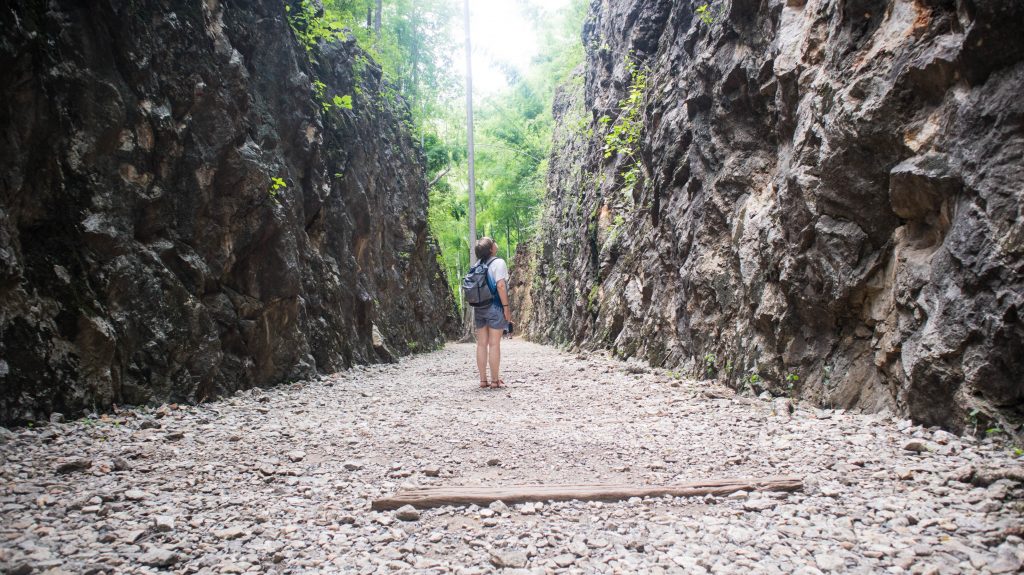 The Hellfire Pass was one of the toughest parts of the railway construction. The prisoners worked day and night in very tough conditions to finish it. During the night their shadows illuminated by burning torches resembled scenes from hell, hence the name.
Today it is a memorial, where you can walk the last piece of the railway and find out more about its history. Descendants of the prisoners come here regularly to lay flowers and leave small notes, thanking them for their sacrifice.
From Nam Tok you can catch a ride to the Hellfire Pass. A return private taxi will cost around 700 Baht. The entrance to the Hellfire Pass is free, but you will have to walk quite a bit through a forest. The route goes down and you will need to walk uneven stairs to get there. It's not that hard, but it's hot and humid in the forest, so make sure you have some water with you.
Read more about the Hellfire Pass 
The Bridge on the River Kwai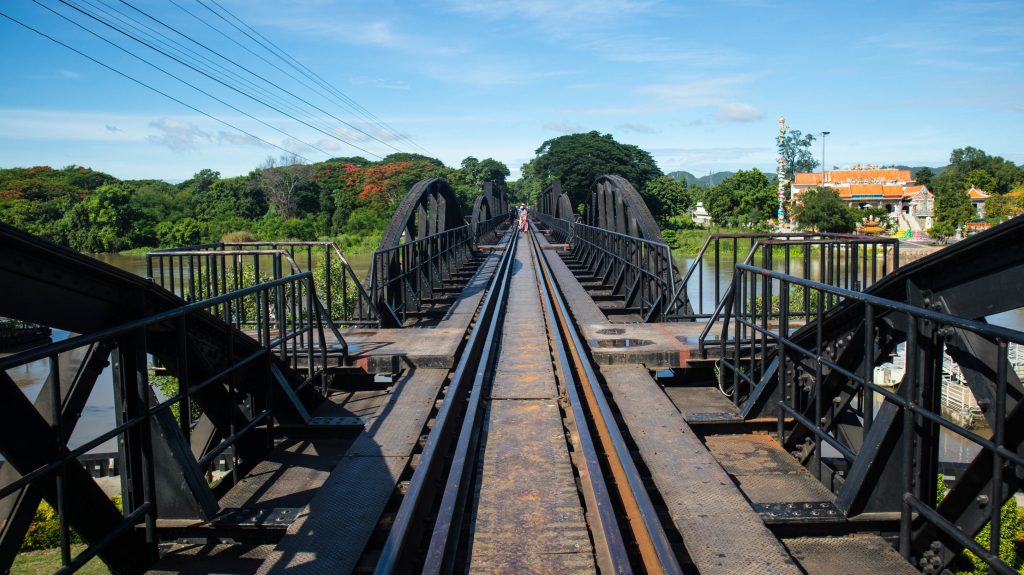 The famous bridge is located just next to the station and if you stay in the tourist area, you will get there very easily by foot.
The metal construction is not very impressive, but thanks to the river and the surrounding area it's quite lovely (if you can say that about something that cost human lives). Probably that's why there are a lot of people here taking selfies. If you want to take a good shot, where you wouldn't have yet another Instagrammer posing in the background, come here for the sunrise before the first train arrives. I went there at around 10:00 and it was still relatively empty.
The entrance to the bridge is free.
Map of the Bridge on the River Kwai 
The JEATH War Museum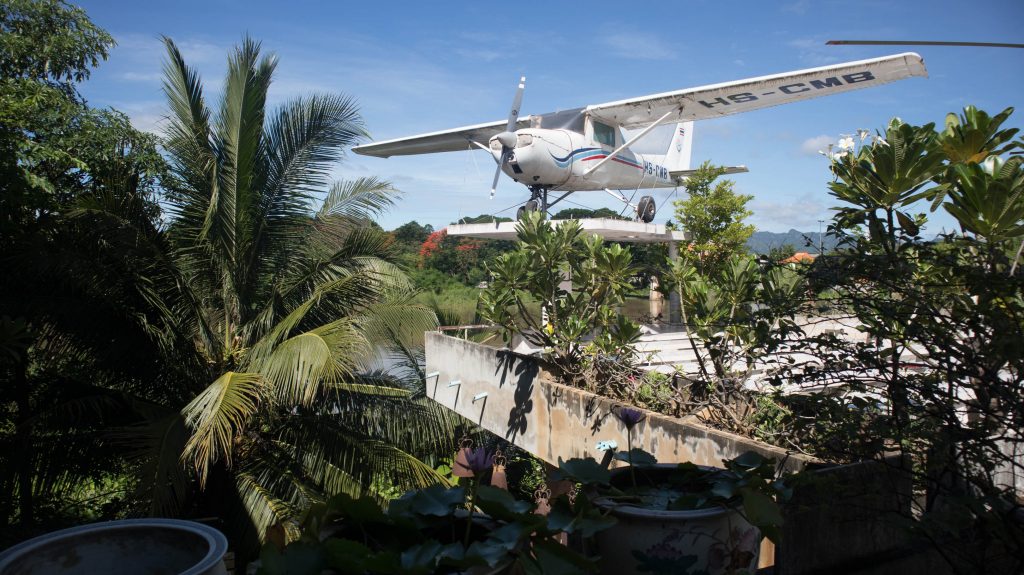 I had an hour left till the train and decided to visit this museum. I thought I would find out a bit more about the history of the town and the railway, but at the end, I left with an impression that it's probably the weirdest museum I had ever been to.
The entrance looks cool. It has a big locomotive outside, where you can take photos. Similarly, after entering you can admire warplanes and helicopters. A huge Chinese temple stands there, too. It looks very colorful and impressive against blue skies. But that's all I can say about the museum. The farther you go, the more bizarre it gets. Inside there are some artifacts, presumably from the war. One room is full of motorbikes with huge signs saying 'Japanese'. There are some drawings, a few guns, and pictures. In the middle of it, there are mannequins dressed in all sort of clothing and two stalls selling backpacker outfits (elephant pants and tank tops with Chang beer). A Chinese medicine shop, hidden in a corner, looks like something out of a war movie. An old Thai man sits behind the counter napping.
There is no information and explanation. These are random things gathered together, which you can look at (or buy if you're after elephant pants or Chinese herbal medicine).
But this is what I like about Asia – things that don't make sense make me laugh. It's just a beauty of visiting it. Despite its randomness, I liked this museum very much.
The entrance is 40 Baht per person.
Kanchanaburi War Cemetary
The war cemetery in Kanchanaburi is located in the middle of the town and it can be easily accessed from the main roads. It is a memorial to all the victims of Japanese imprisonment. There are over 6,000 people buried here, mostly Australians, British and Dutch. The remains of American soldiers were repatriated.
The cemetery was designed by Colin St Clair Oakes and is maintained by the Commonwealth War Commission.
When visiting be respectful. It's not a place for taking pretty photos for your Instagram.
Across the road, there is the Thailand-Burma Railway Centre. Unfortunately, I didn't have time to visit it, so I can't say much about it.
Admire the architecture
I love admiring old, colonial buildings. That's why I was very excited to discover Pak Phreak Street. It's not that far from the center and you can walk there, or take a tuk-tuk.
The street is quite long lined with wooden villas. Some of them are in very good condition, others are sadly falling apart.
The great thing about this street is that there are sings with information outside. There is usually a date of the construction and some story of the person, who used to live there. I found a couple of houses which date back to the 18th century and where the same family has been living for generations.
Calm down and have a coffee
On Pak Phreak, I found a very nice coffee place, probably one of its kind in the town. Baan Sittisang is located in an old colonial villa. It sells fresh coffee and really good cake. A place with a homey feel, with leather chairs and sofas, small wooden tables and a cat that likes to be petter by visitors makes it a perfect place to chill out and read a book.
Eat some fish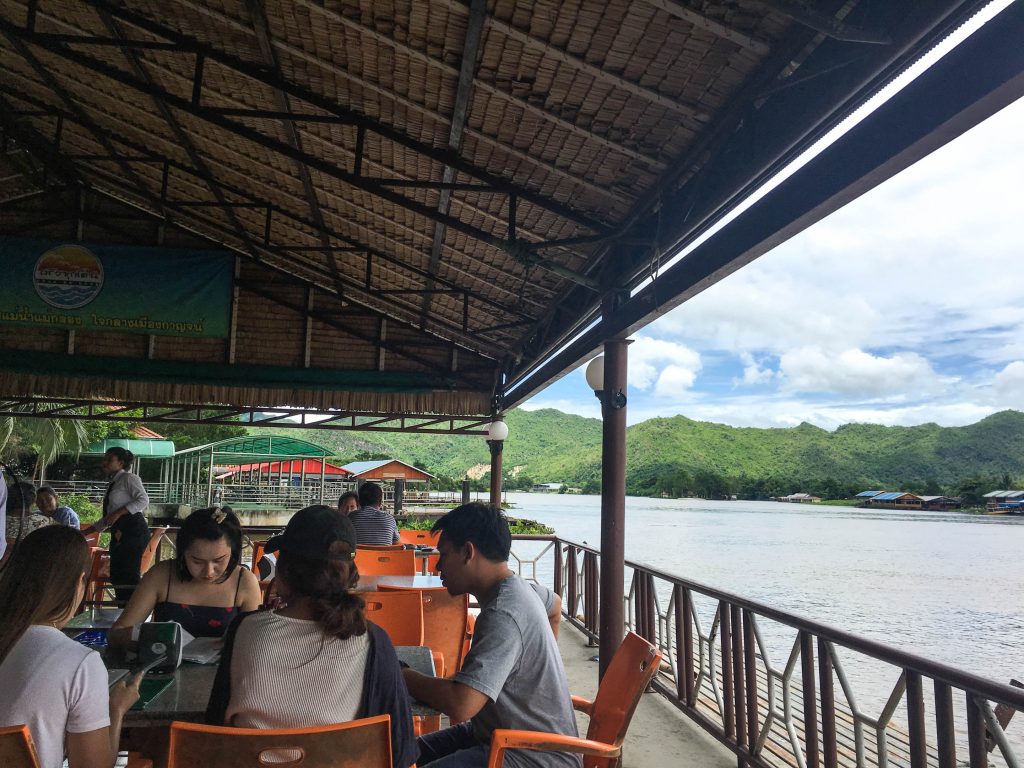 Kanchanaburi is just on the riverfront, which means that there is some pretty good fish on offer. I wasn't very keen on eating it in the tourist area, as usually the food in places like that is overpriced, so I wandered out and found a true gem.
On the other side of the town, you will find Krua Chock Don – a riverfront restaurant, serving all kinds of food. Its specialty is fish curry on a hot plate. I ordered it and was warned by the waitress that it was very spicy. I can handle that normally, so I asked for 'ped nid noi' –  a little spicy. What I got was a delicious, succulent fish that burned my throat and stomach and made me cry. Three days after that I still had stomach problems. It was worth it though. The meal was very good and the views were even better.
Kanchanaburi – Useful information
I know you want to prepare well before you go and I'm here to help you out. Below is everything you need.
How to get there?
Kanchanaburi doesn't have an airport, but the overland transport is not too bad. You can easily do it in a couple of hours, depending on where you're going.
To Kanchanaburi from Bangkok
It's very easy to get to Kanchanaburi from Bangkok. The bus takes only 3 hours, the same goes for trains. I took the first option. You can read all my experiences about taking a bus from Bangkok to Kanchanaburi here.
Buses depart from Mochit Station. You can catch a minivan, which is much quicker, or you can go for a big bus, which is probably safer. A ticket will cost you 100-150 Baht. Buses and minivans depart hourly from 4 am until 6 pm.
Trains are another option. There is one at 7:45 and one at 13:35. A ticket costs 100 Baht.
Tickets can be purchased at the stations (don't forget your passport if you want to buy a train ticket), or you can buy them online, which is quicker and more convenient. I always use 12GoAsia. It's a reliable site for any kind of transportation in South East Asia.
Book your ticket from Bangkok to Kanchanaburi by a bus or a minivan 
Book your ticket from Bangkok to Kanchanaburi by a train
To Kanchanaburi from Chiang Mai
A bus to Kanchanaburi from Chiang Mai takes around 12 hours. It's best to take an overnight bus and sleep through the journey as the views are not that spectacular.
Buses are equipped with a toilet. You will also get a blanket, a pillow, some water and a snack. Your ticket gives you a free meal at the place, where you will stop in the middle of the way. However, the bus waits around 20 minutes, so it's better to order a light snack.
The bus departs from Chiang Mai bus station, terminal 3 at 07:20, 18:00 and 20:00. It costs 600-800 Baht. You can purchase your ticket at the station, or order it online via 12GoAsia.
Book your ticket from Chiang Mai to Kanchanaburi by bus
Getting around
Kanchanaburi is not big, but it is quite spread out. The easiest mode of transport are tuk-tuks and songteaws. You can catch one easily at the main roads and by the bridge. A 10 minut ride form the bridge to the bus station will be around 100 Baht, or less if you can spread the cost between other people.
You can also rent a motorbike for 250 Baht a day. It's a good option, but be careful. The two main roads are very busy and traffic is bad. Buy good insurance, wear a helmet and stick to the left.
Where to stay?
Bamboo House Resort – one of the cheapest and the most charming places I stayed in. I chose a bungalow on a raft, which cost me only 3 Euros per night. The conditions were simple, but I really liked it. The resort also offers more luxuries options.
Sky Resort – good location, clean rooms, and pleasant service. There's even a swimming pool on the site. A very good place to stay while in Kanchanaburi.
Princess River Kwai Hotel – this place is a little out of town and there are a few facilities around. However, it's a perfect place if you want to chill and relax.
VN Guesthouse – beautiful views over the River Kwai. Rooms have private bathrooms and wi-fi. The location is also very good.