Wat Pha Lat, also known as Wat Sakithaka, is a small gem on the map of Chiang Mai. This quiet temple is hidden in the forest and is very often omitted by travellers, who head straight to the nearby Wat Phra That Doi Suthep – one of the most famous temples in the north of Thailand. They don't even realise that there are many interesting places on the way to the top of the mountain.
I need to admit that after 3 years of living in Chiang Mai I thought that I had seen everything in the area. As it turned out, some of them are just on my doorstep and are waiting to be discovered.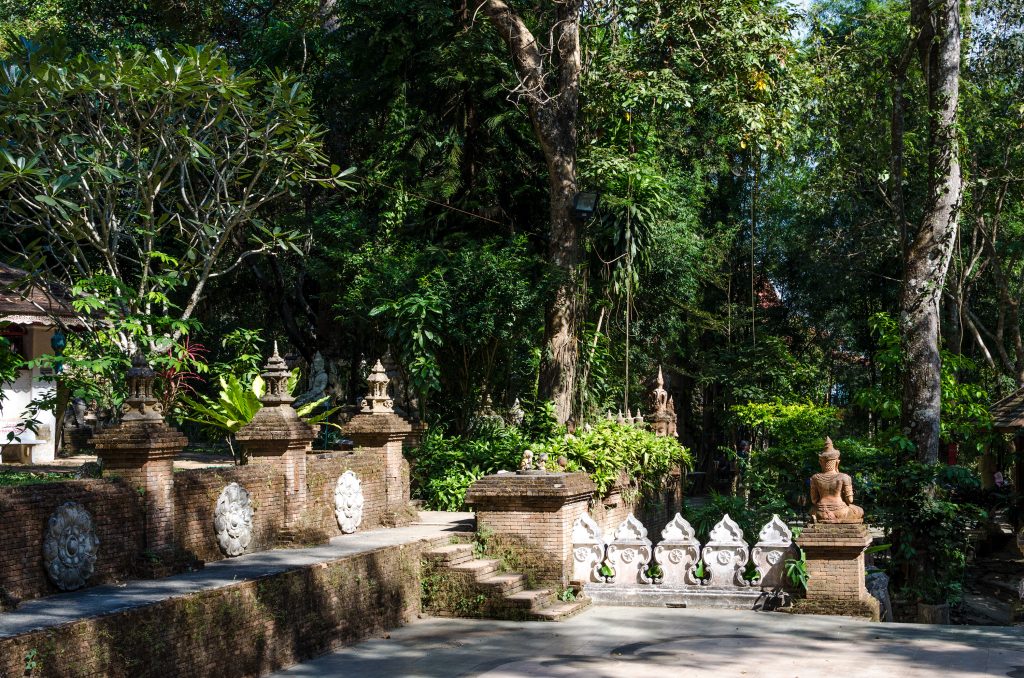 You can get to Wat Pha Lat by a taxi. If you catch a songteaw from the city to Wat Phra Tat Doi Suthep, you can ask your driver to stop on the way at this less known temple.
You can also do a short trekking to Wat Sakithaka, which leads along the so called 'monk's trail'. The name comes from the orange cloths wrapped around the trees. In that way monks mark the blessed plants. Because Thai people are so superstitious, the trees are not allowed to be cut. This is a great method to protect the environment.
I started the trekking to Wat Phalat at noon. The first part of it was pretty tough. The path went up and up all the time and marching through stones and rocks wasn't making it easier. The temperature rose and after a couple of minutes it was very hot. There was nothing interesting in the area. On my way I met a couple of tourists, who were going down already.
I finally reached the point where the trees had orange robes wrapped around them. Here the road was a bit easier. Tall trees gave some shade and the only annoying thing were mosquitos. Taking even one photo was problematic because these little monsters were biting everywhere. The only solution was to keep on going.
The surrounding forest was amazing. We had to look at the ground because at one point I almost stepped on a small, green snake, which fortunately got scared of me and quickly disappeared in the nearby bushes.
After a few minutes we saw a white temple. It didn't look like much. I actually started thinking that I was in a wrong place. After I crossed a small stream I saw how beautiful this place really was.
The main entrance to Wat Pha Lat was made out of rocks. At the top of it a small pond shone in the afternoon sun. The stream cascaded down and murmured softly. It was a perfect, natural background for my sightseeing. From the top of the stream the trees and rocks were less dense and you could see the whole city from above.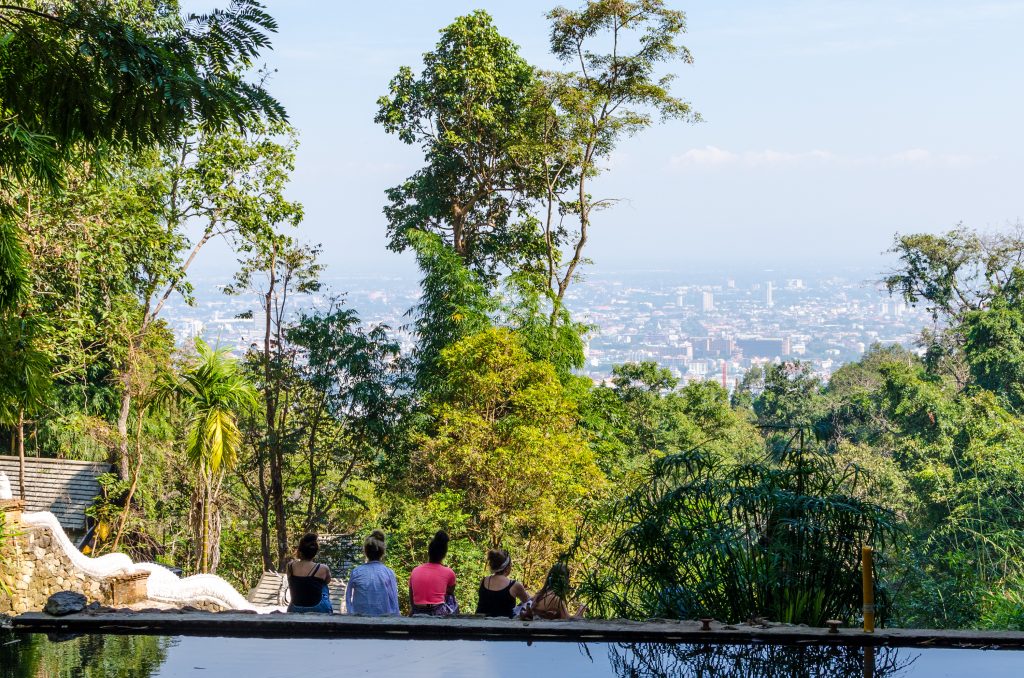 A complex of small buildings slowly emerged from the forest. Sculptures of Buddha, which looked liked they were thousands years old, dressed in yellow robes, were scattered at the entrance. Further down small chapels and temples were guarded by dragons and Buddhist gods.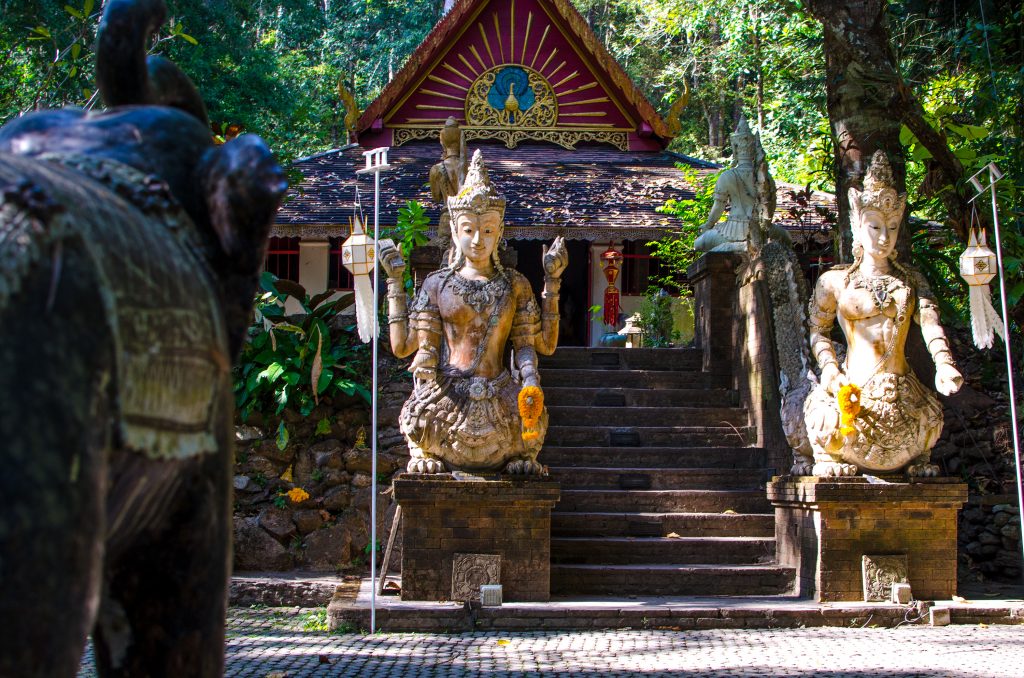 At the back of the temple dogs were taking a nap in the sun and a small group of monks were discussing something quietly under one of the trees.
I wandered a little around, trying to soak up the atmosphere of the place.
I sat at a coffee stall for a bit and ordered my favourite 'capoo yen' – a cold cappuccino. I chatted with the owner of the stall. She taught me a few new words in Thai and recommended me places to visit around Chiang Mai – a free lesson and tourist information in one!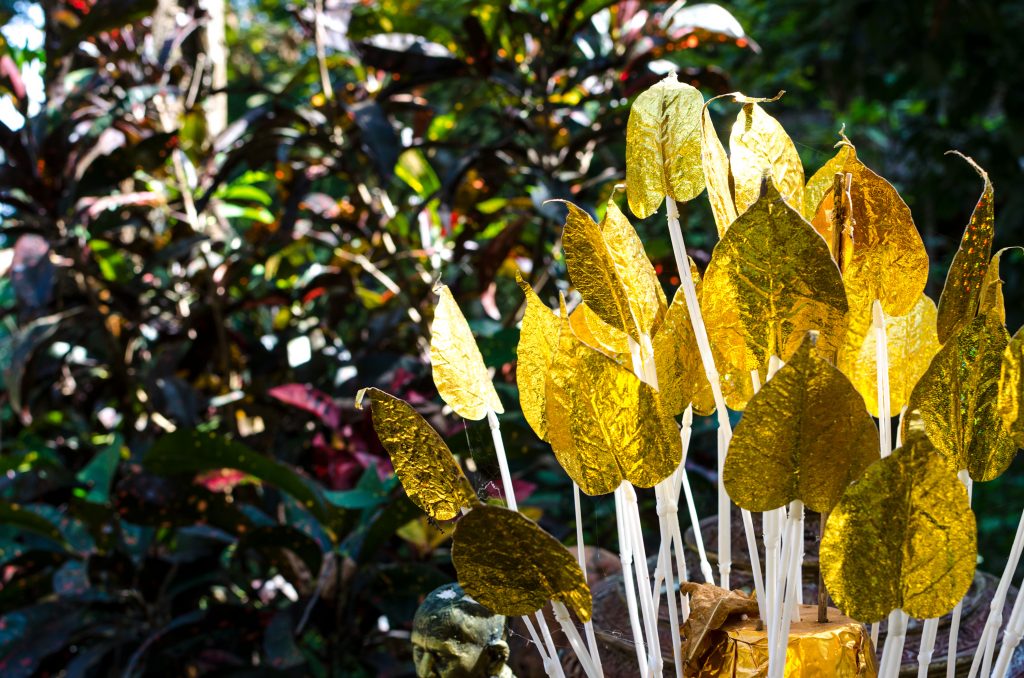 I left Wat Pha Lat a few hours later. I really didn't want to go back to noisy and polluted Chiang Mai, but all things come to an end. Fortunately, the trekking trail to Wat Pha Lat is 10 minutes drive from my house, so I can always go back with a visit.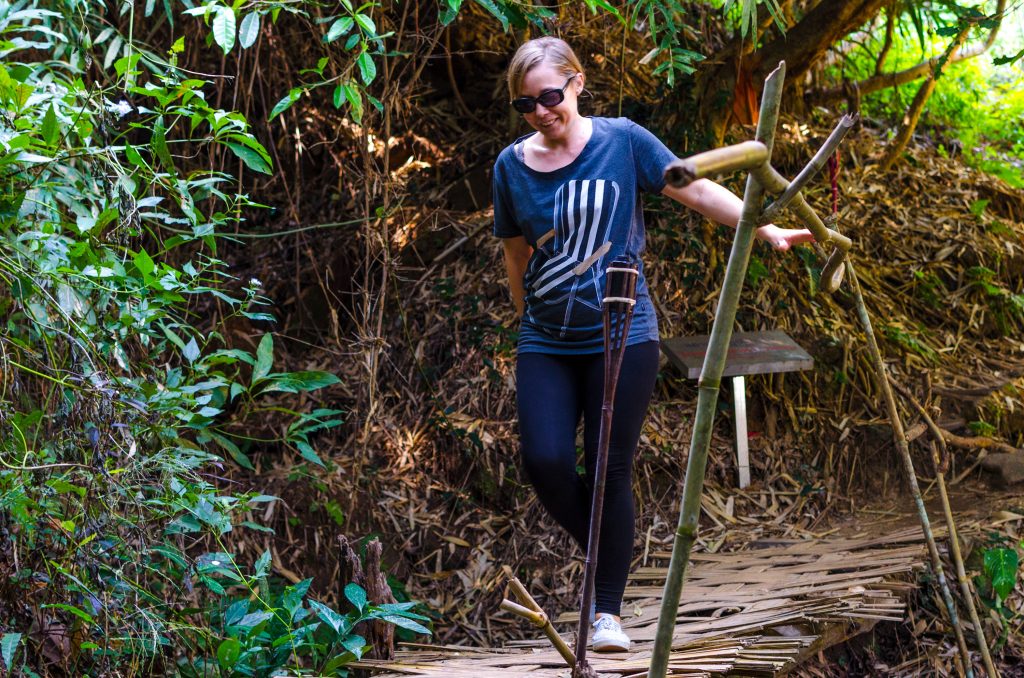 Trekking to Wat Pha Lat – useful information:
How to get to the trekking trail to Wat Pha Lat
The entrance to the trekking trail is not marked very well. You have to go to the end of Suthep Road and turn right at DCondo. If you drive a scooter, you can leave your ride here and start your trekking to Wat Pha Lat. You can also drive a little further. If you want to get to the trail by a taxi, you might have to jump off here. At the turn you will see a small sign that says 'nature trail Pha Lad'. Go straight for around 250 metres until you reach a small intersection. Turn left here and after 800 metres you will see the entrance to Wat Pha Lat trekking trail.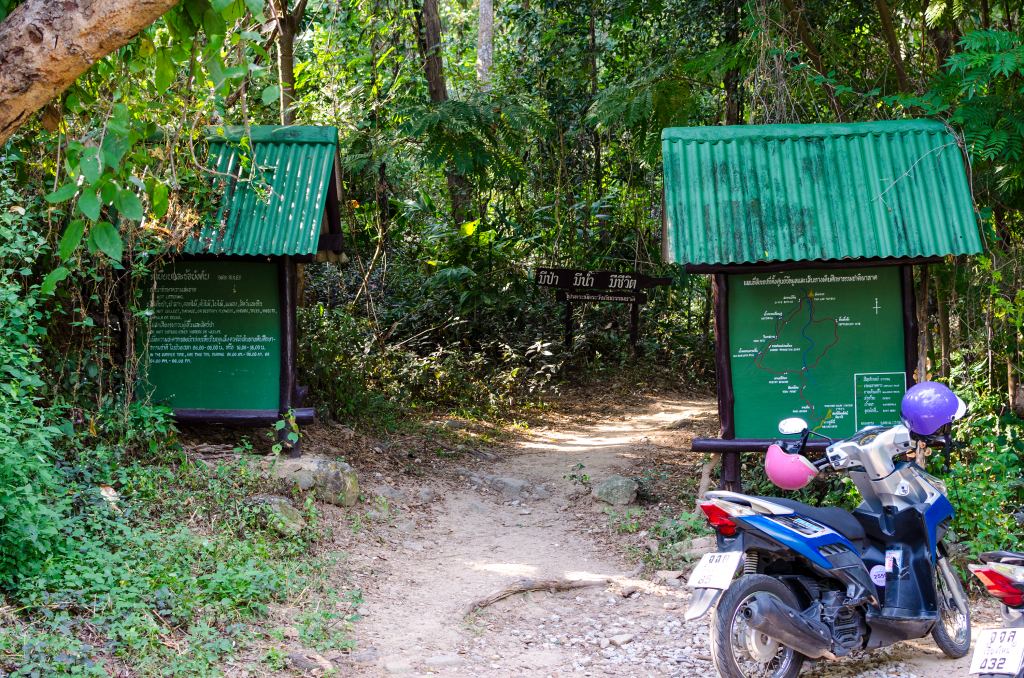 The trekking is not very difficult. I think that everyone can do it. It takes around 30-40 minutes to reach the temple. From there you can continue your journey to Wat Phra That Doi Suthep.
You don't have your own transport, or prefer to go with a guide? Hire a local to tak you to Wat Pha Lat! I recommend trips by Take Me Tour, who offer custom made tours with independent, local guides. They also one for Wat Pha Lat. Check it out here and book it now! 
Map
What to take with you?
Mosquito spray.
A bottle of water. You can buy some drinks at the temple, but you need something for you trek, too.
Good shoes. The trek is not difficult, but it's best to have trainers rather than flip flops, or sandals.