Marrakesh is located just at the foothill of the great Atlas Mountains. Their snowy peaks can be seen from almost every rooftop in the city. They look majestic in the afternoon sun and are an amazing background to the beautiful mosques and red houses of Marrakesh. A tour to the Atlas Mountains is a great way of escaping the hustle and bustle of the city and a wonderful way to see how the local people live.
Morocco is a very popular destination and Marrakesh is one of those places, which is still beautiful and atmospheric, but mass tourism has changed it so much that you cannot really tell whether what you see is authentic, or has been adjusted to the needs of those that come to visit. You will love the city and you will be amazed by its narrow and small streets, but from time to time you will wonder if this is how the locals truly live. The trip to the Atlas Mountains may give you a better idea of the reality in Morocco and will allow you to relax in stunning scenery, but only if you choose a tour that will take you to off the beaten path destinations. When you're in Marrakesh it's nearly impossible to find a tour operator that does that. Luckily, I have a great solution!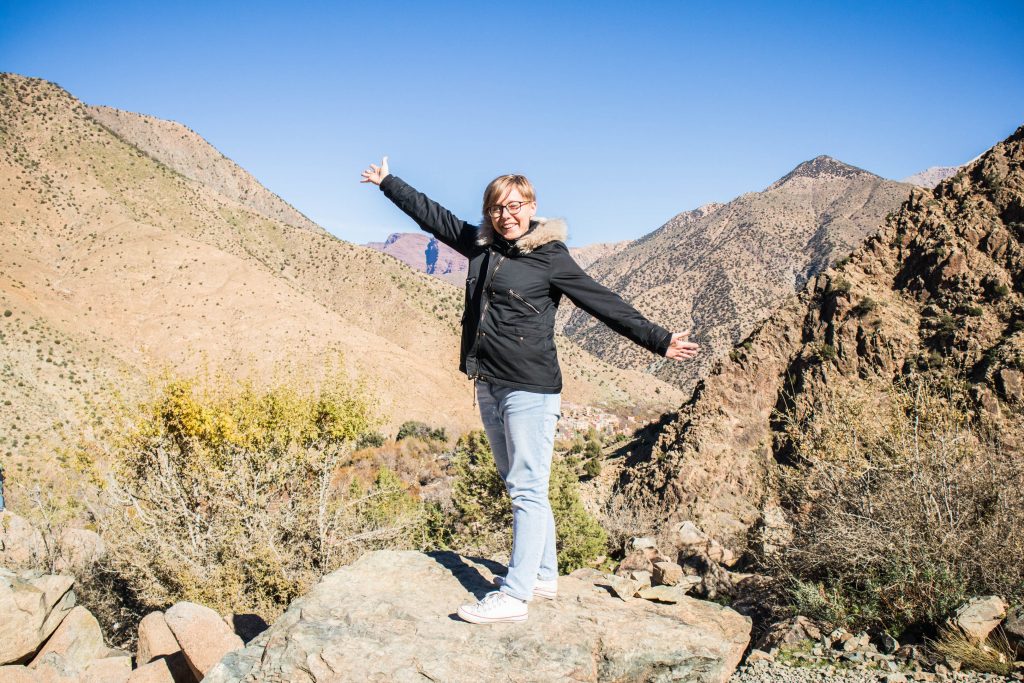 I had almost a full week in Marrakesh, so decided that I wanted to make a trip to Essaouira and also to the mountains. I really wanted to experience different places and wanted to spend some time in nature. However, I didn't want to just buy an organized tour and be driven from one tourist point to another. My plan was to see some out of the beaten path destinations in Morocco. That's why I contacted WithLocals, which is a company I've used before in Lisbon. They offer tours in Marrakesh (and all around the world) that are led by independent, freelance guides, who take you to the less known spots and show you the real side of their country, or city. I chose to go with Omar, an experienced tour guide, who seemed like a very pleasant and passionate person, who knew exactly what I needed and wanted to see. Christopher and I spent a whole day with him driving through the Atlas Mountains, admiring the views and listening to the facts and stories that Omar prepared for us. I must say, without any exaggeration, that it has been one of the best tours I've ever done.
What you need to know before your trip to the Atlas Mountains
The Atlas Mountains are second highest mountains in Africa. They stretch along 2,000 km through Morocco, Algeria, and Tunisia. The highest peak is Toubkal, which reaches over 4,000 kilometers above the sea level.
It's not really possible to say what the exact climate is in the mountains as it changes according to altitude and area. In general, the summers are cool and the winters are quite cold. The temperatures can drop way below zero the higher you go.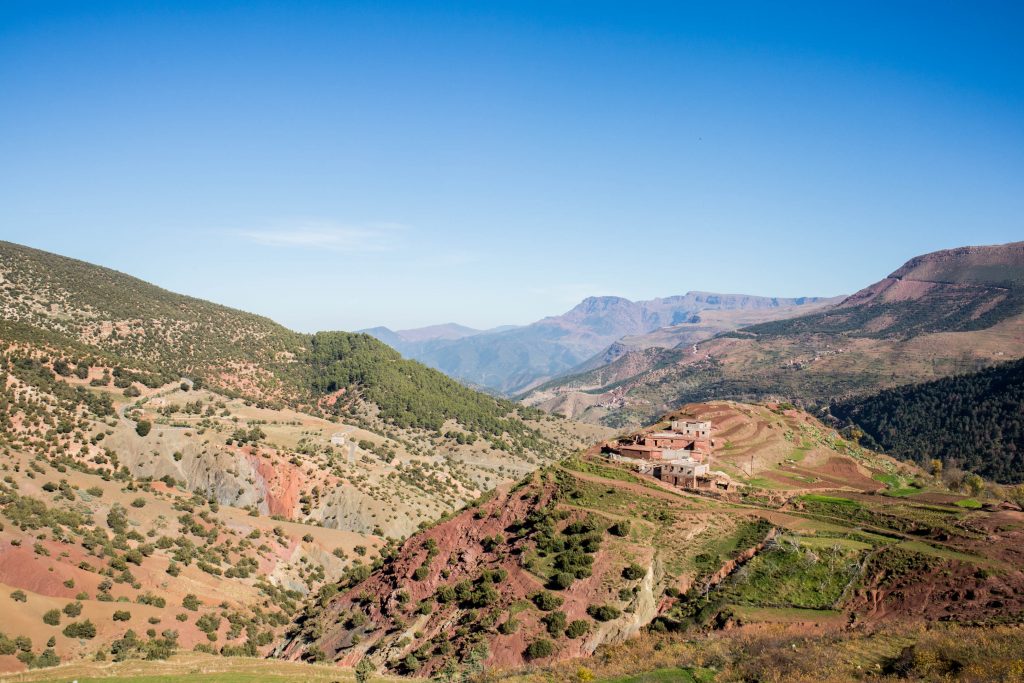 It is possible to climb to the peak in Morocco with a hired guide. I am not that adventurous though and preferred to drive around the mountains in a car. If you are braver, then contact one of the tour operators in Marrakesh. You can also ask one of the guides on Withlocals. Some of them can also accompany you to the top, or help you in organizing the trek.
Except the trek to the top, you can also visit a few interesting settlements, towns with amazing architecture. There are also waterfalls and valleys to enjoy and you can spend your whole holiday exploring this particular area of the country.
The Atlas Mountains are inhibited by Berbers, which are the first inhabitants of Morocco. In fact, the society of Morocco consists of over 50% Berbers. Nowadays, quite a lot of them move to cities in search for jobs and a better life, but there are still a few villages in the mountains that you can visit. Some of them are located by the road and those living there own workshops and shops targeted mainly to tourists. By the main attractions, you will find lots of guides that offer their services and are willing to take you for a trek. If you want to get away from the crowds and the main tourist areas, you need to go deeper into the mountains. If you can drive a car, or a scooter in Morocco then I'm sure you will have a great time exploring the area, but if you can't, then it's best to book a customised trip to the Atlas Mountains.
Organising a trip to the Atlas Mountains
If you want to visit the Atlas Mountains, there are a few ways of how you can do it.
You can hire your own car and drive yourself. Just be careful on the roads, especially around Marrakesh, where people drive aggressively. I think this would be a very fun way of seeing the mountains. You can stop wherever you want and enjoy the trip in your own time.
If you're not so adventurous, you can book an organised tour to the Atlas Mountains. This is very easy to do. You can hire a guide in Marrakesh. There are plenty of tour operators in the Medina and around Jemaa El-Fna Square. The price is not bad at all. It varies between 20 and 100 Euros per person, depending on how long you want to go for and where you want to go. A big disadvantage for me is that these tours follow the typical tourist trail. This means you don't really have a chance to see something genuine and extraordinary.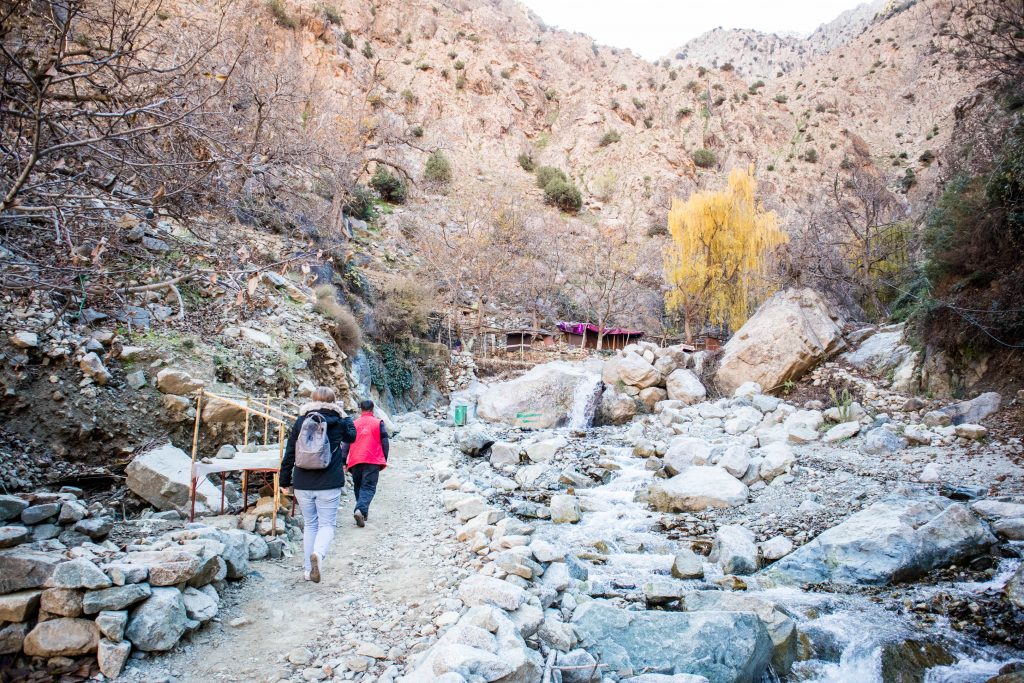 You can also contact someone that lives in Marrakesh on Couchsurfing and ask them if they would be willing to take you to the mountains. This is a very cheap option, but you can never be sure if you will find someone and if this person can be trusted.
Finally, there are companies on the market that help you to hire independent guides and customise your trip to your needs. This allows you to see some less known sites, meet the locals and make some new friends. That's a really great way of visiting a destination. I have done a tour with Withlocals in Lisbon before and was very happy with it, so I decided to go with them again this time. The tour I took with Omar was really amazing!
The trip to the Atlas Mountains with Withlocals
Omar picked me up from my hotel on a chilly morning. We drove through busy Marrakesh traffic and after a while, we finally got out of the city and were on an open road. Ahead of us, the snowy peaks of the mountains shined in the sun. I was very excited about the trip and couldn't wait to see more of Morocco.
I must be totally honest and say that the first part of the tour wasn't what I expected. We drove to Ourika Valley and followed the normal tourist trail. The surroundings were still nice, but the route reminded me of those that you can see everywhere in Asia – shops with local produce, where buses and mini vans stop to encourage tourists to buy something. As I'm not a big shopper, I normally skip that part of any tour I go on.
Finally we reached Satti Fatma – a small town, where quite a few treks start. You cannot go to the mountains alone and you need to hire a special guide, who will take you where you want to go. Omar chose one of them and told me to follow him.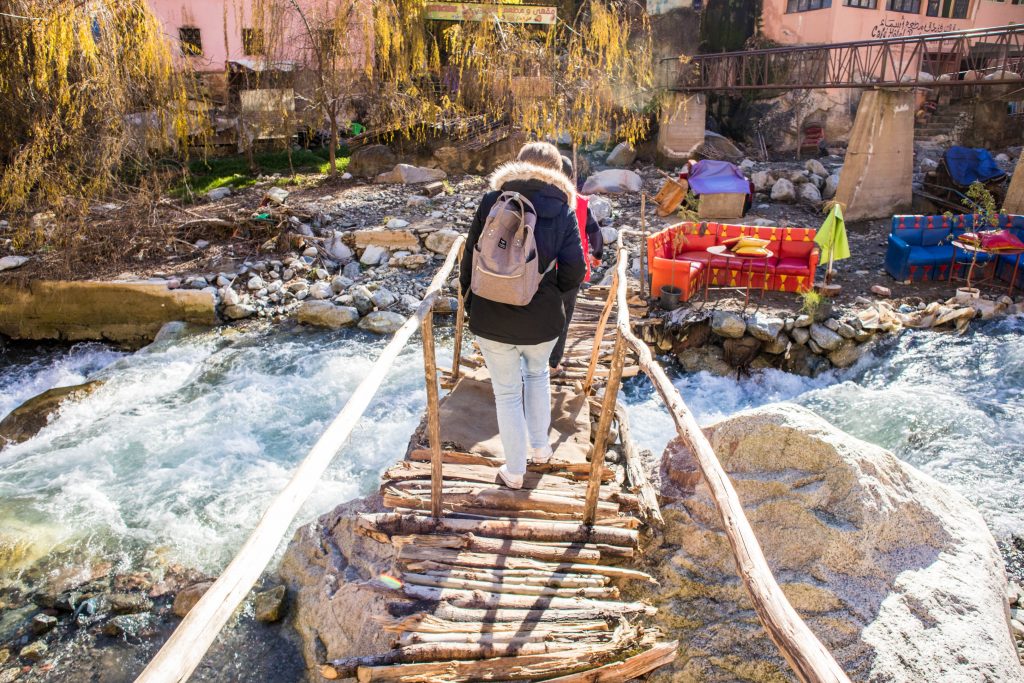 We climbed some unsteady looking rocks and reached a waterfall and a tea stand. We stopped there to rest and admire the views after which we proceeded to climb even higher. At the peak of the hill the waterfall became larger and we sat down with some tea.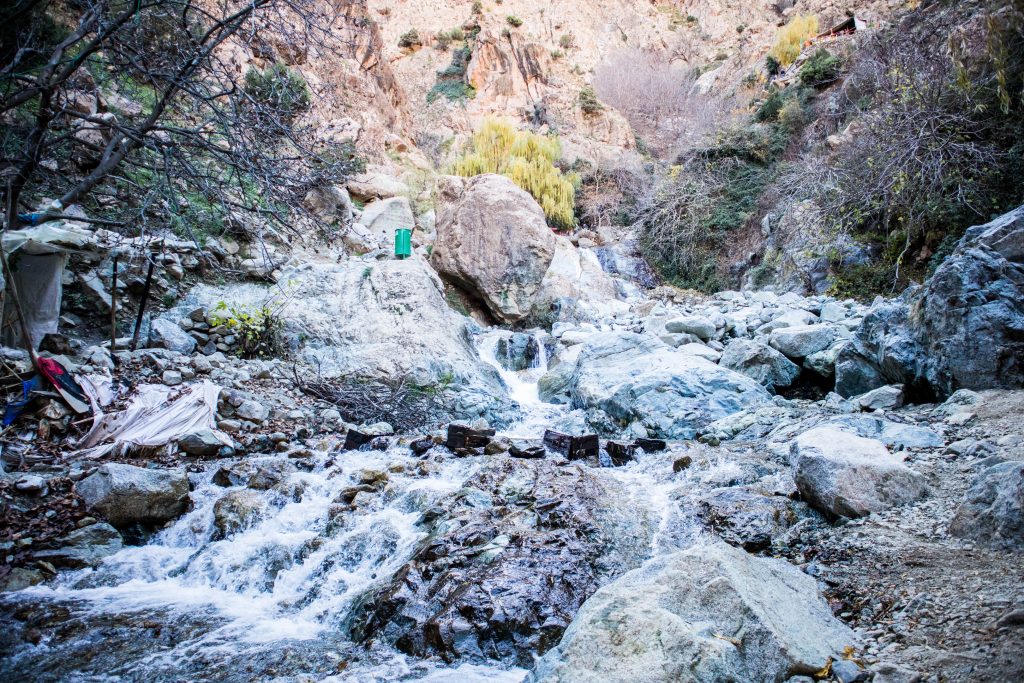 The trek wasn't really difficult. Few times I was a little scared of sliding down, but overall I thought it was pleasant and easy.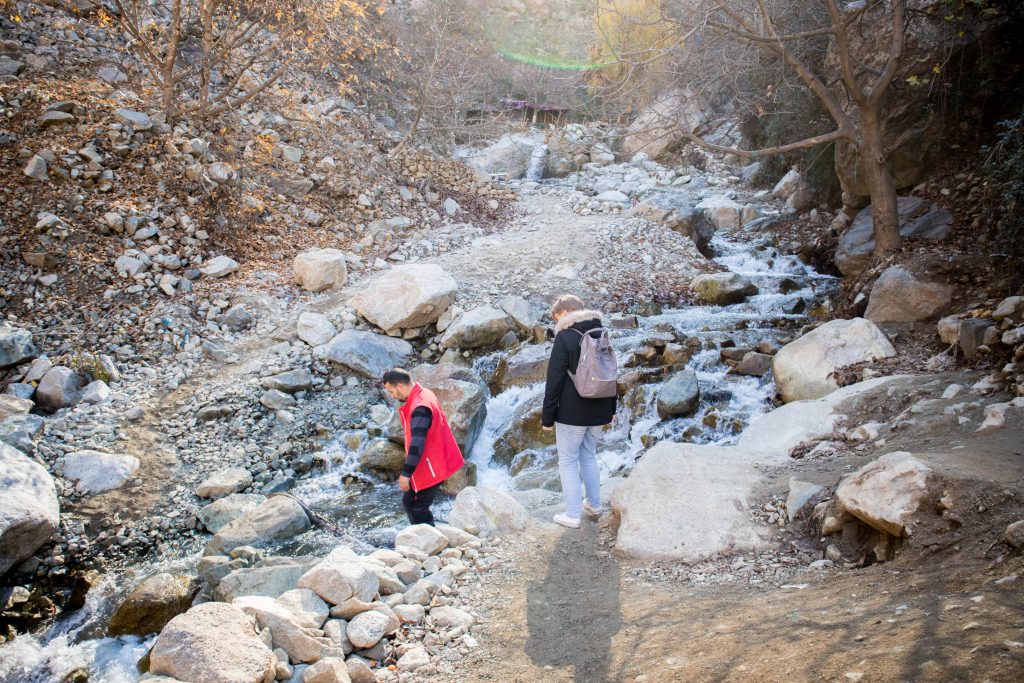 On the way down we stopped at a viewpoint, from where we saw the town. The views were magnificent!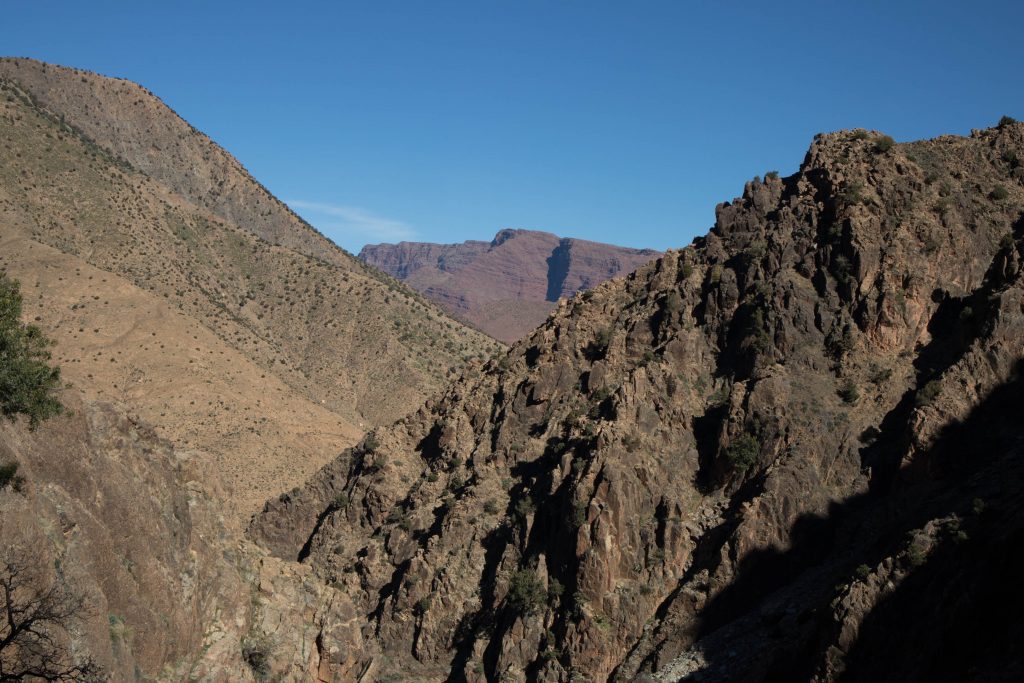 Once I was at the bottom of the hill, I was taken to a local restaurant where I dined like a queen. My table was just by a rapidly flowing stream with crystal clear blue water. I had 3 courses, including a tajine and a tea for 120 Dirham.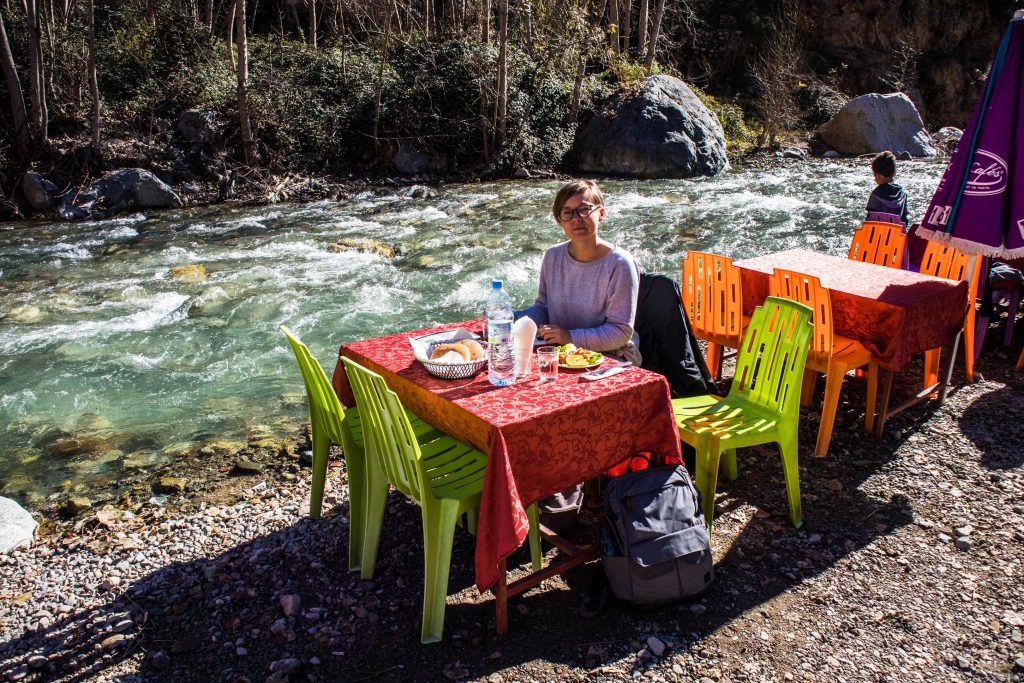 Omar picked me up straight after I finished and we began the second part of our trip to the Atlas Mountains. This was by far my favourite!
We drove up through empty, deserted roads, passing small villages with red houses standing on sides of the hills, facing apple and olive orchards. Despite it being the middle of the winter, the fields were green and it seemed like it was spring. Only the peaks of the mountains that we saw from time to time reminded us that the temperature here can drop way below zero.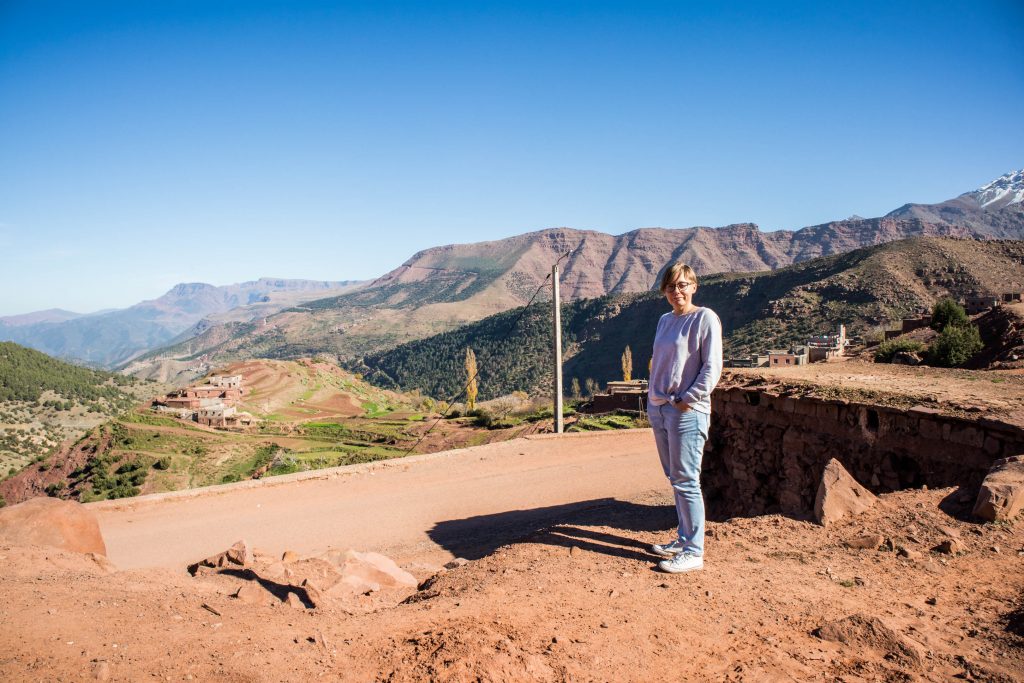 The highlight of the trip was a visit to a small Berber village. It was located very high up the mountains and when we arrived there were only children around.
We paid a visit to Omar's friend, who lives there. I had an opportunity to see a Berber house from the inside. There was even a small, homemade sauna inside, which is an important feature, considering that the winter in the mountains can be harsh and there is no heating inside the houses.
Omar took me to the rooftop, where we sat in an alcove lined with traditionally embroidered cushion. We enjoyed tea and some homemade biscuits. Omar told me some funny stories from his childhood and from growing up in the mountain village.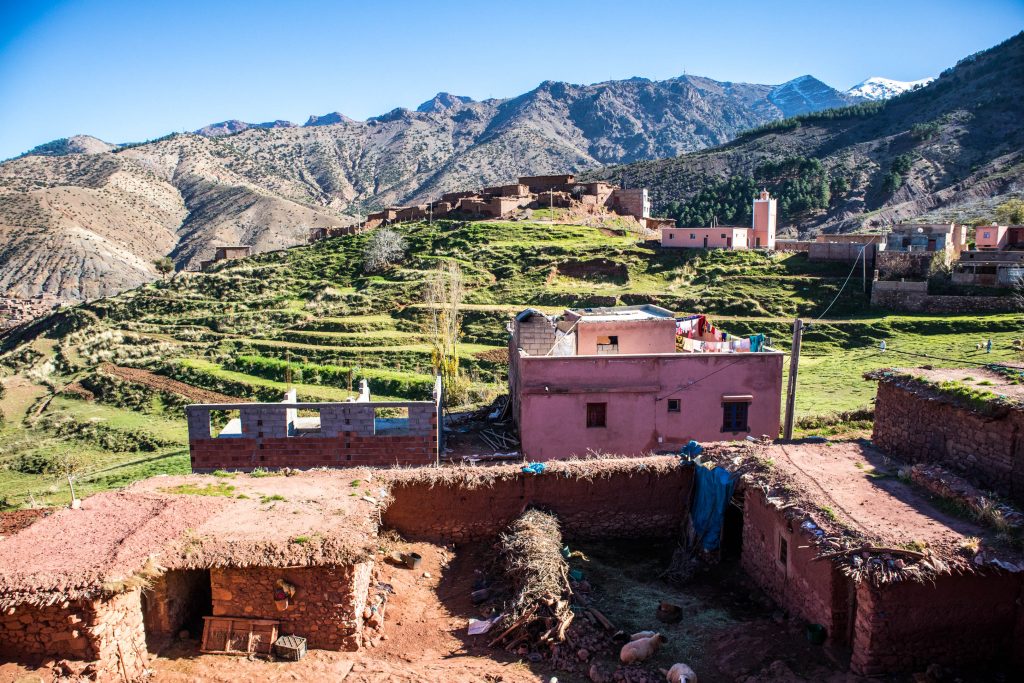 The view from the rooftop was magnificent and it was really quiet, making me feel so relaxed.
Unfortunately, it was time to go and we had to drive back to the city. On the way we listened to some Bollywood and Moroccan music and joked around about Indian movies. We made one stop at a gorge, where apparently some black magic took place a long, long time ago. Until now people come here to ask for good luck and fortune.
I got to my riad in the evening with a feeling that this trip to the Atlas Mountains has been the best one I have ever taken when it comes to organized tours. I came back not only with some beautiful photos and a feeling that I experienced something really special, but with new knowledge about a country, I had not known much about before.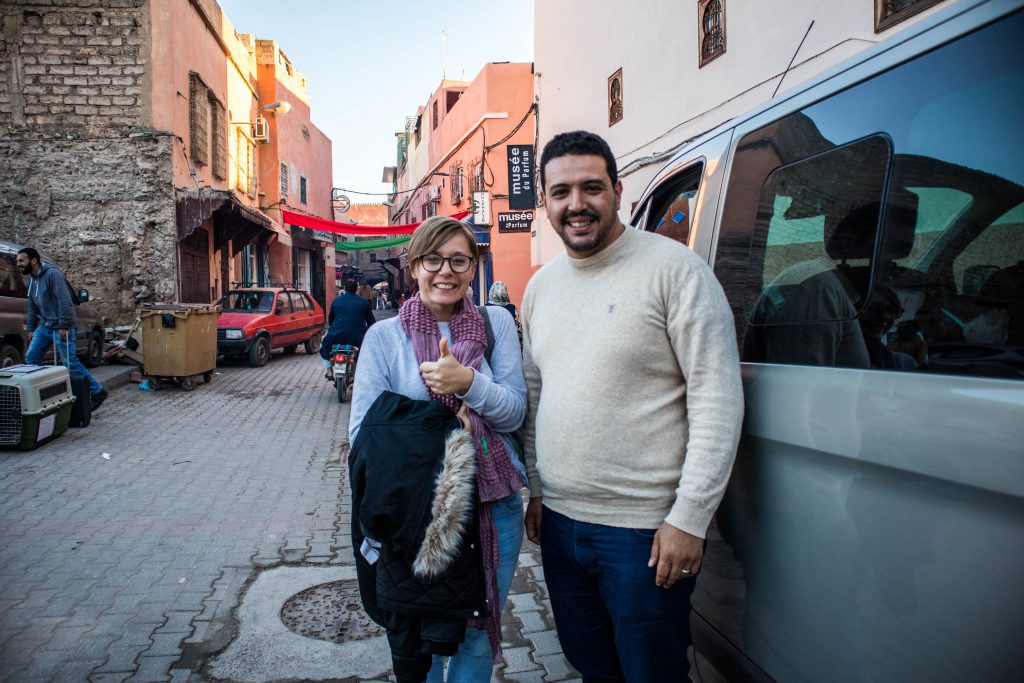 A trip to the Atlas Mountains with Withlocals – Useful tips
Here are a couple of things you should know before you book your tour.
Book your tour and plan ahead. In the high season the guides are very busy and might not be available.
If you book it with Withlocals, you can choose your guide and change the plan of the trip.
The cost of the tour is 89 Euros per person for a full day. Nearly everything is included, except lunch. You can book it here.
Check the weather before you go and ask your guide about what clothes you should take. Remember that it's normally a bit colder in the mountains.
It's a good idea to take some things for the local kids. I didn't take anything with me and I felt a little bad about it. When you stop, they will approach you and will ask for money. Don't give them any. Instead bring some pencils, books, or candy. Just try not to bring anything made out of plastic.
If you decide to hire a Withlocals guide, remember to come back to this post and let me know about your experience!
Do you have any questions or suggestions? Don't be shy! Leave a comment!