Alentejo was on my list of places to see for many months. I really wanted to see the region. Of course, the fact that it's an area where most of the Portuguese wine is produced was one of the reasons why I wanted to go there. I also knew that Alentejo has that countryside feel to it and I didn't want to miss seeing the fields, wineries and the landscape of the region. I spent a short weekend in Alentejo and that was one of the best few days that I've had in Portugal.
Alentejo is only a few hours drive from Lisbon. You can go there for a day trip, but it's best to spend a little bit more time driving around. I would recommend 2-3 days at least to see the most interesting places. It all depends on how much free time you have and how much money you can spend.
On the road
I didn't have a specific plan to see Alentejo. I checked some information on the internet, listed a few places to see and left the rest to fate. I think that's the best thing to do. Being spontaneous makes your trip a bit more interesting.
We rented a car from Turisprime. Renting a car in Portugal is very simple and straightforward. Before that, we had used Interrent and we were quite happy. This time we changed the company because of the price. Picking the vehicle up was a bit hectic. It took an hour including queueing up and filling up the papers. However, it turned out that Turisprime was not that bad and you can rely on their service. If you're looking for a cheap rental company, then I can recommend them to you. You can also use Rentalcars – a price comparison site, where you can find some good deals.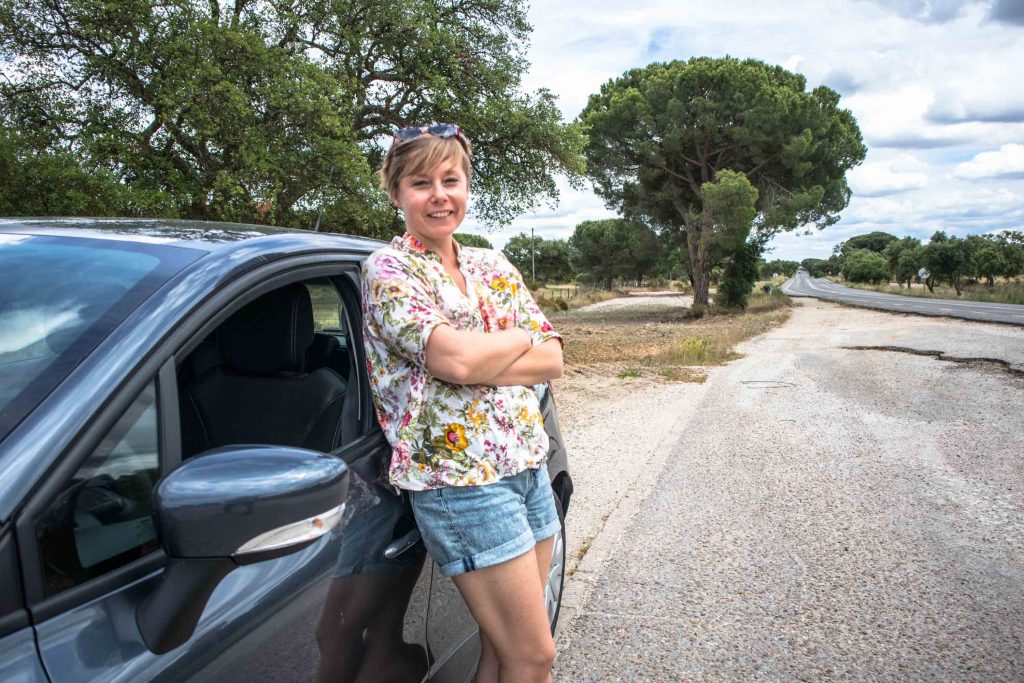 We booked a place on Airbnb – a little hut in the middle of Alentejo, in Villa de Frades – a small place, where they make cheese and wine. A whole house with a huge garden cost us 120 Euros for 2 nights! What else can one want?
On the way to Villa de Frades we stopped on the coast. It wasn't very warm and there was quite a strong wind, but the views were amazing. We went to Sesimbra and visited the famous Praia de Arrabida, where I had been before a couple of times. Chris was stunned by the beauty of it all and we stopped a lot of times to admire the landscape.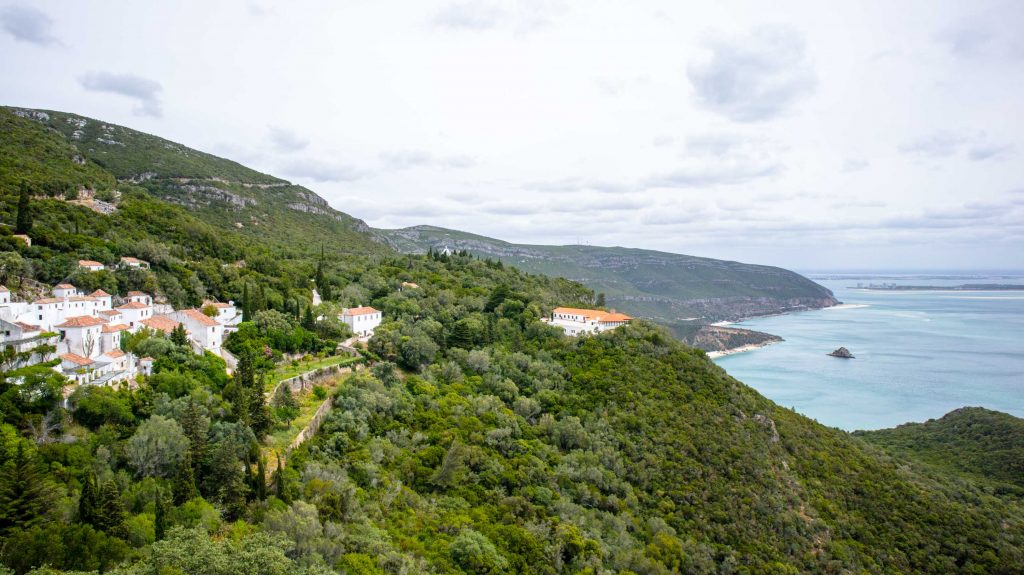 Just next to the Praia da Arrabida there is a narrow road, which goes up the hill. There are a few viewpoints on it, from where you can admire the rocks and green forests. It's best to come here outside of the Summer season and during the week because in the Summer this part is very crowded.
We stopped at Pontinho da Arrabida for breakfast. It's a very small bay with 2 seafood restaurants, but we managed to get a cheese sandwich there. I really liked Pontinho and if it hadn't been for slight wind and chill we would have stayed there for a bit longer.
Alentejo and Villa de Frades – First impressions
About an hour later we were in Alentejo. The first thing we noticed were the green hills and fields that stretched for miles. We took the motorway and only when we left it, we saw white houses of vinyards standing in the horizon. Every now and then we spotted some cows, sheep and even pigs that grazed lazily in the sun. It turned out that keeping the animals outside, not in the big industrial farms, is very characteristic for this region.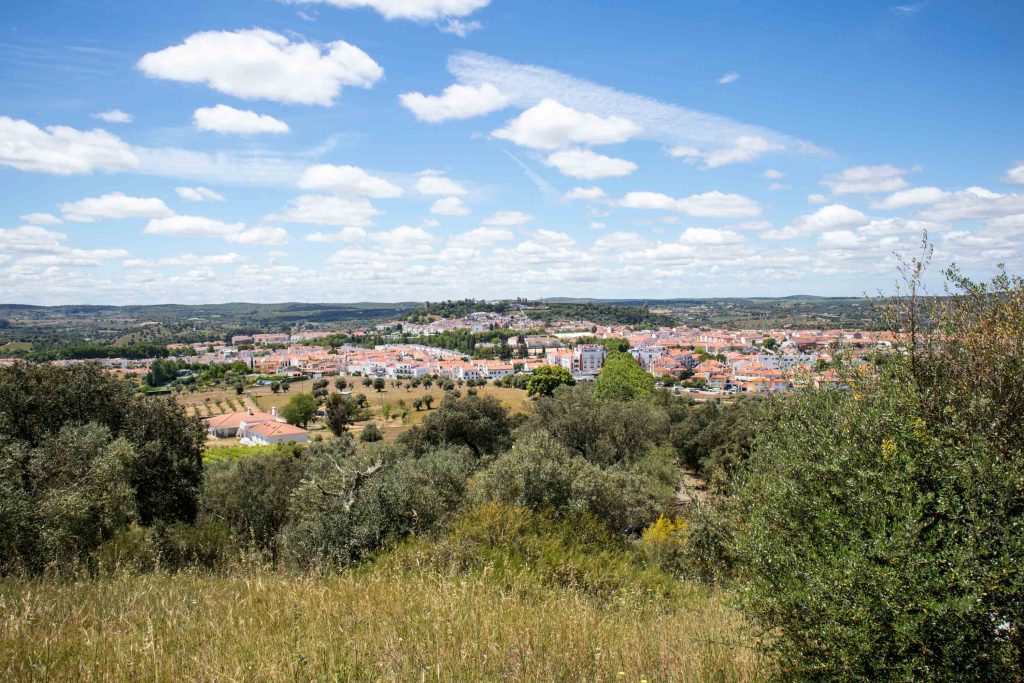 Villa de Frades seemed deserted. We parked our car in a very small street and looked around. The houses had their shutters down and doors closed. It was very quiet. We could hear a lonely dog barking in the distance.
This is quite normal in Portuguese towns. At first you might think that nobody lives there. Only later you notice shops and restaurants with some customers inside. It turns out that there is some life there.
Our hut was perfect for a quiet weekend and some rest. It was a place with character. Rooms with wooden floors, squeaky stars, huge fire place and garden with vines, plus 2 huge terraces – I was sold! I knew that as soon as this weekend was over, I would plan my next vacation in Alentejo.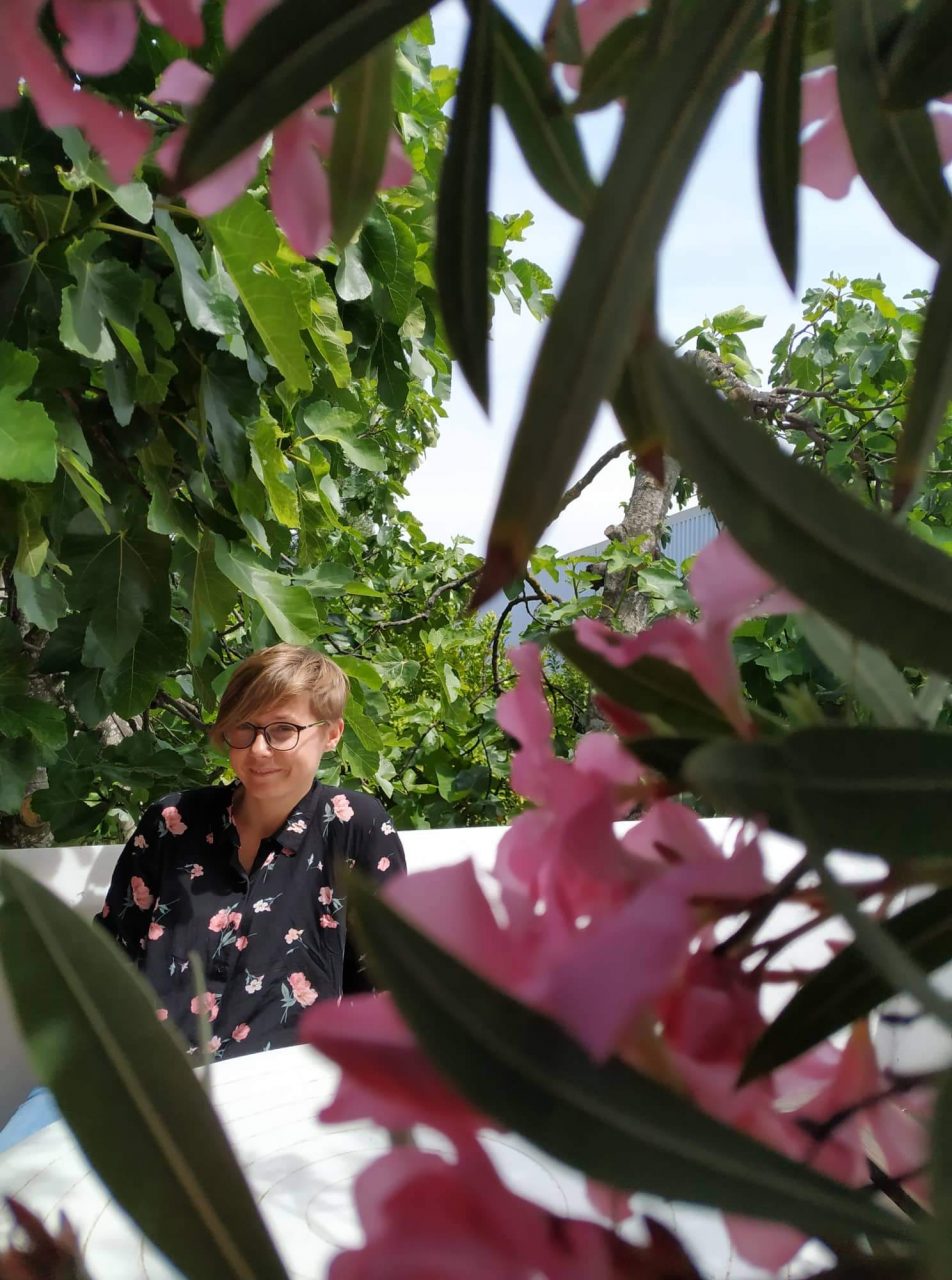 Our first steps were directed to the centre of the small village. Villa de Frades had lovely cobbled streets. The main square was surrounded with trees and a fountain as well as some old tenement houses with shops and restaurants serving food.
There was also a winery, which at that moment was closed. We decided to go there in the evening. Except that, there wasn't much to do in the village.
In a search of the lost wine
What can you do in Alentejo? Drink wine, of course! We were convinced that we would find a good place to drink it soon. I was hoping for a tour around a winery. I saw a couple of them in Azeitão and I knew that every visit to a place like that was very interesting.
Unfortunately, the winery in Villa de Frades was closed. We decided to walk 2 km to Vidigueira, a next door village, where we expected to find another place (at least that's what the road signs said).
Vidigueria, a little larger than Villa, was buzzing with life. It was probably due to the bars and restaurants lining the main road.
We walked through the town and finally we found a huge building. Inside, behind a tiny desk, surrounded by postcards, sat a lady, who was supposed to be the information point. She only spoke Portuguese, but we managed to find out that there was an opened winery nearby.
We went into the direction she showed us. At the end of the road, just at the entrance to the town, stood a huge building. We entered the yard with warehouses and followed signs to a wine bar and a shop. Unfortunately, the staff there told us the bar was closed. We didn't want to buy any wine, so went back to the centre of Vidigueira.
There, we quickly found a very nice restaurant with delicious food and wine that cost 1 Euro per glass. The owner, an older, cheerful gentleman, served us an amazing meal. We spent the whole afternoon there, trying different dishes and local wine.
In the evening we went to the winery in Villa de Frades. This time the door was open. It was a very nice surprise because inside, just next to the tables, stood huge clay vases with wine. Similar ones were once used during the time when the Romans inhabited Alentejo. They are called talhas and the the wine is still made in the same way.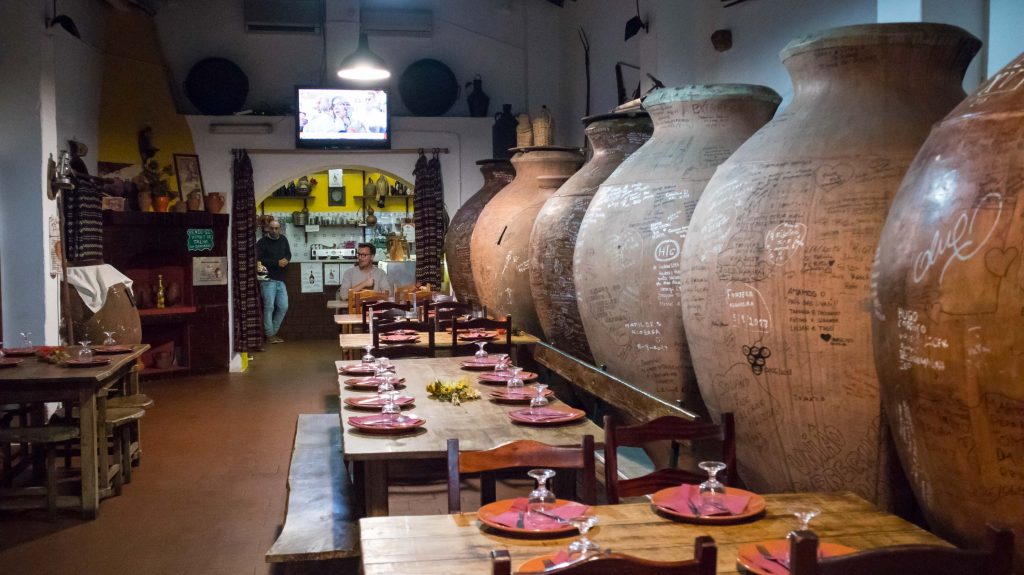 The winery is also a place, where you can try local dishes and snacks: meat, cheeses and olives. We weren't very hungry, so we only asked for some nibbles and, of course, wine. We tried the white and red ones. Both were good, but not the best. I think they weren't worth 16 Euros per bottle.
You will find more information about the winery here.
Évora and Beja – A roadtrip around Alentejo
Alentejo is quite big. If you want to see everything, you need to spend at least 3 days here.
From Villa de Frades we went to the famous medieval town – Évora, which was relatively close.
The GPS took us to the very centre of the city, which consists of small, narrow streets. Chris had a huge problem with driving through the little alleys. We couldn't find a parking space either. There was nothing available. Finally, we got tired of looking and parked outside of a bank. We couldn't communicate with anyone there and weren't sure if we had to pay for the stay. We didn't want to risk it, so we bought a parking ticket for 3 hours.
Évora is famous for the Capela dos Ossos, a chapel filled with human bones. It was created in the 16th century. Apparently, there are over 5000 human bodies buried there. The monks, who created it, decided to do it to make people think about death. It was supposed to be a place of meditation. Everyone who was visiting should have thought about how fragile we all are and that we all would one day end up dead.
The whole complex is very interesting, but the chapel is extremely crowded. It's best to come here in the early morning.
Capela dos Ossos – Map
Open – 9:00 – 18:00
Ticket: 4 Euros (note: you can only pay with cash or with a Portuguese bank card)
Another place worth visiting is Templo Romano – ruins of a Roman temple. Apparently, these are the best preserved Roman ruins on the Iberian Peninsula.
Templo Romano – Map
Entrance – Free
Opened – 24/7
We also spent a lot of time just walking around. Évora is really charming. I liked the streets and white – yellow houses. The main square – Praça do Gieraldo – is also a lovely, little spot, where you can stop for a drink.
We stopped at Dona Inês for lunch. We stumbled upon this place by chance. The food was amazing. I had the very thing that Alentejo is famous for – pork steaks with asparagus. The whole dish was very simple, but really nicely done.
In Alentejo the farm animals are kept outside. At the moment, quite a lot of meat is free range. Thanks to that it is more succulent and aromatic.
From Évora we went to another big city in the area – Beja. I read somewhere that it's worth seeing because of the beautiful convent.
Beja turned out to be a very quiet place with houses that seemed to be falling apart and empty factories. At the entrance to the city there were a lot of small huts that looked really poor. The view was depressing. It was the first place in Portugal that I've visited that I didn't like. The unemployment and lack of possibilities was evident and I kept thinking about all the people that lived there. I felt sad for them.
The convent was a very pleasant surprise. It was filled with amazing art. There was a lack of information about the building itself, but I read somewhere that it was especially famous for one nun that used to live here and who fell in love with a soldier. Her love letters were published and since then the place has been a tourist attraction.
Beja Convent – Map
Open: 9:00-17:00
Entrance: Free
In Beja there is also a castle and a tower – Torre de Menagem – which you can climb. However, during our visit it was closed.
On our way to Villa de Frades we changed the settings in the GPS and took the back roads. The trip took us a bit longer, but the views on the way were stunning. We stopped to take some photos and I was thinking the whole time what it would be like if we could live there.
The evening in Alentejo – Locals, wine and a football match
In the evening we went back to Vidigueira, where the medieval market was taking place. There were people dressed up in costumes on the streets and there were some stalls with hand made goods, food and drinks. It looked like a nice event, but at the same time Benfica was playing a match and no one was interested in the market. Everyone went to bars and a community hall to watch the game. We walked around the streets a little, had some food and then we headed to the community hall, too.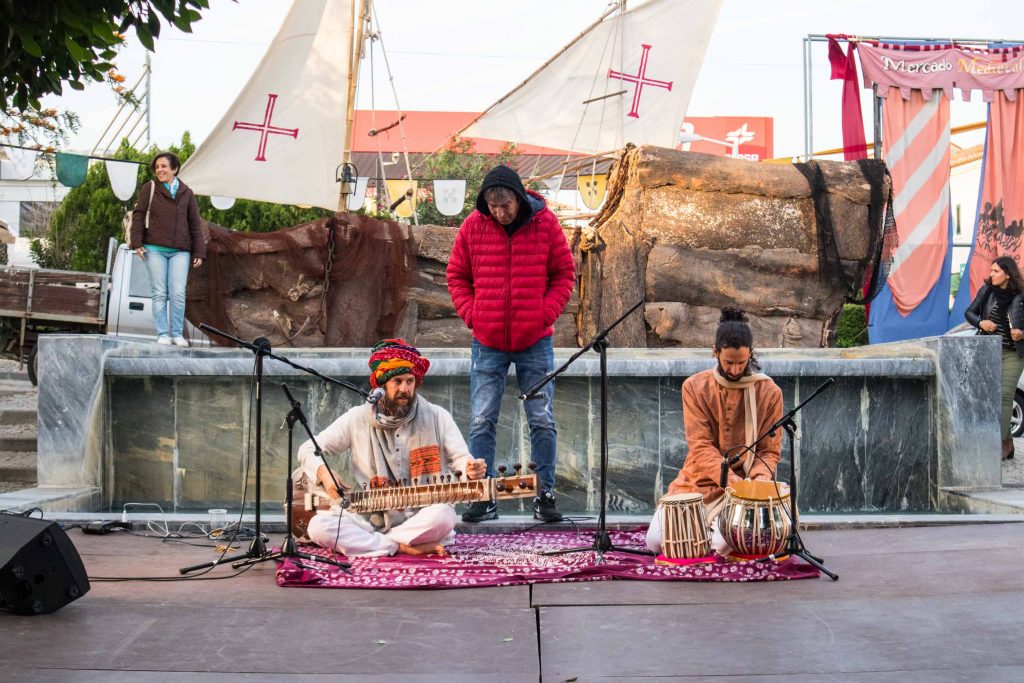 It seemed like almost the whole village gathered there. We stood outside not sure if we should enter. At last, a lady who was serving beer in the bar, invited us in. We sat at the end of the room and watched the locals enjoying the game.
It was obvious that everyone was supporting Benfica and when it finally won everyone went crazy. The older people went outside the building, the younger jump in their cars and started driving around, waving the scarves with the club's colours and honking. There was no aggression, it was just pure joy.
When everything calmed down a little, we walked to the other side of the street, to a restaurant, which we had visited before. Whole families were celebrating there, but some of them were already on their way home. Mostly men stayed and new ones were coming in. Some of them brought home made snacks with them and they were encouraging us to try them. We chatted to some of them. The whole atmosphere was really cheerful and we really didn't feel like going home.
But finally, it was time to say good bye.
The last day – A long day with a nice lunch
We went back to Lisbon in the early afternoon. Again, we set up the GPS so it led us through the countryside. We drove for a long time along some fields, green hills, vineyards and small villages.
On the way we stopped in a very special place, a small restaurant in Montemor-o-Novo, which was recommended to me by a friend of mine – Anna, who also has a blog The Lisboner.
A small chapel stood on a hill and just next door we found the restaurant – O Arado. I really recommend you going there for some nice seafood, or to try everything Alentejo.
You really need to admit that this place is special.
A weekend in Alentejo – Summary
This weekend in Alentejo was one of the best ones I spent in Portugal. We didn't do anything that special, but the locals, the food, the wine and the general atmosphere of the region, made me think of moving there. I really need to go back to Alentejo.
Weekend in Alentejo – What you need to know
If you are keen to go to Alentejo, then I have a few tips for you that will make your trip much more pleasant.
Alentejo – How to get there?
The public transport in Alentejo doesn't exist. Well, at least it's not very developed. It's best to have your own car. I recommend using Rentalcars to find the best deal.
Alentejo – Where to stay?
We stayed at the Airbnb, which I loved. But, if you don't want to stay there, or it's fully booked, you can check out these places.
Quinta das Ratoeiras – for those looking for some luxury. The rooms come with terraces and an access to a huge garden.
Encosta do Castelo – a very nice property in a small town of Portel, between Évora and Beja. The house is equipped with everything you need for a short stay in Alentejo.
Herdade da Diabroria – Agroturismo – you can really relax here! The property has a swimming pool and a huge garden. It's also really close to Beja and Évora.
Alentejo – What to see?
You should really go to Évora. You can't miss it! If you like history, head to Beja, too. Except these two places, there are plenty of other little towns. Check out: Marvao, Cabo Espichel, Troia and Monsaraz.
I hope that your weekend in Alentejo will be as enjoyable as mine.
Do you have any questions? Would you like to share your experiences or your point of view? Don't be shy! Leave a comment!