Going to Thailand for the first time and wondering what to take? In this article I am putting together a packing list, which will tell you exactly what you need. Find out what to put in your luggage when going on a trip to the Land of Smiles.
When I first when to Thailand, I packed a 25-litre backpack. I had everything there – from bikinis to plasters. I even thought about taking bed sheets because I imagined that Thailand didn't have clean hostels! Oh, the ignorance!
Did I end up carrying this huge backpack with me in 40 degree heat and swearing at myself for brining so many unnecessary things? Of course, I did.
Nowadays, I travel with a small suitcase, even if I go for over a month.
I found the hard way that I really don't need that much.
Read on to find out what to pack for your first trip to Thailand.
A few things to remember when packing for your trip
I think it's worth considering a few things when you start packing. When you consider these points below, you will find that it's really not that hard to pack.
Thailand is a hot country, but…
Thailand is a tropical country, so most of the time you will not need a jacket, hat, or anything that will take a lot of space in your suitcase. However, if you are going during winter months and are planing to go to Chiang Mai, then remember that temperatures there will be lower, especially at night and in the early mornings. In this case, it's good to have a pair of long pants and a jumper.
You can really buy everything there
If it turns out that you really need another t-shirt, a pair of pants or you ran out of toothpaste, then you can easily get it in Thailand.
Clothes there are cheap and easily accessible and cosmetics can be bought in pharmacies and 7-11s.
A few things to consider here: if you are a larger person, you might have a problem with getting clothes and shoes. Bangkok might have sizes for you, but that's not guaranteed.
When buying cosmetics in Thailand, check them carefully. A lot of creams and lotions are whitening, which is not great for the skin.
By taking less, you're saving money
Flights are expensive and they get even more expensive when you have a larger suitcase. This is not only for international flights, but also domestic ones, within Thailand.
Take a hand luggage and you won't have to pay extra.
Laundry is cheap in Thailand
If you ran out of clean clothes, you will be able to find a laundry place nearby. There are two types of them in Thailand.
Many hostels and hotels offer laundry services. When walking around, you will also see small, local shops with a sign offering doing laundry for you. Usually your clothes will be fresh and clean after 24 hours.
You can also find washing machines on the street. For around 30-40 Baht you can do your own laundry.
Your luggage
For the last couple of years, I used to travel with a suitcase. It looked nice, but it was very impractical. So, I decided to go back to a backpack, but not just any kind. Have a look at this backpack from Tropicfeel. You can use it for short and long-term travels and pack all your essentials, including a laptop and a camera.
Your toiletries will fit in nicely within this cosmetic bag, which you can attach to the backpack mentioned above.
I also have a small bag for cables as I travel for workation to Thailand.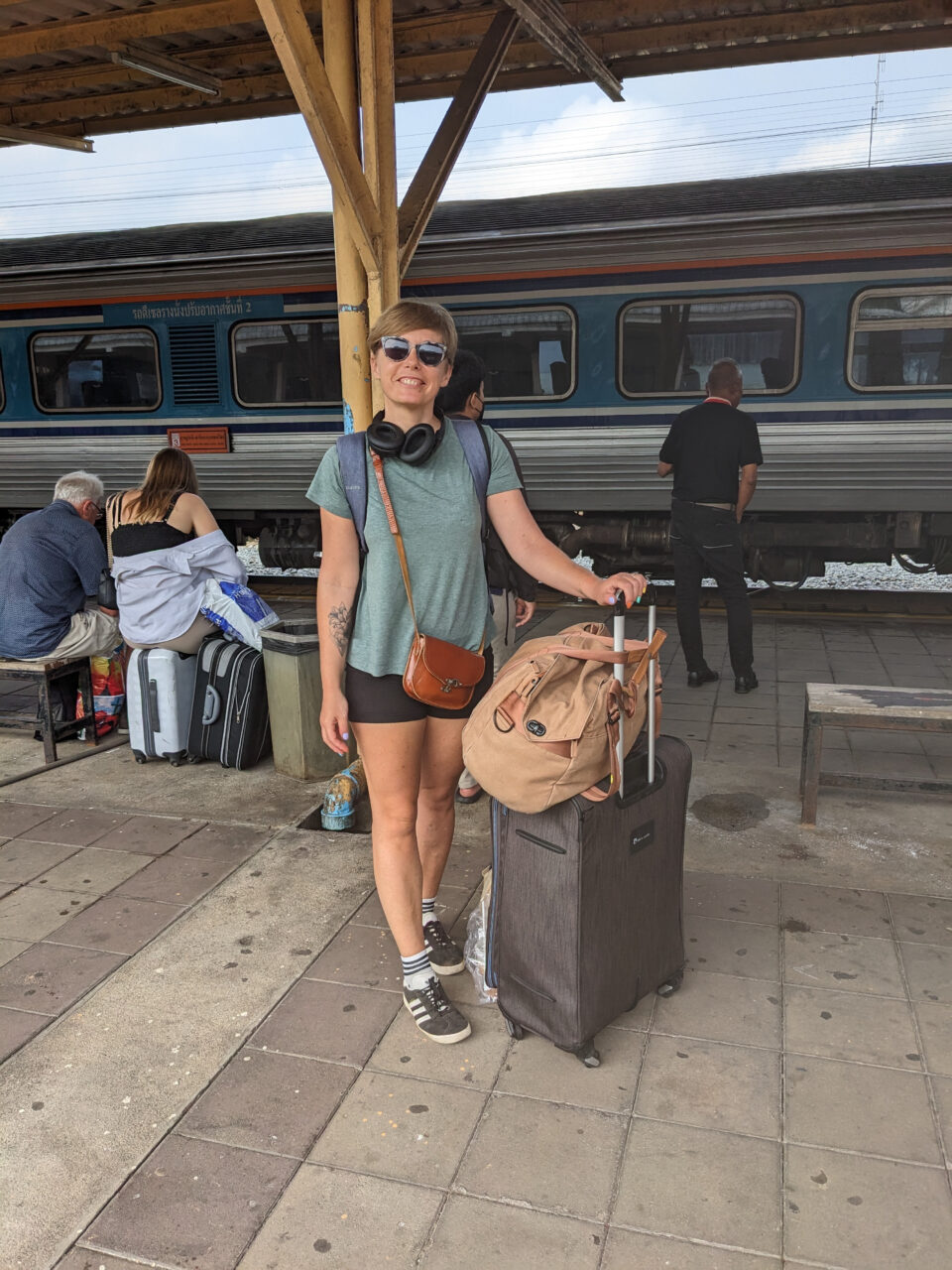 Packing for your first trip to Thailand
So, what to pack for your first trip to the Land of Smiles. I have combined a list, which might help you with your task.
Let's assume you're going for 2 weeks.
Clothes
3-4 t-shirts – Choose merino wool or bamboo. I recommend Bam – a company that makes great clothes out of bamboo. You can wear one t-shirt for a couple of days as the material doesn't stink and keeps you cool.
One long-sleeved blouse or shirt – Something that you can put on when you visit temples. Again, I recommend something light, maybe linen or cotton.
2 pair of shorts – I have one jeans shorts and one pair of more sporty shorts from Bam, which I wear when I go sightseeing.
One pair of long pants – I'd say it's good to have something when you fly in Thailand – the airports are usually freezing cold. They will be useful when you visit Chiang Mai. To save space in your luggage, take leggins or pants you can fold and wear them when you travel. Check out these cool pants from Tropicfeel, which are made for travellers.
Shoes – one pair of flip-flops/sandals and trainers. My husband has these from Tropicfeel and they are great. You can go hiking in them and they don't get wet!
Underwear and socks – here I would aim for comfort. Take underwear that won't rub anything and socks that are long enough so they don't slide down in your shoes when you walk.
Swimming trunks/bikini – if you like the beach and would like to go swimming.
Hat – I never have one with me, but it's really good to have it to protect yourself from the sun.
Cosmetics
Soap, shampoo – I recommend small, travel-size bottles. You can buy more in Thailand.
SPF – Bring enough with you. In Bangkok or Chiang Mai, SPFs can be bought for a good price, but on the islands things like that are very expensive.
Mosquito spray – I normally take ones that have a lot of deet because mosquitos in Thailand can really eat you up. The best sprays are from 7-11. They come in see-through bottles, with pink or orange caps.
Body lotion – I think it's good to take some with you as the sun and salty water will dry out your skin
For ladies – tampons, pads, or a menstrual cup. In Thailand you can get those things, but I usually carry some with me, too.
Medicine
Pharmacies in Thailand are well-stocked. You can get everything there. Take a few things, which will be helpful to have when you get hurt or sick.
Pills for stomach problems – take one box of them. The rest you can buy there.
Plasters
A small bottle of antiseptic
Cream for mosquito bites
I also take antihistamines, but I found that in Thailand they are better
Any other medication that you need.
Additional things
A camera and memory cards
A phone
Charges
Money
The currency in Thailand is Thai Baht. You can request to buy some of it in your local bank. However, there's an easier way of doing that.
Open a Revolut account, which allows you to take money out without additional fees. After you arrive and go through the immigration, you will find ATMs in the arrival hall. After that, you can buy a SIM card and pay for your taxi to the hotel.
Remember that ATMs in Thailand charge 250 Baht every time you withdraw money. So, it's best to take out 10,000 straight away.
Don't forget about
Your passport
Taking photos of your passport and your ID and storing them somewhere safe. You can also write down numbers somewhere, so you can access them easily. I discourage storing them on your phone, in case it gets stolen.
Writing and saving your emergency telephone numbers
A copy of your travel insurance – it's good to have it on your email and write down the policy number and the phone number for the insurance line
And that's it. I hope this post made it easier for you to plan what to pack for your first trip to Thailand. Just remember not to overpack and travel light. If you have any questions, leave them in the comments.