I spent 3 days in Bangkok, walking around more and less known sites. Those 3 days were exciting, filled with wonder, but also tiring and really hot (one thing I must recommend to you is to visit the city in a slightly different time than during the hot season).
The highlights
On a first day I spent my morning and most of the afternoon lazing around in Lumphini Park. I was amazed how pretty and clean it was. It was almost as immaculate as the parks I have seen in Australia. I waited until the evening to witness how the place changed from a quite area, where taxi drivers took naps to an exercise ground for Thais and foreigners alike.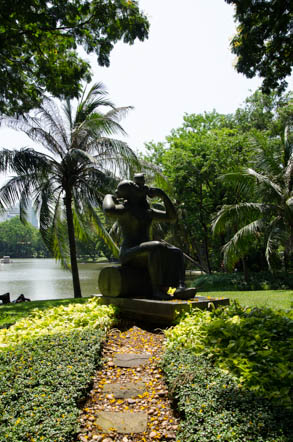 I had added Wat Arun to my wish list and was really looking forward to climbing it again. Unfortunately, the site was closed due to ongoing renovations, but I went for a stroll around it, through the beautiful gardens, where I encounter only a few monks. It was quiet and gave me much needed rest from the hustle and bustle of the city.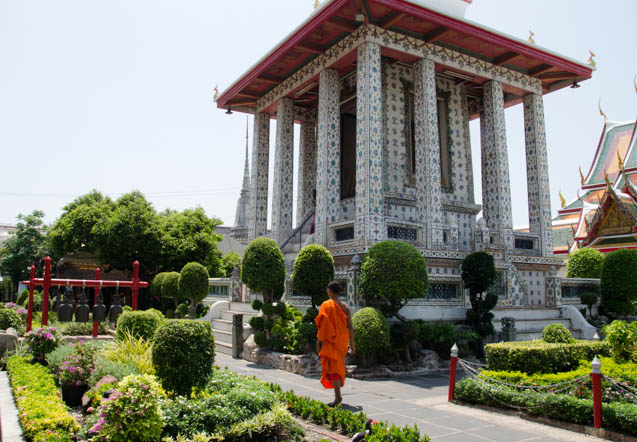 Thanks to the Travelog app I found the Taling Chan Floating market. It was a little bit out of the city, but it was worth taking the BTS and then spending almost 200 Baht on a taxi to get there. I had so much food there I thought I would burst!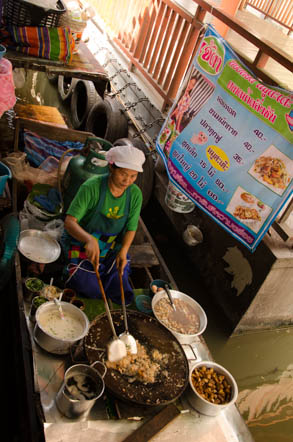 As you know this was my first time when I used an app instead of a standard paper guide. The huge advantage of this was a lighter backpack. I always carry a huge guide book with me and that strains my back most of the time. So, having everything in one, small phone was great.
I really liked the location and map features. I could just find the sight I was currently in and check what other places were around and use the Google map to get to the next point. That's how I spent most of my time during day 1.
The only thing about using applications on my phone, such as this one, in the future is that you do need to have a 3G connection and I don't always have it when I travel. Otherwise, I will be very happy to use Travelog app in the future.
If you are interested in finding about other things to do in Bangkok, please check these out:
Best shopping in Bangkok
Stunning places worth staying while vacationing in Bangkok
Where to eat the best Thai food in Bangkok
7 top tourist spots in Bangkok