Chiang Mai is a city that offers the perfect blend of adventure and relaxation. After a couple of exhausting day trips into the mountains or other thrilling, action-packed activities, there's nothing better than taking a deep breath and just do – well – nothing.
Sure, a spa day with massages, manicures, pedicures and facials is great, but spending some you-time with a delicious cup of coffee in one of the many, beautiful coffee shops in Chiang Mai can be just as vitalising. Plus, the mountains around Chiang Mai are home to many coffee plantations, which means you will often get to enjoy the taste of some freshly roasted beans from the region.
In the past, I have covered the best coffee shops for Digital Nomads in Chiang Mai but today is all about those small, quiet and beautiful places where you can sit down and relax while sipping on your freshly brewed coffee.
These are the most beautiful coffee shops in Chiang Mai.
Forest Bake
Forest Bake is probably the most beautiful café and bakery in Chiang Mai. The interior, as well as the pastries, feature such an amazing attention to detail that you might think you just entered a film set. But you didn't. And everything at Forest Bake tastes as good as it looks. The bakery is very small and doesn't have indoor seating but you can enjoy your delicious choice of pastries and beverage outside in the garden when the sun is shining. Oh, and while you're there: Don't miss out on an amazing lunch or dinner at Hinlay Curry just next door!
Address: 8/1 Nah Wat Ket Soi 1 (Map)
The Lost Boys Cafe (formerly Taxidermy)
Taxidermy Café is conveniently located just at few meters from the southern end of Nimman Rd. in a quiet and secluded alley. The café consists of two small rooms with great vintage decor and lots of green ferns which creates a beautiful, garden-like atmosphere. Although this coffee shop got its name from the art of preparing and stuffing animal skins for display, they use this kind of decoration very sparely, so you don't have to worry about entering a scene from Stephen King's Pet Sematary.
Address: 48 Sanambinkao Rd. (Map)
The Baristro
While it might appear a tad too clean for many people, The Baristro still is one of the most beautifully and uniquely designed cafés in Chiang Mai. The ridiculously high ceilings combined with the almost exclusively white interior is what makes this place stand out from the usually more vintage-styled coffee shops in the city. The entrance area of the ground floor can be pretty lively with a constant flow of Asian girls taking photos for their Instagram galleries. The back, as well as the upper floor, are usually more quiet and perfect to browse through one of the Kinfolk magazines that are available at The Baristro.
Address: 7/2 Soi 9 Nimmanhaemin Road (Map)
Bulbul Book Café
Bulbul Book Café is located not too far away from the popular Nimman area. It offers outdoor seating either on the patio or in its small garden. The trees around the coffee shop are populated by small birds that create a simply amazing atmosphere with their chirps. If you like reading, you can borrow a book from the small library and easily spend an entire day here at Bulbul Book Café.
Address: 50 Sirimangkalajarn Rd. Soi 7 (Map)
Art Roastery and Eatery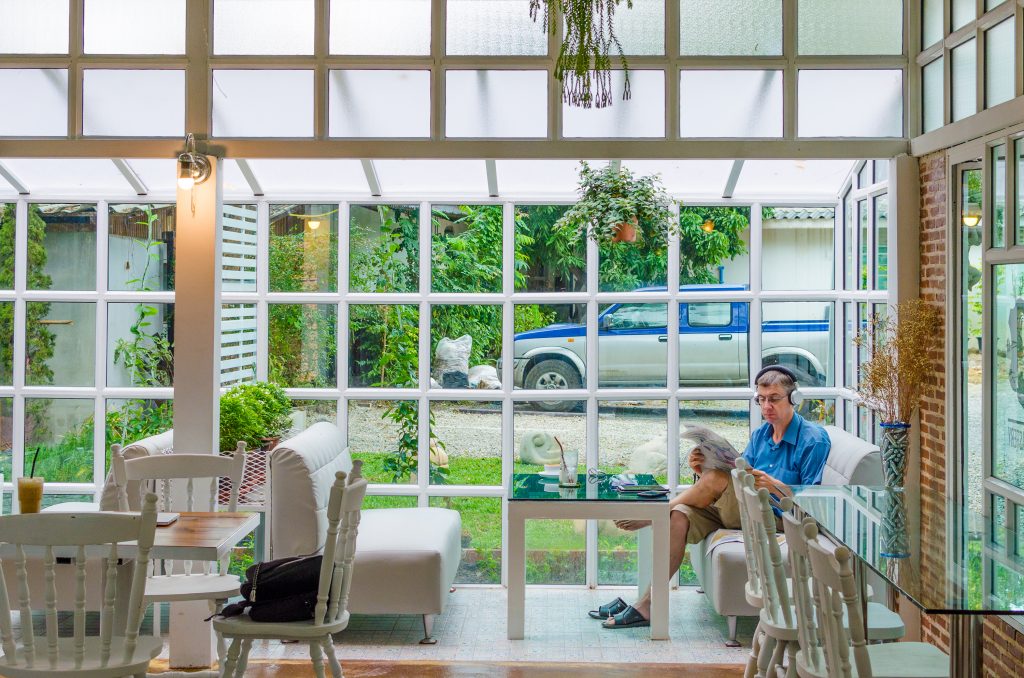 Art Roastery is a small oasis hidden on the way to Chiang Mai's Suthep mountain. It's hard to make out from the street but once you've found it, you won't want to leave. The café resembles a greenhouse (Don't worry! They've got aircon!) which means bright, natural light all day long. If you'd rather sit outside, venture out into the backyard that comes complete with a small garden and pond as well a half-open garden house with two storeys.
Address: 233 Huay Kaew Rd. (Map)
Cafe no.8
If you're looking for a peaceful place, far away from Chiang Mai's busy city centre, you will definitely enjoy your time at Cafe no.8. The café is located between Chiang Mai train station and the super highway in a small and quiet alley. It offers indoor seating as well as small tables on the patio and the garden. The interior features high ceilings and comfortable chairs as well as sofas. There's also a secluded space in the barn-like attic which you can reserve for meetings or other events.
Address: 8 Anu Witee Road Thasala (Map)