I love beer. You might be surprised to hear that from a girl, but I really do enjoy a pint or two (sometimes even more than that). To me there's nothing better than a glass of this golden, refreshing liquid that I usually treat myself to after a whole week of hard work. No wonder then that I was more than excited about visiting Brovarnia Gdańsk – a restaurant and one of only a few real micro-breweries in the city.
Polish people are not as crazy about vodka as before. Now, they indulge in beer and wine more, and the stronger stuff is only drunk during weddings and other special occasions. Since only a few years ago, micro-breweries started becoming more and more popular and now are taking a big chunk of Polish alcohol market. However, some of the beers that you find in shops and bars, claiming to be brewed by small, independent places, are not as genuine as you might think. Some of them are also kept in storage for a long time, so they are not very fresh either. And this is why Brovarnia is different.
This micro-brewery in Gdańsk uses only water, yeast, malt and hobbs to make their beer. It takes them a couple of weeks to make 1ooo litres of beer, which flows through pipes directly from the brewing containers straight to the taps at the bar. Beer can only last 2-2.5 weeks, so you are sure that you get the freshest possible brew.
There are only 3 kinds of beer on offer and from time to time beer masters make something special for the current season. So, during the summer you can enjoy light drinks with citrus fruits, while winter is the time when they are enriched with slightly heavier scents and flavours.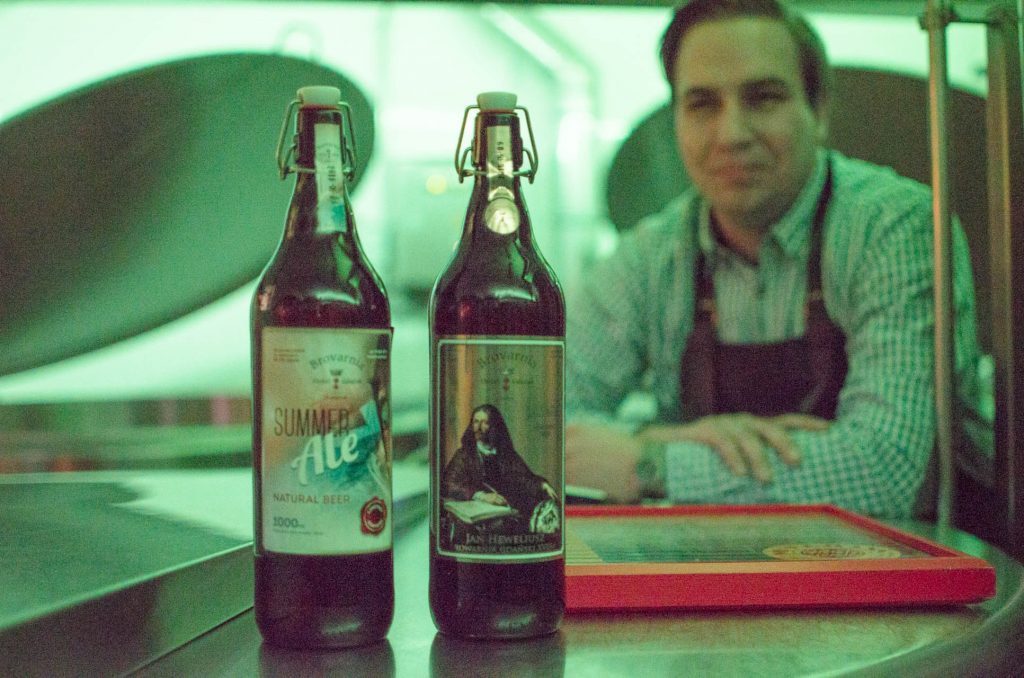 The first thing I noticed after entering Brovarnia were beautiful, wooden beams that stretched through the whole room. The bar was brightly lit with big beer taps gleaming in the evening light. Small tables, covered with dark clothes and decorated with small candles, looked cozy and inviting. After half a day spent sightseeing Malbork Castle, I couldn't wait to try some brews offered by Brovarnia.
But before I had a pleasure to do so, I was invited to attend a short seminar. This is something that every beer connoisseur should attend when visiting Gdańsk. During 30 minutes presentation one of Brovarnia's beer masters will tell you all about brewing traditions of Gdańsk, the history of the building and the way Brovarnia makes its beer. It is a fascinating, very casual talk that will increase your appetite for this local drink even more.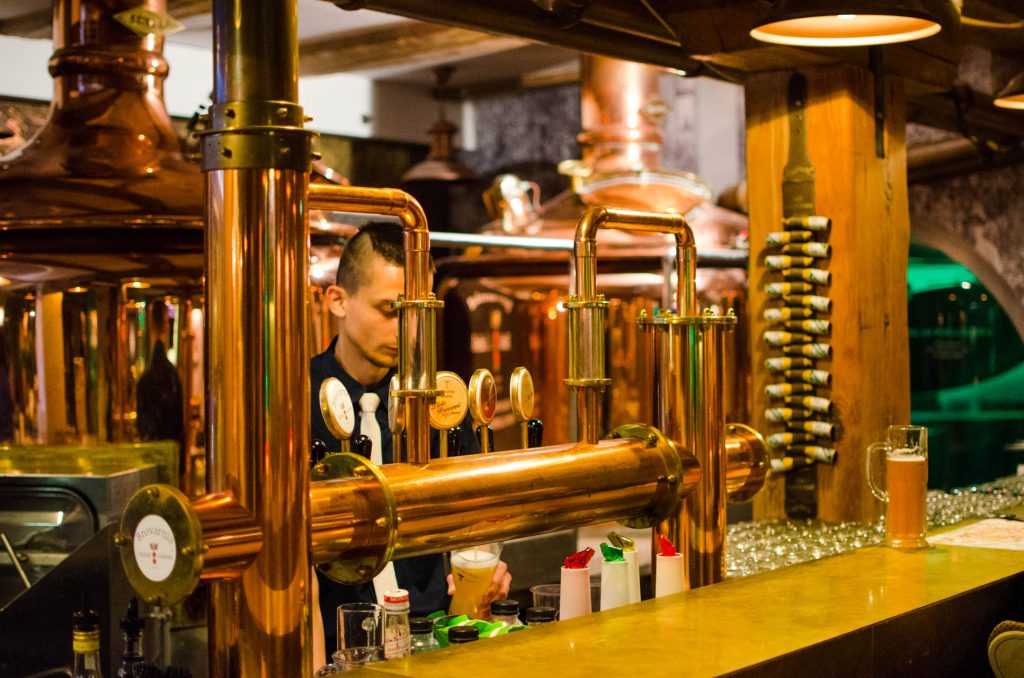 I was starving by the time I sat down at my table, but ahead of me was an evening of delicious food that Brovarnia is also famous for. As a starter I chose herring in three flavours. This is a very popular fish in Poland and I encourage you to give it a try. The best herring should be succulent and not too salty. The one I had at Brovarnia ticked all those boxes.
The second course looked a little underwhelming – risotto made out of barley with wild mushroom was a little grey and didn't look too tasty. But after the first bite I knew that this was an amazing dish. I loved the saltiness and the smell of fresh mushrooms.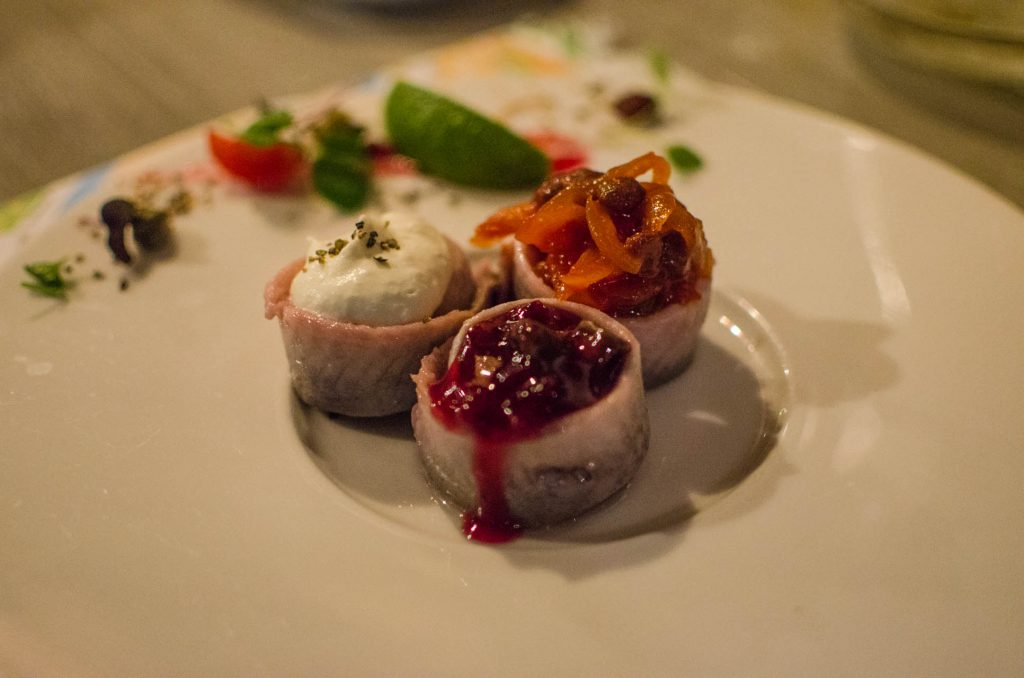 To top it all off I was treated to an amazing dessert, which consisted of a baked pear covered in honey. YUM!
Of course everything was accompanied by a glass of fresh beer, straight from one of those shining taps. I tried light, dark and wheat beers – each of them absolutely outstanding, delicious and so different from things you get in shops and at typical pubs and bars.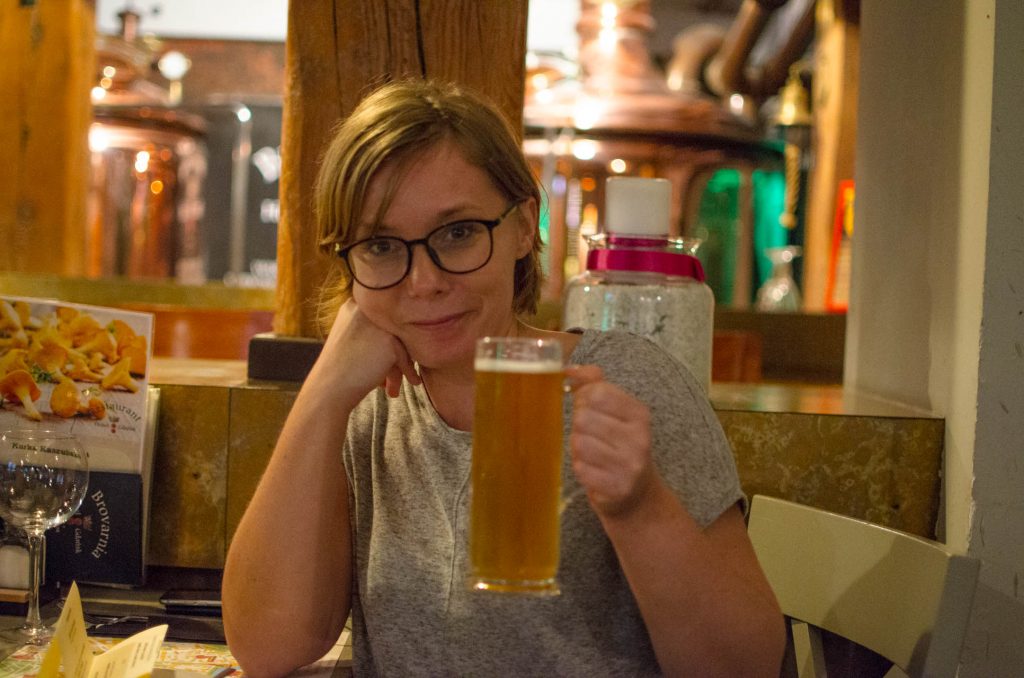 Brovarnia combines two of my favourite things: beers and food, which also makes it my favourite place to go to when visiting Tricity. If you're in the area and wondering where to go for some drinks and dinner in Gdańsk, you should not miss this wonderful micro-brewery.
Website: Brovarnia Gdańsk
Address: Szafarnia 9 by the yacht marina
Additional information: At Brovarnia Gdańsk you can have a nice dinner and try 3 different kinds of beer. Seminars are organised on request. Limited edition of beers is sold in bottles and they can only last up to 2 weeks. Brovarnia also organises private and business events. Check their site for details.